Hands down, the BEST edible cookie dough recipe for anyone who has EVER craved eating un-baked cookies! Made with just a handful of ingredients, it takes minutes to whip up!
Easy edible cookie dough recipe made without eggs, without raw flour, and without dairy. A foolproof recipe to enjoy raw cookie dough from scratch! Vegan, Gluten Free, Dairy Free.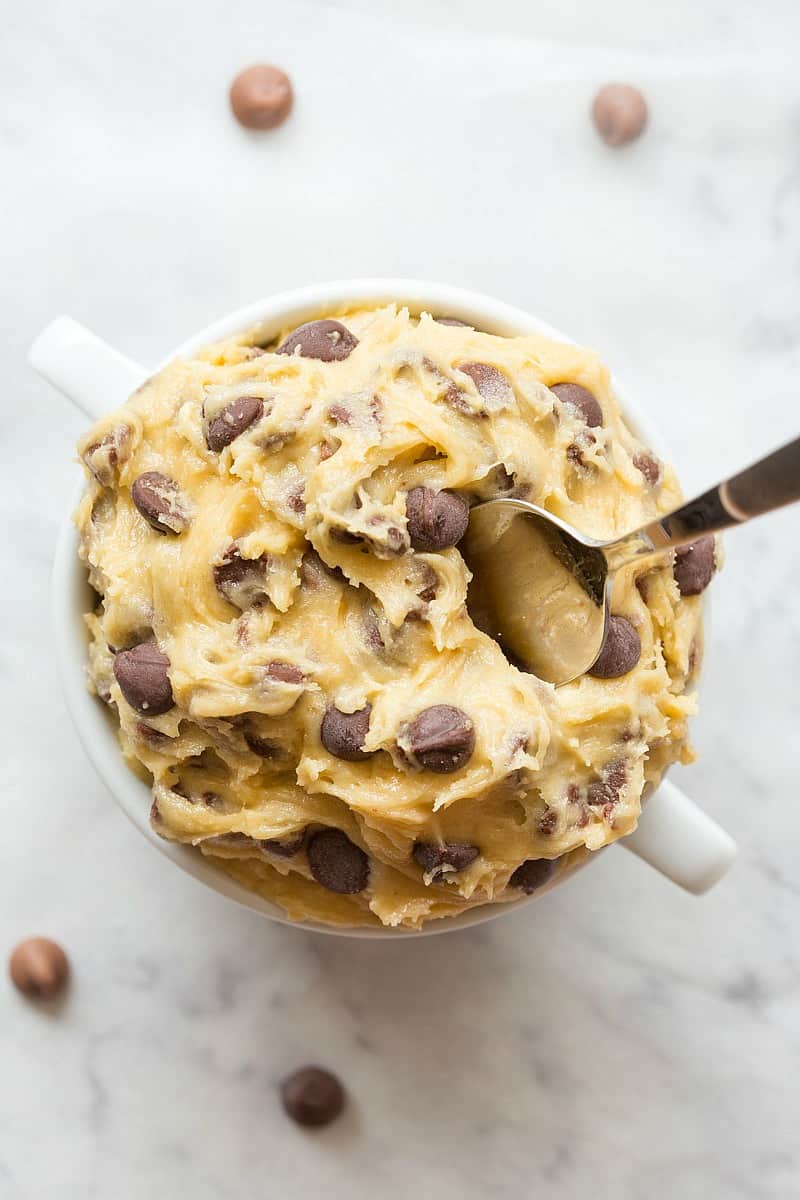 Edible Cookie Dough
More and more supermarkets and grocery stores and are stocking edible cookie dough.
Yes, you can now buy edible cookie dough, but personally, I think that is a waste of time.
See, making your own edible cookie dough is SO quick, easy and literally uses everyday ingredients you probably have on hand right now.
Also, store-bought edible cookie dough is rarely vegan or gluten free.
What is the difference between edible cookie dough and regular cookie dough?
I thought there was no difference in regular cookie dough and edible cookie dough, until I started making my own.
The key difference between the two is that regular cookie dough includes white or all-purpose flour in its raw state and often, raw eggs. You don't need to do anything to it- simply bake the dough in the oven, as you would with any cookie or cake recipe.
Even if you make vegan chocolate chip cookies, they still contain raw, inedible flour.
Edible cookie dough, on the other hand, requires the flour to be heat treated first.
Heat treating flour involves baking the flour and allowing it to cool, before mixing in the other ingredients. Treated flour will ensure that the flour is free of any food pathogens, kills germs and avoids any bacteria to be present.
Edible cookie dough also must NOT contain any eggs.
Is edible cookie dough safe?
Edible cookie dough, as opposed to regular cookie dough, is safe to eat.
As mentioned above, edible cookie dough contains heat-treated flour and also has no eggs in it whatsoever.
It uses everyday ingredients you can eat in its original state (except for the flour) and requires NO prep.
So, how does this edible cookie dough taste?
Imagine your all-time favorite chocolate chip cookie, but without the need for an oven.
It is that good.
It's sweet, slightly salty and loaded with bits of chocolate flavor.
Texture-wise, it is smooth, creamy but not too creamy that it's scoopable- It's kind of like hard ice cream!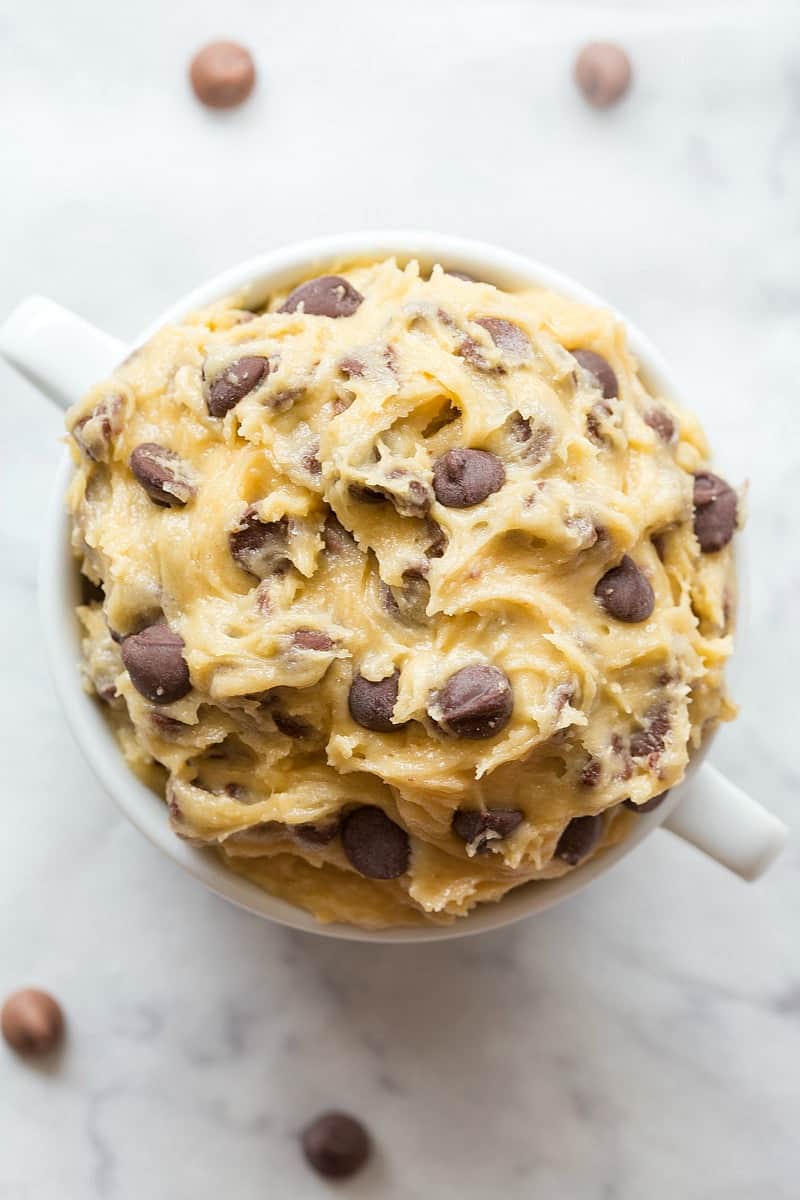 How to make edible cookie dough from scratch
The Ingredients
Brown Sugar– Gives the cookie dough the authentic flavor. Avoid using dark brown sugar, otherwise, it will be overpowering!
White Sugar– When paired with the brown sugar, it provides the cookie dough color and flavor.
All-purpose flour– I used gluten-free flour, to keep this recipe gluten-free. You can use any all-purpose flour of choice.
Non-dairy milk– To make the cookie dough smooth and creamy. If you don't follow a vegan diet, you can use any milk.
Vanilla Extract– A MUST for anything involving cookies!
Salt– Brings out the sweetness!
Vegan butter– Use a good quality vegan butter brand, as cheaper brands contain added water to bulk up.
Dairy Free chocolate chips– Use a mix of mini chocolate chips, standard chocolate chips and chocolate chunks for all the textures!
The Instructions
Treat the flour- Start by heat treating your flour by ensuring it is suitable to eat in edible cookie dough.
Cream your butter and sugar- In a stand mixer, cream your vegan butter and sugars, for around 3 minutes.
Add the other ingredients and mix them! Slowly, add your milk and vanilla extract and keep mixing. Gradually add your flour and salt and mix until just combined.
Add chocolate chips and enjoy- Use a rubber spatula and fold through your chocolate chips. Transfer a bowl and enjoy!
How to heat treat flour to make edible cookie dough
Heat treating flour to be suitable for this recipe is incredibly simple. You can either do it in the microwave or in the oven.
Microwave method
In a microwave-safe bowl, place your flour in it. Heat in 30-second increments, stirring each time (to avoid it burning).
Use a thermometer to check the flour is at 160-165F throughout.
Oven method
Similar to the microwave method, you will need to stir regularly and check the temperature of the flour to ensure it is 160-165F.
Preheat oven to 300F. Spread flour on a baking pan lined with parchment paper. Bake for 10-12 minutes, stirring every 2 minutes and checking the temperature of it each time.
NOTE: Flour must be cooled completely before using it.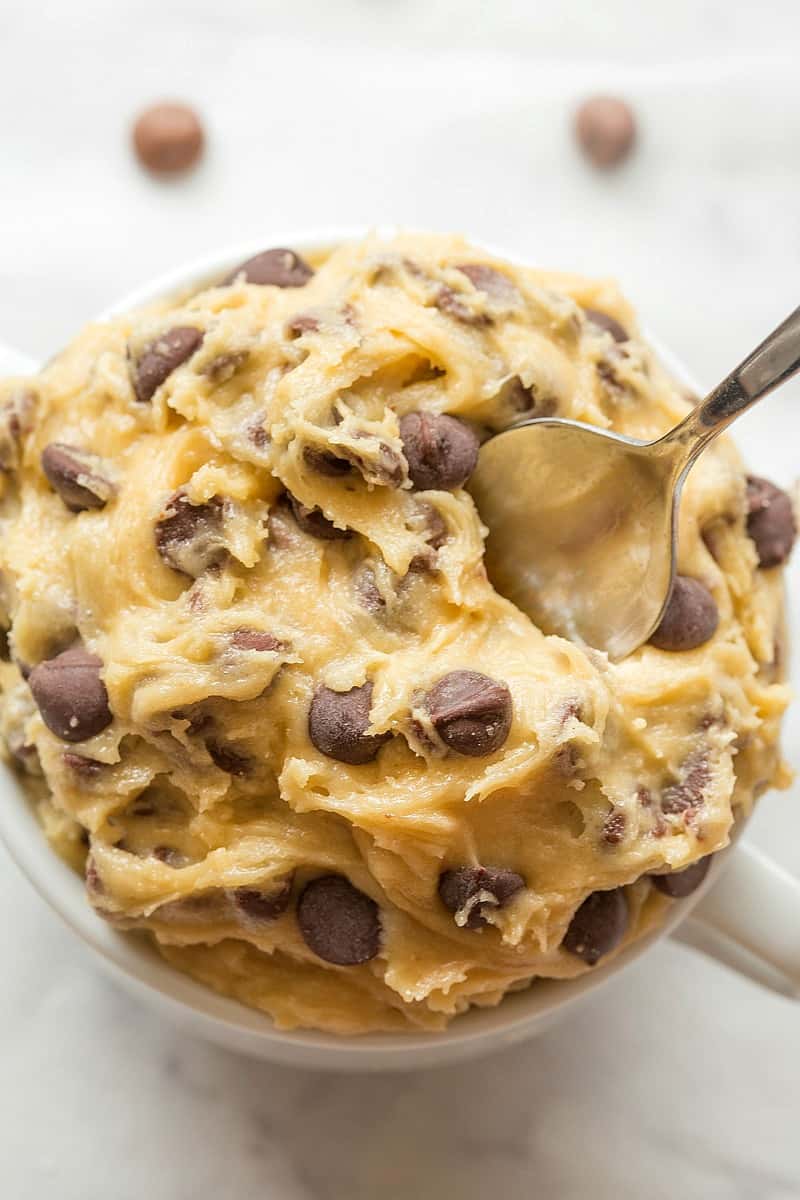 Can you bake edible cookie dough
Short answer, no.
You could if you wanted to, but the ingredients and liquid components are different to an actual vegan chocolate chip cookie recipe.
Enjoy this cookie dough as is, then make one of these cookies instead.
Can I make this cookie dough sugar free?
Absolutely! I have tried this without sugar and here are the substitutions
Is there a keto and paleo option?
You'll LOVE this keto edible cookie dough instead.
Bonus- If you want a single-serve cookie dough recipe, try this one here.
Double bonus- if you want cookie dough for one or two, simply half the recipe.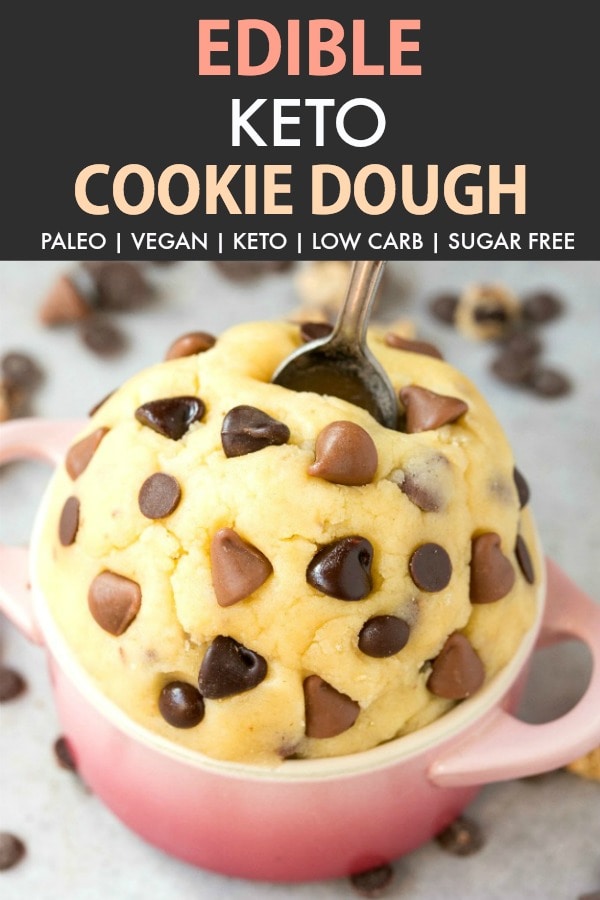 More no bake desserts you'll love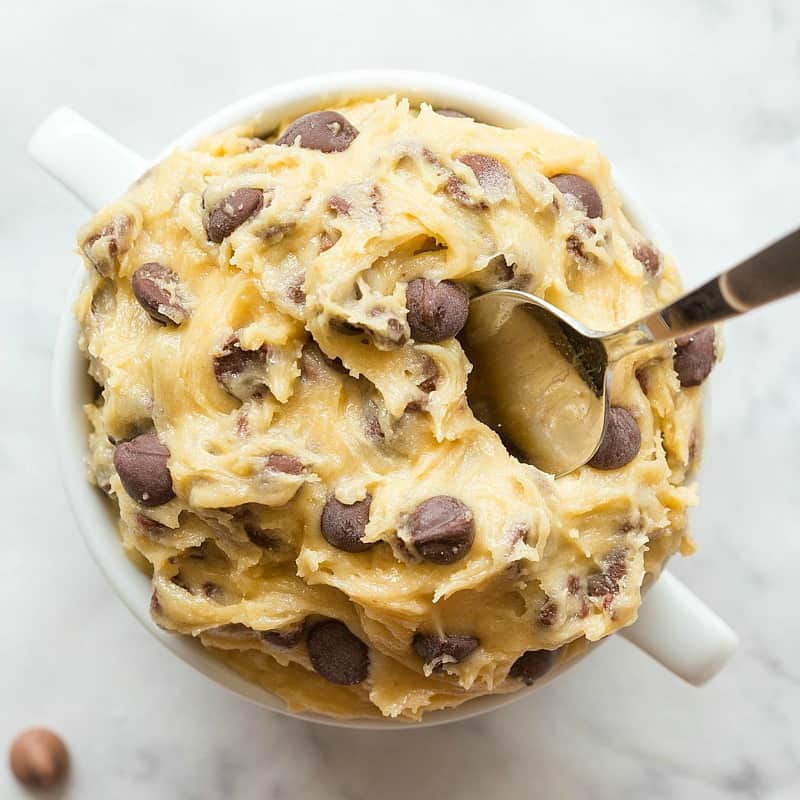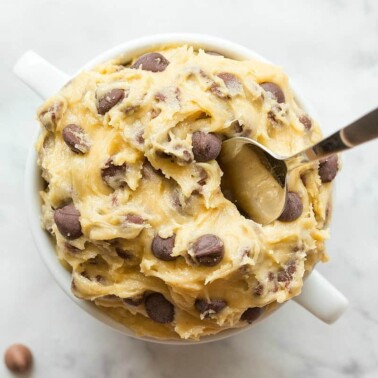 Best Ever Edible Cookie Dough (vegan, gluten free)
The BEST easy recipe for homemade edible cookie dough! Loaded with chocolate chips, it has no raw eggs, no raw flour and is completely vegan and gluten-free!
Instructions
Start by heat treating your flour in either the microwave or oven (see post for instructions).

In a mixer, cream your butter with sugars for 2-3 minutes, until combined. Add your milk and vanilla extract, and continue mixing. Slowly add in your flour and mix until just combined.

Using a rubber spatula, fold through your chocolate chips. Transfer to a bowl and enjoy immediately.
Notes
* See post for sugar free options.
Nutrition
Serving:
1
serving
Calories:
267
kcal
Carbohydrates:
32
g
Protein:
4
g
Fat:
15
g
Sodium:
131
mg
Potassium:
47
mg
Fiber:
3
g
Vitamin A:
719
IU
Vitamin C:
3
mg
Calcium:
31
mg
Iron:
2
mg
NET CARBS:
29
g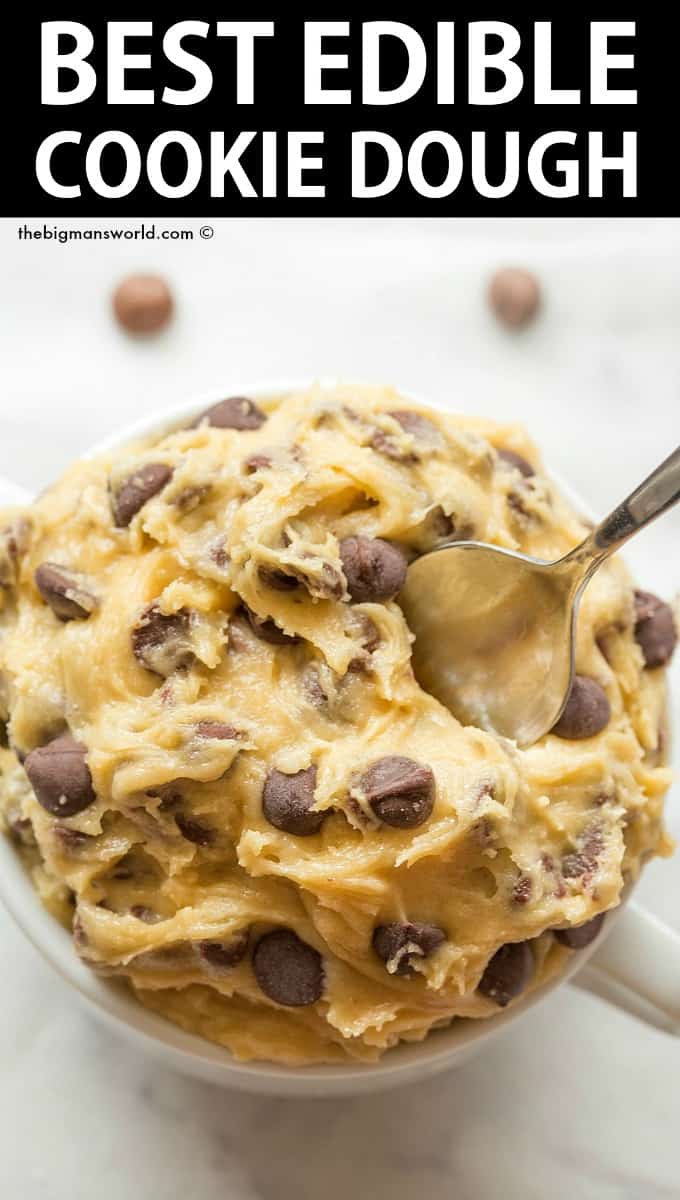 Disclosure: This post may contain affiliate links. I may earn a small commission for my endorsement, recommendation, testimonial, and/or link to any products or services from this website.