No Bake Peanut Butter Cheesecake
This no bake peanut butter cheesecake is a delicious keto dessert recipe made with simple ingredients! Smooth, rich, and creamy peanut butter filling topped with a coconut cream ganache. 3 grams net carbs per serving.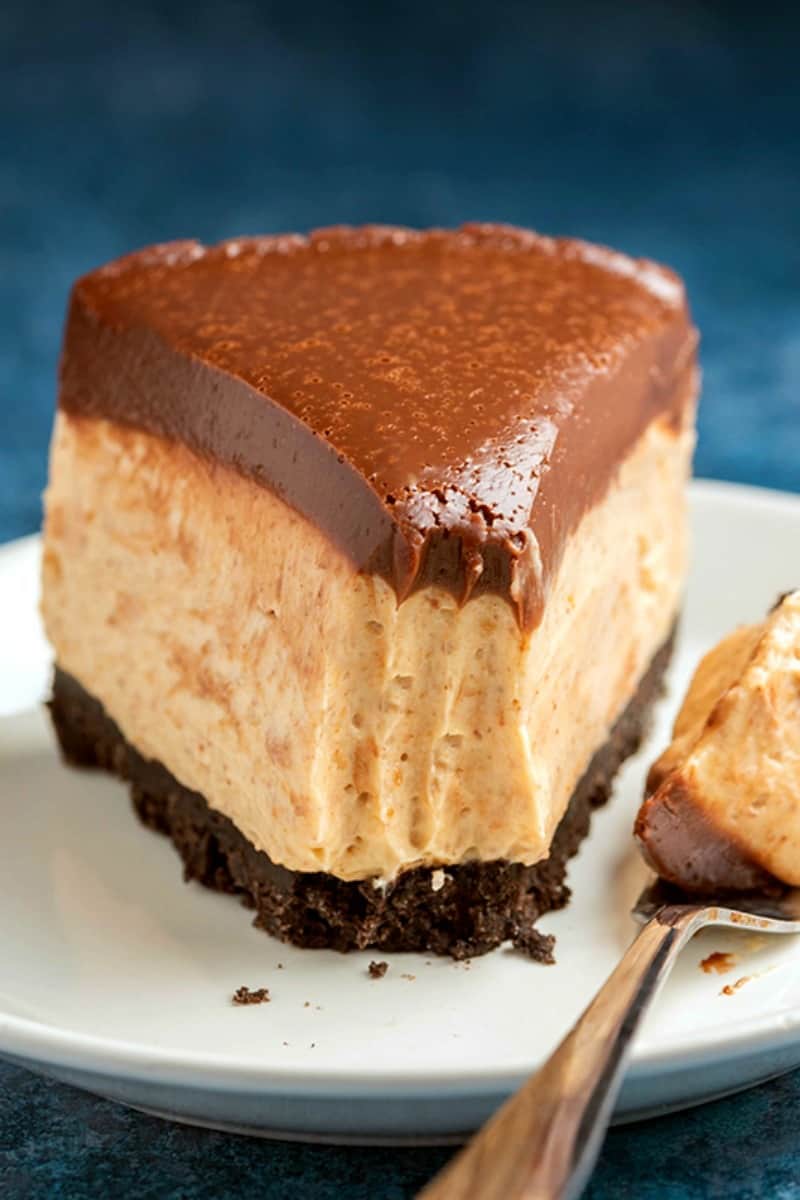 Keto Peanut Butter Cheesecake
When it comes to keto no bake dessert recipes, I can never say no to cheesecake, chocolate cheesecake, and this dreamy peanut butter cheesecake.
If you are like me and love the combination of chocolate and peanut butter, you'll be obsessed with this show stopping dessert. A thick, creamy peanut butter cheesecake filling, covered with a thick layer of chocolate. It's sweet, a little tangy, but loaded with chocolate and peanut butter flavor.
It comes together quite easily and uses just a handful of ingredients. This low carb peanut butter cheesecake has no butter, no sugar, but you'd never tell. Naturally keto and sugar free, it's easy to make vegan too!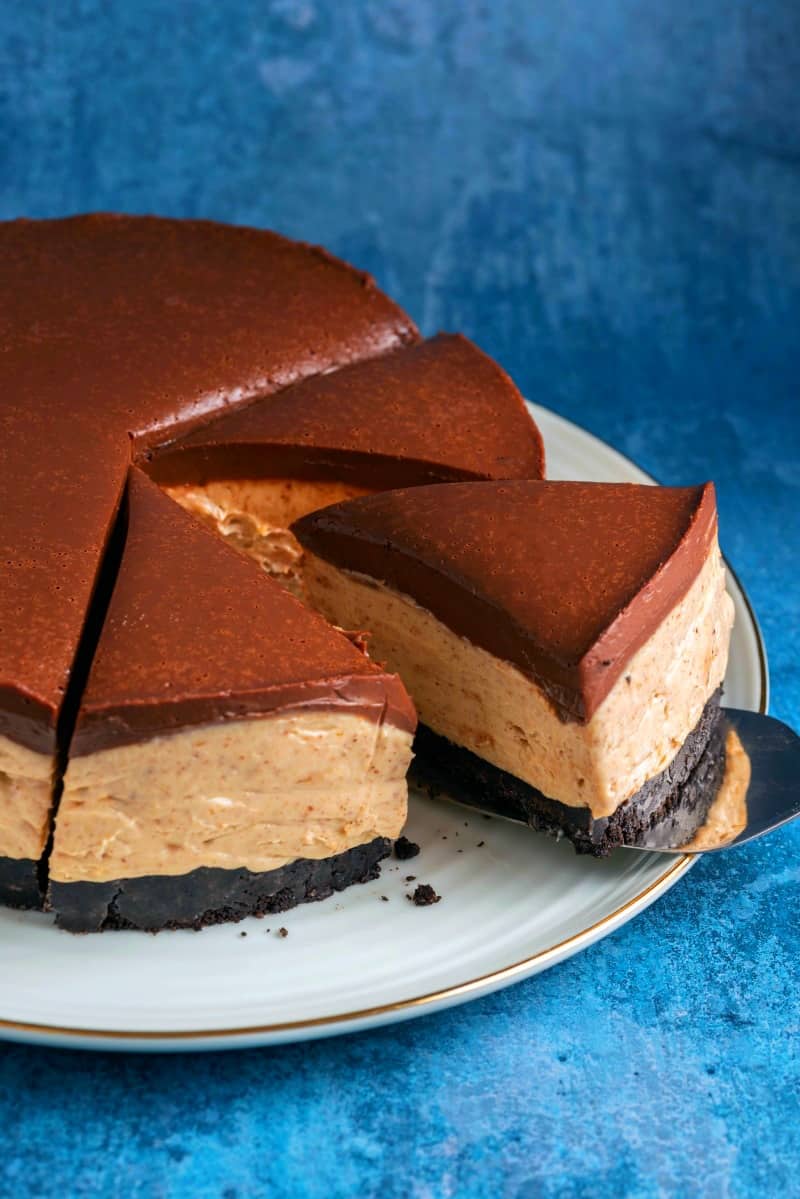 How do you make a chocolate peanut butter cheesecake
This cheesecake may look fancy, but I promise you it is so simple to put together. The filling itself requires just one bowl, and it's a matter of waiting for it all to set!
The Ingredients
Crust of choice– Easily make a homemade crust in chocolate or plain flavored. I'll include my homemade one below.
Cream cheese– Be sure that is at room temperature and full fat. Dairy free cream cheese can also be used.
Sugar free powdered sugar– Sweetens the peanut butter cream cheese filling, and also keeps the filling smooth, not gritty.
Vanilla Extract– Gives a light vanilla touch!
Peanut Butter– You must use smooth and creamy peanut butter. Use a sugar free peanut butter, and one with no added salt. The cream cheese already adds a slight tang.
Heavy cream– Also known as double cream.
Coconut cream– This is mixed with the chocolate chips for the ganache topping.
Chocolate chips– Be sure to use sugar free chocolate chips. Alternatively, you can use a chopped up chocolate bar.
The Instructions
Start by preparing your crust and set aside. In a large mixing bowl, add your softened cream cheese and powdered sugar and beat until combined. Add your vanilla extract and peanut butter, and beat into the mixture. Finally, add your heavy cream and continue beating until completely combined and smooth. Transfer your peanut butter cheesecake filling over the pie crust and refrigerate overnight. The next morning, prepare your chocolate ganache by heating up your coconut cream until warm. Once warm, add your chocolate/chocolate chips and let sit for a minute, before whisking together until combined and smooth. Pour your chocolate coconut cream ganache over the top of the peanut butter cheesecake and refrigerate for an hour, for the chocolate to firm.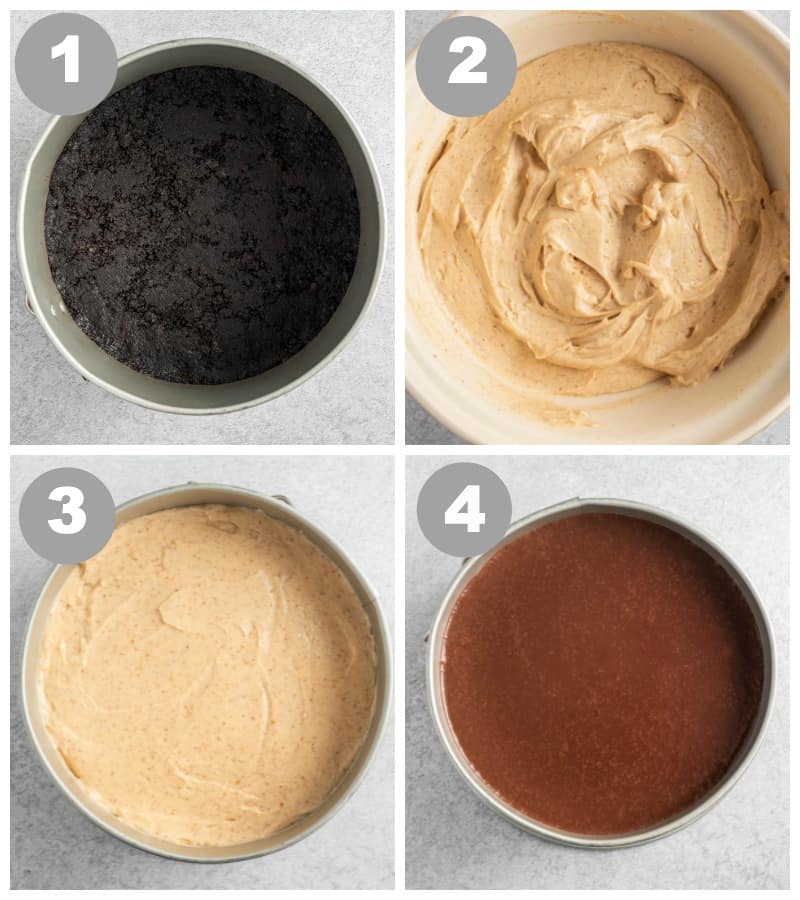 How to make a chocolate cookie pie crust
You can use your favorite 8-inch or 9-inch pie crust for the base. I made a simple chocolate pie crust, that requires no baking.
To make: 1 1/2 cups crushed keto chocolate cookies, 6 tablespoons butter of choice (melted), 1-2 tablespoons sweetener (if you prefer a super sweet crust).
In a large mixing bowl, add your ingredients and mix well. Transfer to an 8 or 9-inch pan and press into place. Refrigerate until firm.
Can I replace the peanut butter with something else?
If you have a peanut allergy or want to use something else, you can replace it with either almond butter, tahini, or sunflower seed butter. Like the peanut butter, they must be smooth in texture.
The color of the cheesecake will be different (darker), but will still be able to be made into a delicious no bake cheesecake.
Can I make this dairy free (vegan)?
If you'd like to make this a vegan peanut butter cheesecake, make the following substitutions-
Cream cheese– Use vegan cream cheese, preferably from a block. Spreadable dairy free cream cheese does not have the extra thickeners in it to help hold its shape.
Heavy cream– The only vegan heavy cream that has been tested is the Elmlea plant based double cream. It can be whipped and hold it's shape, something many alternatives lack.
Tips for the perfect cheesecake
Use a springform pan if you can- This makes the removal of the cheesecake so easy!
Your peanut butter should be smooth and drippy in texture. If you use one that is a little firm, you can microwave it for 20-30 seconds, to get it moving. Unless you want a slightly salty flavor, be sure the peanut butter has no added salt.
Either an 8-inch pan or 9-inch pan will work. If you'd prefer a thicker cheesecake, use an 8-inch pan.
While I do love a crustless pie, this isn't the kind of cheesecake you want to enjoy without a crust. The peanut butter cream cheese mixture is a little too fragile.
If you want a plain peanut butter cheesecake, you can omit the chocolate ganache on top.
Storing and Freezing Tips
To store: Cheesecake can be stored in the refrigerator, in a sealable container, or in the pie dish, covered in plastic. It will keep fresh for up to 1 week.
To freeze: Freeze leftover slices in a freezer friendly container, and keep in the freezer for up to 6 months. Thaw at room temperature, or in the refrigerator overnight.
More Keto Desserts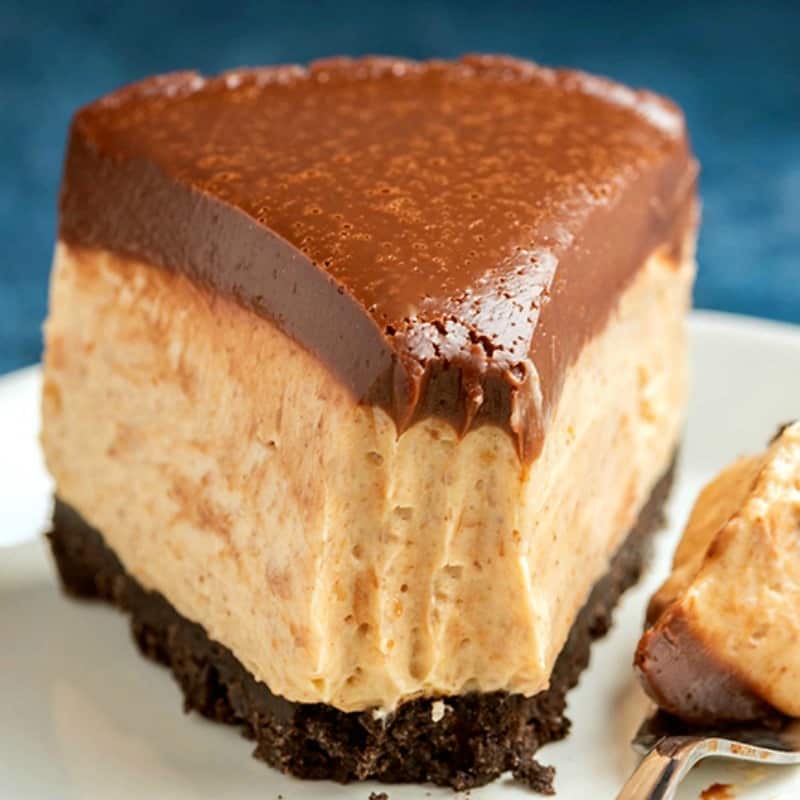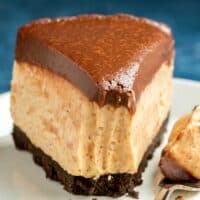 No Bake Peanut Butter Cheesecake
This no bake peanut butter cheesecake is a delicious keto and low carb dessert that takes no time to make! Smooth, creamy, and loaded with peanut butter flavor, this keto peanut butter cheesecake can easily be made vegan!
Print
Rate
Ingredients
For the chocolate ganache
Instructions
Prepare your pie crust and press into 8 or 9-inch springform pan and set aside.

In a large mixing bowl, beat together your cream cheese with the powdered sugar until combined. Add your vanilla extract and peanut butter and continue beating, until smooth. Slowly add your heavy cream and beat until fully incorporated and smooth.

Transfer your cheesecake filling onto the prepared pie crust and refrigerate for at least 6 hours, or overnight.

Once the peanut butter cheesecake has set, prepare your ganache by heating up your coconut cream (in the microwave or stovetop). Once warm, add your chocolate chips and let sit for 1-2 minutes, before whisking together until combined. Pour the ganache over the top of the cheesecake. Refrigerate
Notes
* Refer to the content in the post for a homemade chocolate cookie pie crust used in the recipe.
** Smooth almond butter, sunflower seed butter, and tahini can also be used.
No Bake Peanut Butter Cheesecake must be refrigerated at all times.
Nutrition
Serving:
1
Slice
|
Calories:
293
kcal
|
Carbohydrates:
6
g
|
Protein:
8
g
|
Fat:
29
g
|
Sodium:
239
mg
|
Potassium:
206
mg
|
Fiber:
3
g
|
Vitamin A:
717
IU
|
Calcium:
57
mg
|
Iron:
1
mg
|
NET CARBS:
3
g