Homemade Almond Butter- 1 Ingredient only!
Never buy store-bought almond butter again- You can easily make your own using 1 ingredient- Fresh, raw almonds! Drippy, creamy, smooth almond butter you can enjoy on its own or use it in hundreds of recipes!
When January the 1st hits, I am always prepping for another round of the whole30 diet. I have my whole30 energy bites prepped, my coconut cream pie Larabars prepped and this huge jar of almond butter.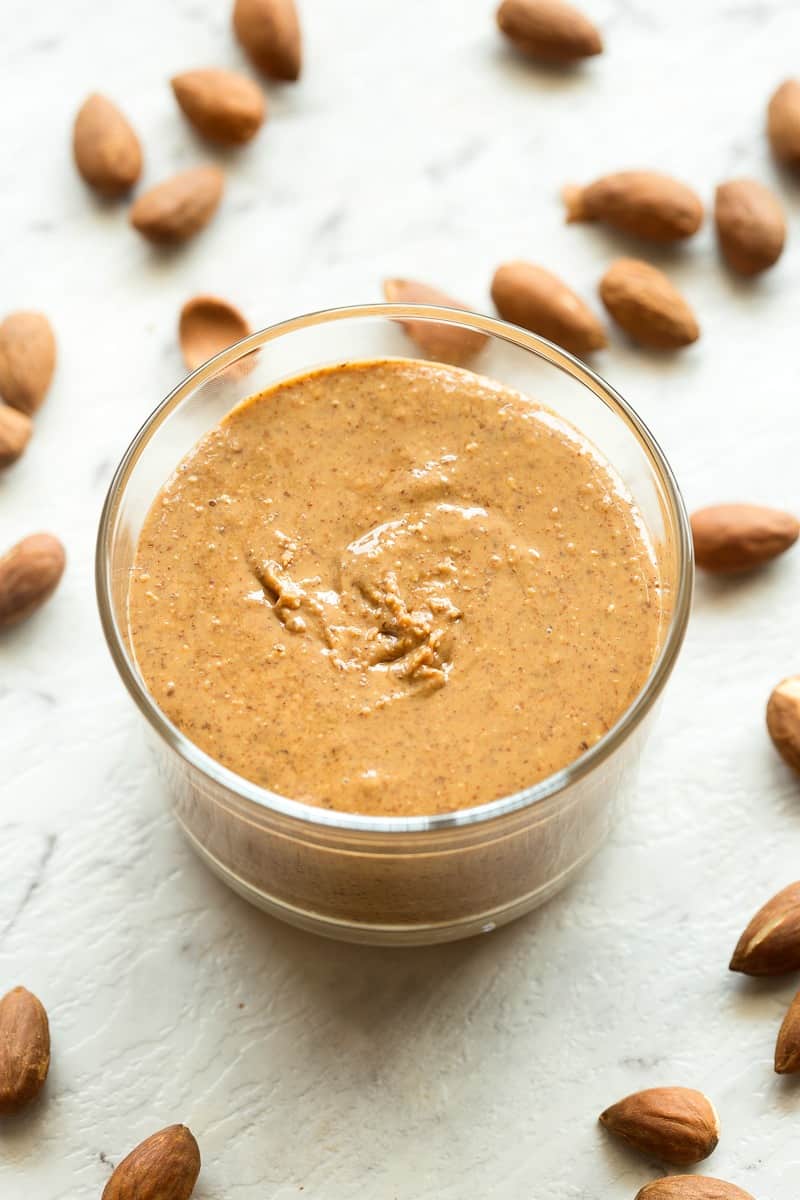 Is Almond Butter Whole30 Approved?
Following the whole30 diet? You'll be stoked to know that almond butter is on the approved foods list.
Raw, natural almond butter (made with just almonds) is a fantastic addition to a myriad of recipes, or even enjoyed on its own. It's full of healthy fats and packed with fiber and protein. It is a great way to curb hunger, whether you follow a whole30 diet or not!
Bonus? Homemade almond butter is also keto friendly!
Is it cheaper to make your own almond butter?
So… I did a little bit of investigating here.
For the longest time, I strictly used store-bought almond butter. My favorites include this Costco brand almond butter, Wholefoods brand almond butter, and my personal favorite- Barney butter.
Based on price, the jars of store-bought almond butter are between $6.99-$25.99. However, the size of these almond butter is different so…I did a calculation per 100-gram serving.
Per 100 gram serving, the average of the store-bought almond butter was $3.55.
Now… Homemade almond butter.
Based on 1 kilogram (slightly over 2 pounds) of raw almonds, I produced enough almond butter which came around to $1.79 per 100 grams.
Making your own almond butter will save you more than half the price of store-bought almond butter!
How to make homemade almond butter in the blender
Making your own almond butter is SO simple. You only need a food processor or like me, a high-speed blender!
Step 1: You'll start by slightly roasting your almonds. This will help make the almonds easier to blend/pulse, and also provide an even richer flavor.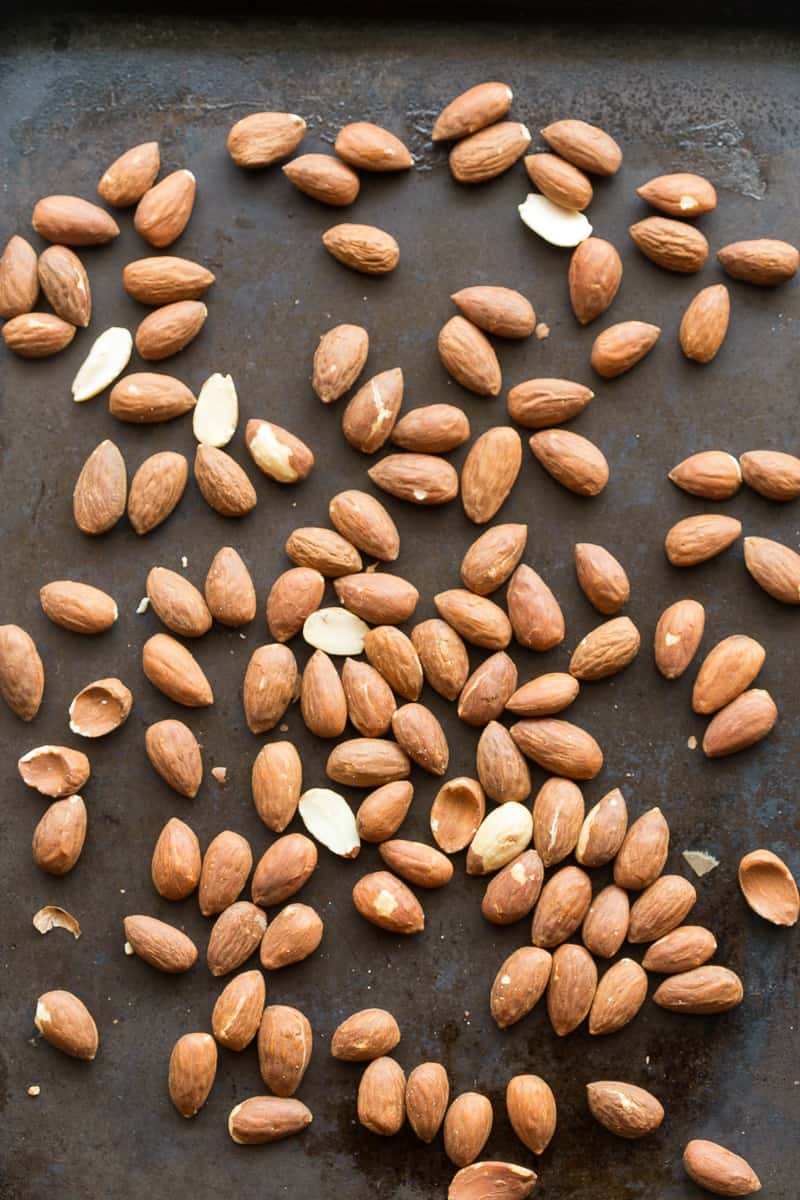 Step 2: Once the almonds have cooled, place them in the blender/food processor. Pulse/blend until a crumbly texture remains (similar to almond flour/almond meal). Use a rubber spatula and scrape around the side of the blender/food processor. Continue blending/pulsing until a smooth texture remains, regularly scraping down the sides.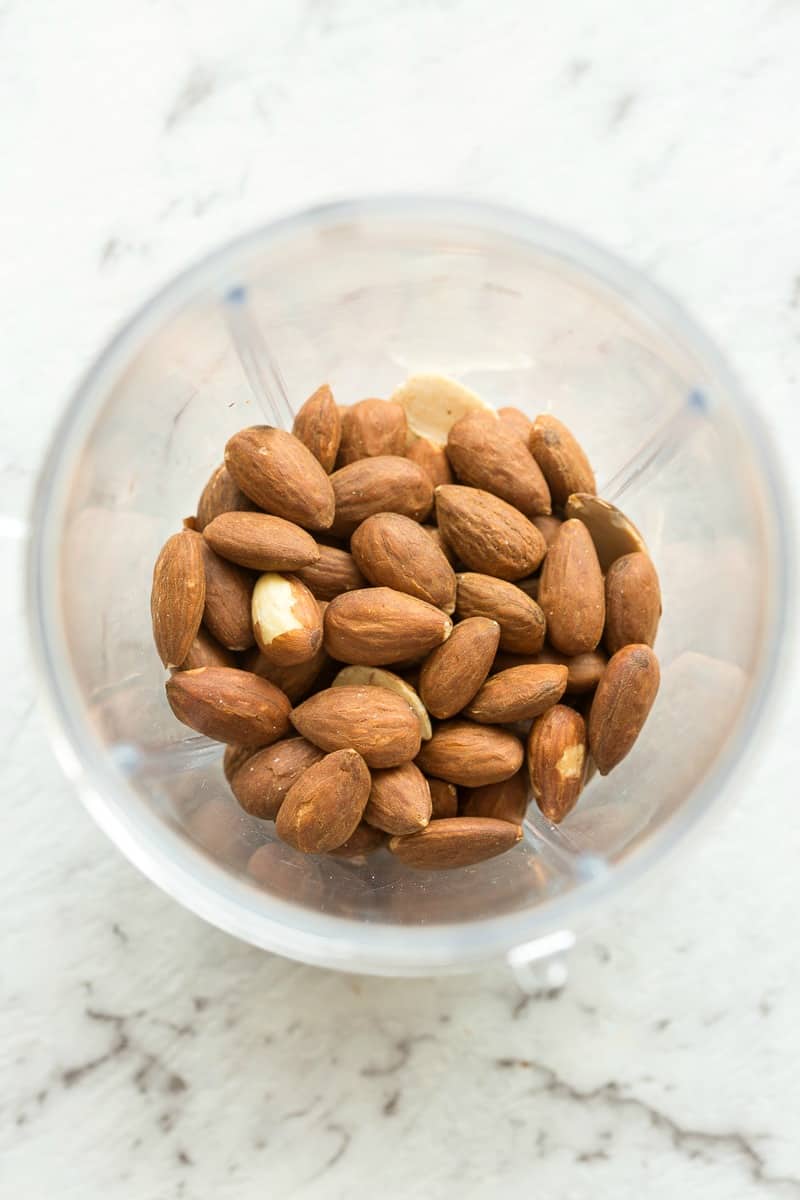 Step 3: Transfer the homemade almond butter in a sealable container or jar.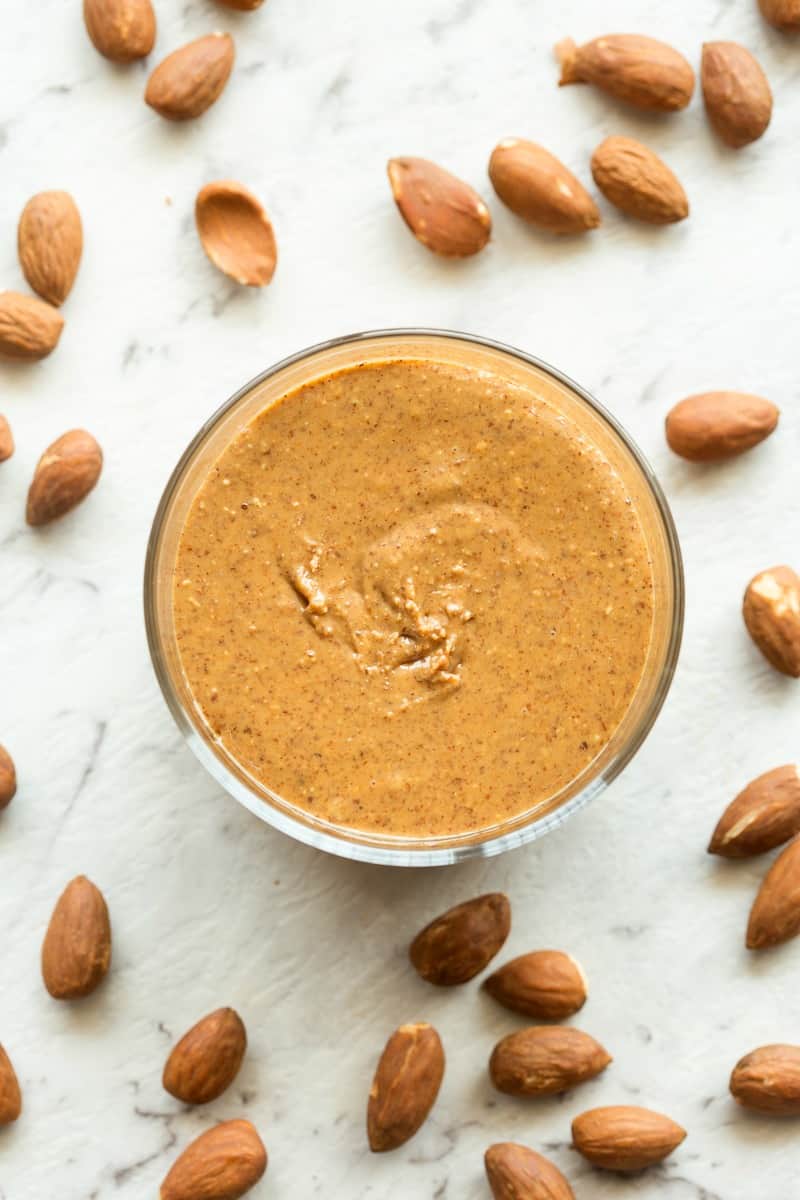 How long can you can keep homemade almond butter?
Almond butter has a fantastic shelf life, especially if you store it in a jar container, instead of plastic.
Jarred homemade almond butter will keep for at least 6 months, longer if stored in a dark cupboard or room.
Do you have to refrigerate homemade almond butter?
Contrary to popular belief, almond butter does NOT need to be refrigerated.
It does not contain dairy or any fresh fruit/vegetables, which will result it to fail. Furthermore, almond butter can actually become rancid and separate when refrigerated. It's best to keep almond butter at room temperature, out of light.
Saying that, you CAN freeze almond butter, provided it is in a plastic container.
How to eat almond butter
Almond butter can is a fantastic snack to enjoy on its own, by the spoonful. However, it is a great ingredient in a plethora of recipes! Also, smooth and drippy almond butter has similar baking capabilities to peanut butter. If you have a recipe calling for peanut butter, swap it for this almond butter!
Recipes using almond butter
Snacks using almond butter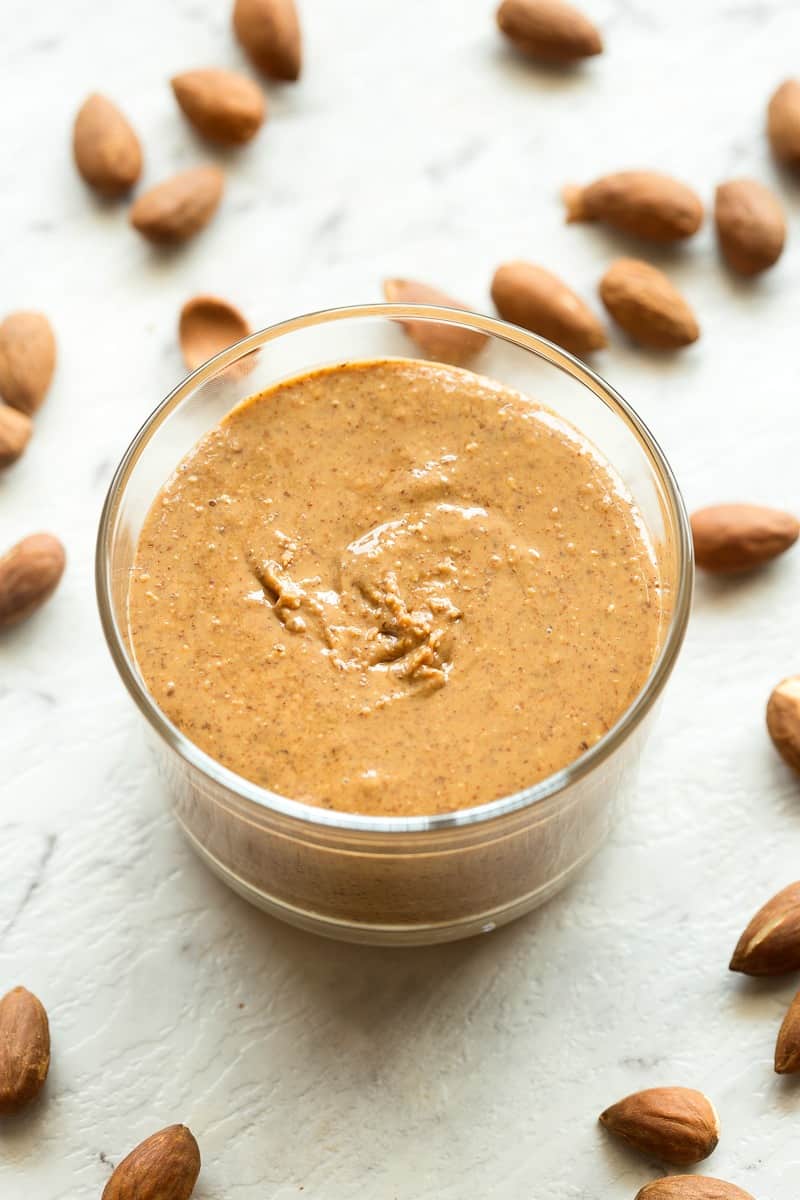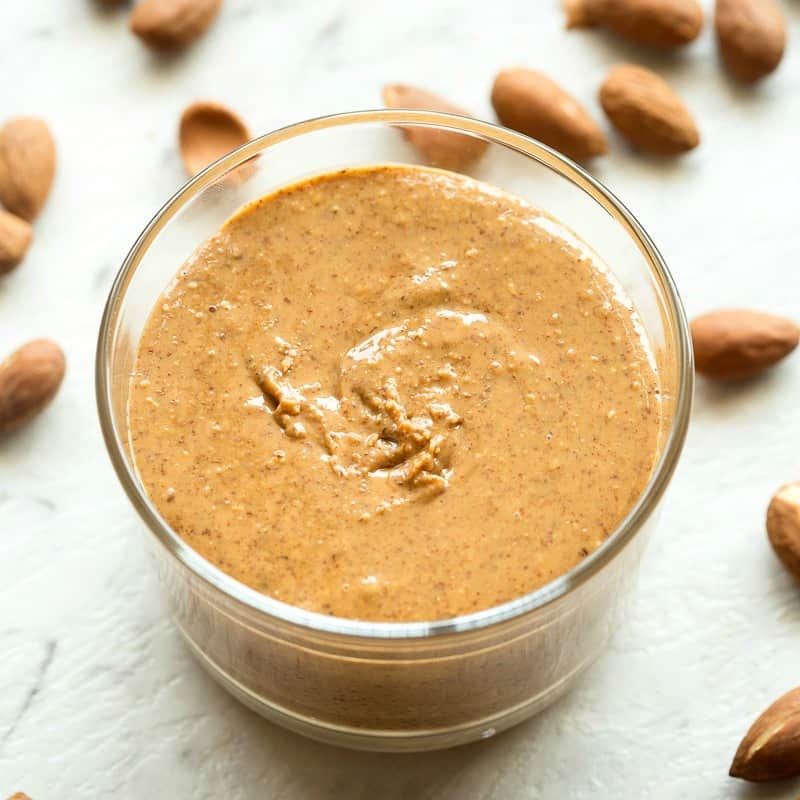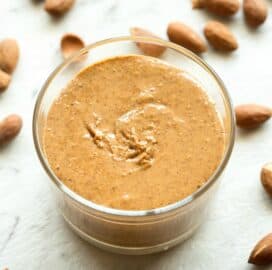 Homemade Almond Butter Recipe
An easy recipe for homemade almond butter made in a blender or food processor! Made with just 1 ingredients, it's cheaper than store bought! Smooth, creamy and drippy almond butter that is whole30 approved, keto, vegan, paleo and gluten free!
Print
Rate
Instructions
Preheat the oven to 180C/350F. Place almonds on a large baking tray and place in the oven for 10-12 minutes, until fragrant and toasted.

Remove from the oven and let cool completely.

Once cool, place toasted almonds into a high-speed blender or food processor. Pulse until a crumbly texture remains. Give it a stir using a rubber spatula. If desired, add some salt. Continue pulsing until smooth and creamy, regularly scraping down the sides.

Transfer the homemade almond butter into a jar or container.
Notes
Homemade almond butter should be stored in a jar or glass container, and at room tempetature. Ensure it is covered, and in a dark cupboard or pantry.
Nutrition
Serving:
1
tablespoon
|
Calories:
90
kcal
|
Carbohydrates:
4
g
|
Protein:
8
g
|
Fat:
8
g
|
Potassium:
2
mg
|
Fiber:
2
g
|
Vitamin A:
2
IU
|
Vitamin C:
2
mg
|
Calcium:
2
mg
|
Iron:
2
mg
|
NET CARBS:
2
g