Peanut Butter Protein Bars
These homemade peanut butter protein bars are cheaper than storebought and take minutes to whip up! Made with just 4 Ingredients (YES!), these peanut butter protein bars are keto, sugar free, vegan, and a paleo option. Gluten Free, Dairy Free.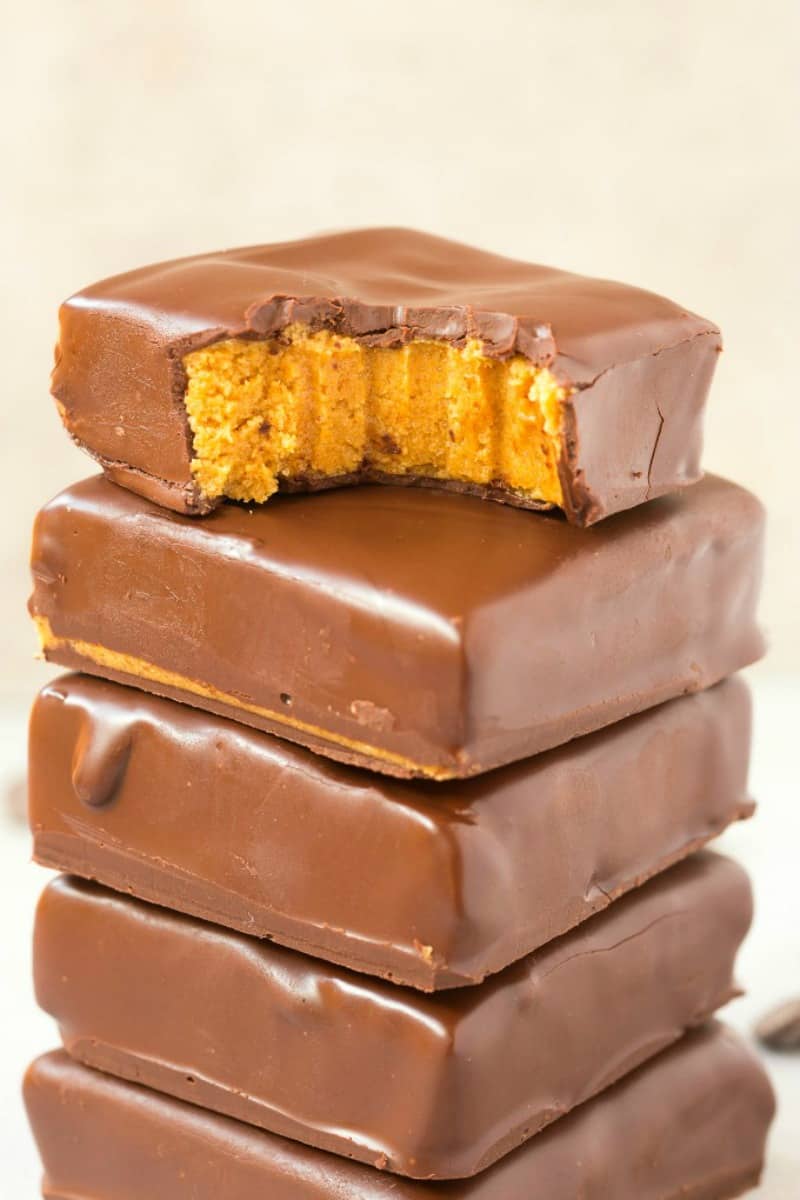 We love our homemade protein bars around here. Our favorites include keto protein bars, no bake protein bars, and these chocolate peanut butter protein bars.
My peanut butter protein bar recipe literally tastes like a protein peanut butter cup! Unlike many store-bought protein bars, these don't taste artificial.
A fudgy protein-rich peanut butter center covered in a healthy chocolate coating- It's like eating dessert, minus the guilt!
I've been snacking on this homemade protein bar like it's going out of style- The high protein content is keeping me satisfied between all my meals, and I've even been eating one or two for dessert!
Like my other homemade protein bars recipe, these low carb peanut butter protein bars are easy to make and need just 4 main ingredients- Sugar free, dairy free and keto!
How to make your own protein bars
The Ingredients
Protein Powder– Any protein powder works, including whey protein, casein protein, and brown rice protein. For a more intense peanut butter flavor, use peanut butter protein.
Coconut Flour– This helps hold the protein bars together while ensuring they have a soft and doughy texture.
Peanut Butter– Smooth and drippy peanut butter, with no added sugar. If you are allergic to peanuts, you can use any smooth nut or seed butter.
Maple Syrup– Either traditional maple syrup or keto maple syrup, to lower the carbs and calories. You can also use agave nectar or honey (not strictly vegan).
Chocolate Chips– To cover the protein bars with! To keep these as plain peanut butter protein bars, you can omit the chocolate. Use either sugar free chocolate chips or dairy free chocolate chips.
The Instructions
Start by mixing together your protein powder and coconut flour in a large mixing bowl. Next, melt your peanut butter and syrup together, and whisk together. Add to the dry mixture and mix very well, until a thick batter remains. Transfer the peanut butter protein bar mixture into an 8 x 8-inch square pan. Freeze the bars for 30-40 minutes, until mostly firm. Remove from the freezer and cut into bars. Place back into the freezer while you melt your chocolate. Once melted, move quickly and dip each peanut butter protein bar in the melted chocolate until evenly coated. Repeat until each protein bar is covered in chocolate and refrigerate until the chocolate firms up.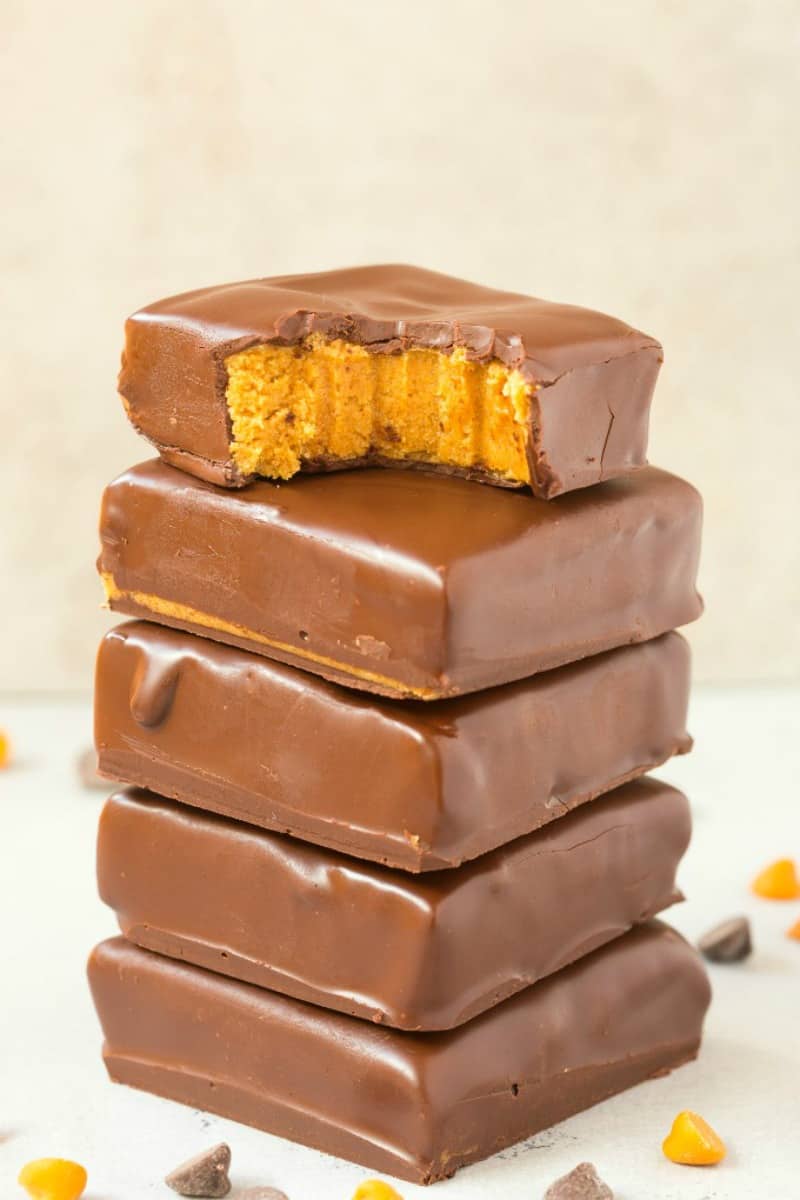 FAQ's About Homemade Protein Bars
Are protein bars really healthy?
I shared over 20 of my homemade protein bar recipes which are all full of healthy, whole food ingredients.
With that said, many protein bars can be full of added sugars or even have a very minimal amount of protein. Be wary if you do opt to buy a packaged one that it is high in protein, fiber, and has no added sugars.
Are protein bars good for you to lose or maintain weight?
I believe protein bars can be a good snack between meals, or even a quick small breakfast.
Many readers include my DIY protein bars as part of their weight loss and maintenance diets, with much success.
My protein bars are generally low carb and low calorie, clocking in around 100-200 calories per bar. These are much better macronutrients than many store bought brands.
Is it bad to eat too many protein bars?
Solely eating multiple protein bars can have negative side effects, especially if you have an intolerance to protein powder ingredients.
However, from personal experience, I regularly enjoy 1-2 protein bars per day, especially in between meals or if I've missed breakfast.
Can I replace the coconut flour?
If you don't follow a grain free or keto diet, you can use another flour instead of coconut flour.
Almond flour– You can use almond flour or almond meal as another low carb and grain free flour. However, you will need to double the amount of coconut flour required.
Oat flour– Oat flour can also be used instead of coconut flour, and you will need to double the amount.
Storing and Freezing Peanut Butter Protein Bars
To store: If you made chocolate peanut butter protein bars, they will keep well at room temperature, as the chocolate coating makes them portable and stable. If you've only made peanut butter protein bars, they need to be stored in the refrigerator. They will keep for up to 2 weeks.
To freeze: Sugar free protein bars are freezer friendly and can be stored in the freezer. Keep them in a ziplock bag and freeze for up to 6 months.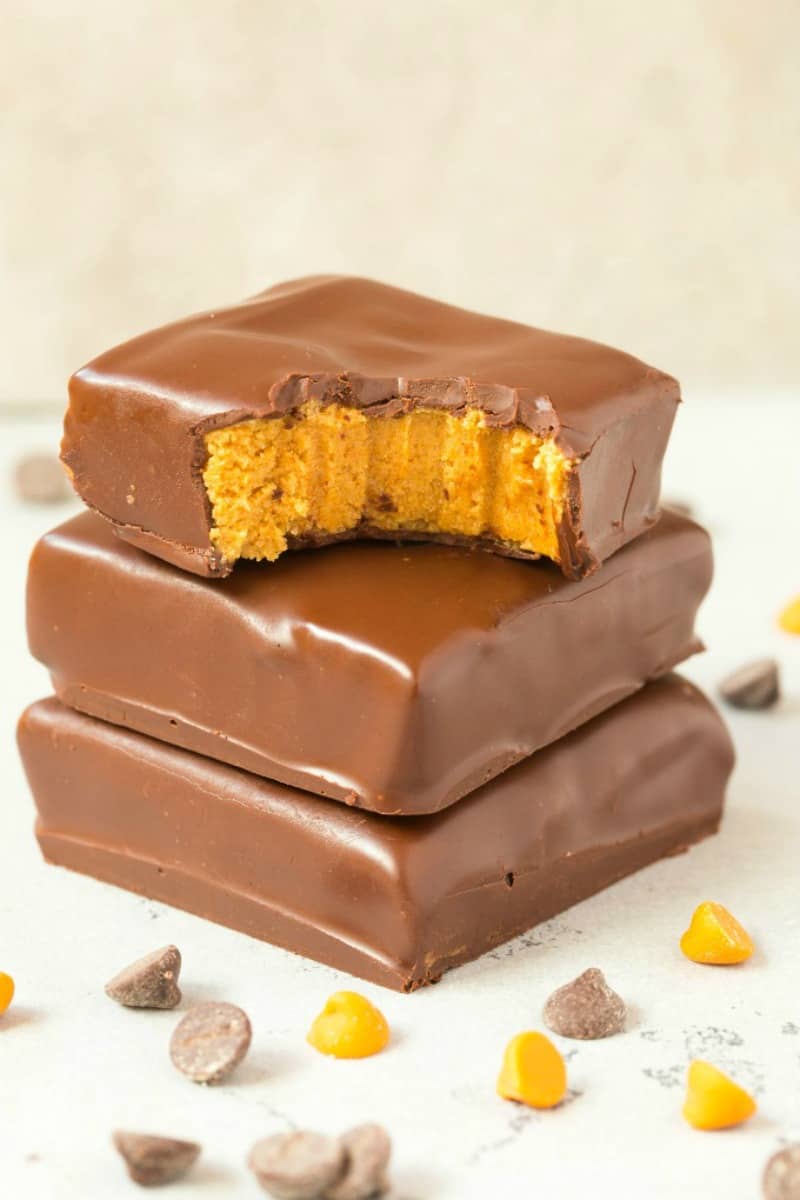 More DIY Protein Bars
Watch how to make it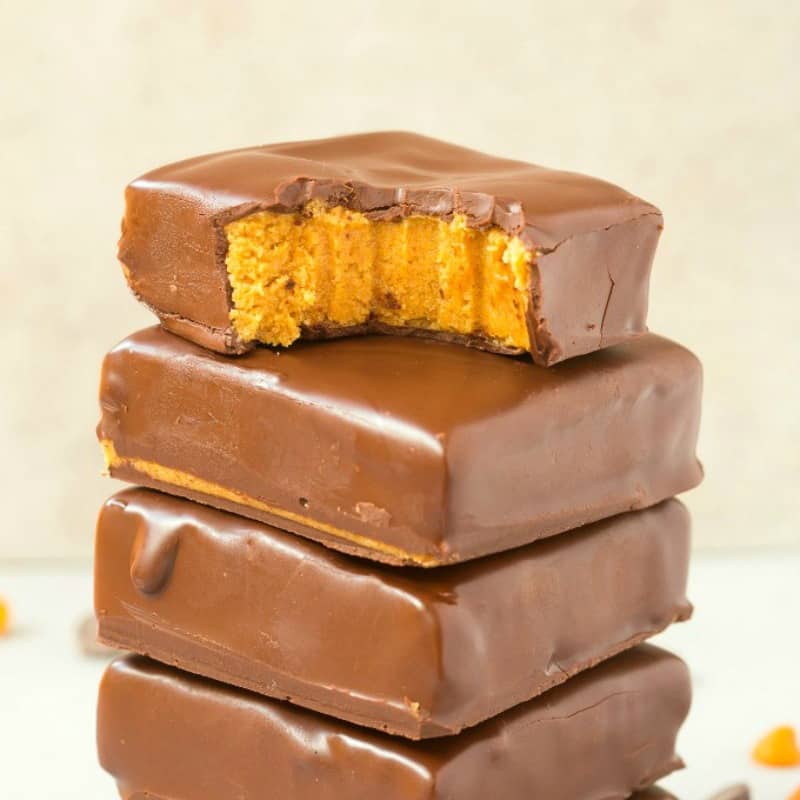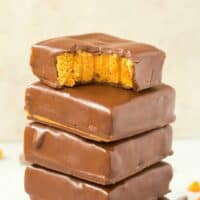 Chocolate Peanut Butter Protein Bars
These homemade peanut butter protein bars are cheaper than storebought and take minutes to whip up! Made with just 4 Ingredients, these chocolate peanut butter protein bars are the best homemade protein bar recipe.
Print
Rate
Instructions
Line a deep pan with parchment paper and set aside. For thicker bars, use an 8 x 8-inch pan. For thinner bars, use any size bigger.

In a large mixing bowl, add your dry ingredients and mix well.

In a small mixing bowl, melt your peanut butter with sticky sweetener until combined. Add to dry ingredients and mix until fully combined.

Transfer peanut butter protein bar batter into the lined baking dish and press firmly in place. Refrigerate or freeze until firm. Once firm, cut into bars and cover in optional chocolate and enjoy! 
Notes
* I prefer using casein, brown rice, or paleo protein powder. I never recommend whey as the texture is incredibly sticky and doesn't form well.
** To keep it keto and sugar-free, use a monk fruit maple syrup. For all other options, maple syrup, agave nectar, brown rice syrup or honey work well.
Please note- If the batter is too thick/crumbly, add water/milk until a firm batter remains.
Peanut Butter Protein Bars should be kept refrigerated and are freezer friendly. If coated in chocolate, they are stable at room temperature.
Nutrition
Serving:
1
Bar
|
Calories:
150
kcal
|
Carbohydrates:
5
g
|
Protein:
21
g
|
Fat:
7
g
|
Sodium:
109
mg
|
Potassium:
150
mg
|
Fiber:
3
g
|
Vitamin A:
9
IU
|
Calcium:
20
mg
|
Iron:
1
mg
|
NET CARBS:
2
g