Healthy Homemade Snickers Protein Bars (Paleo, Vegan, Gluten Free)
Healthy Homemade Snickers Protein Bars (Paleo, Vegan, Gluten Free) which tastes just like the original candy bar, but with a sugar free and low carb makeover! A quick, easy and portable snack or dessert which takes minutes to whip up and can be made with or without protein powder!
After sharing my homemade bounty protein bar recipe, it was inevitable that my homemade snickers version would be next.
I'm a little surprised that it has taken me so long to share this no bake snickers recipe! Snickers is the answer to my sweet and salty palate, as evidenced by the sneaky ways I've incorporated in various foods.
It has appeared in one of my favorite overnight oats recipes
My post-workout protein shake got given the Snickers makeover
If you add a drizzle of caramel to this healthy ice-cream, you have all the best parts of it too!
Ever since I started working out and exercising more, I've ensured to focus on my protein intake. For the longest time, I would resort to store bought protein bars. As predicted, this quickly added up. I soon realized I could make my own!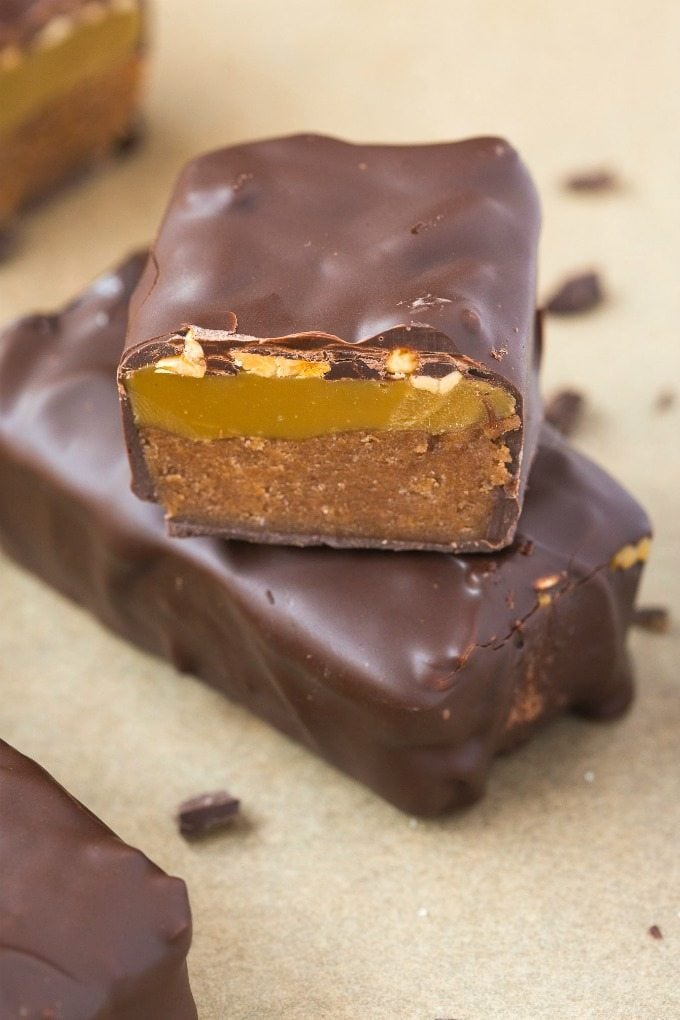 I first started by using my homemade protein bar recipe (3 ingredients and ready in 5 minutes!) before becoming fancy and making a 3 ingredient homemade Paleo version. Since then, I've gotten way more creative and let's be real- They have become my edible motivation AND replacing a boring protein smoothie or protein shake!
The original snickers chocolate candy bar is made up of a thick, chewy nougat, a thick caramel, a thin layer of crushed peanuts and covered in chocolate.
My healthy homemade snickers chocolate candy bar is made up of a thick, chewy bar, a thick, refined sugar free caramel, a thin layer of crushed peanuts (or almonds) and covered in dairy free and naturally sweetened chocolate.
Same texture makeup, same layers of ingredients, one HUGE healthy and a naturally protein-packed makeover!
Before the Paleo police start lamenting that peanuts aren't paleo, I've got you covered below.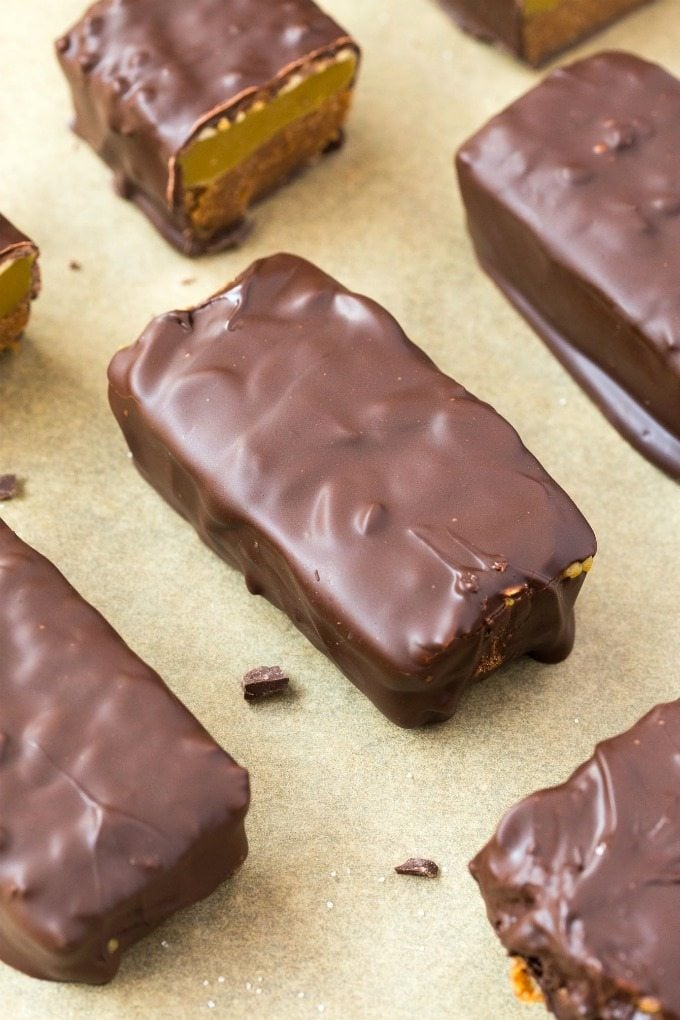 This seriously addictive snickers copycat recipe may sound or look complicated, but I promise it is super simple and will be a staple in your meal prep, lunch boxes, back to school snacks and everyday desserts. Heck, you can even enjoy it pre or post workout.
Can we get an AMEN for edible workout motivation?
These homemade snickers require an easy 3-step process!
The first step involves making the 'nougat', which is where most of the protein is stored, but you'd never be able to tell- It tastes just like the original. It uses a combination of coconut flour, smooth nut or seed butter, vanilla protein powder, a sticky sweetener and some milk to form a thick batter.
I know to some people, coconut flour is an ingredient which can be hit or miss, but this recipe is fool-proof, because of the added milk or liquid of choice. You'll also add the protein powder here too and mix it all together.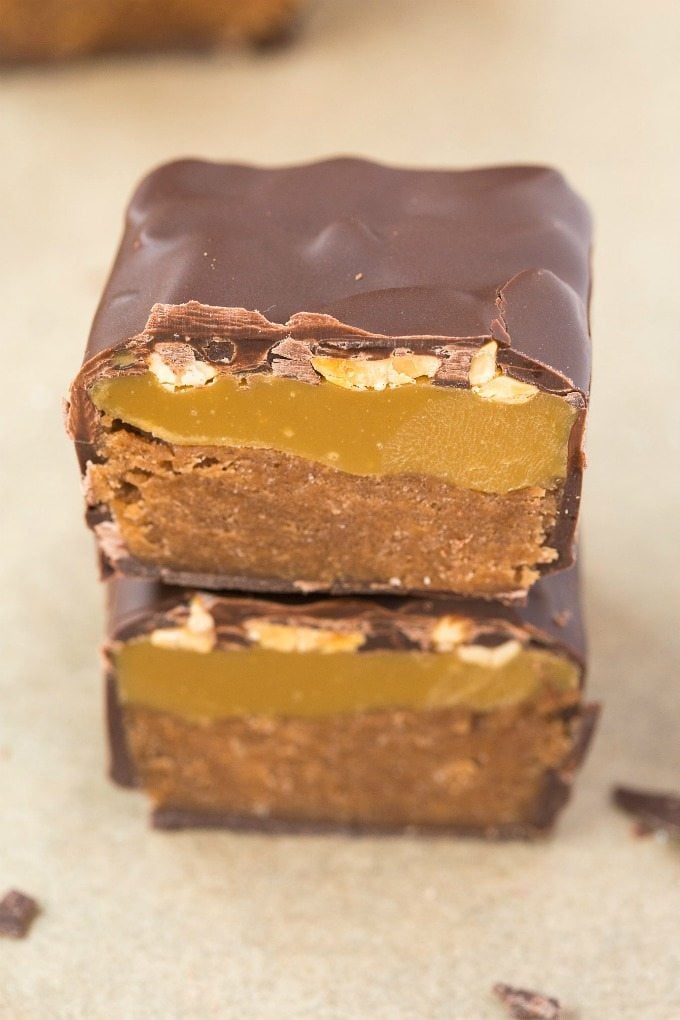 A quick note- You'll want to use a casein protein powder, a brown rice protein powder or a paleo protein powder here. From recipe testing, I've found other kinds of powders to leave the batter either sticky or over dry. If you want this recipe to have NO protein powder, that is totally fine- It is still naturally high in protein without it!
Before you add the liquid, you'll add your smooth peanut butter and sticky sweetener of choice. If possible, melt these two together because it makes it so much easier to mix and form into a durable dough. I wanted to make it taste just like the Snickers nougat, so used peanut as my nut butter. To keep it paleo or if you have a peanut allergy, the best swap being almond butter or cashew butter. If you have a nut allergy, sunflower seed butter or soy nut butter work great.
The chewy caramel layer is my favorite part, and tastes better than what a classic caramel would taste like! You'd assume to make a chewy caramel, you'd need to be standing over a stove for a long period of time, but not at all- This only needs TWO ingredients or three, if you want it super silky and creamy!
Either microwave or stovetop, you'll simply need to combine a nut butter (I used peanut butter, but feel free to use almond/sunflower seed butter) and a sticky sweetener (this sugar-free maple syrup works great!). Together, they produce a creamy, dreamy and sticky caramel-like texture. To take it up a notch, I'd recommend adding some coconut oil, which adds a glossy and even creamier texture.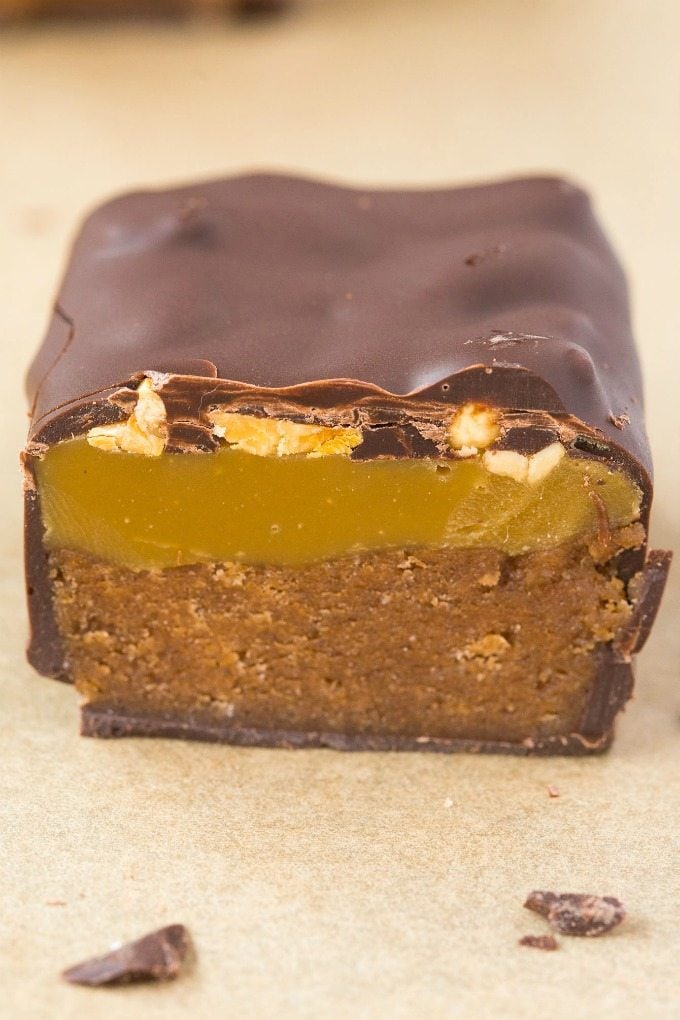 There is an optional part here, but I think it is imperative to keep true to a Snickers bar- Add a layer of salted, crushed peanuts (or crushed nuts or seeds of choice) on top of the caramel, before placing the bars in the fridge to firm up!
The final part is the chocolate coating and it's a simple dip-each-bar into chocolate of choice method! To keep this 100% sugar-free, use these stevia sweetened chocolate chips. If that isn't an issue, use any chocolate chips or choice (as long as they are designed for baking/cooking). I stick to these dairy free and paleo friendly chocolate chips as my go-to!
Seriously, if you ever feel the need to buy a snickers bar OR protein bar again, think again. My homemade version is-
Protein-rich
Quick and easy
Fool-proof 3 Step Process
Using just FIVE Ingredients
Dairy Free and Low Carb
Chewy and fudgy
Kid-friendly
Fitness friendly
SERIOUSLY ADDICTIVE AND GUILT-FREE
The next time you even CONSIDER satisfying your hunger with a snickers bar (because Snickers really satisfies) OR you need a store bought protein bar, think again. These healthy homemade no bake snickers protein bar is your answer!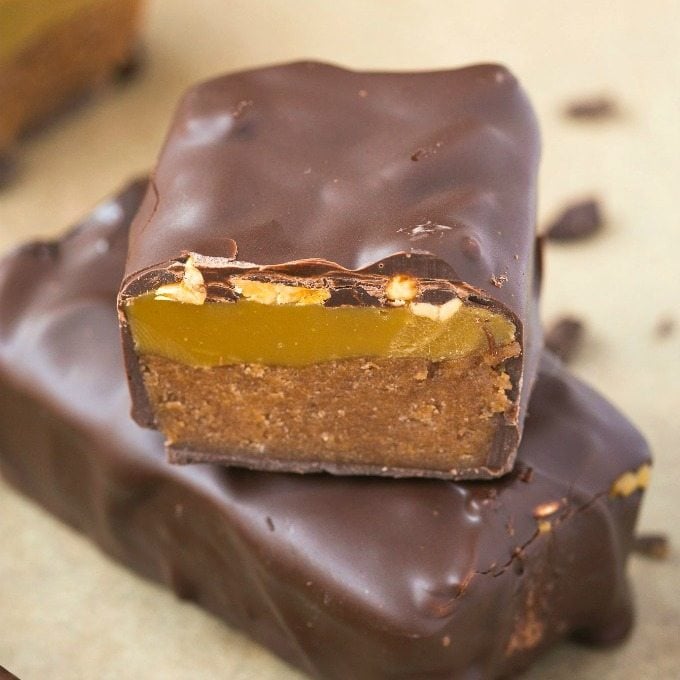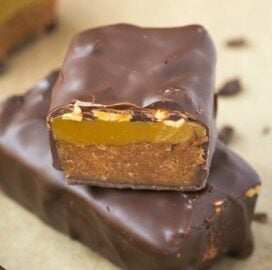 Healthy Homemade Snickers Protein Bars
Healthy Homemade Snickers Protein Bars (Paleo, Vegan, Gluten Free) which tastes just like the original candy bar, but with a sugar free and low carb makeover! A quick, easy and portable snack or dessert which takes minutes to whip up and can be made with or without protein powder!
Print
Rate
Ingredients
For the chocolate coating
Instructions
Line an 8 x 8 or deep dish pan with parchment paper and set aside.

In a large mixing bowl, add your coconut flour, protein powder, and cocoa powder and mix well. Add your peanut butter, sticky sweetener and mix until a crumbly texture remains. Using a 1/4 cup, add milk of choice until a thick batter remains. Transfer the batter to the lined pan and refrigerate.

In a microwave safe bowl or stovetop, start making your 'caramel' by combining your peanut butter, sticky sweetener, and optional coconut oil. Melt until fully immersed and silky. Pour over the top of the Snickers nougat layer.

Once firm, remove from the loaf pan and cut into bars. Melt your chocolate chips of choice. Dip each snickers base in the chocolate until evenly coated. Refrigerate until chocolate has firmed up.
Notes
* Depending on the protein powder and coconut flour you use, you'll need more than 1/4 cup. Adjust accordingly.
** For a thicker chocolate coating, consider doubling the amount
Healthy homemade snickers protein bars don't need to be refrigerated, but last longer if done. They are freezer friendly too.
Nutrition
Serving:
1
bar
|
Calories:
96
kcal
More homemade protein bars? Gotcha covered!
No Bake Cinnamon Bun Protein Bars
No Bake Red Velvet Protein Bars
No Bake Apple Pie Protein Bars
The Big Man's World is a participant in the Amazon Services LLC Associates Program, an affiliate advertising program. This means that if you click and make a purchase, TBMW receives a small commission, at no cost to you. Cheers, hugs, and handshakes for supporting TBMW!