Homemade No Bake Bounty Protein Bars (Paleo, Vegan, Gluten Free)
Easy Healthy Homemade No Bake Bounty Protein Bars which are inspired by the Mound chocolate candy bars! Better than store bought, this is a quick and easy copycat recipe which is also paleo, vegan, gluten free, sugar free and dairy free!

I'm a big fan of homemade cereal bars and homemade protein bars, but you know what I'm an even bigger fan of? Copycat candy bars.
I've been on a little bit of a chocolate and coconut kick lately if you haven't noticed.
They remind me of my all time favorite candy bar
Unsweetened shredded coconut is surprisingly NOT as sweet as I once thought it was!
They can be enjoyed together for breakfast
You can my favorite candy bar GUILT-FREE with this healthy version (which I may or may not have made a third batch of to eat post-workout this week…)
When Mars recently came out with a range of protein packed versions of three of their popular candy bars, I knew I had to give my homemade bounty bar recipe a protein bar makeover. I was skeptical at first. I had my sister sample them without telling her what was in them.
After she had her first bite and couldn't tell that they were healthy and packed with protein, I knew my homemade copycat version of the bounty protein bars were a winner.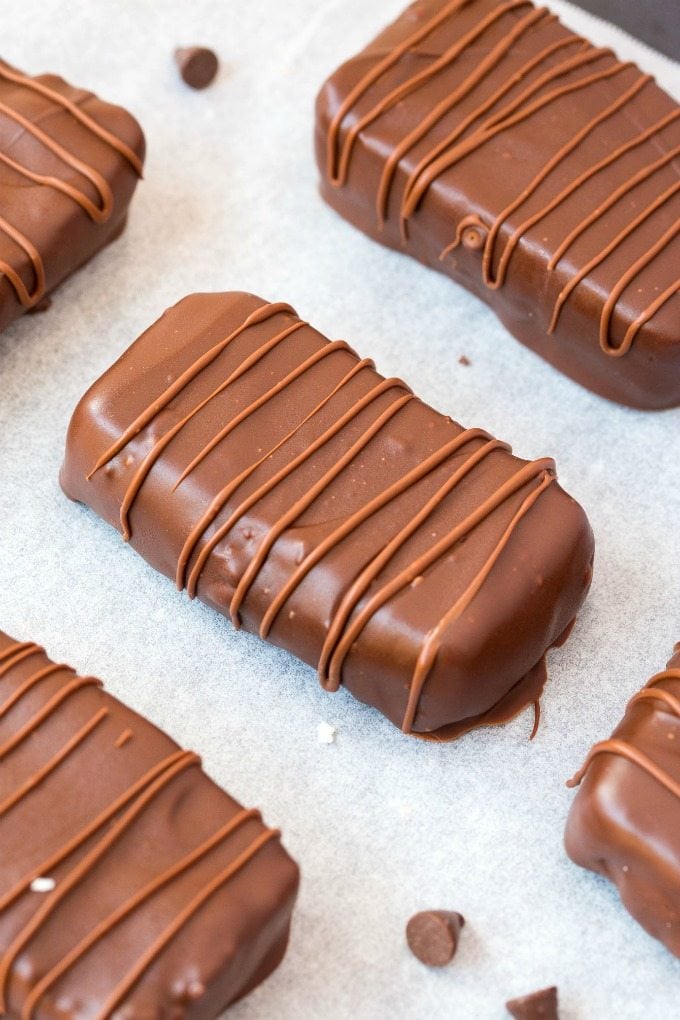 You literally only need five ingredients (including your chocolate of choice for coating!) and less than 20 minutes to whip these beauties up- The hard part is waiting for the chocolate to firm up! As mentioned, I'd previously shared the classic bounty bar, but this protein packed version is a little different.
These bounty protein bars are ridiculously easy to whip, but look impressive and exactly like the original chocolate bar. The center is packed with delicious coconut flavor, coupled with a punch of protein and the texture of the shredded coconut. The chocolate exterior is delicate, rich and highlights the delicious combination of chocolate and coconut.
Actually, the original had all those benefits too, minus the protein powder so you really aren't missing out!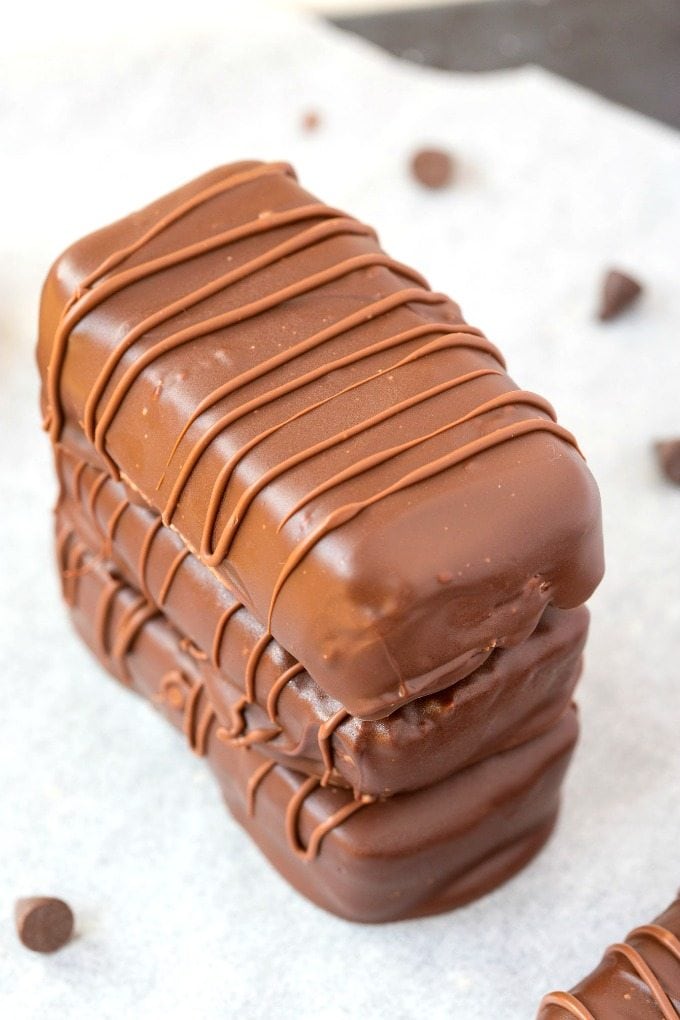 Just a few quick notes on the ingredients-
The coconut center uses three forms of Coconut- Coconut flour, coconut oil, and unsweetened shredded coconut. This may seem like coconut overboard, but trust me, the flavor is very mild and meshes perfectly with the chocolate. Also, the coconut oil and coconut flour are used more for binding and texture purposes!
Another binder necessary is the sticky sweetener of choice. I tested two methods- Pure maple syrup and my new favorite monk fruit sweetened maple syrup. The latter is made without any sugar (monk fruit sweetened!), but still maintains the same binding qualities that other natural sweeteners are able to do (agave, coconut nectar, honey, brown rice syrup). Don't even bother using a generic 'sugar free syrup' as this will do nothing to the recipe, but mess it up.
If the sticky sweetener isn't an issue, use any of the ones listed above!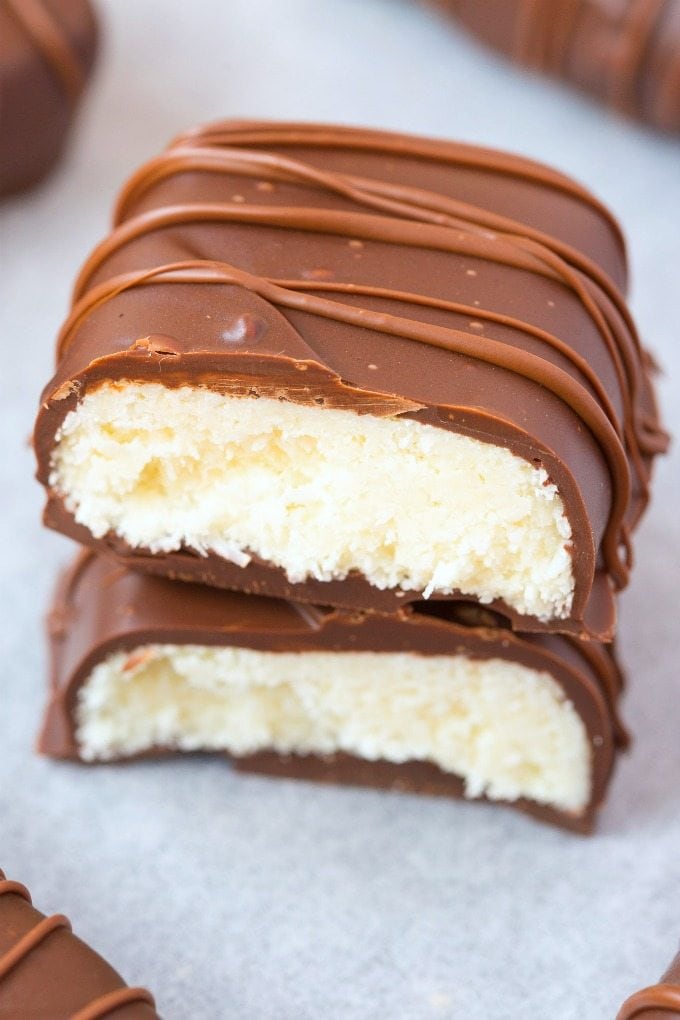 Speaking of chocolate, you can use any baking or cooking chocolate of choice, provided it fits your dietary lifestyle. I use either these dairy free baking chips (suitable for ALL diet types, minus my sugar free friends) or these stevia sweetened baking chips (completely sugar free). They both taste great and melt beautifully!
For the protein powder portion, I recommend using a brown rice protein powder, casein protein powder or paleo protein powder. Please do not use any other kind, as I either haven't tested it out with them or they didn't work out well at all. If you'd like to keep this protein powder free, you can completely omit it!
You'll notice I don't give a specific amount of chocolate or milk of choice in the recipe. The reason for that is coconut flour and protein powder brands differ. You can adjust it based on what you have on hand- Sometimes I need a few tablespoons and sometimes I need a half cup- It makes no difference in the end.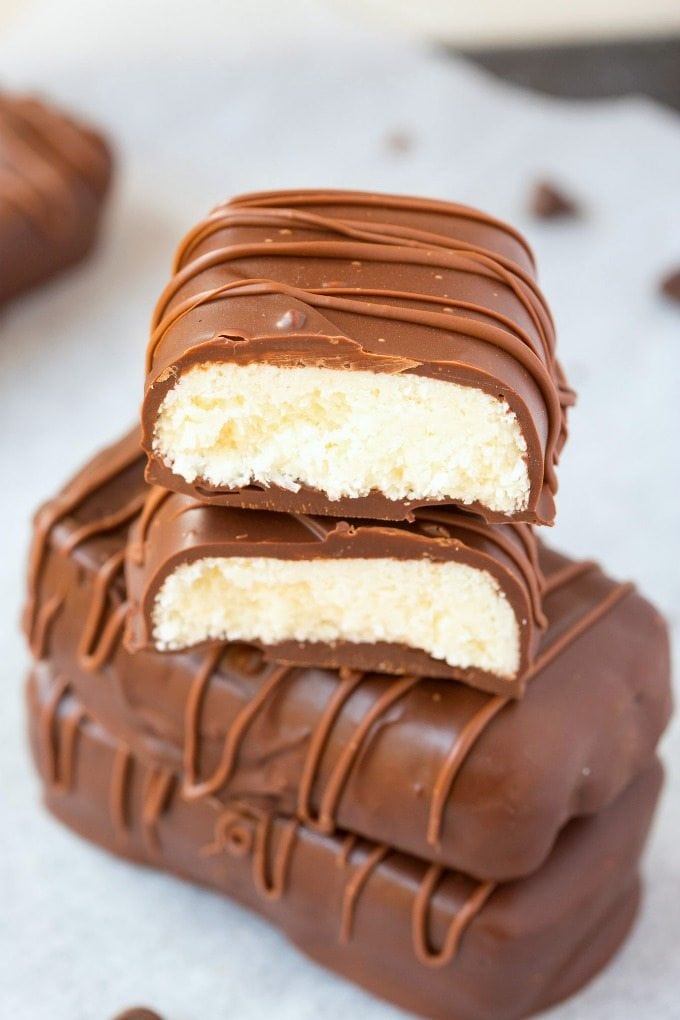 So why should these be made in your kitchen STAT? Well, they are…
Guilt-Free
Healthy
Quick
Easy
Completely PALEO, VEGAN, AND GLUTEN-FREE
Dairy free, sugar free and grain free too!
Seriously addictive
What I love about these protein bounty bars are how versatile they are! You can enjoy one pre or post-workout, as they are low carb, high protein and completely sugar free. You can enjoy one as a healthy snack any time of the day. Heck, you can even call it a healthy dessert on the days where a real cake or muffin is not in sight!
If you enjoy the original bounty or mound candy chocolate bar, I hope you'll love this amped up, healthy and protein version.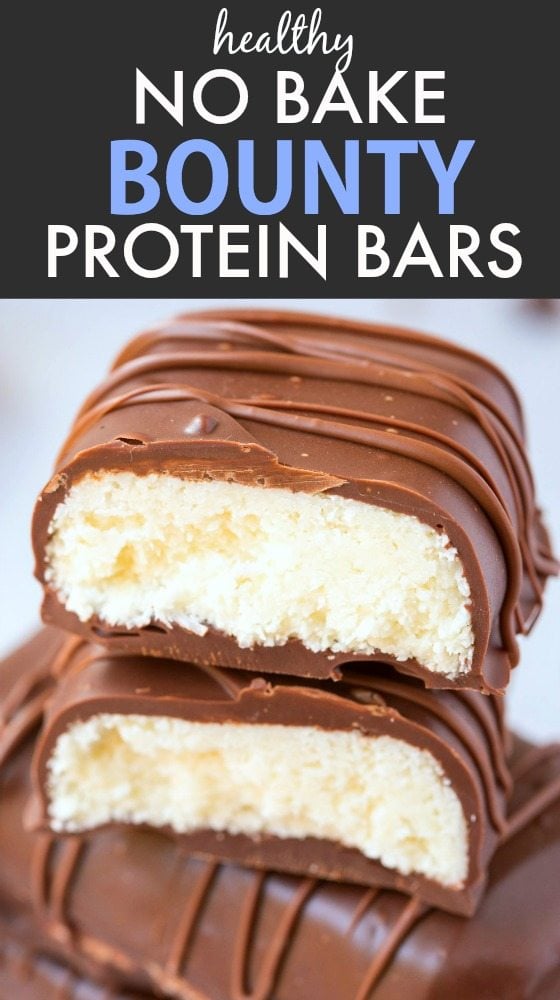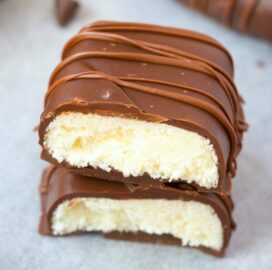 Homemade No Bake Bounty Protein Bars
Easy Healthy Homemade No Bake Bounty Protein Bars which are inspired by the Mound chocolate candy bars! Better than store bought, this is a quick and easy copycat recipe which is also paleo, vegan, gluten free, sugar free and dairy free!
Print
Rate
Instructions
Line a large chopping board or plate with parchment paper and set aside.

In a large mixing bowl, add your unshredded coconut, coconut flour, and protein powder and mix well. Add your coconut oil and sticky sweetener of choice and mix very well.

Using a tablespoon, add milk of choice to the coconut protein mixture until a thick batter is formed. Using your hands, form into 12 small or 6 large bars and place on the lined plate. Place the plate in the freezer for 20 minutes, or until firm.

Once the coconut protein mixture is firm, start preparing your chocolate. Depending on how thick you want it, melt your chocolate chips/baking chocolate of choice and using two forks, dip each bar into the chocolate until completely coated and replace on the parchment paper.

Place in the refrigerator until the chocolate has firmed up.
Notes
* Depending on the coconut flour/protein powder you use, you'll likely need much more than a 1/4 cup. Adjust accordingly.
** Depending on how thick you want the chocolate coating to be, you may need to adjust. For a thicker coating, use 2-4 cups (you may not need all of it at all).
Homemade Bounty Protein Bars can be kept at room temperature, but ensure it is away from sunlight. They are best kept refrigerated and are freezer friendly too.
Nutrition
Serving:
1
Bar
|
Calories:
108
kcal
More delicious protein packed recipes? Gotcha covered!
Healthy No Bake Cinnamon Bun Protein Bars
Healthy No Bake Cookies and Cream Protein Bars
Healthy No Bake Apple Pie Protein Bars
Healthy No Bake Double Chocolate Protein Bars
Healthy No Bake Funfetti Breakfast Bars
The Big Man's World is a participant in the Amazon Services LLC Associates Program, an affiliate advertising program. This means that if you click and make a purchase, TBMW receives a small commission, at no cost to you. Cheers, hugs, and handshakes for supporting TBMW!