Homemade No Bake Almond Joy Bars (Paleo, Vegan, Gluten Free)
Healthy Homemade No Bake Almond Joy Bars that are packed with protein and needing just six ingredients! A naturally paleo, vegan, gluten free and sugar free recipe which tastes better than anything store bought!

It's finally here! Amongst my friends and family, we are a huge fan of almond joy candy bars. They are always present at family gatherings, hidden away in school lunch boxes and the cause of many debates between themselves and mound or bounty bars. You know what they say, when life hands you unsalted almonds in child-like quantities, make homemade no bake almond joy bars!
It's funny how several almonds on a candy bar can make such a difference, but trust me- It does. As a self-appointed (grocery store and readily available) candy bar expert, it really does. The taste and textures are delicious and this recipe is so easy, it would be criminal to continue buying store bought versions!
If you are looking for a healthy, homemade and protein packed version of the popular almond joy candy chocolate bar, this is your answer! It only needs six healthy ingredients and the options to make it completely sugar free too. For all my paleo, vegan, gluten free, dairy free and sugar free friends- You are all covered!
This recipe is seriously fool-proof- Just see how easy it is from the recipe it was adapted from below!

To make my version of almond joy bars healthier, I made a few smart swaps.
For the filling, I used three forms of coconut- A combination of coconut flour, unsweetened shredded coconut, and coconut oil. It could easily be assumed that the coconut flavor would be overpowering, but really, the taste is mild. If you'd like to make any changes here, you can swap out the coconut oil for butter or grass fed butter.
A few of you have asked if you can use unsweetened shredded coconut, desiccated coconut, and coconut flakes interchangeably. You can do that with unsweetened shredded coconut and desiccated coconut, but will need to add a little more liquid (milk or sweetener) if you use the unshredded coconut, as the texture is larger and less stable.
Coconut flakes cannot be used, as they generally have been toasted and would result in a gloopy and sticky texture.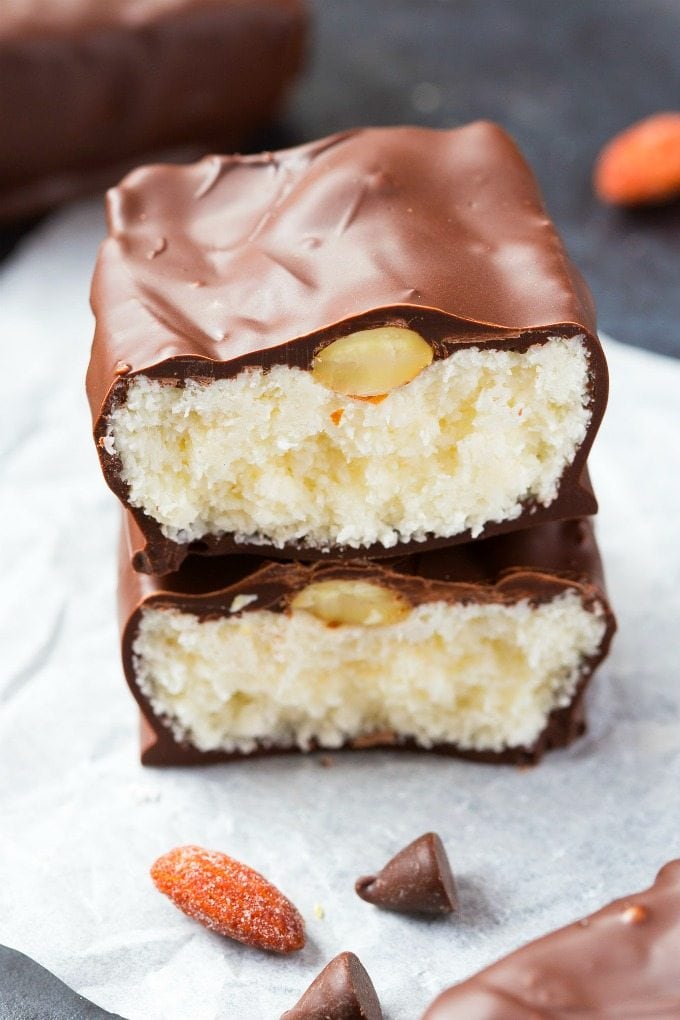 No coconut flour brand is created equal, especially if you choose to include protein powder. Because of this, shaping the almond joy filling into firm bars will need different amounts of milk/non-dairy milk of choice. Start with just one tablespoon and go from there.
Speaking of protein powder, this part is completely optional. If you aren't a fan of protein powder or want to keep this as a healthy homemade candy bar, simply leave it out. If you do choose to use it, only use one of my tested protein powder recommendations. They are all gluten-free, vegan, sugar-free and/or paleo, so there is something for someone.
Another very important ingredient is the sticky sweetener which provides two key parts of the recipe. The first part is that it acts as a binder for the coconut filling. The second part is that it provides a natural sweetness to the filling itself. I used a monk fruit sweetened maple syrup, which keeps this sugar free. Standard sticky sweeteners (honey, agave, pure maple syrup) all work well too.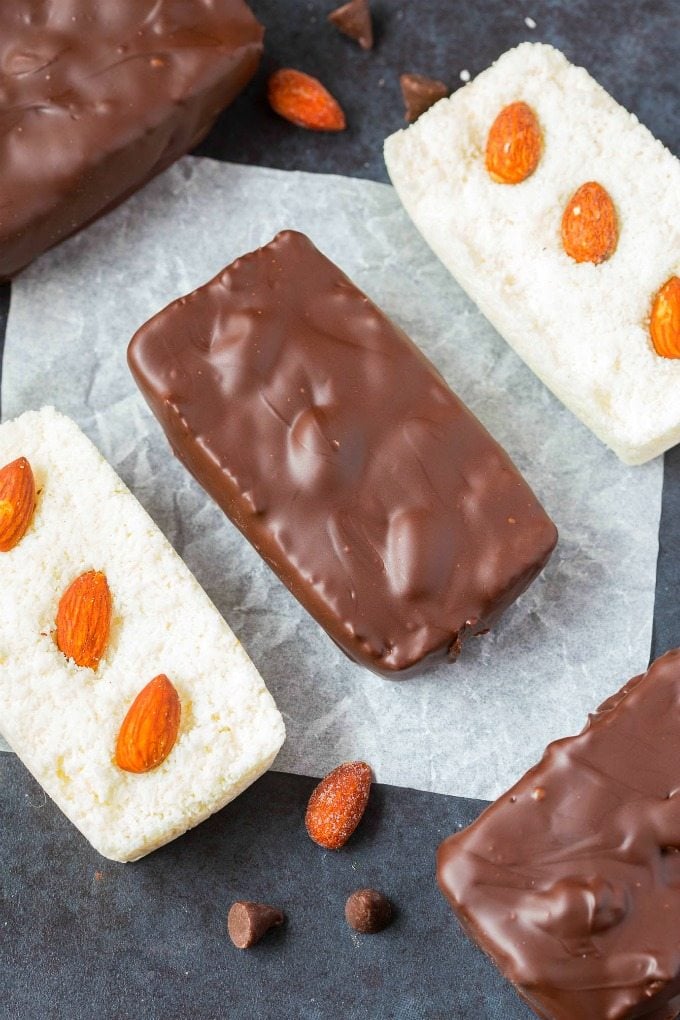 You can either drizzle chocolate over the bars or do what I did and coat them completely. For fool-proof and even coating, I'd suggest freezing the bars prior to avoid them falling apart once dipping. It's a simple process of melting your favorite chocolate and dipping each bar in it individually. Be sure to work fast here, to avoid the melted chocolate firming up too quickly!
For those who want to prep these well in advance or for brunches, edible candy gifts, school lunch boxes or office pot lucks, here is an easy hack. You can pre-prep the coconut filling prior, and just keep it chilled until the day before consumption. Loosen the mixture by slowly adding a milk of choice until a shapeable dough remains. Form into bars, freeze for 30 minutes then coat in the chocolate.
So the big questions..DOES this taste like the classic almond joy candy bar, even with the healthy swaps?
YES!
I promise you won't notice the difference and be able to enjoy this family favorite candy bar, minus the guilt. You'll also love how easy, simple and fool-proof it is, using everyday ingredients!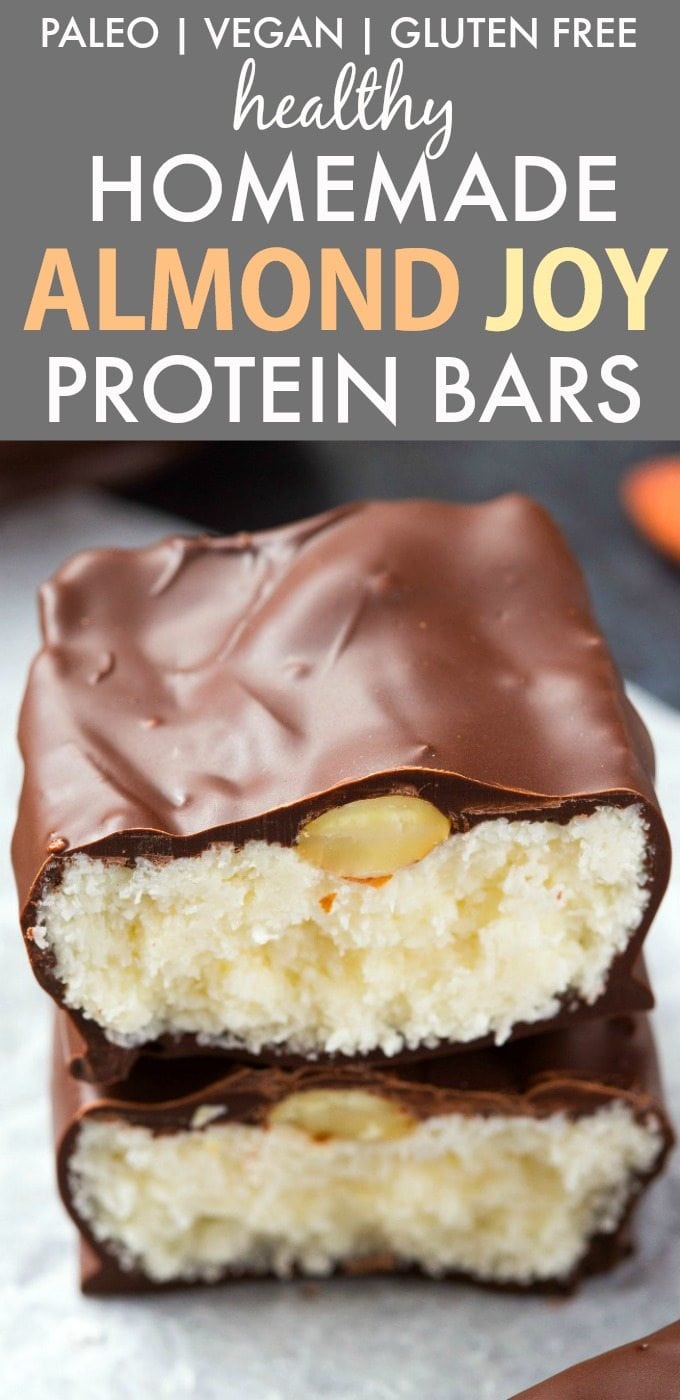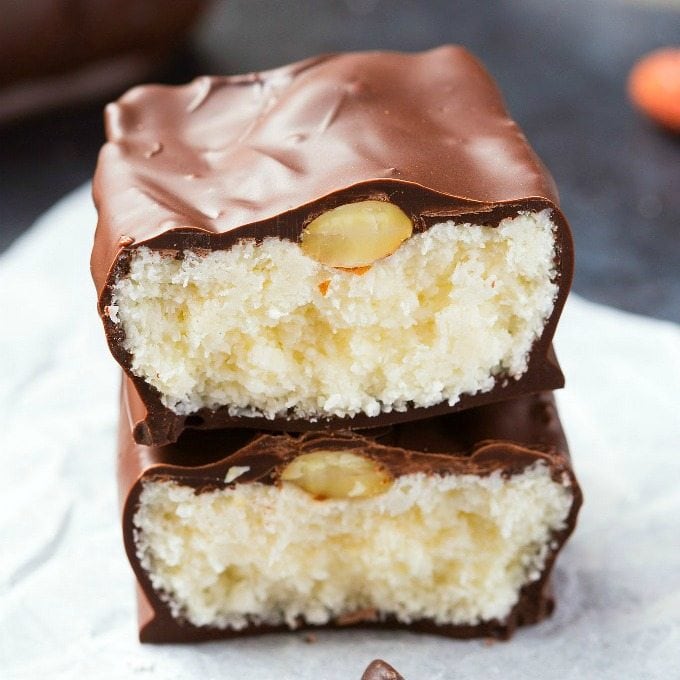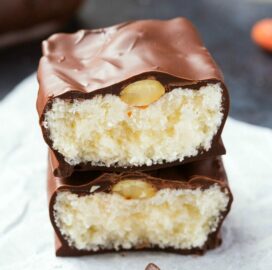 Healthy Homemade No Bake Almond Joy Bars
Healthy Homemade No Bake Almond Joy Bars that are packed with protein and needing just six ingredients! A naturally paleo, vegan, gluten free and sugar free recipe which tastes better than anything store bought!
Print
Rate
Instructions
Line a square pan or chopping tray with parchment paper and set aside.

In a large mixing bowl, add your shredded coconut, coconut flour, and protein powder and mix well. Add your coconut oil and sticky sweetener of choice and mix very well.

Using a tablespoon, add milk of choice to the coconut protein mixture until a thick, durable batter is formed. Using your hands, form into 12-16 bars and place on the lined plate. Press 2-3 almonds on top of each bar and refrigerate or freeze until firm.

Once the almond joy mixture is firm, start preparing your chocolate. Depending on how thick you want it, melt your chocolate chips/baking chocolate of choice and using two forks, dip each bar into the chocolate until completely coated and replace on the parchment paper to firm up.
Notes
* Several readers have requested a coconut flour free option- You can use oat flour or almond flour, but double the amount and adjust the milk of choice.
** Depending on the coconut flour/protein powder you use, you'll likely need much more than a quarter cup. Adjust accordingly.
*** Depending on how thick you want the chocolate coating to be, you may need to adjust. You can omit to coat them with chocolate completely and simply drizzle on top.
Nutrition
If you love homemade healthy candy bars or homemade protein bars, you will LOVE these!
The Big Man's World is a participant in the Amazon Services LLC Associates Program, an affiliate advertising program. This means that if you click and make a purchase, TBMW receives a small commission, at no cost to you. Cheers, hugs, and handshakes for supporting TBMW!