An easy and delicious copycat recipe for healthy no bake keto snickers bars! A chewy nougat base, topped with sugar free caramel and chopped nuts, then covered in low carb chocolate! A quick dessert recipe ready in minutes!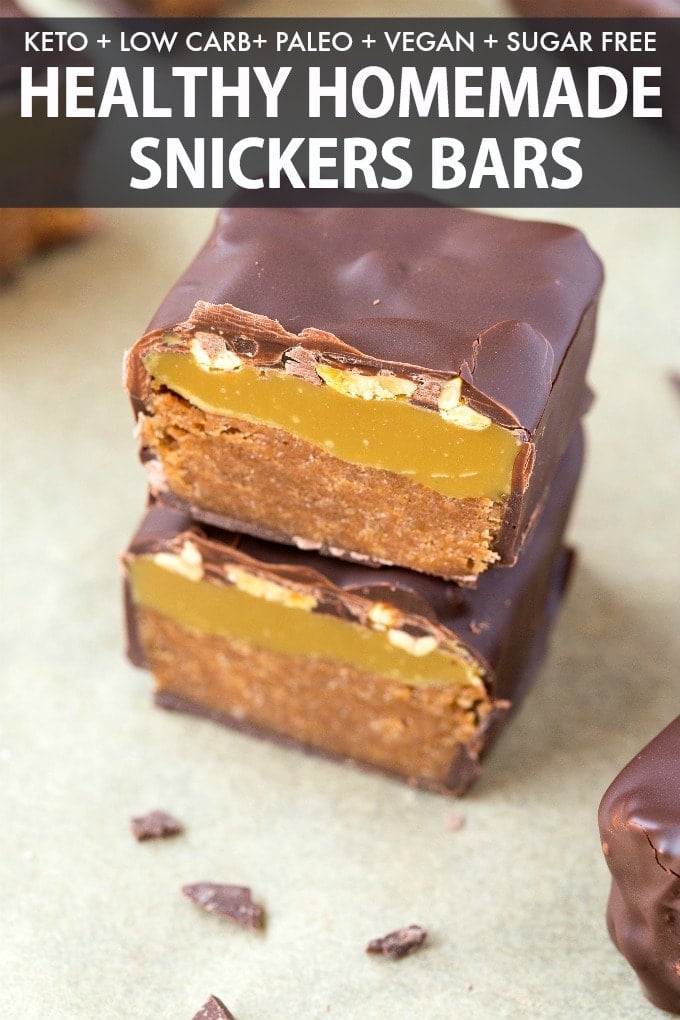 Healthy Copycat Snickers Bar Recipe
If you've noticed a trend recently, it's that I've been on my keto dessert recipe game, especially if it involves caramel.
Keto Twix bars, keto kit kat bars, and even some homemade mars bars have all been featured. It's time for a keto snickers recipe!
Snickers bars are made of a chewy nougat, topped with gooey caramel, some crushed peanuts and all covered in chocolate.
I was always skeptical of attempting a homemade version, especially the nougat. Ironically, traditional snickers candy bars use ground almonds in it, one of my most used ingredients. However, it was their other ingredients which made me nervous- honey, sugar and egg whites.
After some experimentation, I was able to achieve the same chewy, creamy nougat layer, and the other parts came easily after!
Not only are my homemade Snickers bars completely keto and low carb, but they also tick several others boxes. My snickers recipe is also gluten-free, vegan and paleo, something the original bars lack severely!
Even though the ingredients used in my recipe are polar opposites of the original, I promise you won't be able to tell- They taste just as good!
In terms of taste, these homemade snickers taste like the original, especially by ticking off each of the required layers of a snickers bar.
When it comes to the texture, it hits all the sensations! A chewy, creamy nougat base, coupled with the creamy, gooey caramel on top. You'll be hit with some crunch from the crushed nuts and the delicate chocolate coating.
Drooling yet?
To make my homemade Keto Snickers Bars, you'll just need to follow three layers-
The almond based nougat layer
The gooey caramel layer
The delicate chocolate coating
That's it!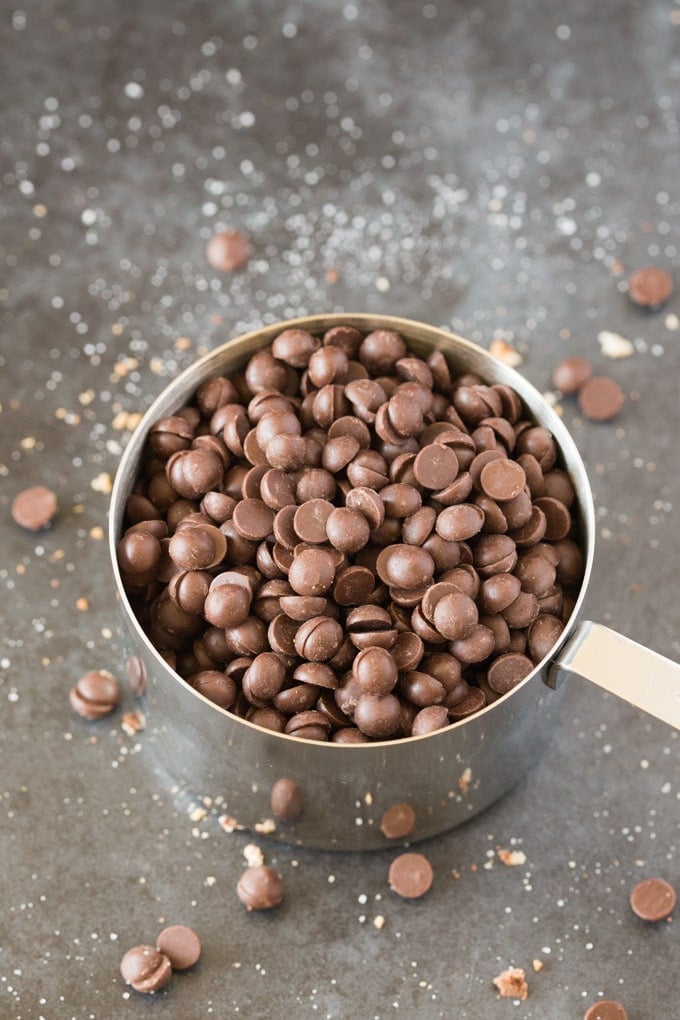 THE NOUGAT LAYER
The nougat layer may seem intimidating, but its the easiest part of the entire recipe!
It's a simple combination of ground almonds (almond meal/almond flour), coconut flour and held together with some keto approved maple syrup.
To achieve the soft and smooth texture, you just need to add some milk of choice (I prefer coconut milk) until a firm batter remains.
THE CARAMEL LAYER
To keep these homemade snickers keto-friendly and low carb, I made a healthy homemade caramel without dates!
It's an easy mix of equal parts nut or seed butter (I prefer using almond butter or cashew butter), keto maple syrup and some coconut oil.
For those without a peanut allergy and those non-paleo folk, peanut butter works great.
THE CHOCOLATE COATING
Finding a keto chocolate chip or chocolate bar that melts can be hard to come by, but I've found some great ones to use.
These keto chocolate chips are stevia sweetened and melt really well. You also aren't left with a bitter aftertaste.
Another option is to melt some unsweetened bakers chocolate (100% sugar free and dairy free) and add a few drops of liquid stevia to it, to ensure it is also sweet.
TIPS FOR PERFECT HOMEMADE SNICKERS BARS
Ultimately, I want your homemade snickers bars to have the same taste and texture of a classic snickers bars. Here are my top tips and tricks to achieve this!
For easy layering and removal of the Snickers bars, use a brownie bar pan or individual single squares pan. Using either of these pans will make the process of making this recipe so much easier.
When forming the nougat layer, you want the batter to be more on the thinner side (as opposed to a thick, dough-like batter). This will ensure once the entire Snickers bars are made, it will still produce a soft and creamy texture.
Furthermore, the nougat layer isn't overly sweet. It will have some sweetness from the syrup, but it is purposely left as it is, as the caramel and chocolate are already sweet enough. If you'd prefer the nougat to be sweeter, add some liquid stevia or increase the syrup and cut back on the milk of choice.
Traditional Snickers bars use crushed peanuts, but to keep it paleo and peanut-free, I used chopped cashews and almonds. Feel free to use any nuts of choice, but be sure to chop it up in very small pieces, to ensure even distribution.
STORING HOMEMADE SNICKERS BARS
As these bars contain a chocolate coating, they are stable at room temperature. However, they are best kept refrigerated and can be kept in that state for up to 1 month. These homemade snickers are also freezer friendly and can be kept frozen for up to 6 months.
If you choose to freeze them, be sure to wrap them individually, otherwise, they may stick together.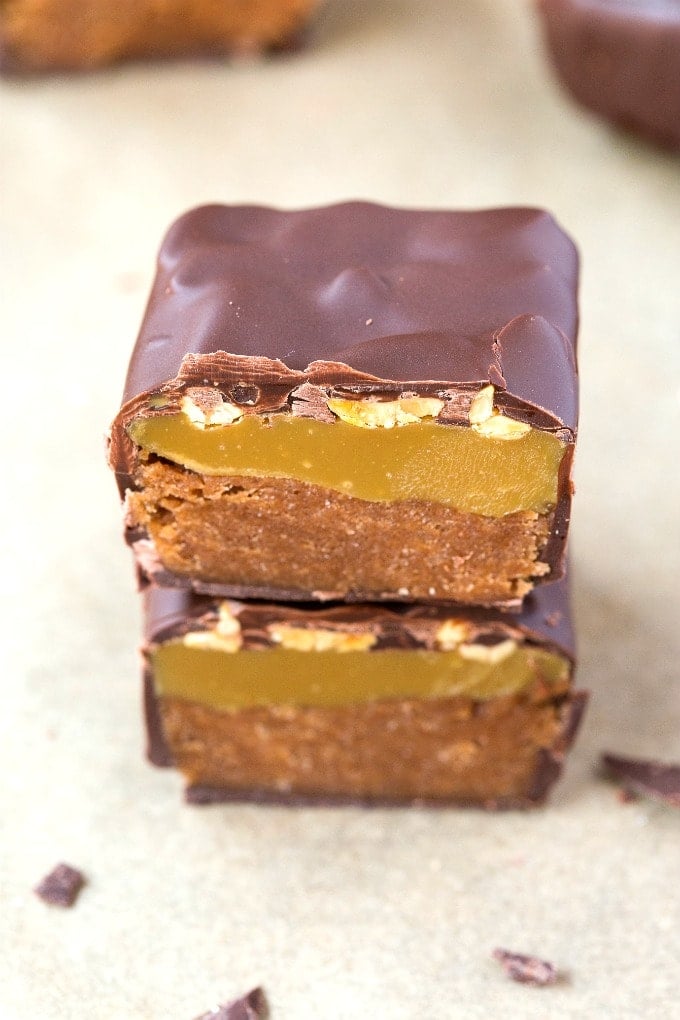 These homemade keto Snickers Bars may be a healthy candy bar copycat, but I promise you won't be able to tell! Delicious, quick and easy to make, you'll be a huge fan!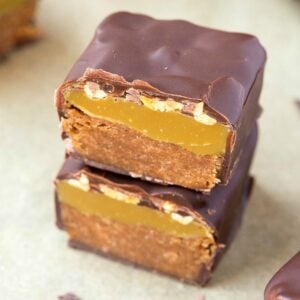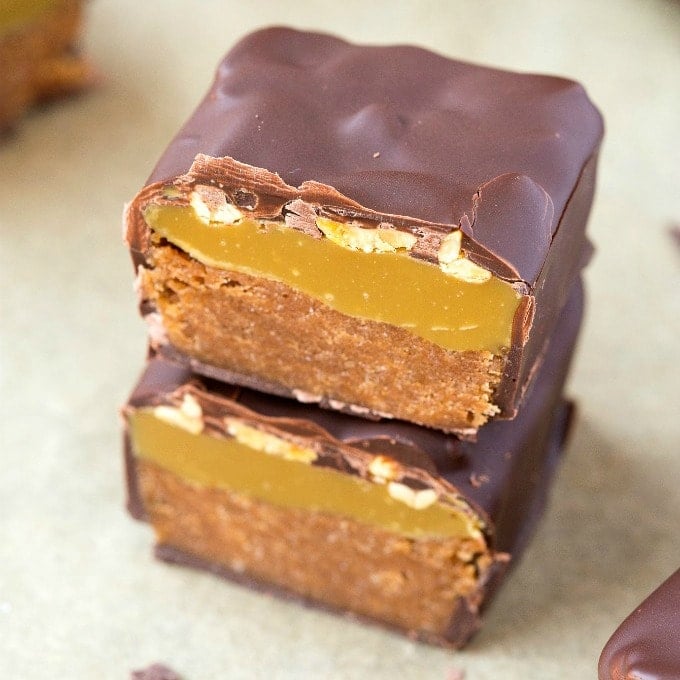 Healthy Snickers
An easy copycat candy bar recipe for homemade Healthy Snickers Bars! Quick, delicious and protein-packed, this simple dessert recipe requires no baking and is completely sugar free and low carb! Paleo, Vegan and Gluten Free. 
Ingredients
For the chocolate coating
Instructions
Spray a brownie bar pan, square pan or loaf pan with cooking spray and set aside.

In a large mixing bowl, combine your almond meal, coconut flour, and syrup and mix until a crumbly texture remains. Add your milk of choice, and add m more until a smooth batter remains.

Pour the batter in the lined pan and place in the refrigerator.

In a microwave-safe bowl or stovetop, heat your caramel ingredients, except for the crushed nuts, until combined. Be sure to whisk very well, as the coconut oil tends to separate quickly.

Pour the caramel mixture over the chilled nougat layer. Sprinkle the tops with the crushed nuts and place in the freezer, to chill faster.

Melt the chocolate chips. Remove the Snickers bars and if using a loaf pan, cut into 18 bars. Moving quickly, dip each bar in the melted chocolate, until evenly covered. Once they are all covered in chocolate, refrigerate until the chocolate has hardened.
Notes
* Non-keto options are pure maple syrup, agave nectar or for non-strict vegans, pure honey.
** Start with half a cup, then increase from there.
Healthy Homemade Keto Snickers Bars (Vegan, Paleo) can keep at room temperature but are best stored in the refrigerator. They are also freezer friendly, for up to 6 months.
Nutrition
Serving:
1
Bar
Calories:
115
kcal
Carbohydrates:
8
g
Protein:
4
g
Fat:
7
g
Fiber:
5
g
Vitamin A:
150
IU
Vitamin C:
3.3
mg
Calcium:
50
mg
Iron:
0.5
mg
NET CARBS:
3
g

Disclosure: This post may contain affiliate links. I may earn a small commission for my endorsement, recommendation, testimonial, and/or link to any products or services from this website.