Millionaire Shortbread (Keto, Vegan, No Bake)
Millionaire's shortbread, also known as caramel shortbread, is one of the most delicious desserts in the world! Made with a dairy free caramel, it's secretly healthy and low in carbs!
Three layers of deliciousness are combined to form this classic Millionaire's shortbread. Made with healthy and wholesome ingredients, it's the perfect keto and vegan dessert recipe made in minutes- No baking required and without condensed milk!
What is Millionaire's Shortbread
Often referred to as caramel shortbread or millionaire's slice, Millionaire's bars are a popular dessert consisting of 3 layers.
The first layer is a shortbread base, the second (middle) layer is gooey caramel and the final layer is, of course, chocolate!
Where does Millionaire Shortbread come from?
Depending on where in the world you are and what you call it, Millionaire Shortbread can come from various sources.
America, The United Kingdom, Australia, and Ireland have all claimed to be the first who developed this delicious recipe.
Why make these Millionaire's shortbread bars
Now, this isn't your traditional Millionaire's shortbread recipe.
Traditional caramel shortbread bars usually involved a baked shortbread crust, and well..not the healthiest of ingredients. It uses butter, white flour, multiple forms of sugar (white, brown AND corn syrup!) and any kind of chocolate.
My version is quite the opposite.
It's made with healthy, low carb and keto-approved ingredients. There is no added sugar, and can easily be made sugar free.
It's also paleo, vegan and gluten-free, but you'd never tell.
It's also no bake- You don't need to bake the shortbread base or caramel at all!
So how does it taste?
Taste-wise, it is rich, sweet and loaded with different flavors. You get the buttery notes from the shortbread base (without butter!), the sweet caramel from the center part and then hit with a load of chocolate, from the final topping. When combined, it is insanely delicious.
Texture-wise, the shortbread is thick and crumbly, the caramel is thick and gooey and the chocolate is well…chocolate!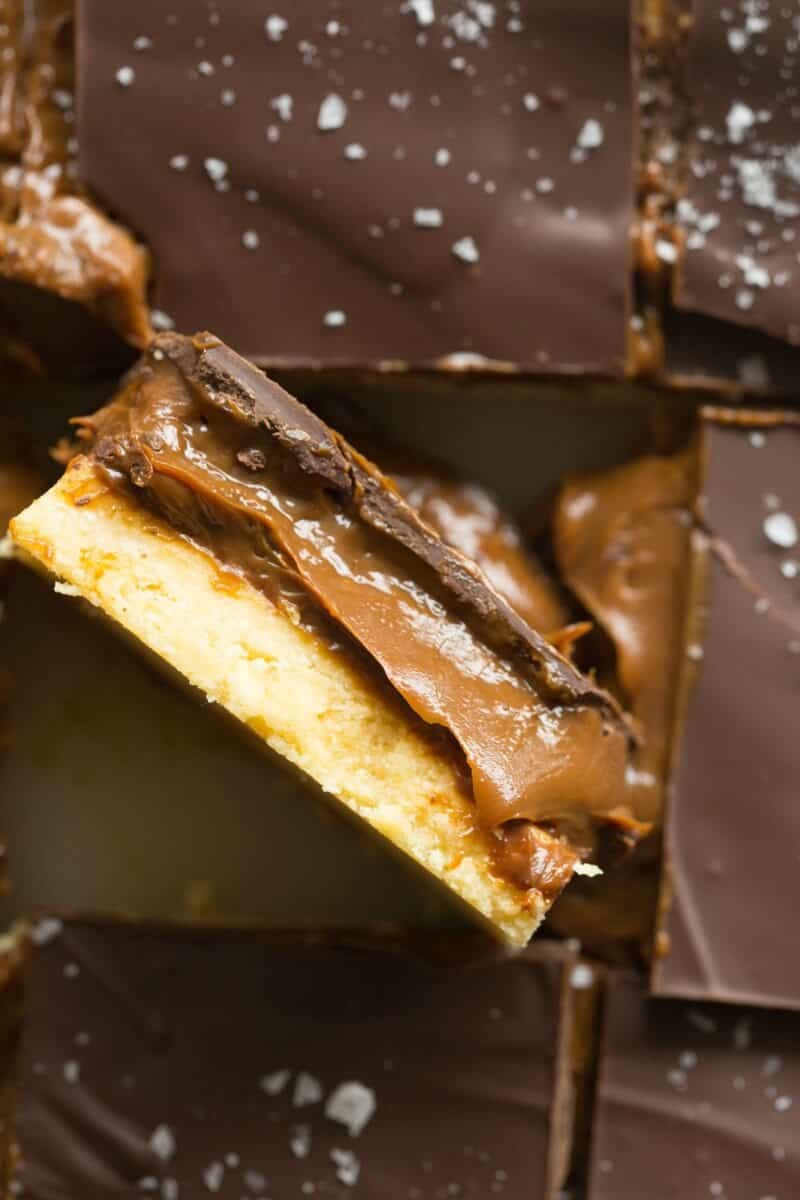 How to make Millionaire's Shortbread from scratch
Even though there are three layers, this recipe is quick, easy and comes together super quickly!
The Ingredients
Shortbread base-
Almond Flour- A grain free and low carb flour that does not need to be baked. I used blanched almond flour, as it is lighter in color and has a light flavor.
Coconut Flour– Like almond flour, it is high fiber and low carb. When combined with almond flour, it helps leaven the shortbread base. Do not substitute or omit.
Coconut Oil– Coconut oil replaces any need for the butter. It helps provide the buttery texure. Be sure to use refined coconut oil, to ensure it has no coconut flavor!
Sugar Free Maple Syrup– Helps provide a dash of sweetness, and also helps hold the shortbread together.
Caramel filling-
Almond butter– Smooth and creamy almond butter (unsweetened!) provides the rich flavor. Avoid using crunchy almond butter, or it won't melt well.
Sugar Free Maple Syrup– Adds sweetness and gives the caramel the smooth texture.
Coconut Oil– Ensures the caramel is buttery, rich, and extra creamy.
Chocolate Icing/Topping-
Sugar Free chocolate chips– Any sugar free chocolate will work, even baking chocolate.
Coconut oil– Holds the chocolate easier, and also makes it MUCH easier to cut (see notes below!)
The Instructions
Step 1- Prepare the shortbread base. In a large mixing bowl, add your coconut flour and almond flour and mix well. Add your coconut oil and syrup and mix very well, until combined. Transfer the shortbread base into a lined pan and spread out evenly. Place it in the freezer to firm up.
Step 2- Prepare the caramel filling. While the shortbread base is firming up, prepare your caramel. Over stovetop (in a saucepan) or in a microwave-safe bowl, add all your caramel ingredients. Heat on medium (or on half power in the microwave) until the coconut oil has melted. Whisk very well, until smooth and glossy. Remove the shortbread base and pour the caramel over it. Place back in the freezer.
Step 3- Add the chocolate. Finally, melt your chocolate chips with coconut oil. Remove the pan from the freezer and add the chocolate on top of it, spreading it out all over the caramel. Place in the fridge to firm up,
Slice 4- Slice and enjoy! Remove the chilled Millionaire Shortbread Bars from the fridge and slice into pieces.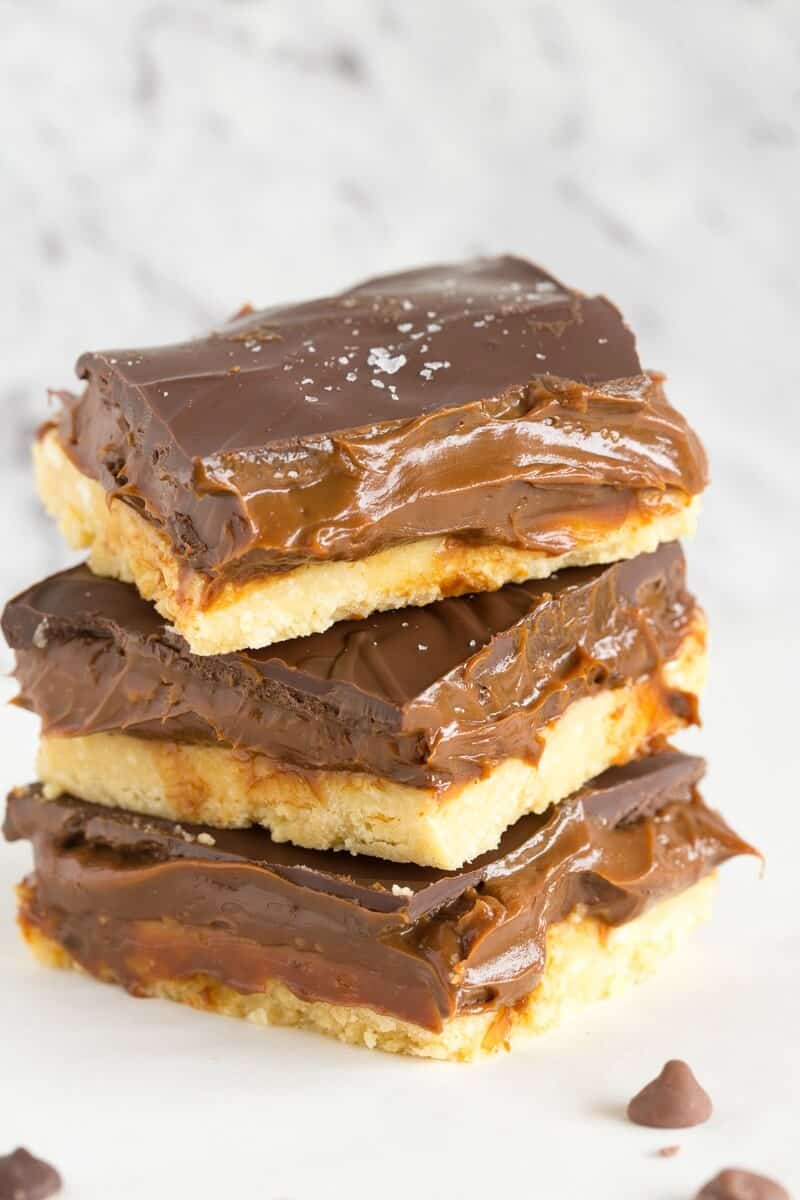 How to cut Millionaire Shortbread
Now, cutting bars, especially no bake bars, can be difficult to slice perfectly. Often, you'll find the caramel splits through the chocolate.
My method of slicing the bars ensures the bars, for the most part, remain intact and without cracking.
Start by removing the caramel shortbread from the fridge and let sit at room temperature for 30 minutes. After 30 minutes, slightly wet a knife, and dry it using a kitchen towel. Slice the bars carefully in 3 equal pieces. Slice through each piece twice, until 9 bars remain then slice once more.
TIP: Be sure to cut them carefully, to ensure the chocolate doesn't break apart and the caramel remains intact.
Storing Millionaire's Shortbread
These healthy Millionaire's bars should always be stored in the fridge, to avoid it spoiling.
Place the bars on a plate and cover in plastic wrap. Alternatively, you can store them in a sealable container.
These shortbread bars will keep fresh refrigerated for 2 weeks.
Can you freeze caramel shortbread bars?
Millionaire Shortbread bars are freezer friendly, and can be stored in the freezer.
To freeze millionaire bars, after they have been sliced, wrap them in parchment paper and place in a ziplock bag.
Frozen caramel shortbread bars will keep well for up to 6 months.
To thaw, allow millionaire bars to sit at room temperature.
How many calories in Millionaire Shortbread?
This healthier version of a Millionaire's Shortbread bars contains 287 calories, per large piece.
There have 0 grams of sugar and contain just 4 grams of net carbs.
Can I substitute the almond butter and/or sugar-free syrup?
You can replace the almond butter with one of the following- peanut butter, cashew butter, sunflower seed butter or tahini.
If you don't follow a strict ketogenic diet, you can substitute the sugar free syrup (monk fruit sweetened!) with either maple syrup, agave nectar or manuka Honey (not vegan).
Do NOT use sugar free maple syrup (e.g. pancake syrup or the generic store brands). It will not work well with it.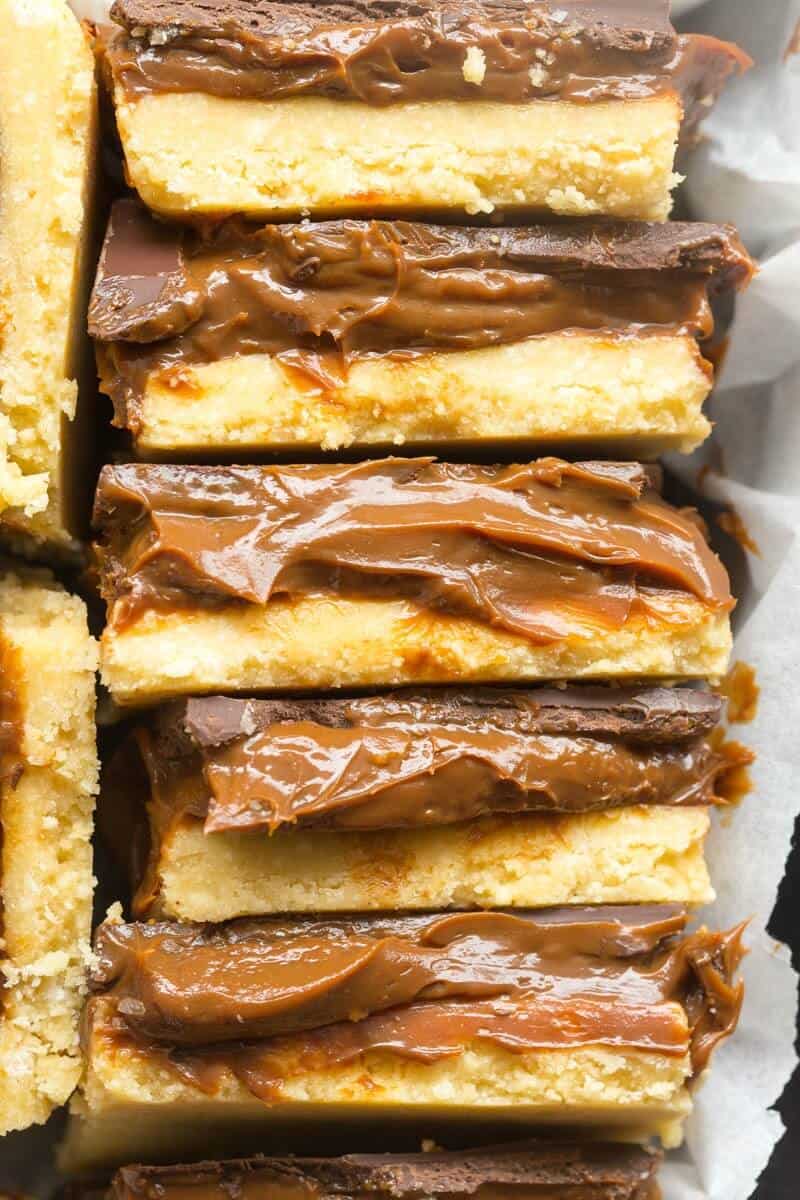 More delicious keto vegan dessert recipes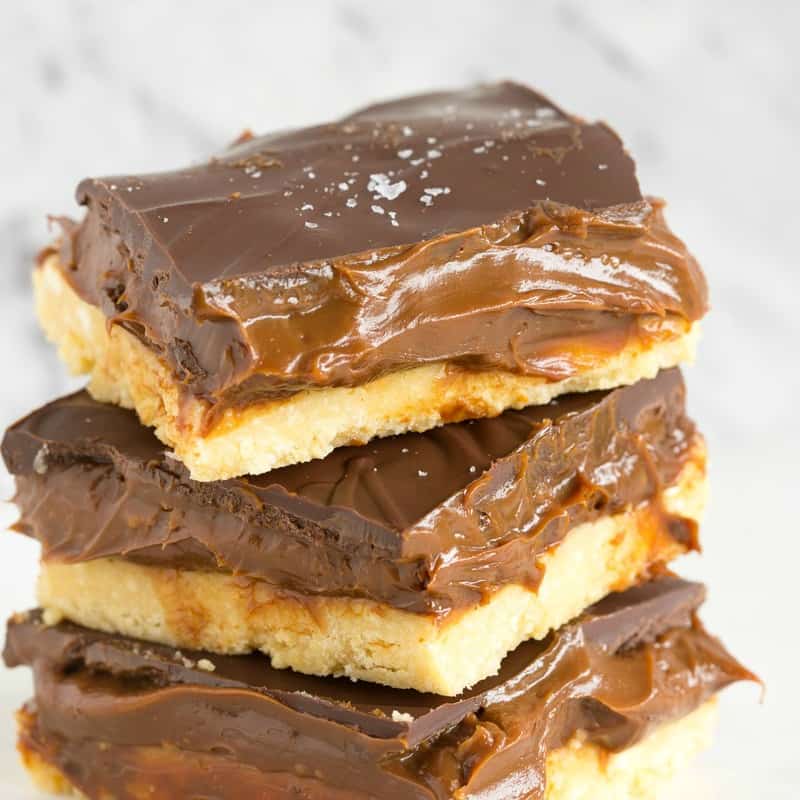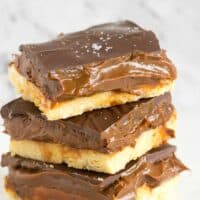 No Bake Millionaire Shortbread (Keto, Vegan)
Easy no bake Millionaire's Shortbread made with healthy and wholesome ingredients! Buttery shortbread base, gooey caramel and all topped in chocolate- It's keto, vegan, paleo, low carb and sugar free!
Print
Rate
Ingredients
Instructions
Line a square pan with parchment paper.

In a large mixing bowl, add your coconut flour and almond flour and mix well. Add your melted coconut oil and sugar free syrup. Mix well, until combined. Transfer the batter into the lined pan and spread out evenly. Place in the freezer.

Prepare your caramel. Using a saucepan or microwave-safe bowl, heat up your coconut oil, sugar free syrup and almond butter until the coconut oil has melted. Whisk together very well, until thick and glossy. Remove the shortbread from the oven and pour the caramel over it. Place back in the freezer.

Melt your chocolate with the coconut oil. Once melted, let sit for several minutes, before pouring over the top of the caramel layer. Spread out evenly, before refrigerating until the chocolate has firmed up.

Slice into bars and enjoy.
Notes
* I used a monk fruit sweetened maple syrup. Traditional sugar free maple syrup will NOT work.
** Use 2 cups for a thick chocolate layer.
Key Recipe Equipment and Ingredients
Nutrition
Calories:
247
kcal
|
Carbohydrates:
10
g
|
Protein:
6
g
|
Fat:
19
g
|
Sodium:
35
mg
|
Potassium:
104
mg
|
Fiber:
6
g
|
Calcium:
76
mg
|
Iron:
1
mg
|
NET CARBS:
4
g