Learn how to make the most delicious raspberry crumble bars with this straightforward recipe. These layered bars feature a buttery base, a soft raspberry jam center, and a golden crumbly top.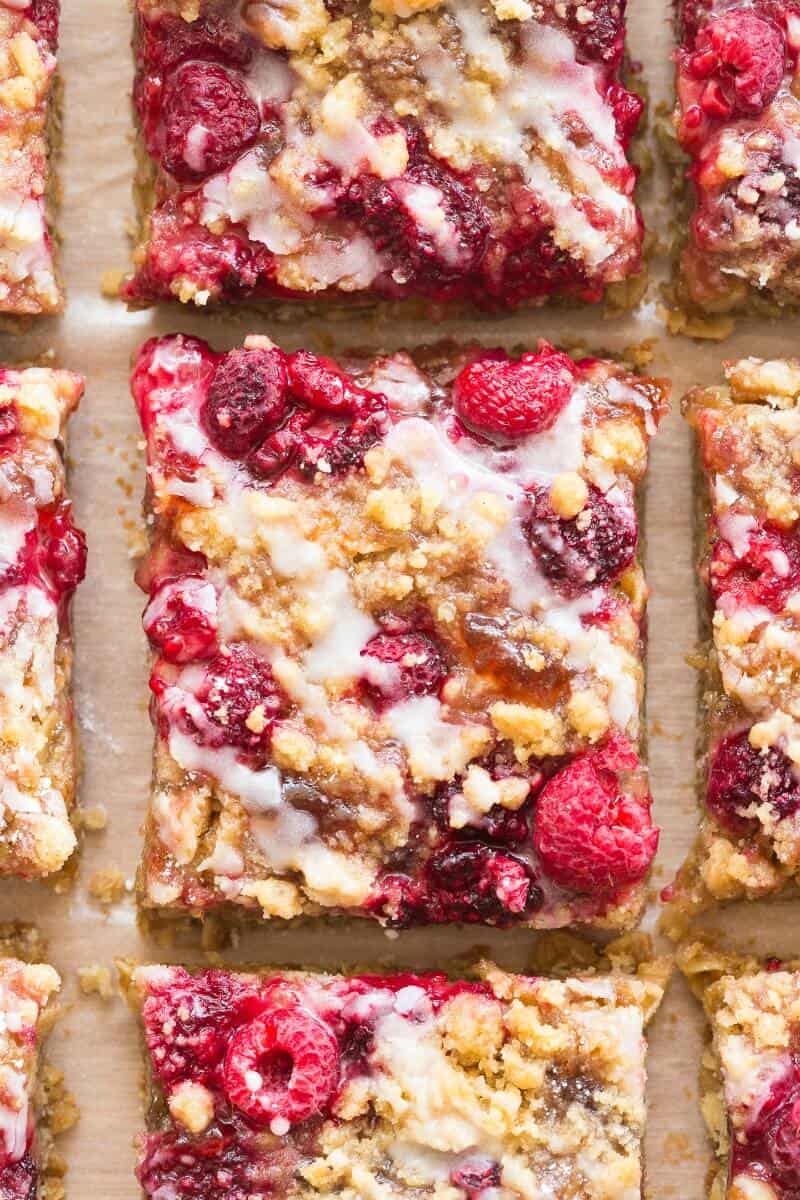 I know I shouldn't play favorites, but raspberries have to be my favorite fruit. When I've had my fill of eating them fresh from the market, I love to use them up to make raspberry bars with a gorgeous crumb topping.
Table of Contents
Why this recipe works
It uses simple ingredients. You only need a bunch of pantry staples and fresh berries for this recipe. In fact, both the shortbread crust and the crumb topping use the exact same ingredients!
Customizable. Once you know the basics, you can make this recipe will any fruit of your choice. We like to use any berry on hand or other fruits, like apples and peaches.
Versatile. These raspberry bars are perfect if you have a sweet tooth and want to finish your meal with a dessert. They also make a fabulous afternoon treat or something to entertain guests with.
Great for making ahead. Like strawberry oatmeal bars, you can make these over the weekend and enjoy them throughout the week.
Ingredients Needed
For the crust:
All-purpose flour. To make the crumbly base and the top. If your flour has clumps, be sure to sift it well beforehand.
Rolled oats. Rolled or old-fashioned oats are perfect for this recipe. They crisp up upon baking and impart a lovely texture to the bars.
Sugar. To sweeten the base. Feel free to use brown or white sugar per your preference.
Salt. To taste.
Butter. Use good quality unsalted butter to make the crust. Melt the butter in the microwave and use it to bind the flour mixture.
For the raspberry filling:
Raspberries. Use fresh or frozen raspberries for this recipe.
Sugar. To make the raspberry jam.
All-purpose flour. To thicken the jam.
How to make raspberry bars
Make the crust. Combine flour, oats, salt, butter, and sugar in a large bowl until you get a coarse crumbly texture. Layer it on a square pan lined with parchment paper. Press it down, poke holes, and bake for around 15 minutes until golden.
Prep the raspberry filling. Add sugar and raspberries to a saucepan and boil it over medium heat. Break down the raspberries until smooth, add flour, and simmer for another minute.
Layer the bar. When the base is done, remove it from the oven. Layer it with raspberry jam, spread over the remaining crumble, and bake for 20 minutes.
Set, slice, and serve. Let the bars cool at room temperature. Then, transfer it to the refrigerator to firm for an hour or longer. Once set, remove it from the fridge, slice it into them, and serve.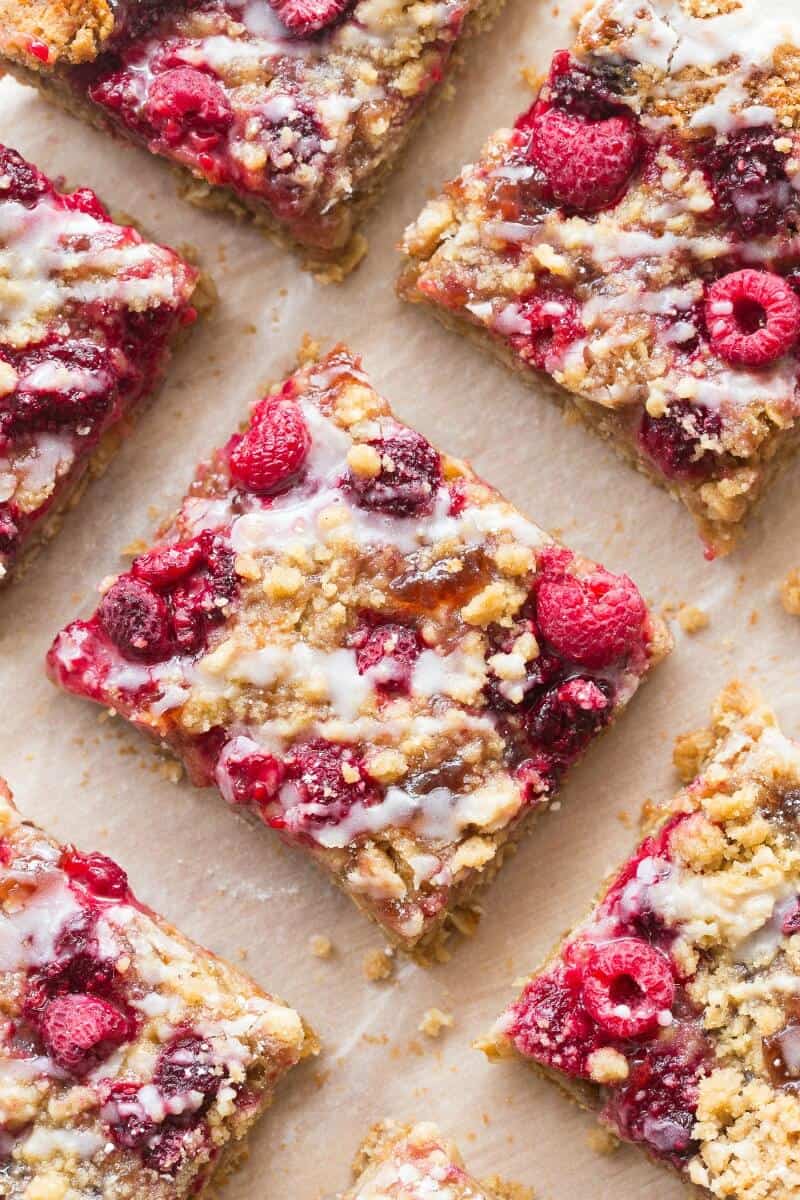 Flavor and recipe variations
Make it gluten-free. You can use certified gluten-free oats and gluten-free baking flour if you want these bars to be suitable for celiacs.
Make a cookie base. Reminiscing good old thumbprint cookies? Revisit the nostalgia by making shortbread cookie crust instead of crumb crust.
Use a mix of fresh and preserved raspberry jam. For a more jammy taste, you can add new and preserved raspberries. Sometimes, I add other fresh fruits like peaches and apricots in the mix too.
Raspberry lemon bars. A cinnamon crust tastes delightful with butter and raspberry flavors. I also add lemon zest to the crumble for a subtle lemon flavor.
Make it fancy. For a gourmet dessert look, layer it in a bowl. Start with crumble, add raspberry jam, sprinkle some more crumble, add a scoop of ice cream, and top off with fresh raspberries and toasted nuts.
Recipe tips and tricks
Use a food processor. For a quick crust mixture, pulse the dry ingredients in a food processor until they come together.
Adjust the thickness. If you like thinner bars, make this recipe in a 9-inch pan instead.
Use melted butter. If you don't like cutting soft butter into the oats and flour, I suggest you use melted butter and mix with a spoon.
Remember to poke the base. To prevent puffing up or cracking the crust, poke the base several times using a fork.
Storage instructions
To store. Raspberry bars keep well at room temperature for three days. Refrigerate them for up to a week for extended storage.
To freeze. Alternatively, you can freeze the raspberry bars in ziplock bags for up to three months.
Recommended tools to make this recipe
Baking pan. This square baking pan is perfect for making layered desserts and brownies.
Saucepan. To cook down the raspberries into a jam.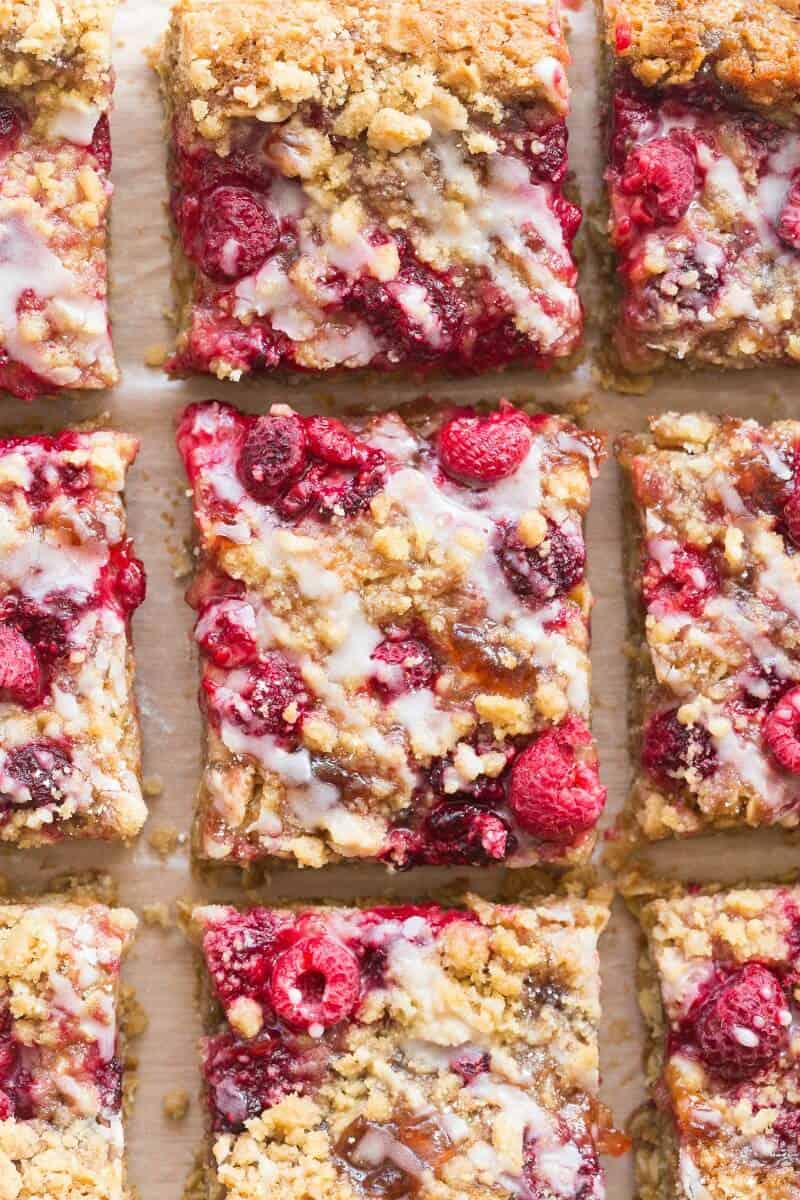 More dessert bars to try
Frequently asked questions
Can I skip refrigerating the raspberry bars?
I don't recommend skipping this step. Refrigeration helps them set into bars. Once set, you can easily cut, handle, and serve them.
Can I make this recipe with only raspberry jam?
I haven't tried making this recipe with just raspberry jam, but you'd need to use a significant amount to cover the shortbread base and need to adjust the sweetness.
Is this recipe vegan?
Swap out the dairy butter with plant-based butter or coconut oil to make vegan raspberry bars. For a healthier alternative, use mashed banana or applesauce instead of butter.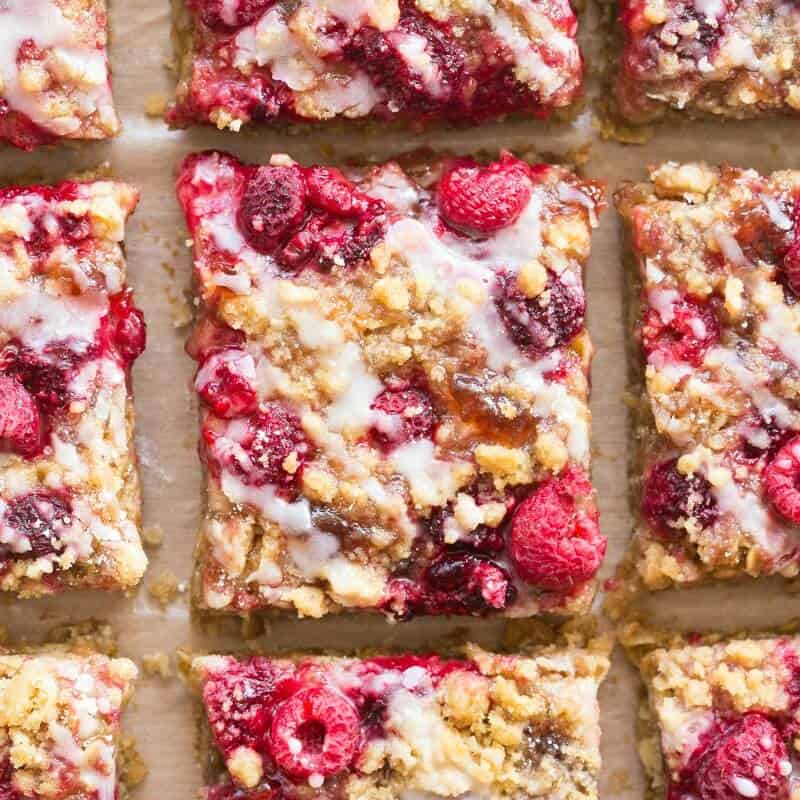 Raspberry Bars
Learn how to make the most delicious raspberry bars with this straightforward recipe. These layered bars feature a buttery base, a soft raspberry jam center, and a golden crumbly top.
Instructions
Preheat the oven to 180C/350F. Line an 8-inch square pan with parchment paper and set aside.

In a large bowl, combine the flour, oats, sugar, salt, and butter and stir until a crumbly texture remains.

Reserve a scant 1/2 cup of the mixture then transfer the rest of it into the lined pan. Press the mixture down into the pan until smooth. Poke holes in the crust, then bake for 15-17 minutes, or until golden.

While the crust is baking, prepare the raspberry filling. In a small saucepan, add the raspberries and sugar and place over medium heat. Once it begins to boil, use a hand mixer or fork to break down the raspberries until smooth. Add in the flour and simmer for another minute before removing it from the heat.

Once the crust is golden, remove it from the oven and spread the raspberry filling on top. Drop handfuls of the remaining crumb mixture over the top and bake for a further 20 minutes or until lightly golden.

Remove the Bars from the oven and let them cool to room temperature. Once cool, refrigerate for at least an hour to further firm up.

Once firm, slice into bars and glaze. To make the glaze, whisk together the confectioners' sugar and water.
Notes
TO STORE. Raspberry bars keep well at room temperature for three days. Refrigerate them for up to a week for extended storage.
TO FREEZE. Alternatively, you can freeze the raspberry bars in ziplock bags for up to three months.
Nutrition
Serving:
1
Bar
Calories:
286
kcal
Carbohydrates:
38
g
Protein:
3
g
Fat:
16
g
Sodium:
171
mg
Potassium:
92
mg
Fiber:
3
g
Sugar:
12
g
Vitamin A:
486
IU
Vitamin C:
10
mg
Calcium:
18
mg
Iron:
1
mg
NET CARBS:
35
g
Disclosure: This post may contain affiliate links. I may earn a small commission for my endorsement, recommendation, testimonial, and/or link to any products or services from this website.