Edible Brownie Batter Cookie Dough (Keto, Vegan, Paleo)
Ever want to dig into a bowl of raw brownie batter? You will LOVE this edible eggless brownie batter recipe- No raw flour, no eggs, but LOADED with chocolate brownie flavor!
Easy edible brownie batter cookie dough recipe, made with wholesome healthy ingredients! Naturally low carb and keto-friendly, it's a guilt-free dessert requiring NO baking- It takes 5 minutes to make!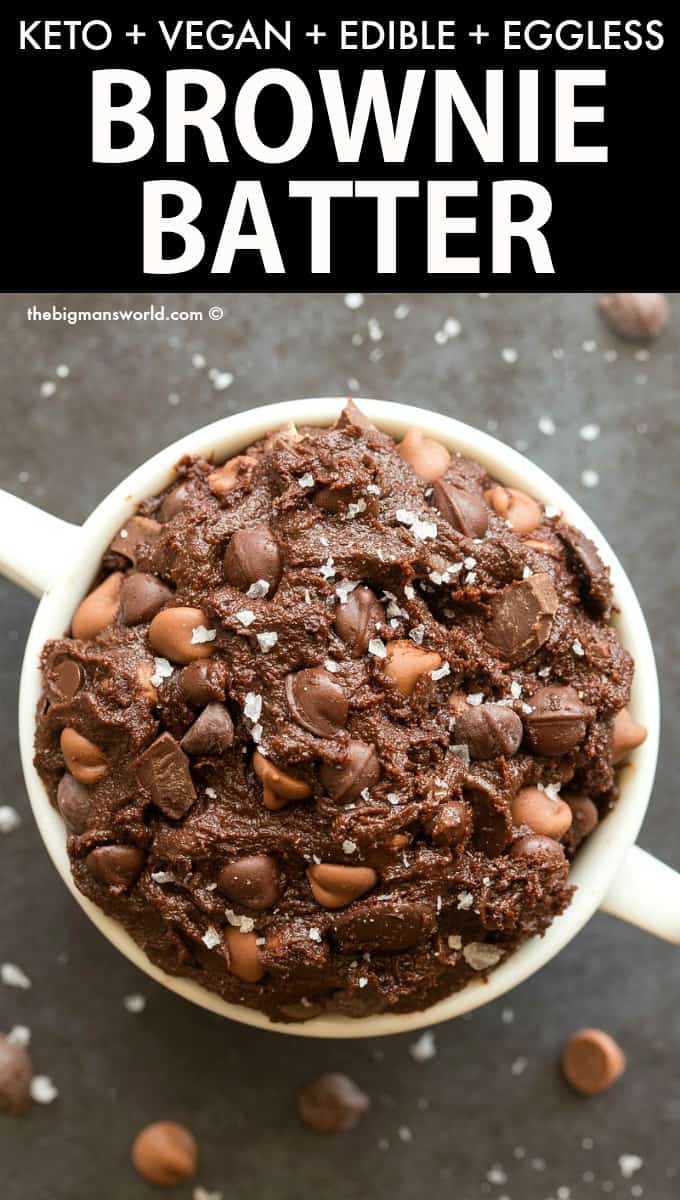 My childhood dreams are LIVED when making this edible brownie batter cookie dough.
Whenever I make my flourless keto brownies, best vegan brownies or almond flour brownies, I'm ALWAYS sneaking bites. Luckily, all of those recipes are made without eggs and without flour, so it is safe to eat.
However, I wanted to create a recipe I could enjoy similar to edible cookie dough.
I made a chocolate brownie style cookie dough, but changed the texture to be just like a thick brownie batter!
Can I eat brownie batter?
Traditional brownie batters are made with raw flour and raw eggs, so they aren't suitable to eat on its own.
However, my version is eggless, has no inedible flour and is actually secretly healthy!
It's naturally low carb, keto and sugar free, but also can easily be made vegan, paleo and gluten free.
So, how does it taste?
For such a healthy recipe, you'll be surprised at how delicious this brownie batter is.
Taste-wise- Okay, it's a cross between a brownie batter and a raw cookie dough. Smooth, sweet and loaded with sweetness from the chocolate and the batter itself.
Texture-wise- It's smooth, thick and loaded with different textures, thanks to the use of both chocolate chips and chopped chocolate pieces.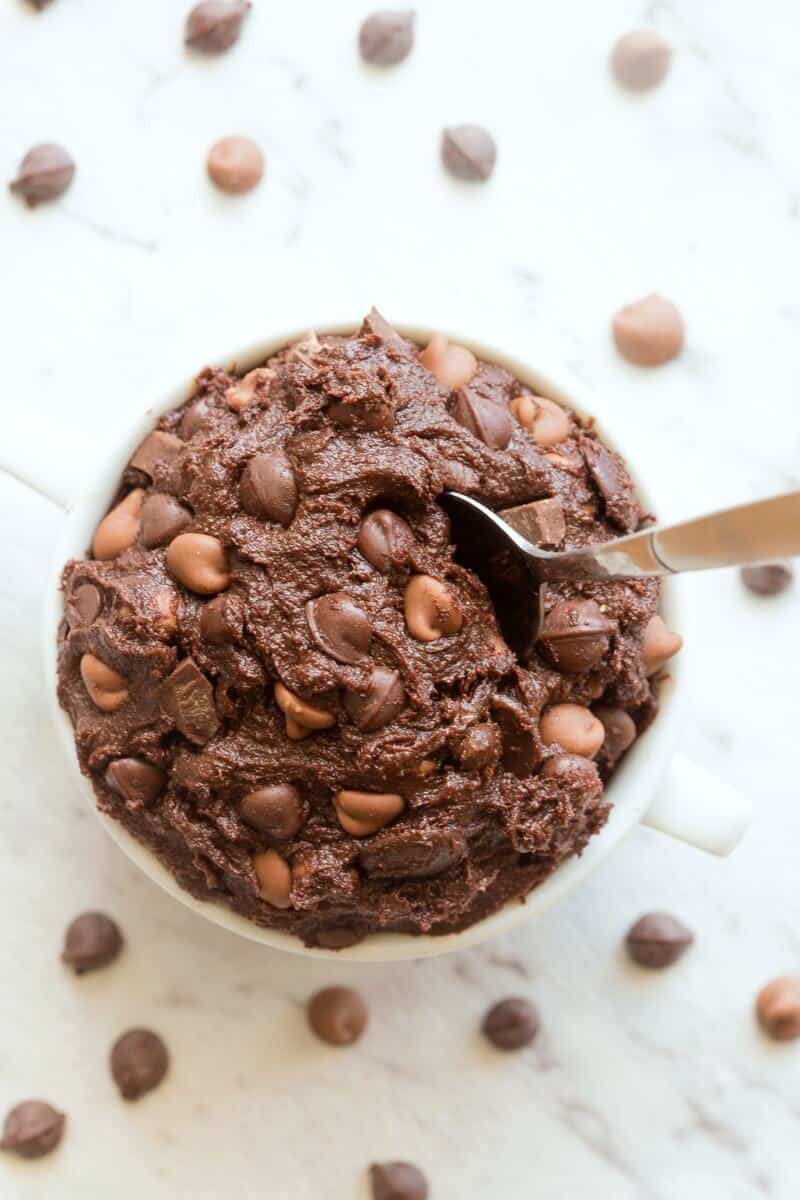 How to make edible brownie batter from scratch
No fancy gadgets or crazy ingredients needed to make this healthy brownie batter- Just one bowl and 5 minutes!
The Ingredients
Blanched almond flour- A low carb and grain-free flour that is suitable to enjoy in its raw state. It has a mild flavor, without tasting like almonds at all!
Coconut flour- Another keto approved flour, it's packed with fiber and helps hold the brownie batter together.
Unsweetened cocoa powder- Be sure your cocoa powder has no added sugar.
Granulated sweetener of choice- To give sweetness, and achieve the brownie batter/cookie dough texture. I used a monk fruit sweetener.
Sugar Free Maple Syrup- Gives sweetness, along with a smooth brownie batter texture.
Coconut Oil- Gives the brownie batter the delicious, buttery texture. It also helps with a smooth texture.
Sugar Free Chocolate chips- A must for any chocolate heavy recipe. Use a mix of chocolate chips and broken up chocolate pieces.
Salt- Brings out the sweetness!
Milk of choice- Only necessary if your eggless brownie batter is gritty/thick. Add a few tablespoons of milk (as needed) to achieve your desired texture. I used unsweetened coconut milk.
The Directions
In a large mixing bowl, add your dry ingredients and mix very well, until combined. Slowly, add your softened coconut oil (melted works too!) and sugar free syrup. Using a rubber spatula, mix well. Fold through your chocolate chips and enjoy immediately, or allow to chill for around 20 minutes, to thicken.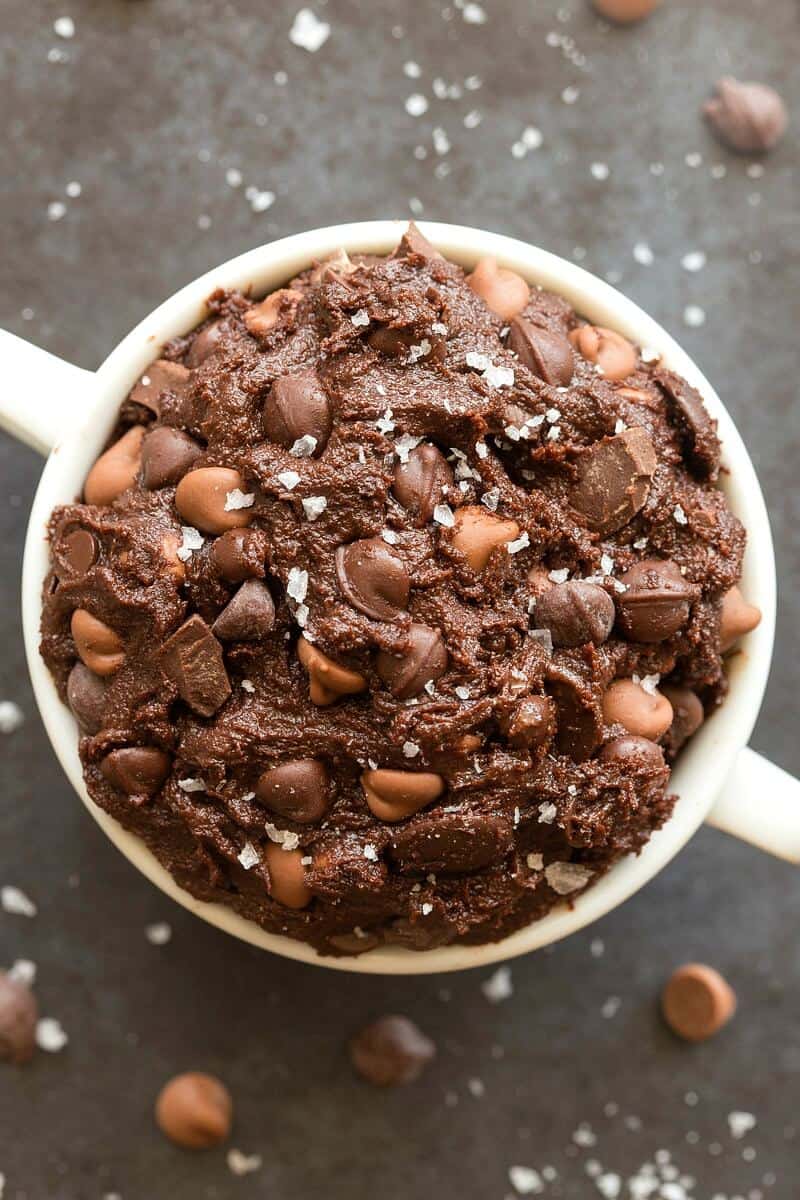 Storing edible brownie batter
To store: Store leftover edible brownie batter in the fridge. Even though it is eggless, keeping it at room temperature will see the chocolate become gritty and slightly oily.
Cover the brownie cookie dough or keep it in a sealed container. It will remain fresh refrigerated for up to 4 weeks.
To freeze: Edible brownie batter is freezer friendly and can be stored in the freezer. Place in a freezer-friendly container. It will keep well frozen for up to 6 months.
TIP: Freeze individual portions of brownie batter for quick and easy single-serving desserts when the sweet tooth hits!
To thaw: Healthy brownie batter must be thawed to at least a refrigerated temperature, otherwise it will be too thick to eat. Brownie batter is best thawed at room temperature.
Can I make this edible brownie batter for one (single serving?)
Easily make this recipe single serving, for when you want to make a treat for ONE!
Simply divide the ingredients by 4, or alternatively, adjust the servings toggle on the recipe card, to the number of servings you want!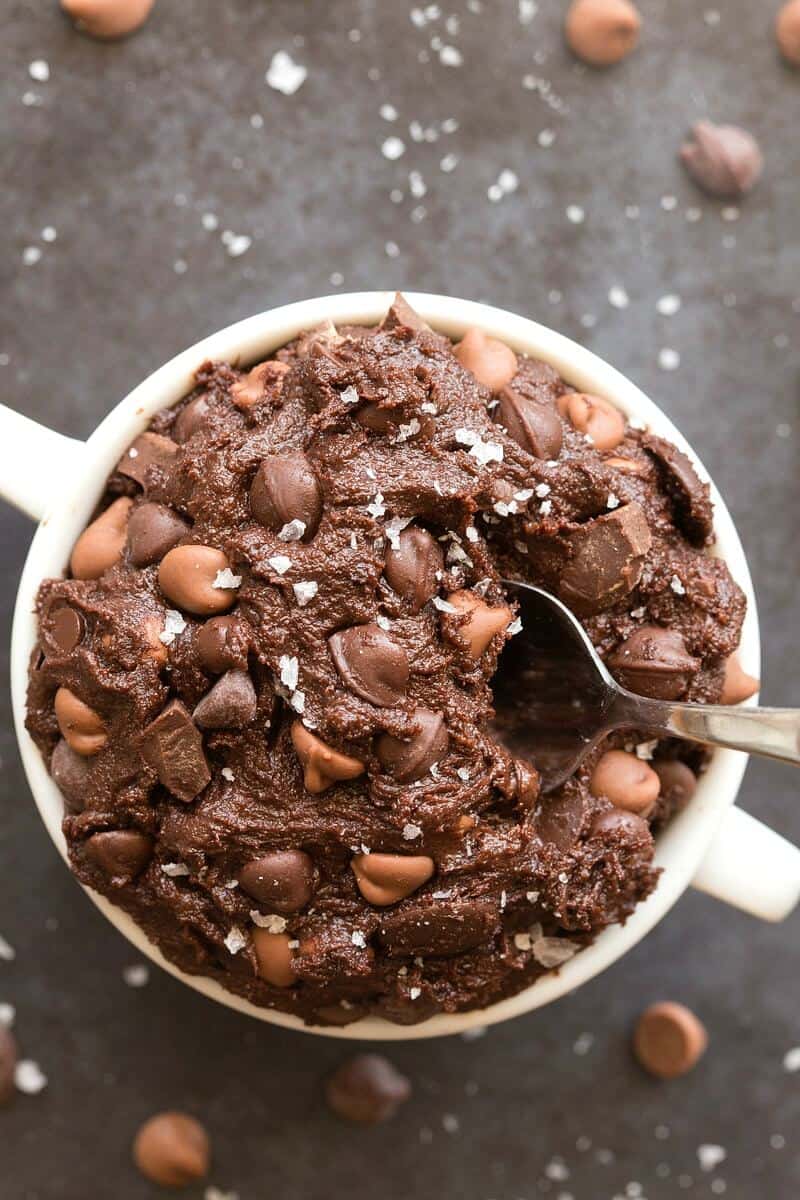 More no-bake desserts you'll love!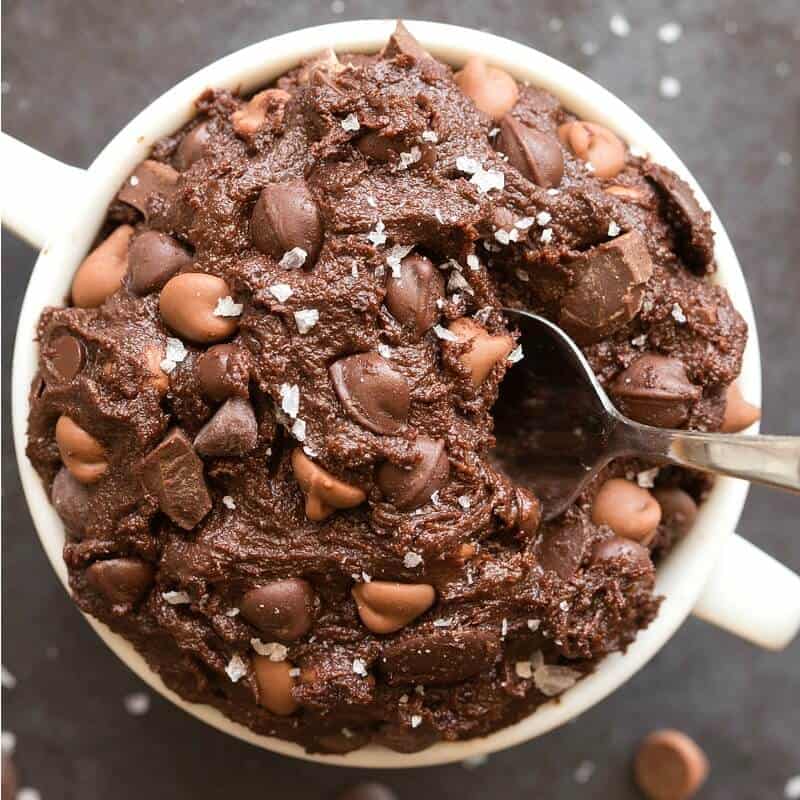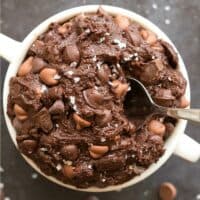 Edible Brownie Batter Cookie Dough
Easy and healthy edible brownie batter cookie dough recipe made without inedible flour, without sugar and without eggs! smooth, creamy and secretly keto and low carb! Paleo, Vegan, Gluten Free, Sugar Free.
Print
Rate
Instructions
In a large mixing bowl, add your almond flour, coconut flour, cocoa powder, granulated sweetener of choice and salt and mix well.

Add your melted coconut oil, sugar free syrup and mix well. Fold through your chocolate chips and mix well. If the batter is too thick, add your milk of choice, one tablespoon at a time, until it is smooth.

Enjoy immediately, or refrigerate for 20-30 minutes, to thicken.
Notes
* Any granulated sweetener of choice will work.
** You can substitute this with maple syrup, agave, or even honey (not strictly vegan)
*** Any chocolate chips of choice will work
**** Only add if you prefer a smoother texture.
Key Recipe Equipment and Ingredients
Nutrition
Serving:
1
serving
|
Calories:
235
kcal
|
Carbohydrates:
9
g
|
Protein:
5
g
|
Fat:
19
g
|
Sodium:
85
mg
|
Potassium:
38
mg
|
Fiber:
6
g
|
Vitamin A:
17
IU
|
Vitamin C:
3
mg
|
Calcium:
59
mg
|
Iron:
2
mg
|
NET CARBS:
3
g