These raw, fudgy brownies are secretly healthy and PERFECT for breakfast! NO baking required, and they take just 15 minutes!
I am ALL about having chocolate for breakfast and enjoy breakfast bars, chocolate oatmeal and these no bake brownies.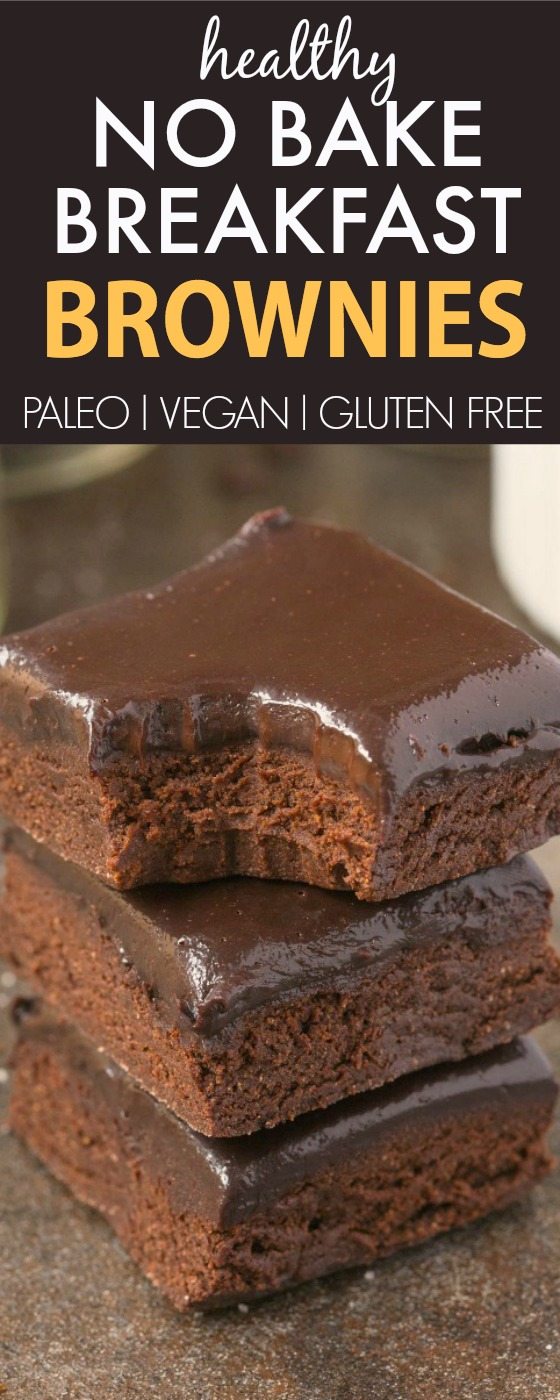 Can you eat raw brownies?
If there is a way for me to have dessert for breakfast, I am ALL for it. These fudgy brownies fit the bill.
Before you skip over this recipe, take note- You CAN eat raw brownies.
See, these no bake brownies contain no eggs, no white flour, and no dairy. They are 100% suitable to be eaten un-baked, or raw. They are also made without dates and topped with a THICK easy 2 ingredient frosting.
Optional, but highly recommended.
Bonus? They are secretly low carb and refined sugar-free.
I'll be having one for breakfast, I mean…healthy right?
How do healthy no bake brownies taste?
Think about your favorite brownie batter, but thicker. This is what these raw brownies taste like. Sweet, chocolatey and satisfying in one.
Texture-wise, they are gooey, fudgy, dense and smooth in one. It's like eating a chilled brownie straight from the fridge or freezer!
Want traditional brownies? Try Flourless Keto Brownies.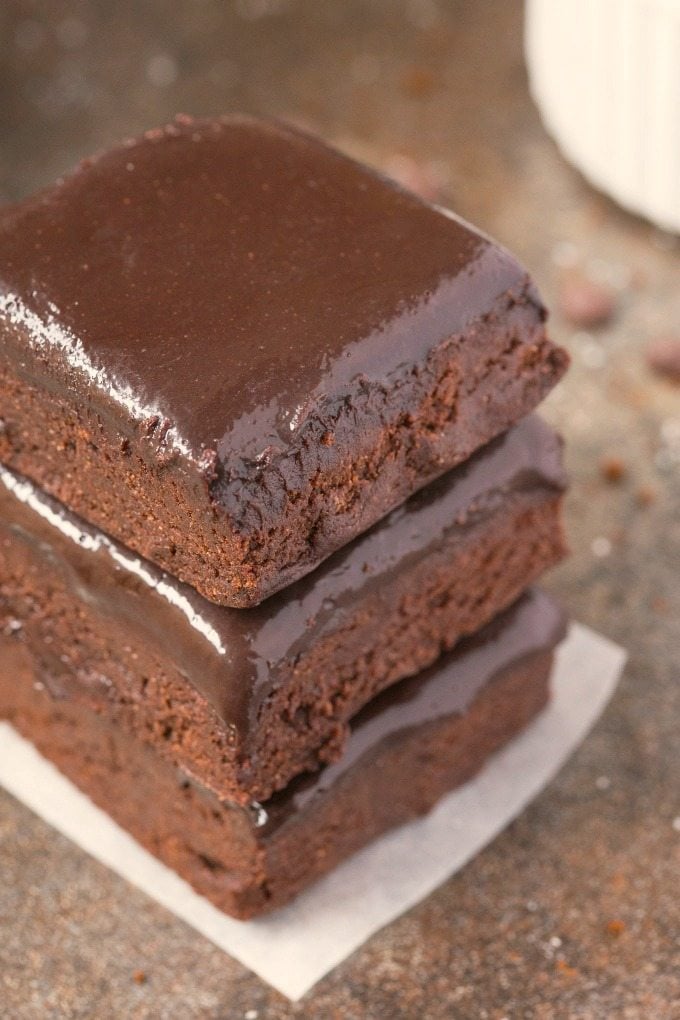 No Bake Brownie Ingredients
You only need 5 easy ingredients to make these raw fudgy brownies
Coconut Flour
Cocoa Powder
Almond Butter
Maple Syrup (keep it keto, by using keto maple syrup)
Granulated sweetener of choice (or liquid stevia)
Pumpkin Puree
Coconut flour a thick grain-free flour, that can be enjoyed without baking (in no bake desserts and snacks!). It does not have a strong coconut taste, and a small amount goes a very long way.
The almond butter should be of the smooth/creamy variety. If your almond butter isn't drippy, it will be hard to mix into the dough. You can easily substitute the almond butter for peanut butter or a nut-free option, like tahini or sunflower seed butter.
Maple syrup (or keto maple syrup) is my favorite liquid sweetener, and it not only provides sweetness, but also holds the bars together. You can also use agave nectar or honey- both are also refined sugar-free options.
You can either use liquid stevia or a sugar-free granulated substitute (like monk fruit sweetener) provides extra sweetness. I prefer liquid stevia, as it ensures a smooth, fudgy texture.
Pumpkin adds moisture and also replaces the need for any added fats. If you don't follow a low carb or ketogenic diet, you can use mashed sweet potato or banana.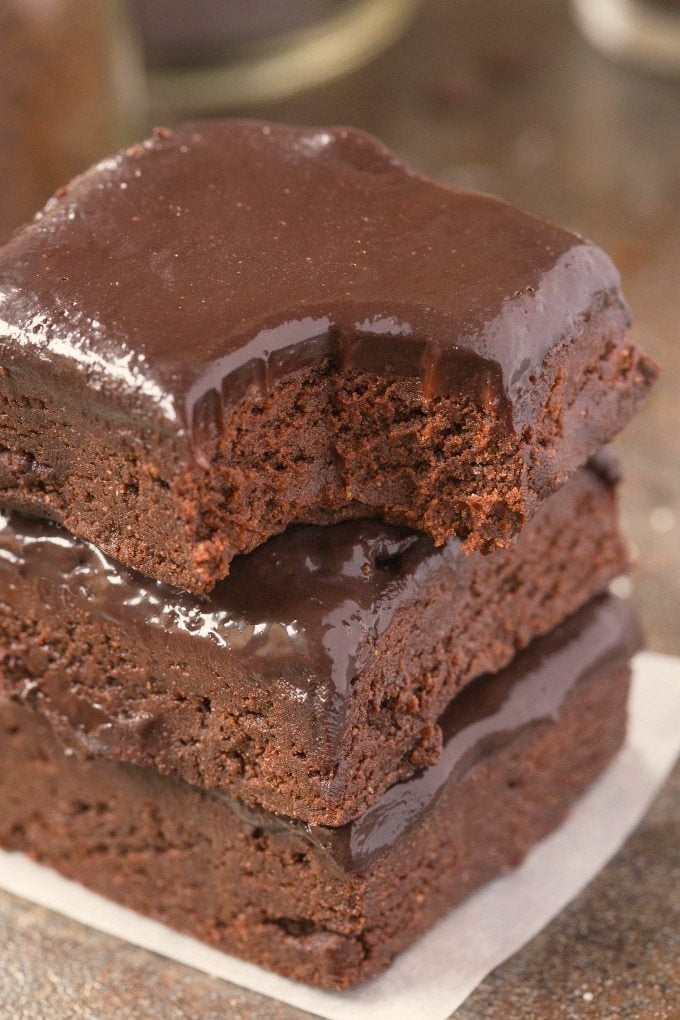 How to make no bake brownies
Making these un-baked brownies is ridiculously fast and easy!
Firstly, in a large mixing bowl, add your dry ingredients and mix well. In a microwave-safe bowl or stovetop, heat up your almond butter with your syrup until warm. When it is warm enough, you'll be able to whisk them together.
Combine the dry and liquid ingredients and mix well. Add the liquid stevia and continue to mix, until a smooth batter remains.
Transfer the batter into the lined pan and spread out using a rubber spatula. Finally, refrigerate the brownies until they are firm, usually around 30 minutes. If desired, add a simple chocolate frosting. I like to melt chocolate chips with full-fat coconut milk to produce a delicious ganache.
Tips to make the BEST No Bake Brownies
Every brand of coconut flour is different. Some brands tend to have a thicker texture. If your brownie batter is crumbly after all the ingredients have been mixed, it has a thick texture! To combat this, you will need to add some liquid to smooth out the batter. Start with 1 tablespoon of milk, and add more as needed. I prefer using unsweetened almond milk or coconut milk.
If you use a granulated sweetener, you SHOULD add some extra liquid, like milk. The granulated sweetener tends to make the batter slightly gritty- Something we DON'T want to happen!
Be sure to use a good quality cocoa powder. Cheaper brands tend to yield a slightly sour flavor.
If you don't have canned pumpkin, fresh works too- Simply steam pumpkin and when soft, mash or blend until smooth.
Craving chocolate? Brownie Bites taste like fudge!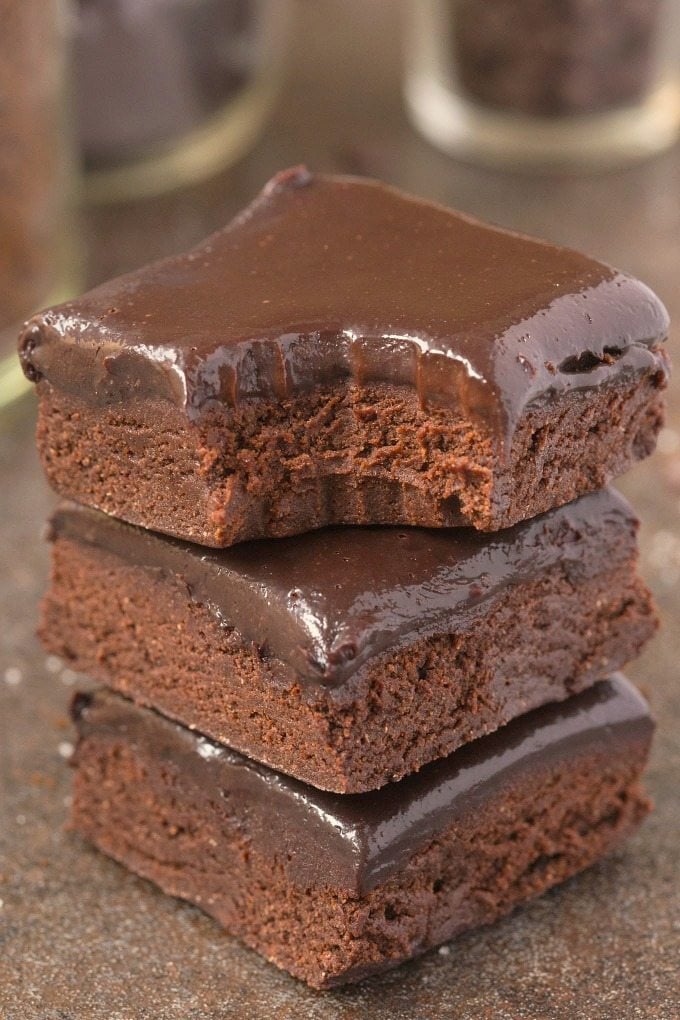 Can I add protein powder to these brownies?
Amp up the protein power by adding a scoop or two of protein powder into the batter. I recommend using either casein protein powder (gluten-free and low carb), brown rice protein powder (vegan) or paleo protein powder (paleo and keto).
If you DO add protein powder, you MUST add 1/4-1/2 cup of milk of choice. Protein powder adds thickness and texture to the brownies, so extra liquid must be added to compensate.
I have not tried whey protein powder for this recipe- Feel free to experiment and see.
Storing raw brownies
Brownies MUST be stored in the fridge, otherwise, they will spoil. Place sliced brownies in a sealable container, and they will keep fresh for at least 2 weeks.
They are also freezer friendly and you can freeze them to enjoy at later times. Wrap the brownies in parchment paper, and place them in a shallow container or ziplock bag.
To thaw, let sit at room temperature for several hours. They keep well frozen for 6 months.
More healthy desserts for breakfast
Watch the step-by-step video BELOW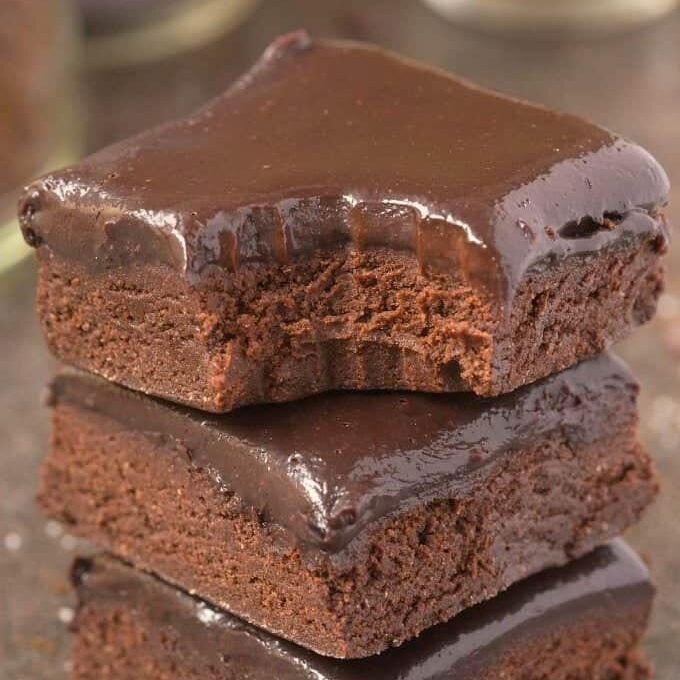 Healthy No Bake Brownies
Healthy No Bake and Raw Brownies loaded with chocolate and SUPER fudgy, but made with easy ingredients! Raw, fudgy, gooey and delicious in one, they are secretly low carb!
Print
Rate
Instructions
Line a square pan with parchment paper and set aside.

In a large mixing bowl, add your coconut flour and cocoa powder and set aside.

In a microwave-safe bowl or stovetop, melt your almond butter with your syrup until combined.

Add the wet mixture to the dry mixture and mix until fully incorporated. Stir through the mashed pumpkin and liquid stevia until fully incorporated and batter is even. If batter is too thick, add a tablespoon or more of milk of choice until a very thick batter is formed.

Pour batter into the lined baking dish and refrigerate for at least 30 minutes to firm up. While no bake brownies are firming up, make your frosting and enjoy.
To make the frosting
Combine all the ingredients in a bowl and mix until fully combined and thick.
Notes
Breakfast brownies are best kept in the refrigerator, but are also freezer friendly. It is best to keep brownies unfrosted if you go the latter route.
Nutrition
Serving:
1
Brownie
|
Calories:
178
kcal
|
Carbohydrates:
7
g
|
Protein:
10
g
|
Fat:
13
g
|
Potassium:
5
mg
|
Fiber:
1
g
|
Vitamin A:
3
IU
|
Vitamin C:
4
mg
|
Calcium:
4
mg
|
Iron:
5
mg
|
NET CARBS:
6
g