An easy recipe for flourless protein brownies made into brownie bites! Made with protein powder and peanut butter, these paleo and vegan brownie bites are sugar free and eggless! Bonus? They are also keto friendly and super low carb.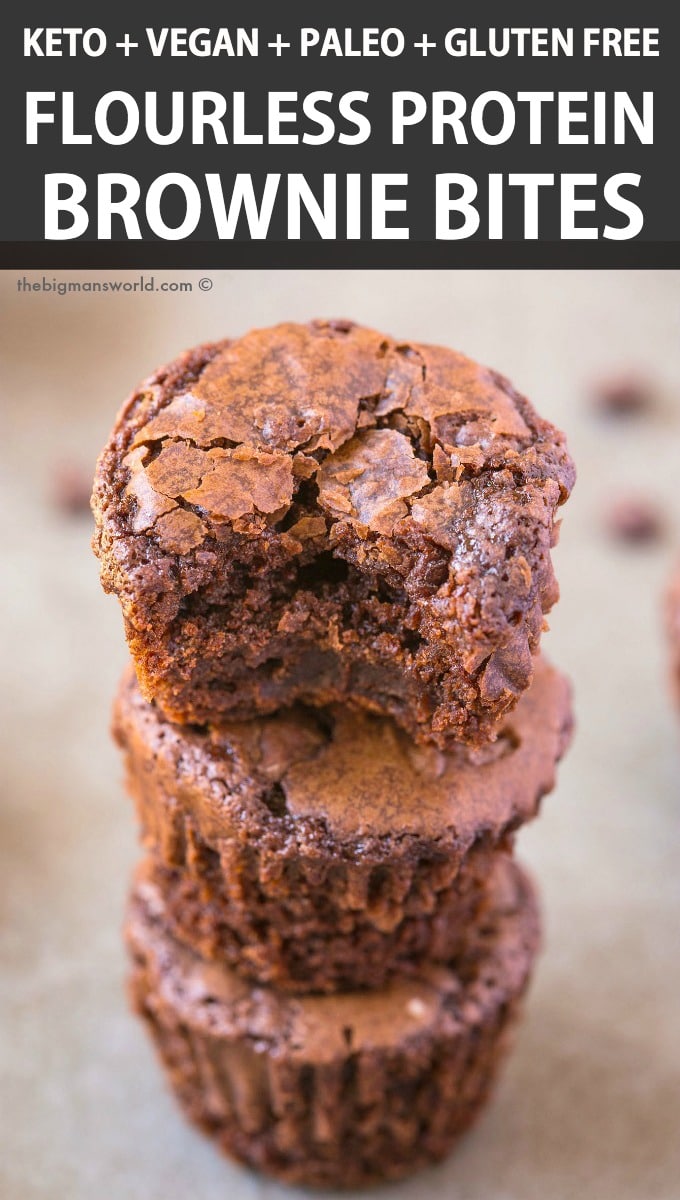 Protein Brownies Recipe
We love our healthy brownie recipes on here. We've had zucchini brownies, flourless keto brownies and these strawberry chocolate brownies.
Ever since I started working out more, I've been in the need for more protein in my diet. Hence, these flourless protein brownie bites.
The flourless protein brownies are hands down, one of my most made and most popular recipes and with good reason. They are ridiculously fudgy and hold really well, and when refrigerated, they have the best texture ever, you'd be fooling yourself into thinking they were actually healthy…but they are!
I think a big reason for their popularity is that unlike traditional brownies, these contain no butter, flour, grains or sugar. They also contain one KEY ingredient which has made my fitness savvy readers happy- A boost of protein, thanks to some protein powder.
After making a little too much batter, I opted to put them in mini muffin tins and voila- keto protein brownie bites!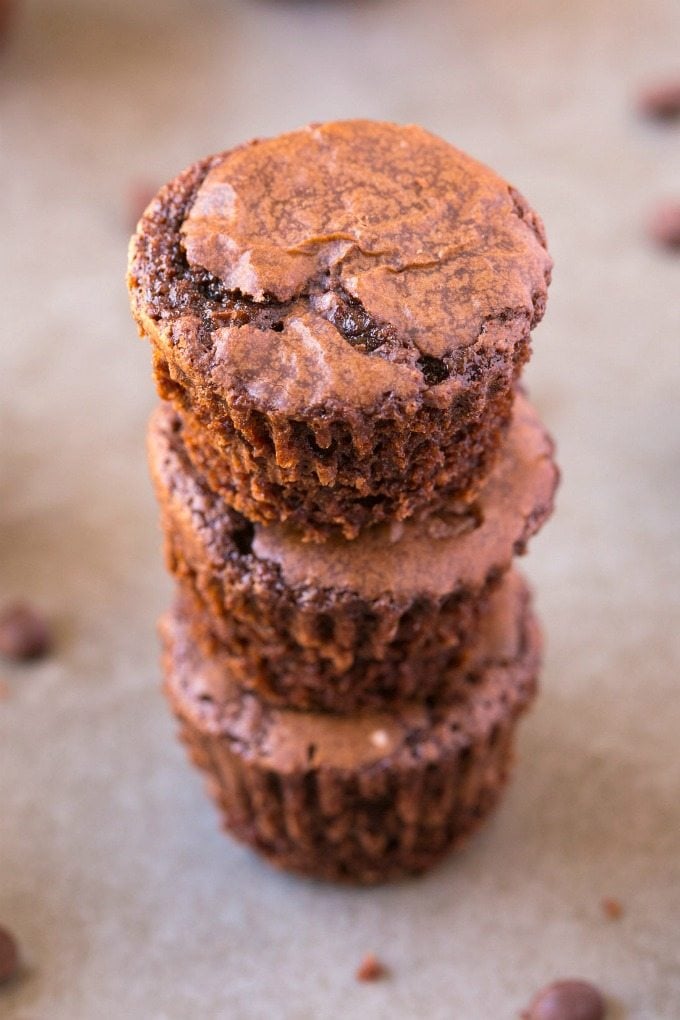 Protein Brownies that taste delicious!
These healthy flourless protein brownie bites are like their original version, only in more portable, bite-sized form. They only need four basic ingredients, so basic you should have them in your pantry/counter top right this minute.
They are super fudgy and depending on which combination of ingredients you use (see notes and tips below), produce the gorgeous crackly tops and ridiculously fudgy texture. They are also suitable for those following a vegan, gluten-free, paleo, keto, and dairy free lifestyle!
Protein Brownie Bites Ingredients
So let's talk more specifics about these flourless brownie bites. I'm going to try to break down as many potential questions/troubleshooting as possible, many of them stemming from the original recipe.
PROTEIN POWDER!
If there is one thing I preach consistently on here, is that no protein powder is created equal. (Well, besides no coconut flour is created equal either…)
I have three stand-by protein powders I use in EVERY single recipe which calls for protein powder- A vegan protein powder blend, a casein protein powder blend, and a paleo protein powder blend.
You may notice one popular kind missing- Whey. From my personal experience, I've found using whey (strict whey, not blends) to produce an either extremely sticky texture (in non-baked goods) or at the opposite end of the spectrum- Really chalky. However, based on reader feedback, many of you had success using this whey protein powder.
Out of all those kinds, my favorite is the casein protein powder or the vegan protein powder– They both have a super fudgy texture and actually bake really well, as long as you bake according to instructions (and not letting them dry out!). The paleo protein powder is less sweet than both, but has similar baking capabilities, if not a little less tender.
PUMPKIN PUREE (and substitutions!)
I think there is a huge distinction between those who love banana and those who don't enjoy banana.
As you can see, bananas play a huge factor in this recipe as it is the starch base. However, there are tested alternatives. If you don't enjoy bananas (or find them overpowering), you can use mashed pumpkin or mashed sweet potato.
If you go the latter route, make sure your protein powder is sweetened and/or add some chocolate chips throughout- The banana lends a natural sweetness which is lost if you don't use it.
COCOA POWDER
Ensure you use a good quality cocoa powder to ensure that the cocoa flavor is distinct and delicious. I sometimes like to use dark cocoa powder too.
ALMOND BUTTER (and substitutions!)
Almond butter is essential to provide some delicious, healthy fats, along with helping provide a fudgy texture.
You can replace the almond butter with either peanut butter (not strictly paleo) or cashew butter.
LIQUID STEVIA
Add some liquid stevia if you prefer sweeter brownies. I would recommend it if your protein powder is unsweetened.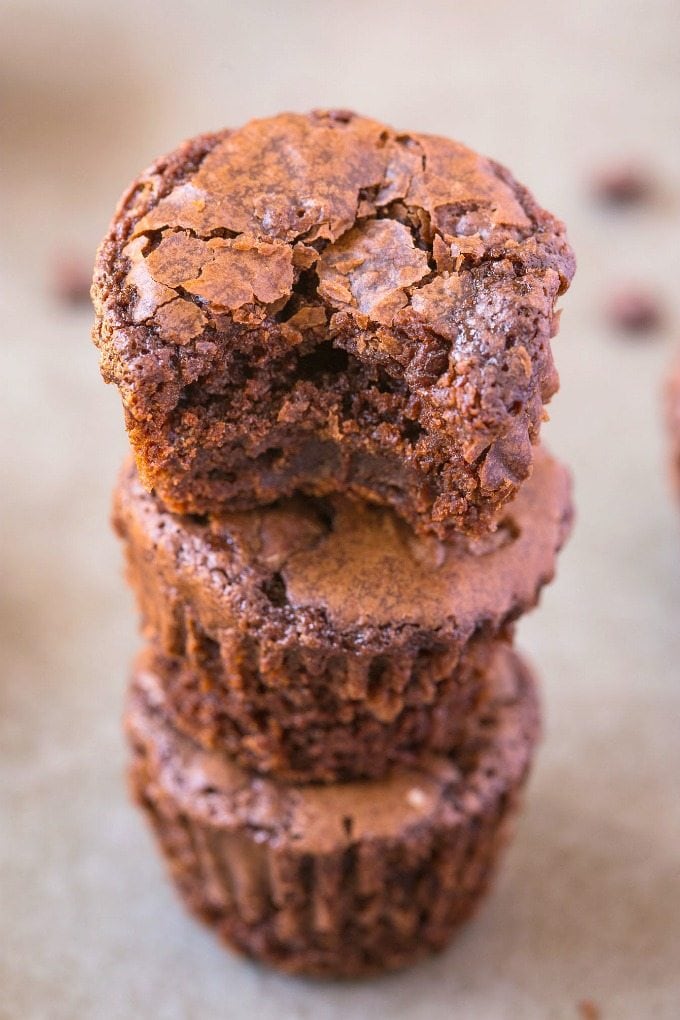 Tips and tricks to make the BEST Keto Protein Brownie Bites
PLEASE PLEASE PLEASE grease the mini muffin tin very well- There is a good reason only 10 or so brownie bites made the photos.
10 brownie bites out of 36.
The crackly tops are what is SO hard to achieve with protein baked goods but as you can see from these recipes, it is totally possible. The casein protein powder works best to achieve it, followed by the vegan protein powder. The paleo one didn't work naturally, but there is a way to achieve it- Once the brownies seem 'just' cooked (and when you remove them from the oven), lightly press down on the tops with the back of spoon to create your own cracks before allowing to cool.
Alternatively, you can also sprinkle a dash of your favorite granulated sweetener over the tops. I've used this stevia blend and this coconut sugar blend and both have worked well.
For gooey brownies, remove from the oven around the 12 minute mark.
These brownie bites are eggless, so you don't need to worry about eating slightly raw batter.
How to make flourless protein brownie bites Nut-free
Easily make these flourless protein bites nut-free by substituting the almond butter for either sunflower seed butter or tahini.
Storing brownie bites
Brownie bites should be kept refrigerated at all times. Ensure they are covered and/or in a sealed container. They will keep well for up to 1 week.
Protein brownie bites are freezer friendly and can be stored in the freezer. They will keep well for up to 6 months.

Share this recipe on Pinterest
Love this 4 Ingredient Protein Brownie Bites (Keto, Vegan, Paleo) recipe?
Share it with the world on Pinterest.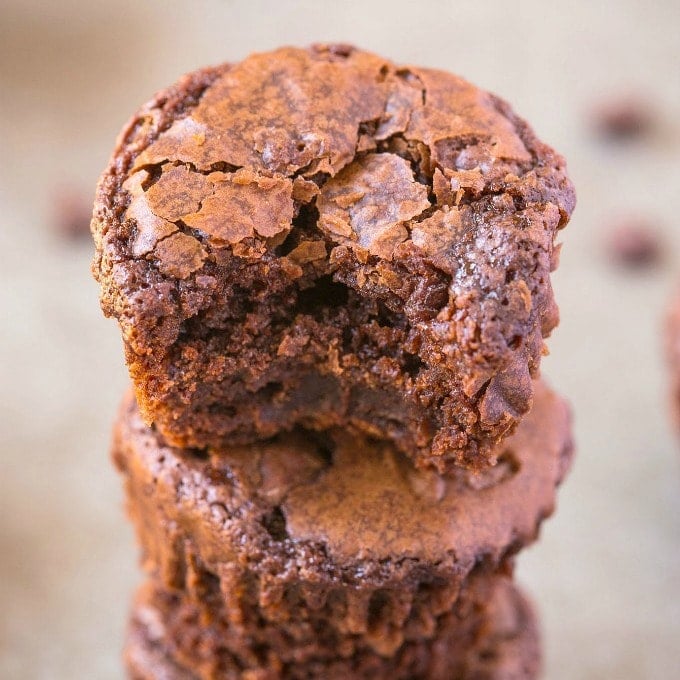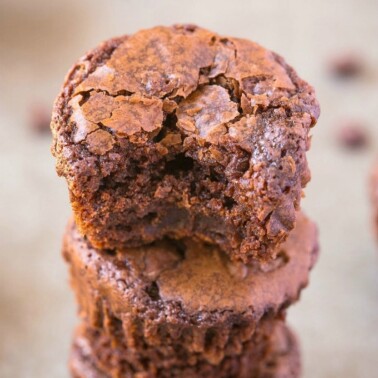 Protein Brownie Bites (4 Ingredients!)
Healthy flourless protein brownie bites needing just four ingredients and quick, easy and delicious! Made with no butter, oil, flour, grains or sugar, these brownie bites are naturally gluten free, vegan, paleo, keto, and dairy free!
Instructions
Preheat the oven to 180C/350F and line a mini muffin tin with mini muffin liners- For smaller brownie bites, you'll need at least 15. Ensure each muffin tin in greased generously.

In a high speed blender or mixing bowl, combine all your ingredients and blend/mix until smooth.

Pour brownie mixture into each muffin tin, filling until just full. As there is no baking powder needed, they generally won't rise.

Bake for 12-15 minutes, or until a skewer/toothpick comes out just clean. Allow to cool in the muffin tin completely. For best results, refrigerate once cooled for several hours.
Notes
Brownie bites need to be kept refrigerated but taste amazing from the freezer too.
If you mix by hand, you may have some banana chunks throughout.
Protein Brownie Bites (Keto, Vegan, Paleo) have no eggs, so for ultra fudgy brownies, remove from the oven earlier.
Nutrition
Serving:
1
brownie bite
Calories:
95
kcal
Carbohydrates:
5
g
Protein:
8
g
Fat:
4
g
Fiber:
3
g
Vitamin A:
150
IU
Vitamin C:
3.3
mg
Calcium:
20
mg
Iron:
0.5
mg
NET CARBS:
2
g
Disclosure: This post may contain affiliate links. I may earn a small commission for my endorsement, recommendation, testimonial, and/or link to any products or services from this website.