The Ultimate 1 Minute Protein Brownie (Paleo, Vegan, gluten free)
A delicious, fluffy, moist protein-packed brownie which takes just one minute to whip up! Clocking in at around 150 calories, it is a healthy snack to have any time and has been oven tested. Naturally gluten free, dairy free, vegan, keto, low carb, and comes with a tested paleo version.

***
"Drink a protein shake after your workout!"
"Really? But I don't really like the taste of them as a shake…."
"Okay you need to make this brownie then. It's protein powder, water and a pinch of baking soda and you microwave it. It's exactly like a brownie!"
If I could turn back time, I would. I would go back five years and slap myself for even believing such a thing could be considered a brownie. For a good 4-5 months, after every single workout, I'd diligently go to my microwave in the shared dorm kitchen and make these 'brownies.' I'd praise the bodybuilding Gods for this genius creation and how something so 'healthy' could be so good.
…I then stopped working out like a 'bro' and realized that this brownie was nothing more than a sweetened hockey puck and an insult to the term 'brownie.'
However, I've still continued to enjoy protein powder (just NOT with water and baking powder) and realized that with some actual ingredients, a delicious brownie COULD be made.
Is this brownie like those desserts you make from a box or with butter, oil, flour and love? No, minus the love part.
Is this brownie like the ones sold at Patisseries with a sprinkle of powdered sugar on top? No.
Is this brownie something you'd whip up for your mum when she says 'I feel like a brownie?' Sure, if you want to get disowned.
However, this brownie is an easy, quick and delicious anytime snack to have on hand to keep the sweet tooth satisfied. For those whom enjoy protein packed snacks or shakes post workout, this is the perfect option too. Why 'the ultimate' protein brownie? Because it's not like a hockey puck.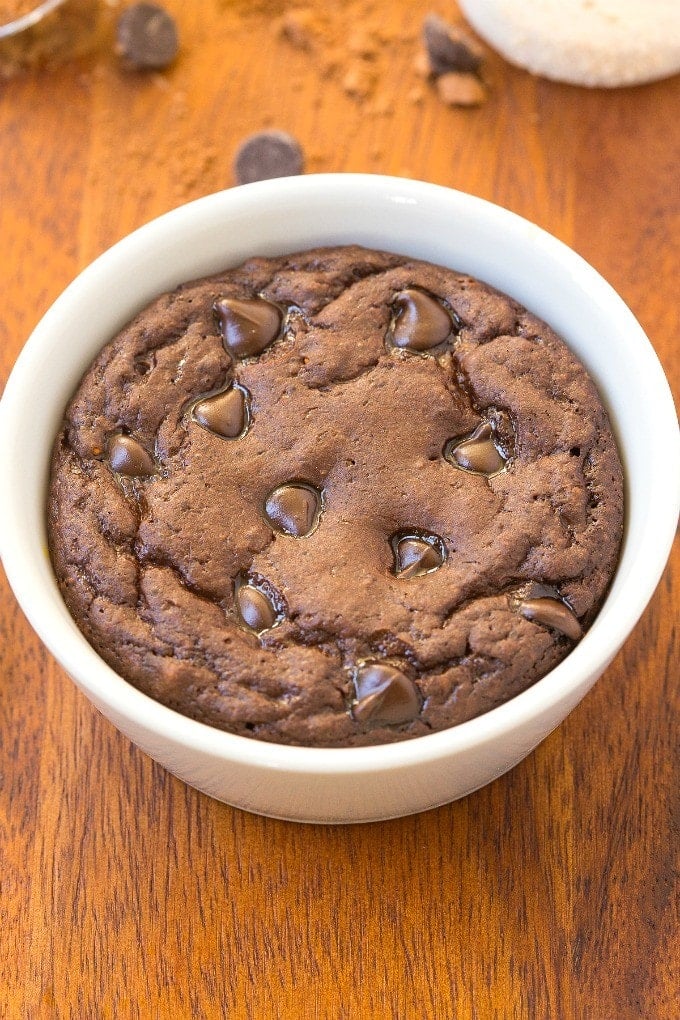 As part of my collaboration with Kohl's, I thought this would be a perfect recipe to share with my dorm room kitchen and back to school theme. This is an easy, nutrient dense snack which literally can be made in your dorm room kitchen- With a few basic items to have on hand, satisfy your sweet tooth the healthy way, without surrendering to pucks.
Hockey pucks.
This healthy one minute protein brownie is the 'ultimate' brownie when it comes to microwaved or protein packed cakes. It's fluffy and moist and takes only one minute to whip up. The key here to optimum texture is the protein powder you use and the correct combination of ingredients. I recommend using a plant based protein powder or for those without any dietary restrictions, using casein protein powder. Naturally gluten free and vegan (if you use the vegan protein powder), this also comes with a paleo option for those who follow a paleo lifestyle!
For those without a microwave, there is a tested oven version too- Refer to the method below!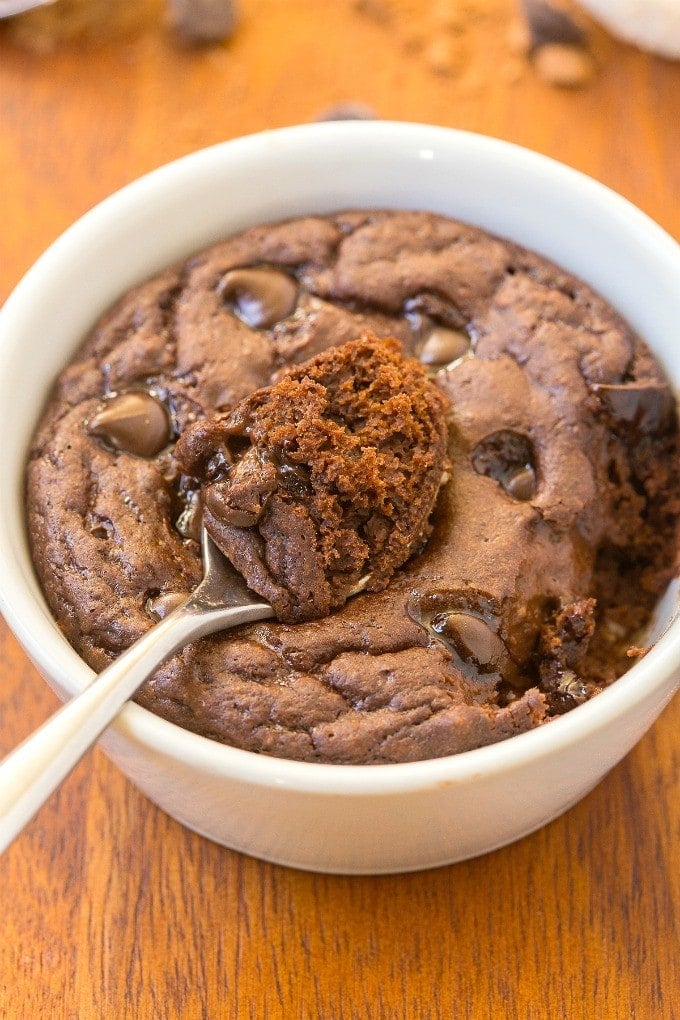 Make this ultimate protein brownie and satisfy your sweet tooth any time of the day, with an added protein boost- No hockey pucks welcome.
If you love these kind of recipes, you'll LOVE these 4 Ingredient Flourless Protein Brownies– Check out the recipe video below for a step-by-step process!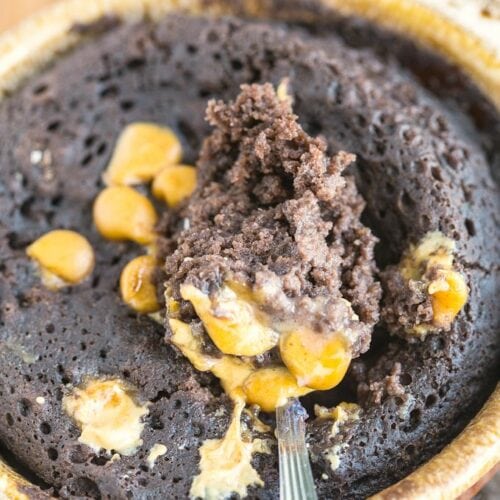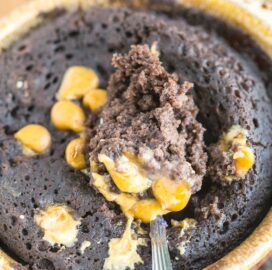 The ultimate 1 Minute Protein Brownie
A delicious, fluffy, moist protein-packed brownie which takes just one minute to whip up! Clocking in at around 100 calories, it is a healthy snack to have anytime and has been oven tested. Naturally gluten free, dairy free, vegan and comes with a tested paleo version.
Print
Rate
Ingredients
1

scoop protein powder- 33-35 grams

I recommend using a vegan or casein blend*

1

T

coconut flour

2

T

granulated sweetener of choice

optional**

1/2

tsp

baking powder

1-2

T

dark cocoa powder

adjust to desired chocolate content

1

large egg

Can sub for 1/4 cup egg whites OR 1 flax egg

1/4

cup

dairy free milk of choice

Dairy free chocolate chips/peanut butter chips etc

optional
Instructions
Microwave version
Grease a small cereal bowl or deep mug and set aside.

In a mixing bowl, combine the protein powder, coconut flour, baking powder, granulated sweetener and cocoa powder and mix well.

In a separate bowl, whisk the egg with the milk and pour into the dry mixture and mix until fully incorporated. Top with chocolate chips if desired.

Microwave for 60 seconds and remove from microwave and enjoy immediately.
Oven version
Pour batter in an oven safe dish and bake for 10-12 minutes on 180 degrees celsius for 10-12 minutes, until desired consistency.
Notes
* For a paleo version, I've tried this out with MHP Paleo protein powder in triple chocolate. It came out drier that the vegan/casein blend so I only microwaved it for 50 seconds and added more almond milk after.
** If your protein powder isn't sweetened, add sweetener to taste.
For a more moist and fudgy cake, remove from microwave/oven earlier. For a muffin like cake, you can cook slightly longer.
Want more easy dorm room or quick home snacks? You're covered cowboy (Cowgirl)!
Easy Cinnamon Bun Popcorn (Gluten Free, Vegan)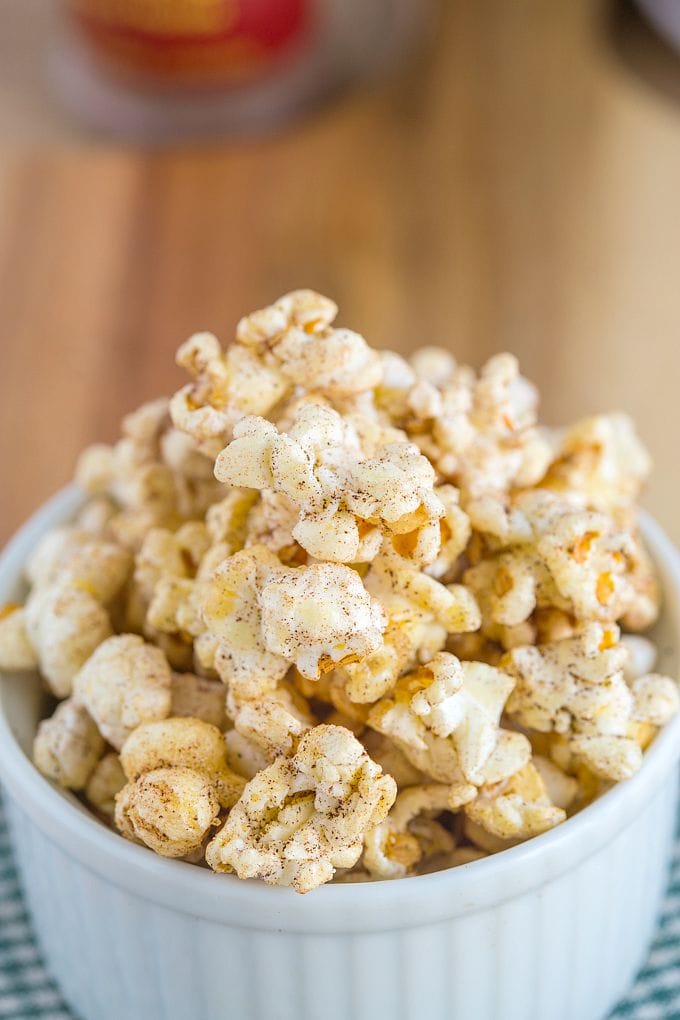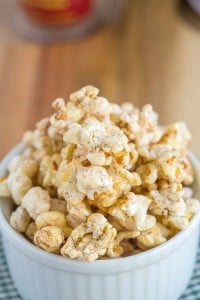 No Bake Cookies and Cream Protein Bars (Paleo, Gluten Free, Vegan)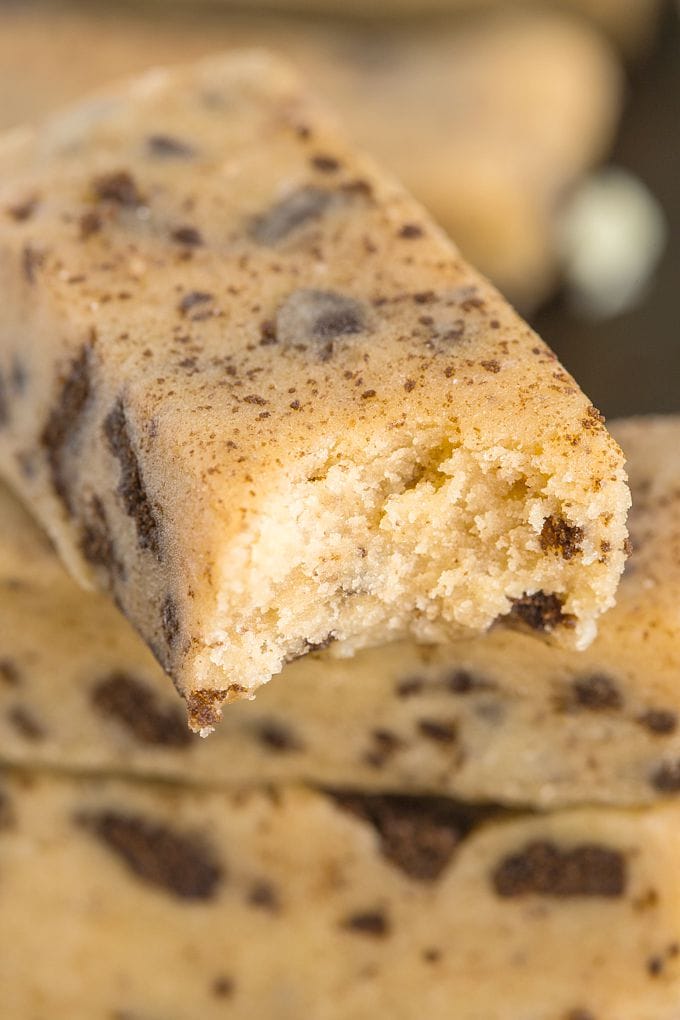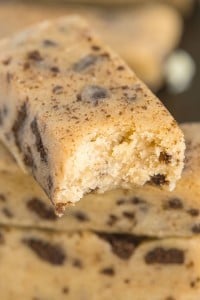 3 Ingredient No Bake Granola Bars (Gluten Free, Vegan, Allergen Friendly)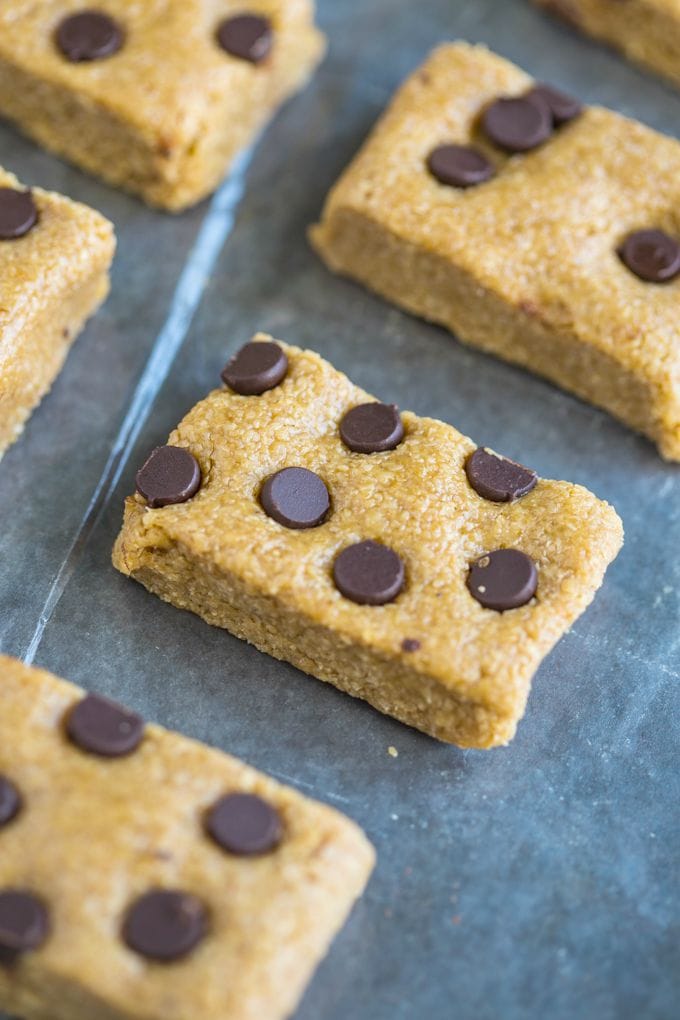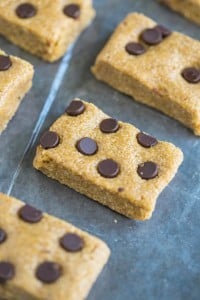 Cheers, hugs and handshakes for supporting companies and brands which help in making The Big Man's World continue to grow.
Protein powder uses- Have you ever had the hockey puck outcome?
For those who workout, do you take protein supplements after a workout?