A quick and easy protein powder mug cake recipe that tastes like a gooey brownie! Made with no white flour, no banana and no sugar, this brownie in a mug is your guilt-free sweet tooth fix!
A delicious, fluffy, moist protein-packed brownie which takes just one minute to whip up! Clocking in at around 150 calories, it is a healthy snack to have any time and has been oven tested. Naturally gluten free, dairy free, paleo, keto, low carb, and comes with a tested vegan version.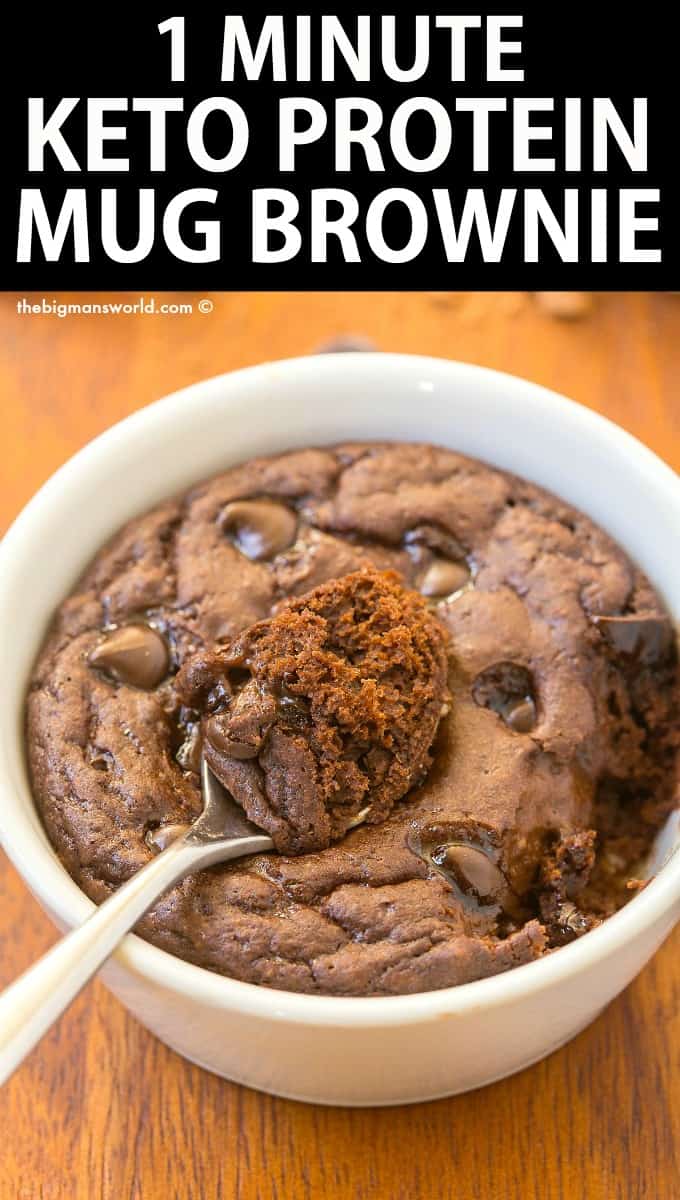 Protein Powder Mug Brownie
Whenever I finish a heavy or intense workout, I love a homemade protein bar, a protein muffin or one of these single-serve mug brownies.
It's packed with protein, takes less time than a protein shake to make or a 'poverty brownie'.
I've been obsessed with these protein cakes, as I've never been a fan of protein shakes after a workout.
What has been super helpful is actually prepping 5 or so of these brownies at once, and freezing them for a quick high protein snack after a workout!
Naturally keto, low carb, sugar free and dairy free.
It also can be paleo, vegan and gluten-free.
Want more protein? Try these flourless protein brownies.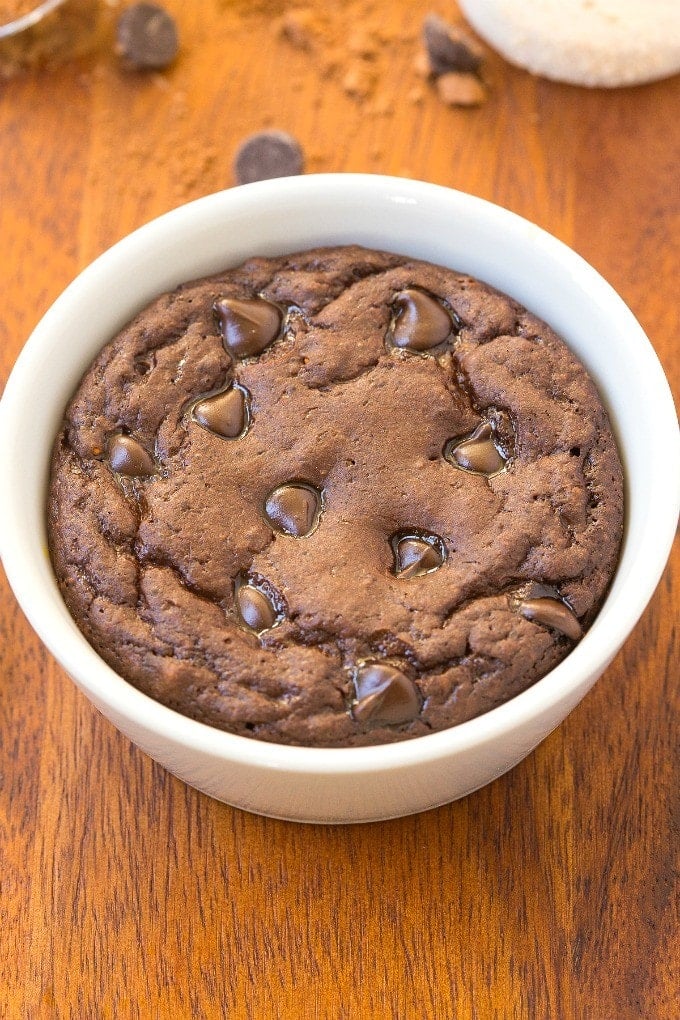 Why make this protein brownie in a mug?
This healthy one minute protein brownie is the 'ultimate' brownie when it comes to microwaved or protein-packed cakes.
It's fluffy and moist and takes only one minute to whip up.
The key here to optimum texture is the protein powder you use and the correct combination of ingredients.
While you can easily make a 'protein cake' with just protein powder, baking powder and some water (or milk), using my recipe will ensure it is moist on the inside (and fudgy), tender on the outside, and LEGIT, like a brownie.
How do you make a protein mug cake from scratch
The Ingredients
Protein Powder– Obviously a must for a protein powder mug brownie recipe! See below for my tested recommendations!
Coconut Flour– This is KEY to give this brownie a dessert-like texture! Do not omit, or else the brownie will be watery.
Granulated sweetener of choice– Optional, but recommended if you prefer a sweet brownie and if your protein powder is unsweetened.
Baking powder– To ensure the batter rises and transforms into an actual brownie!
Cocoa Powder– To enhance the chocolate flavor- Use dark cocoa powder for the ultimate rich flavor!
Egg or Egg white– Either can be used, egg whites will yield a fluffier texture!
Milk of choice– To smooth out the batter. I used unsweetened coconut milk, but any milk will work.
Chocolate Chips– Optional, but highly recommended!
The Instructions
Making this mug brownie takes one minute to prepare and just one minute to make!
Step 1- Prepare the batter- Grease a large, microwave-safe mug. Place your dry ingredients into it and mix well. Add your egg white, milk and mix until a smooth batter remains. If desired, fold through some chocolate chips.
Step 2- Microwave the batter- Microwave your mug protein cake for 60 seconds, or up to 2 minutes. Cooking time depends on your brand of microwave.
Step 3- Remove from the mug and enjoy- Allow your mug brownie to sit for 20 seconds, before slipping out of the mug onto a plate.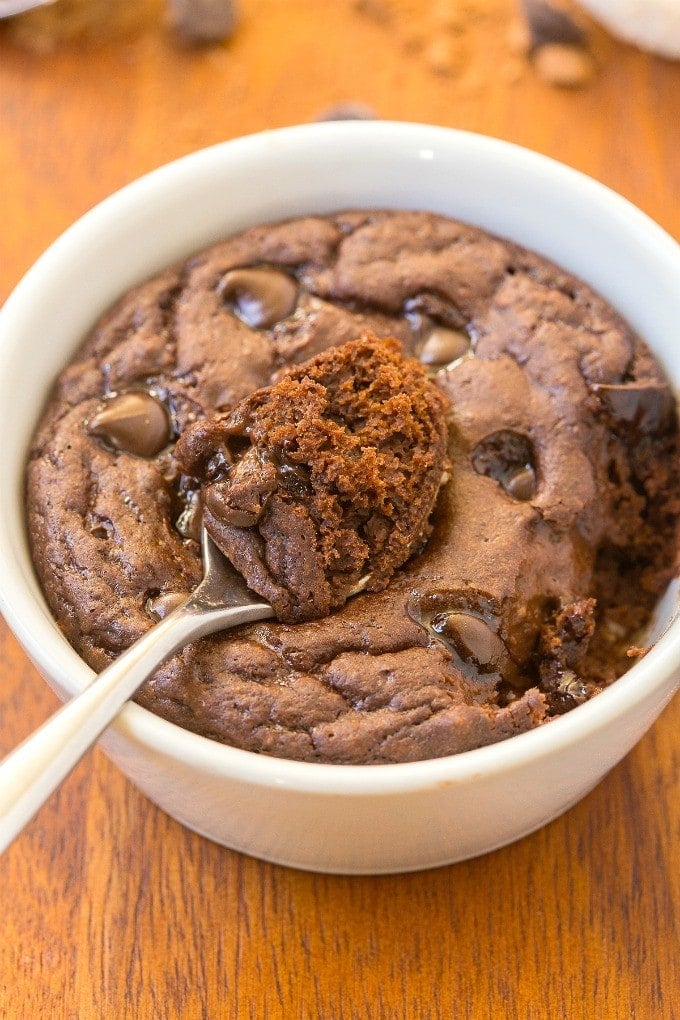 Can I make this microwave protein brownie in the oven?
Absolutely.
I've tested all my mug cake recipes in an oven and in the microwave.
To bake it in the oven, prepare the directions as the microwave, but pour the batter in an oven-safe ramekin.
Preheat the oven to 180C/350F and bake the mug brownie for 10-12 minutes, or until just cooked in the center.
Can you microwave protein powder?
Contrary to popular belief, you CAN microwave protein powder.
There have been many rumors claiming that if you microwave protein powder, it will lose the protein content and other elements to it.
That is completely incorrect. The protein content remains exactly the same and you will enjoy the SAME benefits of the protein powder microwaved or not microwaved.
What protein powder is best for baking?
I've tried and tested MANY brands of protein powder and different kinds can produce different results.
There are THREE protein powders that I always bake with, and always turn out perfect each time.
Vegan Protein Powder– Vegan and dairy-free protein powder, it is made of brown rice protein. It has a delicious, somewhat earthy flavor. It is NOT suitable if you are keto or paleo.
Casein Protein Powder– My favorite protein powder to bake with, it's gluten-free and keto-friendly, and tastes absolutely delicious.
Collagen Protein Powder– Paleo, gluten-free, vegan and keto-friendly, collagen protein powder bakes well and has a pleasant taste.
I often get asked if this recipe can be made with whey protein, and I do not recommend it. Because whey protein has a higher concentration of protein in it (as in, there are very little carbs in it), it dries out when baked, or microwaved.
TIP: Do not bake with protein powder. If I come up with a whey protein mug cake, I promise I'll share it!
Can I make this mug brownie vegan?
Easily make this brownie vegan by replacing the eggs with applesauce or extra milk.
Even though this recipe already has milk, if you omit the egg or egg white, you will need to compensate for the extra liquid needed.
Start with 1 tablespoon of milk or applesauce, and add more ONLY if the batter is too thick.
Texture-wise, the brownie will be super gooey and moist, more like a lava cake.
Taste-wise, it will be as the normal version!

More recipes using protein powder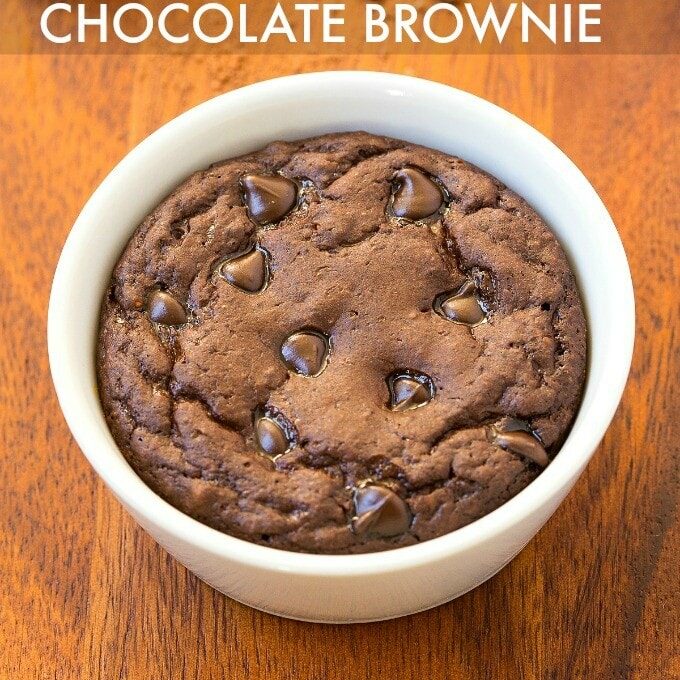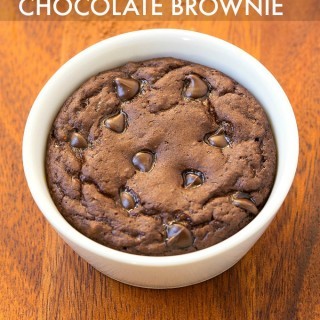 The ultimate 1 Minute Protein Brownie
A delicious, fluffy, moist protein-packed brownie which takes just one minute to whip up! Gooey and fudgy, this low carb and keto protein mug cake is also paleo, vegan and gluten free!
Instructions
Microwave version
Grease a small cereal bowl or deep mug and set aside.

In a mixing bowl, combine the protein powder, coconut flour, baking powder, granulated sweetener and cocoa powder and mix well.

In a separate bowl, whisk the egg with the milk and pour into the dry mixture and mix until fully incorporated. Top with chocolate chips if desired.

Microwave for 60 seconds and remove from microwave and enjoy immediately.
Oven version
Pour batter in an oven safe dish and bake for 10-12 minutes on 180 degrees celsius for 10-12 minutes, until desired consistency.
Notes
* If your protein powder isn't sweetened, add sweetener to taste.
For a more moist and fudgy cake, remove from microwave/oven earlier. For a muffin like cake, you can cook slightly longer.
Nutrition
Calories:
125
kcal
Carbohydrates:
6
g
Protein:
14
g
Fat:
5
g
Sodium:
272
mg
Potassium:
195
mg
Fiber:
4
g
Vitamin A:
153
IU
Vitamin C:
5
mg
Calcium:
222
mg
Iron:
1
mg
NET CARBS:
2
g

Disclosure: This post may contain affiliate links. I may earn a small commission for my endorsement, recommendation, testimonial, and/or link to any products or services from this website.