Birthday Cake Protein Cookies
These protein cookies are easy to make and need just 4 ingredients! Perfect between meals or a healthy dessert, they are secretly low carb and contain NO sugar. 2 grams net carbs.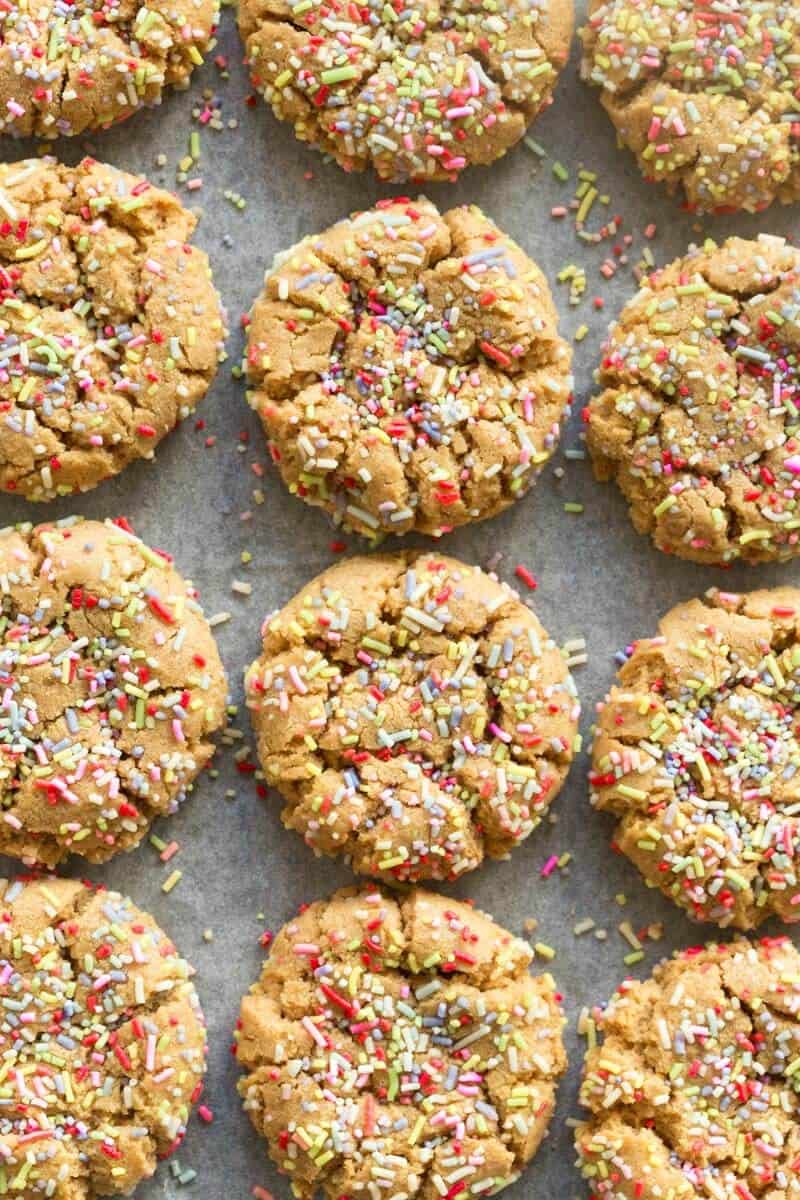 When it comes to high protein snacks and desserts, I love peanut butter protein bars, chocolate protein bars, and these protein powder cookies.
This protein cookies recipe was inspired by Quest protein cookies I saw at the grocery store. They were made with whey protein and had no sugar, barely any carbs, and claimed to taste like birthday cake.
Well, being the skeptic I am, I decided to try them out and was NOT impressed that it also came with a $5 pay tag. Unfortunately, I was at the checkout and hungry, so went through with buying it.
While the protein cookie was initially delicious, it also left a lingering artificial sweetener taste.
Birthday Cake Protein Cookies
My homemade protein cookies taste like birthday cake and need just 4 ingredients. Unlike the store bought ones, you can actually pronounce them. In fact, you probably have them in your cupboard right now.
Taste wise, they are a mix between my peanut butter cookies and almond butter cookies, but less nutty and more protein. They have a slight vanilla flavor, with some sprinkles added in for fun. The texture though is JUST like any decadent and bakery style cookie- soft, thick and chewy.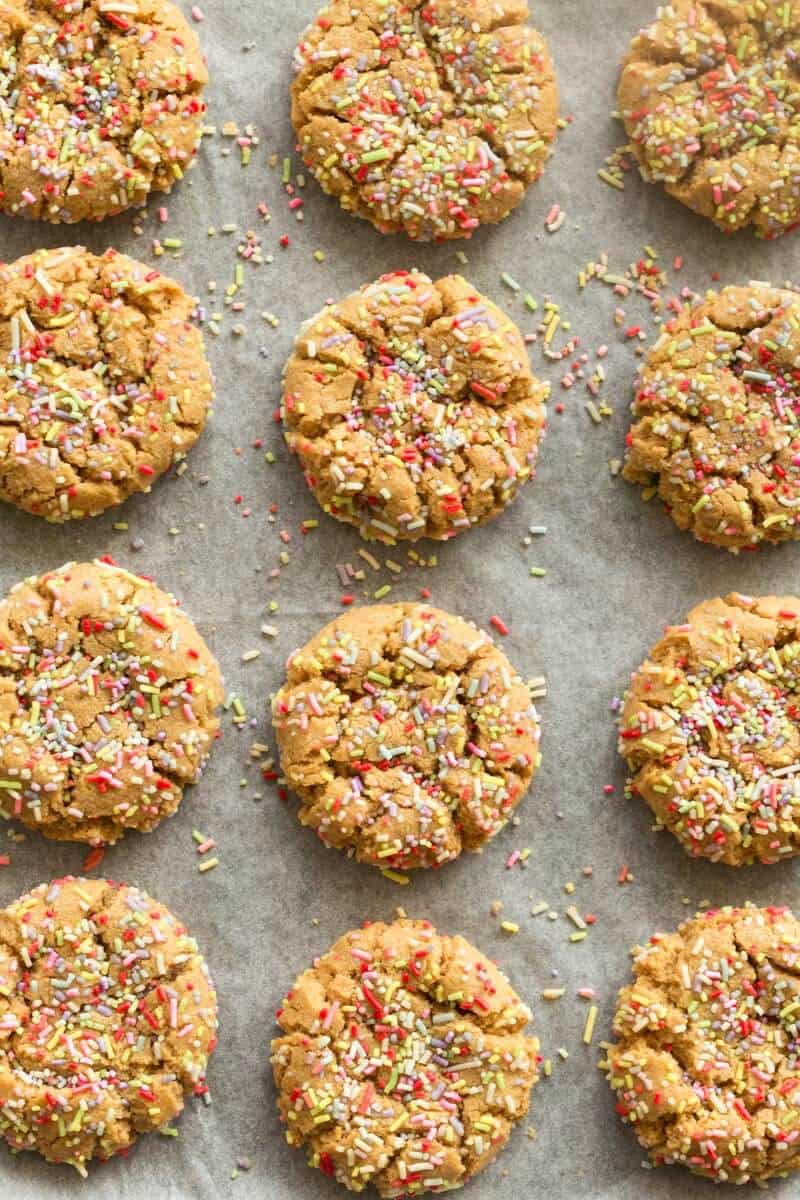 How to make protein cookies
The Ingredients
Peanut Butter– Smooth and drippy peanut butter, with no added sugar. Avoid using crunchy peanut butter, as you'll find the mixture harder to mix together. If you'd like to use another nut or seed butter, feel free to do so, like almond butter or sunflower seed butter.
Granulated Sweetener– Any granulated sweetener will work. I've tried it with monk fruit sweetener, erythritol, and also coconut palm sugar.
Protein Powder– A must for any good protein cookie recipe! Use vanilla protein powder, to give the birthday cake flavor!
Egg OR ground chia seed– Room temperature eggs OR, if you'd like to keep it vegan, use ground chia seed.
Sprinkles– optional, but adds a fun touch!
The Instructions
Start by mixing together all your ingredients, except for your sprinkles. Form 12 balls of cookie dough and cover in sprinkles, before placing onto a cookie sheet or baking sheet. Gently press on each ball and bake for 12-14 minutes, or until the edges are beginning to brown. Remove from the oven and let cool on the baking sheet completely.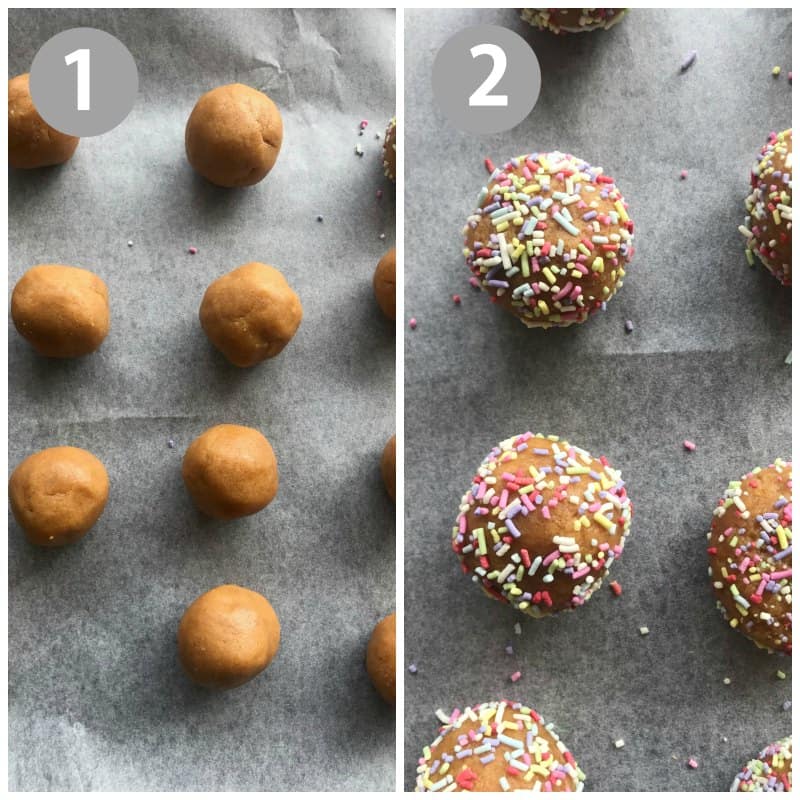 Which protein powder is best for baking?
Not every protein powder is created the same. Some are thicker than others, some are finer than others and some have different additives in it. As a general rule of thumb, all protein powders can work, but they will leave different textures. Here are the more mainstream protein powders and what texture and flavor profiles they have.
Brown Rice Protein Powder– Earthy in flavor and texture, this vegan protein powder keeps the cookies soft and chewy. Be sure to use a vanilla flavored one, otherwise, the cookies will be very bland.
Casein Protein Powder– My favorite protein powder for baking. Casein protein powder never dries out baked goods, and has the most delicious flavor. Casein is only suitable for gluten free and keto diets.
Whey Protein Powder– My least favorite protein powder to use, whey is the most natural protein powder, and also the lowest in carbs. However, they are most prone to dry out baked goods, so be sure to keep an eye on it. Whey is great if you want super low carb cookies, or if you follow a keto or paleo diet.
Tips for making the BEST high protein cookies
You MUST enjoy the taste of the protein powder you use. Trust me, many brands out there can have quite the overpowering flavor, and it is not always pleasant.
Do not overbake the cookies, as they continue to cook as they cool down. While the cookies may look a little underbaked, they will firm up beautifully while cooling down.
Peanut Butter can also be overpowering, so if you don't want peanut butter protein cookies, you can replace this with smooth almond butter.
If you make whey protein cookies, keep a careful eye on the cookies around the 10 minute mark- They can dry out very quickly.
If you opt to make the cookies with the ground chia seed instead of an egg, start with 3 tablespoons. If the cookies aren't thick enough, add an extra tablespoon of ground chia seed.
For protein chocolate chip cookies, add 1/4 cup chocolate chips.
Storing and Freezing Tips
To store: Leftover protein cookies can be stored at room temperature, in a sealed container, for up to 14 days (2 weeks). If you'd like them to keep longer, store them in the refrigerator.
To freeze: Freeze leftover cookies by storing them in a ziplock bag. They will freeze well for up to 6 months.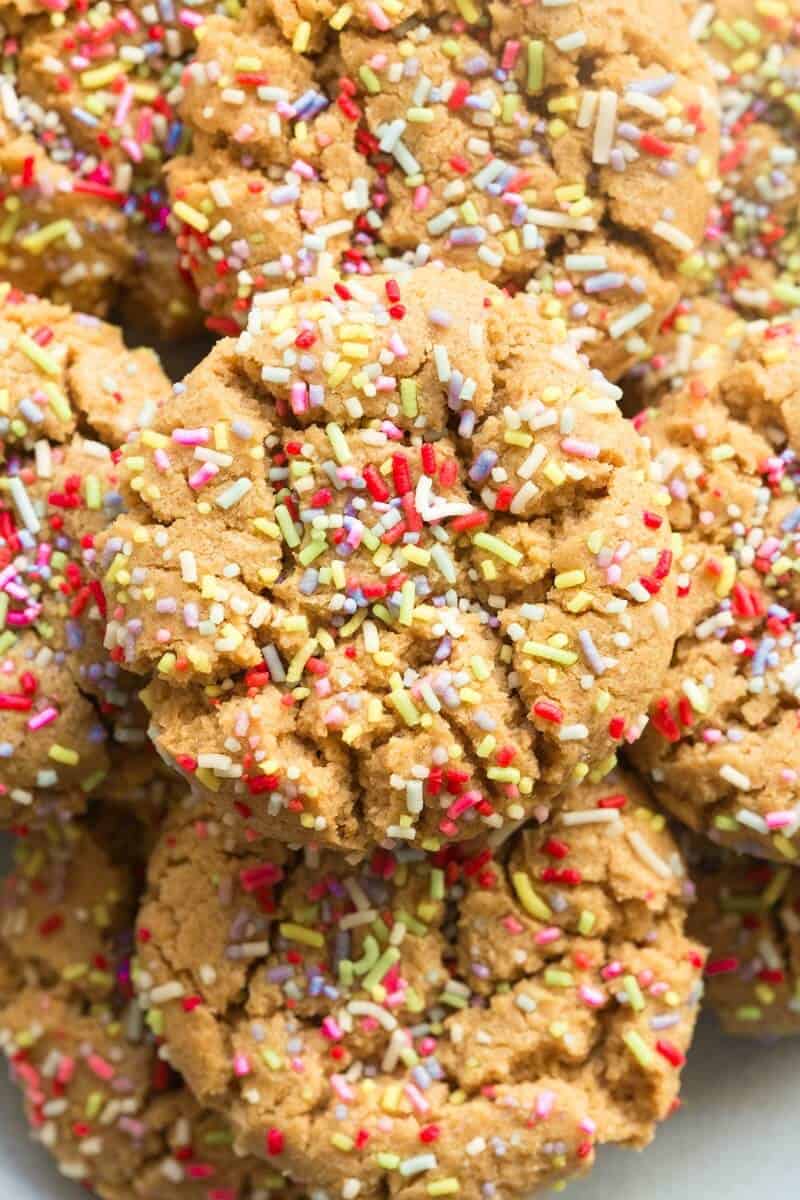 More high protein recipes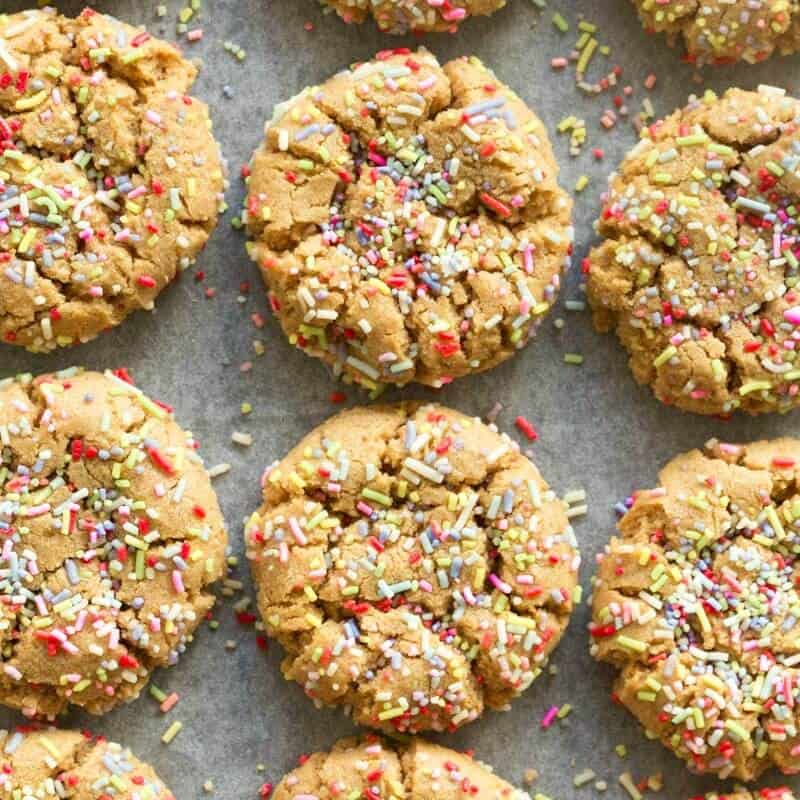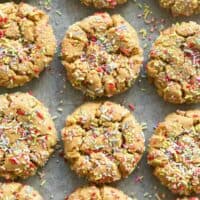 Protein Cookies (4 Ingredients!)
Soft, chewy, and delicious protein cookies made with just 4 ingredients! These high protein cookies recipe takes minutes to make, and are secretly vegan, gluten free, and keto friendly!
Print
Rate
Instructions
Preheat the oven to 180C/350F. Line a cookie sheet or baking tray with parchment paper and set aside.

In a small mixing bowl, combine all your ingredients, except for the sprinkles, and mix well, until just combined.

Using your hands, form 12 balls of cookie dough and cover in sprinkles, and place on the lined sheet. Bake the cookies for 12-14 minutes, or until the edges begin to brown.

Remove from the oven and let cool on the baking sheet completely.
Notes
* You can use almond butter or sunflower seed butter.
** Monk fruit sweetener, swerve, or coconut sugar.
*** For the vegan/eggless option, use 3-4 tablespoons ground chia seed- NOT chia eggs. Start with 3 tablespoons and add the 4th only if needed.
TO STORE: Cookies should be stored at room temperature, in a sealable container, for up to 2 weeks. They can also be stored in the refrigerator or freezer, to keep longer.
Nutrition
Serving:
1
Cookie
|
Calories:
150
kcal
|
Carbohydrates:
5
g
|
Protein:
9
g
|
Fat:
12
g
|
Sodium:
116
mg
|
Potassium:
164
mg
|
Fiber:
3
g
|
Vitamin A:
23
IU
|
Calcium:
35
mg
|
Iron:
1
mg
|
NET CARBS:
2
g