Healthy Birthday Cake Protein Cookies
Soft, chewy and delicious protein packed cookies with a short ingredient list and having all the flavor of birthday cake! These healthy birthday cake protein cookies take barely any time to whip up and are naturally gluten free, paleo, vegan, dairy free and refined sugar free!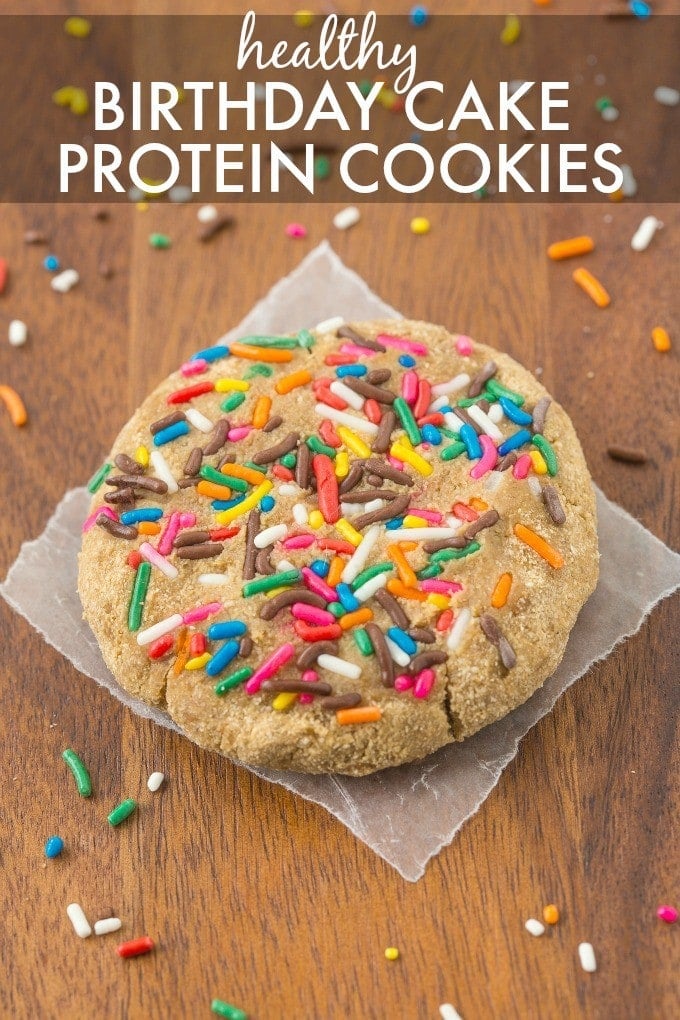 G'day folks!
It's time for a reader's recipe request and as mentioned in this post– It's a good one.
Lenny and Larry's Complete Cookies have taken over the fitness snacking world, as evidenced by the number of people sharing it all over social media- Especially Instagram. For those unfamiliar with this product, they are a protein packed cookie which are generous in size and taste similar to a cookie; but much healthier than their traditional counterparts.
A few weeks ago, I received several emails asking me if I would try to recreate it. To be honest with you guys, I hadn't actually tried one.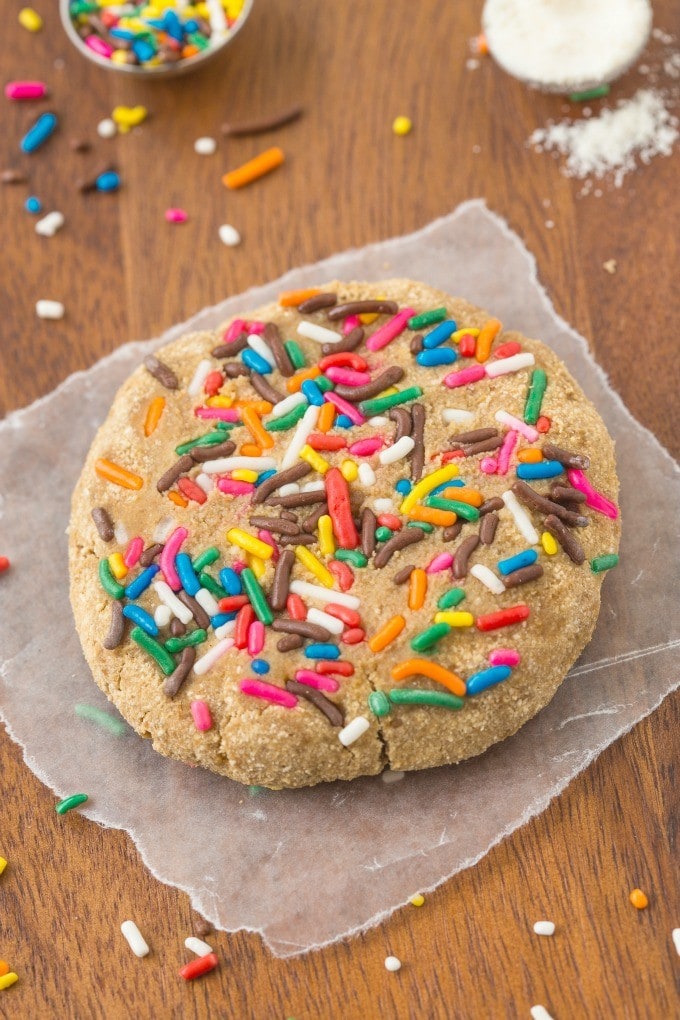 I put the emails on the backburner and set out to 7/11 and purchased one. They had several flavors there, and immediately, I went for the birthday cake flavor. I promise it's not because of the sprinkles, but because of the subjective matter.
WHAT FLAVOR IS BIRTHDAY CAKE?!
If you asked me, I'd say marble mud cake. Why? Well, because it was always my birthday cake of choice. To others, it might be an ice cream cake and to some, it might be a classic chocolate.
Anyway, I bought the cookie, checked out the ingredients and took a bite. While candles didn't pop out at me to give me a 'birthday cake' experience, I noted hints of vanilla. The cookie itself was soft, chewy and relatively buttery- I was quite impressed. I knew I wanted to recreate it and recreate as many of them as I could. Clearly, that meant I had to buy whichever flavors were available and taste test each of them to make them taste as similar as possible.
In the end, I sampled the following- Birthday cake, White chocolate macadamia nut, lemon poppyseed, chocolate chip, double chocolate, snickerdoodle, peanut butter and oatmeal raisin.
Friends, I conquered and made them.
All 8 of them.
(Yes, there are 9 cookies pictured. I doubled the chocolate one because I didn't want a blank square. Sue me).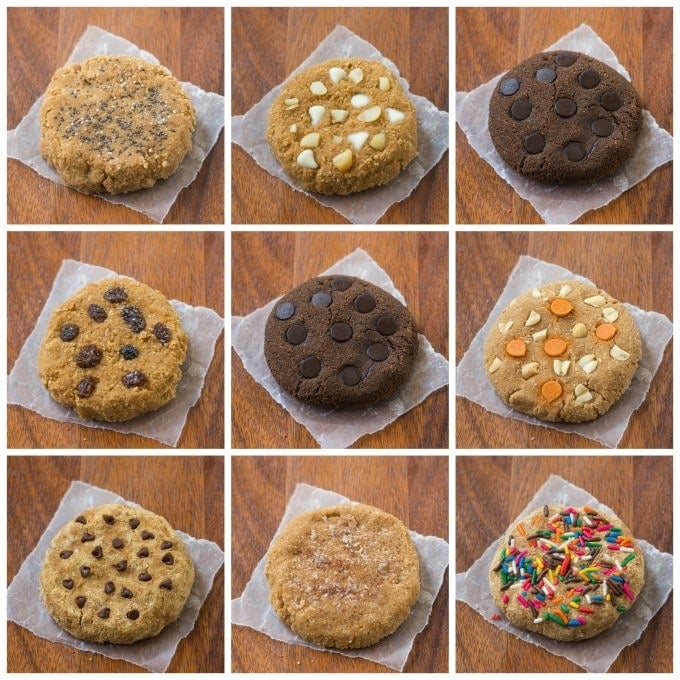 Today, I'm sharing the cookie one which started the whole experiment- The birthday cake flavor!
Before we get into it, it's also Wednesday! Let's see what's made my plate lately!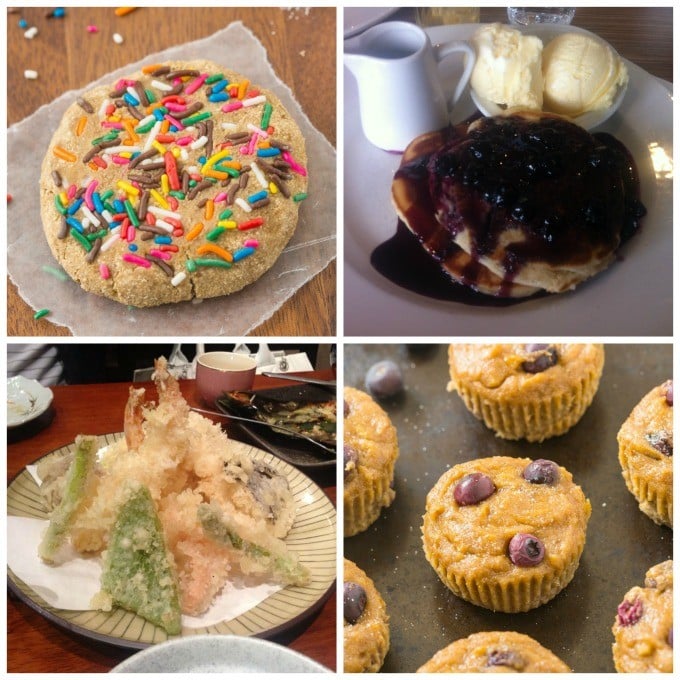 Breakfast- 2 Frozen Banana Blueberry Muffins with 2 hard boiled eggs. Snack- Now that photo shoots are mostly morning, I ate today's subject straight after. Brunch- It was Monday and as it was President's day, I treated myself to Blueberry and Ricotta hotcakes. It came with ice cream too but I ate that separately- It was too much for the 'cakes. Dinner- Don't judge me but I ate out AGAIN and had tempura aka battered goodness.
Now for today's recipe- These healthy birthday cake cookies!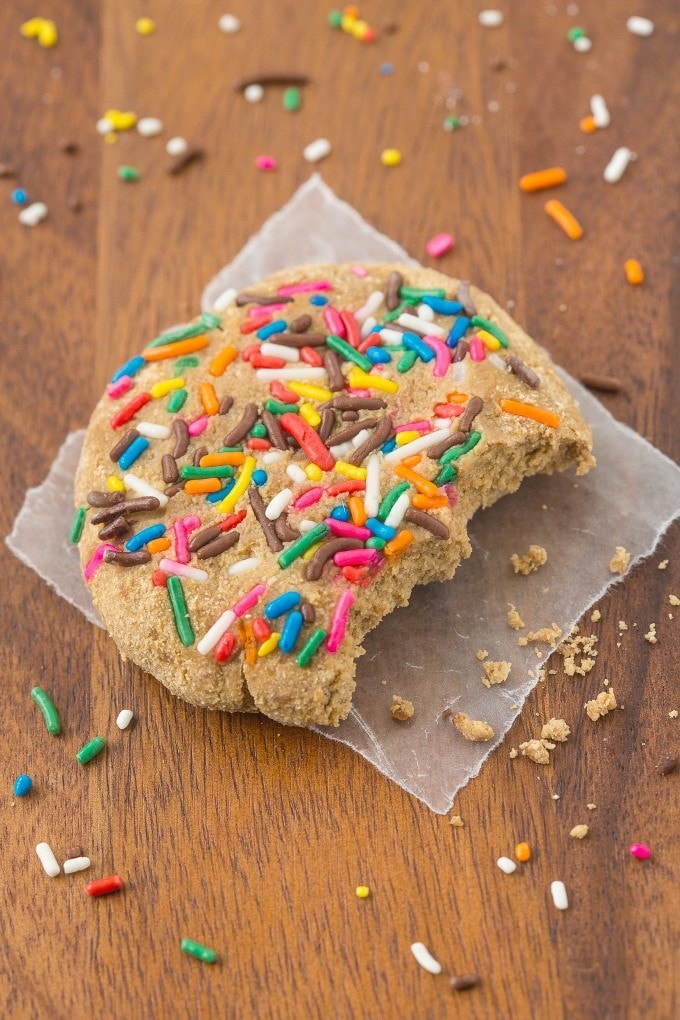 Now, I'm not one to count calories or macronutrients. However, in the basis of comparison with the Lenny and Larry's offering, I want to showcase the benefits of mine-
Lenny and Larry's Birthday Cake Complete Cookie (Their serving size is 1/2 cookie- I doubled it as mine if NOT half a serving)– Calories-380. Carbs– 54 grams. Protein– 16 grams. Fats– 12 grams.
My Healthy Birthday Cake Protein Cookie (Please note- This is using this coconut flour, this protein powder, this cashew butter)– Calories– 390 calories. Carbs- 29.5 grams (9 grams fiber) Protein- 33.1 grams Fats- 18 grams.
While the nutritional profile of each cookie is pretty similar in terms of caloric content, the macronutrients differ but most importantly- The size! My version of the birthday cake protein cookie is almost DOUBLE the size of the original inspiration- Not only that, it's totally suitable to consume for breakfast or a filling snack!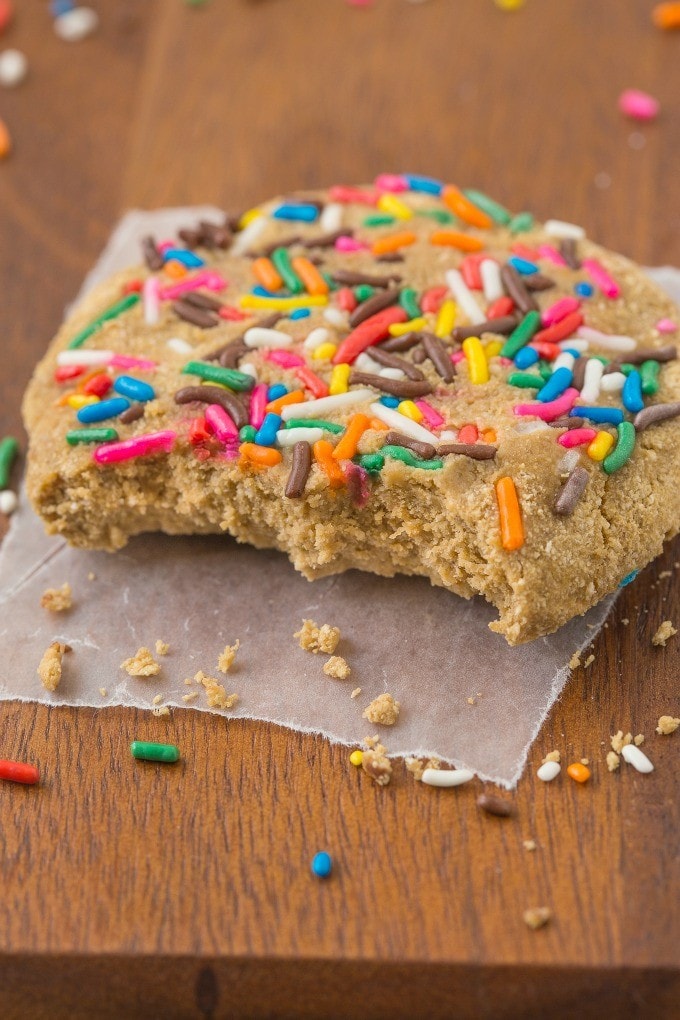 This healthy Birthday Cake Protein Cookie is soft, chewy and has amazing texture, thanks to the coconut flour and protein powder base! Unlike traditional cookies, it doesn't contain any butter, oil, grain flour or granulated sugar! It's loaded with protein, wholesome carbs and healthy fats which keeps you satisfied for hours! Depending on the protein powder you use (I recommend this vegan protein powder, this casein protein powder and this paleo protein powder), it's completely paleo, vegan, gluten free, refined sugar free and dairy free!
HACK! Want to keep the carb count even lower? Feel free to omit the maple syrup or sub it for sugar free maple syrup. However, please note that the cookie will be much more crumbly and your protein powder 'taste' will be more evident.
Also- PLEASE make sure you like the protein powder flavor you use. Seriously. This is not the kind of recipe to use up those unwanted powders.
Harry Potter didn't invent this.
Make this healthy Birthday Cake Protein Cookie and stay tuned for the onslaught of cookies coming at YOU!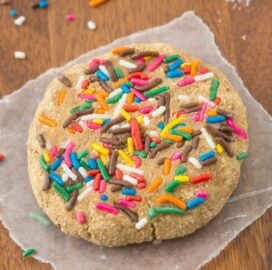 Healthy Birthday Cake Protein Cookies
Soft, chewy and delicious protein packed cookies with a short ingredient list and having all the flavor of birthday cake! These healthy birthday cake protein cookies take barely any time to whip up and are naturally gluten free, paleo, vegan, dairy free and refined sugar free!
Print
Rate
Ingredients
1

scoop vanilla protein powder

32-34 grams

3

T

coconut flour

sifted

Pinch

sea salt

2

T

cashew butter

can sub for any nut butter, but cashew is best

pinch

vanilla extract

pinch

natural butter extract

optional

1-2

T

dairy free milk of choice**

Sprinkles

optional
Instructions
Preheat the oven to 350 degrees. Line a cookie sheet or baking tray with grease proof paper and set aside.

In a small mixing bowl, combine your coconut flour with your protein powder and sea salt and mix until there are no clumps.

In a small microwave safe bowl or stovetop, melt your nut butter with maple syrup until combined. Stir in your vanilla extract and butter extract. Pour the wet mixture in with the dry mixture and mix until a crumbly texture remains. Using a tablespoon at a time, add dairy free milk until a thick batter is formed.

Form the batter into a ball and transfer to the lined cookie sheet. Press firmly and spread out into a cookie shape. Top with optional sprinkles and bake for 8-12 minutes- 8 minutes for extra soft and chewy or 12 or so for a firmer cookie.

Remove from oven and allow to cool before digging in!
Notes
* You can omit the maple syrup or use sugar free- Sugar free maple syrup was difficult to bind (it was like water) but still gave a subtle hint of sweetness. If you do omit, you may need a dash more dairy free milk.
** Depending on the brand of coconut flour and protein powder you use, you may need more- Adjust accordingly.