5 Ingredient Chocolate Chip Protein Muffins (Low Carb, Vegan, Paleo)
Enjoy these light and fluffy chocolate chip protein muffins which are healthy and need just 5 ingredients! Loaded with chocolate chips and completely grain-free, these protein-packed snacks are naturally vegan, gluten free, paleo, low carb, sugar free and dairy free!

When I was perusing my old fitness magazines, I saw some light and fluffy high protein and low carb muffins, which looked almost too good to be true. While carrot cake muffins and brownie muffins are two of my favorites- I love a classic chocolate chip muffin. A couple of weeks back, I decided I needed to give the protein muffins a try- I was in the need of a new edible form of a post workout snack.
There are a handful of foodie tips I mention over and over again on TBMW.
Example #1- No coconut flour is the same.
Example #2- Flax eggs, chia eggs, and energ-G egg replacer are not on an equal playing field
Example #3- I NEVER recommend whey based protein for any recipe involving baking, no-baking or frosting.
Please re-read example #3 several times.
Thanks.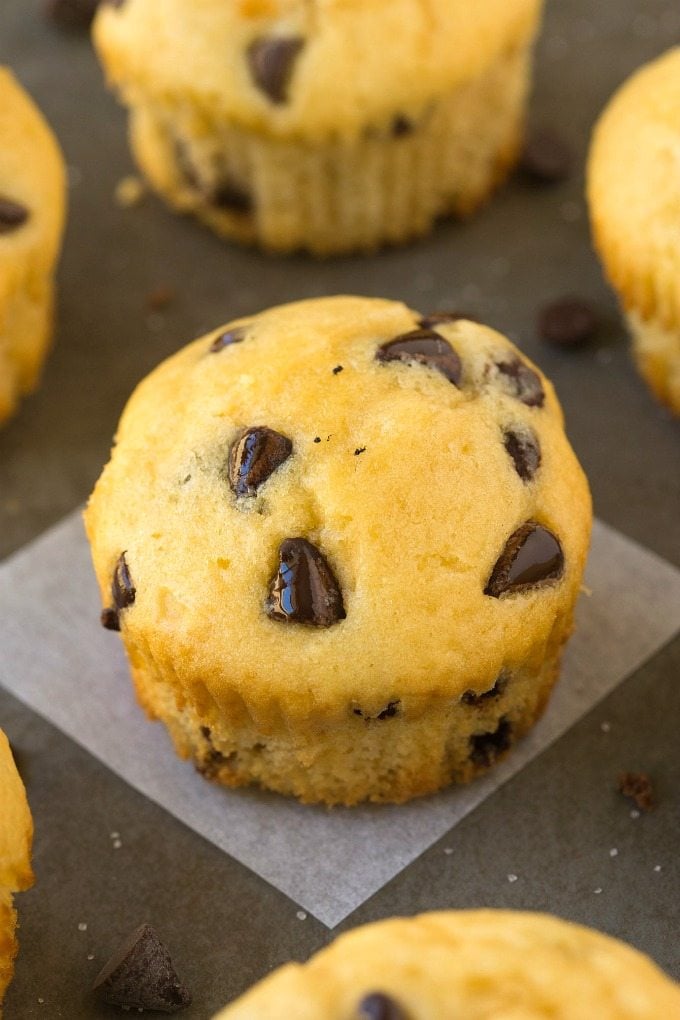 I was perusing an old Men's Health magazine and their recipe section. They had a handful of delicious looking grilled entrees and several protein-packed sweet recipes. One of them were these banana muffins which looked SO good. They were fluffy, loaded with chocolate chips, and only used a handful of ingredients, including almond flour. I then noticed the protein powder used- Whey protein powder.
I was baffled. How could these almost bakery lookalike muffins be made from whey protein powder? From my experience, every whey based baked good came out like plastic, like a hockey puck, or a horrible combination of both.
This needed to be tested out.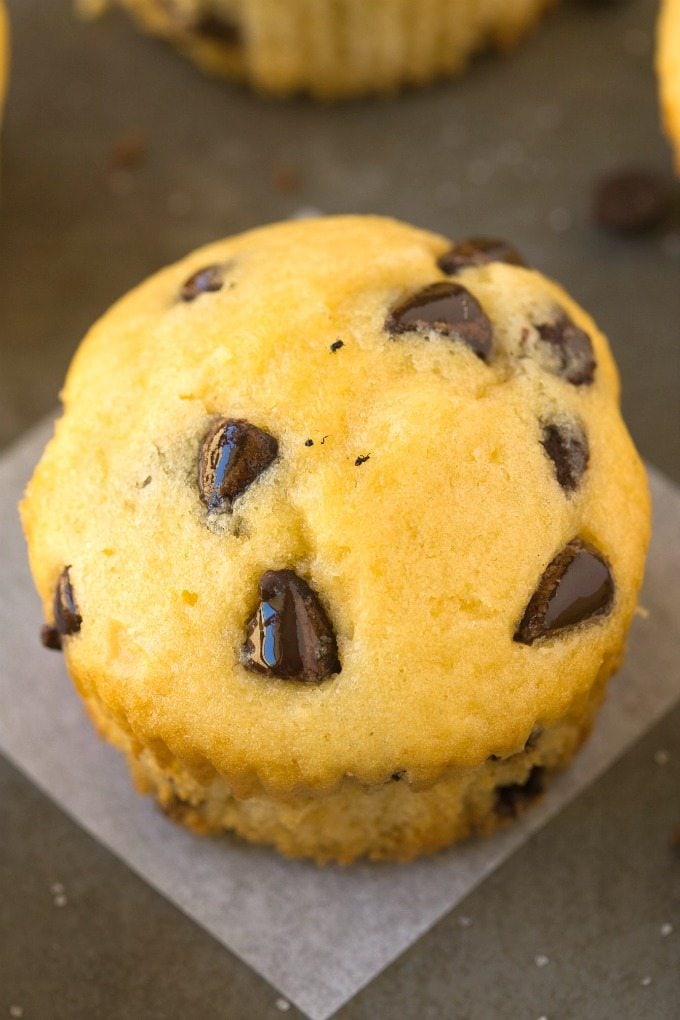 My common sense told me not to waste the ingredients, as I KNEW my whey protein just wouldn't be worth wasting (I use this one here, which works great in smoothies but other than that is useless!), along with the other ingredients. However, my stubborn side wanted to see if maybe it was something I was missing.
No.
My common sense should have been adhered to. For those of you who follow me on Instagram saw the final product. They looked like what many of the ladies in Beverly Hills pay big dollar for, and most likely had the same feel for them too. I cannot elaborate any more on this, as this is a child-friendly blog.
ANYWAY.
PS- If you want a delicious FLUFFY muffin made without oil, butter or any fats or sugar whatsoever, these blueberry beauties will NEED to make your baking list next- I mean, check out how easy they are in this video!

These muffins are
super fluffy and light on the inside
, but pretty
tender on the outside
! I used to be one who enjoyed the more dense and filling muffins, but recently, have started to enjoy the opposite- I never thought I'd be one to say that!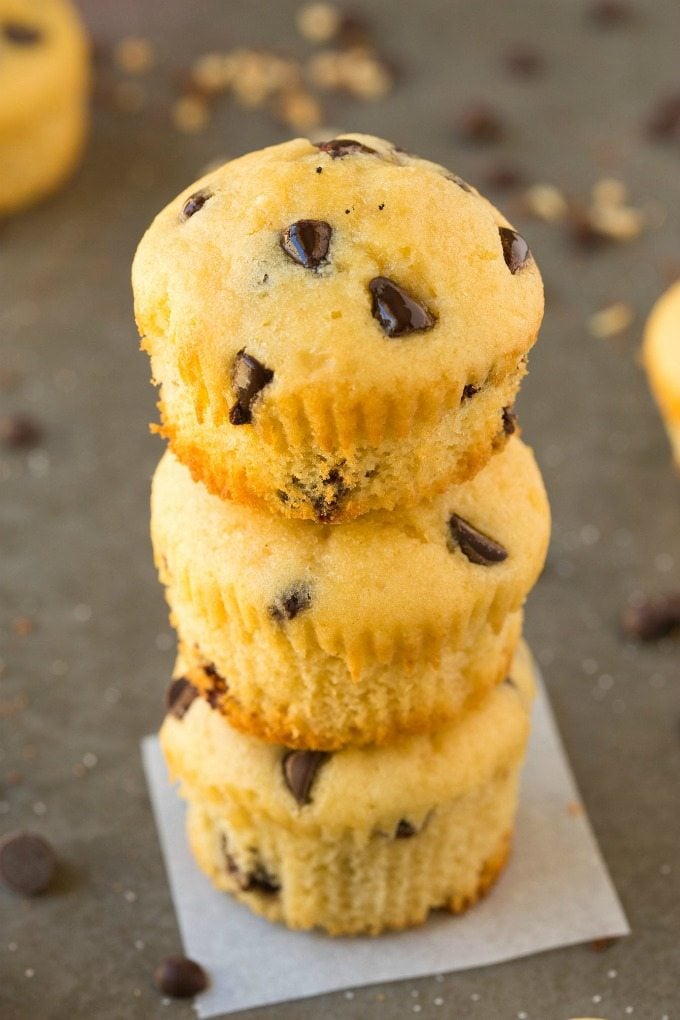 I took things into my own hands and changed up the muffins from the magazine to fit my needs and ingredients. I firstly needed to conjure up something with my tried and tested protein powders (this brown rice protein powder, this paleo protein powder, and this casein protein powder) and a few other changes. The original recipe used mashed banana, but I wanted to use something different, as most protein powders (at least the ones I use) are already sweetened. To ensure they still stayed quite moist, I used unsweetened applesauce, which was a fantastic replacement. It also helped to avoid me using any butter or oil- Two ingredients typically found in delicious muffins
As always, I wanted to keep ingredients to a minimum, and that is what you'll find with these beauties. The final component was smooth and creamy almond butter. This gave the muffins a more satisfying flavor, and also makes them a little more filling. I don't recommend using a crunchy nut or seed butter, as it really does affect the texture- Unless you use eggs or more liquids, it will turn out more dry.
For those with nut allergies or aren't a fan of almond butter, you can certainly use peanut butter or cashew butter (SMOOTH, please!), or even a seed or soy nut butter- I love using sunflower seed butter for a solid almond butter replacement!
For my diet friendly friends out there- I think most of you have been covered! These protein muffins are completely vegan, gluten free, grain free, paleo, sugar free AND dairy free- Just be sure you use either sugar-free chocolate chips or dairy free chocolate chips. I know some strict paleo followers are against the dairy-free option, but to each their own.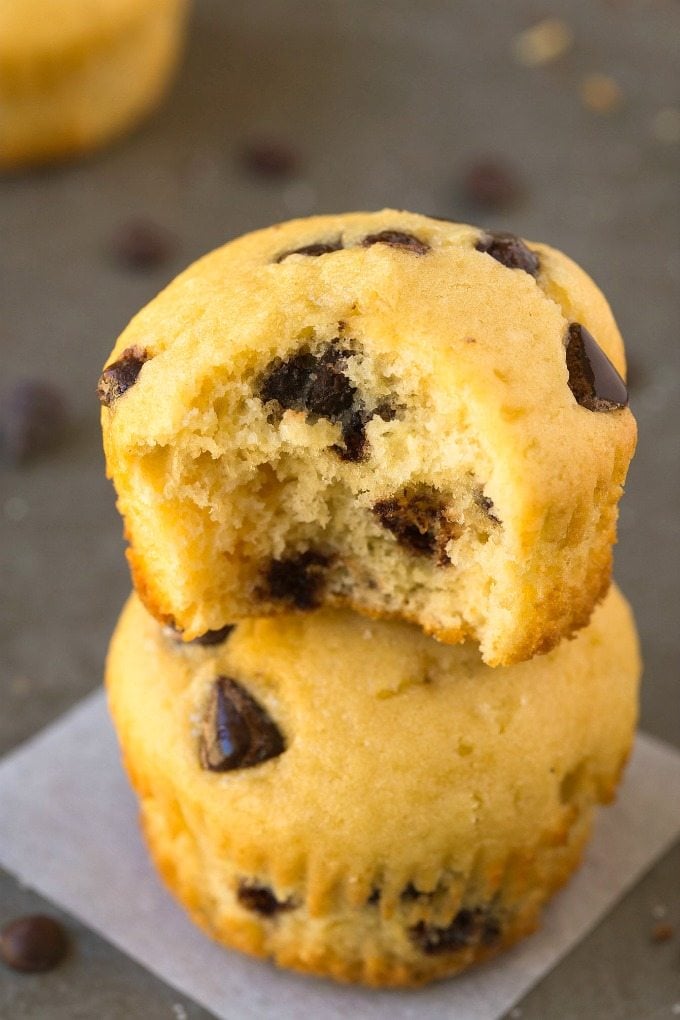 If you are after a completely guilt-free muffin which has a fantastic texture and super fluffy then these healthy 5 ingredient chocolate chip protein muffins need to be made, STAT.
No whey, Jose.
Recipe adapted from Men's Health Magazine America, November Issue, 2014.
Want to see just how easy these muffins are to whip up? Check out a step-by-step video below!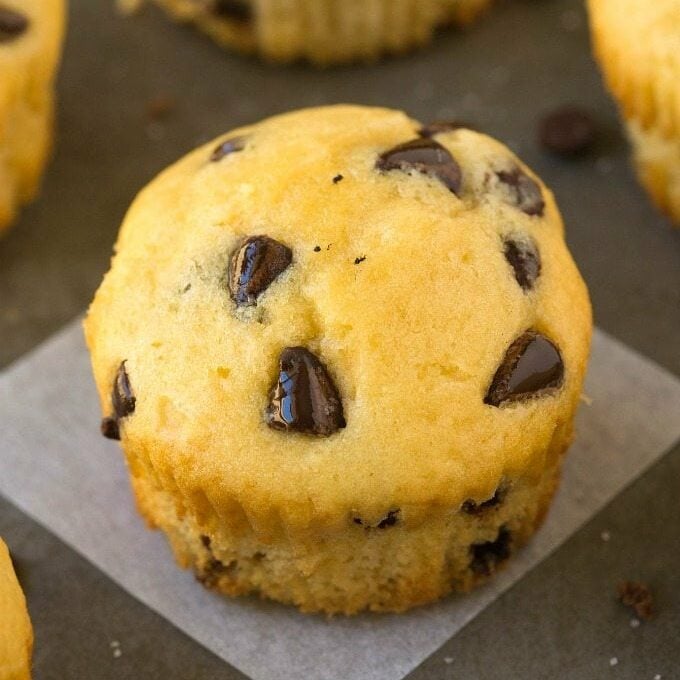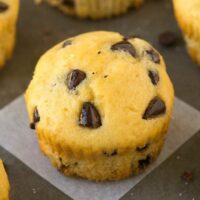 5 Ingredient Chocolate Chip Protein Muffins
Enjoy these light and fluffy chocolate chip protein muffins which are healthy and need just 5 ingredients! Loaded with chocolate chips and completely grain-free, these protein-packed snacks are naturally vegan, gluten free, keto, paleo, low carb, sugar free and dairy free! 
Print
Rate
Instructions
Preheat the oven to 350 degrees Fahrenheit and line a muffin tin with 8 greased muffin tins and set aside.

In a large mixing bowl, add your dry ingredients and mix well. Add your almond butter and unsweetened applesauce and mix until fully combined. Stir through your chocolate chips.

Divide the batter amongst the greased muffin tins and bake for 10-15 minutes- Check at 10 minutes and test with a skewer- If it comes out clean, remove immediately. Allow to cool for 5 minutes, before transferring to a wire rack to cool completely.
Notes
Depending on the protein powder you use, cooking time varies. Continually check on the muffins and remove as soon as a skewer comes out clean.
Muffins need to be kept refrigerated once cooled. They are also freezer friendly.
Key Recipe Equipment and Ingredients
Nutrition
Serving:
1
muffin
|
Calories:
234
kcal
|
Carbohydrates:
10
g
|
Protein:
10
g
|
Fat:
16
g
|
Sodium:
82
mg
|
Potassium:
170
mg
|
Fiber:
6
g
|
Vitamin A:
9
IU
|
Vitamin C:
1
mg
|
Calcium:
156
mg
|
Iron:
2
mg
|
NET CARBS:
4
g
More delicious protein baked goods? Gotcha covered!
Healthy Chocolate Fudge Cake Bars
4 Ingredient Flourless Protein Brownie Bites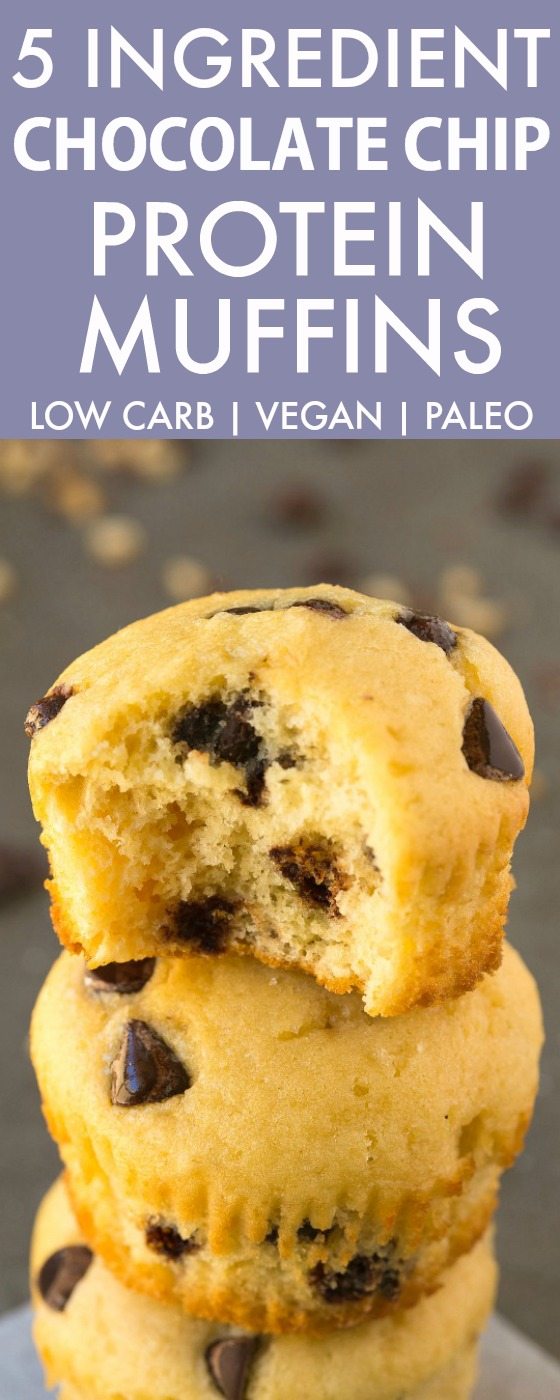 Have you ever made a recipe from a magazine before?
The Big Man's World is a participant in the Amazon Services LLC Associates Program, an affiliate advertising program. This means that if you click and make a purchase, TBMW receives a small commission, at no cost to you. Cheers, hugs, and handshakes for supporting TBMW!