This flourless mug cake is a single serving chocolate dessert recipe that needs just 4 ingredients. It's moist, fluffy, and has no eggs in it!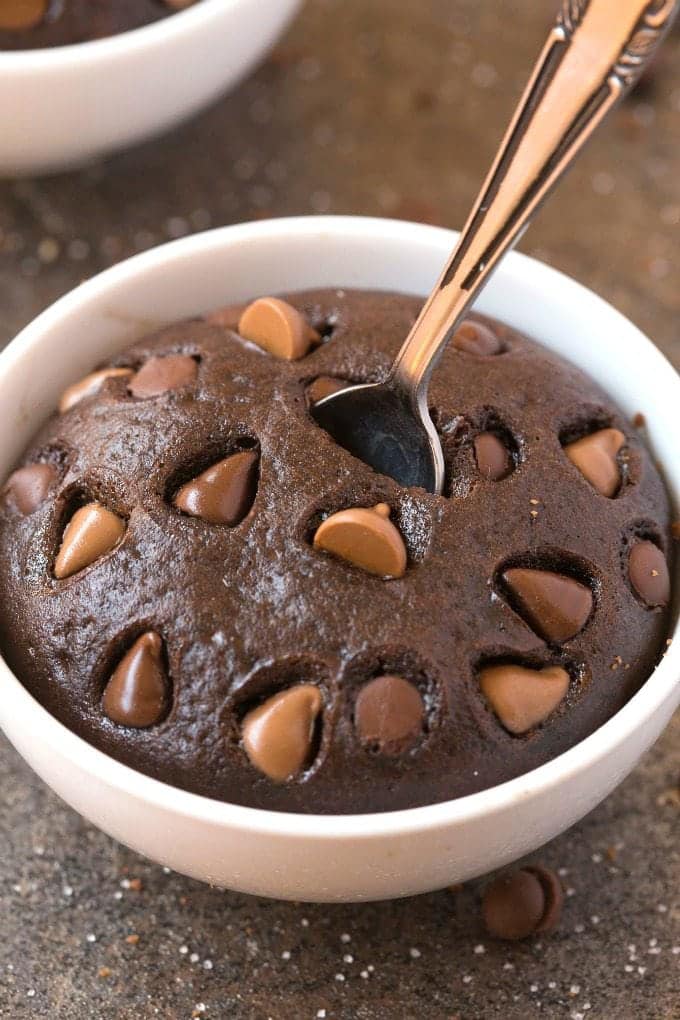 For me, mug cakes are the easiest fix for my cake cravings.
I make them in various flavors to fit any mood I am in. Craving a carrot cake? A carrot mug cake will help you out. Want banana bread right then and there? A banana bread mug cake will hit the spoon. And for a quick chocolate cake fix, this flourless chocolate mug cake is what I go for.
Recipe highlights
I call this my stand-by mug cake. It's for those times when I definitely 'don't' need dessert, but still want a little something. While it may be healthy, the texture of this cake is too good to be true considering how easy it is to make and how few ingredients it calls for.
A single-serve dessert with only 4 ingredients. Mug cakes are meant to be easy. A concise ingredient list is a must for my mug cakes.
Vegan and gluten-free. Aside from being gluten-free, this cake is also vegan. It doesn't contain any eggs or dairy.
Oven and microwave instructions. You can bake this chocolate mug cake in the oven or nuke it to cook it in just one minute.
No eggs, no butter, and no milk is needed- this truly is a pantry staple dessert which you should have everything on hand for! Here is what you'll need:
Banana. As there is no sweetener used in this cake, it is important to use overripe bananas. Aside from being sweet, overripe bananas are also softer and easier to mash into a smooth mixture.
Almond butter. My preferred nut butter. Any nut or seed butter will work.
Cocoa powder. Unsweetened cocoa powder helps thicken the cake batter.
Chocolate chips.
How to make a flourless chocolate mug cake
Blending all ingredients together is pretty much the only thing you need to do to bake this cake. Here's how you make this flourless chocolate cake in the oven or in the microwave.
Step 1 – Prepare the batter
Add all ingredients except for the bananas to a blender and blend well until a smooth mixture remains. You can do this by hand too using a large mixing bowl and a fork to mash the bananas really well.
Once mixed, fold in the chocolate chips setting some aside for sprinkling on top.
Step 2 – Cook and enjoy
Preheat the oven to 350F degrees. Pour the cake batter into an oven-safe greased ramekin. Bake for 10-12 minutes or until a toothpick comes out almost clean.
You can cook this cake in the microwave too. It will take around 60 seconds to cook in the microwave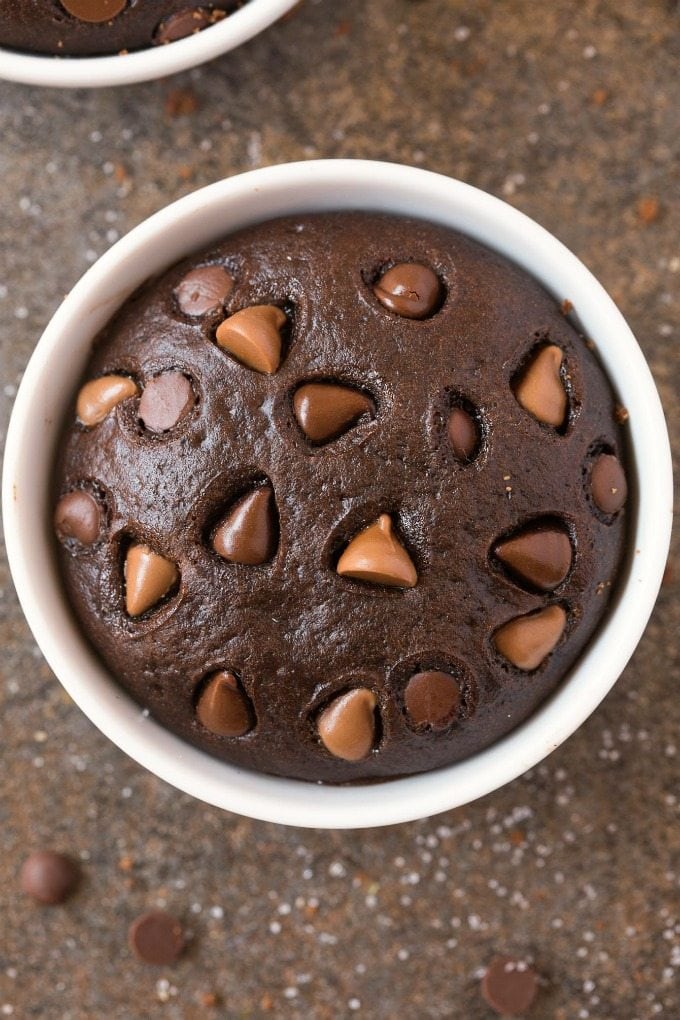 Don't overmix. Overmixing creates too many bubbles in the batter. These bubbles make the cake rise as it bakes. When the mug cake cools, it drops rather quickly. Mix the batter just enough to get all ingredients incorporated. This will result in a more stable cake.
Adjust the sweetness. If you feel like this cake is not sweet enough to satisfy your sweet tooth, add powdered sugar to the batter or a drizzle of maple syrup.
Add toppings. Toppings will elevate this mug cake almost instantly. Add a dollop of ice cream or whipped cream, mixed berries, and you have the most decadent dessert ready in less than five minutes.
Choose the right mug. Aside from using an oven-safe or a microwave-safe mug, it is important to choose one that is big enough for the amount of batter you have. Fill the mug to the halfway point to prevent the batter from spilling as it cooks.
To store. This mug cake is best enjoyed fresh. It is when this cake has the best texture. With this said, you can safely store it in the fridge for a day or two. Cover the cake with cling wrap as soon as it cools and refrigerate it. Warm up the cake in the microwave before eating it.
To freeze. It is not recommended to freeze this cake.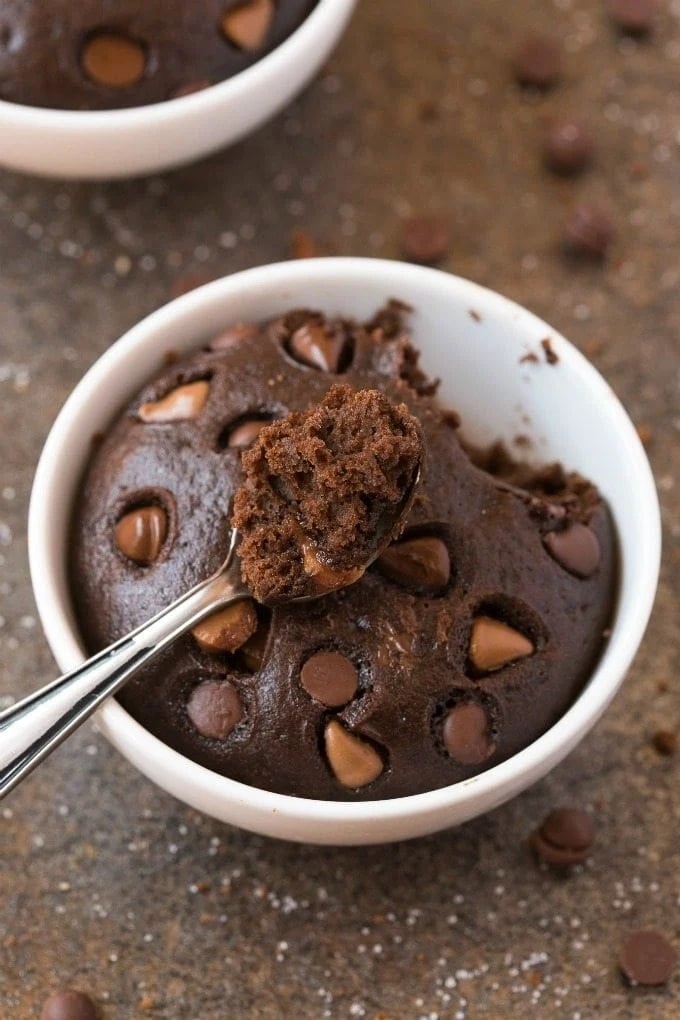 More flourless desserts to try
Cakes, Muffins, and Quick Breads
Why does my flourless mug cake fall?
Flour is the ingredient that provides structure for cakes. This is why it is common for flourless cakes to fall as they bake and start to cool. Two things you can do to prevent this from happening are to not overmix the batter and not let it sit around for too long before baking. 
Can I use flour instead of cocoa powder?
Yes, you substitute cocoa powder with flour if you don't mind it in this recipe. When substituting these two ingredients, make sure to use less flour than the recipe calls for cocoa powder. As a rule of thumb, it is good to start with twice as little flour. For this particular recipe, start with a tablespoon of flour and add more if needed. 
Why is my mug cake chewy?
Whether you are using the oven or the microwave, overcooking is the main cause of a chewy cake. Flourless cakes are supposed to be slightly gooey and soft. Cooking them longer will only make them unpleasantly chewy.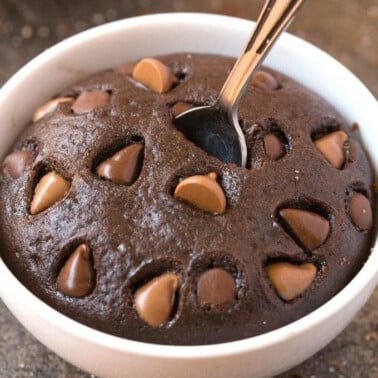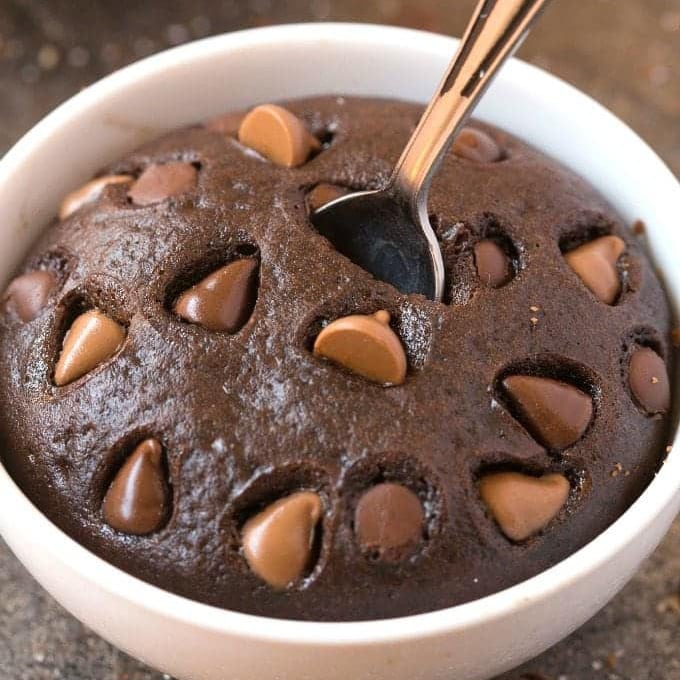 Flourless Mug Cake
This flourless mug cake is the perfect single serving chocolate dessert recipe that needs just four ingredients to make. It's moist, rich, and secretly healthy.
Instructions
Grease a microwave or oven safe ramekin and set aside.

In a blender or large mixing bowl, add all ingredients, except for chocolate chips, and blend/mix until a smooth batter remains. Stir through chocolate chips, reserving a few for the top.

Cook in the microwave for around one minute.

If you use the oven, bake for 10-12 minutes at 350 Fahrenheit, or until a toothpick comes out 'just' clean. 
Notes
TO STORE: This mug cake is best enjoyed fresh. It is when this cake has the best texture. With this said, you can safely store it in the fridge for a day or two. Cover the cake with cling wrap as soon as it cools and refrigerate it. Warm up the cake in the microwave before eating it. 
Nutrition
Serving:
1
mug cake
Calories:
175
kcal
Carbohydrates:
21
g
Protein:
5
g
Fat:
10
g
Sodium:
4
mg
Potassium:
407
mg
Fiber:
5
g
Sugar:
24
g
Vitamin A:
43
IU
Vitamin C:
5
mg
Calcium:
68
mg
Iron:
1
mg
NET CARBS:
16
g
Disclosure: This post may contain affiliate links. I may earn a small commission for my endorsement, recommendation, testimonial, and/or link to any products or services from this website.