A quick and easy keto lemon mug cake recipe that tastes like a lemon Meyer cake! Made with almond flour and coconut flour, this paleo and low carb dessert takes less than a minute to prepare and topped with a sugar free glaze!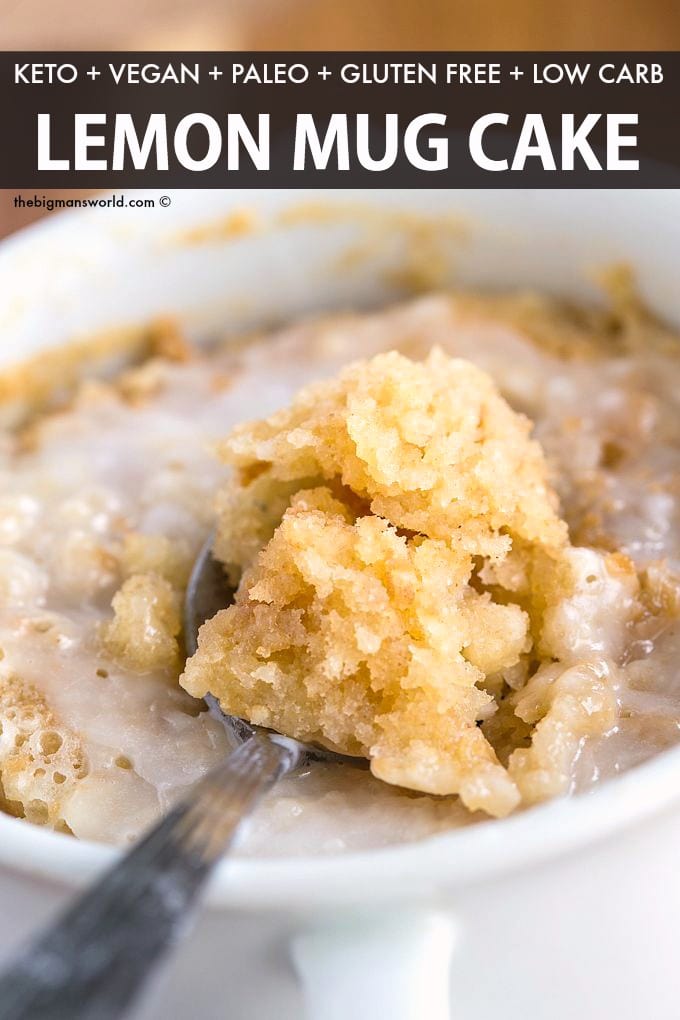 Easy Lemon Mug Cake
The Starbucks Iced lemon pound cake is my go-to dessert whenever I visit the infamous coffee chain. A moist and fluffy cake, loaded with lemon flavor and topped with a sweet vanilla glaze.
Ever since I started following a healthier diet, the lemon cake I'd regularly treat myself to soon went out the window. Following a keto and low carb diet can be difficult for someone with a raging sweet tooth…until now.
Mug cakes are one of my favorite ways to satisfy my sweet tooth. They are portioned single-serving recipes perfect for one person. Mug cakes are also ridiculously quick and easy to prepare and can be made in either the microwave or oven.
Some of my favorite mug cakes include this coffee cake mug cake, cinnamon roll mug cake, and blueberry mug muffin. It's time for it to get the lemon treatment.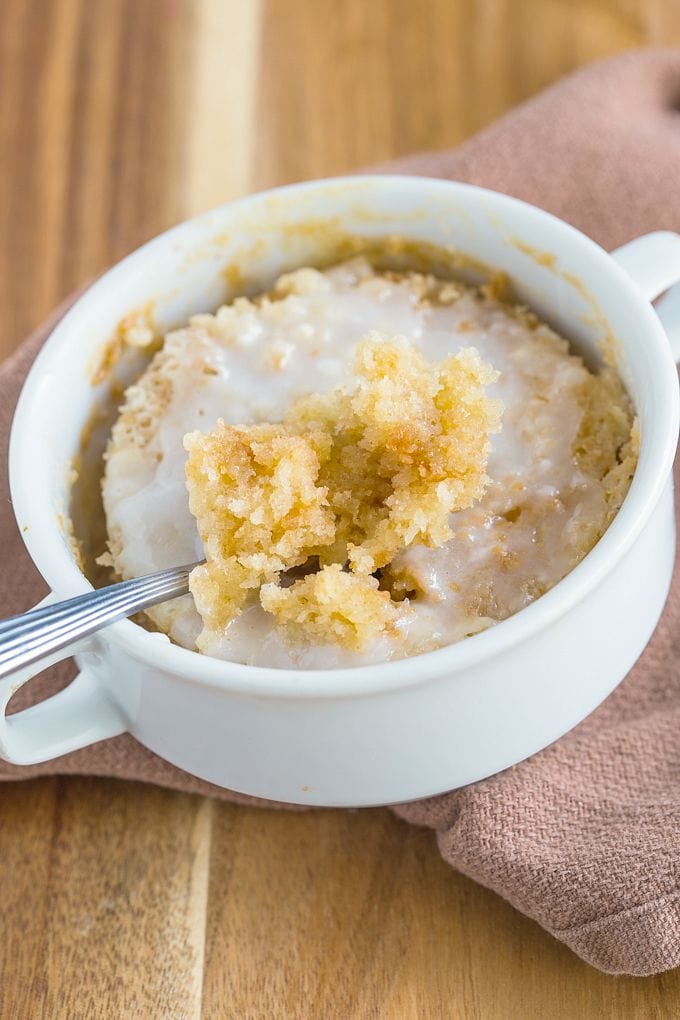 Lemon Mug Cake Recipe
Tender on the outside, fluffy and slightly moist on the inside, this easy lemon mug cake recipe is a winner. It's made with low carb ingredients, like almond flour and coconut flour.
It also uses natural sweeteners, like monk fruit sweetener. The lemon flavor comes from lemon extract, and the sugar free icing takes it to another level!
Not only is this lemon mug cake paleo and low carb, it's also grain free, gluten free and can be made vegan and eggless!
How to make the BEST lemon mug cake recipe
Use a microwave-safe cereal bowl or microwave-safe circular container
This goes against the 'mug' in 'mug cake' but hear me out!
When I tried making this in a mug, I found that some parts in the center were under-cooked, and once you try to microwave it further to cook it through, the other parts of it will be over-cooked.
Using a shallow container or cereal bowl will form a deeper, wider mug cake, but it will cook evenly throughout.
Grease your mug/bowl
This one is a given, but you MUST grease your bowl or mug with cooking spray or oil of choice.
Greasing the bowl/mug will ensure the mug cake slips out easily and makes washing up seamless!
Add extra milk
No coconut flour is created equal, and brands can really differ. 3 tablespoons of milk are the recommended amount of liquid, however, don't be afraid to add more, if needed. The batter should be smooth and thick.
Check the mug cake in 30-second intervals
No microwave is created equal, and the power it provides varies. I tried using 2 different microwaves (my own one and my mum's!) and the latter cooked in 1 minute. Mine, on the other hand, took 2 minutes.
Pause your microwave at the 1-minute mark, and insert a skewer in the center. If it comes out clean, the mug cake is done. If some batter remains on it, continue microwaving it in 30-second spurts until it is done.
Drizzle the glaze after 2 minutes
Don't drizzle the lemon mug cake with the vanilla glaze as soon as the mug cake is fresh from the microwave. Allow it to sit for 2-3 minutes, then drizzle over the top.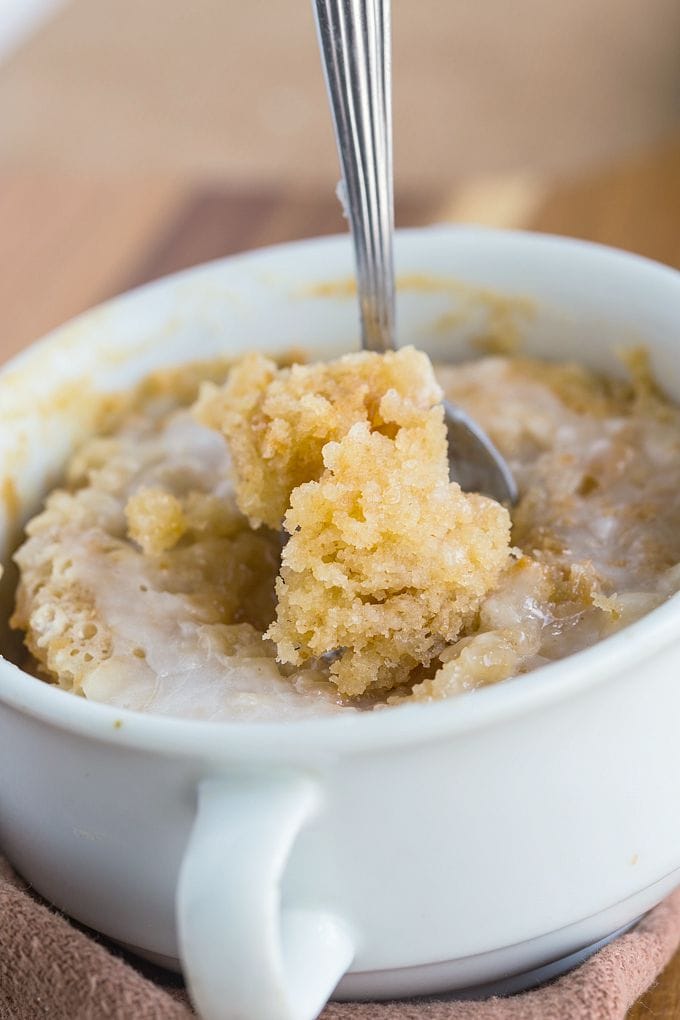 How to make a lemon mug cake with no egg
Making this mug cake without an egg is difficult, but it can work.
Add either 1 tablespoon of vegan protein powder and extra milk to compensate. This will allow the mug cake to rise and hold shape.
Alternatively, you can use ground chia seeds. Add 1 tablespoon and adjust the milk to produce a thick batter. Please note this will not rise as much and seem a little undercooked. That is okay, as it will be more pudding-like than cake-like.
Can you bake a mug cake in the oven?
Don't stress if you don't have a microwave- Mug cakes can be made in the oven!
To make this paleo low carb lemon mug cake in the oven, simply grease an oven-safe ramekin or deep dish. Transfer your batter into it, and bake at 180C/350F for 12-15 minutes, or until a toothpick comes out clean.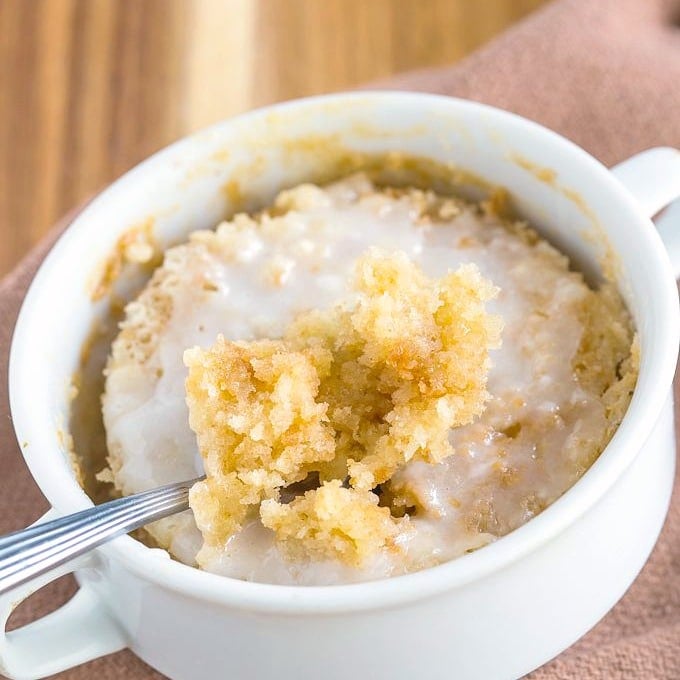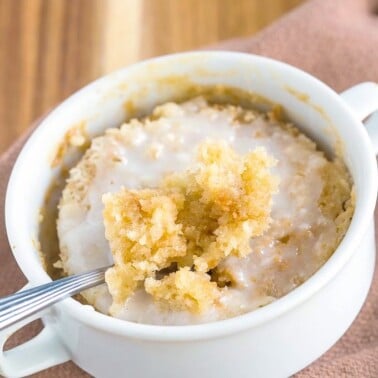 Lemon Mug Cake
A Healthy Iced Lemon pound cake which takes just 1 minute to whip up and is inspired by Starbucks! This healthy cake is moist, fluffy and the perfect snack or healthy sweet treat to have on hand which comes with a tested oven version too! Naturally paleo and gluten free, there is a vegan and sugar free option too!
Instructions
In a small bowl, combine the dry ingredients and mix well.

In a separate small bowl, combine the dairy free milk with the egg (or egg substitute) and whisk with the lemon extract. Add the mixture to the dry mixture and mix until just combined.

Grease a large mug or deep bowl (I used a cereal bowl) generously and pour the batter in it and microwave for at least 50 seconds, depending on the microwave.

While it's cooling, make the icing by mixing all ingredients to a desired consistency then top the lemon cake.
Notes
* If the batter is too thick, add more milk until the batter is smooth.
Nutrition
Serving:
1
mug cake
Calories:
195
kcal
Carbohydrates:
6
g
Protein:
6
g
Fat:
13
g
Fiber:
4
g
Vitamin A:
150
IU
Vitamin C:
1.7
mg
Calcium:
20
mg
Iron:
0.7
mg
NET CARBS:
2
g
Disclosure: This post may contain affiliate links. I may earn a small commission for my endorsement, recommendation, testimonial, and/or link to any products or services from this website.