Keto Hot Chocolate Brownie Mug Cake (Paleo, Vegan)
This healthy keto hot chocolate brownie mug cake is moist, gooey and fudgy, and packed with protein! Made in just 1 minute, it's a quick and easy dessert recipe, loaded with chocolate, and made with coconut flour! Paleo, Vegan, Gluten-Free, Sugar-Free, Low Carb.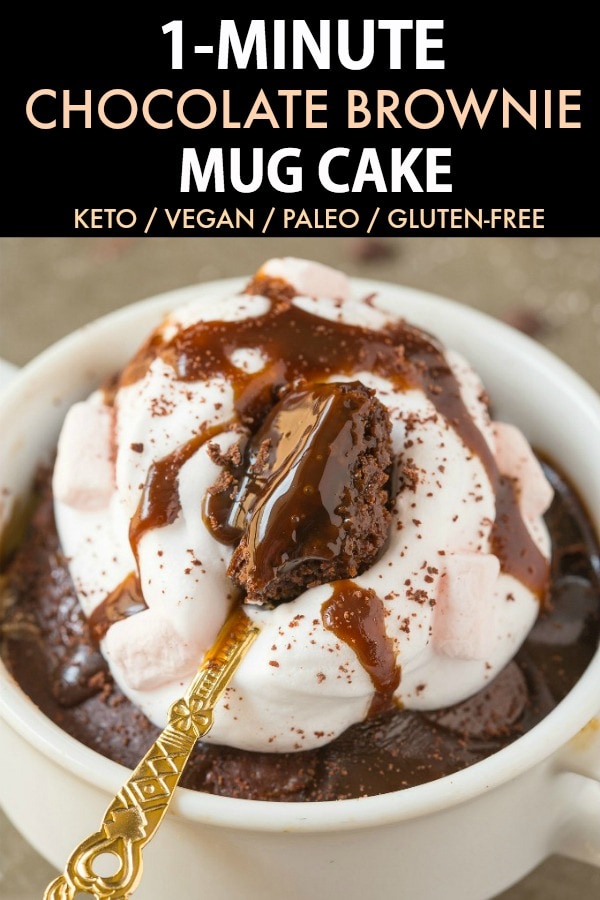 Keto Chocolate Brownie Mug Cake
"Coffee is the grossest thing ever".
Good thing my sister isn't a blogger.
If you are anything like me, coffee has taken second place to water and even before food. If forced to pick between coffee and a sandwich, I think I'd easily choose the former- Purely for the sanity of those around me.
Actually, I take that back. I could say the same about food, so I'd best be greedy and choose both.
ANYWAY.
My sister is made up of faults has many faults, but not enjoying coffee is one of her main ones. Not only does this prove my personal theory that she's adopted, it just doesn't make sense! Even my mother, who comes from a country in which tea is a staple, enjoys her cup of joe every single day.
My sister is, however, a self-proclaimed hot chocolate connoisseur.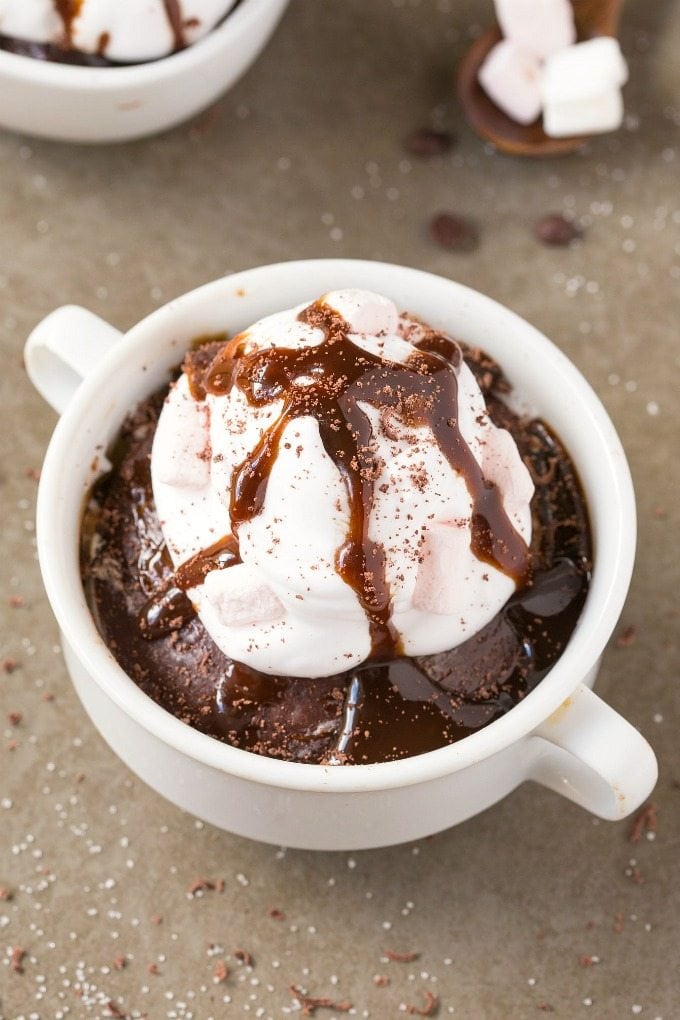 The other day, my sister had the biggest craving for hot chocolate but also was craving brownies. At the time, I was working on an easy keto chocolate mug cake recipe. I decided to make that for her but adding a hot chocolate twist to it.
Instead of adding protein powder, I omitted it and crossed my fingers. What resulted was a gooey, fudgy brownie mug cake, loaded with chocolate, and secretly healthy!
Because she also had a craving for hot chocolate, I added some dairy-free whipped cream and some marshmallows, just for fun.
Enter- the healthy hot chocolate brownie mug cake!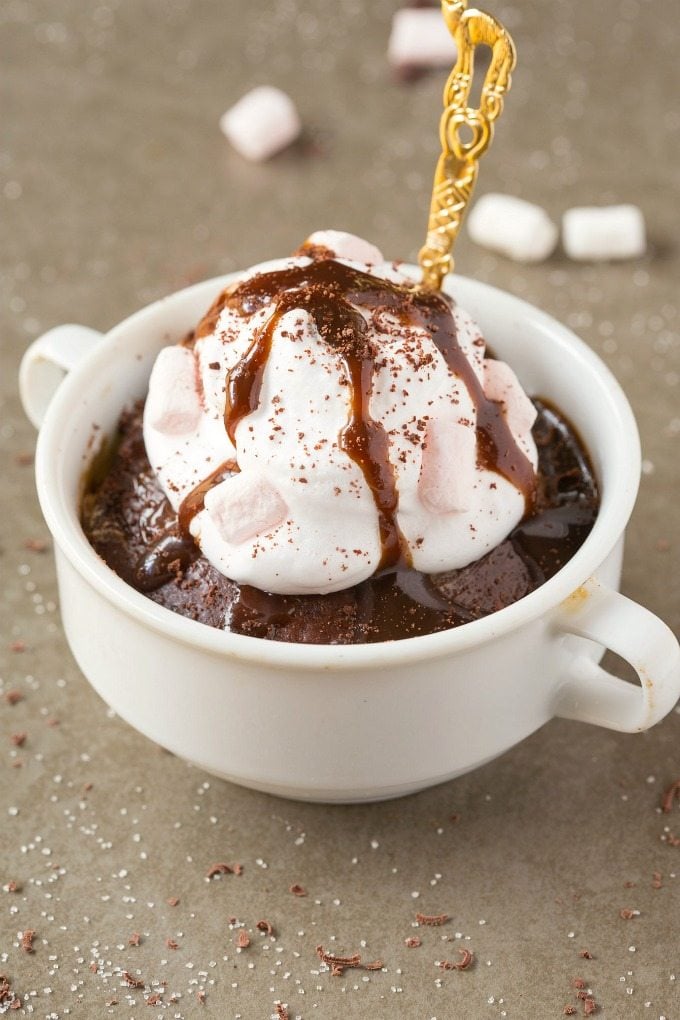 This healthy keto mug brownie cake has all the best bits of a classic hot chocolate, except in a brownie mug cake form!
Not only that, it's really in less than a minute, but it is secretly healthy too! It's moist and gooey in the center, and tender on the outside- Perfect to top with whipped coconut cream and add a drizzle of healthy chocolate sauce.
It's also able to be made in an oven, for those without a microwave! Unlike traditional chocolate based cakes, this mug cake contains no butter, oil, flour, grains or sugar, but tastes delicious, thanks to a few cheeky ingredients and tricks!
This chocolate mug cake is super low carb, by using a high fiber grain free flour, coconut flour! It also requires no eggs and no dairy, thanks to pureed pumpkin.
Pumpkin fiends, I promise you won't taste it whatsoever- It only adds moisture and a fudgy texture.

To give it a hot chocolate twist, make some smart swaps-
Pssst. Want a mug cake WITHOUT protein powder? You can use this chocolate mug cake and simply top it as desired- It will be just as delicious!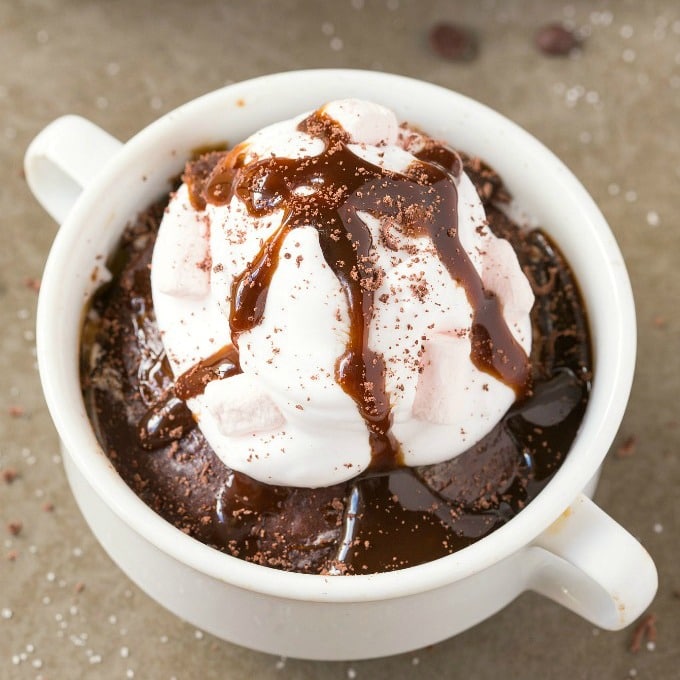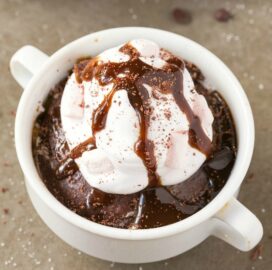 Keto Hot Chocolate Brownie Mug Cake (Paleo, Vegan)
This keto chocolate brownie mug cake is the BEST vegan and keto chocolate fix ready in one minute! An easy keto chocolate dessert recipe made with coconut flour and super low carb- No sugar, NO eggs and completely paleo and gluten-free!
Print
Pin
Rate
Instructions
For the microwave option
Grease a microwave safe bowl with cooking spray and add all the dry ingredients and mix well.

Add the sunflower seed butter (or nut/seed butter of choice), pumpkin puree and mix well. Using a tablespoon, add milk of choice until a gooey batter remains.

Microwave for 55 seconds-2 minutes (depending on your microwave power) until 'just' cooked. Top with optional whipped cream and chocolate drizzle and enjoy!
For the oven option
Preheat oven to 180C/350F.

In an oven-safe ramekin, follow instructions as above. Once prepared, bake for 10-12 minutes, or until 'just' cooked.
Notes
Keto Hot Chocolate Brownie Mug Cake (Paleo, Vegan) can be prepped in advance. Add 1-2 tablespoons extra milk before baking.
Nutrition
Serving:
1
Mug Cake
|
Calories:
152
kcal
|
Carbohydrates:
13
g
|
Protein:
7
g
|
Fat:
8
g
|
Fiber:
7
g
|
Vitamin A:
150
IU
|
Vitamin C:
4.1
mg
|
Calcium:
40
mg
|
Iron:
0.9
mg
|
NET CARBS:
6
g
Cookies can be low carb AND tasty- This one is giant and single serve!
A smooth and creamy dip which tastes like dessert, but could be perfect for breakfast!
Protein bars which don't taste like chalk- Soft and chewy is the answer here!