Healthy 1 Minute Low Carb Brownie
A moist, gooey and fluffy chocolate brownie ready in less than one minute and completely low carb too! Made with no butter, oil, grains or sugar, this healthy mug brownie is paleo, vegan, gluten free, sugar free, keto friendly,low calorie, dairy free and has a tested oven option!

I seriously wish my high school science teacher could spend a day in my kitchen with me.
To say that I was not a fan of this school subject would be a gross understatement. I was beyond terrible at it. The concepts, atoms, and ions made me want to throw a bunsen burner on the ground in frustrations.
Oh, wait…I did that.
I still remember some of the ridiculous answers I left on our tests, mainly because I hadn't studied, but also because I knew that once I hit the 10th grade, I could drop it completely!
Q- "What is the symbol for water?"
My answer- Wa. (It was H20).
Q- "What are planets outside our solar system called?"
My answer- Insignificant planets. (The correct answer was extrasolar planets).
Q- What is the lifespan of a human blood cell?
My answer- Until you die. (Google tells me it is around 120 days).
You get the point.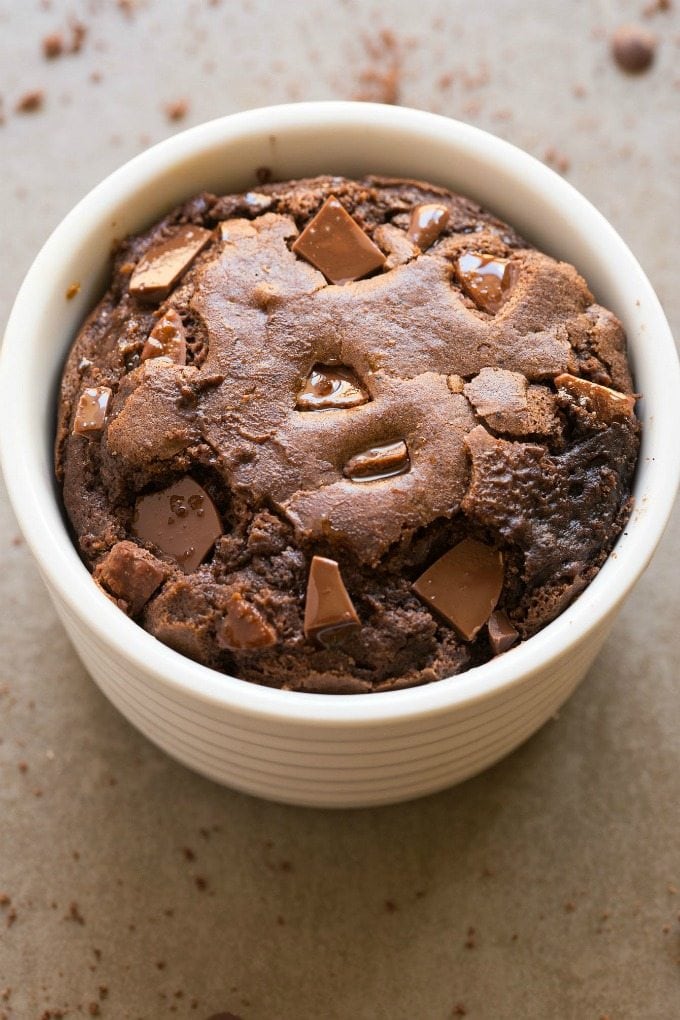 Looking back now, I wish I had paid more attention in my three years of science classes. I can only imagine how much time I'd save with experimenting with recipes, especially baking! Fast forward to our current time period and welcome to my kitchen to a new science experiment of sorts.
This healthy low carb chocolate brownie is moist, gooey, and perfect single-serve dessert or snack to enjoy anytime! It also only takes less than a minute to whip up, or under 12 minutes if you bake it in the oven! This is the healthy kind of dessert you can enjoy anytime, even after exercise- Seriously! It's packed with protein and could totally replace your standard shake, and is on par with one, calorie wise. Because of the ingredients used, it's completely paleo, vegan, gluten free, grain free, dairy free and sugar free!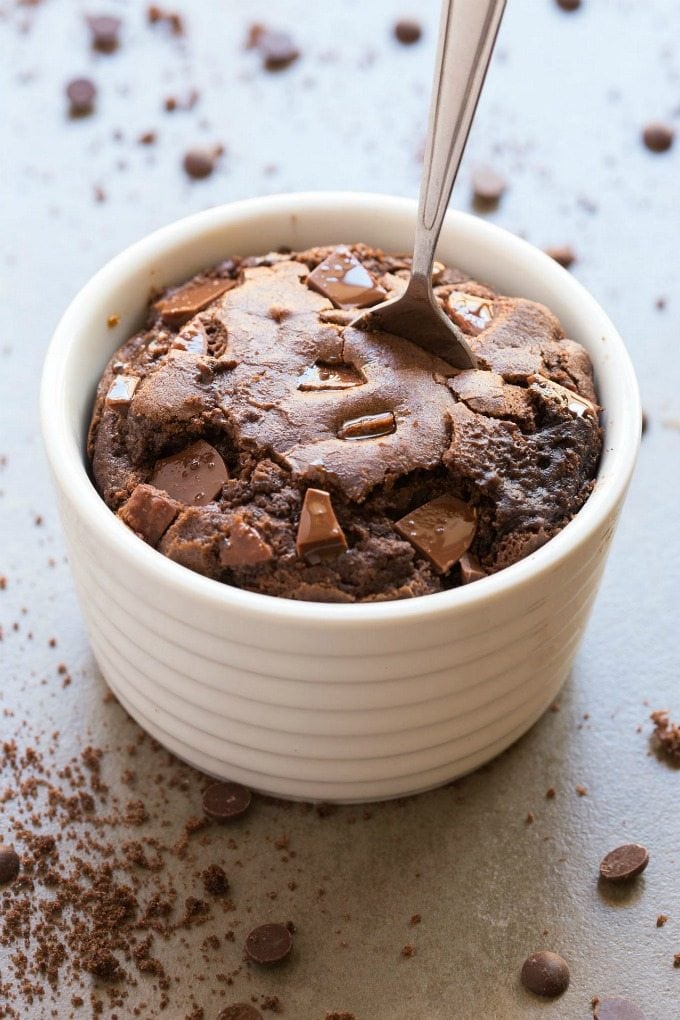 As protein powder is one of the key ingredients here, I highly recommend you be careful of what kind of protein powder you use! As always, I tried it out with this vegan brown rice protein powder, this casein protein powder, and this paleo protein powder. Dietary restrictions aside, I'd recommend the vegan or casein one, in terms of the best texture. For those of you who prefer whey protein powder, this is not the recipe I'd use it for. I tried three different whey protein brands, and they all had the same effect- The final result was dry and sponge-like.
Today, I wanted to delve a little further into the microwave VS oven debate (for my one-minute mug cakes and brownies), along with the egg VS no egg suggestions. These kind of experiments were much more exciting than my high school days, especially as in most instances, I could eat the final product (bar the several hockey pucks…).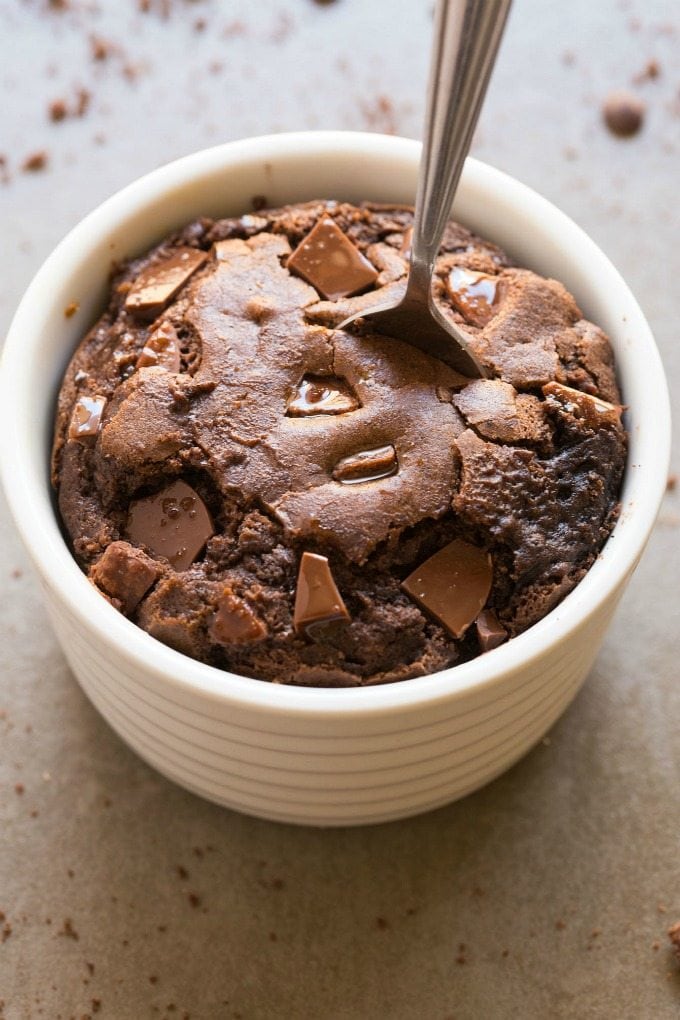 OVEN VS MICROWAVE
Time is the key factor here, but depending on which method of baking you choose, they both actually can result in a different texture. The pictures shown within the post is actually made in the oven. If you check out the texture closely, it's quite tender on the outside and fluffy and moist on the inside. This wouldn't be possible in the microwave, BUT it takes a fraction of the time. However, if you want to use the oven AND have a really gooey center, you'll just need to remove it a little earlier, when it just begins to firm up on top.
EGGS VS NO EGGS
Similarly, you can still achieve a gooey and moist center without the egg/egg white. Whether or not you follow a vegan lifestyle or not, you can do this. You'll just need to increase the milk of choice by a tablespoon or two. Granted, this will not be as fluffy or firm, but if that's the texture you are going for, go for it. Also, the egg VS egg white debacle, I actually prefer the latter, as it makes it fluffier. Regardless, you choose whichever works for you!

HACK! Want to take this low carb brownie up a notch? Add a handful of chopped up chocolate pieces (use your favorite bar- I love this dark one and this quinoa filled one). Alternatively, add a tablespoon of almond butter or peanut butter in the center!
Make this healthy 1-minute low carb chocolate brownie and if you are still in school, pay attention in science class.
The brain, the brain, the center of the chain.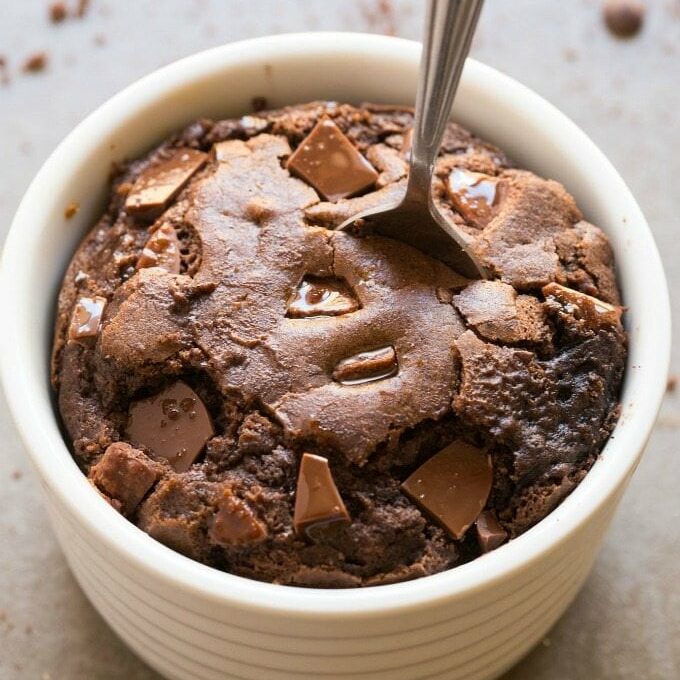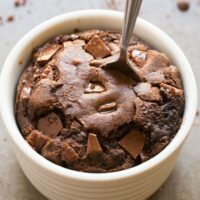 Healthy 1 Minute Low Carb Brownie
A moist, gooey and fluffy chocolate brownie ready in less than one minute and completely low carb too! Made with no butter, oil, grains or sugar, this healthy mug brownie is paleo, vegan, gluten free, keto, sugar free, low calorie, dairy free and has a tested oven option! 
Print
Rate
Instructions
Lightly grease a small microwave safe cereal bowl or oven safe ramekin with cooking spray and set aside.

In a small mixing bowl, combine all your dry ingredients and mix well. Add your egg white, milk of choice and chocolate chunks and mix until a thick batter is formed. If the mixture is too thick (it will most likely be), continue to add milk, one tablespoon at a time, until a thick batter remains.

If using a microwave, microwave in 30-second intervals until desired texture is achieved (I usually get the best texture at 55 seconds). If using an oven, bake at 350 degrees Fahrenheit for 12-15 minutes, or until a skewer comes out 'just clean' from the center.
Notes
* To keep it vegan, omit completely- You'll need to add an extra tablespoon of non-dairy milk to compensate.
** Depending on the protein powder and coconut flour you use, you may need more. Adjust accordingly.
Key Recipe Equipment and Ingredients
Nutrition
Serving:
1
brownie
|
Calories:
164
kcal
|
Carbohydrates:
9
g
|
Protein:
12
g
|
Fat:
9
g
|
Cholesterol:
18
mg
|
Sodium:
232
mg
|
Potassium:
156
mg
|
Fiber:
5
g
|
Sugar:
10
g
|
Vitamin A:
4
IU
|
Vitamin C:
4
mg
|
Calcium:
228
mg
|
Iron:
2
mg
|
NET CARBS:
4
g
More delicious low-carb mug cakes? Gotcha covered!
Healthy 1 Minute Low Carb Cinnamon Roll Mug Cake
Healthy 1 Minute Low Carb Pumpkin Chocolate Mug Cake
Healthy 1 Minute Low Carb Chocolate Raspberry Mug Cake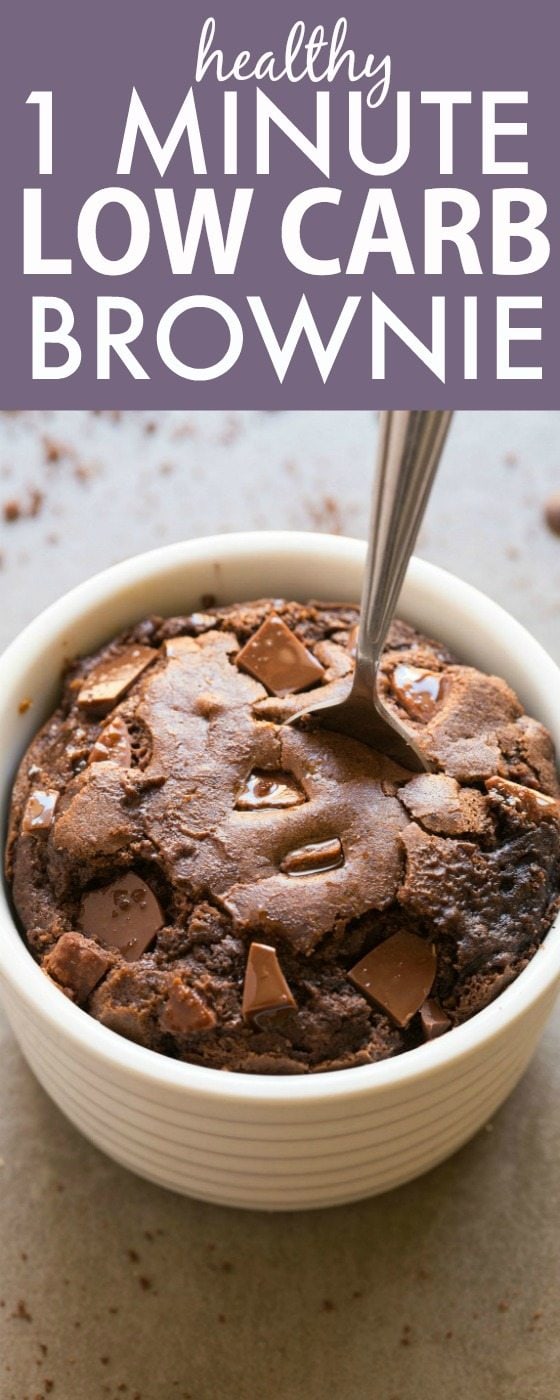 Where you a fan of science class?
Are there any classes you regret dropping in middle school/high school?
The Big Man's World is a participant in the Amazon Services LLC Associates Program, an affiliate advertising program. This means that if you click and make a purchase, TBMW receives a small commission, at no cost to you. Cheers, hugs, and handshakes for supporting TBMW!