Best Flourless Brownies (BETTER than boxed mixes!)
These flourless brownies are BETTER than any boxed mix out there and require just 6 simple ingredients. No flour, no butter, and no grains, they are gooey, fudgy, and have those gorgeous crinkly tops.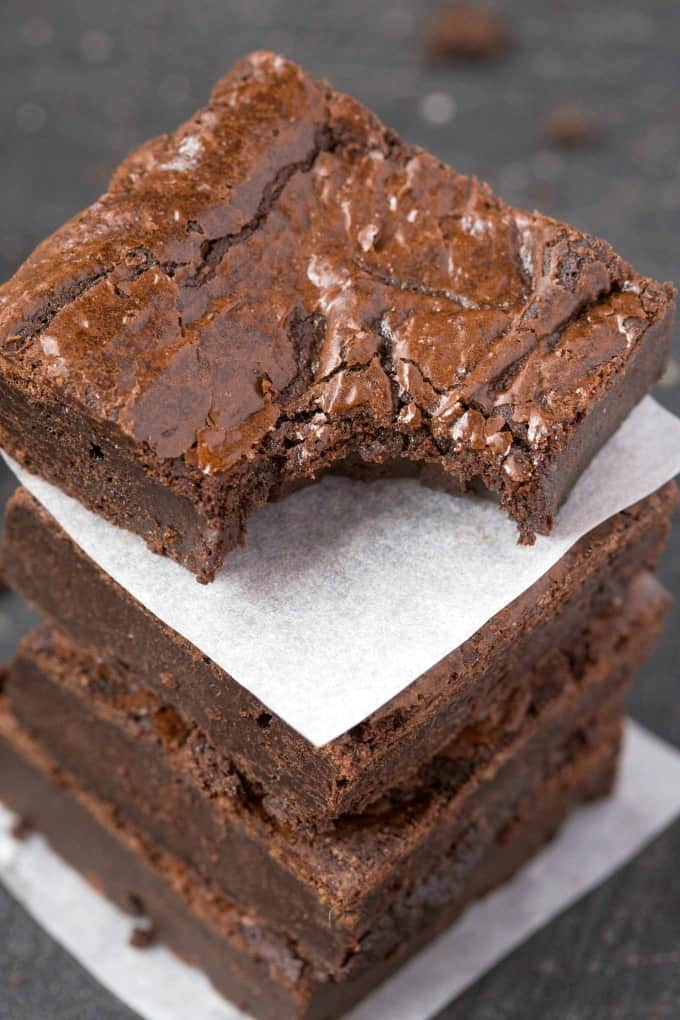 Am I obsessed with brownies? Well, seeing as I have a whole collection of brownie recipes, it's safe to say I am.
Today's recipe though is the creme de la crumb of brownie recipes.
It's made with simple, affordable pantry staple ingredients and you'll be left with brownies that are BETTER than any boxed mix out there.
No flour.
No butter.
100% paleo and gluten-free.
Easily made vegan and keto.
Even if you don't follow any diet, THIS Brownie recipe is the one that will have others begging for more! Seriously, my friends continue to ask me for this recipe day after day!
How to make flourless brownies from scratch
The Ingredients
Coconut oil OR butter– The best kind of oil for using in desserts, you can use refined coconut oil or unrefined coconut oil. Use the refined kind to ensure there is NO coconut flavor. You can also use butter if you don't follow a dairy-free diet.
Baking chocolate OR chocolate chips– Either baking chocolate or chocolate chips work. I prefer using bakers chocolate, as it melts better than chocolate chips. Be sure to use a good quality chocolate bar.
Granulated sweetener of choice– White sugar or coconut palm sugar is best. I try to avoid brown sugar, as the flavor is really overpowering. You CAN use a sugar-free substitute, so check out the notes below.
Cocoa Powder– Be sure to use unsweetened cocoa powder (cocoa powder without added sugar). I recommend using a high-quality cocoa powder, to really enhance the chocolate fudge flavor.
Arrowroot powder– To give stability to the brownie, as it has no baking powder or baking soda. You can substitute this for cornstarch or tapioca flour.
The Instructions
Step 1- Preheat the oven and prepare the pan
Start by preheating the oven to 180C/350F. Line an 8 x 8-inch pan with parchment paper. Leave an inch or so around each side for easy removal.
Step 2- Heat the coconut oil/butter and chocolate
In a small saucepan, add your coconut oil/butter and chocolate. Heat the saucepan on medium, until the chocolate and coconut begin to melt. Once they both have just melted, remove from the heat and whisk together until a silky texture remains.
NOTE: You can also do this in the microwave. Heat on half-power, and in 30-second spurts, to avoid burning.
Step 3- Combine all ingredients
Add your sugar/coconut palm sugar into the saucepan and whisk well. Add the eggs, one at a time, and continue mixing. Add the cocoa powder and arrowroot powder and whisk very well, until the batter is no longer grainy, but smooth.
Step 4- Bake the brownies!
Transfer the brownie batter into the lined pan and bake for 26-28 minutes, or until a skewer comes out 'just' clean from the center. Remove from the oven and allow to cool in the pan completely, before removing and slicing.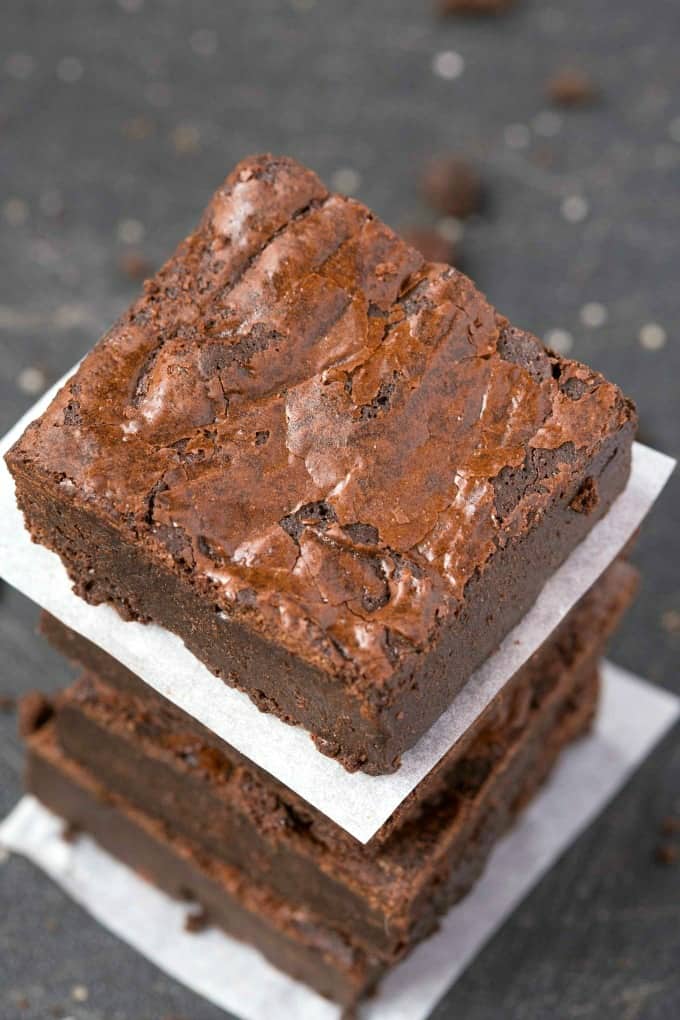 Frequently Asked Questions about these Flourless Brownies
Are flourless brownies gluten-free?
It depends on which recipe you are making, but this recipe is 100% gluten-free.
As it uses no flour and no other ingredients containing gluten, it is a safe dessert for celiacs.
Are flourless brownies healthier than normal brownies?
It's often assumed that flourless brownies, or flourless desserts, in general, are healthier than their counterpart.
This isn't always the case. To compensate for no flour, many flourless recipes tend to use extra butter, sugar, oils, and fats instead.
My version of flourless brownies is generally healthier than traditional brownies, without compromising on taste.
How many carbs in a flourless brownie?
If you use a refined sugar free sweetener, like coconut palm sugar, each brownie yields 15 carbs and 10 net carbs.
However, if you make the brownies with a zero carb and calorie-free sweetener, like swerve or granulated monk fruit, each brownie yields 7 carbs and 4 net carbs.
Tips for PERFECT No Flour Brownies
Make the brownies in steps- Don't combine all the ingredients at once, otherwise, they will not cook evenly and be void of the crackly tops.

Add the eggs in one at a time and be sure they are room temperature. Refrigerated eggs will see the batter take longer to be smooth (more gritty) and in turn, over-mix the batter.

Avoid baking the brownies in glassware- Through my experiments, I found that it would never be fully baked, and the tops would be glossy, but not shiny.
Can I make these brownies keto?
If you use a sugar free substitute, like erythritol or monk fruit sweetener, these brownies will be 100% keto-friendly.
Although they do contain arrowroot/tapioca flour/corn starch, the amount used is minimal and contributes less than 1 gram of carbs per serving.
NOTE: Using monk fruit sweetener or swerve will NOT have brownies with crackly tops.
You can also make this recipe for best fudgy keto brownies.
Can I substitute the egg to make it vegan?
Flax eggs and chia eggs can NOT be substituted for the egg. The only egg substitute I tried that worked was an egg replacement from powder, like Bob's gluten-free egg replacer.
You can also make these best vegan brownies.
Can you freeze flourless brownies?
Flourless Brownies, like all my other desserts, ARE freezer friendly.
Freezing these brownies are great for portion control, or when you want to have a chocolate treat later down the track. Instead of whipping up a whole batch of brownies, simply take one from the freezer.
Place brownies in a ziplock bag and keep in the freezer for up to 6 months. To thaw, let sit overnight in the refrigerator.
Otherwise, to store them once baked, keep them at room temperature in a sealable container. They will keep fresh for up to 5 days.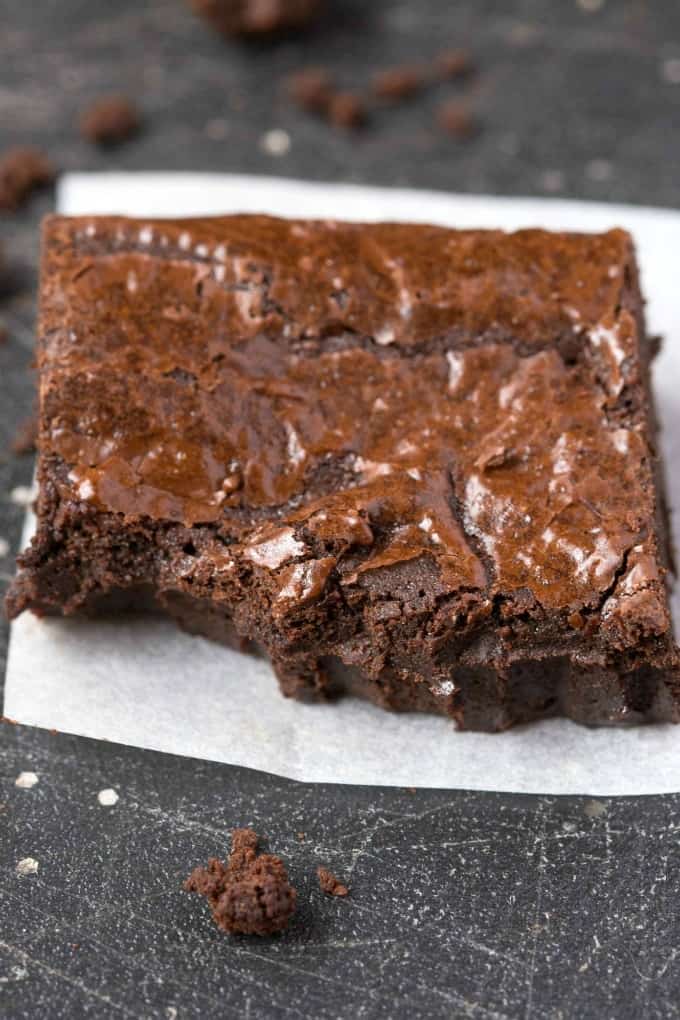 More Chocolate Desserts you'll love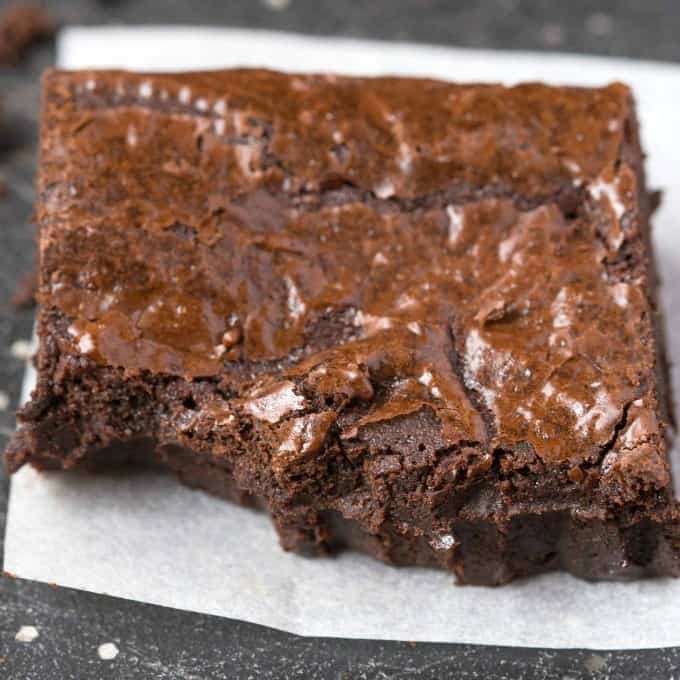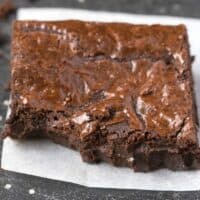 Flourless Brownies
Hands down, the most delicious, fudgy brownies which use just one bowl and six easy ingredients- Made with no flour or butter and BETTER than any boxed mix! Ready in just 20 minutes, these super fudgy brownies are made with basic pantry ingredients! Gluten-free, paleo, keto and easily made vegan.
Print
Rate
Ingredients
6

tbsp

coconut oil

1

cup

baking chocolate

* See notes

3/4

cup

Sugar of choice

** See notes

2

large

eggs

*** See notes for vegan substitutes

2

tbsp

cocoa powder

3

tbsp

arrowroot powder

can substitute for corn starch or tapioca starch
Instructions
Preheat the oven to 180C/350F. Line an 8 x 8 pan with parchment paper or tin foil, with some overlay for easy removal. Grease it lightly and set aside.

In a microwave safe bowl or stovetop, combine your chopped chocolate with coconut oil and melt together. Once just combined, remove from the heat.

Add the sugar of choice and whisk into the chocolate mixture. Then, add the eggs one at a time, and whisk in. Add your cocoa powder and arrowroot powder and whisk VERY well, until the batter is no longer grainy and smooth.

Transfer the brownie batter to the lined baking tray. Bake the brownies for 20-25 minutes, or until the centre just comes out clean. Do not over bake.

Remove from the oven and allow to cool in the pan completely. Once cool, slice into 9 pieces.
Notes
Do not over bake- Brownies may not look 'cooked' but once cooled, they will firm up.
Brownies can be kept for up to 5 days in the fridge and are freezer friendly.
* 100% unsweetened bakers chocolate or chocolate chips of choice. Be sure the chocolate bar is finely chopped
** White sugar or coconut palm sugar works best. To keep it sugar-free and keto, use erythritol or swerve.
*** To substitute the eggs, use egg replacer- NOT flax eggs or chia eggs.
Vegan? Make the BEST vegan brownies here.
Keto? Make the BEST keto brownies here.
Key Recipe Equipment and Ingredients
Nutrition
Serving:
1
brownie
|
Calories:
180
kcal
|
Carbohydrates:
7
g
|
Protein:
4
g
|
Fat:
18
g
|
Sodium:
20
mg
|
Potassium:
155
mg
|
Fiber:
3
g
|
Vitamin A:
60
IU
|
Calcium:
23
mg
|
Iron:
3
mg
|
NET CARBS:
4
g