6 Ingredient Flourless Fudge Brownies
Hands down, the most delicious, fudgy brownies which use just one bowl and six easy ingredients- Made with no flour or butter and BETTER than any boxed mix! Ready in just 20 minutes, these super fudgy brownies are naturally gluten free, paleo, grain free, dairy free and have a tested vegan option!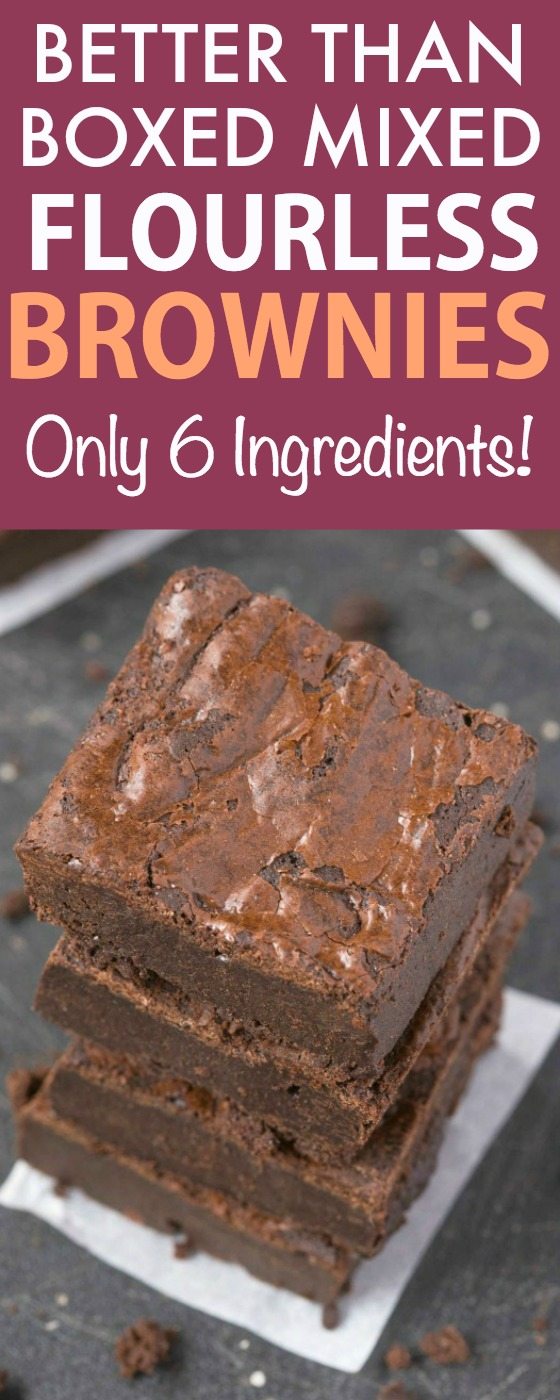 "I'm curious about some of your favorite cooks, chefs and whom inspires you. With so many fantastic individuals out there, do you have any favorites?"
When blog reader Justine emailed me back in January with this question, I'd hit a wall.
In my household, I'd had a mix of the traditional chefs/home cooks/authors (Julia Child, Rick Bayliss, Edna Lewis) and some which were introduced to me as I grew older (Nigella Lawson, Jamie Oliver, David Lebovitz and Curtis Stone). Although I did go through a stage where I was over Jamie Oliver….mainly because they showed his show ON REPEAT FOR A YEAR.
Sorry.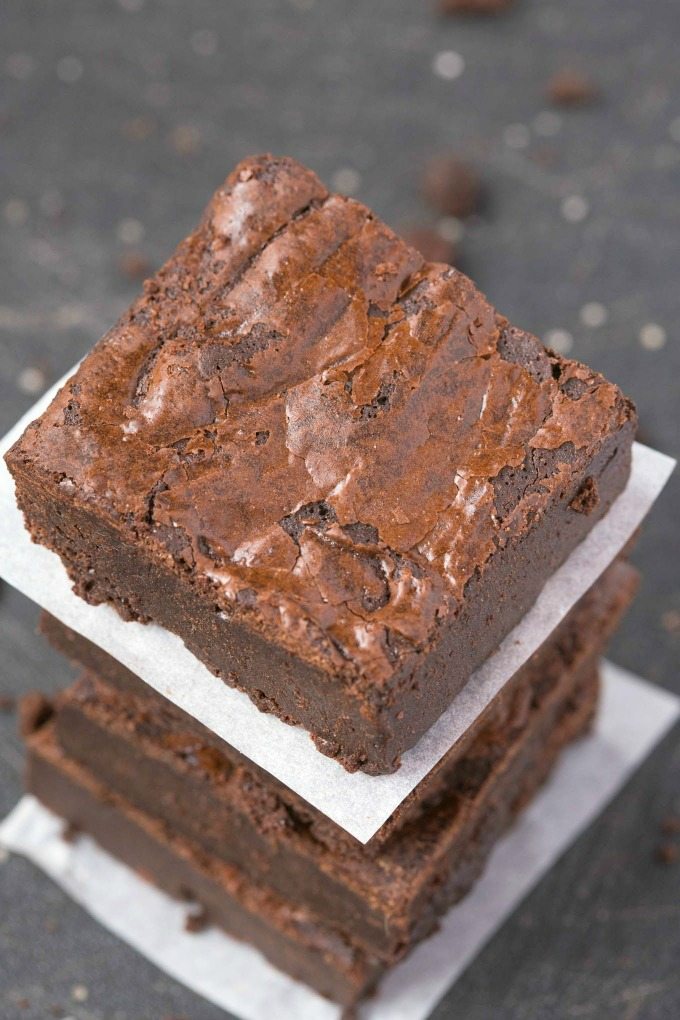 While my mum and other relatives still continue sticking to the classics, I've found myself more connected with ones I was introduced to from the beginning of their careers, and able to experience them doing amazing things- Something which is motivating and inspiring me to ensure my first cookbook will be a success.
For the next couple of weeks, I've got a fun little series to share with you on TBMW- I'm going to share a recipe from four of my (current) favorite cookbooks with a TBMW adaptation on them. The recipes I'll be sharing are perhaps, my favorite of each of the four authors and ones which I've made countless times. As with any recipe, I will ensure my adaptations are VERY minor or adapted in such a way to do the original recipe justice.
The four cookbooks I currently have on my coffee table are the following-
Nigella Lawson- Simply Nigella
Curtis Stone- Good Food, Good Life
David Lebovitz- Ready for Dessert
Jamie Oliver- Everyday Super Food
Today, we'll be hitting one from David's Ready for dessert.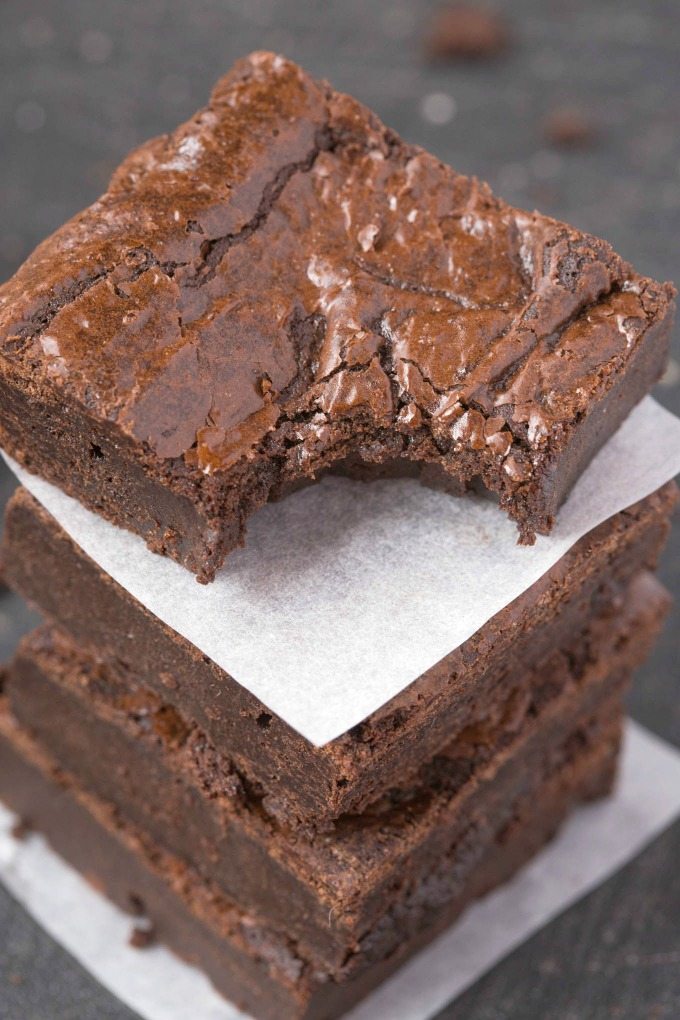 Ready for dessert was one of the first books I'd purchased, one I'd bought on a whim from a second-hand store. I'd given my car to get it's annual service and was told I needed to wait at the actual centre, instead of dropping it off and coming back later that day. The only stores nearby where a McDonalds (got my McChicken and McFlurry during the time frame!) and a second-hand store. I mindlessly picked out Ready for dessert and also a book about pies. Let's just say the latter was deemed useless and the former had a plethora bookmarked, especially one particular brownie recipe!
We all need a brownie recipe which is easy, impressive and guaranteed to be a hit amongst all every single time. It needs to require just a handful of ingredients and ones which most households have on hand. These, my friends, fit the bill.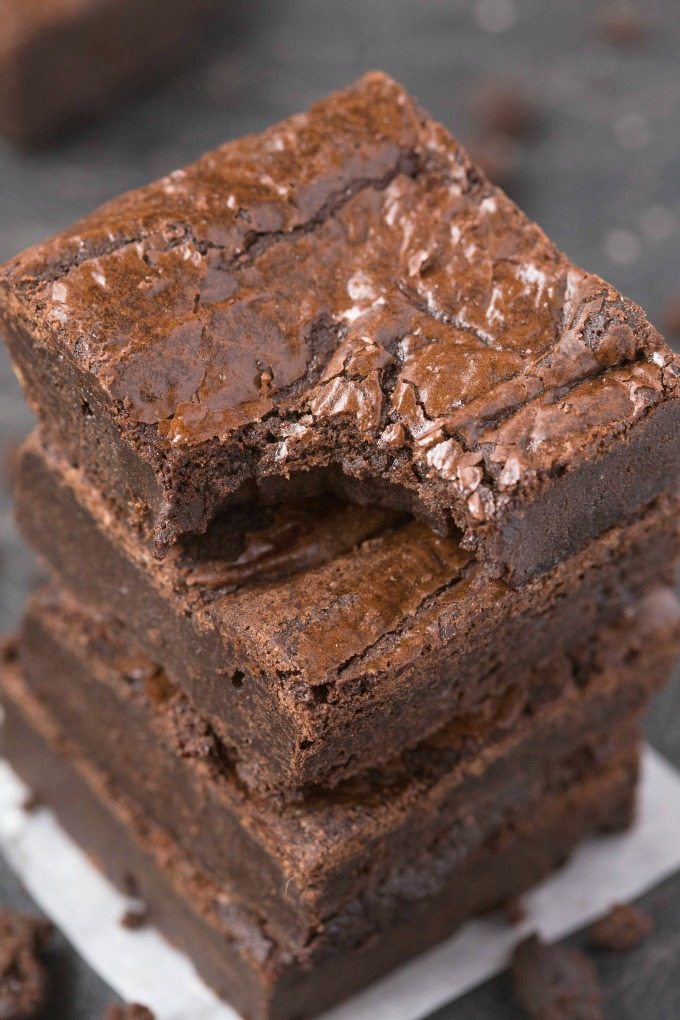 While David's original recipe is naturally gluten free and flourless, I wanted to make a few very minor swaps ensuring my paleo friends could be covered. For my vegan friends, it was a mixed bag.
I tried it using two methods, the 'flax egg' version and the energ-G egg replacer. The flax egg(s) tasted good, but the texture was a little off. I also tried it with this Ener-g egg replacer and while I thought it tasted better than the flax eggs, it didn't live up to the original (Niki claimed she liked this better, but she wasn't really concentrating and more focused on the Lindt coconut ball I'd given her….).
To see a pictorial example of how the vegan version came out, the final photo shows the texture- Fudgy but relatively flat.
The main thing is, it's still delicious.
ZING.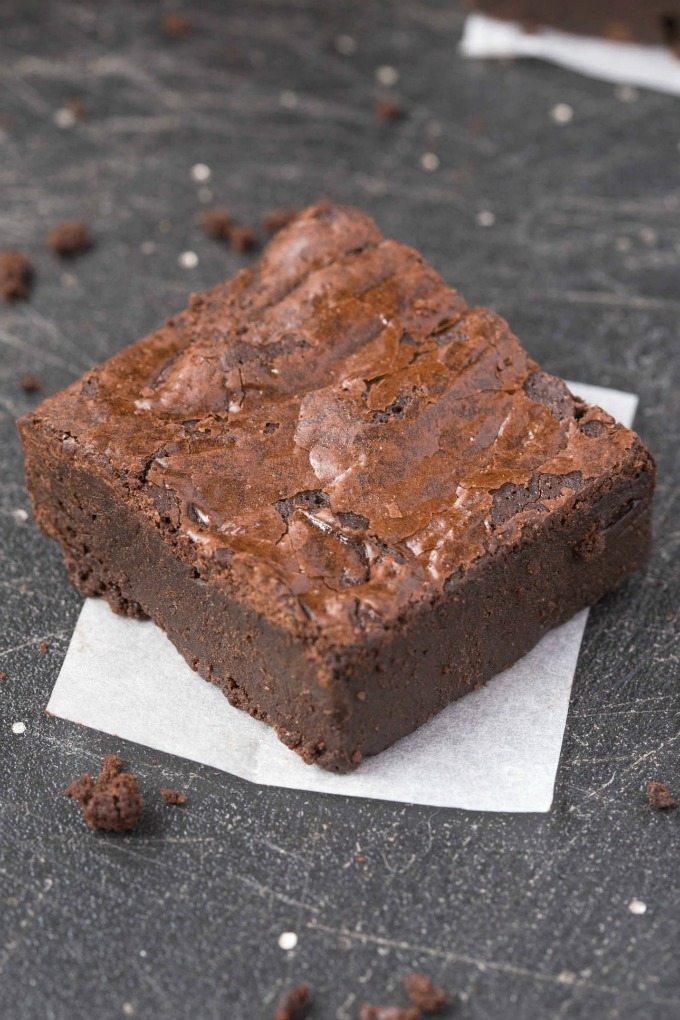 These flourless fudge brownies are rich, fudgy and have the most AMAZING texture ever, you'd be shocked to know they only need six ingredients and are much more delicious than any boxed mix out there! These super fudgy brownies are made without butter or flour, but are rich, moreish and a no mess recipe- This seriously only needs one bowl and no fancy kitchen gadgets! Because of the small adaptations made, these brownies are naturally gluten free, grain free, paleo, dairy free and has been tested vegan (See above!).
NECESSARY HACK! This is not a suggestion but a demand- You will need to wait until the brownies are cooled COMPLETELY before slicing into bars and enjoying. This will ensure the absolute best taste, texture and what I attest to be being the best (unboxed-mix) brownies ever. Bonus points will be given if you allow them to cool even longer in the fridge after.
Eaten out of the fridge = No words. (Just two).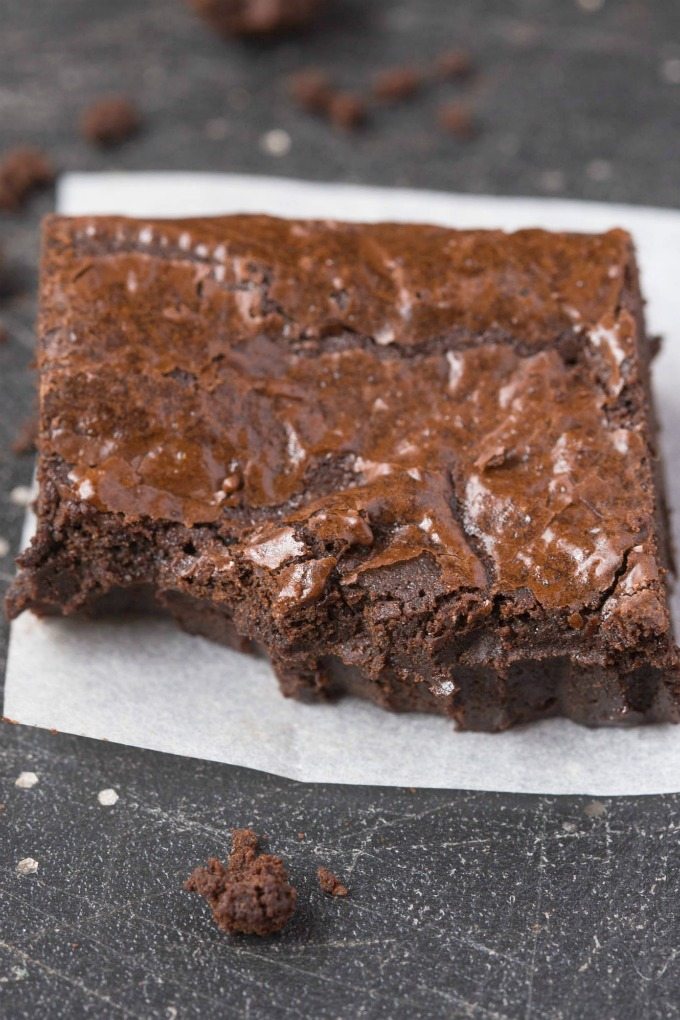 Make these 6 Ingredient Flourless Fudge Brownies and this will be your new 'go-to' no fuss, good for your soul brownies.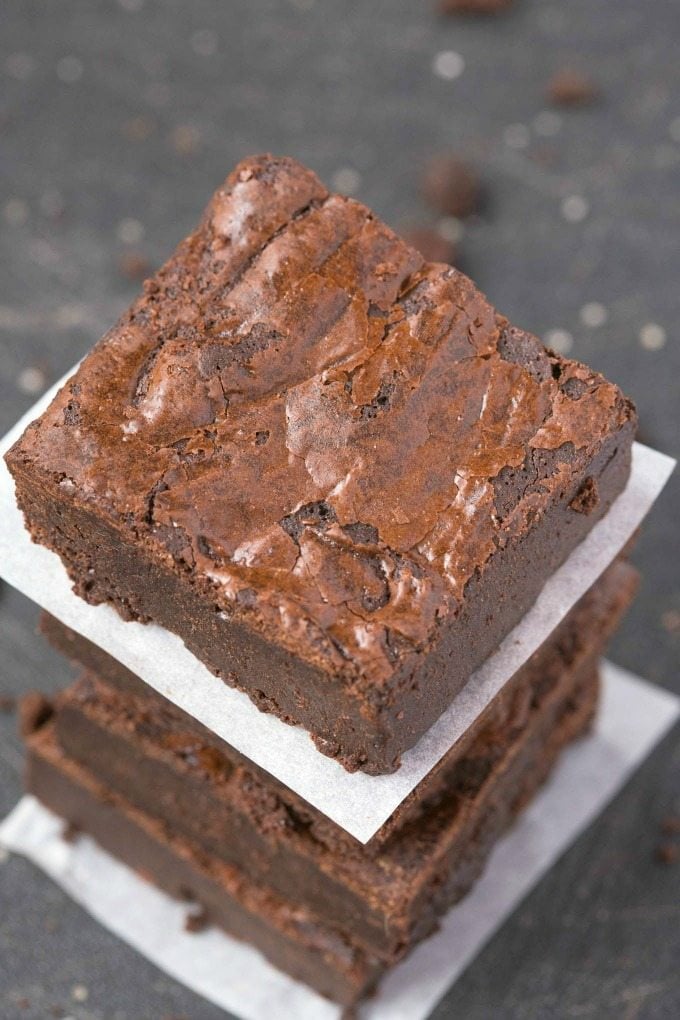 6 Ingredient Flourless Fudge Brownies
2016-05-08 07:55:01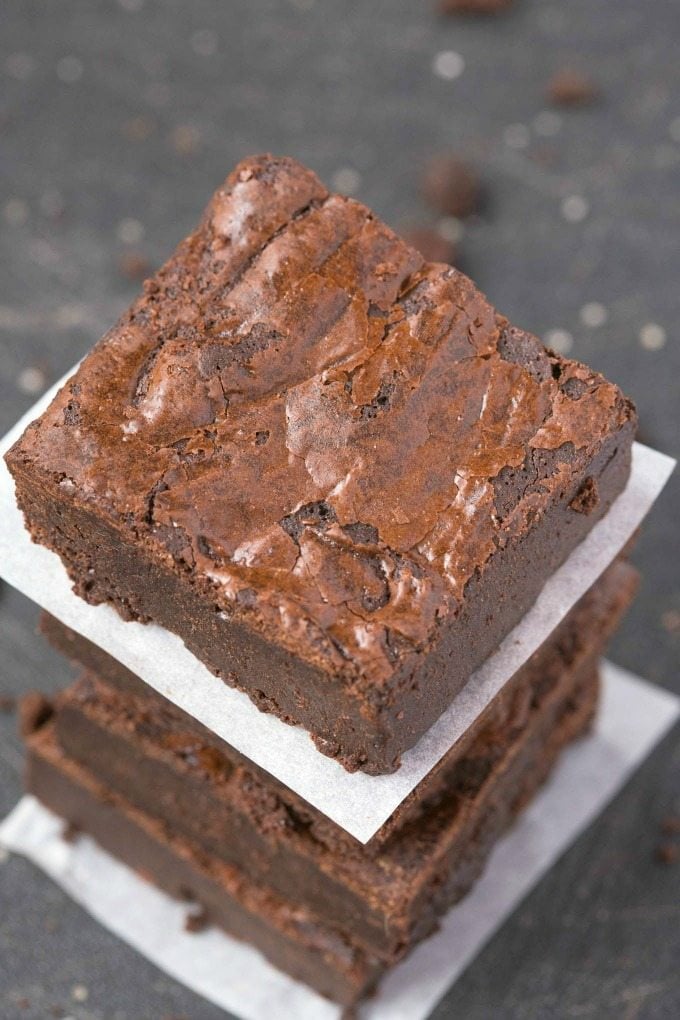 Serves 8
Hands down, the most delicious, fudgy brownies which use just one bowl and six easy ingredients- Made with no flour or butter and BETTER than any boxed mix! Ready in just 20 minutes, these super fudgy brownies are naturally gluten free, paleo, grain free, dairy free and have a tested vegan option!
Ingredients
1/4 cup + 2 T coconut oil
225 grams dark chocolate, chopped roughly (I used a 100% Baker's chocolate)
3/4 cup coconut palm sugar
2 large eggs (can sub for 2 flax eggs or ener-g egg replacement)
2 T cocoa powder
3 T arrowroot powder (can sub for corn starch if not strictly paleo)
Instructions
Preheat the oven to 350 degrees. Line an 8 x 8 pan with greaseproof paper or tin foil, with some overlay for easy removal. Grease it lightly and set aside.
In a microwave safe bowl or stovetop, combine your chopped chocolate with coconut oil and melt together- The mixture should be silky smooth.
Transfer the mixture to a large mixing bowl and add your eggs and coconut palm sugar and mix until fully incorporated. Add your cocoa powder and arrowroot powder and whisk VERY well, until the batter is no longer grainy and smooth. Transfer to lined baking dish.
Bake the brownies for 20-25 minutes, or until the centre just comes out clean. Do not over bake. Remove from the oven and allow to cool in the pan completely. If possible, once cooled, transfer to the fridge to chill for the best texture.
Notes
Do not over bake- Brownies may not look 'cooked' but once cooled, they will firm up.
Brownies can be kept for up to 5 days in the fridge and are freezer friendly.
Adapted from David Lebovitz' Ready For Dessert
The Big Man's World ® https://thebigmansworld.com/
More delicious desserts? Gotcha covered!
Healthy Grain Free Double Chocolate Blondies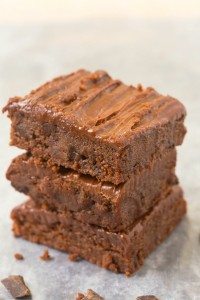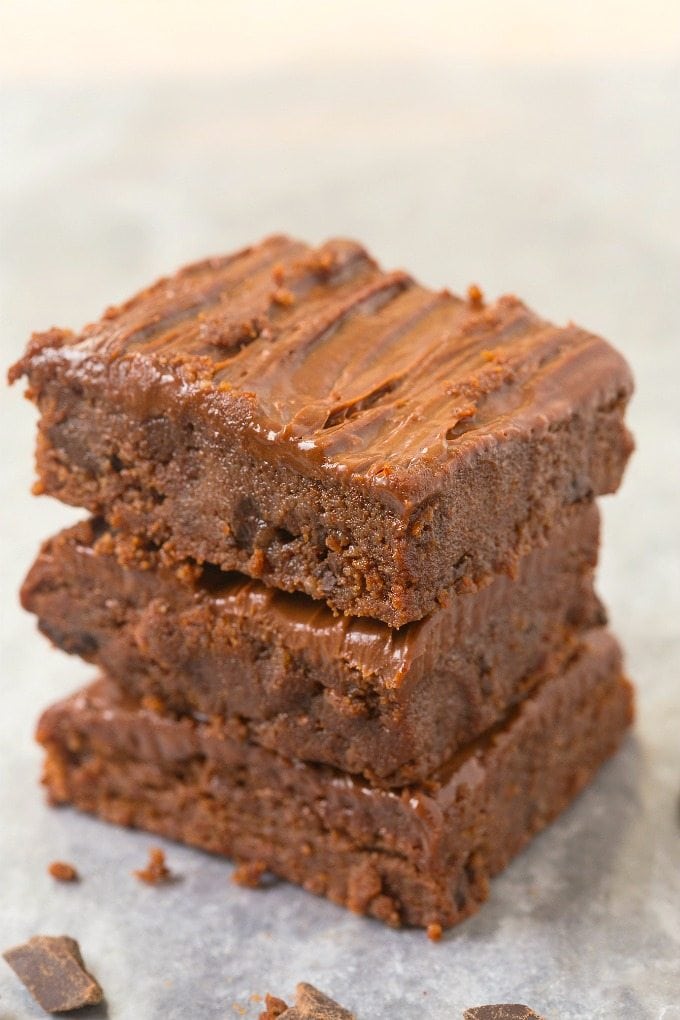 Healthy Paleo Cookie Dough Stuffed Sandwich Cookies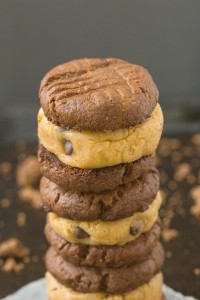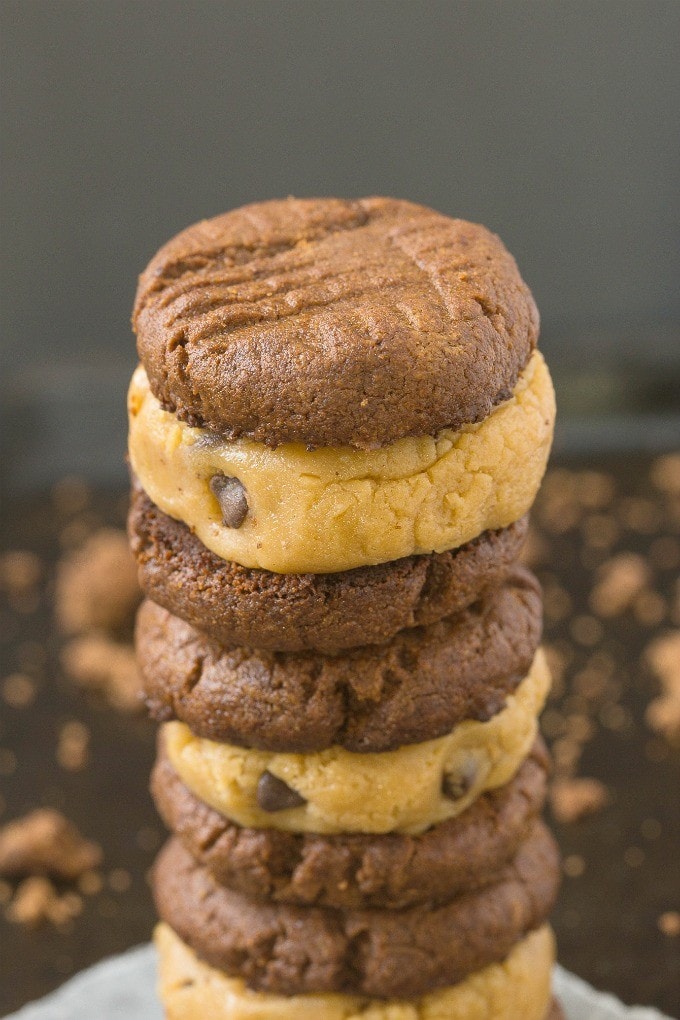 Healthy 1 Minute 3 Ingredient Deep Dish Cookie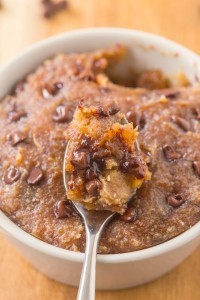 Do you have any favorite cookbooks?
Did you have a certain chef(s)/home cooks you grew up with?