Best Easy Fudgy 3 Ingredient Brownies (Paleo, Vegan, Gluten Free)
The best easy fudgy 3-Ingredient brownies ever which are thick, gooey, loaded with chocolate- Chocolate hazelnut spread, almond flour, and eggs or flax eggs! Fool-proof and better than boxed brownie mixes, they will be your new favorite! (Paleo, Vegan, Gluten Free)

Say hello to the easiest, fool-proof brownie recipe ever- One bowl, no butter, no grains and no white sugar. Super fudgy, gooey, moist and melt-in-your-mouth brownies with those gorgeous crackly tops and crisp exteriors? These 3-ingredient brownies are your answer.
These aren't called 'THE BEST' just for the sake of it- Seriously, once you try this out (and you have no excuses not to- Three ingredients!), you will be screaming it from the top of your lungs…between mouthfuls of this.
Nutella Brownies made with 3-ingredients are nothing new. I remember a feature on the Food Network proclaiming they had been making them for years, or at least since Nutella became as common as peanut butter.
Like flourless peanut butter cookies and banana ice cream, they've been circling the interwebs and magazines for years. The traditional premise of those brownies is a mix of flour, eggs, and Nutella.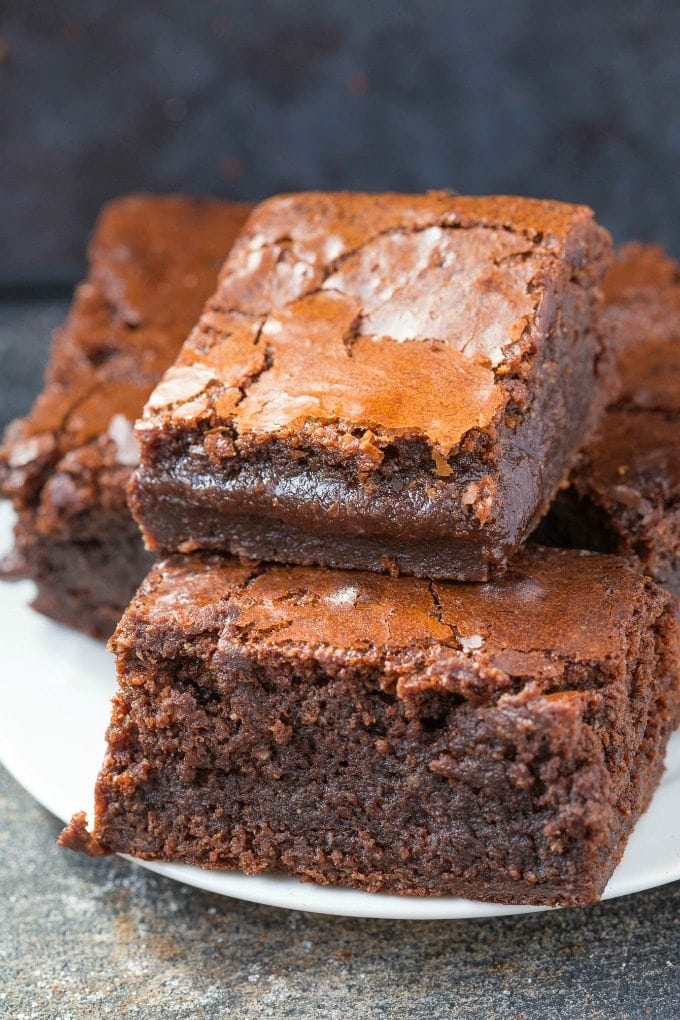 I wanted to do something a little difference AND see if things could be tweaked to make them paleo AND vegan in one. Let's just say five (yes, FIVE!) batches of them provided me with the right proportions and options. Now, no one has dietary restrictions to ban them from making these easy, fudgy, 3-ingredient brownies!
The first swap I wanted to make was to replace the flour with a grain-free version. I opted to use almond meal (or almond flour) as it has the most similar consistency to wheat flour. It also has the most accurate cup to cup substitution.
The first trial involved Nutella, almond flour, and eggs. I had the sneaky suspicion that they would turn out fine, seeing as the batter was delicious. I wasn't wrong with my suspicions- After 25 minutes, I was left with fudgy, gooey brownies with a crisp exterior.
Nutella + Almond Flour + Eggs = SUCCESS.
The second trial involved using a chocolate hazelnut butter spread. This particular spread differs from traditional Nutella, as it is vegan and gluten-free. Taste-wise, it is a little more rich tasting, but just as delicious. This second trial involved the same amount of chocolate hazelnut butter, almond flour, and eggs.
The cooking time for this version was a little longer (closer to 30-35 minutes), but the outcome was infinitely better. They were even fudgier than the 'Nutella' version and had a glossy and crispier exterior. The center of the brownies seemed a little undercooked, but once cooled, they firmed up to the perfect texture.
Chocolate Hazelnut Butter + Almond Flour + Eggs = SUCCESS.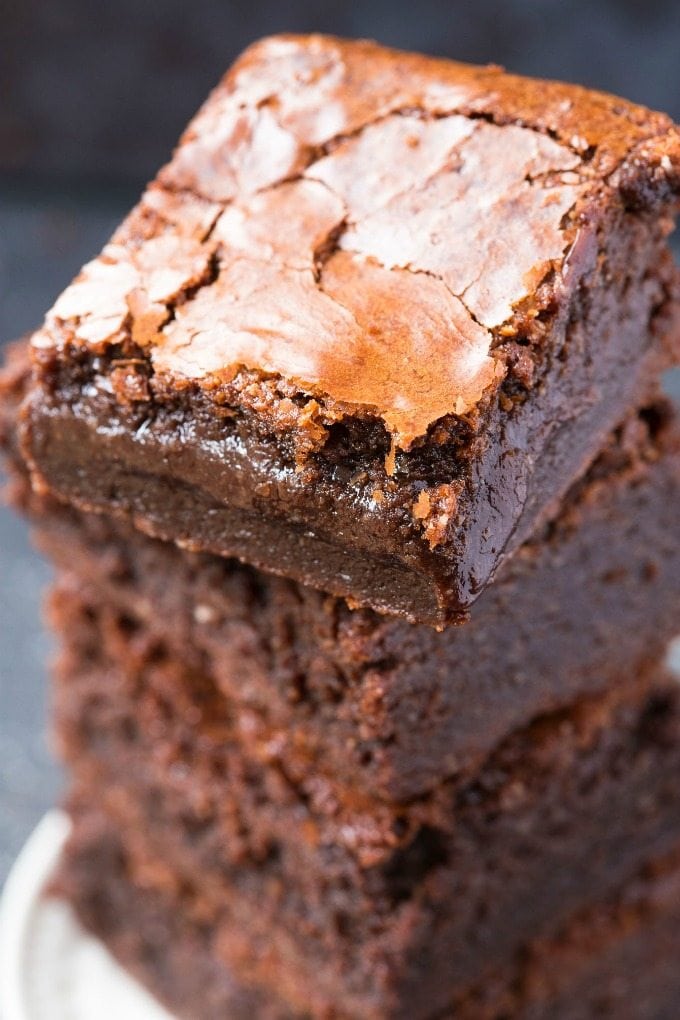 The third trial involved using a homemade chocolate hazelnut butter. To make the homemade hazelnut butter, I used this recipe, using the coconut palm sugar (to keep it refined sugar free). The final spread was unlike the Nutella or Chocolate Hazelnut butter- It was quite gritty and not overly smooth. Regardless, I added the almond flour and eggs and baked it.
By using homemade chocolate hazelnut butter, I found the cooking time to be even longer. Even around the 35-minute mark, the center was still gooey and soft, with the edges just beginning to crisp. After 45 minutes, they were still gooey and fudgy in the center, but I assumed once cooled, they would firm up.
After this attempt had cooled, I was impressed. The brownies were still super fudgy and gooey, but a little soft and less crisp on the outside. While they still had the crinkly tops, they were more defined and less glossy.
Homemade Chocolate Hazelnut Spread (Homemade Nutella) + Almond Flour + Eggs = SUCCESS.
The fourth trial was the one I was most skeptical about- Subbing out the eggs for the flax eggs to see if a vegan option would work. Using traditional Nutella was out of the picture (it contains dairy) so I used the chocolate hazelnut spread. I made up 4 flax eggs and kept the almond flour the same.
Out of all the cooking times, the vegan/eggless version took the longest time to bake. At 35 minutes, it had achieved a crispy/glossy texture, but the batter seemed completely under-cooked. I continued baking them for another 10 minutes, and not much had changed. At the 50 minute mark, they had slightly firmed up but still not much difference. I removed it from the oven and let them cool.
Once cooled, the brownies had the similar interior and exterior to the egg-included versions. Taste-wise, they were a little more gritty and even softer. I enjoyed them but wasn't 100% sure, so got my friend Ingrid to try them out and see if she could taste a difference. She enjoyed them, but also noted the softer texture.
Vegan Chocolate Hazelnut Butter + Almond Flour + Flax Eggs= SUCCESS.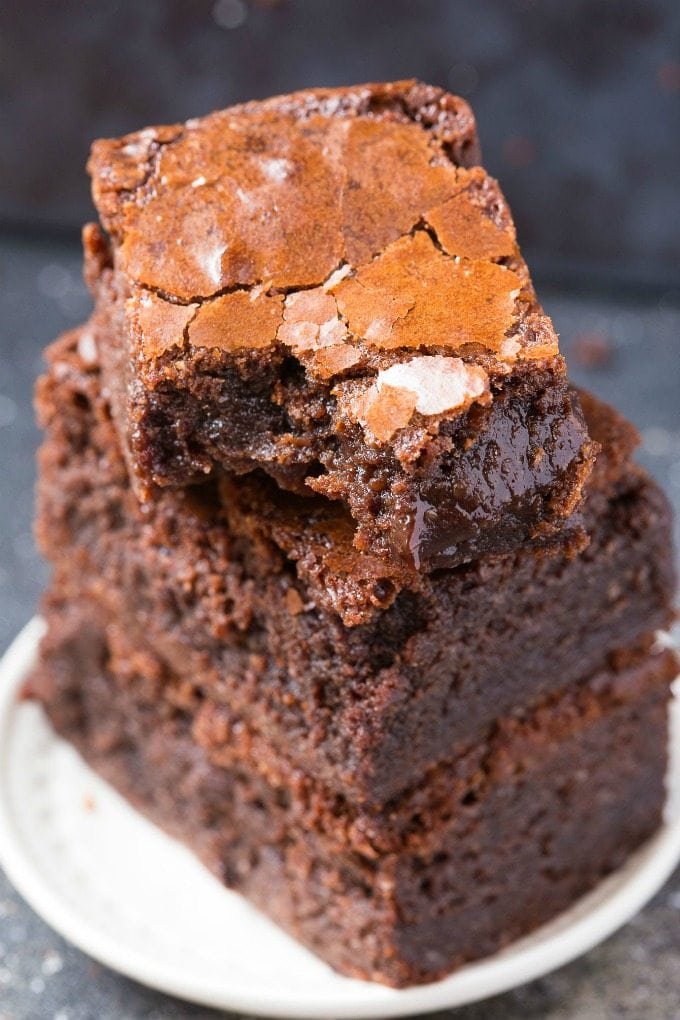 The final trial was actually making the original recipe calling for traditional flour and Nutella. I needed to make the original so I could truly say 'the grain-free version of the classic 3-ingredient Nutella brownies is better.'
I conquer. My flourless version is even fudgier, darker in color, has a more even chocolate taste. It had the perfect amount of gooey-ness, yet maintained the crisp exterior.
Let's recap-
Super fudgy, gooey and all-rounded brownies- Use original 'Nutella'
The same as above, but want to keep it gluten-free and grain-free- Use the Chocolate Hazelnut Butter.
Insanely fudgy, gooey and a little softer brownies, but completely paleo, grain-free and gluten-free- Use the homemade Chocolate Hazelnut Butter.
All of the above, but 100% vegan- Use either the Chocolate Hazelnut Butter or homemade Hazelnut butter.
WHAM, BAM, THANK YOU, MA'AM.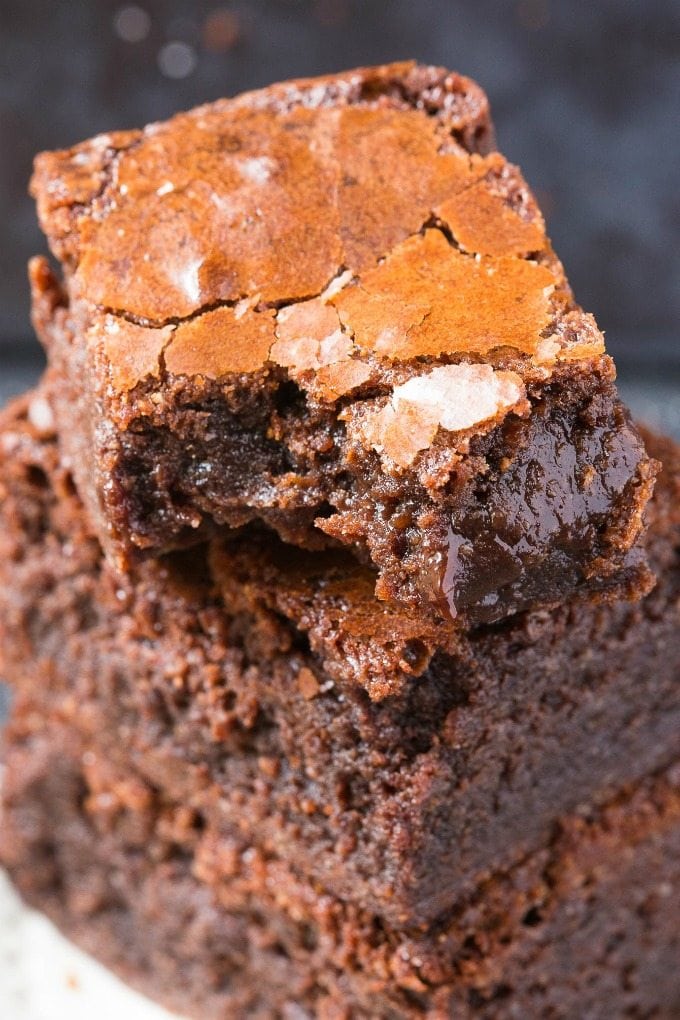 Want a brownie without any flour whatsoever? You'll love these healthy brownies made without butter or flour! The flourless fudge brownie recipe video below shows a step-by-step process which can also be made egg-free! They are chewy, dense, gooey and fudgy- You'll see for yourself!

Best Easy Fudgy 3 Ingredient Brownies (Paleo, Vegan, Gluten Free) adapted from The Food Network And Kirbie's Cravings.
More delicious desserts? Gotcha covered!
4 Ingredient Flourless Paleo Nutella Cookies
3 Ingredient Nutella Fudge Cups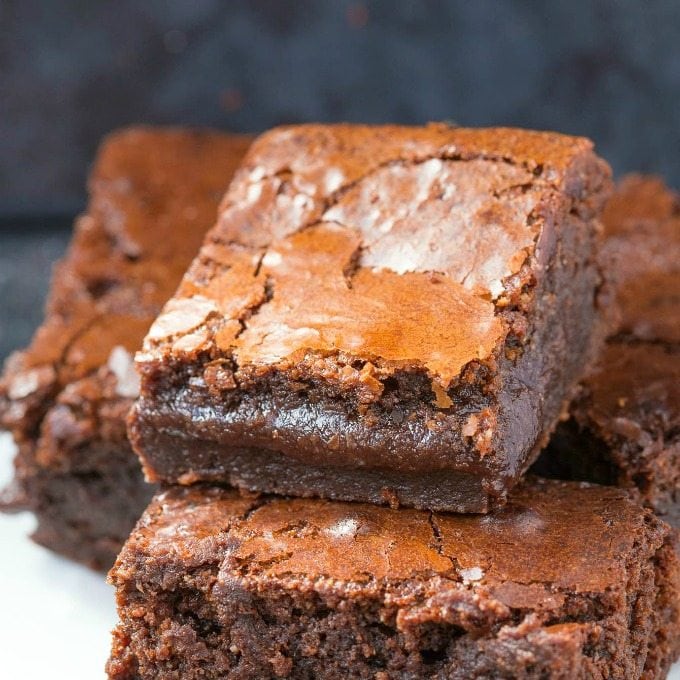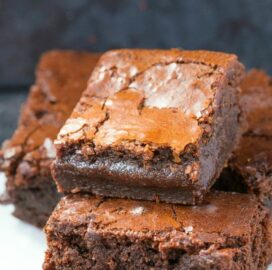 Best easy fudgy 3-Ingredient brownies
The best easy fudgy 3-Ingredient brownies ever which are thick, gooey, loaded with chocolate- Chocolate hazelnut spread, almond flour, and eggs or flax eggs! Fool-proof and better than boxed brownie mixes, they will be your new favorite! (Paleo, Vegan, Gluten Free)
Print
Rate
Instructions
Preheat the oven to 350 degrees Fahrenheit. Line a 9 x 13-inch pan with parchment paper and set aside.

If opting for the vegan option, prepare your flax eggs by combining 4 tablespoons ground flax with 3/4 cup water and letting it sit for 15 minutes.

In a large mixing bowl, combine all ingredients and mix until fully combined. Pour batter into the lined pan and use a spatula to spread out.

Bake for 25-30 minutes (longer if you use the homemade or vegan option), or until the tops are crispy and a toothpick comes out 'just' clean. Remove from the oven and allow to cool in the pan. Once cooled, slice into pieces.
Notes
* If using the vegan option, sub for flax egg equivalent- 4 tablespoons ground flax mixed with 3/4 cup water.
Easy Fudgy 3-Ingredient Brownies can be kept at room temperature. If the brownies are overly soft and fudgy, refrigerate overnight to firm up. These taste amazing straight from the freezer too
Nutrition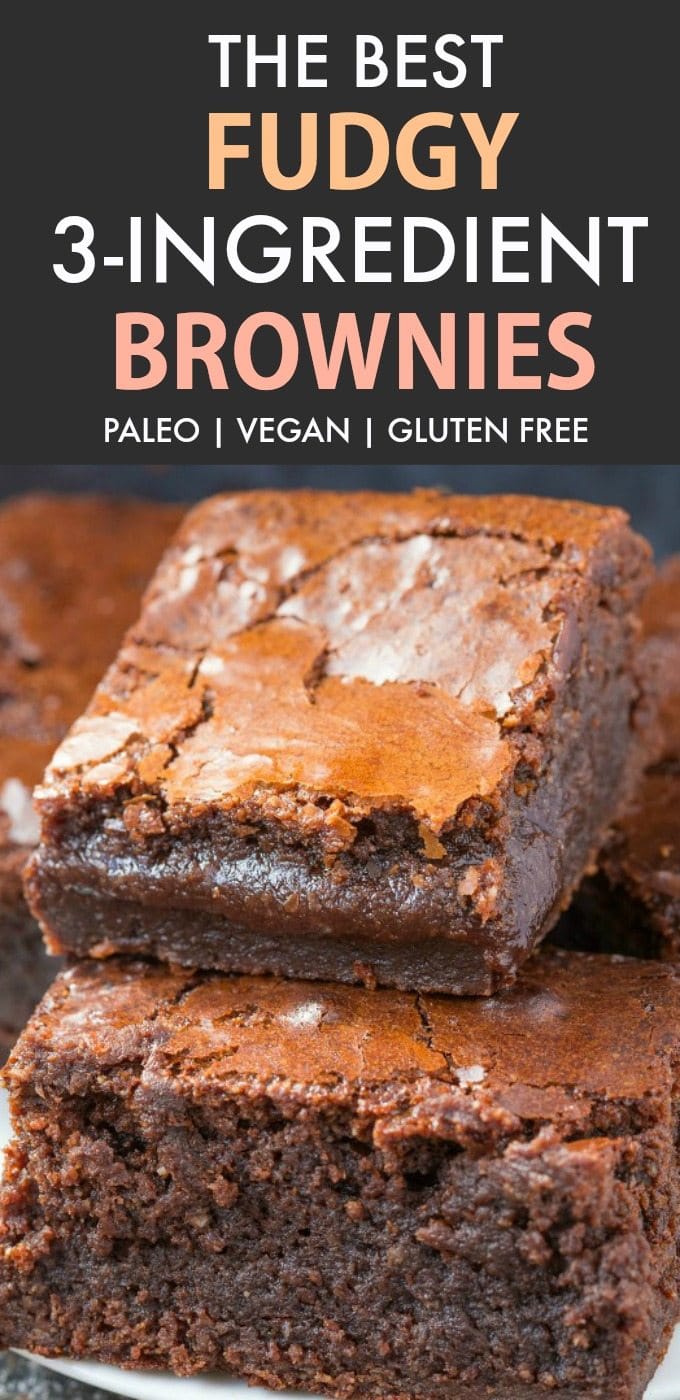 The Big Man's World is a participant in the Amazon Services LLC Associates Program, an affiliate advertising program. This means that if you click and make a purchase, TBMW receives a small commission, at no cost to you. Cheers, hugs, and handshakes for supporting TBMW!