Healthy 3 Ingredient Flourless Applesauce Brownies
These healthy 3 Ingredient flourless applesauce brownies contain no butter, flour, grains or sugar- Just easy, everyday ingredients! Rich, dark and super fudgy, these brownies are suitable for those following a paleo, vegan, gluten free, dairy free and sugar free lifestyle!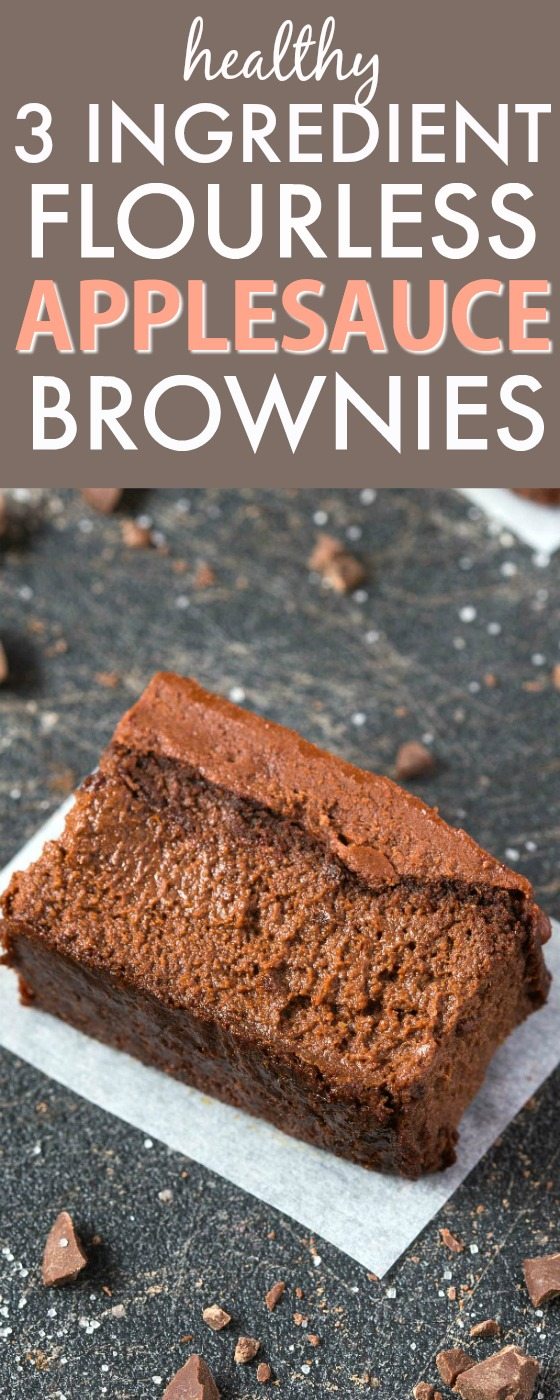 *My thoughts and prayers to everyone affected by the tragedies of September 11th.*
Lesson #1- Stop using my mum's kitchen, even if her oven is superior to my own.
"Ewwwww. Since when have you started using baby food in your recipes?"
"It's not baby food. It's applesauce."
* Takes a taste*
"Ewwwww. That's baby food."
"Niki, stop it. Just get out of the kitchen."
"Whatever."
I'd just finished up making these brownies. I had half a jar of applesauce left, so I kept it in my mum's fridge. My intentions were to go back a couple of days later to use it in another recipe. That, however, was wishful thinking.
2 days later…
"Mum, where is the applesauce?"
"The baby food in a jar?"
"Mum. It's not baby food. What is with you and Niki?"
"I saw it there yesterday. Is it not there anymore?"
"No. Maybe Niki knows. I'll ask her to come downstairs."
Niki waltzes downstairs, with a face covered in what I thought was tanned cement.
"Hi. I didn't want to waste an avocado for my face mask. I used your baby food instead. You know what? It kind of smells like apple pie, but like, an ugly, rejected version!"
***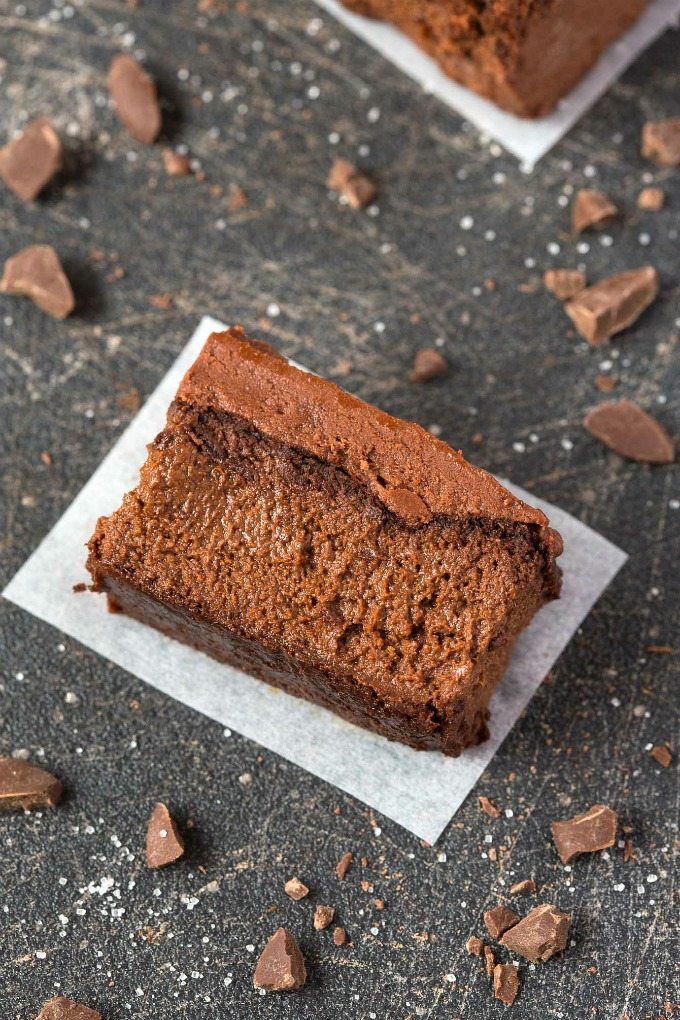 How is that for an intro into APPLE WEEK?
Yes, you read that correct, Apple Week. As mentioned in this post, Amanda and I have started themed foodie weeks each month! We've just finished up pumpkin week and now are back with Gweneth Paltrow's child- Apple! Don't forget to swing by the Spoon on Tuesday for the next recipe installment and get those apples bobbing. We'll also be sharing our favorite healthy apple recipes at the end like we did Pumpkin style!
To kickstart apple week, it was a no-brainer- I was going to do ANOTHER twist on my original 3 Ingredient Flourless Brownies!
When I shared the pumpkin version of it, I was surprised with how many people really despised bananas! While I am not the biggest fan of them on their own, when used in recipes, they definitely get brownie points (ha, get it?!). The biggest complaint in that particular recipe was that the brownies were too 'banana-y'.
Banana-y?
Okay, then.
To combat that, I shared the pumpkin twist. Since sharing it, it's been made by many, but not without some constructive feedback. While it is no longer 'banana-y' (thank goodness, as it doesn't contain bananas), it was now 'not sweet enough and slightly bitter.'
Okay, then.
I get it. It's also why I am a huge advocate of adding the optional (or not so optional) frosting- It gives it that sweetness, traditionally found IN the brownie.
So what could be something which-
a) A hint of sweetness
b) Not banana-y (geebuz, I love this word)
c) Not bitter
Baby Food Applesauce.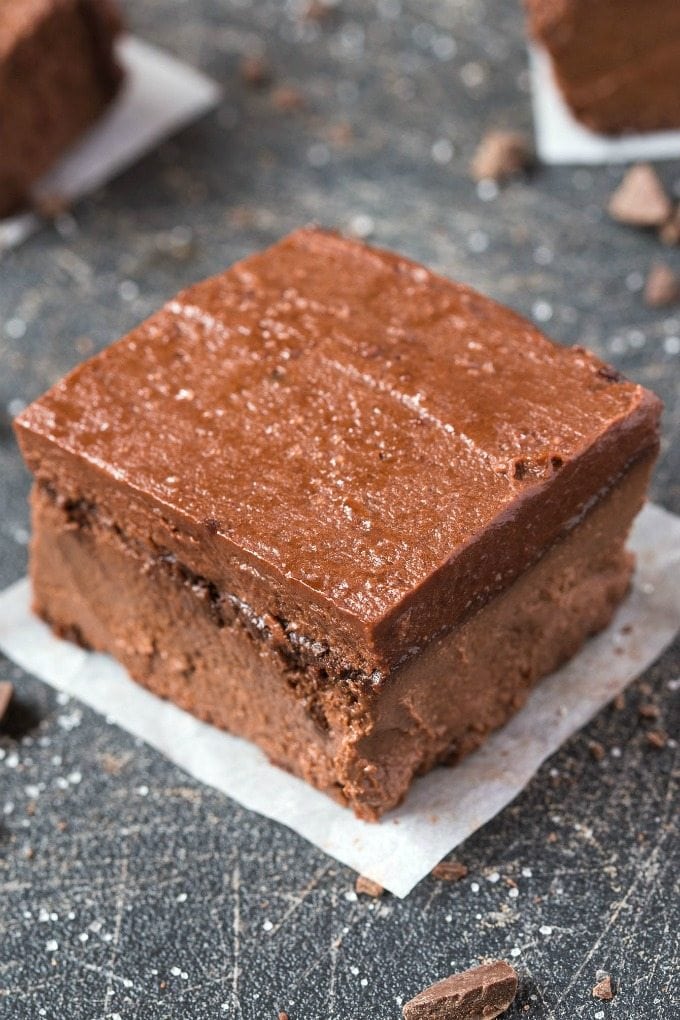 Wow, okay, just wow. I had my doubts with using applesauce. Compared to pumpkin and banana, it's much more liquid-like, and as such, I thought I may need to add some coconut flour or arrowroot starch because brownie soup was not my intentions. I put this beauty in my mum's oven and monitored it. Around 20 minutes, it was nicely baked on top and around the edges, but the center was still incredibly moist and gooey. Another 10 minutes, and it was slightly better, not perfect. After a further 5 minutes, I took it out of the oven and let it cool in the pan, praying that the brownies would firm up. Once cooled, I refrigerated it overnight. The next morning, I removed it from the pan and dug in with a knife, hoping it wouldn't fall apart.
You guys.
GUYS.
BEST. FUDGIEST. BROWNIES.
Not only did they turn out ridiculously amazingly, they also didn't taste the slightest bit 'fruity'-Another fear I had! The last thing I wanted was for me or someone else to dig in, only to proclaim it was like a chocolate fruit basket.
Okay, enough rambling. Let's jump into the recipe!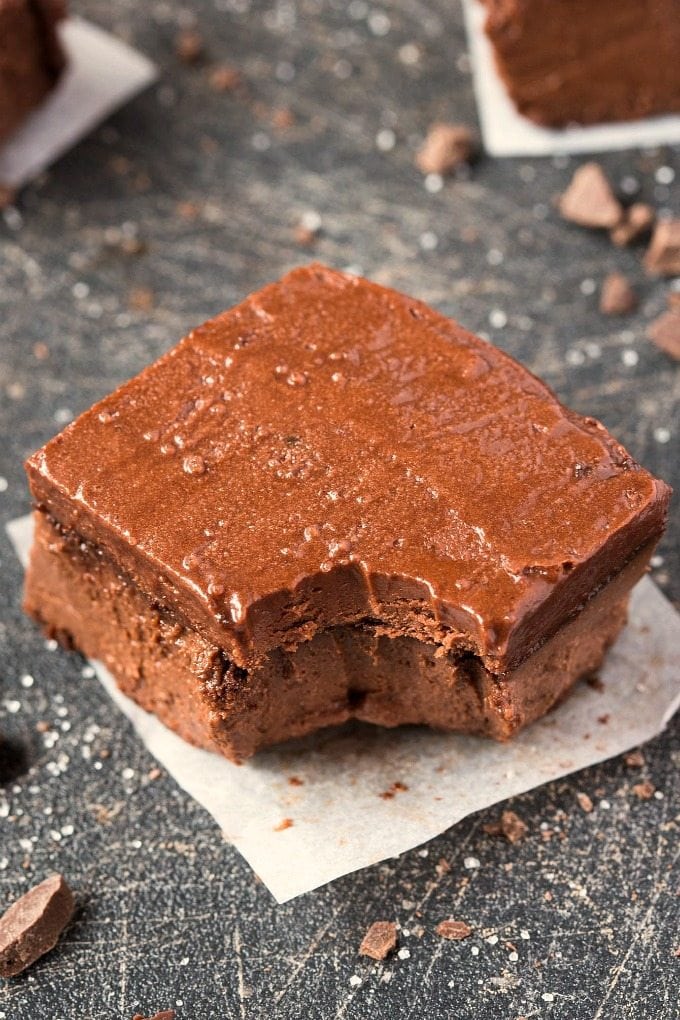 These 3 Ingredient flourless applesauce brownies are your quick healthy dessert or snack fix using easy, everyday ingredients! They are tender and slightly firm on the outside, but inside it's another story- They are rich, incredibly moist and fudgy, it practically melts in your mouth! For such a decadent tasting brownie, you'd be surprised that it contains NO butter, flour, grains, sugar or oil! The combination of unsweetened applesauce, quality cocoa powder, and drippy almond butter. For those who don't follow a paleo lifestyle or can handle peanuts well, it works fantastically with store bought and/or generic peanut butter. In fact, two of my friends demolished an entire pan between them which used this peanut butter. Because of the ingredients used, these flourless brownies are completely gluten free, vegan, paleo, sugar free, dairy free and grain free!
Hack! When making these brownies, go buy a pint of ice cream. Why? Well, you'll be needing to wait a while before digging into these beauties. I'm going to sound like a broken record, but too bad- It's imperative for this recipe. You NEED to let the brownies cool in the pan completely. Once cooled, refrigerate and DO NOT REMOVE or cut into bars until after a couple of hours MINIMUM. Trust me on this- The taste = Elevated.
You are also allowed to down a pint of ice cream while you wait, so there.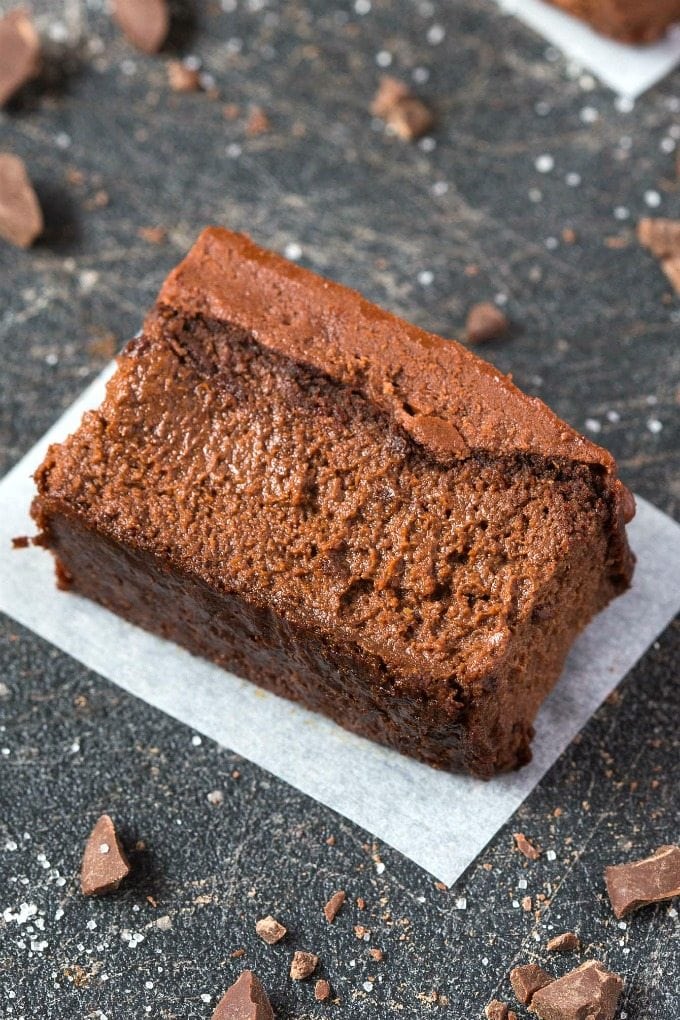 Make these healthy 3 Ingredient Flourless Applesauce Brownies and if applesauce is considered baby food, I'm all for it.
…facemask and all.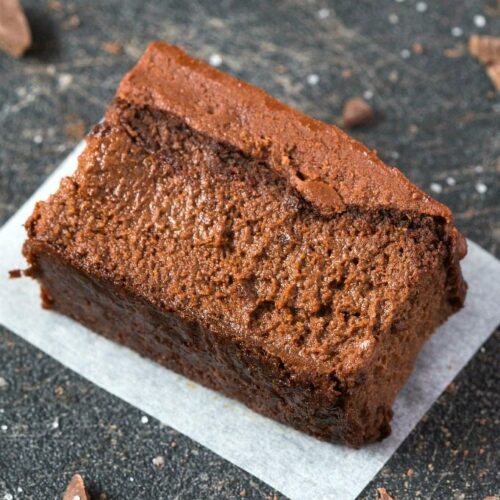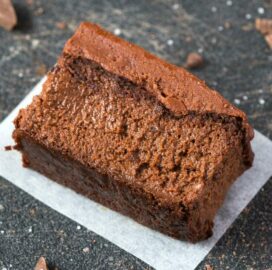 Healthy 3 Ingredient Flourless Applesauce Brownies
A delicious, three ingredient brownie recipe using NO boxed mix- Made with no butter, flour, sugar, grains or dairy and suitable for those following a vegan, dairy free, paleo, gluten free and sugar free lifestyle!
Print
Rate
Instructions
Preheat the oven to 350 degrees and coat a small 4 x 6 or 6 x 6 loaf pan with cooking spray and set aside- A smaller pan yields thicker brownies.

In a large mixing bowl, add your applesauce and nut butter and mix well. If nut butter is too stiff, feel free to microwave until melted. Once mixed, add cocoa powder and mix until fully incorporated and a thick, silky batter remains.

Transfer brownie batter to loaf pan and bake for 35-40 minutes, or until a skewer comes out just clean. Allow the brownies to cool in the pan completely. Once cooled, refrigerate for several hours (even better, if overnight). Remove, top with optional frosting and slice into bars.
Notes
Brownies need to be kept refrigerated, but are also freezer friendly. They taste delicious thawed slightly, directly from the freezer.
Cooking time can vary, depending on your oven.
More delicious recipes using applesauce? Gotcha covered!
Healthy 4 Ingredient Applesauce Cookies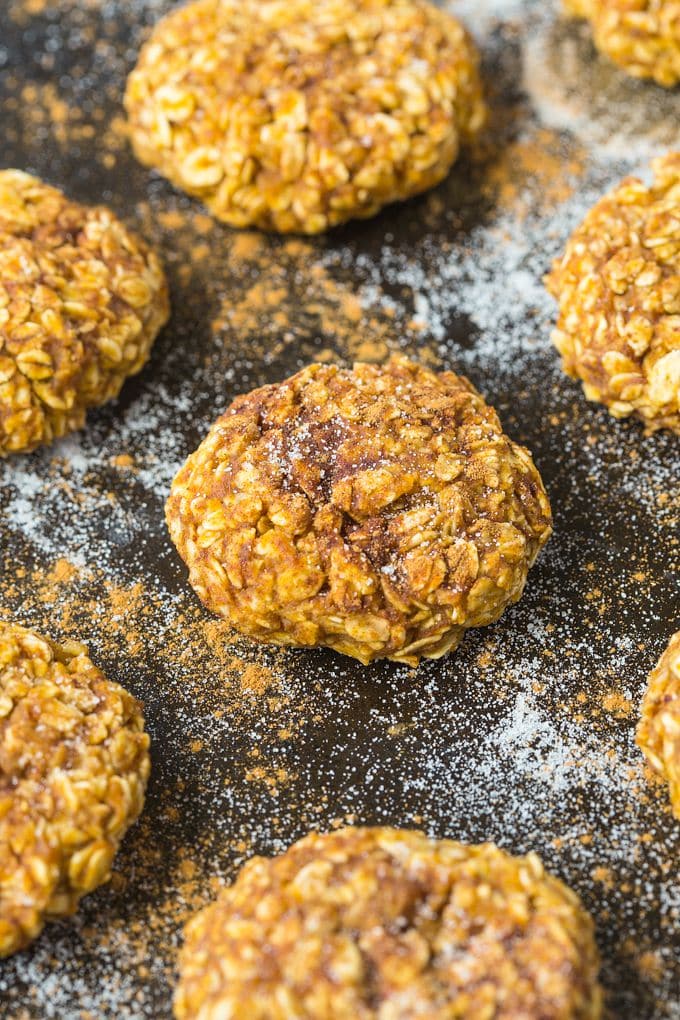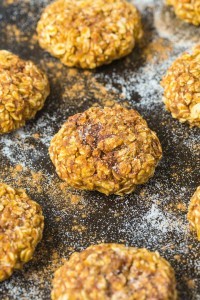 Healthy 1 Minute Apple Cinnamon Cake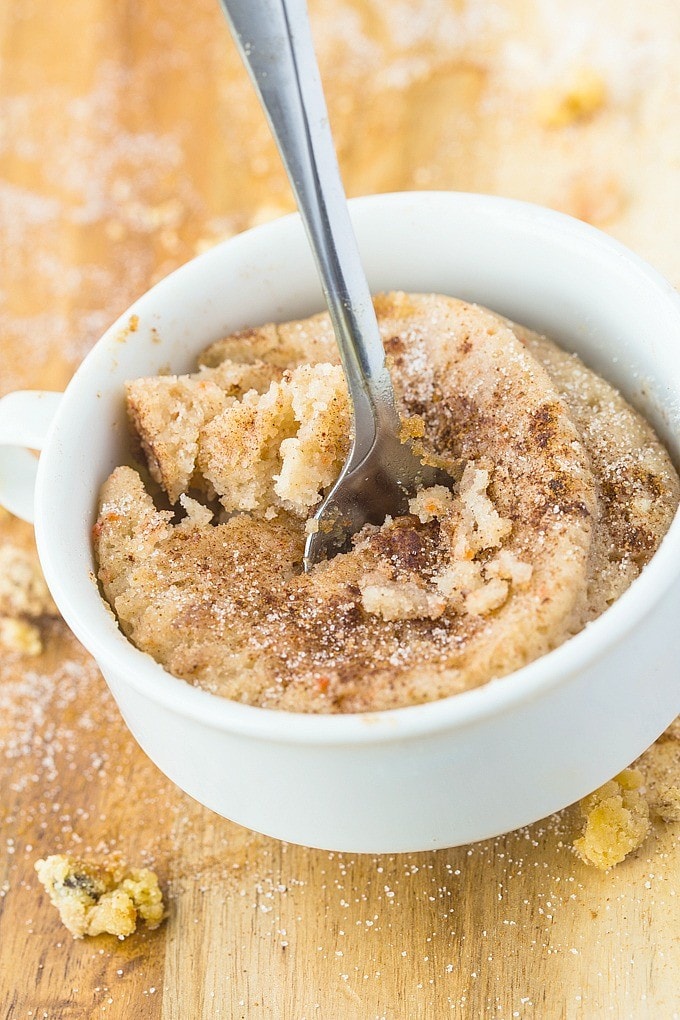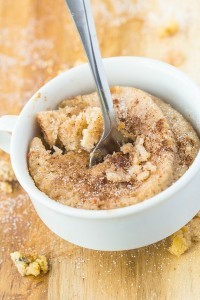 Healthy Flourless Apple Cinnamon Breakfast Cake

Have you ever done a DIY facemask before?
Are you a fan of applesauce or does it remind you of baby food?
Click here for all blog policies, disclaimers and affiliates.