Healthy 4 Ingredient Applesauce Chocolate Frosting (Paleo, Vegan, Gluten Free)
Thick, spreadable and glossy chocolate frosting made using just four EASY ingredients, this healthy applesauce version is the perfect topping for all your cakes, brownies, cupcakes and more! A fool-proof healthy chocolate frosting recipe! (Paleo, Vegan, Gluten Free, Sugar Free)

Everyone needs a quick and easy chocolate frosting recipe to have on hand. It can often be assumed that frosting can be difficult and/or time-consuming to make. This leads to buying pre-packaged frosting, which can be delicious…but not particularly waist friendly.
This healthy chocolate frosting recipe will be your new go-to chocolate frosting. It's thick, creamy and has a gorgeous glossy texture and look. It can easily be tweaked to be ultra silky smooth or kept super thick and fudgy. It's also seasonally appropriate because it uses a very common ingredient right now- Unsweetened applesauce!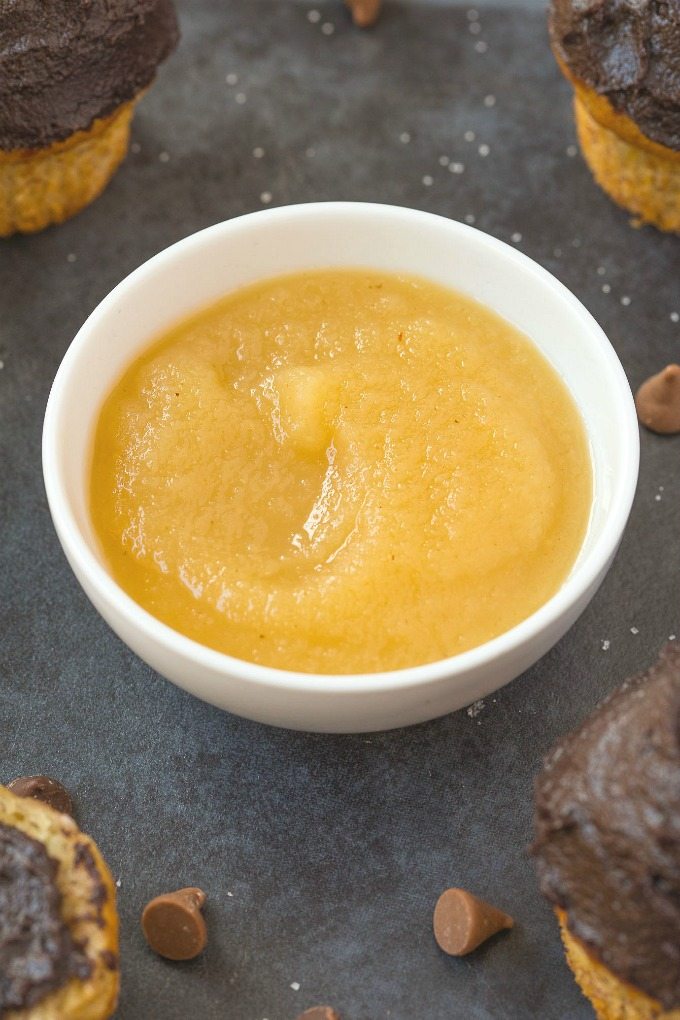 It's no secret that I've slowly moved away from the pumpkin phase and now seem to be suffering from apple fever. Actually, I should rephrase that- I'm in an unsweetened applesauce phase.
Just like adding it INTO brownies, using it as a buffer in uber thick pancakes or a key ingredient in super fluffy muffins– It should clearly be my MVP…for the month.
Using unsweetened applesauce in a chocolate frosting recipe may sound a little odd, but hear me out. Firstly, you won't be able to taste it, as it is super mild and not overpowering. Secondly, it provides a silky and creamy texture, without the need for any butter, cream or sugar. Thirdly, it's cheap, easy to find. Finally, it ensures this chocolate frosting is completely healthy, significantly lower in fat, and sugar free!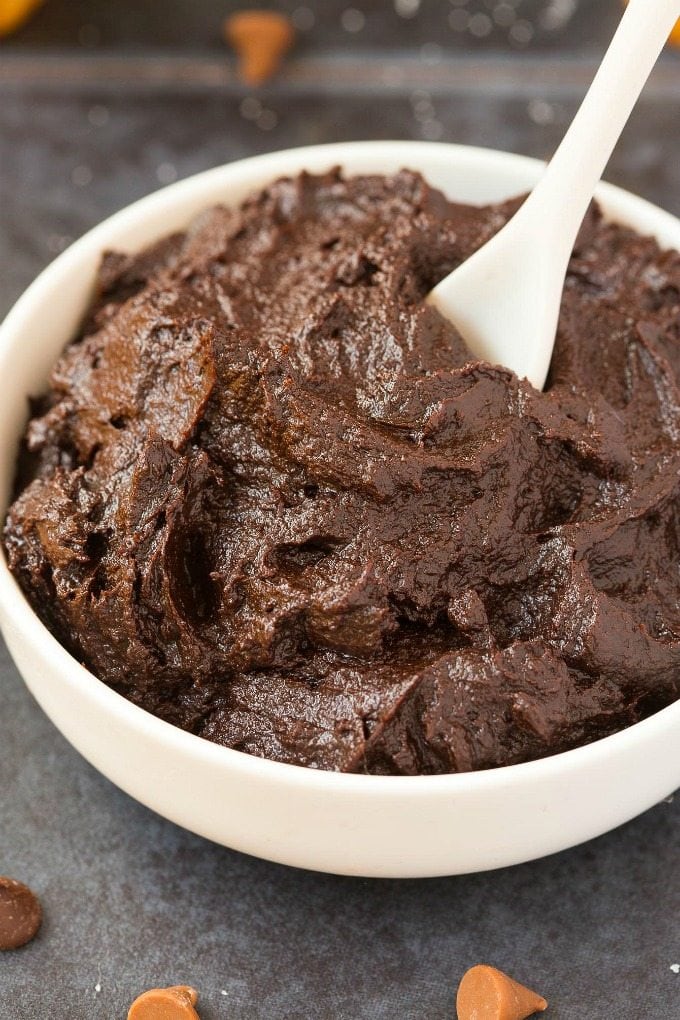 I wanted to create a (mostly) universal healthy chocolate frosting. It had to be suitable for those following a paleo, vegan, gluten free and dairy free lifestyle. I also wanted to see if it could be kept completely naturally sweetened and sugar free. Not only did we achieve that by using applesauce, it only need four ingredients-
A sticky sweetener of choice
I kept the sticky sweetener of choice open-ended- I prefer using pure maple syrup or for this particular frosting, I used monk fruit sweetened maple syrup. By using the latter, it kept the entire recipe 100% sugar free (I don't count the natural sweetness from applesauce as sugar), along with the same consistency of other sticky sweeteners. You are welcome to use agave, coconut syrup or even honey if that is all you have on hand.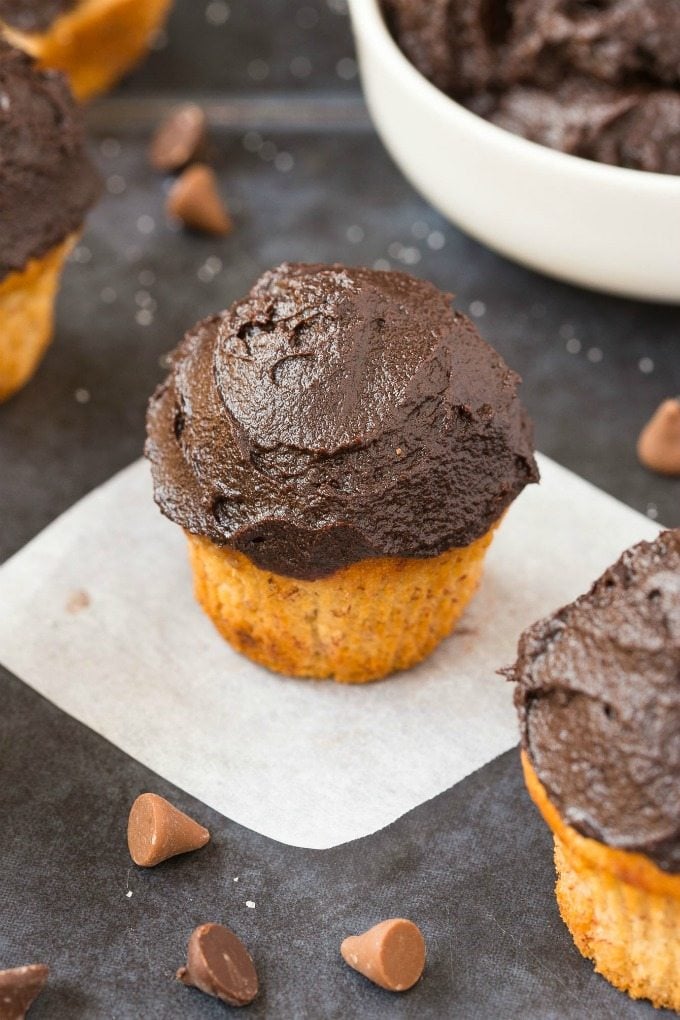 I promise that this recipe is simple, easy and ready in under 5 minutes. You simply need to stir your ingredients together in a mixing bowl and voila- Instant chocolate frosting! There is one key variable here that is dependent on what sort of texture you are after-
FOR THICK AND FUDGY CHOCOLATE FROSTING
Start by using only 1 cup of the unsweetened applesauce and stir with the other 3 ingredients. Using a tablespoon or teaspoon, continue to add unsweetened applesauce slowly until desired consistency is achieved.
Alternatively, if you want a sweeter chocolate frosting, you can replace the extra applesauce with more maple syrup/monk fruit maple syrup.
FOR ULTRA SILKY SMOOTH CHOCOLATE FROSTING
Use the full cup of unsweetened applesauce. Using a teaspoon, add more applesauce until it reaches the silky texture you are after. Please be cautious when adding your extra applesauce, as even a little extra bit can turn the frosting from smooth to soup-like!
Like the thicker option, feel free to swap out the extra applesauce for extra maple/monk fruit syrup.
It could not be any more fool-proof than this. Worst case scenario, you just end up with more frosting that you intended. Always a plus in my books!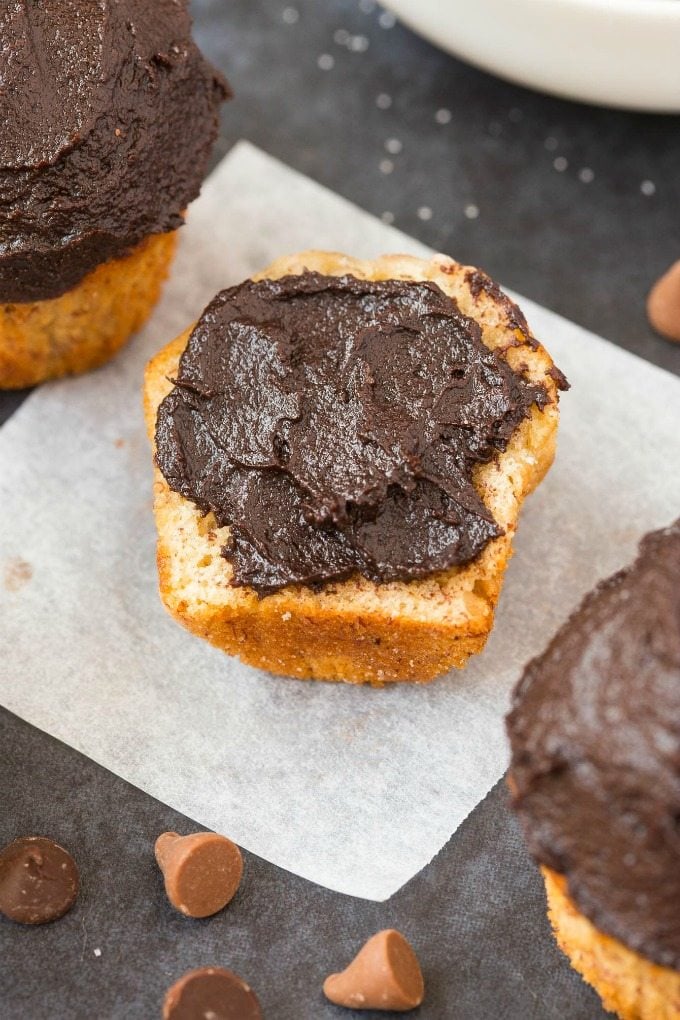 As you can see from the pictures, I prefer my frosting super thick and spreadable. This applesauce chocolate frosting is so versatile, you can add it to anything- These flourless fudge brownies would be a good start or perhaps these raw flourless breakfast brownies. Granted, you could just eat it straight from the bowl, but maybe even giving these glorious protein muffins some chocolate love may be a wiser choice.
Or….Well, something delicious to share next week.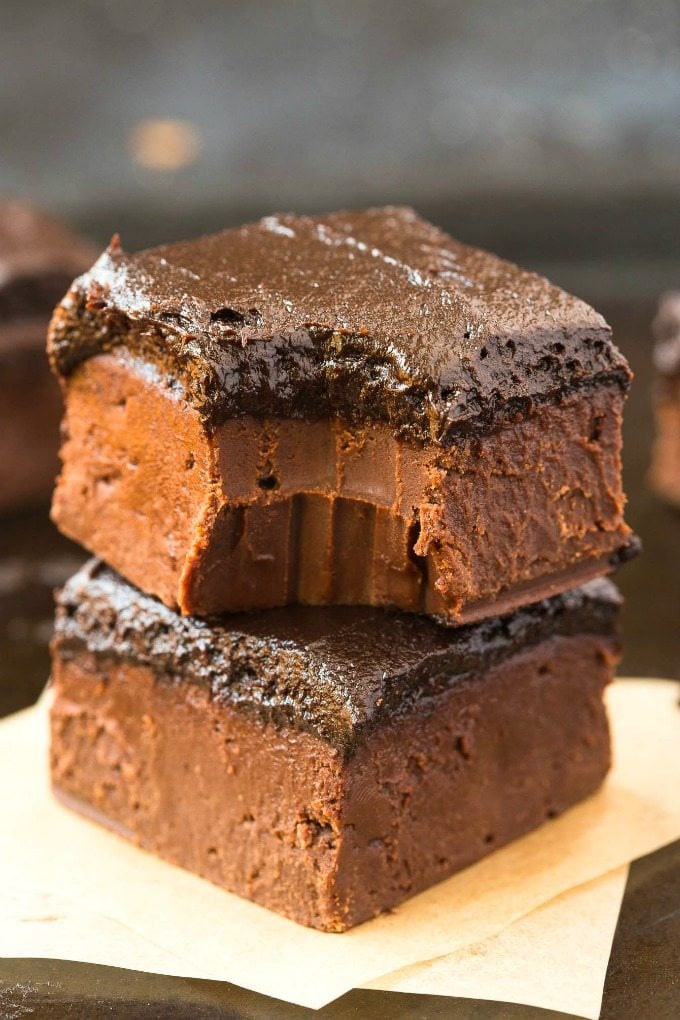 One final note! You can prep this frosting in advance! I found if you plan on using it on the same day, keep it at room temperature. If you do refrigerate it, you will need to let it thaw out and soften before spreading. You may also need a little extra applesauce or maple syrup to get things moving!
Healthy 4 Ingredient Applesauce Chocolate Frosting (Paleo, Vegan, Gluten Free) loosely adapted from Healthy Food Guide Magazine AUSNZ, 2015.
Need a delicious recipe to use this frosting on? These flourless sweet potato brownies should be an option- Check out the recipe video below to see just how easy it is!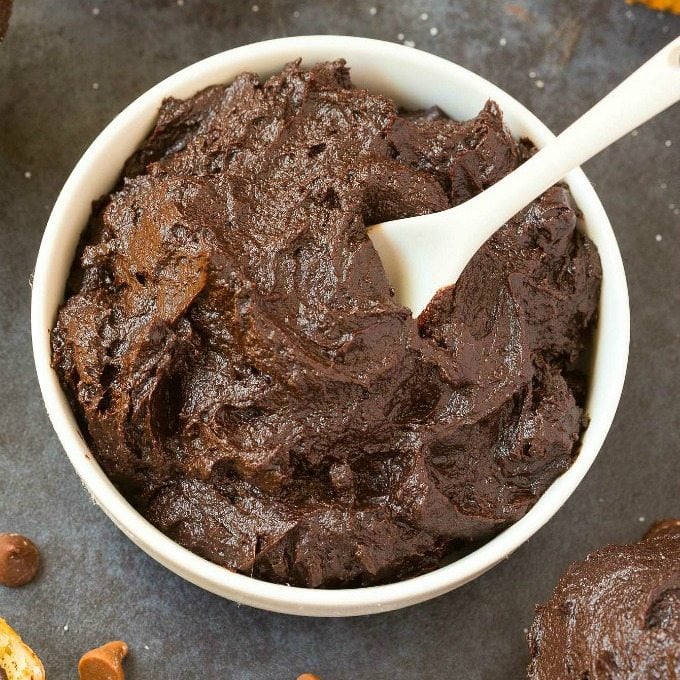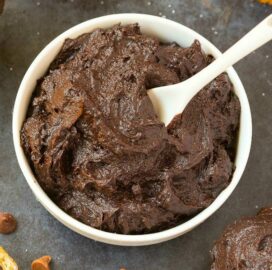 Healthy 4 Ingredient Applesauce Chocolate Frosting
Thick, spreadable and glossy chocolate frosting made using just four EASY ingredients, this healthy applesauce version is the perfect topping for all your cakes, brownies, cupcakes and more! A fool-proof healthy chocolate frosting recipe! (Paleo, Vegan, Gluten Free, Sugar Free)
Print
Rate
Instructions
In a large mixing bowl, combine your coconut oil, sticky sweetener of choice and cocoa powder. Mix until a glossy liquid chocolate texture remains.

Add your unsweetened applesauce. Start with 1 cup and depending on what texture you are after, increase.

Refrigerate for at least 20 minutes, to thicken slightly. If you need to use it immediately, add a tablespoon or two or coconut flour/cornstarch.

Notes
* For a thinner, drippy frosting, add more applesauce (or maple syrup).
** Alternatively, refrigerate longer to firm up.
Healthy 4 Ingredient Applesauce Chocolate Frosting tastes best made and used on the same day. If you refrigerate it, you'll need to let it sit at room temperature to soften up. Alternatively, you can add some milk or maple syrup to loosen up.
Nutrition Facts
Healthy 4 Ingredient Applesauce Chocolate Frosting
Amount Per Serving (1 portion)
Calories 58
Calories from Fat 54
% Daily Value*
Fat 6g9%
Carbohydrates 3g1%
NET CARBS 1g2%
* Percent Daily Values are based on a 2000 calorie diet.
Nutrition
Serving:
1
portion
|
Calories:
58
kcal
|
Carbohydrates:
3
g
|
Fat:
6
g
|
Fiber:
2
g
|
NET CARBS:
1
g
More delicious recipes could use a thick layer of this frosting? Gotcha covered!
2 Minute Flourless English Muffin
Sugar-Free Nutella Breakfast Pizza
1 Minute 3 Ingredient Chocolate Cake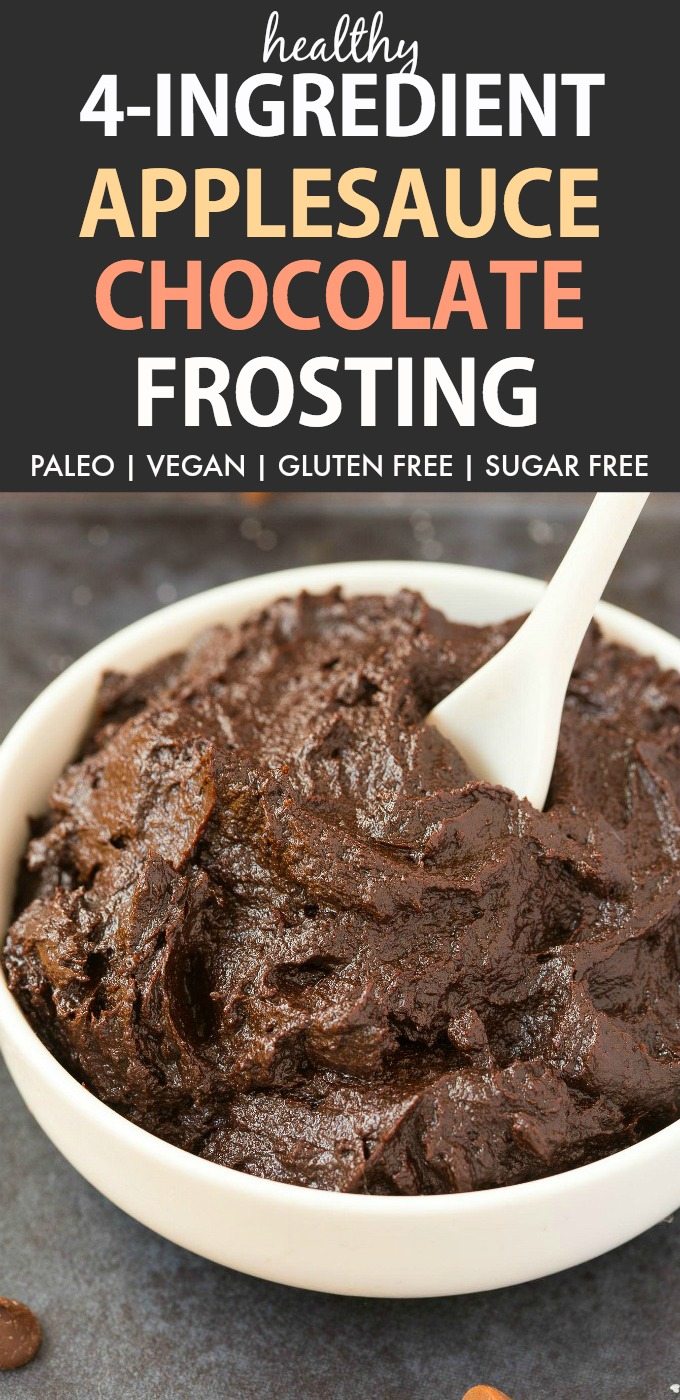 The Big Man's World is a participant in the Amazon Services LLC Associates Program, an affiliate advertising program. This means that if you click and make a purchase, TBMW receives a small commission, at no cost to you. Cheers, hugs, and handshakes for supporting TBMW!