A super fluffy and moist cinnamon roll inspired mug cake which packs a protein punch and is low carb- It's also ready in under a minute! This healthy 1 Minute Low Carb Cinnamon Roll Mug Cake is also naturally gluten free, vegan, paleo, keto, and sugar free!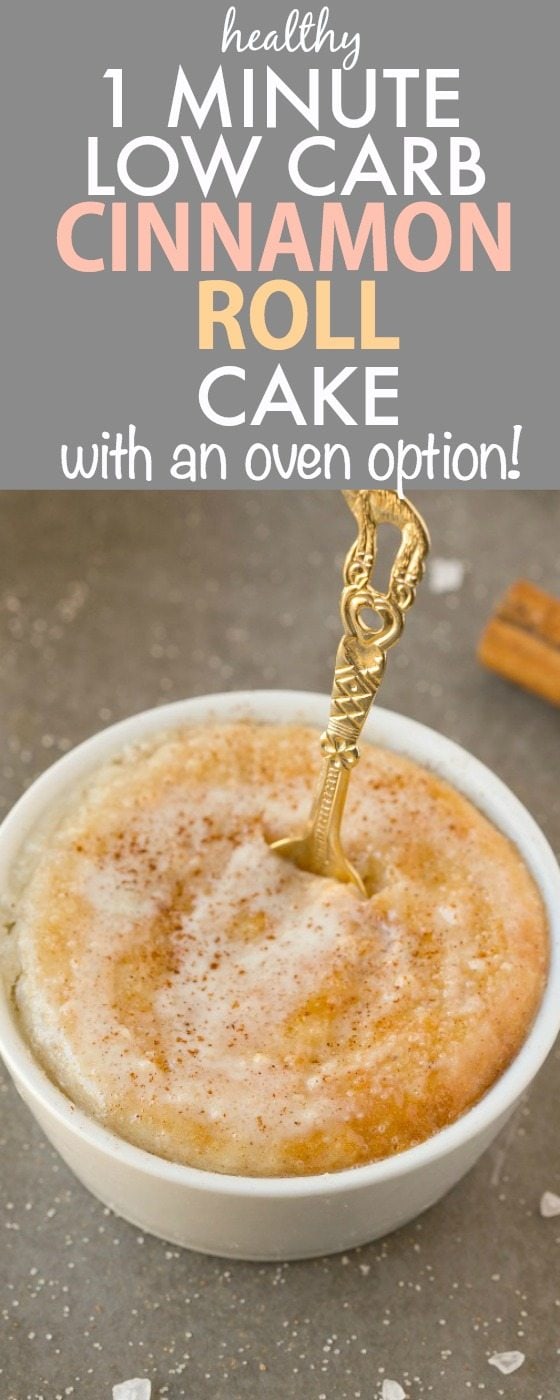 Keto Cinnamon Roll Mug Cake Recipe
"You like cinnamon rolls?"
"YES. I told you that after my first trip to America. The airport was like a hypnotic scent of dancing cinnamon sticks."
"I don't understand that."
"Yes, mother. I love cinnamon rolls."
"Really? You know, I used to make them all the time when I lived in England. Cream cheese frosting and all"
You guys, I cannot believe I spent over 20 years of my life without homemade cinnamon rolls.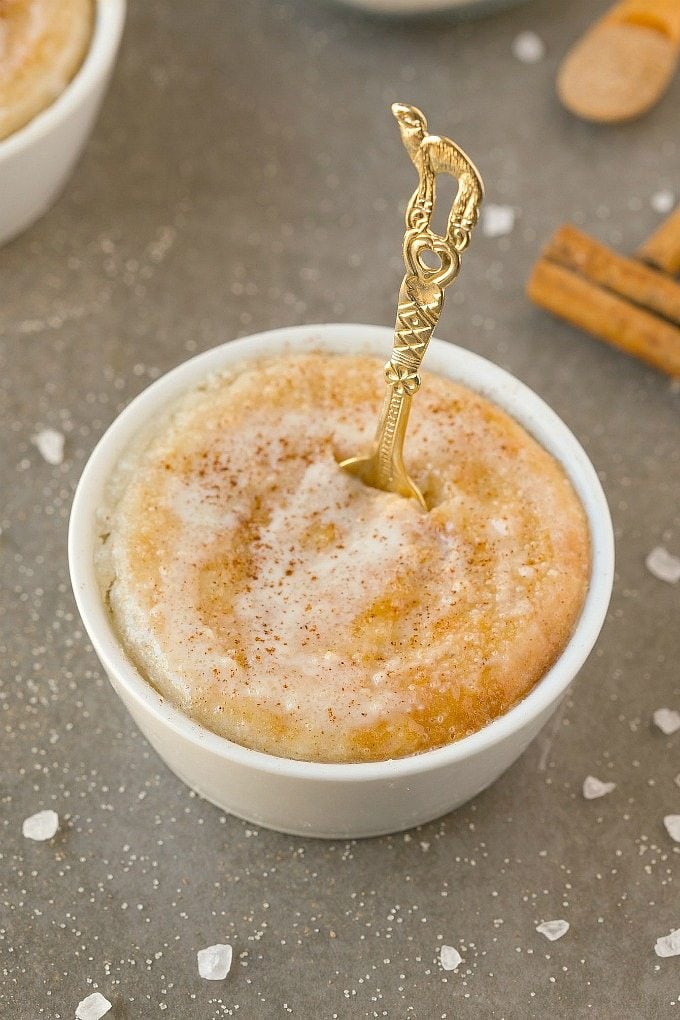 While my mum made her fair share of sweet recipes (remember when I healthified her blueberry breakfast cake?), they were usually banana muffins, Persian style tea cakes, slabs of halva and of course, baklava.
"But Niki never liked cinnamon. She said it was spicy!"
Since when was Niki queen of the Nile? I would have made excess cinnamon rolls just to spite her!
Unfortunately, my mum loves both her children, so took my sisters' taste buds into consideration. Looking back, I think she probably did me a favor. I can only imagine what further similarities to an elephant I would have, should I have consumed them on the regular back then.
After our discussion, my mum promised to make a batch of them and you bet I'm holding her to it. In fact, it's written here so it's proof. The next What I Ate Wednesday, you'll (hopefully) see a cinnamon roll on my plates.
Yes, plates.
I'm greedy, and I have no qualms about it.
Cinnamon Roll Mug Cake Recipe
As much as I'd like to whip up my own cinnamon rolls, laziness prevails and I'd often buy my own (hello, Cinnabon) or whip up a single serving version.
Now that I've started hitting up the gym again (aka lying on the bench press and scrolling Instagram), I've come to fall back into some nutritional habits, like eating something with some protein post workout. I never drink shakes (I'm not 'bro' enough), but something edible? You bet.
While the vanilla mug cake and chocolate mug cake are two delicious options, something we want to be a little bit fancy. A few simple tweaks and voila- A mock cinnamon roll, minus the nasties!
Let's jump into the recipe, hey!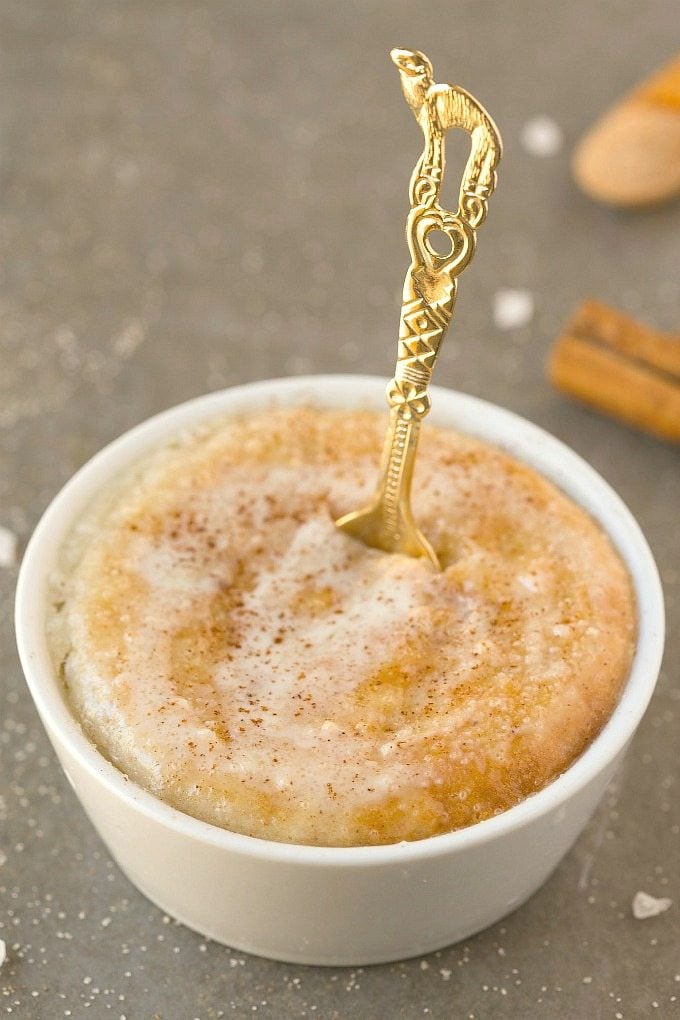 This quick and easy low carb cinnamon roll mug cake is light, fluffy, and slightly moist on the inside! It's loaded with protein and fiber, making it the perfect low carb snack or healthy dessert to satisfy the sweet tooth. It also takes less than a minute to whip up! It has the taste and texture of a classic cinnamon roll (a big factor is this Saigon cinnamon– It's a game changer!) minus the usual suspects- There is NO butter, oil, grains or sugar in the entire recipe, but you'd never be able to tell!
Depending on which protein powder option you choose, this recipe is naturally gluten-free, ketogenic, paleo, vegan, dairy free and completely sugar free! Oh, and those without a microwave, there's a tested oven option!
The Best Protein Powders
When it comes to protein, not all powders are created equal. After trying out many brands and blends in the past few years, I've narrowed down my favorites. I have a select few I always stick to because I know they will always yield fantastic results- No hockey pucks or gummy products.
If you've ever baked with protein powder, you know these two are things you DON'T want happening! As such, I always recommend (depending on which dietary lifestyle you follow) this casein protein powder, this vegan brown rice protein powder, and this paleo protein powder.
Don't want to use protein powder? This classic vanilla mug cake is still low carb and omits it completely!
Healthy Vanilla Protein Frosting
HACK! No cinnamon roll is complete without one thing- A frosting! Traditional frostings would usually involve cream cheese, heavy cream, sugar or a combination of all.
However, we'll be using a sneaky trick here- Coconut butter thinned out with liquid and drizzled over.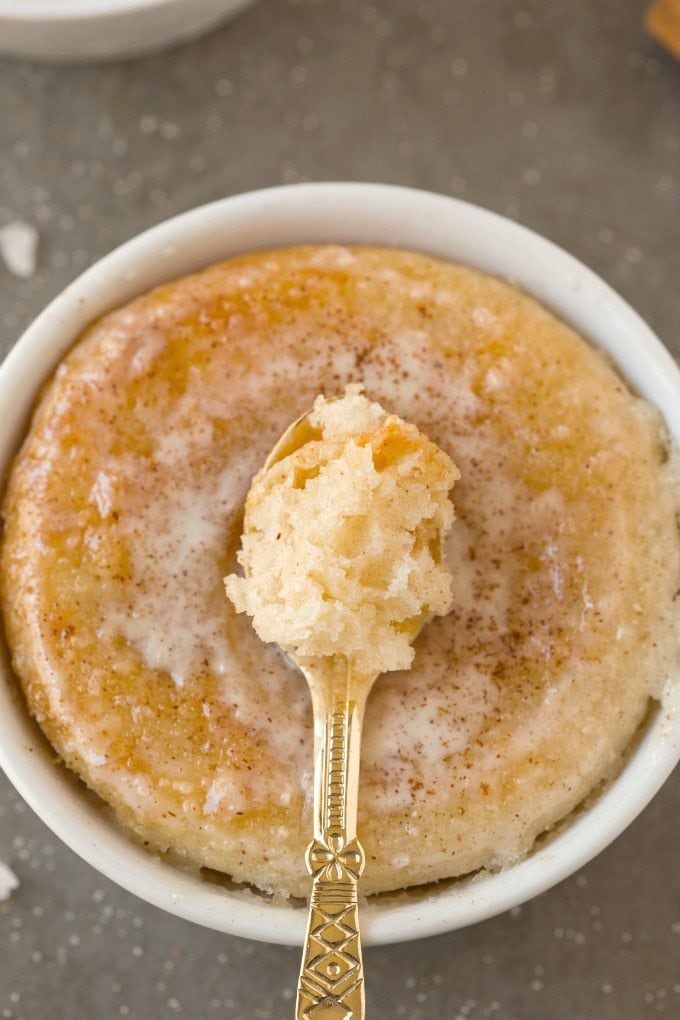 Make this healthy 1 minute Low Carb Cinnamon Roll Mug Cake and you guys are all invited over next week..
For mum's cinnamon rolls. Are you reading this, mum? It's motivation to get busy in the kitchen.
Watch the recipe video below! 1 minute.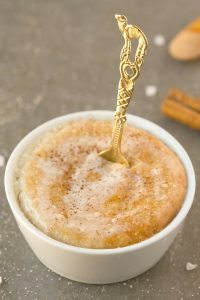 Cinnamon Roll In A Mug
A super fluffy and moist cinnamon roll inspired mug cake which packs a protein punch and is low carb- It's also ready in under a minute! This healthy 1 Minute Low Carb Cinnamon Roll Mug Cake is also naturally gluten free, vegan, paleo and sugar free!
Instructions
For the microwave option
Grease a microwave safe bowl with cooking spray and add the protein powder, baking powder, coconut flour, cinnamon, sweetener of choice and mix well.

Add the egg/whites and mix into the dry mixture. Add the milk of choice and vanilla extract- If batter is too crumbly, continue adding milk of choice until a very thick batter is formed. granulated sweetener of choice and extra cinnamon and swirl over the top. Microwave for 60 seconds, or until just cooked in the centre. Top with glaze and enjoy!
For the oven option
Follow as above, but bake in the oven at 350 Farenheit for 8-15 minutes, depending on consistency desired- Mug cake is cooked once a toothpick comes out 'just' clean from the center.
Notes
* Adjust according to taste- If protein powder is sweetened, feel free to omit completely.
For the vegan option, you won't need any flax eggs/egg substitute- Simply omit and slowly add milk of choice until a thick batter is formed. Microwave/bake until 'just' cooked in the center.
Nutrition
Serving:
1
mug cake
Calories:
132
kcal
Carbohydrates:
6
g
Protein:
25
g
Fat:
4
g
Fiber:
253
g
Vitamin A:
200
IU
Vitamin C:
1.7
mg
Calcium:
20
mg
Iron:
0.5
mg
NET CARBS:
-247
g
Disclosure: This post may contain affiliate links. I may earn a small commission for my endorsement, recommendation, testimonial, and/or link to any products or services from this website.