Satisfy your midnight chocolate cravings by making this perfect single serve chocolate chip cookie. Soft and gooey at the center and crispy around the edges, you can make this delicious cookie with just seven ingredients.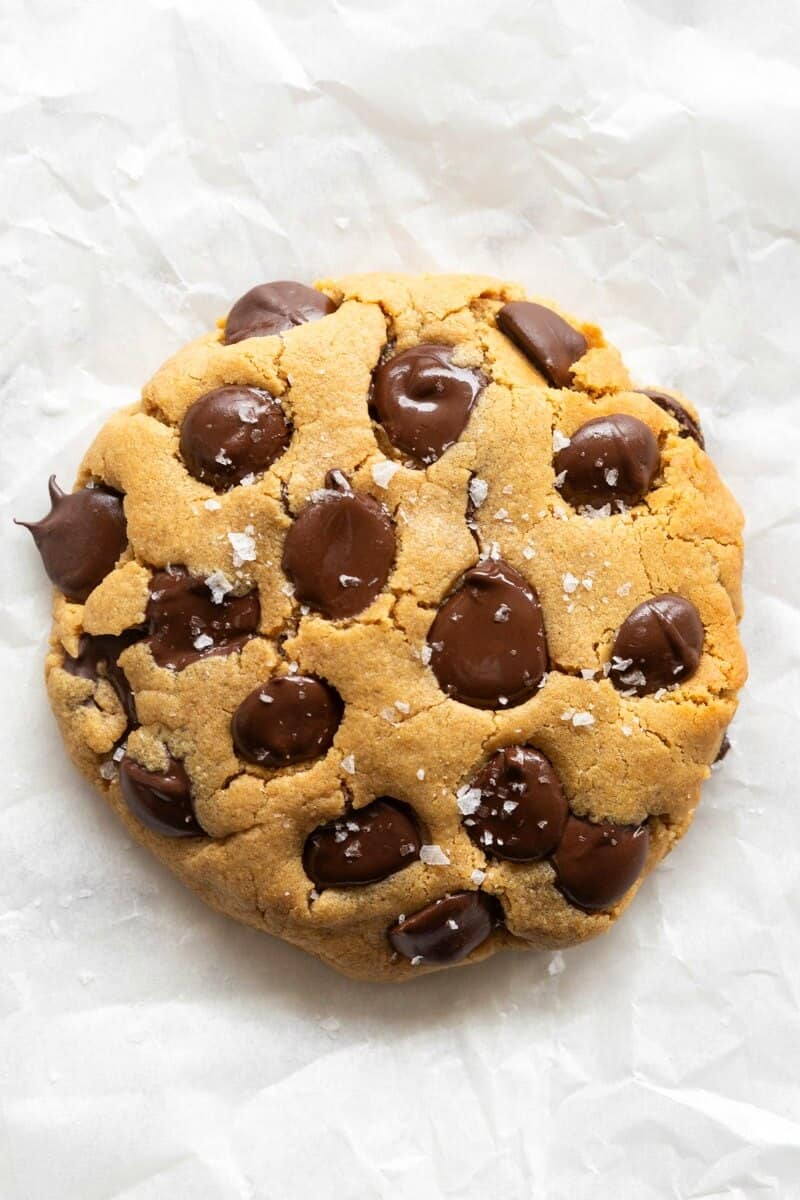 Single serving desserts are always the best for obvious reasons- no sharing is needed! This single serve cookie makes just ONE chocolate chip cookie.
It has the perfect level of sweetness, chocolate chips-to-flour ratio, size, and texture. It is so good that you wished you had made two!
Table of Contents
Why you'll love this recipe
No eggs needed. This recipe doesn't use eggs or egg substitutes so it's the kind of dessert you can make when the cravings strike!
Ready in 5 minutes. You'll love how quickly you can make this recipe. There is barely any prep needed and it cooks up in less than 90 seconds!
One bowl only. Don't you love having just one bowl to clean after? It is another reason to try this out.
No sharing needed. The best part of any dessert for one is that it is made for one person only. But don't fret- you can double or triple the recipe if needed!
Ingredients (and substitutions)
Melted butter. I use unsalted butter for this recipe, but if you choose salted one, I suggest you skip adding extra salt.
Brown sugar. I like using brown sugar because it makes chewy cookies. You can use light brown or regular sugar if brown's unavailable.
Milk. Just enough to bring the cookie dough together.
All-purpose flour. For the cookie dough. If you notice clumps in the batter, be sure to sift it carefully.
Baking soda. It makes the cookie crispy on the outside and chewy on the inside.
Salt. A little salt brings out the sweetness in the cookie.
Chocolate chips or chunks. I like to chop good quality bitter-sweet chocolate discs to make these cookies. You can also cut up your favorite chocolate bar into pieces and use it here.
How to make a single serve cookie
Make the dough. Mix melted butter, brown sugar, and milk in a bowl. Fold in sifted flour, baking soda, and salt. Once everything is combined, toss in the chocolate chips and stir to mix.
Cook your cookie. Make the dough ball and place it on a parchment paper-lined plate. Microwave it for 70 seconds. Allow it to cool for five minutes, and enjoy it warm.
Recipe variations
Use clarified brown butter. Use clarified brown butter instead of regular melted butter for a caramelized butterscotch flavor.
Make it gluten-free. If allergic to gluten, substitute the all-purpose flour with gluten-free.
Add some vanilla flavor. The combination of vanilla, butter, and chocolate is a match made in heaven.
Make it dairy-free. Substitute butter with margarine or vegan butter and milk with a plant-based one to make a vegan cookie. For a bigger, oven-cooked batch, try our family's favorite vegan chocolate chip cookies.
Storage instructions
This cookie is on the larger side, so feel free to enjoy half and save the rest for later.
To store: Leftovers will keep well at room temperature, covered, for up to three days.
To freeze: Wrap the cookie in parchment paper and store it in the freezer for up to two months.
Recipe tips and tricks
Add flaky salt. Finish your cookie with a sprinkle of flaky salt for the perfect sweet-savory balance.
Mix dark and milk chocolate chips. To get a nice mix of sweet and semi-sweet chocolate, use two different kinds of chocolate chips for these cookies.
Avoid overmixing the dough. I suggest you stir the mixture just until combined for the perfect texture.
Measure the ingredients. Because everything is scaled down, you must measure the ingredients accurately to avoid goofing up this cookie.
More single serving desserts to try
Frequently asked questions
Can I bake this cookie in the oven?
Yes, you can! It won't be as instant as cooking it in the microwave, but it'll be just as tasty! Place the cookie dough on a baking tray lined with a baking paper and cook for 15 minutes until golden brown.
What else tastes good in a chocolate chip cookie?
I often add chopped nuts like pecans or toasted almonds to the dough. You could also fold some crunchy pretzels or white chocolate chips for a flavor contrast.
Do I need to chill my dough before making cookies?
Chilling your dough will allow the flavors to develop. However, you can skip chilling the dough for this instant cookie.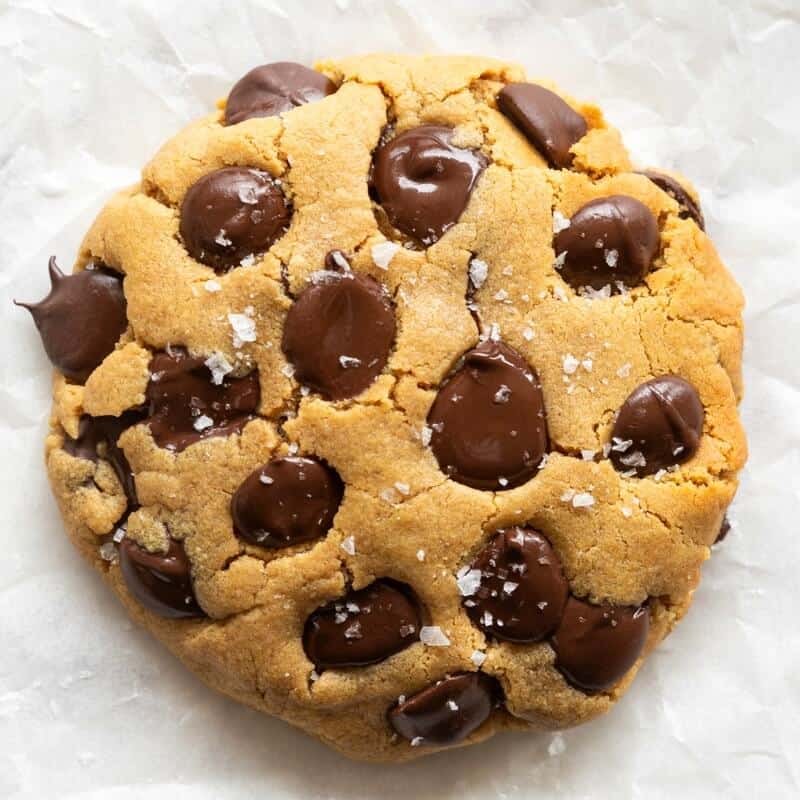 Single Serve Chocolate Chip Cookie
Satisfy your midnight chocolate cravings by making this perfect single serve chocolate chip cookie. Soft and gooey at the center and crispy around the edges, you can make this delicious cookie with just seven ingredients.
Instructions
Combine the melted butter, brown sugar, and milk until combined.

Sift in the flour, then add the baking soda and salt and mix until just combined. Fold through the chocolate chips.

Using your hands, make a cookie dough ball and place it on a plate lined with parchment paper.

Microwave the cookie for 70 seconds.

Allow the cookie to cool for 5 minutes before enjoying.
Notes
Serving size is half a cookie.
STORAGE: Cookie will keep at room temperature, covered, for up to two days.
Nutrition
Serving:
1
serving
Calories:
263
kcal
Carbohydrates:
44
g
Protein:
4.5
g
Fat:
9.5
g
Sodium:
587
mg
Potassium:
118
mg
Fiber:
3
g
Sugar:
12
g
Vitamin A:
515
IU
Vitamin C:
0.1
mg
Calcium:
62
mg
Iron:
4
mg
NET CARBS:
41
g
Disclosure: This post may contain affiliate links. I may earn a small commission for my endorsement, recommendation, testimonial, and/or link to any products or services from this website.