Run out of eggs or follow a vegan diet and want to know how to replace eggs in recipes? Learn the best egg substitutes with these 10 replacement options!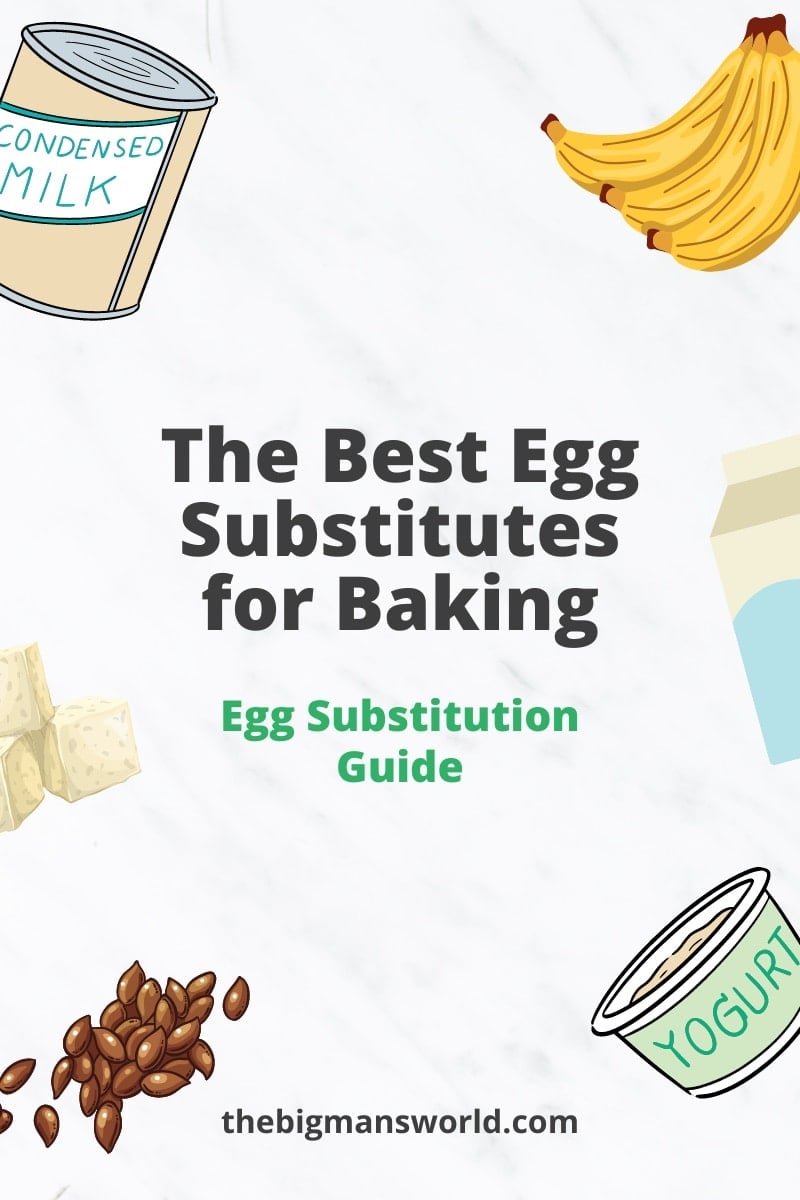 The egg is one of the most common ingredients for cooking and baking. It provides tons of benefits and can be a vital part of any recipe or dish. However, there are times and reasons where eggs are not an option.
Knowing the best replacement for baking will ensure you replace the egg correctly and not affect whatever you plan to bake!
What Is the Purpose of Eggs in Baking?
Most people use eggs for baking because of the following reasons.
Moisture. The liquid part of eggs (egg white) adds moisture to the final product during baking.
Binding. The sticky nature of eggs helps to hold together, especially in baked goods, like a banana bread.
Leavening. Eggs are one of the main reason for the volume and an airy texture (especially when paired with baking powder/soda).
Emulsify. Eggs help combine ingredients that typically wouldn't mix under normal conditions (such as oil and water).
Why replace eggs in baking
There are multiple reasons eggs will need to be replaced in a recipe. The most common ones are-
Egg Allergy: Many infants and young children have an allergy to eggs. Most children outgrow them. However, there are some instances where the allergy remains throughout their adult life too.
Vegan diet: Some people choose a vegan diet hence avoid products like milk, meat, or eggs. Vegans mostly strain from consuming all animal products.
No access to eggs: So many times we find ourselves when we don't have eggs on hand but want to bake a cake or some brownies.
What can I use instead of eggs in baking?
While there are tons of ways to replace eggs in baking, here are the top 10 tried and tested options. Each is easy to find and, depending on the recipe, can seamlessly replace an egg.
1. Applesauce
Applesauce puree comes from cooked apples. In most recipes, you can replace one egg with ¼ cup of applesauce. When possible, choose the unsweetened variety so it doesn't affect the overall flavor.
Works best for: Muffins and quick breads.
2. Banana
Similar to applesauce, mashed banana is another fantastic fruit-based replacement. You can also add other purred fruits to it, like pumpkin or avocado. For one large egg, use half a cup of mashed banana.
Works best for: Brownies and cakes.
3. Flax Egg
A flax egg is made up of 1 tablespoon of ground flaxseed with 3 tablespoons of water. It forms a gel-like substance and is perhaps the most common egg replacement.
Works best for: Sweet loaves, cookies, and pancakes.
4. Yogurt
1/4 cup of yogurt replaces one whole egg. To ensure the flavor of the dish you are making doesn't change, always choose unflavored or plain yogurt.
Works best for: Cupcakes, muffins, and cakes.
5. Silken Tofu
Tofu is condensed soy milk processed and pressed to form solid blocks. Silken tofu is softer because of its high water content. You'll need ¼ cup of silken tofu to substitute one egg.
Works best for: French toast, cookie bars, and quick breads.
6. Commercial Egg Replacement
Commercial egg replacers come in different varieties got from leavening agents, potato starch, or tapioca starch. Popular commercial egg replacements include-
Bob's Red Mill
Organ, or
Ener-G
Each egg replacement requires different amounts of water to create an egg.
7. Buttermilk
Using buttermilk instead of eggs adds moisture to your baked goods and also increases the binding between ingredients. You can use ¼ cup of buttermilk as a substitute for each egg in your recipe.
Works best for: Cornbread and sliced bread.
8. Aquafaba
Aquafaba is a liquid obtained from the leftovers of cooked beans or legumes. To replace one egg, you'll only need 3 tablespoons of aquafaba.
Works best for: Meringue, macaroons, and marshmallows.
9. Sweetened Condensed Milk
Sweetened condensed milk is traditional cow milk with most of its water content boiled away and sugar added. It can also be made using coconut milk, which is a fantastic option if you follow a vegan diet. ¼ cup of condensed milk can replace one egg.
Works best for: Ice cream, frozen yogurt, or popsicles.
10. Agar-Agar or Gelatin
Gelatin is a gelling agent that comes from the collagen of cows and pigs. Agar-agar is a great alternative for vegetarians who want to avoid the animal proteins in gelatin. To replace one egg with agar-agar, mix 1 tablespoon of agar-agar powder with 1 tablespoon of water.
Works best for: Cheesecake, pudding, and mousse.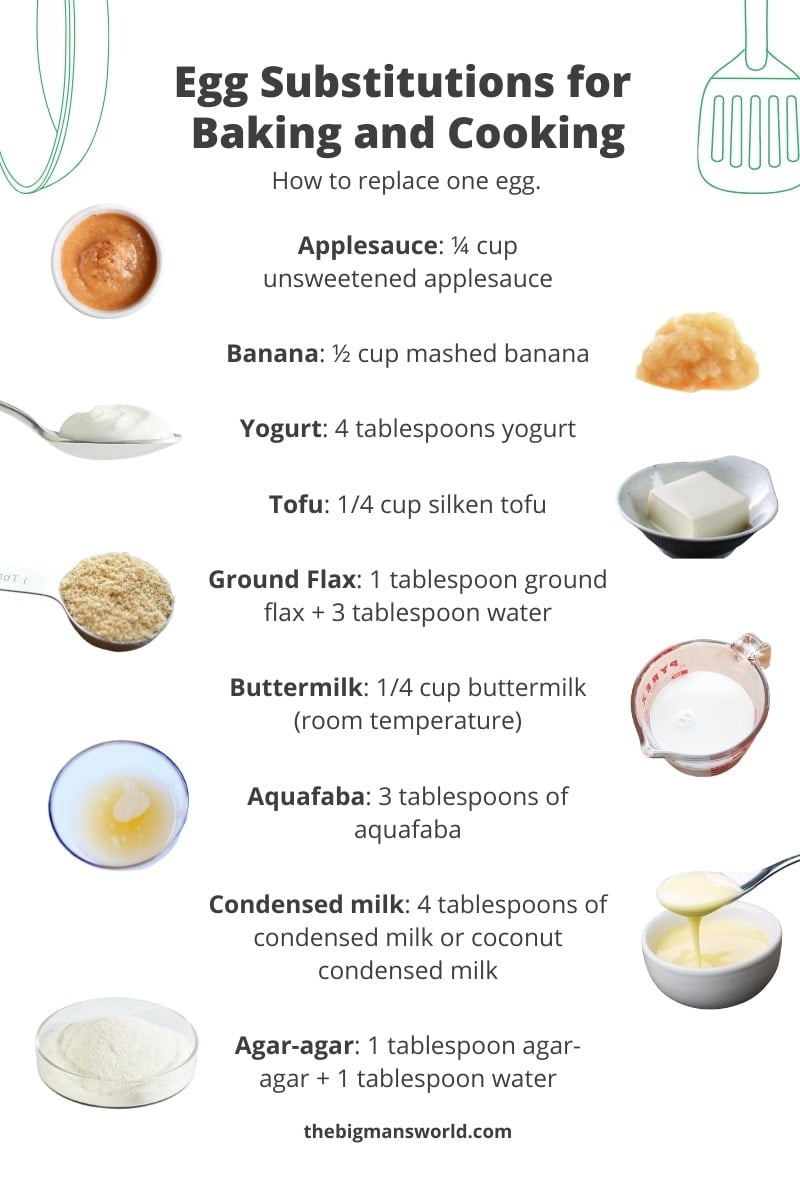 How Much Egg Substitute Do I Need to Replace an Egg?
The number of substitutes to replace an egg will always vary based on the food type you want to prepare. However, for basic egg replacement in baking, you can substitute the following for one large egg:
Applesauce: ¼ cup unsweetened applesauce
Banana: ½ cup mashed banana
Ground Flax or chia seeds: 1 tablespoon ground flax + 3 tablespoon water
Yogurt: 4 tablespoons yogurt
Tofu: 1/4 cup silken tofu
Egg replacement: This depends on the egg replacer you opt to use
Buttermilk: 1/4 cup buttermilk (room temperature)
Aquafaba: 3 tablespoons of aquafaba
Condensed milk: 4 tablespoons of condensed milk or coconut condensed milk
Agar-agar: 1 tablespoon agar-agar + 1 tablespoon water
What If a Recipe Calls for Egg Whites or Egg Yolks?
If you specifically want to replace egg whites or egg yolks, these are the BEST options of the egg substitutes:
Egg whites: Use 3 tablespoons of aquafaba for each single egg white that needs to be replaced.
Egg yolks: Use 1 tablespoon of soy lecithin to replace one large egg yolk.
Which is the best egg substitute?
Many food alternatives exist if you are allergic to eggs or want to replace them in your recipe. You can pick any alternative outlined above based on your preference.
However, the most popular egg replacement is a flax egg. It's the most versatile and works well in most non-vegan recipes.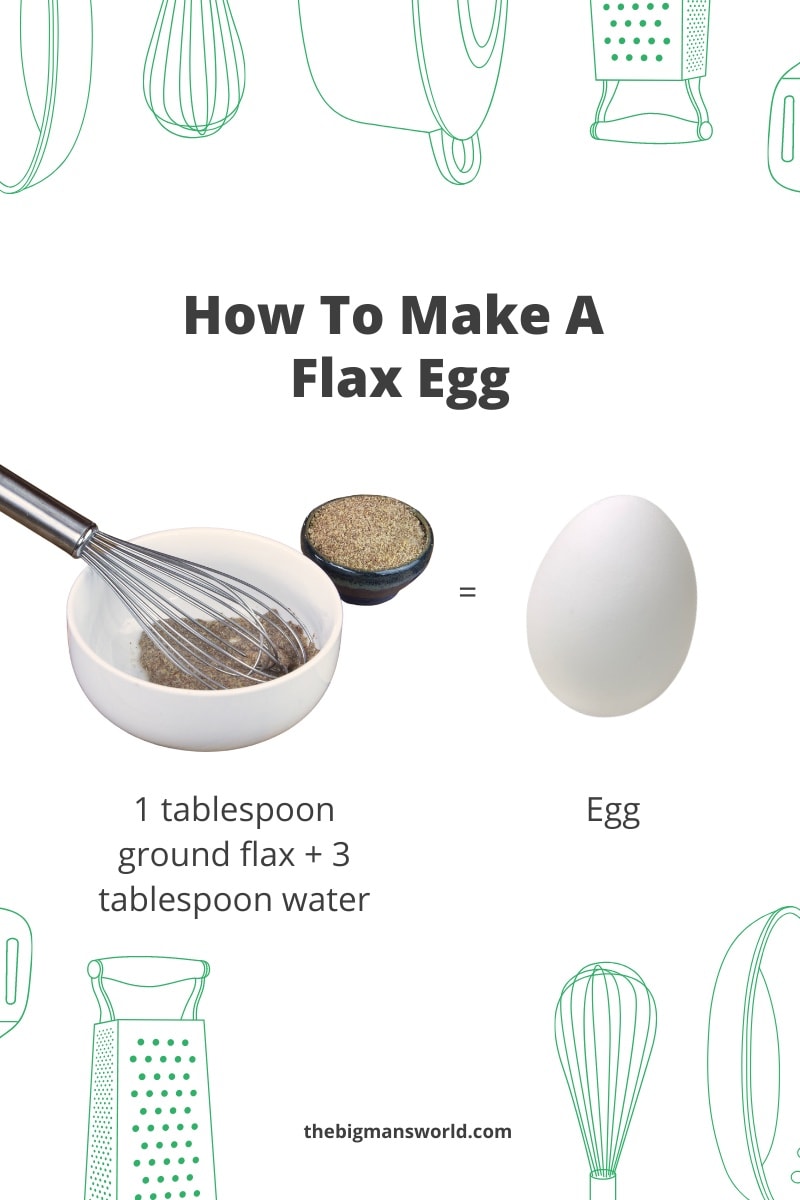 Frequently Asked Questions
Can I use oil instead of eggs?
Oil is not recommended to replace eggs, as it has a completely different baking property. A key feature of eggs is for binding. Whereas oil is added for moisture and richness.
Can you replace eggs with mayonnaise?
While eggs can sometimes be replaced with mayonnaise, it is not a suitable option for those following a vegan diet.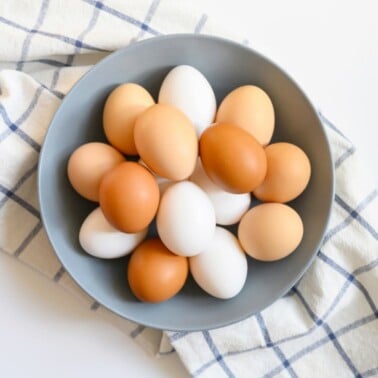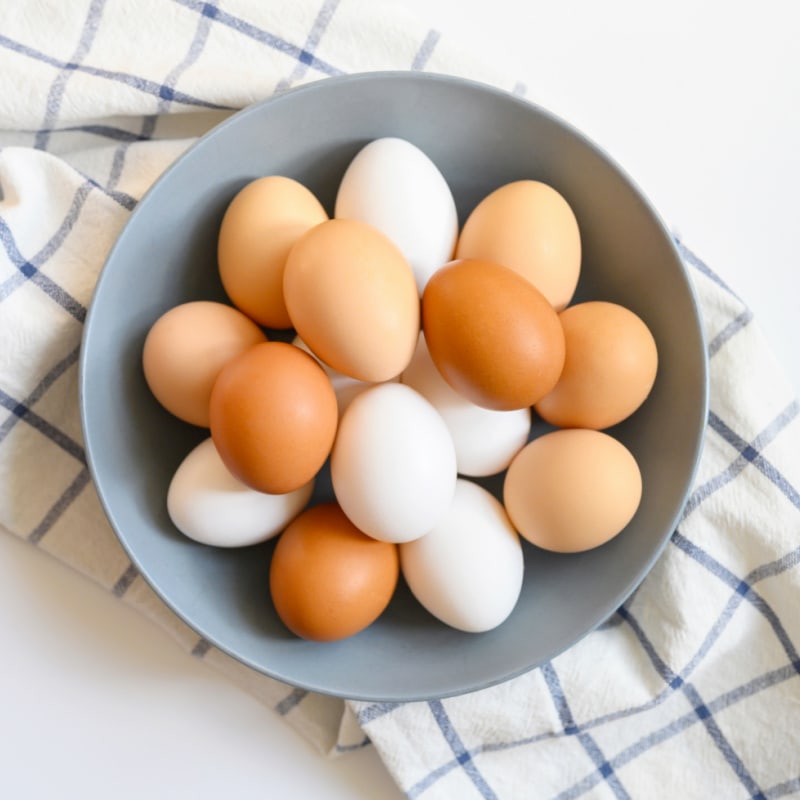 Best Egg Substitutes (10 options!)
Run out of eggs or follow a vegan diet and want to know how to replace eggs in recipes? Learn which egg substitute works best with these 10 replacement options!
Instructions
In a small bowl, whisk together the ground flaxseed with water and let it sit for 5 minutes.

After 5 minutes, use the flax egg in place of one large egg in baking.
Notes
This makes enough for one large egg. If your recipe calls for more eggs, double/triple/etc the egg replacement formula.
Nutrition
Serving:
1
egg replacement
Calories:
37
kcal
Carbohydrates:
2
g
Protein:
1
g
Fat:
3
g
Sodium:
4
mg
Potassium:
57
mg
Fiber:
2
g
Vitamin C:
1
mg
Calcium:
19
mg
Iron:
1
mg
Disclosure: This post may contain affiliate links. I may earn a small commission for my endorsement, recommendation, testimonial, and/or link to any products or services from this website.