Thick and fluffy flourless blueberry pancakes- These are the BEST vegan blueberry pancake recipe that has nothing but 5-star reviews! Made with oats, bananas, and blueberries, you only need one blender to whip the batter up!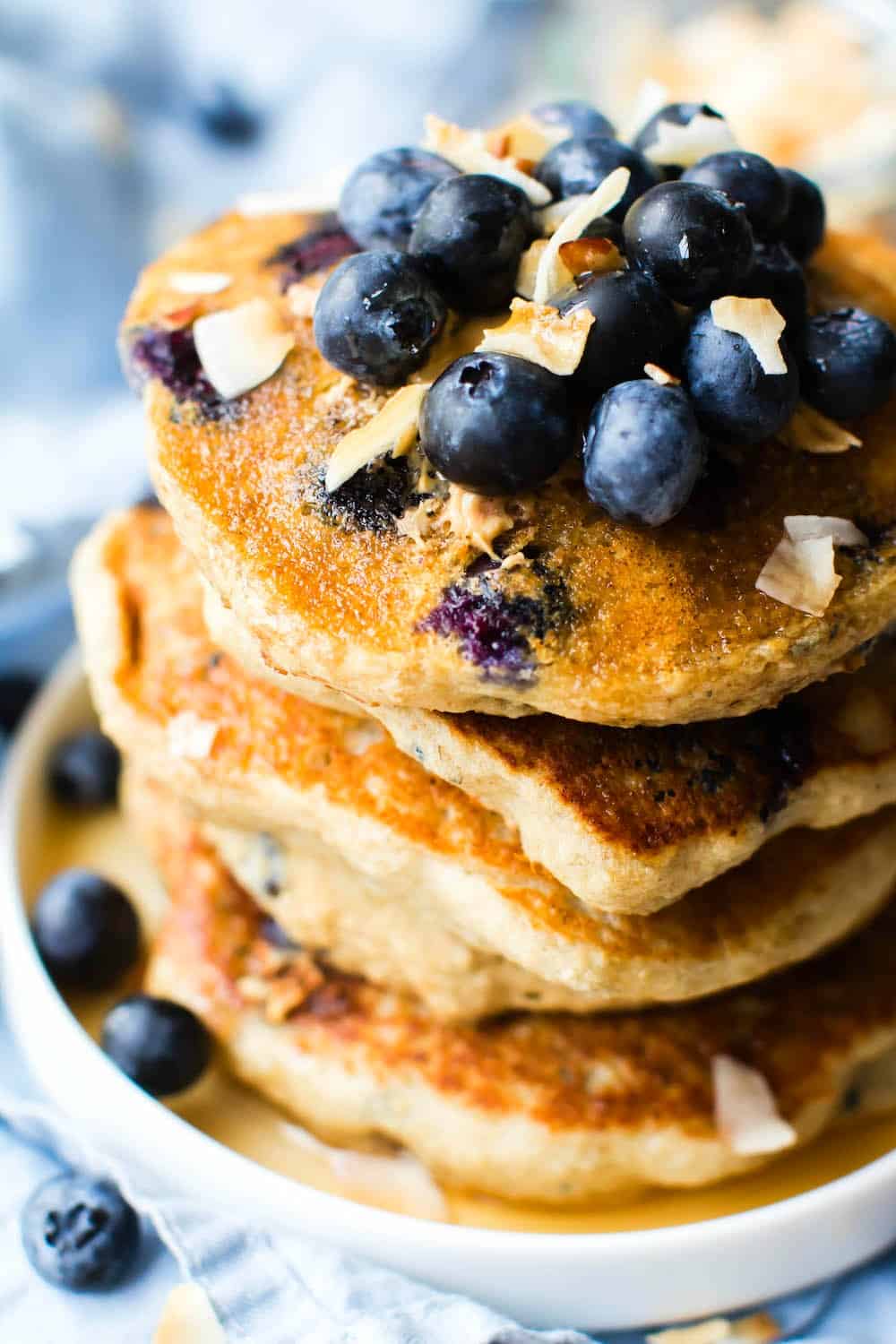 You thought blenders were only for smoothies? Think again.
All the usual ingredients that you'd find in a killer smoothie (which has to be thick and preferably able to eat with a spoon or out of a bowl) loaded with fresh or frozen blueberries, but in fluffy, pillow-like pancake form.
You'd think a pancake breakfast like this would be difficult to come together, but really, it's pretty much just on an extra step on top of a basic smoothie- Instead of drinking it once it's blended, we'll pan fry it until it is done- The ultimate quick, easy and satisfying breakfast.
The texture of these flourless blueberry smoothie pancakes is super thick and fluffy, so thick that they are perfect to batch cook (doubling, tripling the portions) and freeze them up for later consumption.
You'd be surprised that they actually contain NO eggs, and NO flour but actually a unique combination of ingredients to guarantee maximum fluffy factor.
SECRETLY HEALTHY BLUEBERRY PANCAKES
Easy, fluffy, healthy, and delicious.
Not only are these pancakes flourless and egg-free, but they are also naturally sweetened. This means that this delicious, hearty, and filling breakfast is suitable for those following a vegan, gluten-free, dairy free, refined sugar free and low-calorie lifestyle.
I mean, I don't really calculate calories, but a quick glance shows me that this HUGE serving clocks in at under 150 calories.
135 calories for a stack of blueberry pancakes? Let me have 4 stacks then.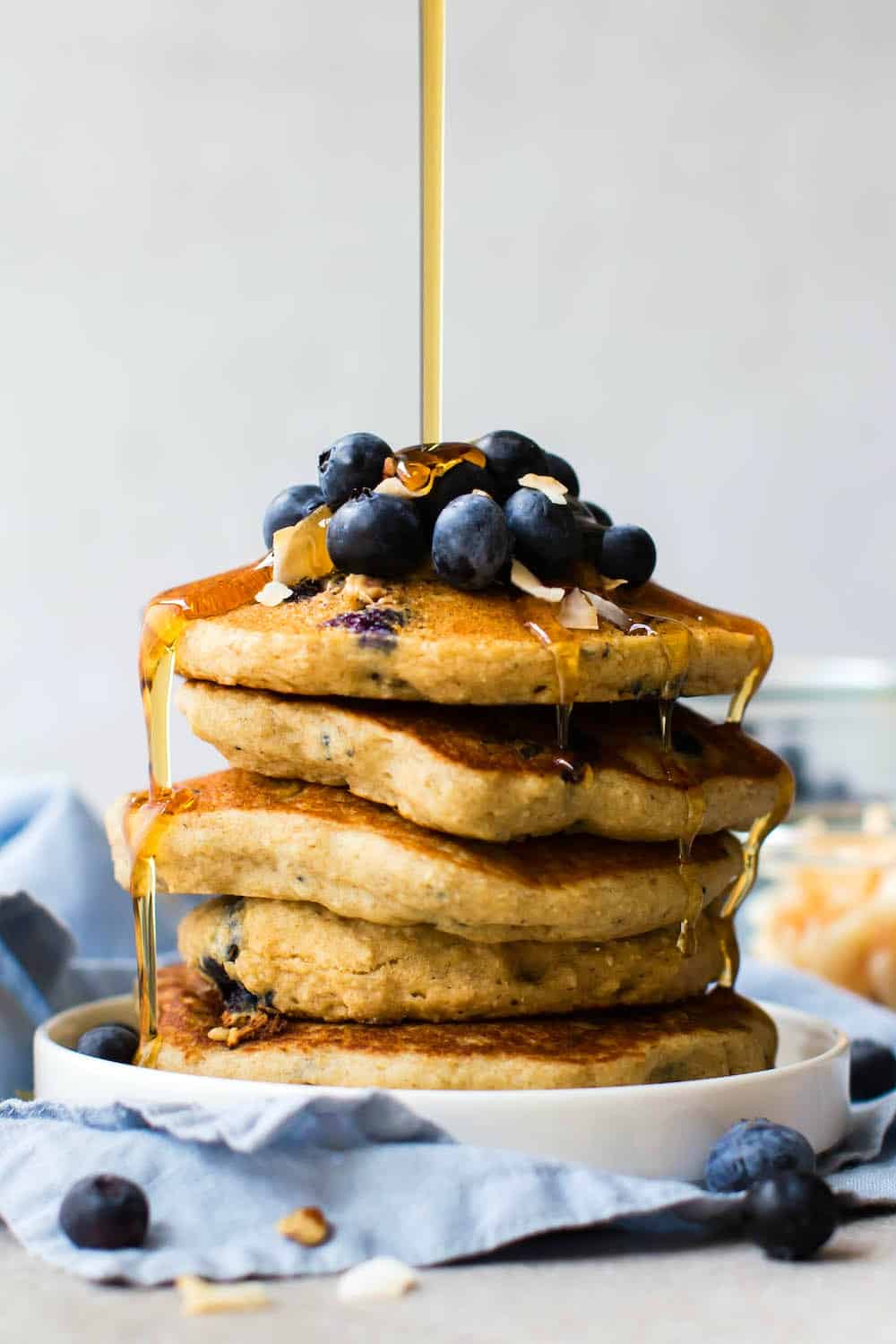 VEGAN BLUEBERRY PANCAKES INGREDIENTS
Rolled Oats

Plant-based milk

Banana

Baking powder

Apple cider vinegar

Maple syrup

Vanilla extract

Blueberries
While an all-purpose or self-rising flour will be work, I opted to keep these pancakes flour-free, so used rolled oats. Rolled oats are something I often use in my smoothies to give them an almost cookie dough texture. The same ingredient is used in the pancakes, but mostly to replace the flour. It becomes an oat flour, perfect to substitute it!
You'll also notice that apple cider vinegar and baking powder are included, and this helps to bind them and also help them rise. Please do not omit this. They also are the reason why there are no eggs or egg replacements used!
These thick and fluffy pancakes are completely sugar free, thanks to the natural sweetness of the banana. I was afraid that the banana would be overpowering, but it paired beautifully with the blueberries.
I know that some of you have expressed not enjoying bananas in recipes, so I DID try this out with mashed sweet potato. This certainly works, but the pancakes will be more hearty than fluffy. They also come out a little orange in color and a little less sweet, but hey, that is what the toppings of pancakes are for.
HOW TO MAKE THE BEST VEGAN BLUEBERRY PANCAKES FROM SCRATCH
Blend all the ingredients, except for the blueberries- You want to fold them in at the end.

Let the batter rest for 5-10 minutes, prior to cooking. As they have been blended first, it needs a little time for the ingredients to sit together.

ALWAYS cook your pancakes on low heat. Yes, it might take a little longer, but trust me, you will LOVE the thick and fluffy result at the end

If possible, cover the pancakes, as they will cook evenly and throughout

You can use either fresh or frozen blueberries. If you use frozen blueberries, be sure that they are thawed out.

If you don't have apple cider vinegar, you can use either lemon juice or lime juice. Do not omit this, or your pancakes will be thick and dense.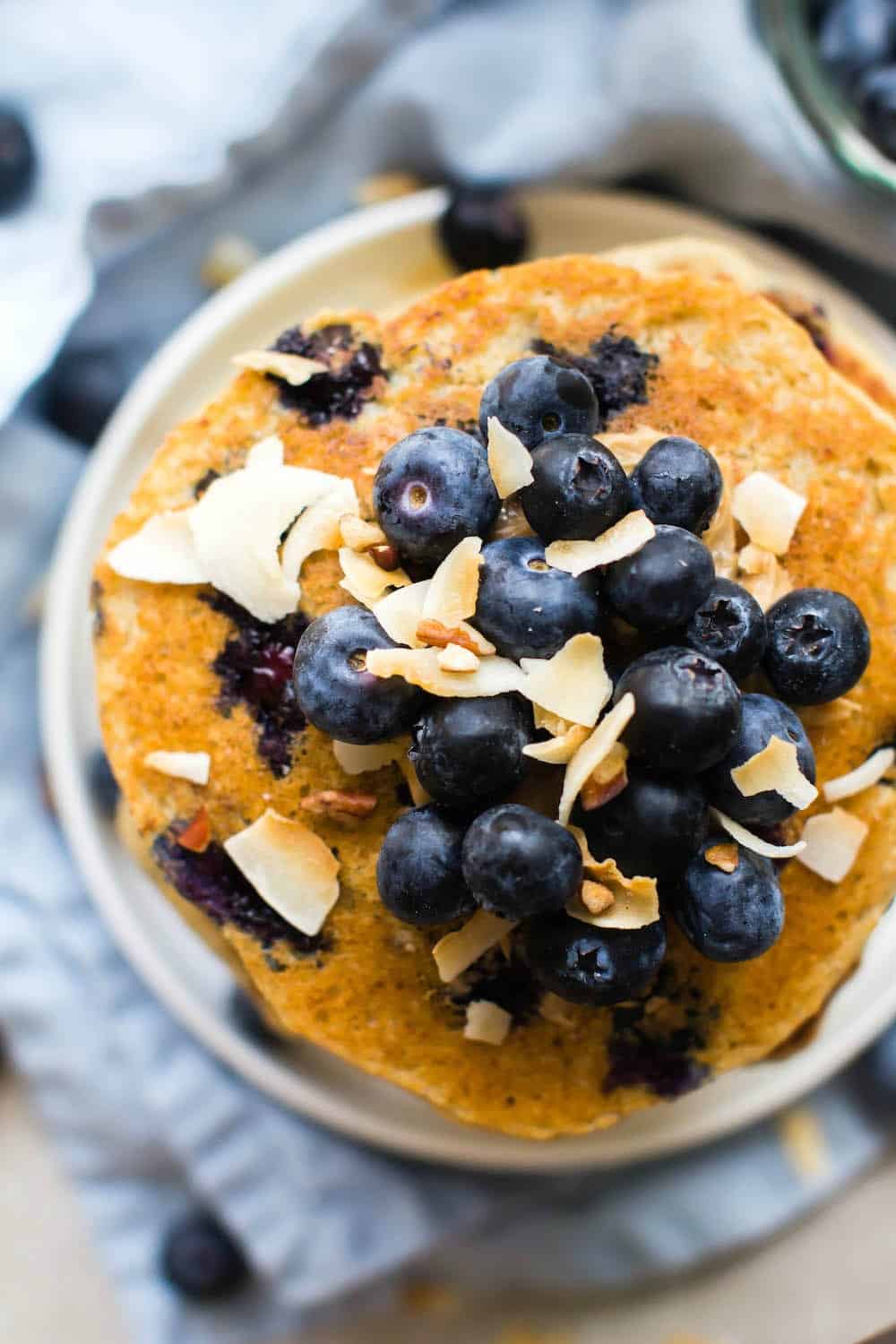 CAN I PREPARE THE BATTER IN ADVANCE?
The last time I shared a pancake recipe, several of you had asked if the batter can be prepped the night before.
The answer depends on how thick and fluffy you want your flourless pancakes to be. I found that prepping the batter overnight, I had to add around ¼ cup of extra milk in the morning, and not as thick once cooked.
CAN YOU FREEZE LEFTOVER PANCAKES?
As someone who loves pancakes mid-week (aka- not JUST on a weekend!) I always make a double batch of these pancakes to freeze up! They freeze beautifully, and on mornings when I can't be bothered making pancakes from scratch, I simply thaw or microwave them and voila- instant pancakes!
Wrap up single portions of blueberry pancakes and place them in ziplock bags. They generally freeze well for at least 2 months.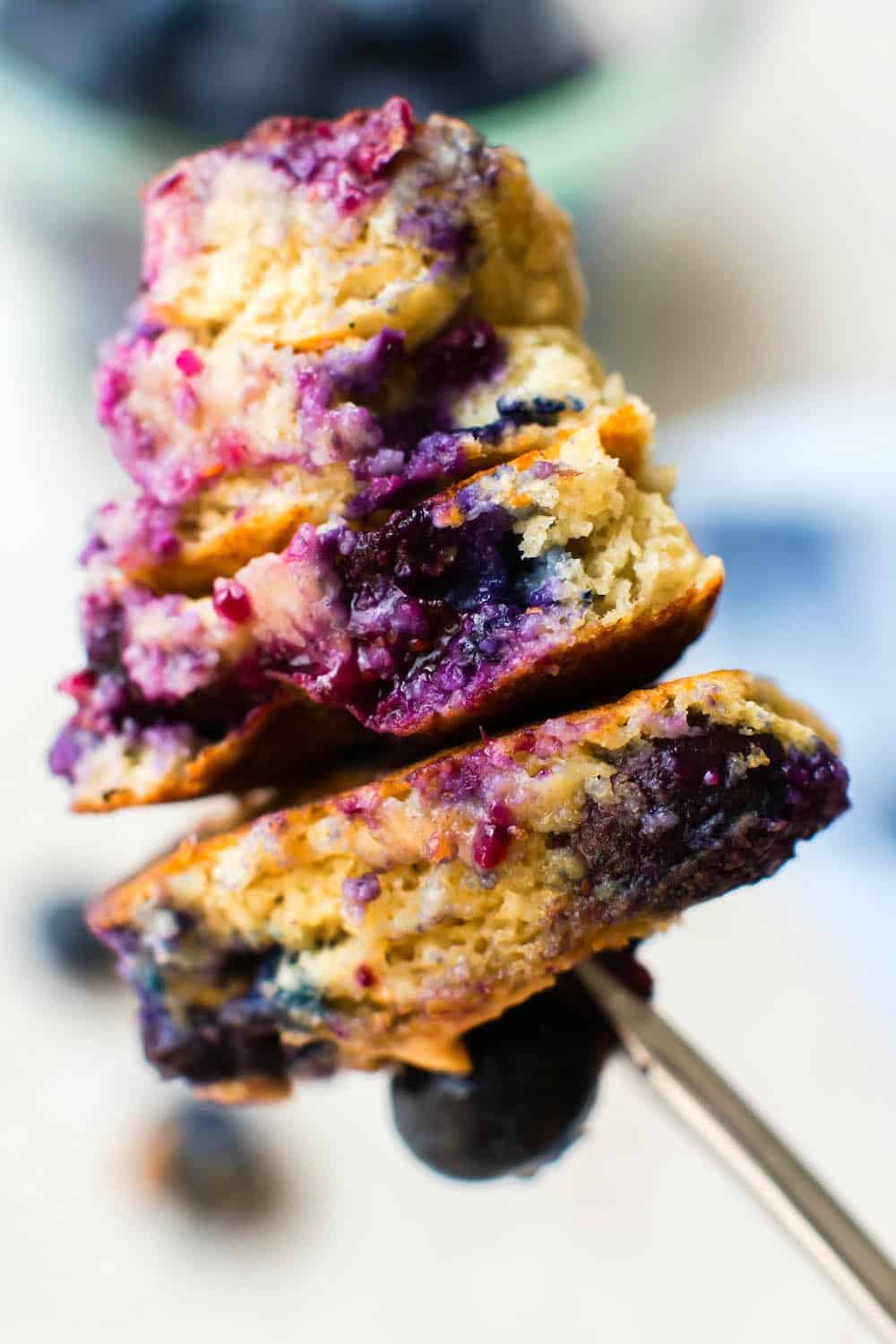 MORE DELICIOUS VEGAN PANCAKE RECIPES
WATCH HOW TO MAKE IT
Share this recipe on Pinterest
Love this Vegan Blueberry Pancakes recipe?
Share it with the world on Pinterest.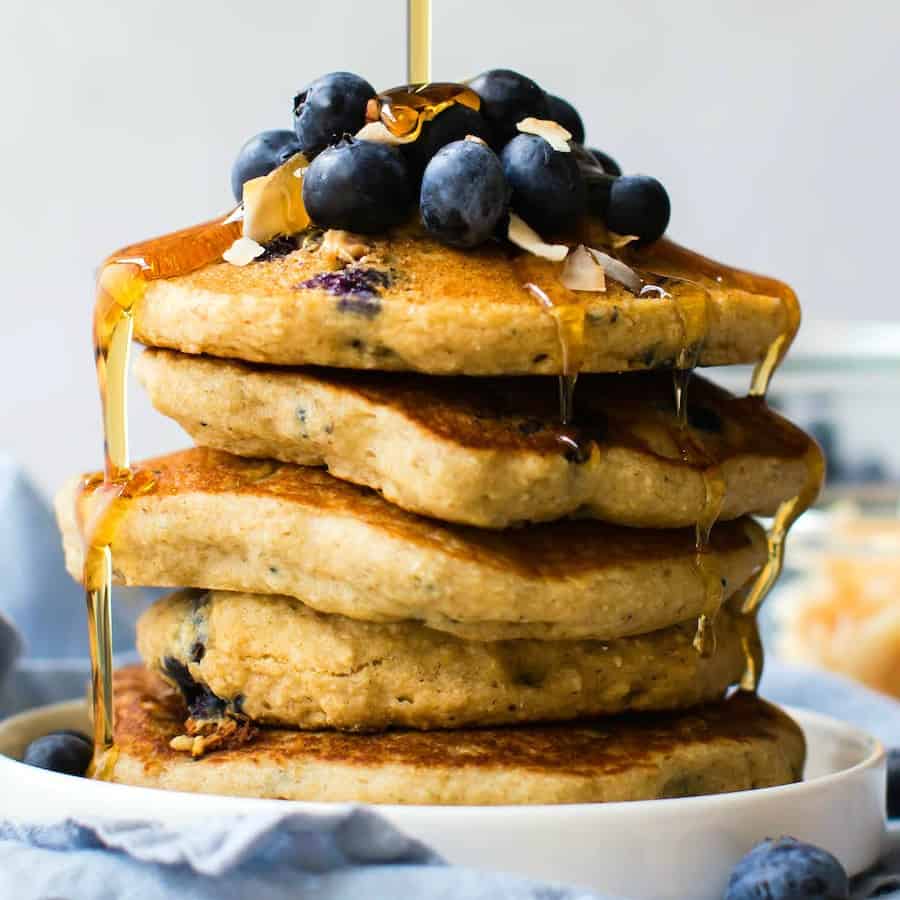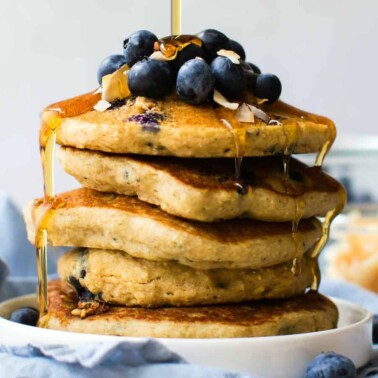 Vegan Gluten Free Blueberry Pancakes
Thick and fluffy flourless blueberry pancakes made with oatmeal and banana, for the perfect breakfast! Easy, blender made and naturally packed with protein, these healthy pancakes are also vegan and gluten-free.
Instructions
In a high speed blender or food processor, add all your ingredients, except for the blueberries, and blend until a thick batter remains. Fold in the blueberries but do not blend.

Let the batter sit for 5-10 minutes, for the batter to thicken slightly.

Preheat a lightly greased pan on medium heat. Once hot, pour a quarter cup portions of the batter in the pan. Cook for 1-2 minutes, or until the edges start to brown and bubble. Flip and cook for a further minute or two. Repeat until all the batter is used up.
Notes
* You can substitute this for lemon or lime juice
Pancakes can be made in double, triple, or more batches- This serves 2 hungry people or 4 breakfast servings.
Nutrition
Serving:
1
serving
Calories:
135
kcal
Carbohydrates:
28
g
Protein:
3
g
Fat:
2
g
Sodium:
341
mg
Potassium:
204
mg
Fiber:
5
g
Vitamin A:
19
IU
Vitamin C:
4
mg
Calcium:
211
mg
Iron:
1
mg
NET CARBS:
23
g
Disclosure: This post may contain affiliate links. I may earn a small commission for my endorsement, recommendation, testimonial, and/or link to any products or services from this website.