Thick and fluffy coconut flour pancakes made in 5 minutes! No sugar needed, these are one of the EASIEST low carb breakfasts you'll ever make.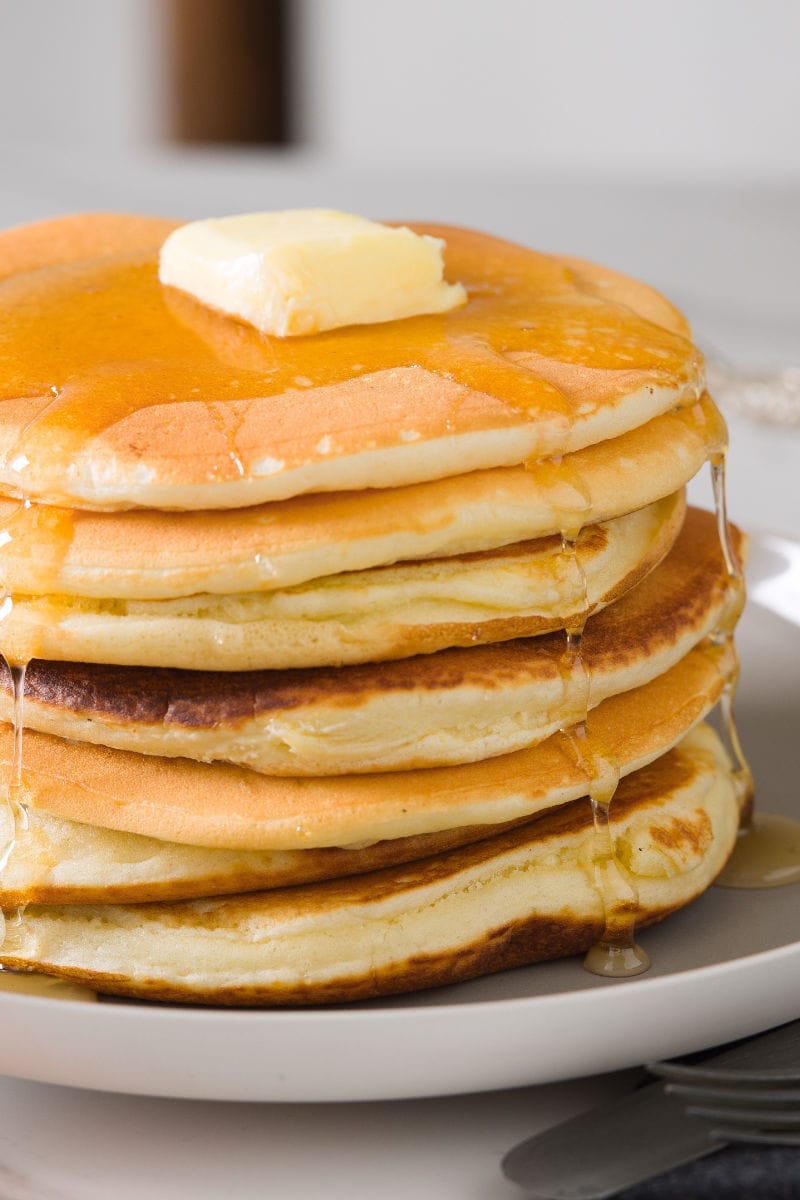 The best coconut flour pancakes
You may recall we've got a few keto pancake recipes already up our sleeve- we've got the classic keto pancakes and also cream cheese pancakes, but these are in a league of their own.
Coconut flour is one of my favorite ingredients for making pancakes and other baked goods. When mixed with eggs or egg whites, it creates an almost cake-like texture. A great example of that is in keto waffles, which everyone raves about how good the texture is.
These pancakes are no different: they tick all the boxes. The texture is extra thick, fluffy, and almost cake-like in the middle. They are pleasantly sweet and easily customizable. If you are worried that these may taste like coconut, don't fret: there is no coconut flavor at all.
This recipe makes eight GIANT pancakes, or you can make them smaller and have 16 mini pancakes or even 32 dollar sized pancakes: the choice is yours.
Oh, and per serving, there are just 2 grams net carbs. We told you these make a fabulous keto breakfast!
Ingredients needed
You'll love the simple and short ingredient list. If you've made any of my healthy breakfasts before, you've probably got everything in your pantry right this second! Here is what you'll need:
Coconut flour. Sift your coconut flour very well, to ensure there are no clumps throughout.
Baking powder. Gives the pancakes some rise and fluffiness.
Egg whites. Makes the pancakes extra fluffy, along with lowering the calories and the fat of the pancakes.
Greek yogurt OR sour cream. Gives some moisture, without needing butter or oil. I used homemade keto yogurt.
Milk of choice. I used unsweetened almond milk, but any milk corks.
Liquid stevia. Optional, but gives sweetness to the pancakes. I prefer to keep the pancakes unsweetened so I can top it with plenty of sugar maple syrup.
How to make coconut flour pancakes
Simple is an understatement for making this recipe.
To make coconut pancakes, all you do is add the ingredients to a bowl, whisk, and fry.
From start to finish, it takes just 5 minutes. 
Step 1- Make the batter
Start by adding your dry ingredients into a mixing bowl. Next, add in the egg whites, one at a time, followed by the yogurt, milk, and liquid stevia. The pancake batter should be extra thick but NOT pourable.
I like to lift the batter and move it from side to side to test this: if it barely moves; you have the perfect pancake batter.  
Step 2- Cook the pancakes
Now, heat a large pan over medium heat and add a little oil or butter on top. I like to use a large non-stick pan so the batter flips easily and there are tons of room so the pancakes don't stick to one another.
Once the pan is hot, spoon out thick portions of the pancake batter. Depending on how big I want them, I either use a large spoonful or a 1/4 measuring cup.
Cover the pan and cook for 3-4 minutes. Covering the pan helps trap heat in which helps the pancakes rise and become super thick.
Once the edges go golden brown, remove the lid, flip the pancakes, and cook for a further 3 minutes. Repeat this process to use up all the batter. 
Step 3- Serve
Now is the fun part: serving the pancakes! As we add little or no sweetness to the batter, you can drizzle it with maple syrup or serve it with low carb berries, ice cream- whatever you desire.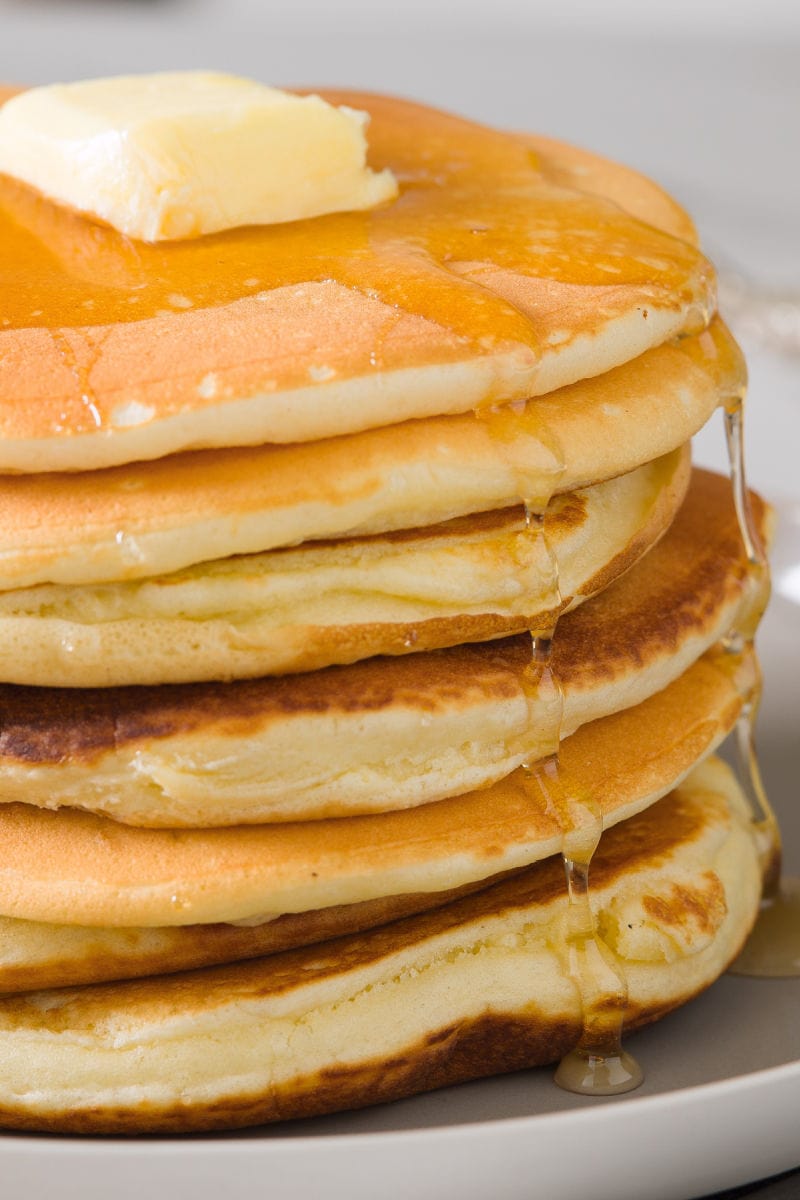 Tips for success
Patience is key when making these pancakes. While it may seem to be more time consuming than traditional pancakes, you'll be rewarded with ultra thick and fluffy pancakes.
You must cover the pancakes while they are cooking, to ensure they rise.
These pancakes are not overly sweet, so add some sweetener if you want sweet pancakes. Alternatively, you can make coconut flour banana pancakes.
Storage info
Like most pancake batters, do not prep it in advance. This is extra important for coconut flour ones, as it is much more absorbant. However, you can freeze leftovers to enjoy later:
To store: Leftovers can be stored in the refrigerator, covered, for up to 1 week.
To freeze: Place pancakes in a ziplock bag and store them in the freezer for up to 6 months.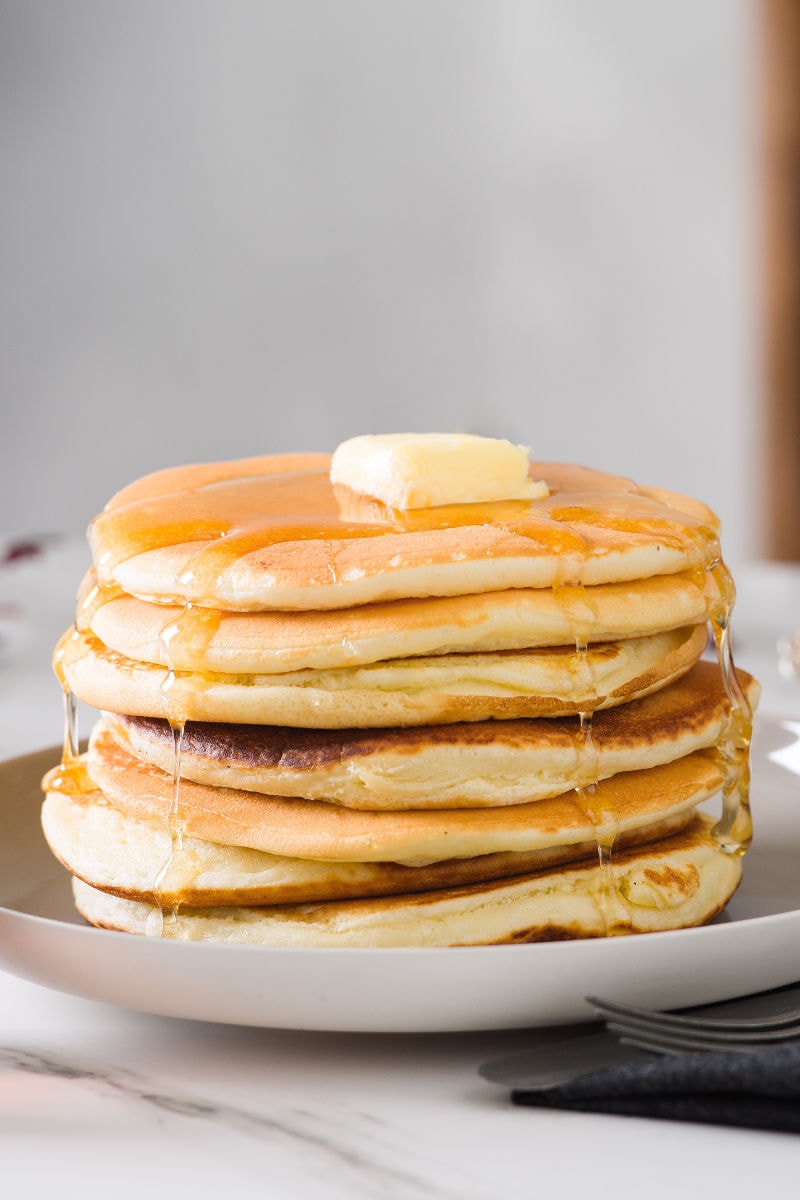 More recipes using coconut flour to try
FAQS about this coconut flour pancake recipe
Why do my pancakes fall apart? 
The main reason coconut pancakes fall apart comes down to the brand of coconut flour you use. I've used some brands that have a very weak consistency and aren't as absorbent, which can be a problem (you want your coconut flour to act like a sponge!).

To combat this, if your pancake batter isn't extra thick (not pourable or smooth), add more coconut flour to it. Alternatively, if your batter is too thick (not mixable and too crumbly), add extra milk until it is no longer crumbly. 
Are coconut flour pancakes healthy? 
With just 40 calories per pancake and over 2.5 grams of fiber per serving, these pancakes are super healthy! They are low in calories, carbs, and have no added sugar.

If you'd like to try other healthy pancakes, try low calorie pancakes or healthy oatmeal pancakes. 
Can I use whole eggs instead of egg whites?
Yes, if you'd like to use whole eggs instead of just the whites, you are welcome to do so. While the carbs won't change, the fat and calories will increase. 

Also, the whites only yield fluffier pancakes: the whole egg option will be slightly more spongy and thick.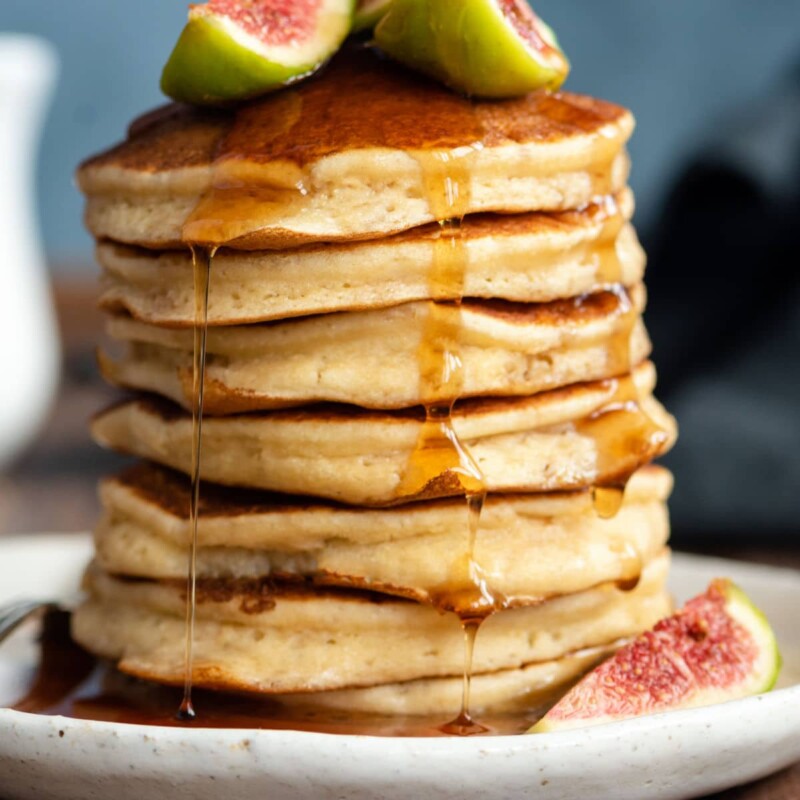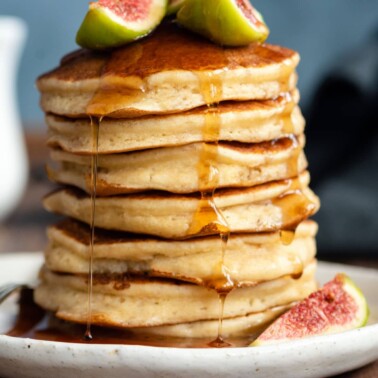 Coconut Flour Pancakes in ONE minute | Low Calorie and Low Carb
Thick and fluffy coconut flour pancakes made in 5 minutes! No sugar needed, these are one of the EASIEST low carb breakfasts you'll ever make. 
Instructions
In a large mixing bowl, combine your dry ingredients and mix well. Add in the egg whites, one at a time, followed by the milk, yogurt, vanilla extract and stevia. Mix very well, until combined and a very thick batter remains.

Grease a large non-stick pan and place it over medium heat. Once hot, spoon portions of the pancake batter onto the pan and immediately cover it. Cook for 3-4 minutes, or until the edges go golden. Remove the lid, flip, and cook for a further two minutes. Repeat the process until all the pancakes have been cooked.

Serve the pancakes immediately, or let them cool completely.
Notes
If your pancake batter is crumbly, add more milk. If the batter is too thin, add more coconut flour.
* Save the yolks for a flan or creme brulee.
TO STORE: Leftovers can be stored in the refrigerator, covered, for up to 1 week.
TO FREEZE: Place pancakes in a ziplock bag and store them in the freezer for up to 6 months.
Nutrition
Serving:
1
pancake
Calories:
40
kcal
Carbohydrates:
3.5
g
Protein:
4
g
Fat:
1.5
g
Sodium:
200
mg
Potassium:
93
mg
Fiber:
2.5
g
Vitamin A:
1
IU
Calcium:
79
mg
Iron:
1
mg
NET CARBS:
1
g
Disclosure: This post may contain affiliate links. I may earn a small commission for my endorsement, recommendation, testimonial, and/or link to any products or services from this website.