Healthy Flourless Zucchini Bread Pancakes (Vegan, Gluten Free, Sugar Free)
Enjoy zucchini bread and pancakes in one with these thick and fluffy flourless zucchini bread pancakes! Made with no eggs, no flour and no sugar, these quick and easy healthy pancakes are naturally vegan, gluten free, sugar free and dairy free.

When I first took a bite of these fluffy zucchini bread pancakes, they had all the elements of a quality zucchini bread in it- moist and fluffy on the inside, tender on the outside and an even distribution of shredded zucchini (and some cheeky chocolate chips!) throughout.
The best part of these pancakes? They are made in a blender and super thick and fluffy, without the need for any eggs whatsoever!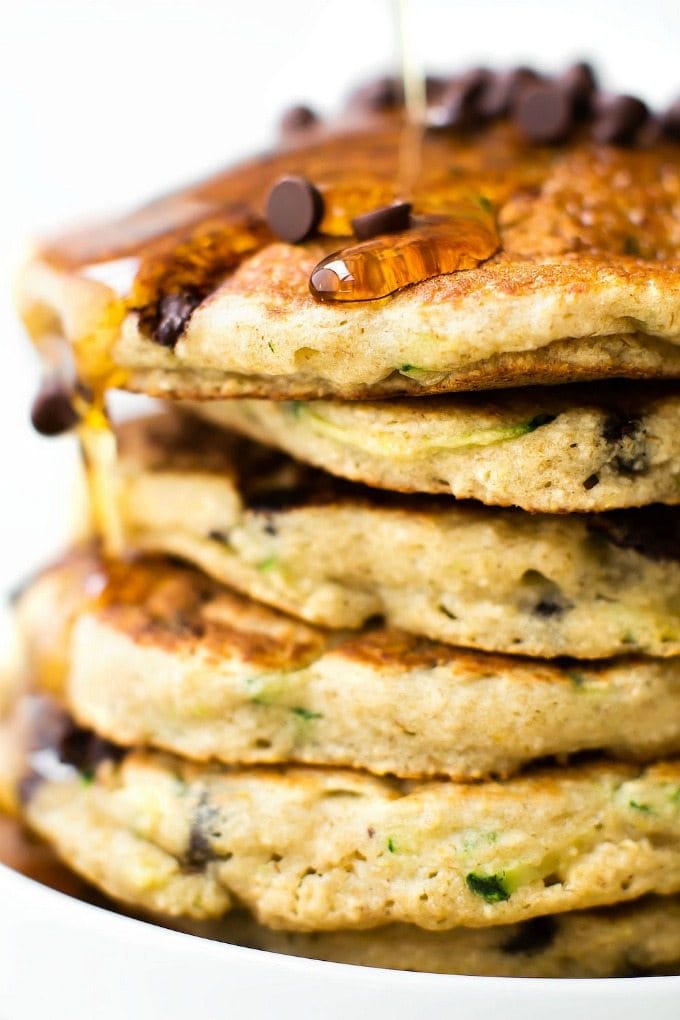 If you've spent any time in these neck of the woods lately, you'll know that dessert for breakfast is a common theme here. From no bake brownies to America's favorite candy bar made into a breakfast bar, you'll find something to nosh on.
Recently, I've been really into my pancakes, especially these blueberry smoothie ones which are perfect to serve at a weekend breakfast. They are also perfect to enjoy during the week, as they are freezer friendly and can be reheated easily.
However, this super speedy and fuss-free recipe is so simple, you don't even need to consider it a 'sometimes' food. Pancakes have a stigma that they are a time-consuming kind of breakfast, but this recipe proves otherwise.
Healthy, thick and fluffy pancakes in under 10 minutes? Count me in.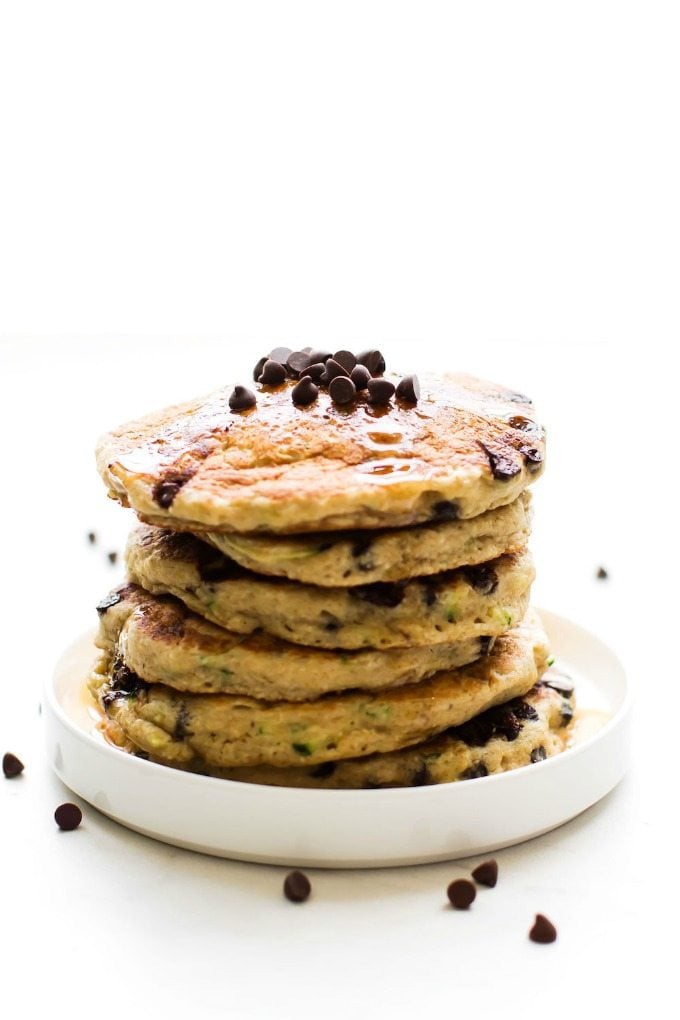 It's a simple three-step process- Blend the ingredients, pour the batter into a heated pan, flip and serve.
For perfect thick and fluffy pancakes, you'd assume that there is a need for eggs or egg whites. However, this is totally not the case, which makes these pancakes suitable for those with egg allergies or following a vegan lifestyle. Instead, the combination of apple cider vinegar and baking powder.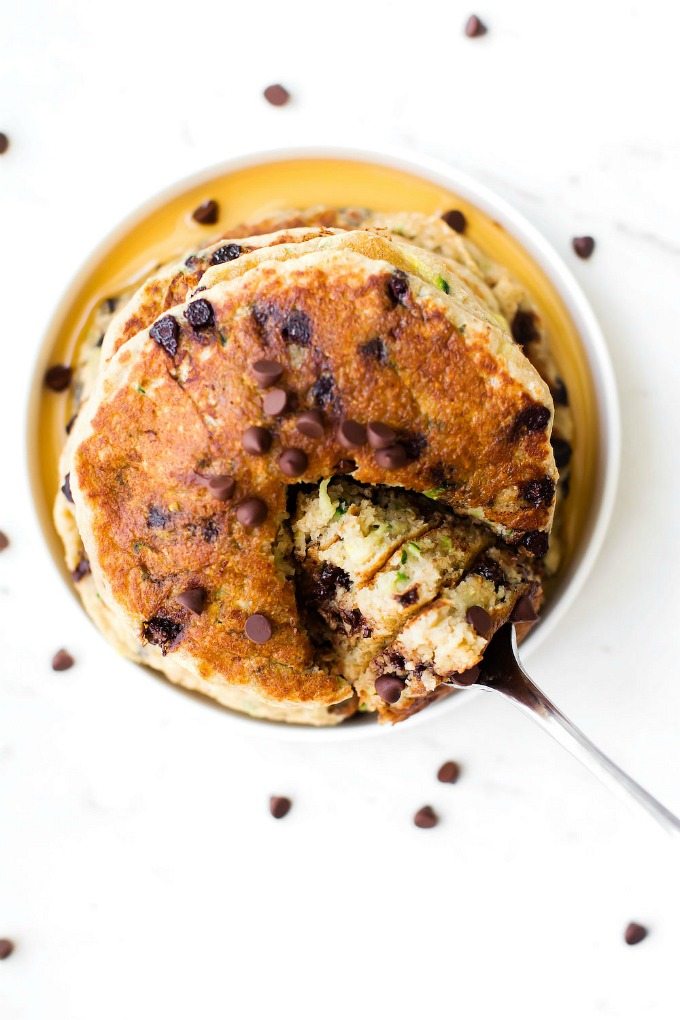 When the apple cider vinegar and baking powder are immersed with all the other ingredients, it helps to achieve a texture profile to an egg when making pancakes. This will result in super thick and pillow like pancakes. I tried it with white vinegar and while still fluffy, they did have an acidic aftertaste.
You'll notice I included gluten free 'flake cereal' as opposed to rolled oats or a more specific grain. The flake cereal replaces the flour, in order to keep this recipe wheat free and flourless. As expected, no grain or cereal is created equal and will all yield slightly different results.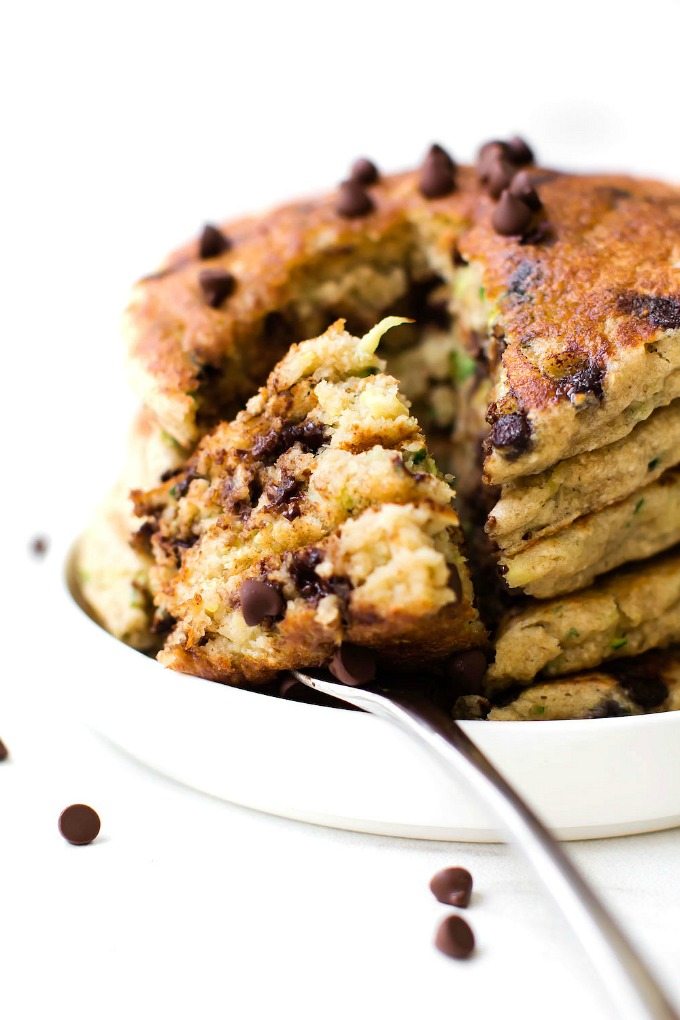 Rolled oats– This is my preferred grain to use, as it produces seamless pancakes each time, with all the right characteristics- Light, fluffy and almost flour-like!
Quinoa flakes– The closest resemblance to oat flour and perfect for those with oat intolerances or allergies. They have a more dense texture and slightly nuttier flavor.
Buckwheat flakes– Similar to quinoa flakes, these are a good substitution to rolled oats to replace the flour. It won't be as fluffy and tends to be thicker, but they still taste delicious.
Spelt flakes– A new flake cereal I tried, I found the consistency similar to steel cut oats, minus the lengthy cooking time! If you prefer 'stick to your ribs' kind of pancakes, I'd recommend using spelt flakes as they were incredibly dense and very, very filling!
My favorite kind of zucchini bread involves evenly distributed bits of finely shredded zucchini, enough sweetness without being overpowering, and some chocolate chips. These pancakes encompass all of those, and more!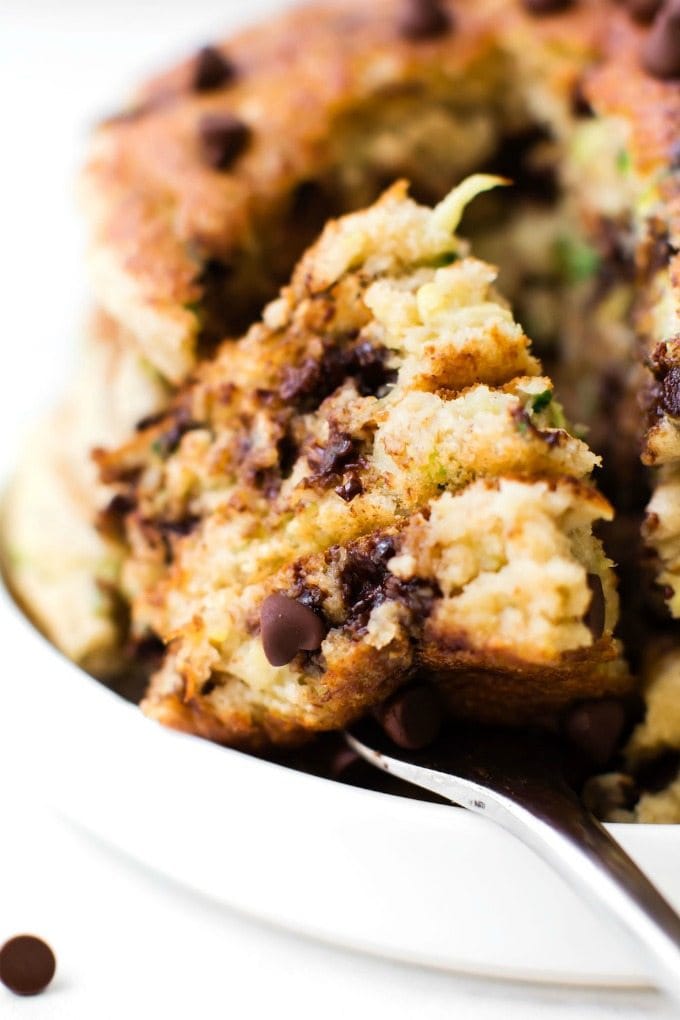 Ensure the zucchini is very finely shredded, and also relatively dry, with the moisture removed. To do this, either use a light dishcloth, cheesecloth or even your hands to remove any excess liquid. This will ensure the pancakes aren't too wet once ready to cook. It will also ensure the zucchini is evenly dispersed throughout each fluffy pancake.
You can either use a mashed banana or mashed sweet potato for the starch base. The mashed banana will provide more sweetness than the sweet potato, but use whichever you prefer. The pancakes will still be sweet, thanks to the small amount of liquid sweetener incorporated into the batter. I opted to keep these pancakes completely sugar free, so used this monk fruit sweetened maple syrup. If that isn't an issue for you, use standard maple syrup.
Chocolate chips are optional, but really, this recipe wouldn't be complete without them! What takes a tender zucchini bread from delicious to mouth watering? A touch of chocolate, obviously! I included my favorite mini chocolate chips, which, similar to the finely shredded zucchini, was evenly distributed, which ensured every single bite had some chocolate goodness.
I wanted to keep the recipe completely vegan and dairy free, so used my favorite unsweetened almond milk for my milk of choice. Silk's unsweetened vanilla almond milk is my go-to, as its lends a delicious subtle vanilla flavor. This also means I don't need to add any vanilla extract to the overall recipe. It's also pleasantly creamy and doesn't curdle like many other kinds of milk on the market!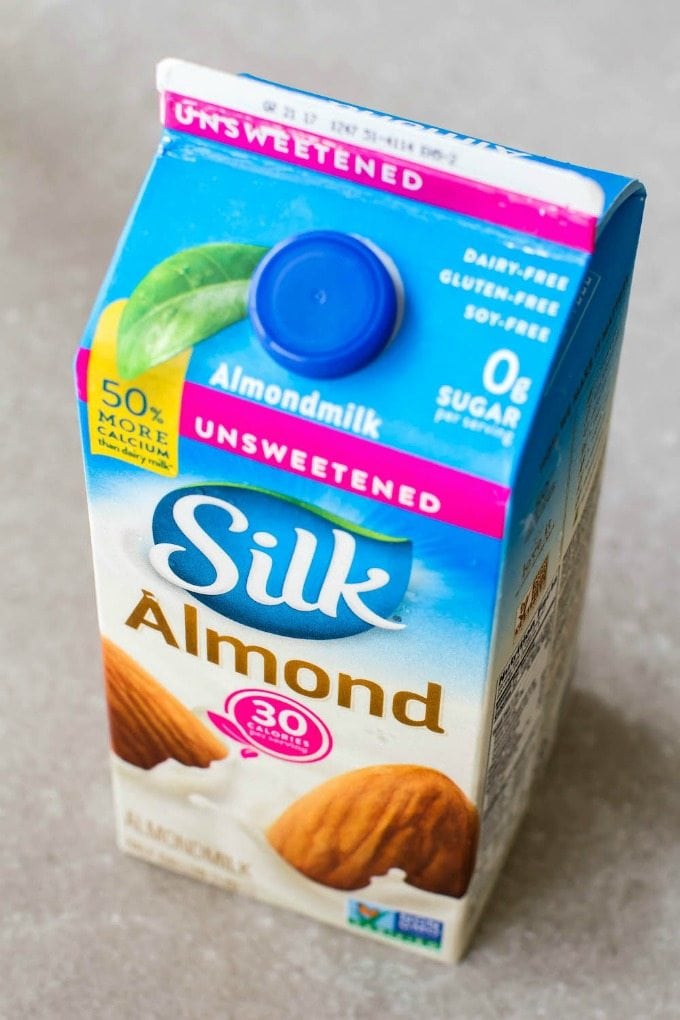 As a Silk ambassador, I'm one for advocating to approach a better, healthier lifestyle. If that means showcasing and sharing recipes which are packed full of nutrients and benefits without sacrificing taste (or tasting BETTER than their traditional counterparts!), I'm all for it!
If you are a fan of zucchini bread, a fan of pancakes or even better, a fan of both- I promise these healthy fluffy flourless zucchini bread pancakes will become a fast favorite!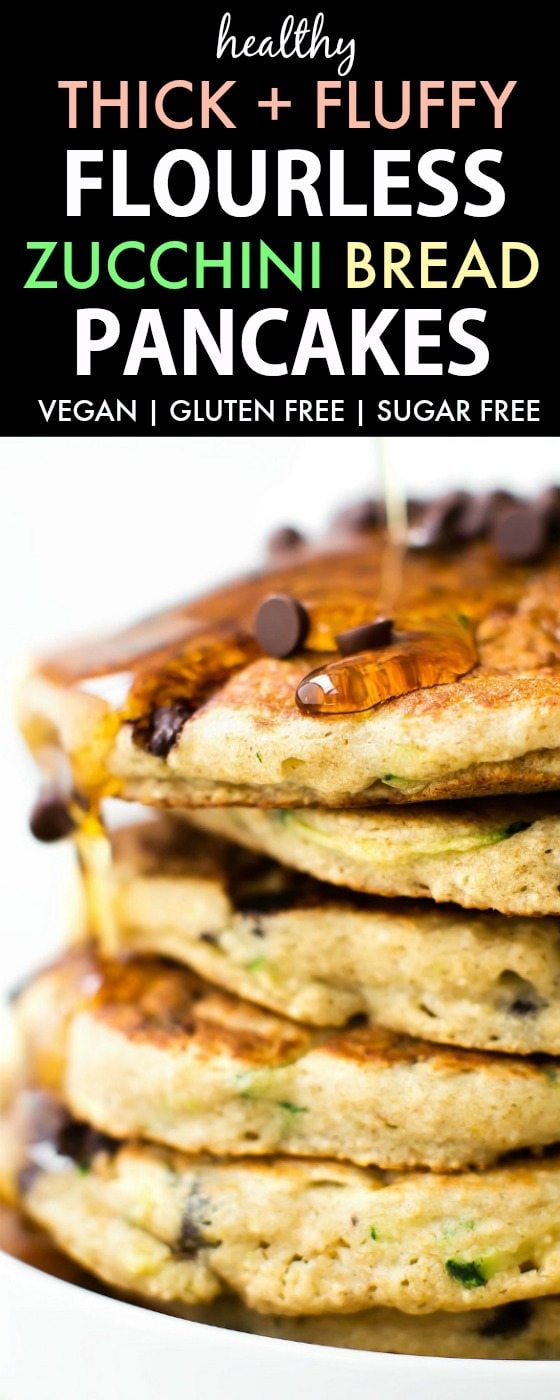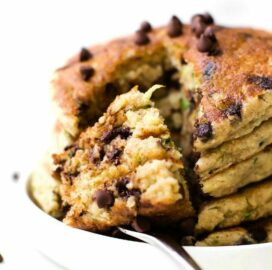 Fluffy Flourless Zucchini Bread Pancakes
Enjoy zucchini bread and pancakes in one with these thick and fluffy flourless zucchini bread pancakes! Made with no eggs, no flour and no sugar, these healthy quick and easy pancakes are naturally vegan, gluten free, sugar free and dairy free.
Print
Rate
Instructions
In a high speed blender or food processor, add all your ingredients, except for the zucchini and chocolate chips and blend until a thick batter remains. Add the zucchini and chocolate chips and blend very lightly.

Preheat a lightly greased pan on medium heat. Once hot, pour a quarter cup portions of the batter in the pan. Cook for 1-2 minutes, or until the edges start to brown. Flip and cook for a further minute or two. Repeat until all the batter is used up.

Remove from pan and enjoy immediately.
Notes
Pancakes can be batch cooked and frozen for quick and easy breakfasts during the week.
Key Recipe Equipment and Ingredients
Nutrition
Serving:
1
serving
|
Calories:
130
kcal
|
Carbohydrates:
21
g
|
Protein:
3
g
|
Fat:
4
g
|
Sodium:
346
mg
|
Potassium:
73
mg
|
Fiber:
3
g
|
Calcium:
216
mg
|
Iron:
2
mg
|
NET CARBS:
18
g
More delicious HEALTHY Pancakes? Gotcha covered!
More delicious recipes? Gotcha covered!
The Big Man's World is a participant in the Amazon Services LLC Associates Program, an affiliate advertising program. This means that if you click and make a purchase, TBMW receives a small commission, at no cost to you. Cheers, hugs, and handshakes for supporting TBMW!
This is a sponsored conversation written by me on behalf of Silk. The opinions and text are all mine.