Fluffy Flourless Banana Smoothie Pancakes (Vegan, Gluten Free, Sugar Free)
These super thick and fluffy flourless banana smoothie pancakes are a filling, healthy, satisfying and easy breakfast recipe! Made with no eggs, butter, oil or flour, these banana smoothie pancakes are naturally gluten free, vegan, dairy free and come with a sugar free option!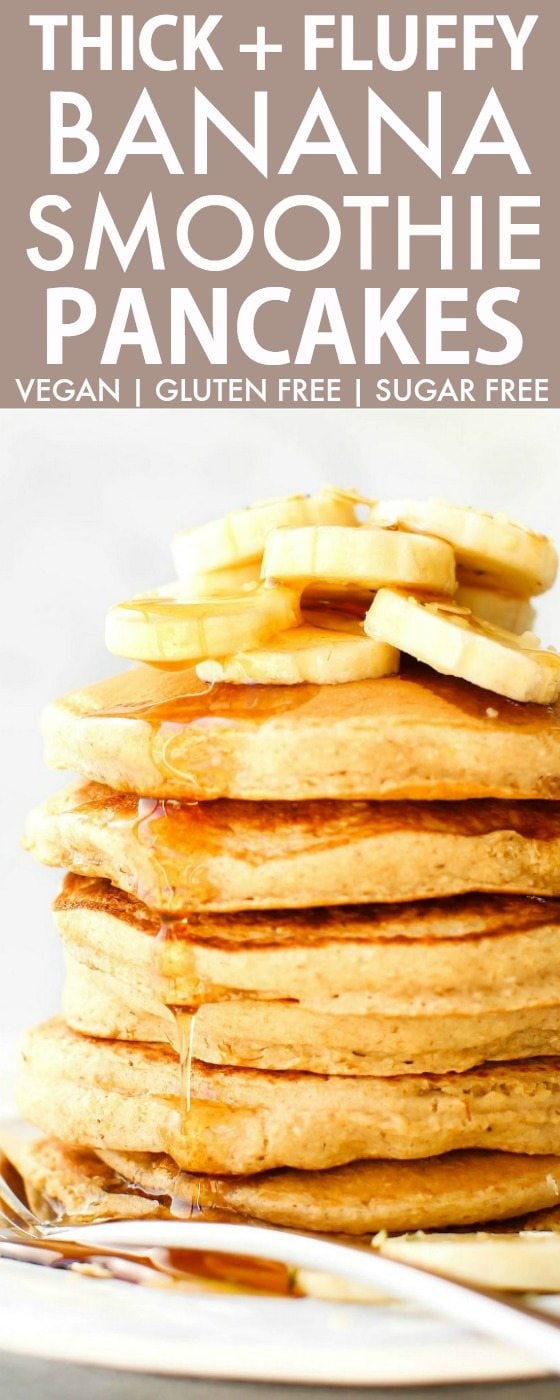 Happy Friday, friends!
A new year and we're back with the epic contributor posts! Kicking things off is the amazing Nat! Expect some fun news later this month but I'm just a little bit excited and I may or may not be eating these pancakes in real life.
BOOM.
***
I hate to admit it, but I am that stereotypical blogger type who could drink a ginormous green smoothie for breakfast every morning. I don't do it because it's a thing, I do it because it's delicious and exactly what I crave most of the time. And I also do it because it means I don't have to worry about eating as many greens for the rest of my day. (Hello ice cream for dinner!) Vegetables and I just drift further and further apart as the day goes on, so I like to start strong.
But lately with the whole fall/winter thing, drinking a big frozen banana smoothie leaves me in dire need of a blanket shroud and fuzzy socks. And you know what is not a good combo? Wearing a blanket and working in the kitchen on recipes…pretty sure that's a fire hazard. And I have caught on fire one too many dishtowels to make the cloth + oven mistake again. So for practicality sake, it's time to switch things up.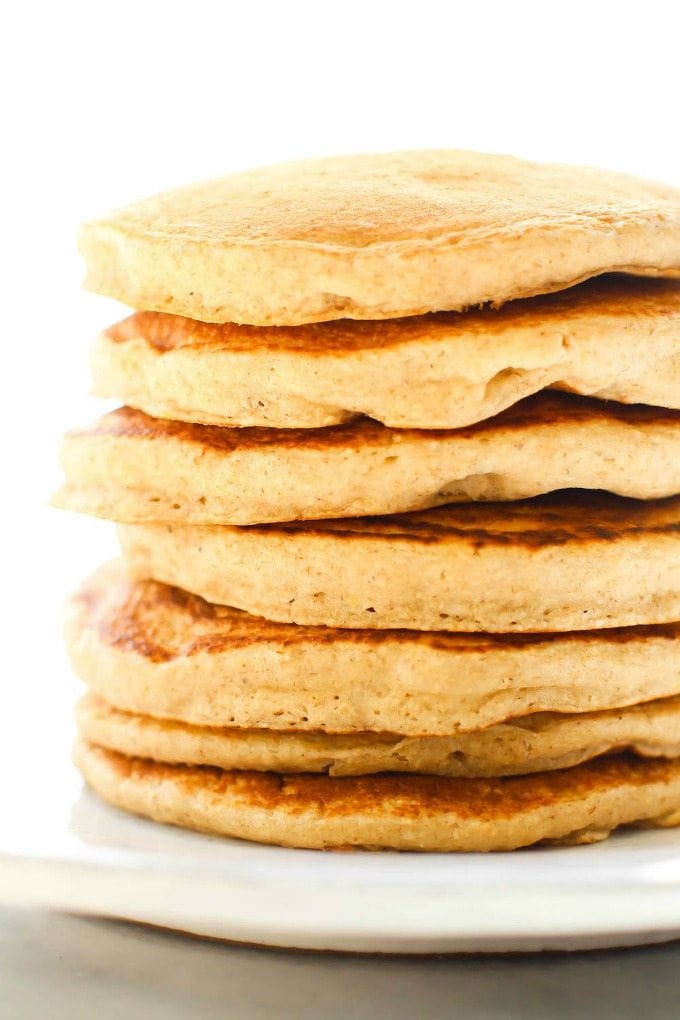 Luckily switching to a warmer breakfast doesn't mean I have to leave the bananas and blender behind though because of these Thick and Fluffy Flourless Banana Smoothie Pancakes! There are a few minor ingredient and amount tweaks to transform a smoothie into a soft fluffy pancake stack, but the 3 basic ingredients carry over from smoothie straight to this blender breakfast recipe: banana, non-dairy milk, and oats!
I typically add greens to my smoothies, so for one silly second, I thought about doing the same here. Then I remembered I actually wanted these pancakes to look like edible appetizing food. Green batter + golden-brown color of cooked pancakes…well I'll just let your imagination finish that one for me. I learned my lesson about green in baked things with the Matcha Cake Experiment of 2015. Google 'matcha cake' and I find beautiful photos of grassy gorgeous 3 layer masterpieces. Make matcha cake and I find a hideous color-confused brown/green matcha mess in my oven. So now I keep the matcha to lattes and the greens to cold blender things.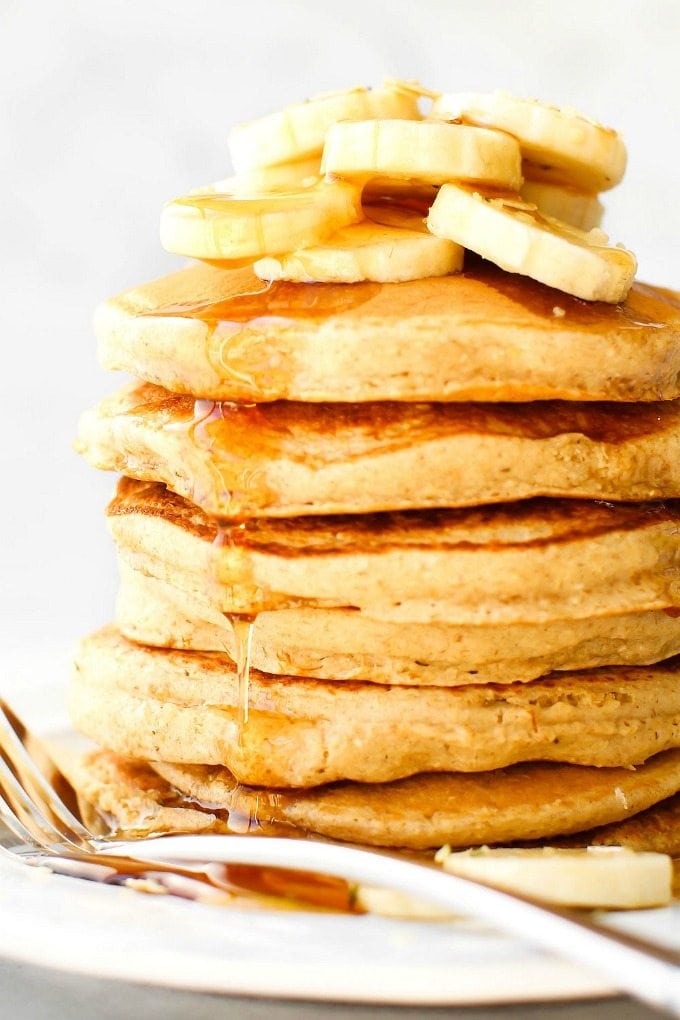 Nothing is more pancake pitiful than a stack with no fluff. You know, those times that you question even calling it a stack. More like a plateau of pancake–wider than it is high. Too thick to be a crepe, too thin to be a proper pancake, just lost in that confusing breakfast food gray zone. That must be avoided.
So here are my tips for making sure that doesn't happen to your banana smoothie pancakes…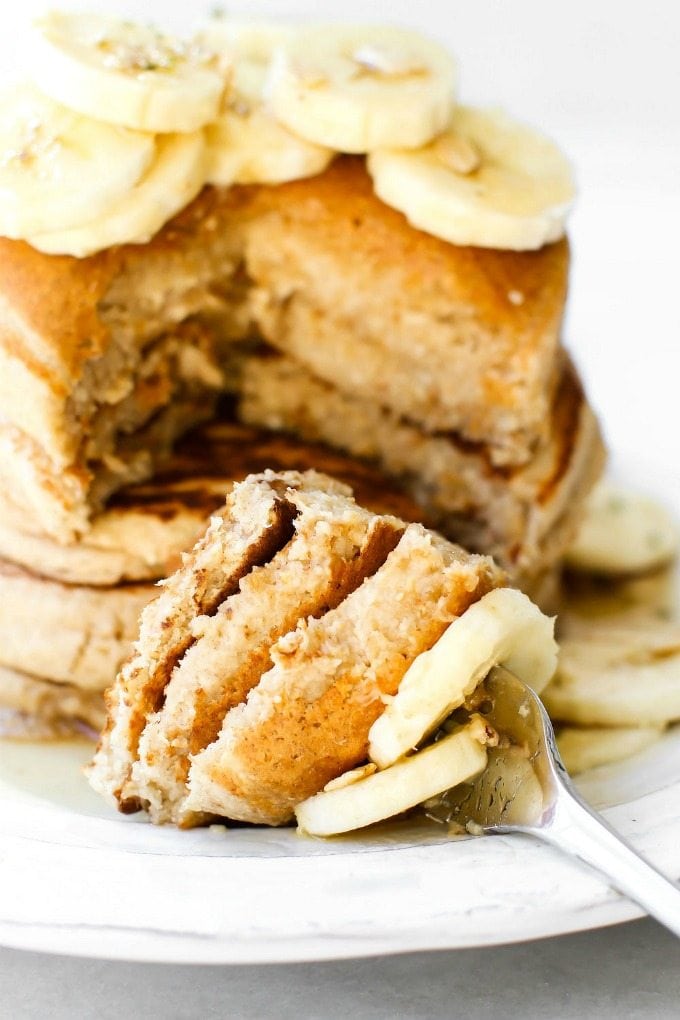 Apple cider vinegar + baking powder. Many pancake recipes just call for the leavening agent and forget the acid, but you will get a lot more rise-factor with a tablespoon of apple cider vinegar in the batter to help the baking powder do its job. You can use lemon juice as well, but after testing both I found the apple cider vinegar to work much better.
Thick batter. Having a really thick gloopy batter is important for tall fluffy pancakes because the less it spreads when you pour it in the pan, the more they will bake up not out. Since this batter is made with oats, which as oatmeal has taught us absorbs liquid and thickens with time, letting the batter rest for 10 minutes or so before cooking helps with the fluff factor. The ripeness of your banana can also affect the thickness of the batter, riper banana = thinner batter. So if it seems a little too thin and is spreading too much don't hesitate to add more oats. If I have to help the batter a bit to spread into a circle in the pan then I know I'm en route to some very fluffy pancakes.
Keep them small. This one is kind of a cheat, but obviously smaller pancakes = more pancakes = taller stack.
Preheat your pan. Just like the thickness of the batter, having an already hot pan keeps them from spreading too much as well. I usually heat up my pan over high heat and then reduce it to a little above medium after it's nice and hot. Low and slow pancake-cooking fans, do as you please. But mine will be done before yours–just sayin'. I find the first pancake of the batch to always be the least fluffy, it takes me one or two to find my pancake cooking groove. But it will be buried at the bottom of the stack anyways so no one needs to know.
More banana on top is never a bad idea, and blueberries would've been a nice touch too. Sprinkle on something crunchy–nuts, seeds, granola, sprinkles. Drench drown drizzle with maple syrup. And dive in! Those last steps are optional of course, top them whichever way you like. As long as you're happy and the pancakes are fluffy, I'm happy!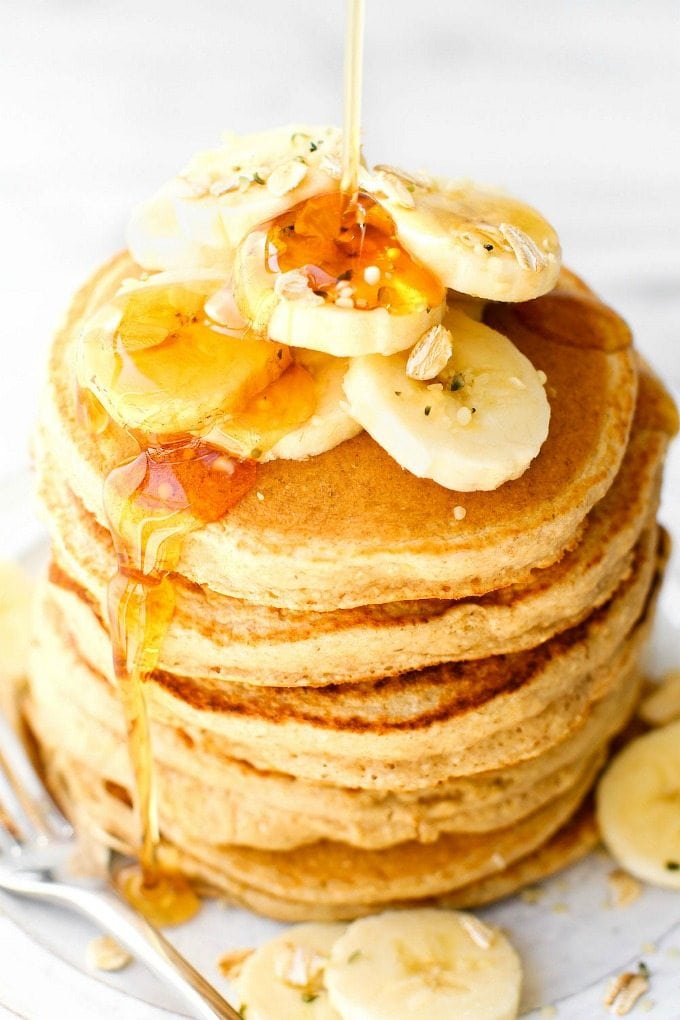 Editor's notes- To keep these sugar free, omit the pure maple syrup and replace it with a liquid sweetener of choice. I don't recommend switching it out for sugar free maple syrup, as it pretty much resembles water, and loses the sweetness once cooked. Alternatively, you can omit it completely and enjoy the natural sweetness of the banana.
Make these healthy thick and fluffy Flourless Banana Smoothie Pancakes and don't let the seasons stop you!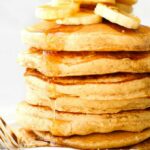 Healthy Thick and Fluffy Flourless Banana Smoothie Pancakes
These super thick and fluffy flourless banana smoothie pancakes are a filling, healthy, satisfying and easy breakfast recipe! Made with no eggs, butter, oil or flour, these banana smoothie pancakes are naturally gluten free, vegan, dairy free and come with a sugar free option!
Print Recipe
Instructions
Combine all the ingredients in a blender. Blend until smooth.

Allow the batter to rest for 5-10 minutes, giving the oats time to absorb liquid and thicken.

Preheat a nonstick pan over medium high heat. Once hot, pour in about ¼ cup of batter.

Cook for 1-2 minutes or until you can easily slide a spatula underneath. Flip. Cook for another 1-2 minutes on the second side.

Repeat until all the batter is used up.

Add your toppings of choice and enjoy.
Notes
* Can switch for a liquid stevia sweetener of choice- However, it won't be as fluffy.
More delicious recipes from the Fruit Queen herself-
Cookies and Cream Blender Ice Cream
2 Ingredient Flourless Flatbreads
2 Minute Flourless English Muffin
Thick and Creamy Cinnamon Roll Smoothie

Friends, you'd be doing yourselves a favor by connecting with Natalie not just on her blog, but via social media- She can be found on Facebook, Twitter, Instagram, Youtube and Pinterest.
Do you enjoy smoothies in winter?
The Big Man's World is a participant in the Amazon Services LLC Associates Program, an affiliate advertising program. This means that if you click and make a purchase, TBMW receives a small commission, at no cost to you. Cheers, hugs, and handshakes for supporting TBMW!