healthy flourless banana pancakes (gluten free, vegan)
These super thick and fluffy flourless banana smoothie pancakes are a filling, healthy, satisfying and easy breakfast recipe! Made with no eggs, butter, oil or flour, these banana smoothie pancakes are naturally gluten free, vegan, dairy free and come with a sugar free option!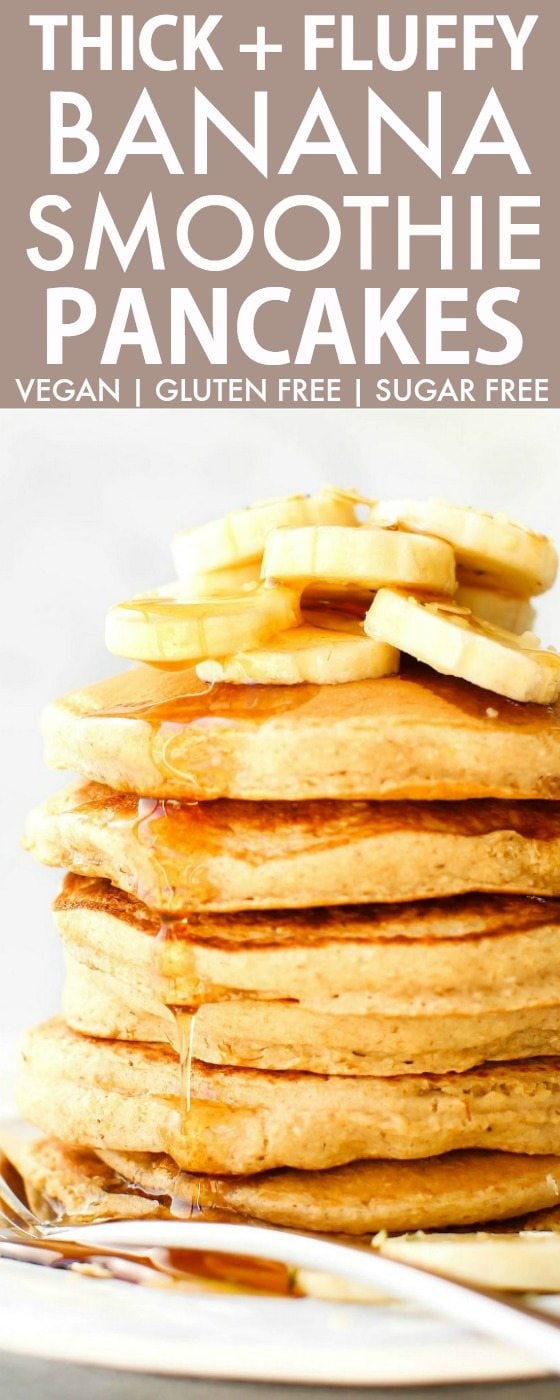 Vegan Gluten Free Banana Pancakes
Thick, fluffy and packed with protein, these healthy banana pancakes are a delicious vegan and gluten-free breakfast!
The combination of bananas, dairy-free milk and oats are combined to produce these flourless pancakes. Made without eggs, you'd be surprised to see just how fluffy these eggless pancakes are!
Nothing is more pancake pitiful than a stack with no fluff. You know, those times that you question even calling it a stack. More like a plateau of pancake–wider than it is high. Too thick to be a crepe, too thin to be a proper pancake, just lost in that confusing breakfast food gray zone. That must be avoided.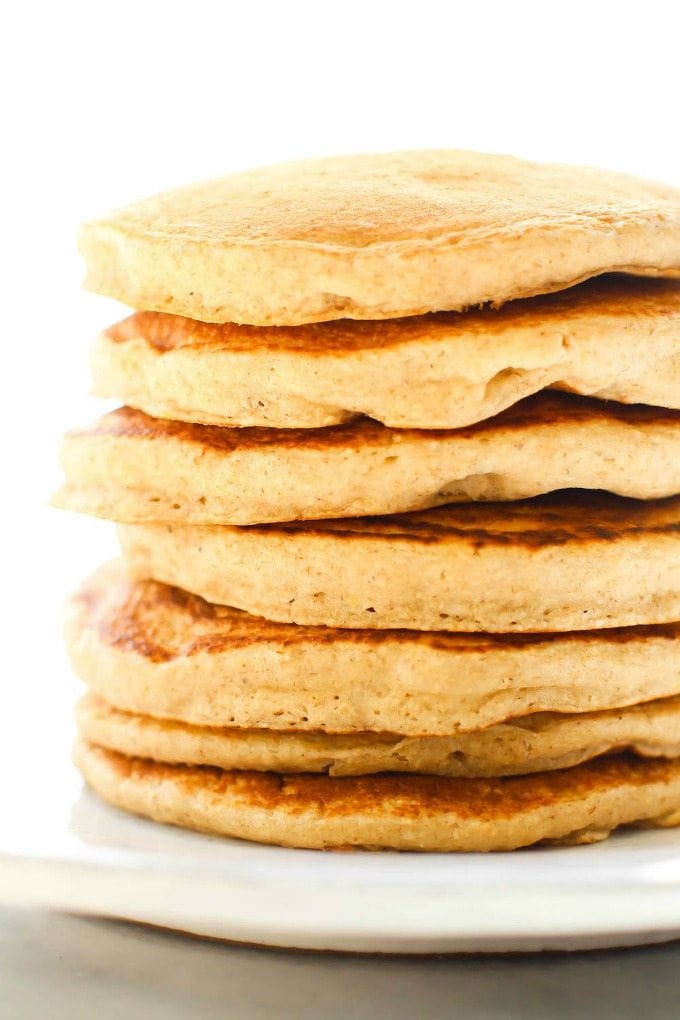 How to make vegan pancakes fluffy
Apple cider vinegar + baking powder
Many pancake recipes just call for the leavening agent and forget the acid, but you will get a lot more rise-factor with a tablespoon of apple cider vinegar in the batter to help the baking powder do its job.
You can use lemon juice as well, but after testing both I found the apple cider vinegar to work much better.
Have a thick batter
Having a really thick gloopy batter is important for tall fluffy pancakes because the less it spreads when you pour it in the pan, the more they will bake up not out. Since this batter is made with oats, which as oatmeal has taught us absorbs liquid and thickens with time, letting the batter rest for 10 minutes or so before cooking helps with the fluff factor.
Avoid using overripe bananas
The ripeness of your banana can also affect the thickness of the batter, as a riper banana yields a thinner batter. If the batter seems a little too thin and is spreading too much don't hesitate to add more oats. These banana pancakes have no flour, so don't be afraid to add more oats if needed.
If I have to help the batter a bit to spread into a circle in the pan then I know I'm en route to some very fluffy pancakes.
Keep the healthy banana pancakes small
This one is kind of a cheat, but obviously smaller pancakes = more pancakes = taller stack.
Preheat your pan
Just like the thickness of the batter, having an already hot pan keeps them from spreading too much as well. I usually heat up my pan over high heat and then reduce it to a little above medium after it's nice and hot.
Low and slow pancake-cooking fans, do as you please. But mine will be done before yours–just sayin'. I find the first pancake of the batch to always be the least fluffy, it takes me one or two to find my pancake cooking groove. But it will be buried at the bottom of the stack anyways so no one needs to know.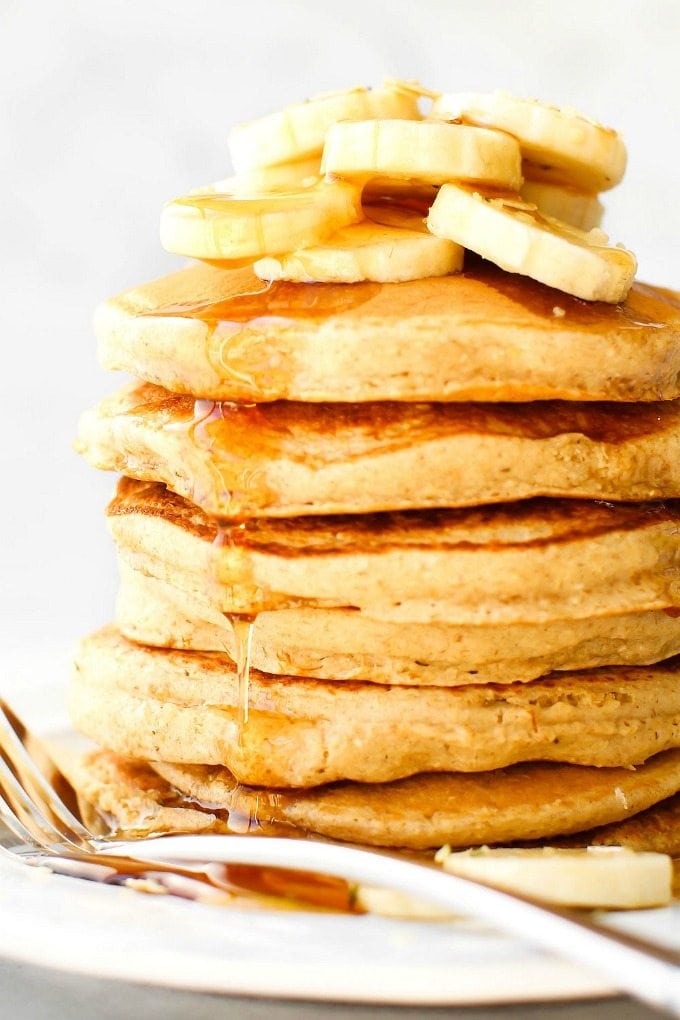 How to make the best vegan oatmeal pancakes sugar free
To keep these sugar free, omit the pure maple syrup and replace it with a liquid sweetener of choice. I don't recommend switching it out for sugar free maple syrup, as it pretty much resembles water, and loses the sweetness once cooked.
Alternatively, you can omit it completely and enjoy the natural sweetness of the banana.
Storing leftover banana oatmeal pancakes
Leftover pancakes should be stored in the fridge and will keep for at least 5 days.
Pancakes are freezer friendly and freeze beautifully. Ensure the pancakes are wrapped in parchment paper and stored in a ziplock bag or shallow container.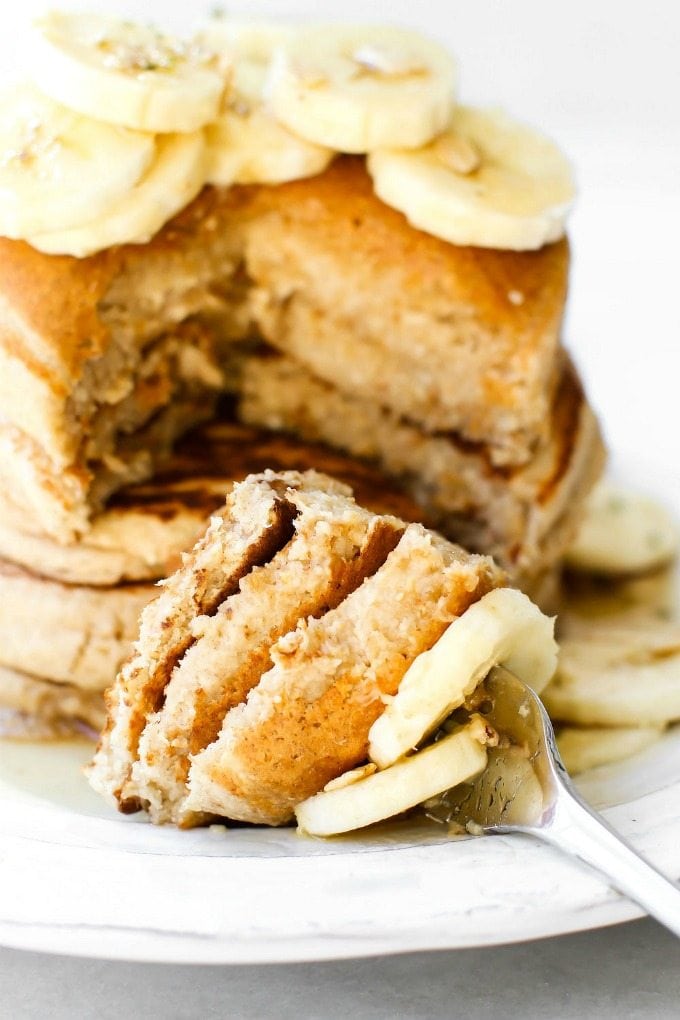 More healthy pancake recipes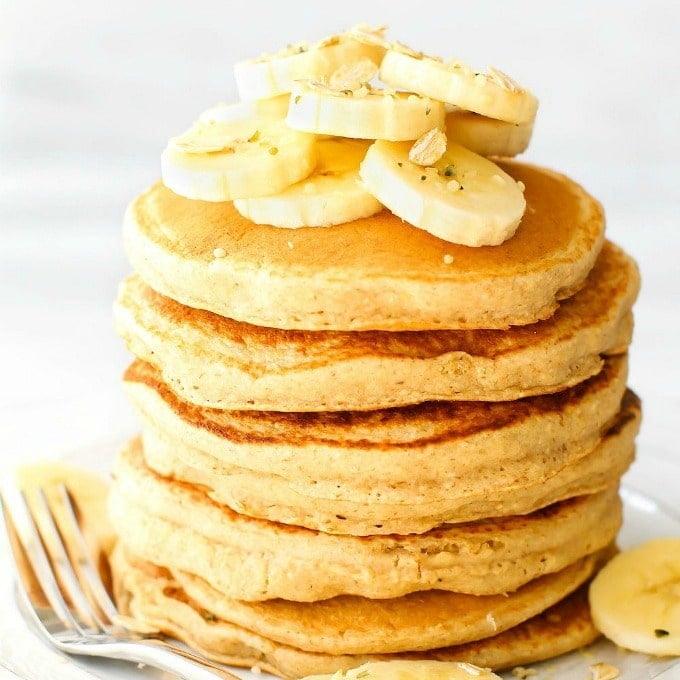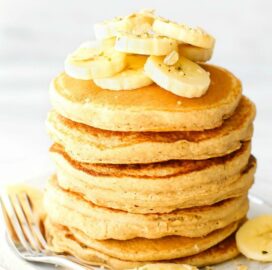 Healthy Vegan Gluten Free Flourless Banana Pancakes
An easy recipe for the BEST healthy banana pancakes made with oatmeal, banana and no eggs! Thick and fluffy vegan and gluten free pancakes!
Print
Pin
Rate
Instructions
Combine all the ingredients in a blender. Blend until smooth.

Allow the batter to rest for 5-10 minutes, giving the oats time to absorb liquid and thicken.

Preheat a nonstick pan over medium high heat. Once hot, pour in about ¼ cup of batter.

Cook for 1-2 minutes or until you can easily slide a spatula underneath. Flip. Cook for another 1-2 minutes on the second side.

Repeat until all the batter is used up.

Add your toppings of choice and enjoy.
Notes
Healthy Vegan Gluten Free Flourless Banana Pancakes should be eaten fresh but can be stored in the fridge for up to 5 days.
Pancakes are freezer friendly and will keep well frozen for 6 months.
Nutrition
Serving:
1
serving
|
Calories:
195
kcal
|
Carbohydrates:
32
g
|
Protein:
8
g
|
Fat:
4
g
|
Fiber:
6
g
|
Vitamin A:
250
IU
|
Vitamin C:
5
mg
|
Calcium:
70
mg
|
Iron:
1.1
mg
|
NET CARBS:
26
g