These zucchini fritters are crispy on the outside and soft in the middle to create the perfect savory breakfast or brunch. Prepared in just 15 minutes, they use pantry staple ingredients.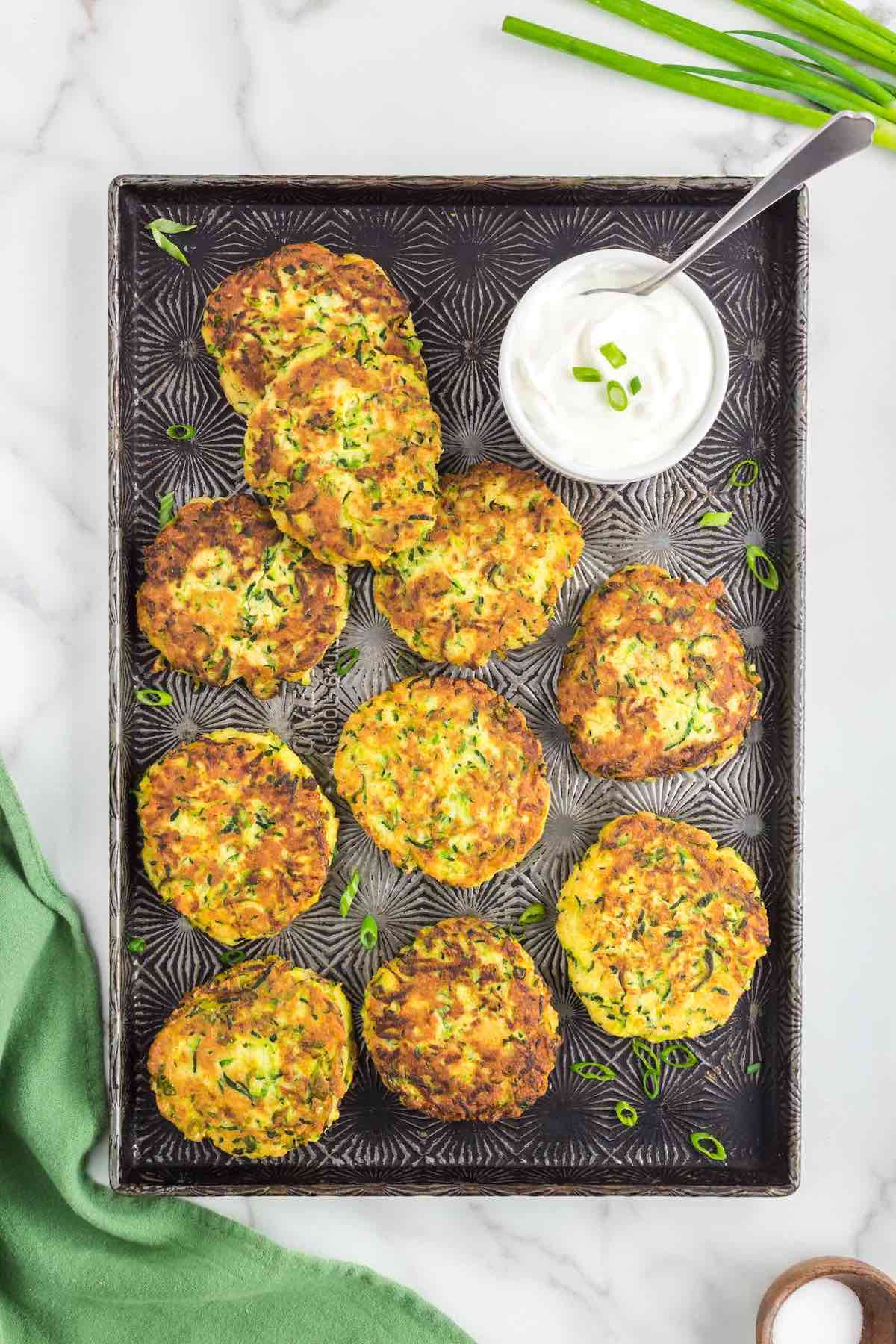 Sometimes you're just in the mood for something crispy and fried, but this can be challenging when you're trying to eat healthily. That's where these super tasty zucchini fritters come in.
Zucchini is a wonderfully nutritious green vegetable that I think is super underrated. It can be made into fries, chips, or air fried, and now made into fritters.
Table of Contents
Recipe highlights
Fritters are super tasty and can be made from a variety of different vegetables. Zucchini is a wonderful vegetable to make fritters that come out crispy and nutritious at the same time.
Crispy but healthy- I'm sure all of us have to fight the craving for crispy, fried food at some point, and these fritters are the perfect solution! They give you that hit of crispy, crunchy goodness without any of the guilt.
Easy to make- Like corn nuggets, these fritters are super easy to make and are ideal for beginners or if you're just in the mood to make something really simple but delicious at the same time.
Takes just 15 minutes- Not only are they easy, but they're also quick! The prep only takes 5 minutes, with the majority of the time taken up by salting the grated zucchini.
Accidentally low carb. Because we use almond flour instead of wheat flour, these are fabulous for a keto diet.
One of the things I love about these fritters is that they can be served in so many settings. They are very tasty appetizers or snacks, especially if you are entertaining, but they are also great as a light lunch or simple dinner.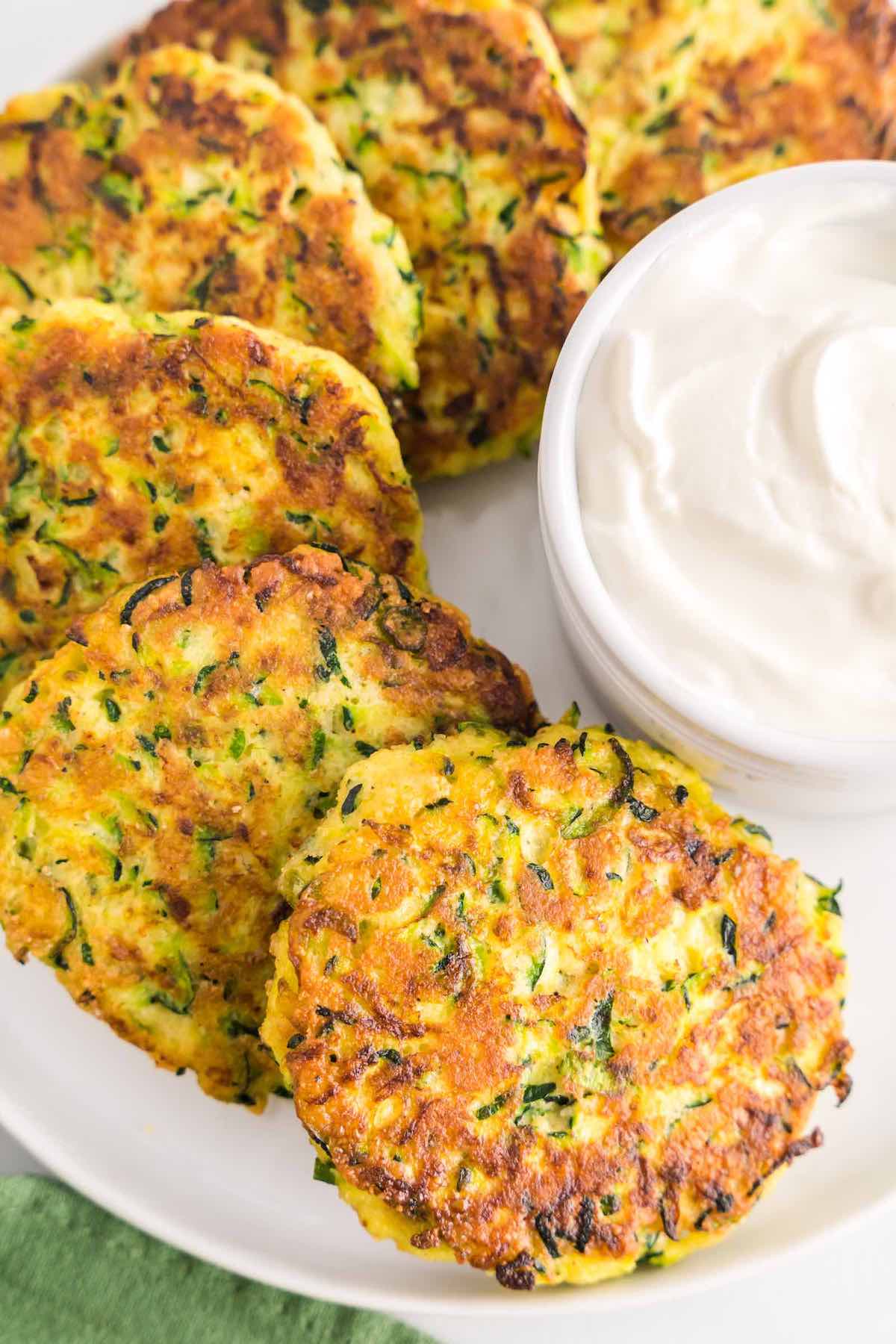 How to Make Zucchini Fritters
This zucchini fritter recipe only takes a few simple steps; prep, mix, and fry! Once you get a rhythm going, they will be super quick to make, so you can enjoy them as soon as possible.
They also need a handful of ingredients to make, and the payoff is so delicious.
Zucchini- This is the key vegetable for fritters as long as you prep them correctly. They are delicious and full of vitamins and minerals, so it's really the best of both worlds.
Egg- Acts as the binder that holds the fritters together and gives them structure.
Almond flour- I decided to use almond flour in this recipe because it's healthier than white flour and it makes this recipe gluten-free. The flour bulks up the fritters and helps them form the ideal texture with the zucchini.
Baking powder- This is a raising agent that is key to making these fritters feel light and fluffy.
Flavorings- To give these fritters some extra flavor, I've added some simple salt and pepper along with parmesan cheese and scallions that work really well with the zucchini flavor.
Step 1- Prepare the zucchini
Start by washing your zucchini, then top and tail them. Leave the skin on and finely grate the zucchini into a bowl. Sprinkle over half the salt and mix it through. Set aside for 10 minutes.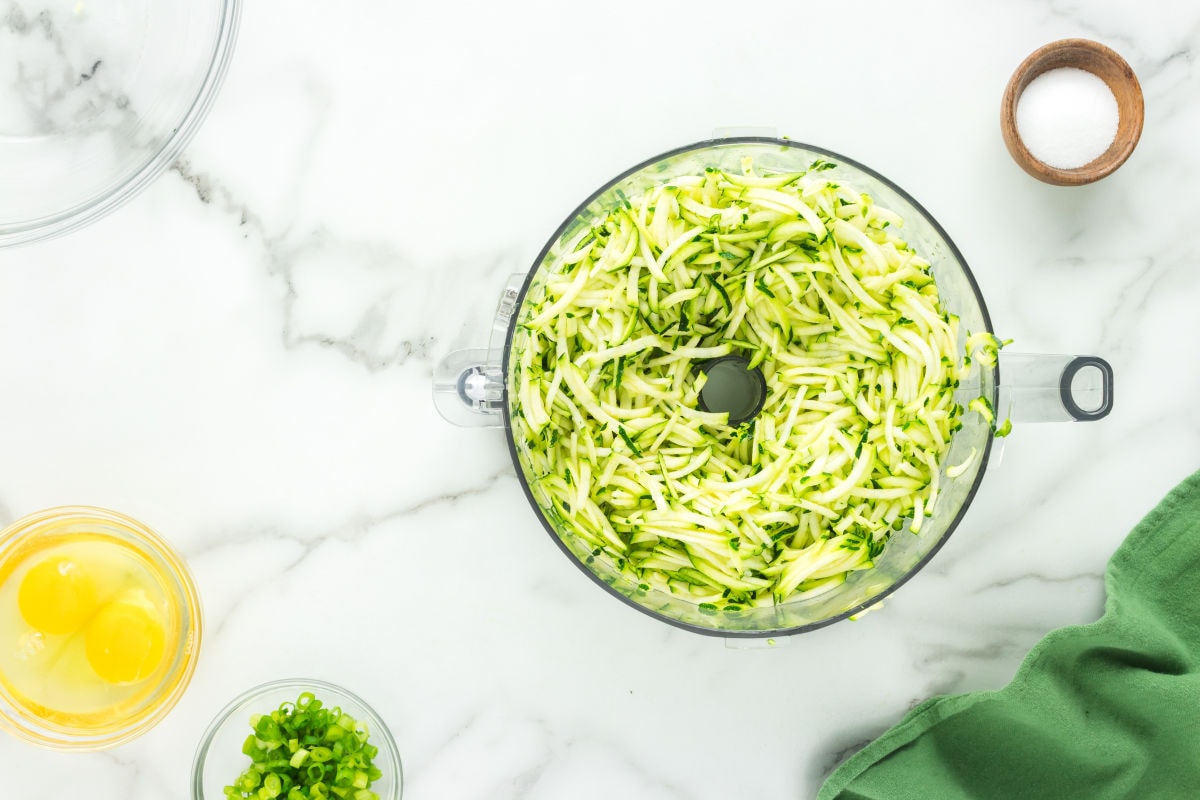 This is going to draw out all the excess liquid so your fritters don't get soggy. After 10 minutes, squeeze the excess liquid out of the zucchini and discard the liquid.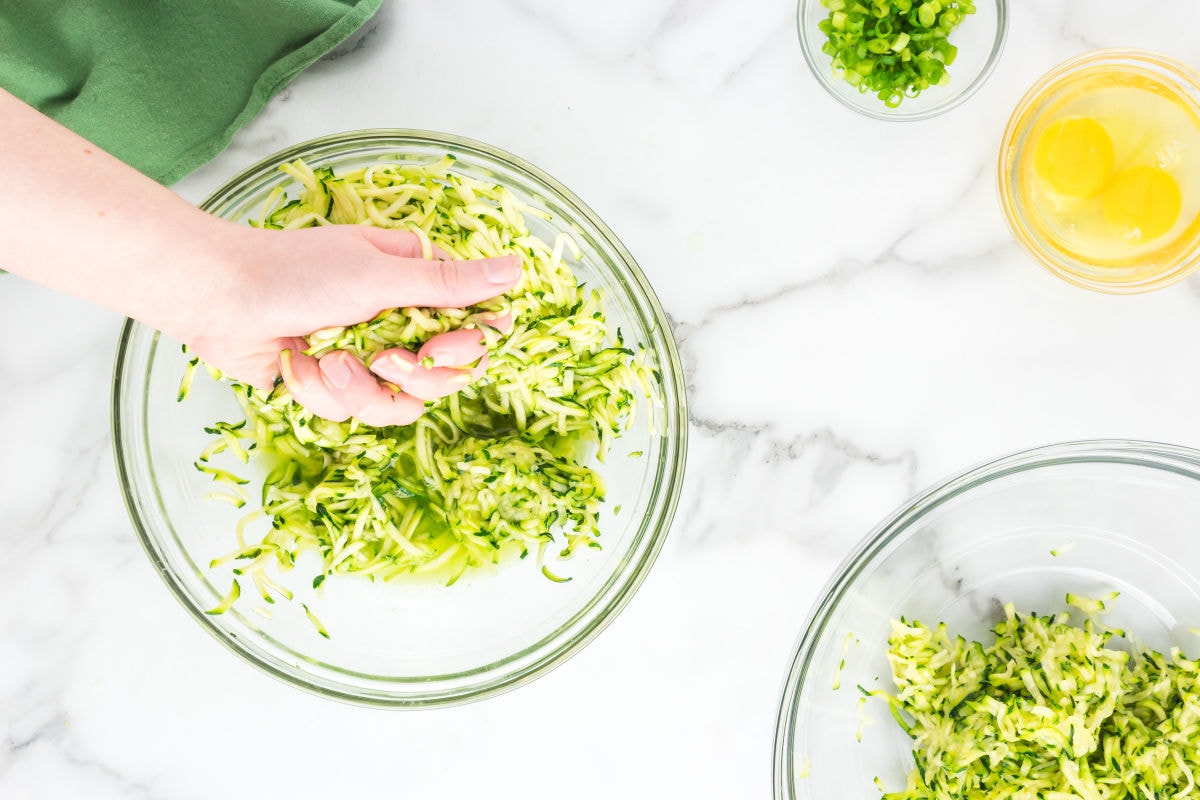 Step 2- Make the Batter
Mix the grated, squeezed zucchini with the scallions, egg, pepper, almond flour, baking powder, and parmesan cheese. Mix together into a batter. It will be lumpy and rough, but all the eggs should be incorporated, and the almond flour should be worked in.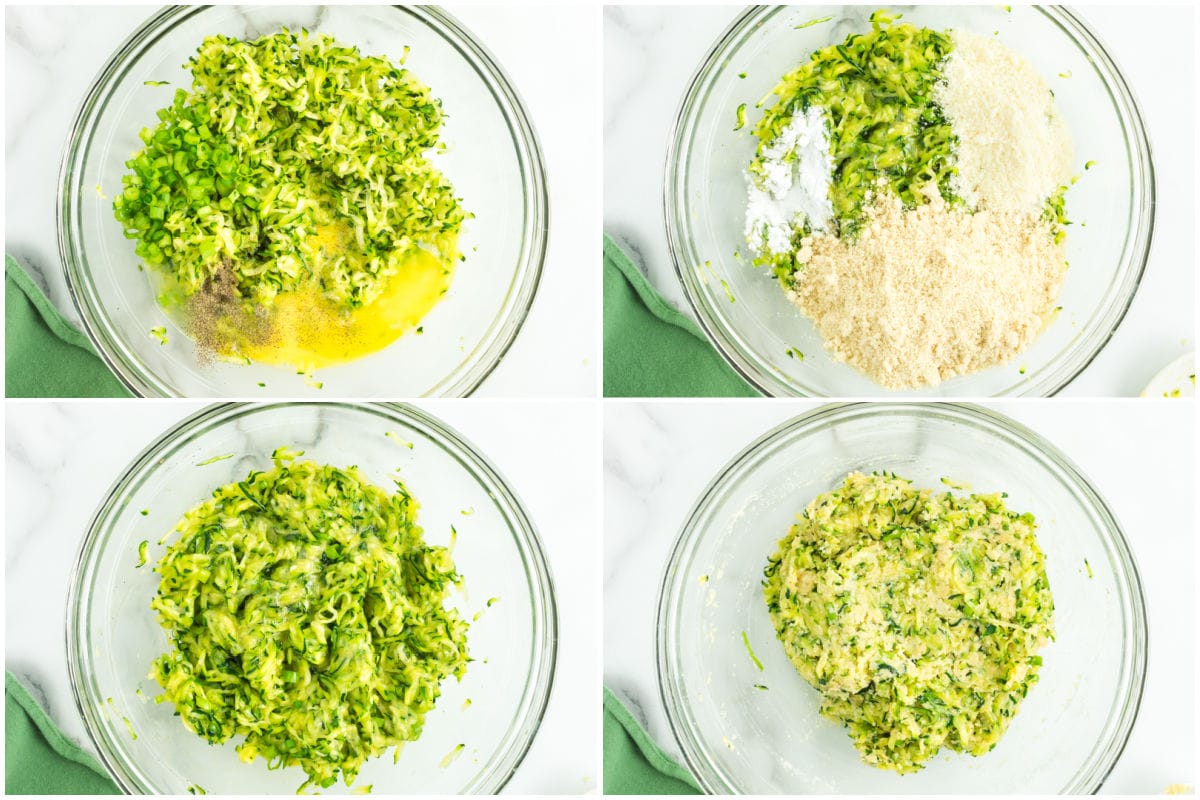 Unlike many fritter batters, you don't have to worry about over-mixing because there is no wheat flour in it.
Step 3- Fry the fritters
Heat the oil in a nonstick skillet over medium-high heat. Place spoonfuls of the batter into the pan and shape into discs. Fry for 2-3 minutes on each side until they are golden and crispy. Repeat until all the batter is finished. Drain on a paper towel before serving.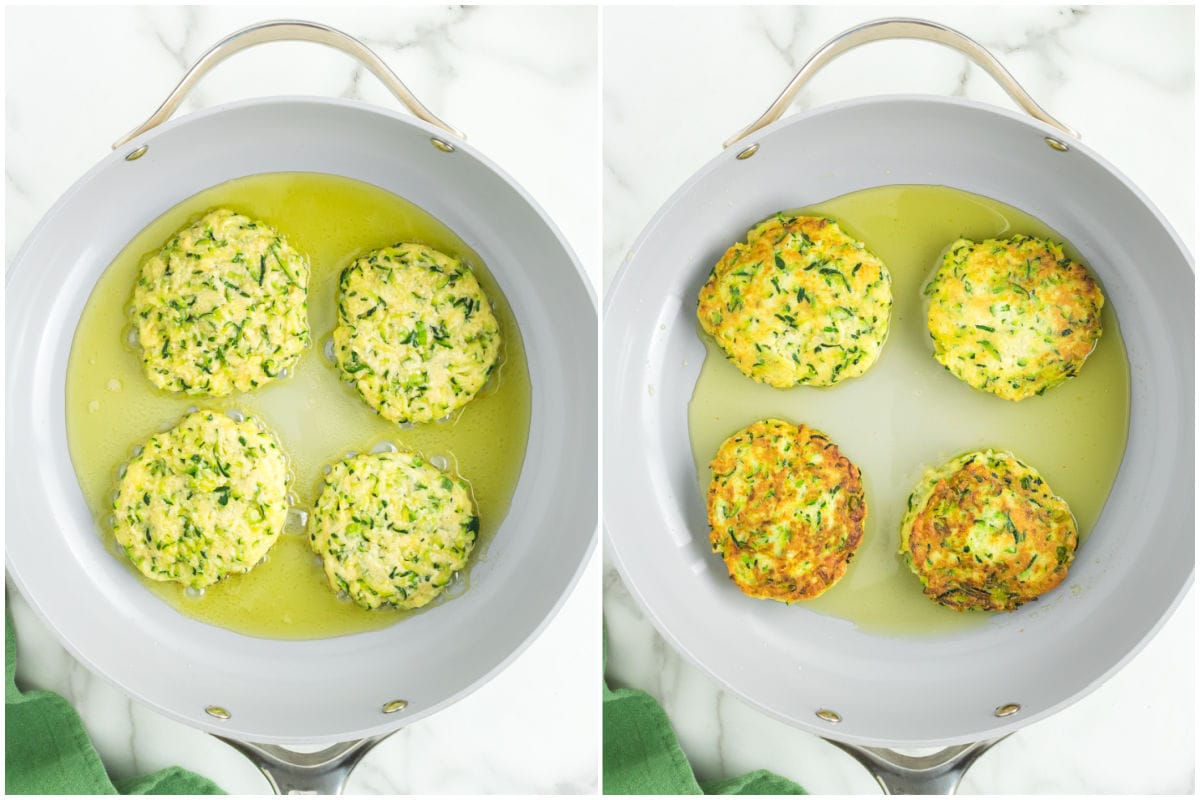 Get out all the extra liquid- Never skip the first step for this recipe! Getting the liquid out is very important, or your fritters will end up soggy and may even fall apart.
Make them crispy- Make sure you fry them for long enough on each side so they are golden and crispy. It's very hard to overcook these fritters, so don't be shy to get that crunch!
Serve with a dipping sauce- These fritters can be great on their own, but they're even more delicious paired with some spicy mayo, big mac sauce (seriously!), or even a sweet potato fry dipping sauce.
Storage Instructions
To store: These fritters are best serves fresh, but you can store any extras to eat later. Place them in an airtight container and store them in the fridge for up to three days.
To reheat: Place in a skillet on medium heat with a little oil. Heat for a few minutes on each side. You can also pop them in the microwave, but they will lose some of their crunch.
Leftover ideas
You may not get the same crunch, but if you don't mind that, then these leftover fritters are great for lunch. Pop them in the kids' lunch boxes or pack some for work for a delicious and nutritious treat.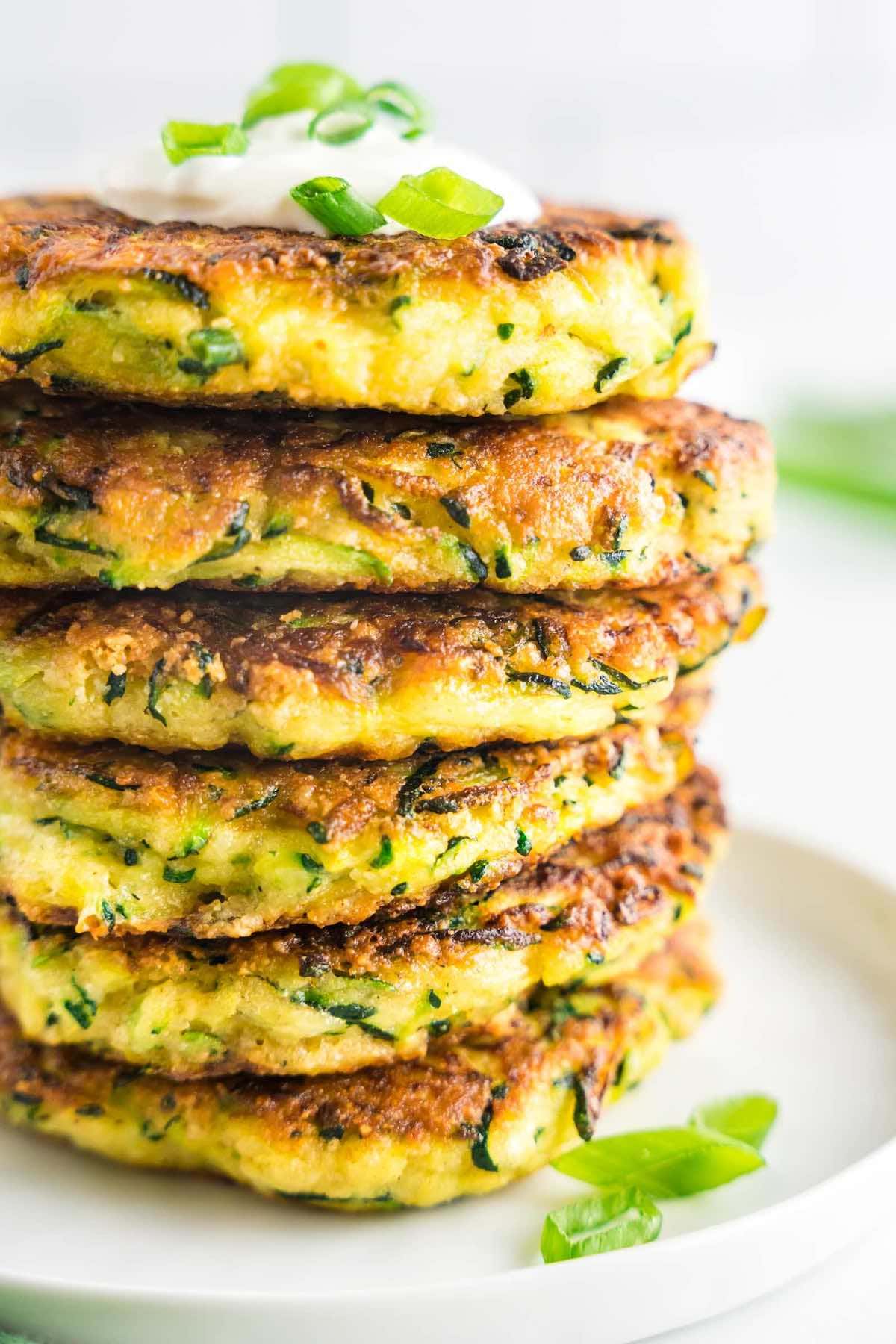 More vegetarian favorites to try
If you enjoyed making these fritters because they make vegetables so tasty, then I have the perfect recipes for you!
Frequently Asked Questions
Are these fritters gluten-free?
A lot of fritter recipes use wheat flour, but in this recipe, I have swapped in almond flour to make them gluten-free.
Why are my fritters soggy?
A common reason for soggy fritters is because they have not had all the moisture drained from them properly, AND from undercooking.
To remedy this, make sure you squeeze out as much extra liquid as possible, fry them until very crispy, and drain them on a paper towel to retain the crispiness.
Are zucchini fritters healthy?
These fritters are very healthy as long as you don't go overboard on the oil for frying. Zucchini also has a lot of vital vitamins and minerals, and plenty of fiber.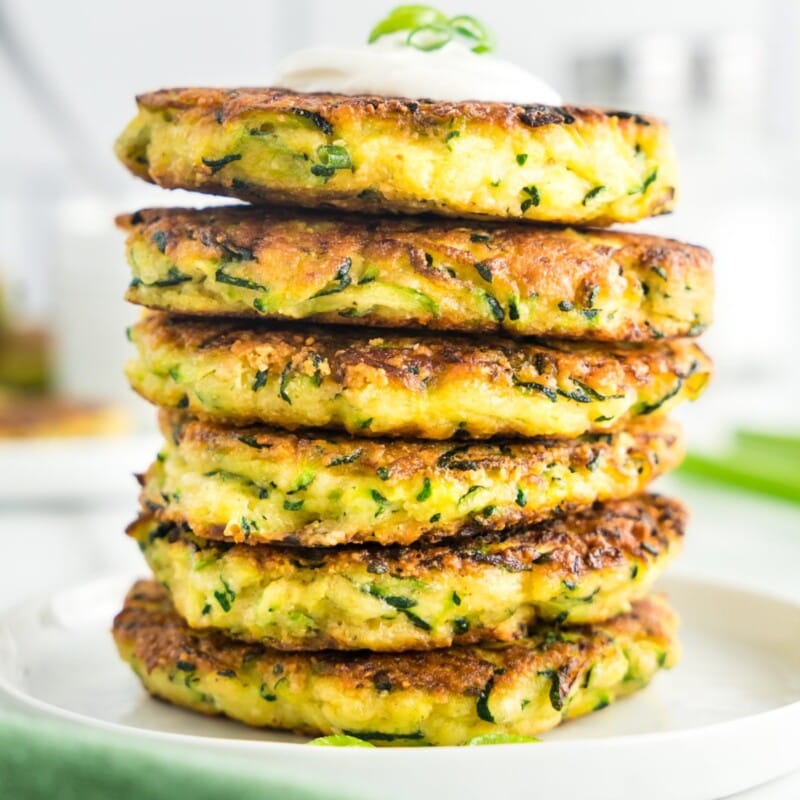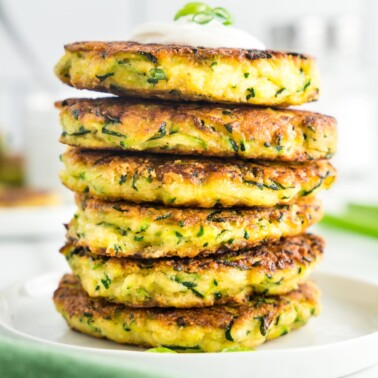 Crispy Zucchini Fritters
These zucchini fritters are so easy to make and great for brunch or a light meal! Made with grated zucchini, flour, eggs, and seasonings, they are crispy on the outside and soft on the inside.
Ingredients
4

medium

zucchini

1

tablespoon

salt

divided

4

scallions

thinly sliced

2

large

eggs

beaten

1

cup

almond flour

1

teaspoon

baking powder

1/4

cup

parmesan cheese

freshly grated

2

tablespoons

oil
Instructions
Finely grate the zucchini into a mixing bowl. Add half the salt and set aside for 10 minutes.

Squeeze out all the excess moisture from the zucchini.

Add the scallions, eggs, almond flour, baking powder, and parmesan cheese, and mix well.

Add oil to a non-stick pan and place over medium heat. Once hot, add spoonfuls of the batter to it, pressing down into a disc shape. Fry for 2-3 minutes per side, until golden and crispy.

Place the zucchini fritters on a paper towel to soak up excess oil.
Nutrition
Serving:
1
zucchini fritter
Calories:
159
kcal
Carbohydrates:
7
g
Protein:
7
g
Fat:
13
g
Sodium:
1002
mg
Potassium:
293
mg
Fiber:
3
g
Vitamin A:
348
IU
Vitamin C:
19
mg
Calcium:
123
mg
Iron:
1
mg
NET CARBS:
4
g
Disclosure: This post may contain affiliate links. I may earn a small commission for my endorsement, recommendation, testimonial, and/or link to any products or services from this website.