Sliced cabbage is transformed into a tender, caramelized, and deeply flavorful dish in this roasted cabbage steaks recipe. Turn to it whenever you need an easy-to-prepare and healthy main dish or side!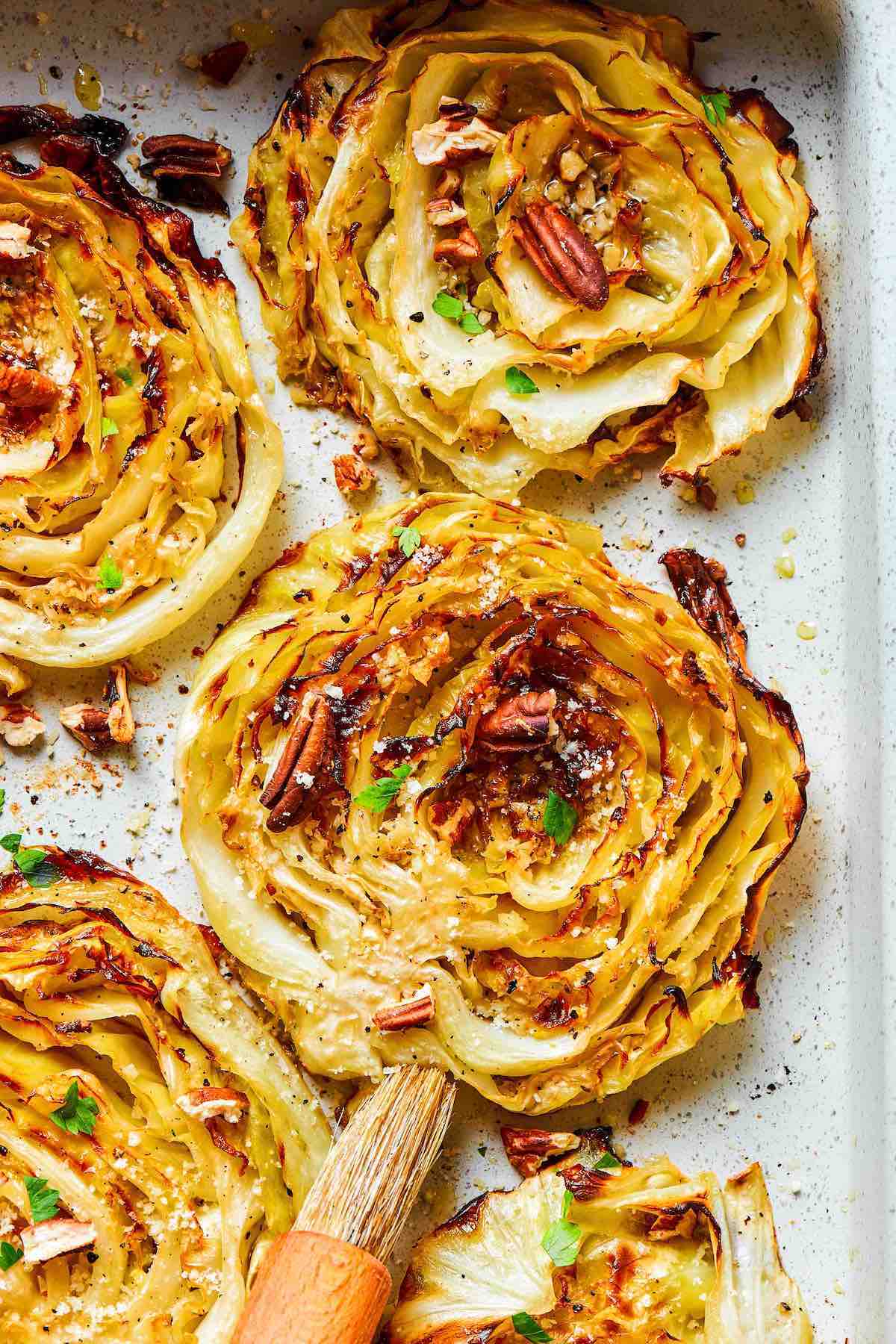 A steak made of cabbage? Yes, it's true! These easy baked cabbage steaks are a flavorful roasted vegetable side dish or main you can dress up or down. Plus, they go well with everything!
Cabbage steaks aren't meant to compete with real steaks, like a hanger steak or juicy ribeye. Instead, think of them as an over-the-top vegetarian side dish. They're called "steaks" because the cabbage is cut into thick slabs before being dressed in garlic butter and roasted in the oven. The result is tender, caramelized cabbage with savory, restaurant-worthy flavors!
Table of Contents
Why this recipe works
A healthy main or side. Cabbage is a healthy cruciferous vegetable and a fantastic source of vitamin C, antioxidants, and fiber. All the more reason to slice it up and enjoy it for dinner!
It's quick and easy. Prepping and baking sliced cabbage is just as easy as roasting brussels sprouts, potatoes and carrots, and any other vegetable. All it takes is a quick 30-minute trip in the oven.
It's so versatile. Like cauliflower steak, serve the cabbage steaks as-is or take them up a notch with a ton of different toppings, like bacon, balsamic glaze, and more. There is no one way to serve them; the soft, savory, and tender roasted cabbage pairs well with practically anything!
And because this dish is naturally low carb and vegetarian, you can go ahead and serve it with more indulgent mains, like eggplant rollatini and protein pizza.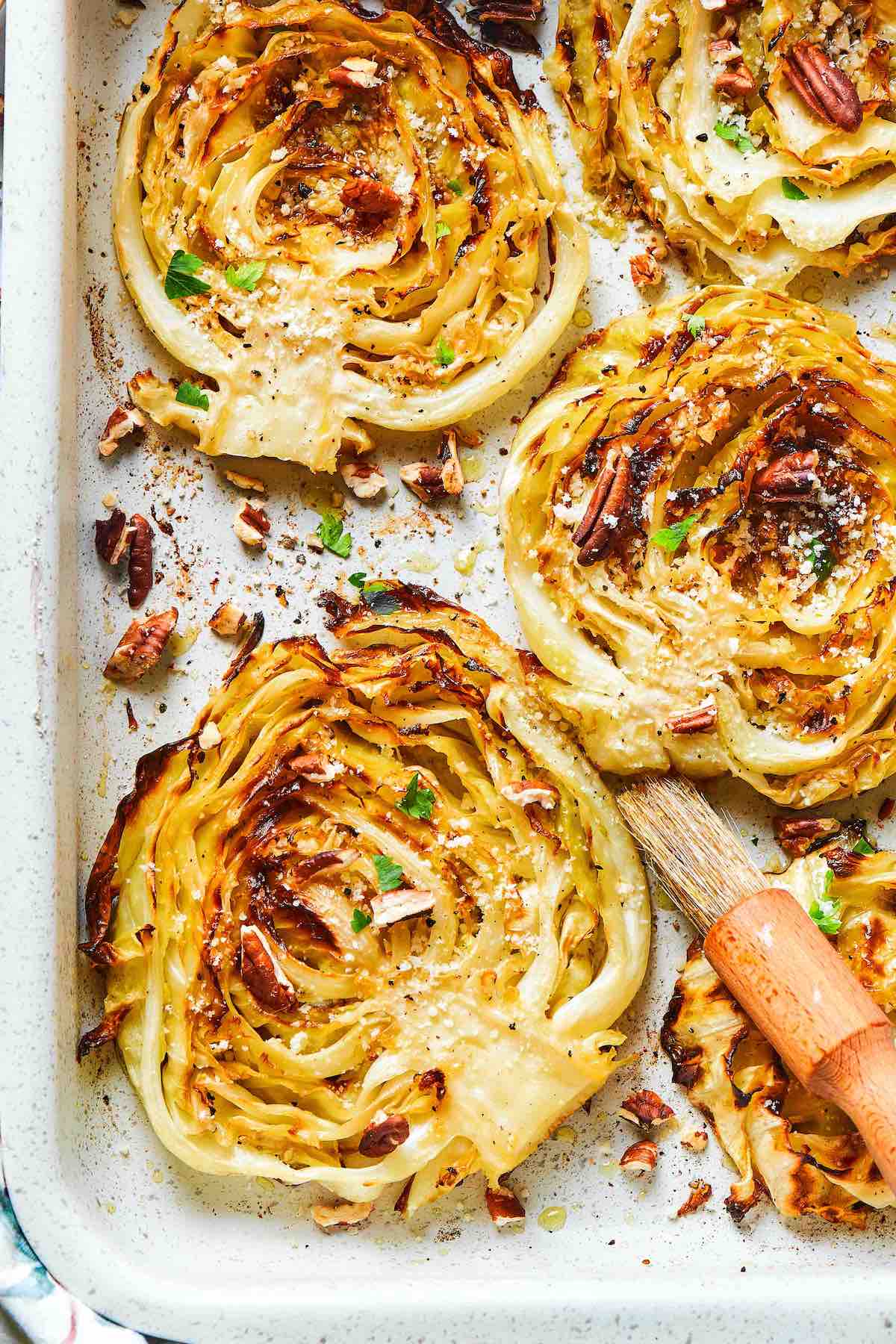 You don't need much to make this healthy main dish or side – just the cabbage itself and a few things to take the flavors and textures over the top. I used green cabbage to make this recipe but you can certainly make red cabbage steaks with red cabbage if that's what you prefer. Here is what you'll need:
Cabbage. The cabbage you choose should feel heavy for its size and also be vibrant in color with very little to no loose outer leaves.
Olive oil. The oil is crucial because it's what tenderizes the cabbage slices as they bake.
Butter. It's melted and stirred with the other ingredients. The crave-worthy garlic butter sauce is what makes the roasted cabbage so irresistible!
Garlic. Fresh cloves are a must. For extra garlic, sprinkle a little garlic powder over the cabbage steaks after they're dressed in garlic butter.
Salt and pepper. To tie the flavors together.
Toppings. I chose to garnish the roasted "steaks" with chopped pecans and parsley, but this is where you can be as creative as you want. Check out more topping ideas in the Serving Suggestions below.
How to make roasted cabbage steaks
This is becoming one of my new favorite healthy side dishes because the process is so low-maintenance and the roasted cabbage always turns out savory and tender. You can learn how to make them yourself using the easy-to-follow steps below:
Step 1 – Make the garlic butter
Whisk the olive oil, melted butter, and garlic together in a small bowl.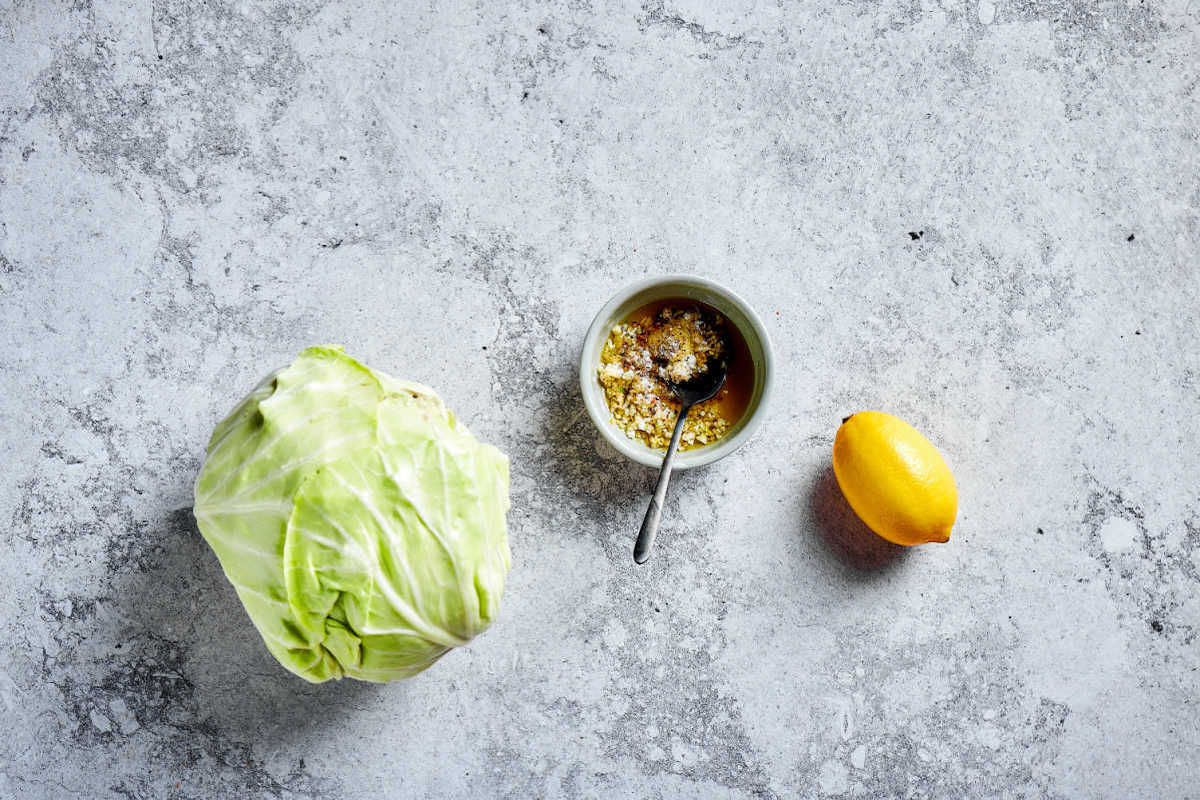 Step 2 – Prepare the cabbage
Slice the cabbage lengthwise into 1-inch "steaks". Remove any loose outer leaves, then brush the garlic butter on both sides of each slice. Season with salt and pepper.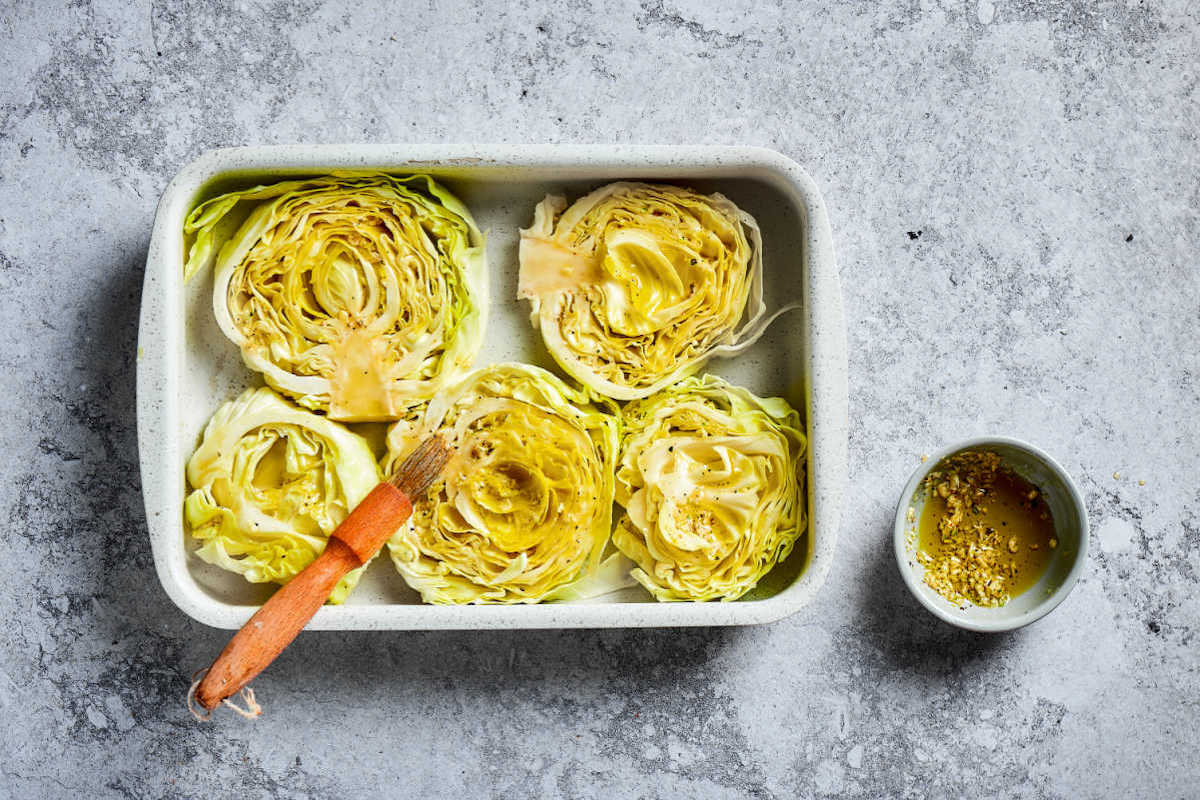 Step 3 – Bake and serve
Transfer the "steaks" to a lined baking sheet and bake until each one is golden and crisp.
Sprinkle the baked cabbage steaks with chopped pecans and parsley, plate with your favorite sides or mains, then enjoy!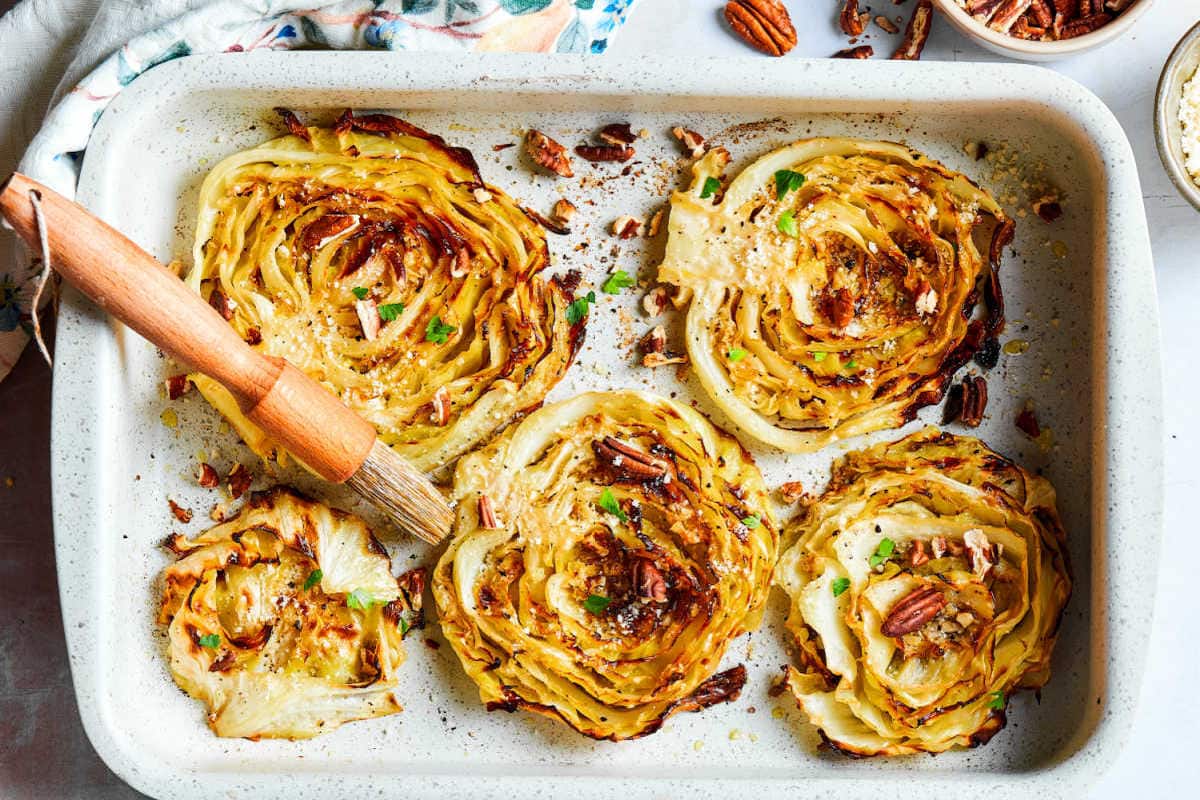 Cut the steaks evenly. Cabbage steaks that are all the same size will cook evenly and at the same time.
Don't forget the toppings. These are what tie the meal together and bulk up the cabbage. You can find more topping ideas in the Serving Suggestions below.
Mask any bitterness. The garlic butter and salt do a great job of toning down the natural bitter flavors of the cabbage. If you still find that the "steaks" are bitter-tasting, garnish them with a spritz of lemon juice.
Vegan cabbage steaks. Simply replace the butter with vegan butter for a vegan version of this recipe.
What to serve with cabbage steaks
Honestly, it's easier to think of what NOT to pair with cabbage steaks…. They go well with anything! You can serve the garlic butter seasoned cabbage as a healthy main dish with side dishes like quinoa, black beans, baked tofu, and fried rice to give the meal a boost of protein. Or keep it simple and make this roasted vegetable recipe a go-to side dish to pair with pork chops, eggplant lasagna, or turkey burgers.
You can take the "steaks" over the top with extra toppings, too. Crushed nuts (pecans, walnuts, pine nuts, etc.), crumbled bacon, chorizo, sofritas, or tofu bacon will make every bite more filling. Finish them with fresh herbs (parsley or cilantro), balsamic glaze, a pinch of cayenne, or spicy mayo on top.
To store: Once they're cool, store the leftover cabbage in an airtight container in the fridge for up to 3 days.
To reheat: Lay the cabbage steaks on a lined baking sheet and reheat in a 350ºF oven until they're warmed through.
Leftover idea
Cabbage leftovers are fantastic to use as a salad base. Shred up leftover cabbage and add top with some chicken breast, salmon, or shrimp for a well-balanced and healthy meal!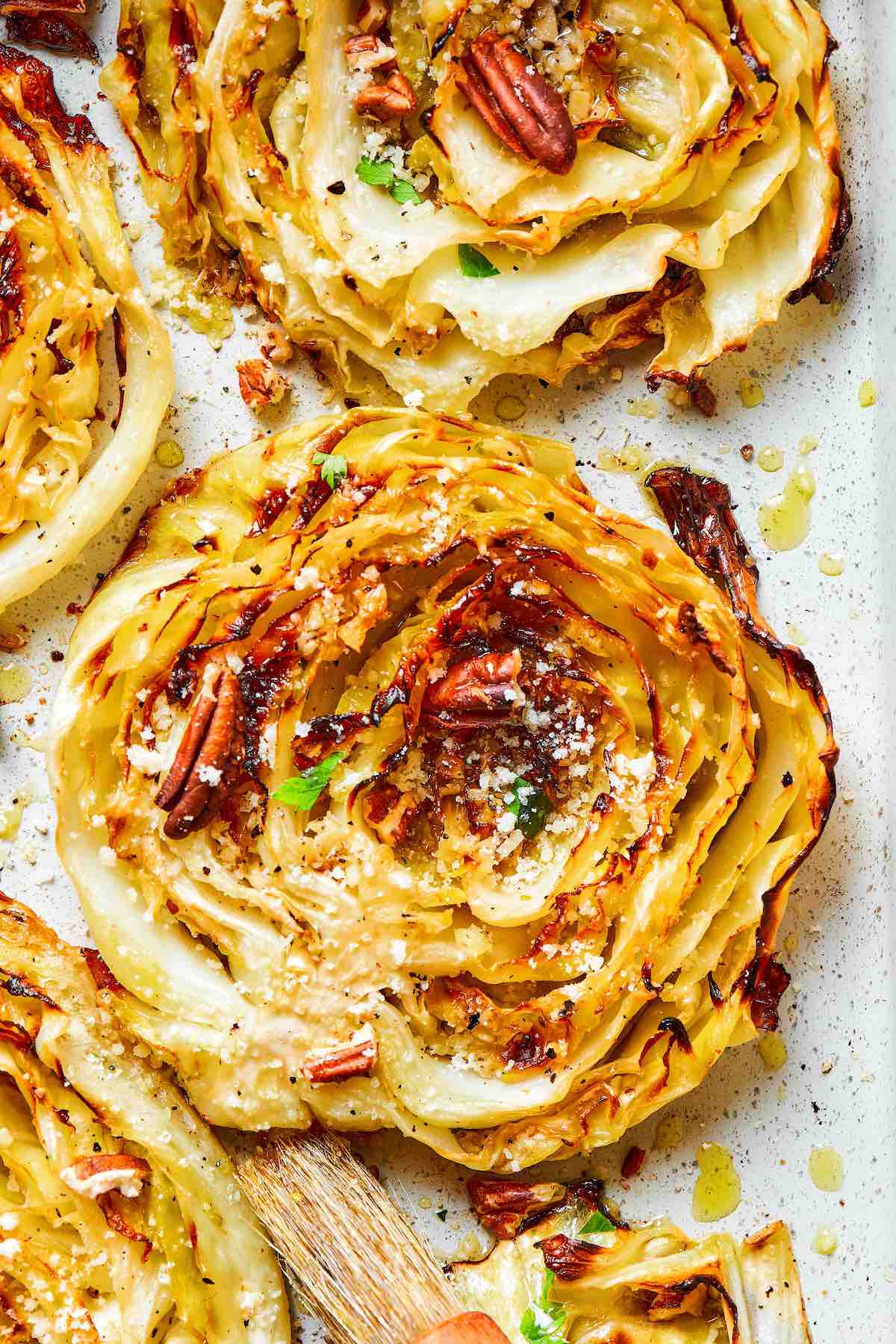 More vegetable side dishes to try
How long do cabbage steaks take to bake?
The "steaks" should only need to cook for 25 to 30 minutes in the oven. You'll know they're ready when the center looks golden and tender and the edges are slightly crisp.
Can you make them in the air fryer?
Yes, but you'll need to work in batches depending on the size of your air fryer basket. Avoid piling the sliced cabbage on top of each other because it will result in steamed, soggy cabbage.
To air fry, prepare and season the cabbage steaks as normal and lay them in your air fryer basket. Air fry at 360ºF for 8 minutes or until the edges are slightly crisp.
How do you grill cabbage steaks?
Preheat the grill to medium-high heat and prepare the cabbage as normal while you wait. Once hot, lay the cabbage steaks on the grill grates. Cook for 5 minutes per side or until both sides are crisp and tender.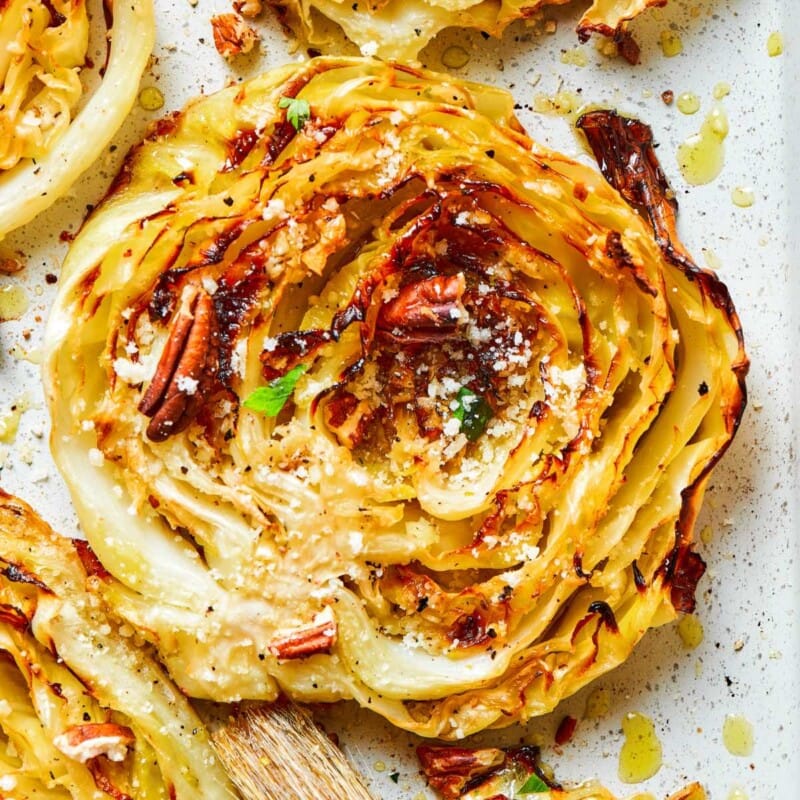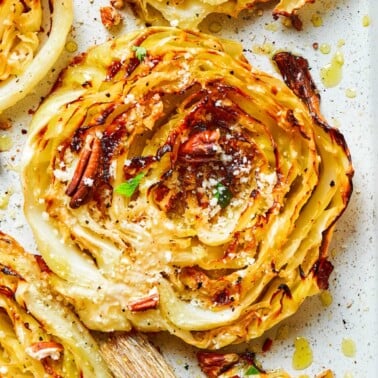 Cabbage Steaks
These cabbage steaks are seasoned with garlic butter and roasted until crispy and golden. They make a fabulous vegetarian entree or serve it as a hearty side!
Ingredients
Instructions
Preheat the oven to 180C/350F. Line a large baking sheet with parchment paper and set aside.

In a small bowl, whisk together the olive oil, butter, and garlic.

Slice the cabbage lengthways into 1-inch 'steaks'. Discard any excess leaves and place the portions on the lined sheet. Brush the tops of each 'steak' with the garlic butter oil mixture. Season with salt and pepper.

Bake the cabbage steaks for 25-30 minutes, or until golden and crisp around the edges.
Notes
TO STORE: Once they're cool, store the leftover cabbage in an airtight container in the fridge for up to 3 days.
TO REHEAT: Lay the cabbage steaks on a lined baking sheet and reheat in a 350ºF oven until they're warmed through.
Nutrition
Serving:
1
cabbage steak
Calories:
91
kcal
Carbohydrates:
12
g
Protein:
3
g
Fat:
4
g
Sodium:
246
mg
Potassium:
359
mg
Fiber:
5
g
Vitamin A:
263
IU
Vitamin C:
76
mg
Calcium:
86
mg
Iron:
1
mg
NET CARBS:
7
g
Disclosure: This post may contain affiliate links. I may earn a small commission for my endorsement, recommendation, testimonial, and/or link to any products or services from this website.