This sautéed broccolini recipe transforms this green superfood into tender-crispy goodness. A drizzle of lemon juice is all you need to make this side dish enjoyable for everyone.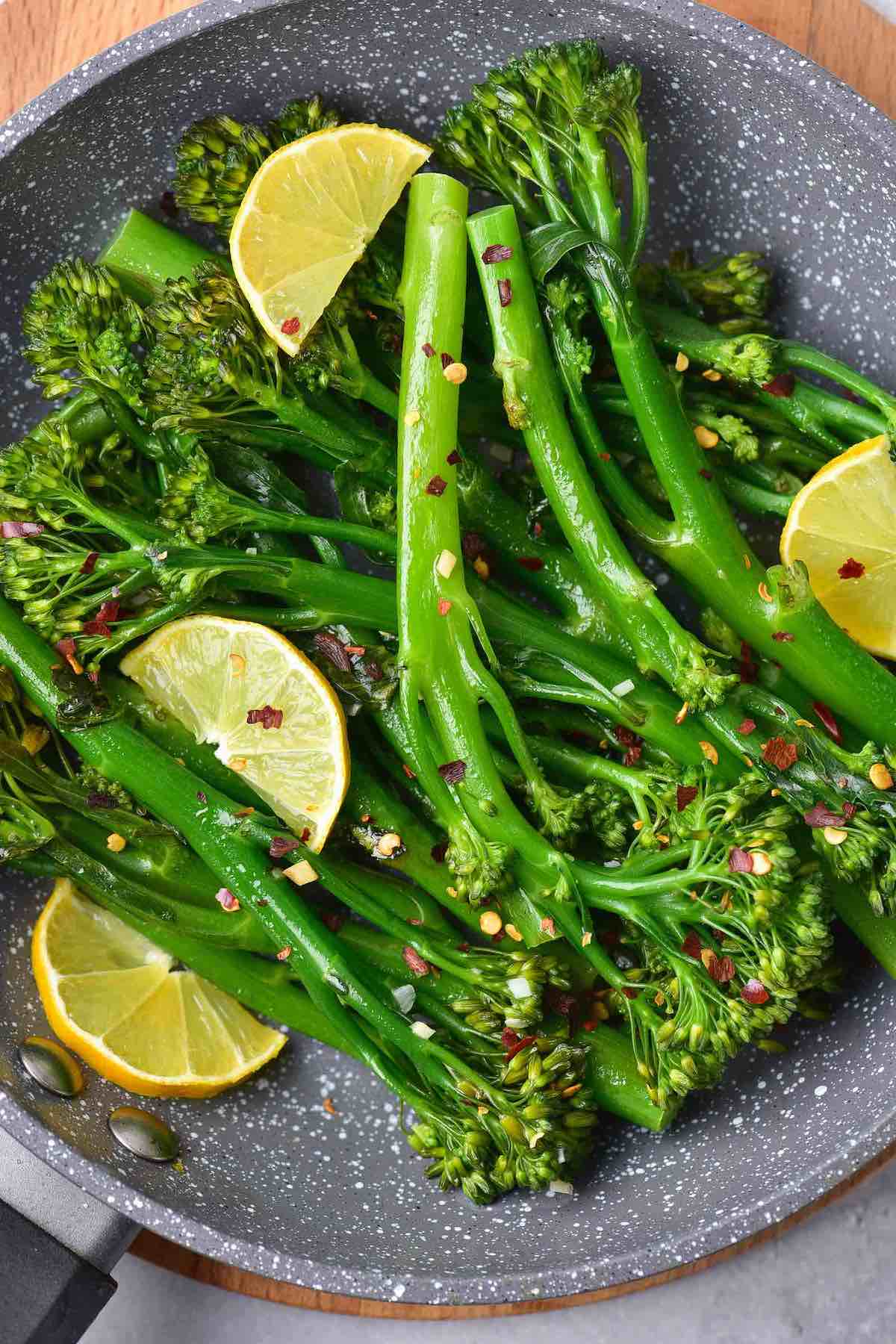 With thinner stems and looser florets, broccolini is one of the fastest-cooking vegetables. This makes it perfect for hot and fast cooking.
Sautéed with garlic and butter and finished with lemon juice, this simple broccolini dish will become one of your favorite sides. Like spinach or Brussels sprouts, it was the one green vegetable my mom was able to feed us, kids, without us causing a fuss.
Table of Contents
Why you'll love this recipe
Quick. Sautéing vegetables is one of the quickest ways to cook them and broccolini is not an exception. This dish cooks in under 10 minutes, and I like to pair it with some stuffed salmon or chicken piccata for a complete weeknight meal.
Simple ingredients. If you have broccolini, there won't be a need to make a run to the nearby store. This recipe calls for only a few cooking staples that you have at hand at all times.
A tasty side dish. This vegetable is one of the most effortless side dishes. It's easy to make and goes well with anything. You can serve it with beef shanks, stuffed chicken breast, sous vide salmon, or your favorite main course.
If you love broccolini, you can go ahead and use it in any dish that calls for broccoli, including broccoli salad and air fryer broccoli.
This broccolini sauté calls for only a few ingredients. Here's everything you need to make it.
Broccolini. Trimmed.
Butter. To give the sautéed vegetable a richer flavor.
Olive oil. To prevent the butter from burning. Any other cooking oil will work.
Garlic. Minced or sliced.
Salt and pepper. To taste.
Lemon slices and red pepper flakes. To serve.
How to sauté broccolini
Start by adding butter and oil to a non-stick pan. Once hot, add the garlic and broccolini and cook for 7-8 minutes. You may need to add a splash of water to the pan halfway through the cooking time to prevent the broccolini from burning.
Now, remove the broccolini from the heat, sprinkle with red pepper flakes, garnish with lemon slices, and serve.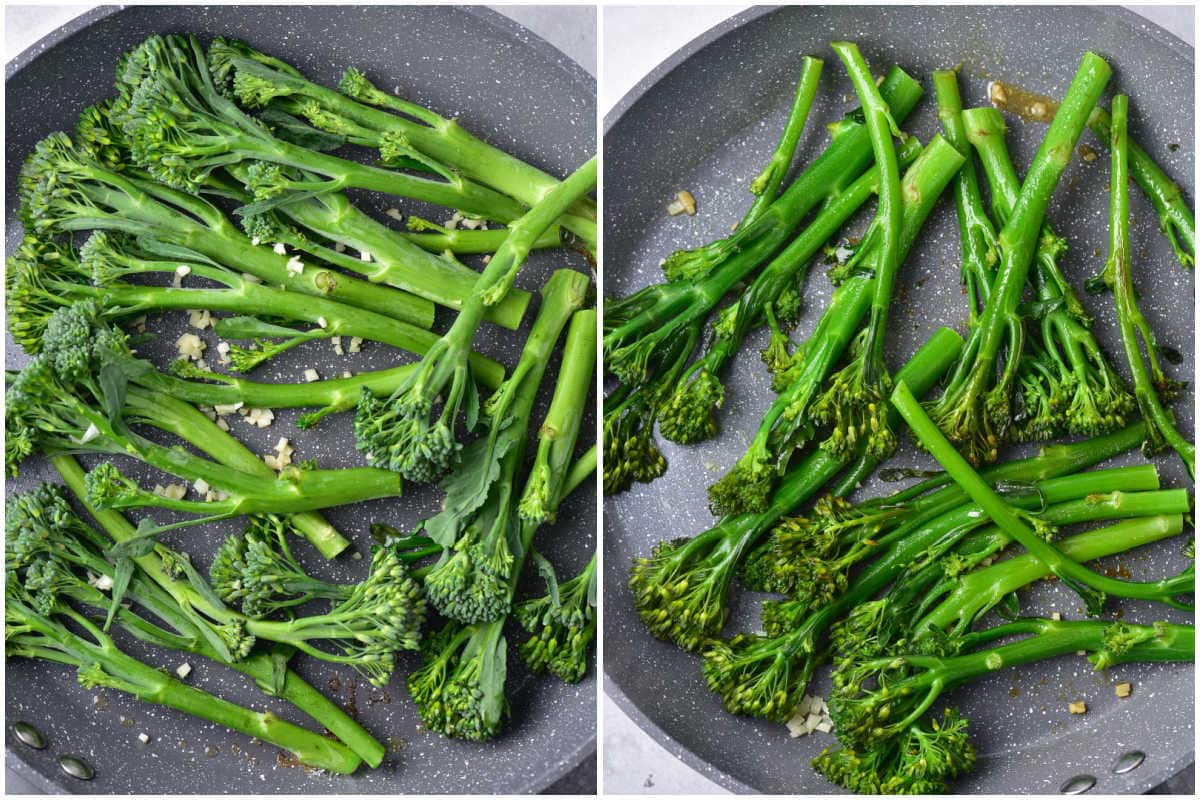 Flavor variations
As mentioned earlier, this vegetable was one of a few that us kids universally enjoyed. To keep things interesting, mom used to tweak it slightly each time. Here are some suggestions:
Use Italian seasoning. This seasoning mix will enhance the earthy flavor of broccolini. If you don't have Italian seasoning at hand, mix equal parts of dried oregano, rosemary, thyme, and basil.
Top with pine nuts. Toasted pine nuts are a great finishing touch for cooked broccolini and adds both flavor and texture to these greens. We also often do this with eggplant, too.
Sprinkle with cheese. Who doesn't love the combination of vegetables and cheese (this eggplant rollatini is the perfect example)? Once cooked, sprinkle sautéed broccolini with grated parmesan or crumbled feta cheese.
Add sun-dried tomatoes. If you have sun-dried tomatoes at home, don't hesitate to add them to this dish. The sweet-tart flavor of dried tomatoes goes well with broccolini (we love adding this to potatoes).
Choose fresh broccolini. For the best results, use fresh broccolini. Buy the vegetable with fresh bases and firm stems.
Blanch the broccolini. Broccolini is only mildly bitter. But if you want to make sure that all the bitterness is gone, blanch it for 2 minutes. Transfer the broccolini into an ice water bath before you proceed to sauté it.
Cut the stems evenly. When prepping the broccolini, make sure you cut the stems evenly so that they cook evenly too.
Use garlic powder. Although not as good as fresh garlic, the dried kind is a solid replacement if you don't have garlic on hand.
Dietary swap
If you need to do to make this recipe vegan, replace the butter with a plant-based alternative.
To store. Store leftovers in an airtight container in the fridge for up to 5 days.
To reheat. Reheat broccolini in the microwave at 30-second intervals until heated through or you can reheat it on the stove over medium heat.
Leftover idea!
Like carrots, broccolini is a fantastic vegetable to include in your weekly meal prep because it keeps well. Cook up an extra batch and pair it with some chicken breast and rice for a well-balanced weekday lunch.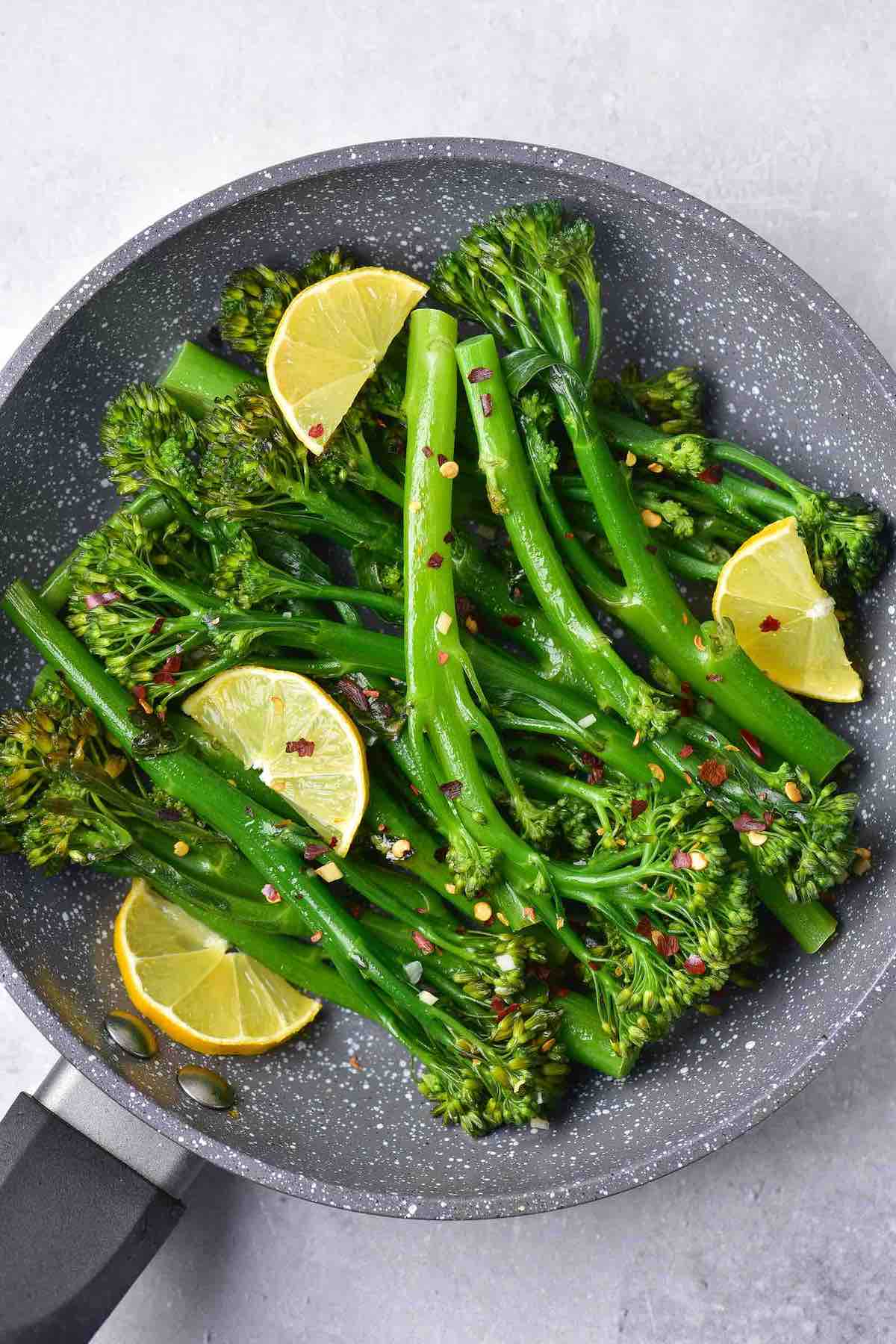 What to serve with broccolini with
The beauty of this vegetable is that it pairs with almost anything! Use it as the green side dish to your favorite protein options. Here are some of our family favorites:
What is the difference between broccoli and broccolini?
While many people think broccolini is baby broccoli, broccoli, and broccolini are not the same. Just like broccoli, broccolini is a member of the cabbage family. It is a cross-breed between broccoli and Chinese broccoli. Unlike broccoli, broccolini has longer and thinner stems and smaller florets.
How to cut the ends off broccolini?
Broccolini has rather long stems but you should only cut off the bottom ¼ inch. As for cutting the florets, cut the stems lengthwise if they are thicker than ½ inch.
Can you use broccolini instead of broccoli?
Yes, you can replace broccoli with broccolini in nearly all recipes. As the stems of broccolini are thinner, you will need to cook them for 2 minutes less to prevent it from overcooking.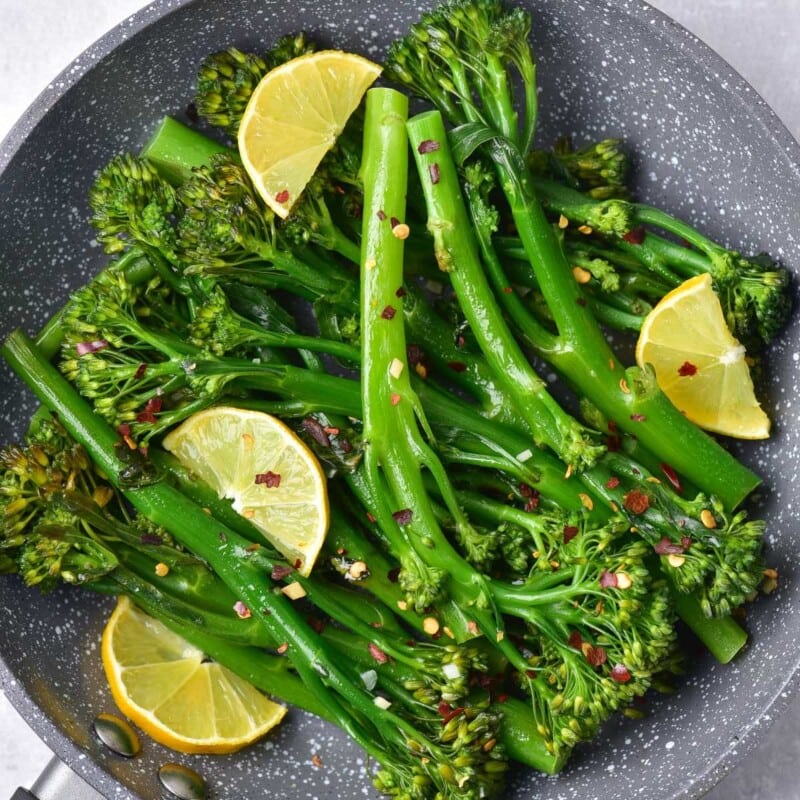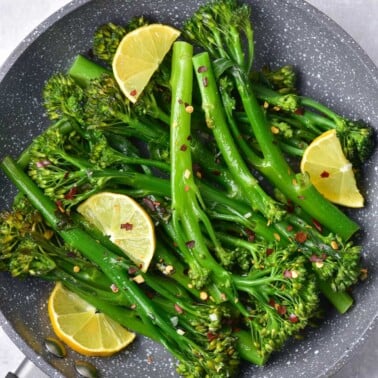 Sautéed Broccolini
This sautéed broccolini cooks in less than 10 minutes and yields tender and crisp vegetables every time! Pair it with your favorite main for a well-balanced meal!
Ingredients
Instructions
Add the butter and olive oil to a non-stick skillet or pan. Once melted, add the sliced garlic, then the broccolini, and sauté them for 7-8 minutes, adding a few spoonfuls of water halfway through to prevent burning, if needed.

Remove from the heat and serve with sliced lemon and a sprinkle of red pepper flakes.
Notes
TO STORE: Store leftovers in an airtight container in the fridge for up to 4 days. TO REHEAT: Reheat broccolini in the microwave at 30-second intervals until heated through or you can reheat it on the stove over medium heat.
Nutrition
Serving:
1
serving
Calories:
94
kcal
Carbohydrates:
7
g
Protein:
3
g
Fat:
6
g
Sodium:
339
mg
Potassium:
9
mg
Fiber:
1
g
Vitamin A:
1588
IU
Vitamin C:
78
mg
Calcium:
64
mg
Iron:
1
mg
NET CARBS:
6
g
Disclosure: This post may contain affiliate links. I may earn a small commission for my endorsement, recommendation, testimonial, and/or link to any products or services from this website.