This easy-to-follow sautéed eggplant recipe is made with five simple ingredients. Cooked to perfection, sautéeing with garlic transforms the firm, rubbery eggplant into a deliciously soft, creamy, and meaty side dish.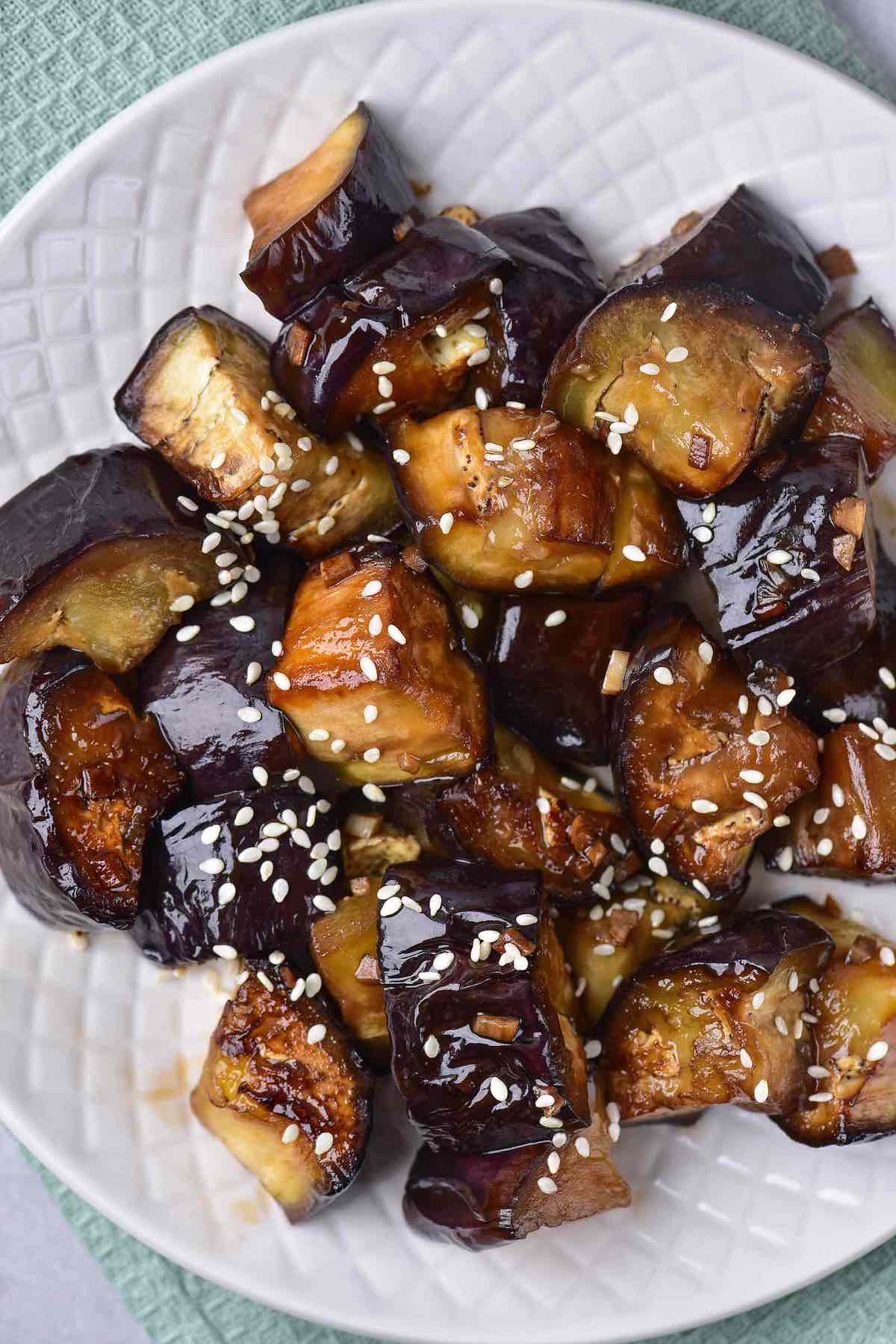 Eggplants may not be your favorite thing to cook, but when you show some love, you can make impressive dishes like eggplant rollatini, parmesan, lasagna, and pizza.
No matter your main course, a well-seasoned veggie side is always a healthy addition. You can elevate almost any vegetable by just sautéing it with butter and garlic. Sautéed spinach, carrots, broccolini, and potatoes– are all quick dishes we keep rotating in our kitchens.
Table of Contents
Recipe highlights
Uses only five ingredients. This easy recipe is made with basic savory ingredients and aromatics.
Minimum prep. Most eggplant recipes are complicated to cook and have many processing steps. But for this recipe, you only need to chop it up and add it to a pan.
Tasty. This dish has an Asian twist in that we love how soy and sesame seeds complement the meaty, garlicky eggplant (like Chinese eggplant!).
This sautéed eggplant is sticky and smoky on the outside and buttery soft and sweet on the inside. It is so versatile that you can serve it with everything from fish, chicken, or even lamb.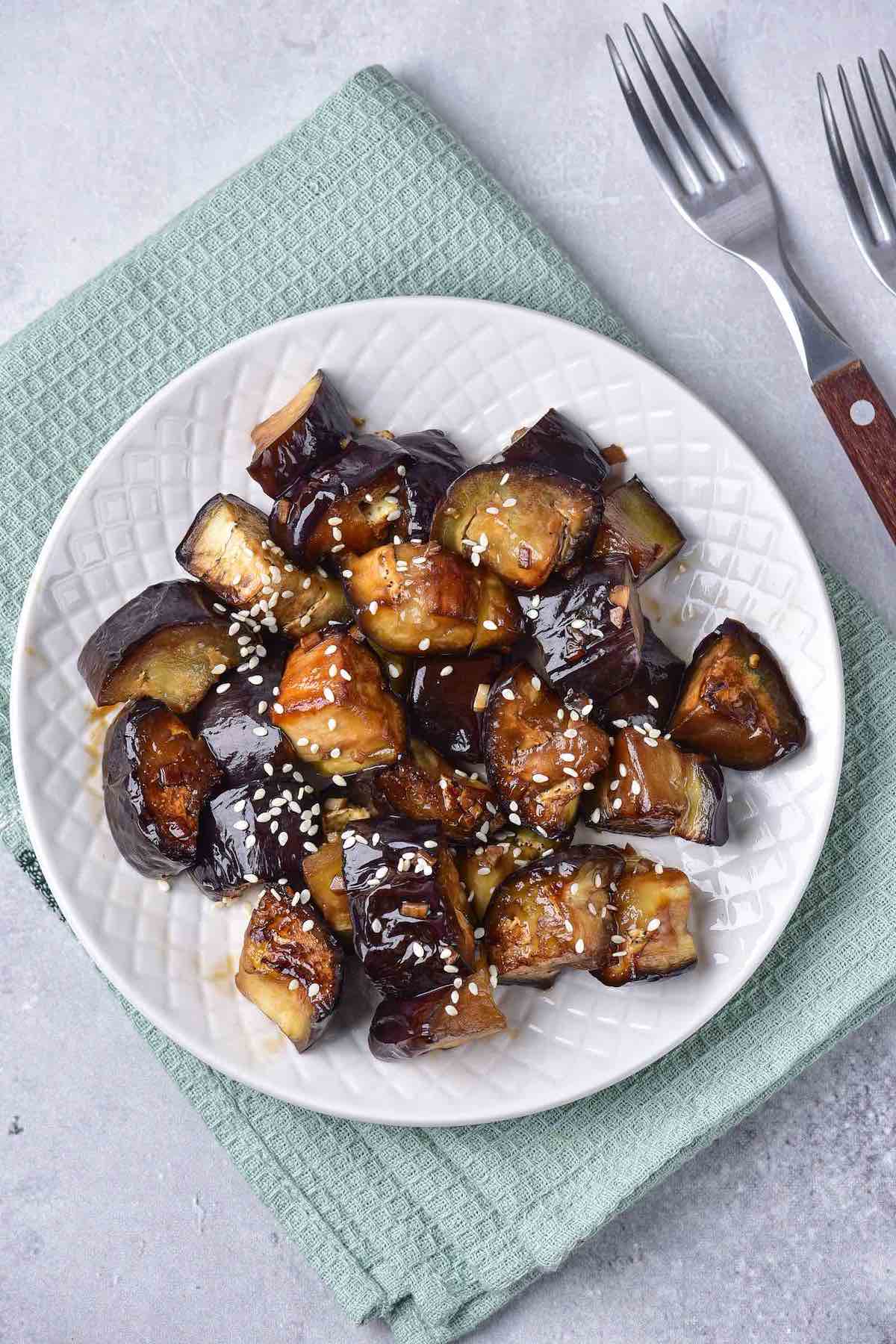 As mentioned, you need only five staple ingredients and about 10 minutes to make this recipe. Here's what you'll need:
Eggplant. Choose firm eggplants with shiny skin. The stalk should be green, and there shouldn't be any brown or soft patches on the skin. You can choose Italian, Chinese, Japanese, or speckled eggplants for this recipe.
Garlic. We have used fresh minced garlic. But you can also use garlic powder too.
Butter. Butter does make everything better. In this case, it adds a rich flavor. You can also replace it with vegan butter or margarine to make it dairy-free.
Olive oil. We love how olive oil enhances eggplant's natural flavor. You can substitute it with other neutral oils like sunflower, canola, or nutty sesame.
Soy sauce. It adds a beautiful umami flavor. If you use salted soy sauce, you can skip adding salt. If you end up using low-salt soy sauce, add salt to taste.
Sesame seeds. Mix white and black roasted sesame seeds to complement Asian flavors—a crunchy garnish.
How to sauté eggplant
Sauteing eggplant doesn't get simpler than this. Just follow these three simple steps to make this quick and healthy recipe.
Step 1- Prep the eggplants
Rinse, clean, and chop the eggplants into even size pieces. There is no need to peel them beforehand.
Step 2- Sweat garlic
To a large non-stick oil, add oil and butter. Then, add minced garlic and sauté it for a bit.
Once the raw garlic aroma dies down, add the diced eggplants and soy sauce.
Step 3- Sauté eggplants
To cook eggplants, cover the pan with a lid. Stir occasionally and add water if needed. The cooking time could vary based on the type of eggplant time and quantity. It takes about 10 minutes to achieve a soft texture.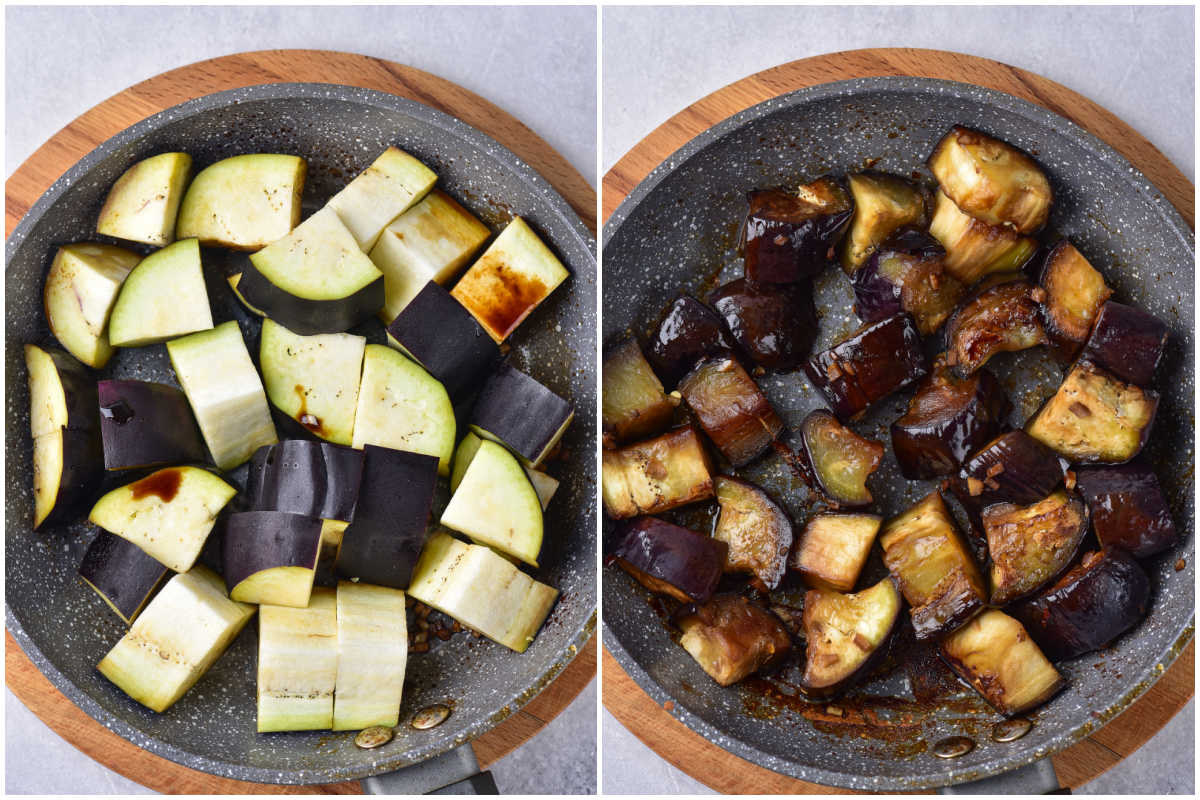 Just like with air fryer eggplant, cooking it in the perfect amount will yield a soft and fluffy texture, which is what makes this vegetable so addictive!
Here are my top tips for perfectly cooked eggplant every single time.
Cook the eggplant thoroughly. Undercooked eggplant has a rubbery texture and an unpleasant taste. So, even if it takes slightly longer than the suggested cook time, keep at it till it becomes soft and creamy.
Salt eggplants before use. Add chopped eggplant and salt in a colander, and toss around until evenly coated. After about 30 minutes, use eggplant chunks for cooking. This step helps get rid of the bitter taste of eggplant.
Garnish well. As we do with asparagus, add some finely chopped fresh spring onion and sesame seeds to complement the flavors.
Flavor variations
Play around with aromatics. Fresh minced ginger, coriander stems, and shallots are excellent aromatics. Add them to enhance the flavors. You can also make Mediterranean-inspired eggplants by adding cumin, sumac, and paprika as the main spices.
Finish with lemon juice. A bit of acidity will brighten the dish. You can also add a dash of vinegar for the same effect.
Mix with other veggies. Add zucchini cubes to the chopped eggplant for a blend of sauteed veggies.
Glaze with Asian sauce. For an extra dose of Asian flavors, glaze the eggplants with tempura or a bulgogi sauce.
Make a meal. Add a simple protein, like firm tofu cubes, to the mix for a convenient one-pot meal.
Storage instructions
To store: Refrigerate leftovers in an airtight container for 3-5 days.
To reheat: Heat it in a pan or a microwave before eating.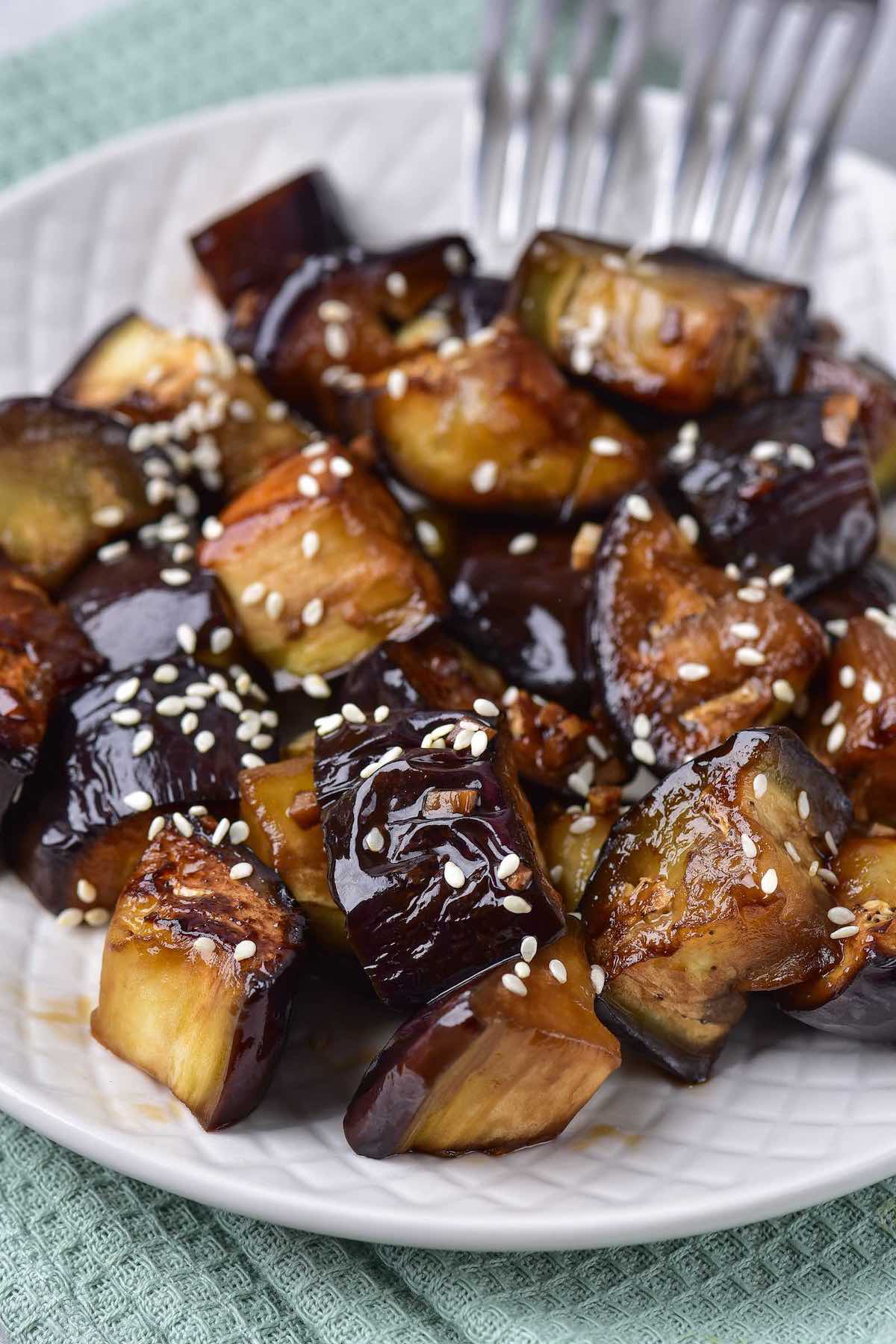 Should I peel the eggplant skins before use?
No, you don't have to peel eggplant skins for this recipe. Upon cooking, the skins soften and can be enjoyed with the flesh.
Can I make it gluten-free?
Yes, definitely. You can substitute regular soy sauce with a gluten-free one.
Is sautéed eggplant good for me?
Eggplant, by itself, has very few carbs and boasts several health benefits. It is rich in fibers and antioxidants and may possess anti-cancer and heart-healthy properties. So, it is healthy and nutritious if made with less oil and butter.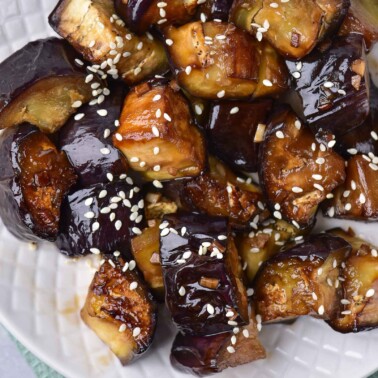 Sautéed Eggplant
This sautéed eggplant recipe features tender and flavorful eggplant pieces in a savory sauce. It makes a fabulous side dish to any meal.
Ingredients
Instructions
Chop the eggplant into thick, bite-sized pieces.

dd olive oil and butter in a non-stick pan. Add the garlic and cook for a minute, then add the eggplant and soy sauce. Cover the pan and cook until the eggplant has softened. Add some water if needed.

Remove the eggplant from the pan and sprinkle with sesame seeds.
Notes
TO STORE: Refrigerate the leftover eggplant in an airtight container for 3-5 days.
TO REHEAT: Heat it in a pan or a microwave before eating.
Nutrition
Serving:
1
serving
Calories:
94
kcal
Carbohydrates:
8
g
Protein:
2
g
Fat:
7
g
Sodium:
528
mg
Potassium:
288
mg
Fiber:
4
g
Vitamin A:
114
IU
Vitamin C:
3
mg
Calcium:
19
mg
Iron:
1
mg
NET CARBS:
4
g
Disclosure: This post may contain affiliate links. I may earn a small commission for my endorsement, recommendation, testimonial, and/or link to any products or services from this website.