This recipe for eggplant lasagna replaces the lasagna noodles for eggplant for the ultimate healthy dinner! Made with simple ingredients, it's perfect for a filling yet low carb meal.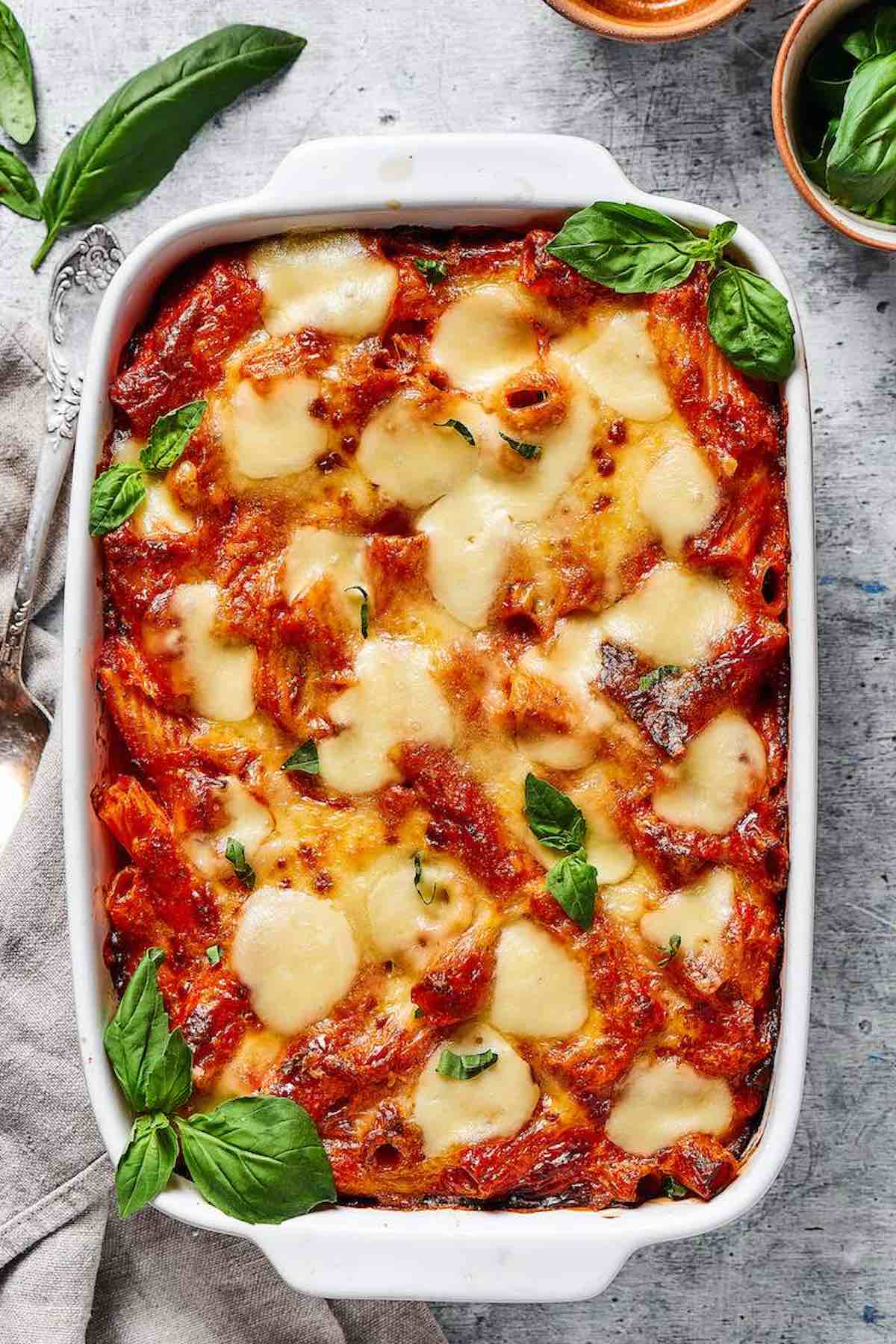 Cooking with eggplant can be a little bit cumbersome but we have perfected it.
If you've tried our air fryer eggplant, eggplant pizza, or eggplant parmesan before, you'll no doubt love this eggplant lasagna. It's got all the best parts of a classic lasagna but with a nutritional boost!
Why this recipe works
Healthy AND low carb. Packed with slices of eggplant, a delicious meat sauce, and even some hidden spinach, it's pack with protein, fiber, and healthy fats. Swapping out lasagna noodles for eggplant keeps the texture and bulk WITHOUT sacrificing on taste.
Simple ingredients. Many keto recipes include some hard-to-find ingredients. This lasagna uses simple, fresh, and easy-to-find ingredients.
No watery lasagna. Salting and roasting the eggplant prior to baking the lasagna will guarantee no watery lasagna ever. 
Delicious way to jazz up eggplant. Just like sauteed eggplant or rollatini, this takes eggplant to another level.
The secret to the perfect eggplant lasagna is to roast the eggplant slices before assembling them all together. This ensures perfectly soft eggplant and the overall lasagna to NEVER be watery.
Love lasagna? Try our cottage cheese and seafood versions.
Ingredients needed
This recipe calls for simple and affordable ingredients that can be found at any mainstream grocery store. Here is what you'll need:
For the eggplant lasagna
Eggplant– Choose an eggplant that is firm on the outside with minimal bruising. The softer the eggplant is, the harder it will be for the lasagna to hold together.
Salt– Sprinkle over the eggplant to draw out excess moisture.
Olive oil– A flavorful oil to cook the meat sauce in.
Ground beef– I used lean ground beef, but you can use slightly fattier cuts, like 80/20 ground beef (80% lean, 20% fat).
Marinara sauce– Skip the expensive store-bought variety and make your own spaghetti sauce (which works perfectly for this!).
Italian seasonings– Necessary flavors for any good lasagna or meat sauce.
For the cheese filling
Ricotta cheese– Aim to use good quality and full-fat ricotta cheese. Alternatively, you can use full-fat cottage cheese.
Cheddar cheese– Or any fully flavored shredded cheese of choice.
Frozen spinach– Thawed and with its excess liquid squeezed out.
Egg– To thicken the filling.
Mozzarella cheese– To layer the lasagna and cover the top of the lasagna with.
Fresh basil– To serve.
How to make eggplant lasagna?
It's best to make this recipe in parts and then put it all together. This makes clean up a breeze and a seamless process. Ready to make some lasagna?
Step 1- Prep the eggplant
Slice the eggplant and sprinkle with salt. Let the eggplant sit for 15 minutes, to draw out some moisture.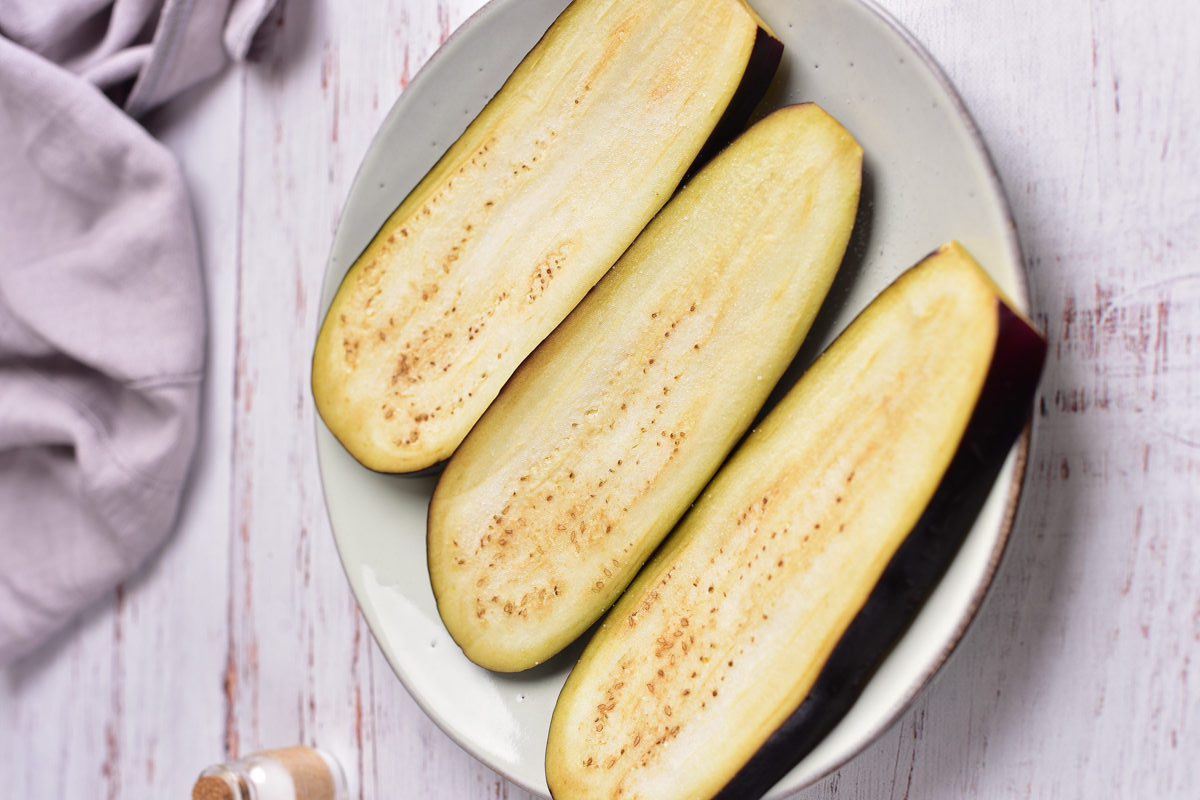 Bake the eggplant slices for 15-20 minutes, until soft and tender.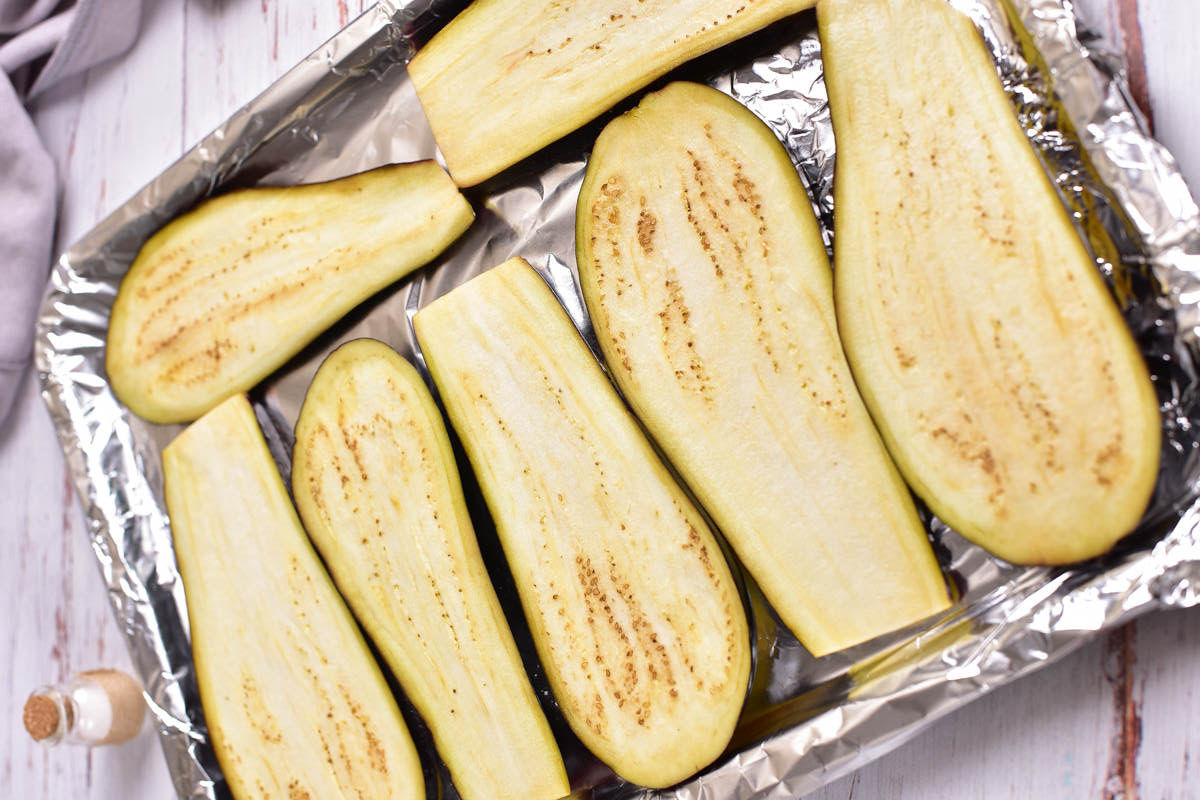 Step 2- make the meat sauce
Heat oil in the pan and when hot, add the ground beef and cook until no longer brown. Add the marinara sauce and Italian seasonings and let it simmer for five minutes.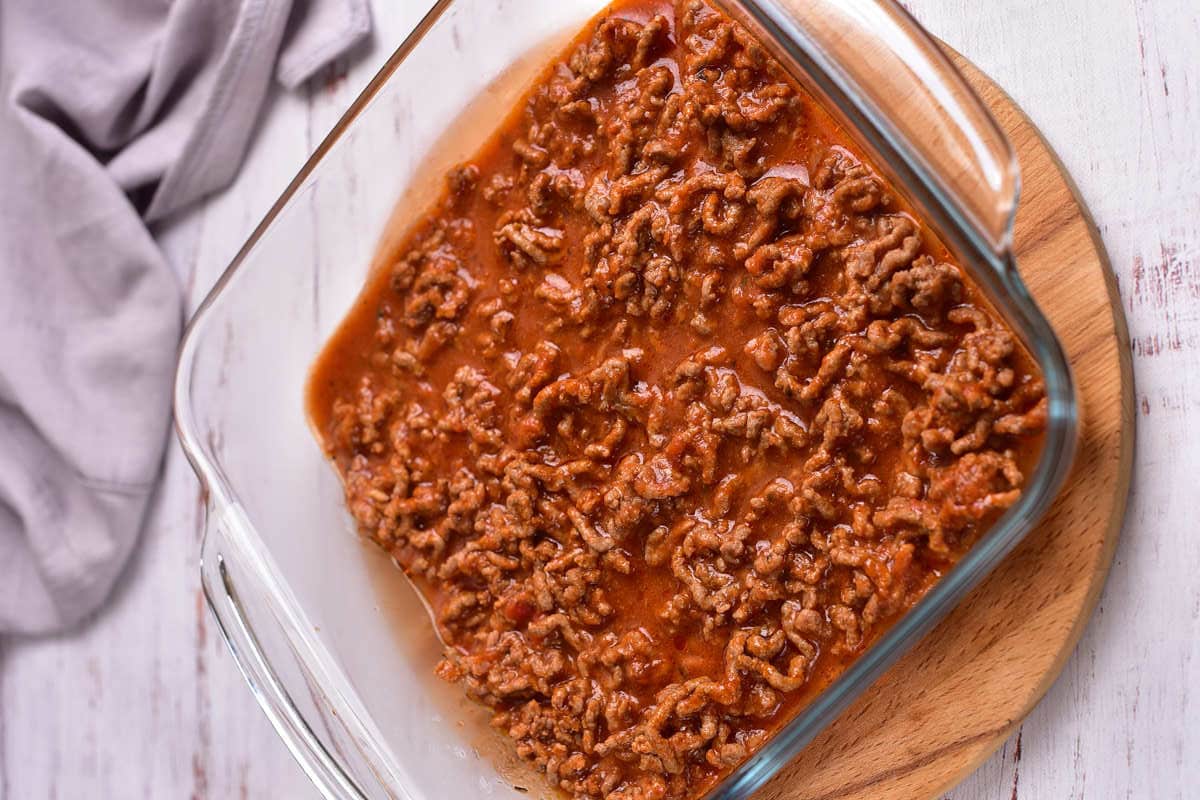 Step 3- make the cheese filling
Whisk together the ricotta cheese, cheddar cheese, thawed frozen spinach, and egg until combined.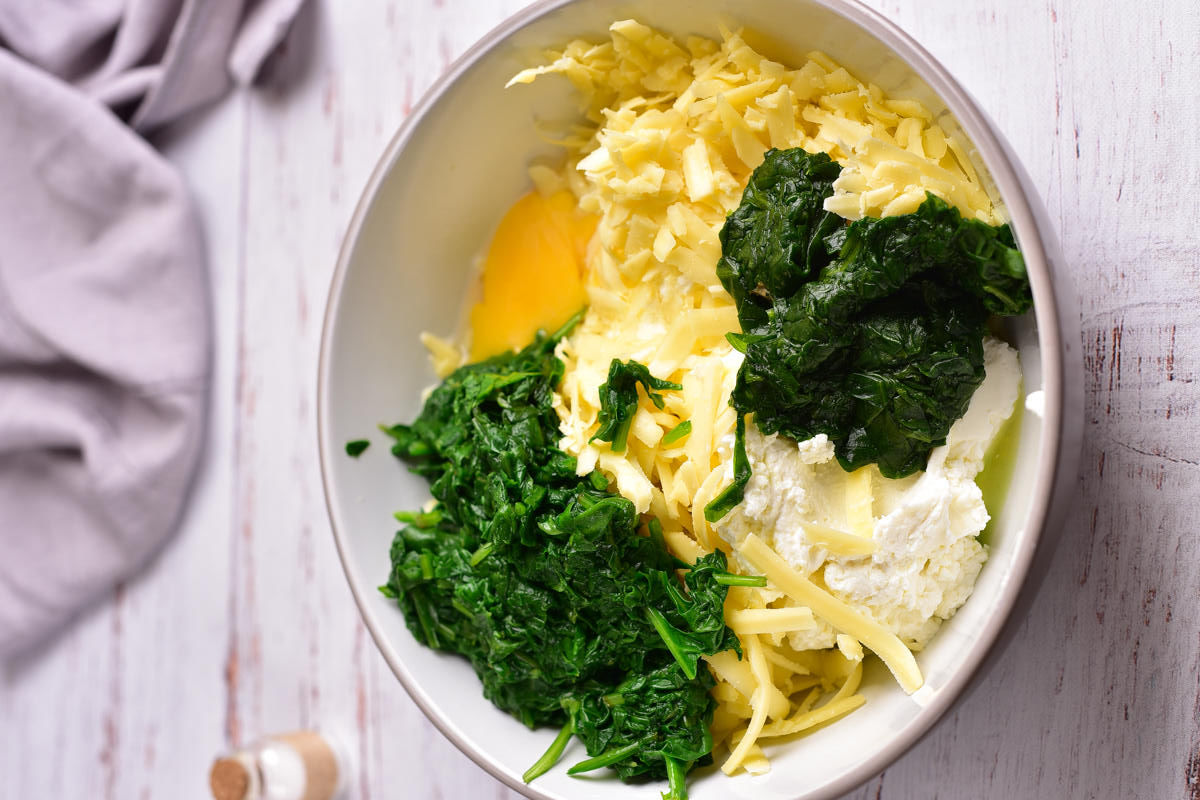 Step 4- assemble the lasagna
Add a thin layer of the meat sauce to the bottom of a baking dish. Add a single layer of eggplant, followed by a layer of the cheese filling, then half a cup of mozzarella cheese. Repeat the process until all the ingredients are used up. Sprinkle the remaining mozzarella cheese over the top.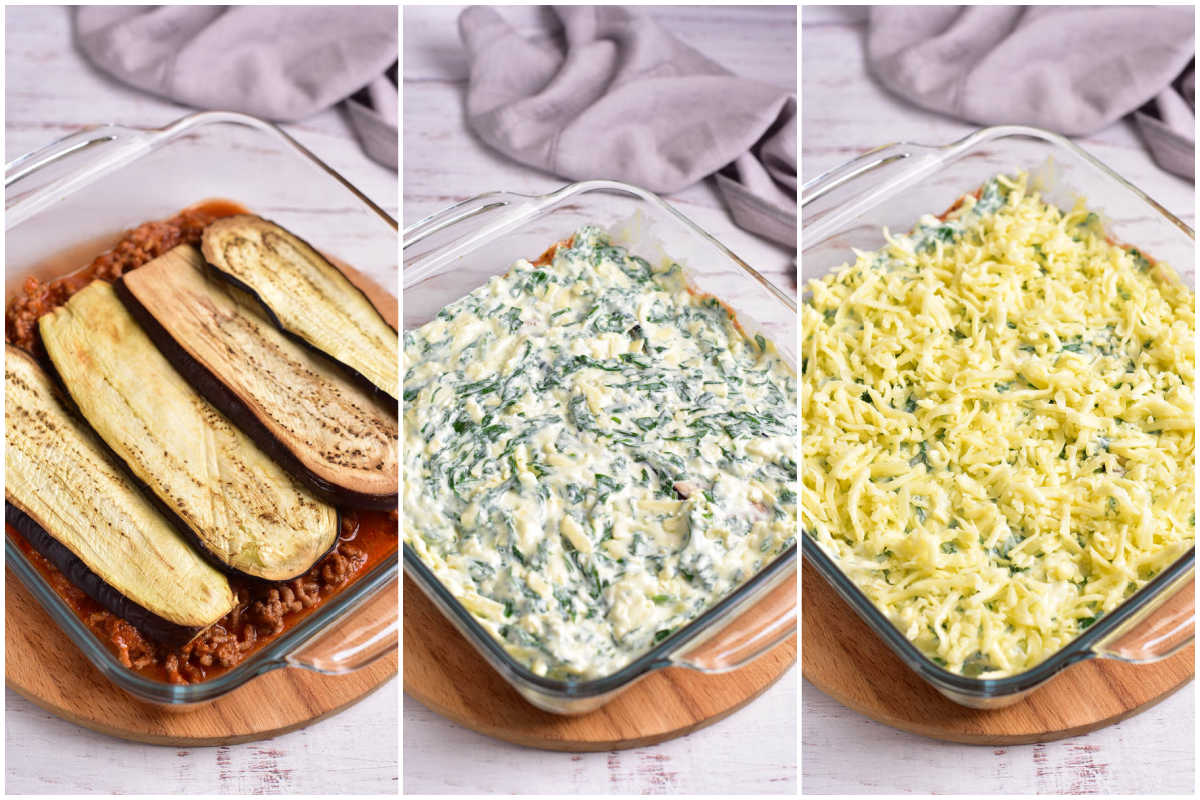 Step 4- bake the lasagna
Cover the dish with tin foil and bake for 45 minutes, removing the tin foil at the 30-minute mark. Once the cheese has melted and the sides are bubbling, remove it from the oven. Let the eggplant lasagna rest for 10 minutes, before sprinkling it with fresh basil and serving.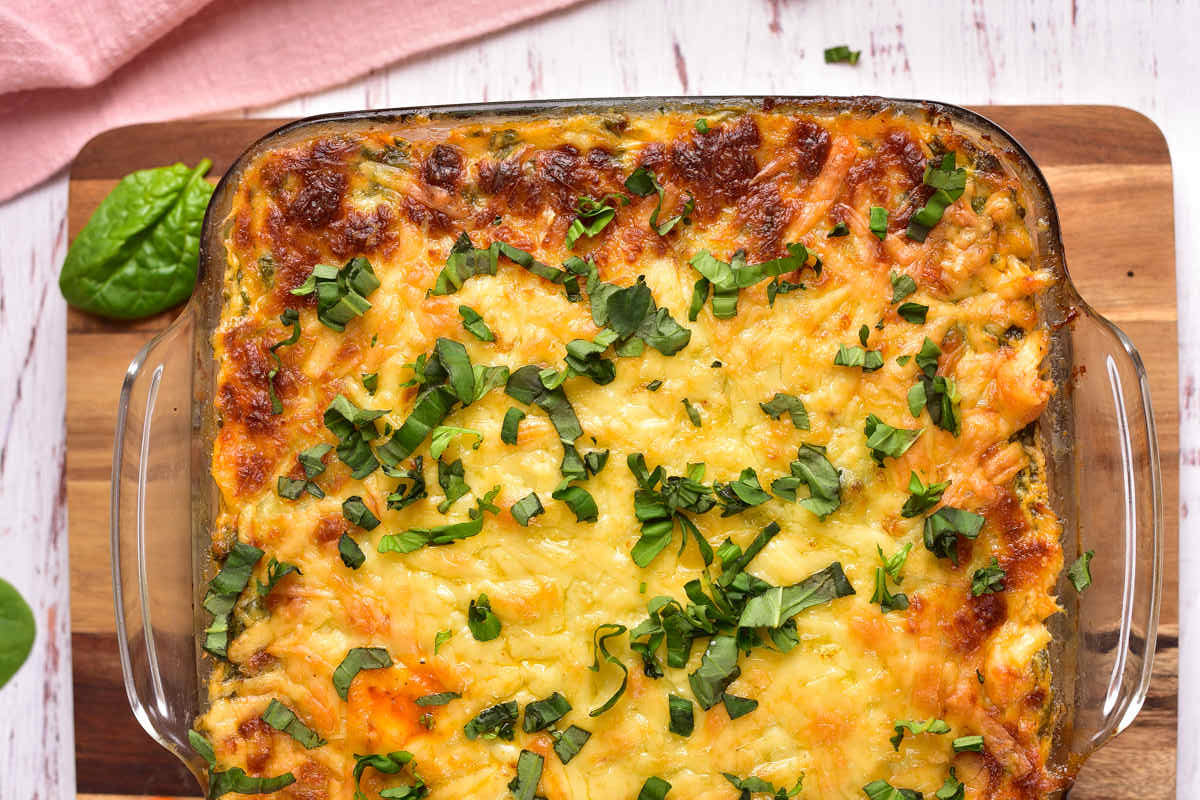 Can I make this lasagna in advance?
This lasagna is one you can definitely make ahead of if you like. You can do so a few days in advance (and refrigerate it) or a few months in advance (and freeze it).
Refrigerate then bake– Cover the uncooked lasagna in tin foil and place the dish in the refrigerator for up to 3 days. Remove the lasagna from the refrigerator 30 minutes before baking it. Using a paper towel, mop up any excess liquid around the sides.
Freeze then bake– Wrap the uncooked lasagna in saran wrap, followed by tin foil, then place it in the freezer for up to 2 months. The night before baking, place the frozen lasagna in the refrigerator to thaw out. Let the uncooked lasagna sit at room temperature for 30 minutes before cooking it.
Tips to make the best recipe
You must salt and roast the eggplant before assembling the lasagna. It drains out extra liquid and helps ensure this lasagna is NOT watery. You also risk the eggplant being gummy and dense.
Don't worry if you don't have enough eggplant to form multiple layers. You can simply increase the meat sauce, cheese filling, and mozzarella cheese on top.
If you'd like a vegetarian eggplant lasagna, simply omit the ground beef and layer up with the marinara sauce.
Storage instructions
To store: Eggplant lasagna can be stored in the refrigerator, covered, for up to 5 days.
To freeze: Place portions of the lasagna in a shallow container and store in the freezer for up to 6 months.
Reheating: Reheat the lasagna in a preheated oven at 180C/350F for 10 minutes.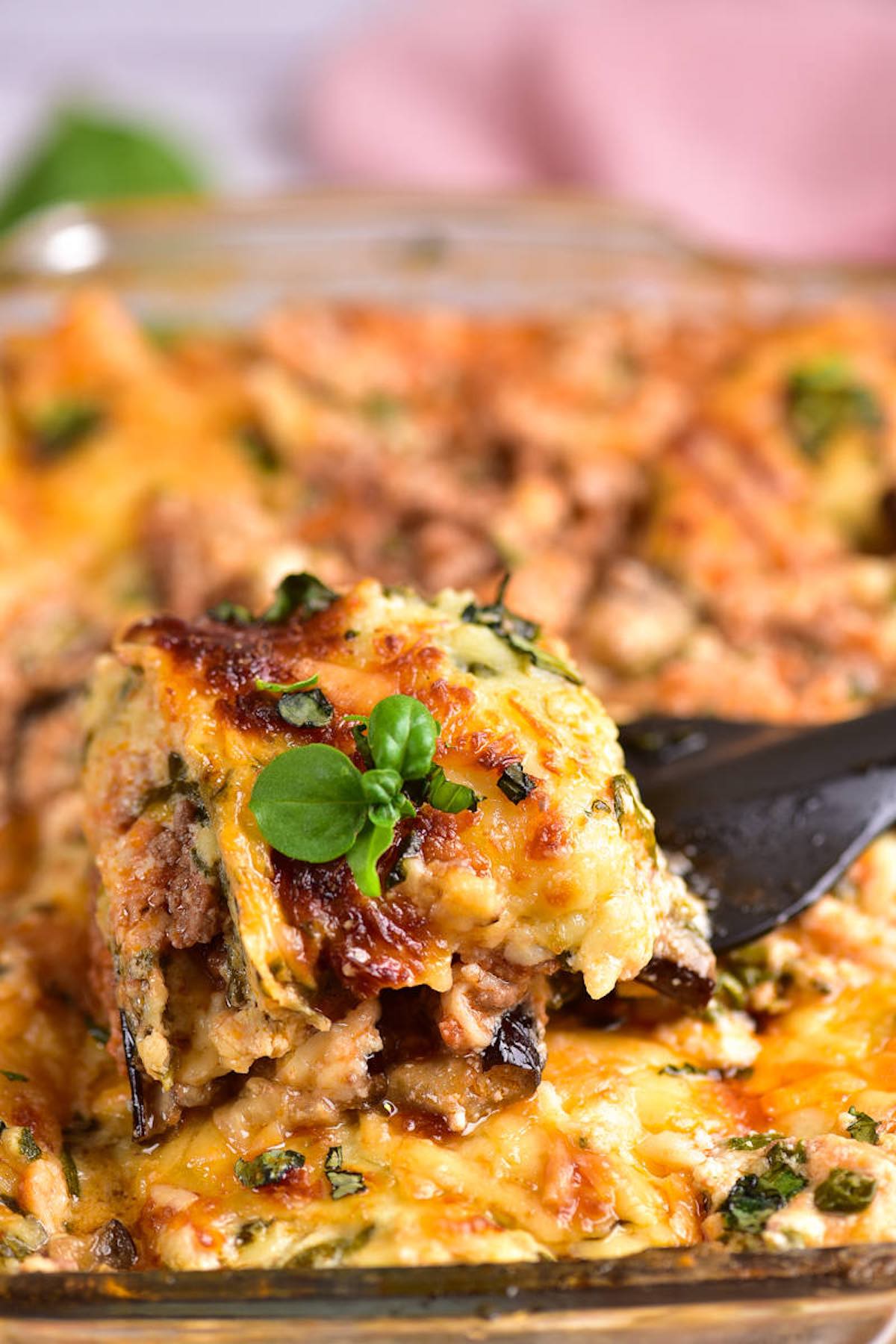 What to serve with eggplant lasagna
As this is an incredibly hearty dish, we like to keep the sides simple. Veggies and fresh salads are best, so here are some ideas:
Frequently Asked Questions
Why is my lasagna watery?
If you do not pre-bake the lasagna with a dash of salt, you risk the dish releasing extra moisture during the cooking process. This in turn will yield a watery lasagna.
How do you cut eggplant for lasagna?
The best way to slice eggplant for baked dishes is lengthways. Be careful not to cut them too thinly or else they will lose stability when layered.
Do you have to soak eggplant before baking?
You don't need to soak eggplant before baking it but for hearty dishes like lasagna, it's best to pre-bake them first.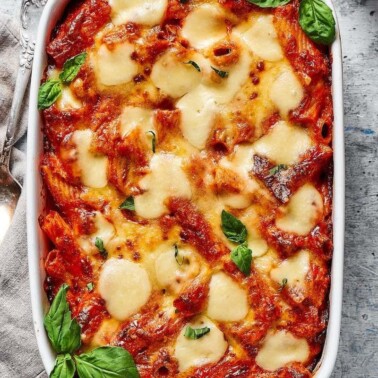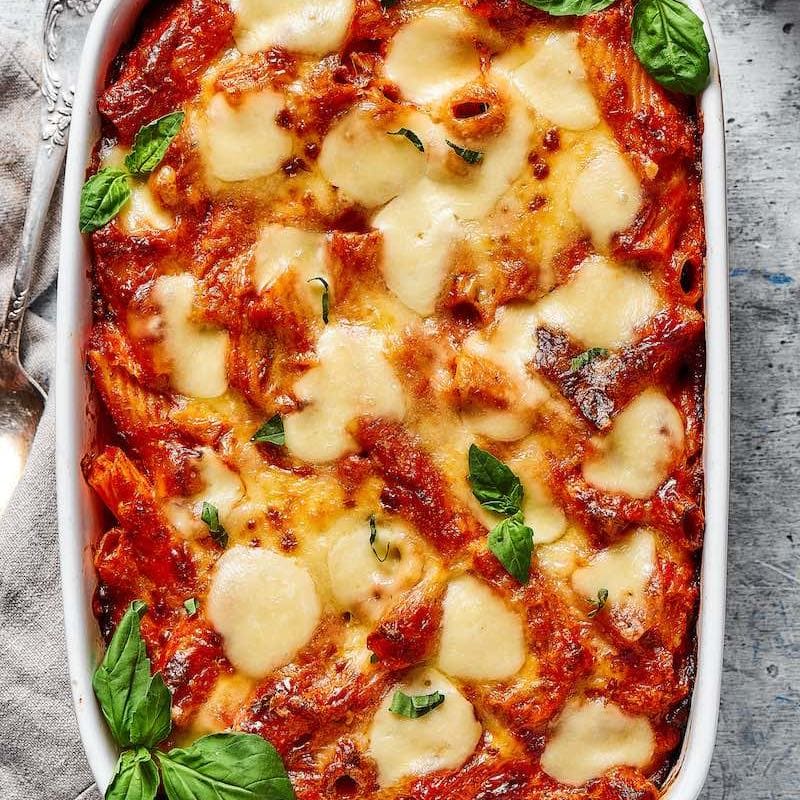 Best Eggplant Lasagna
This eggplant lasagna replaces lasagna noodles with sliced eggplant and is a fabulous low carb dinner recipe! Layered with a meat and cheese sauce, it's a healthy and filling dish!
Ingredients
2-3

large

eggplants

sliced into 1/4 inch thickness

1

teaspoon

salt

1

tablespoon

olive oil

1

lb

ground beef

lean

2

lb

keto marinara sauce

1

tablespoon

Italian seasonings

1 1/2

cups

ricotta cheese

full fat

1

cup

cheddar cheese

shredded

10

oz

frozen spinach

thawed and moisture squeezed out

1

large

egg

1 1/2

cups

mozzarella cheese

shredded
Instructions
Preheat the oven to 180C/350F. Grease a 9 x 13-inch baking dish and set it aside. Grease a baking tray and set that aside too.

Thinly slice the eggplant into ½ inch thick slices. Lay onto a flat kitchen surface and sprinkle with the salt, to draw out extra moisture. After 15 minutes, pat dry with a towel.

Place the eggplant onto the lined baking tray and roast for 15-20 minutes, until soft. 

While the eggplant is roasting, prepare the meat filling. In a non-stick pan, add the olive oil and place over medium heat. Add the ground beef and cook for 5 minutes, until no longer pink. Add the keto marinara sauce and Italian herbs and cook for 5 minutes, before removing from the heat.

In a mixing bowl, whisk together the ricotta cheese, shredded tasty cheese, thawed spinach, and egg. 

Assemble the eggplant lasagna. Spread half a cup of the meat sauce on the bottom of the baking dish. Add a single layer of the eggplant, before adding ½ cup of the ricotta mixture. Sprinkle ½ cup of the mozzarella cheese on top of it. Repeat the process until all the ingredients have been used up. Top with extra mozzarella cheese.

Cover with foil and bake for 30 minutes. After 30 minutes, remove from the oven and remove the foil and cook for a further 15-20 minutes, until the cheese on top is melted and the sauce is bubbling.

Remove the lasagna from the oven and rest for 10 minutes before serving. 
Notes
TO STORE: Eggplant lasagna can be stored in the refrigerator, covered, for up to 5 days. TO FREEZE: Place portions of the lasagna in a shallow container and store in the freezer for up to 6 months. TO REHEAT: Reheat the lasagna in a preheated oven at 180C/350F for 10 minutes.
Nutrition
Serving:
1
serving
Calories:
258
kcal
Carbohydrates:
7
g
Protein:
18
g
Fat:
18
g
Sodium:
416
mg
Potassium:
431
mg
Fiber:
4
g
Vitamin A:
3143
IU
Vitamin C:
3
mg
Calcium:
254
mg
Iron:
2
mg
NET CARBS:
3
g
Disclosure: This post may contain affiliate links. I may earn a small commission for my endorsement, recommendation, testimonial, and/or link to any products or services from this website.