This eggplant pizza may be low in carbs, but it's loaded with flavor. Ready in minutes, it's healthy, delicious, and comes together in no time!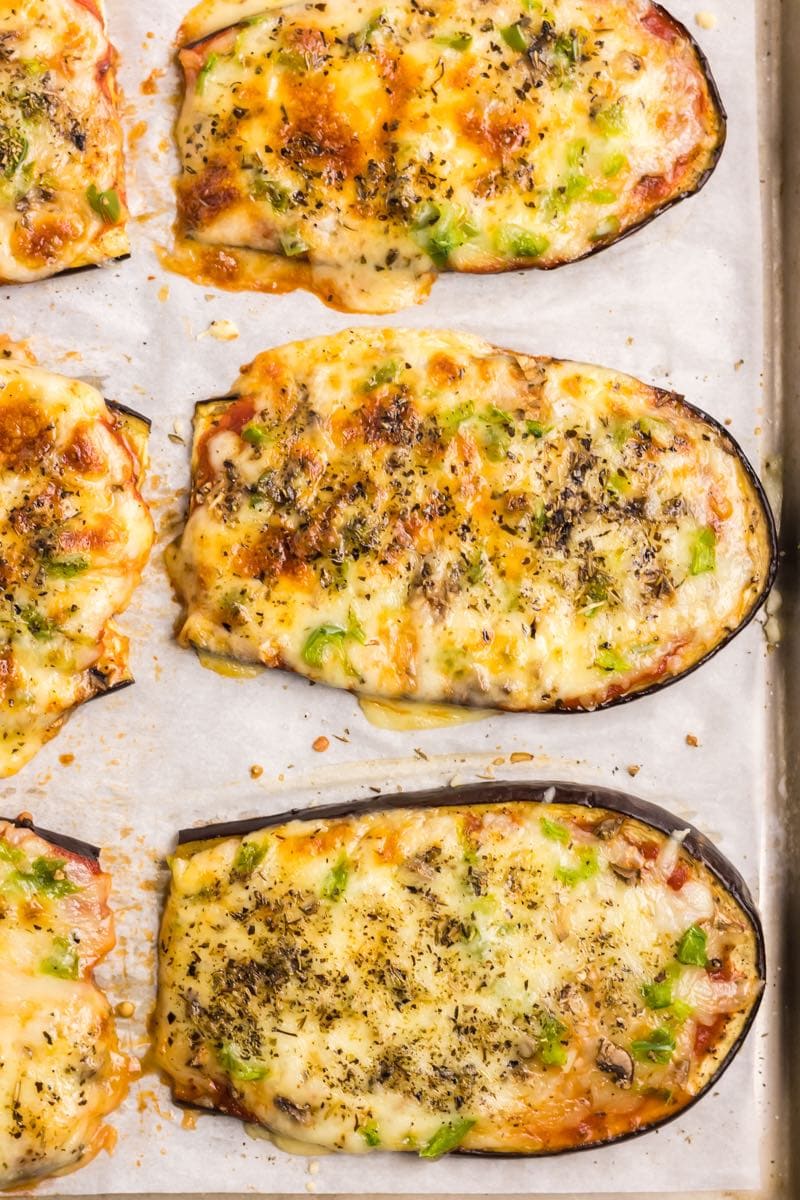 Pizza is hard to resist for anyone.
Seriously, if it could be its own food group, I would be a big advocate of it.
As someone who loves a good pizza, I open to trying it out in fun and creative ways. These include making it crustless, using cauliflower as a base, or even cutting the carbs completely.
For something different, I love to swap out a standard crust for an eggplant crust. 
Why you'll love this recipe
Healthy. This version provides fewer carbs and calories and is packed with nutrients.
Tastes like regular pizza. Topped with pizza sauce and plenty of cheese, you won't be able to tell the crust is made with eggplant! 
Suitable for weight loss. This pizza is great to include in your diet if you are losing weight. It's low calorie but super filling. 
Easy to make. You'll need simple ingredients that you probably have in your kitchen right this second! 
What we love about this recipe is that it is a fantastic way to use up plenty of eggplant. I mean, eggplant can be tricky to work with, but using it as a crust has been a game changer!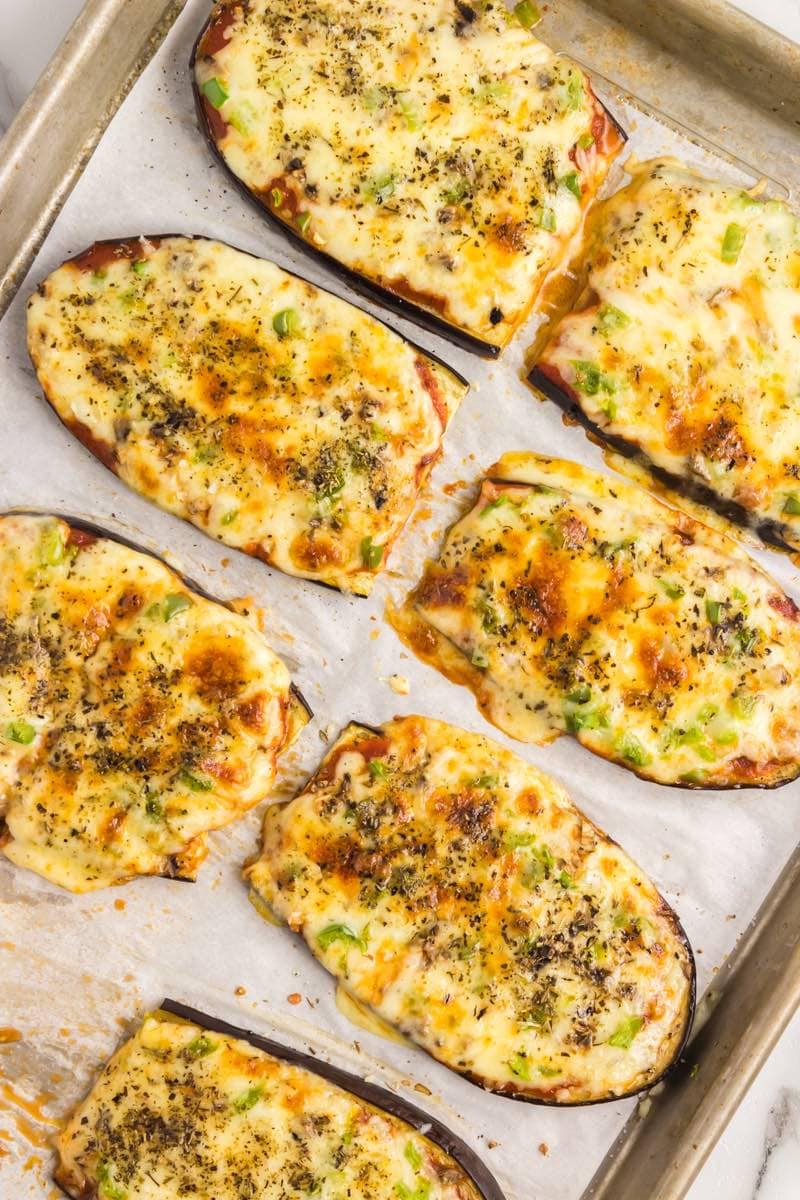 Ingredients needed
There are just 5 key ingredients to make this recipe. Like any good pizza, you can customize it any way you like. Here is everything you'll need: 
Eggplant. Choose a large eggplant so thick slices can be cut.
Olive oil. Or any neutral flavored oil. This is used to pre-roast the eggplant.
Pizza sauce. Use your favorite jarred sauce or try a homemade pizza sauce (that is low carb!).
Vegetables. We used mushrooms, bell peppers, and onions, but any toppings work.
Cheese. A mix of mozzarella cheese and provolone cheese yields a better melt.
Seasonings. Italian seasonings, salt and pepper.
How to make eggplant pizza?
Simple is an understatement for making this recipe. Besides some very minor prep with the eggplant, all you do is sauce it, top it and then bake it until the cheese has melted. Easy peasy!
Step 1- Prep the eggplant
Start by slicing the eggplant lengthways, around 1/3 inch in thickness. Rub some olive oil on both sides of the eggplant slices and place them on a lined baking sheet and sprinkle with salt and pepper.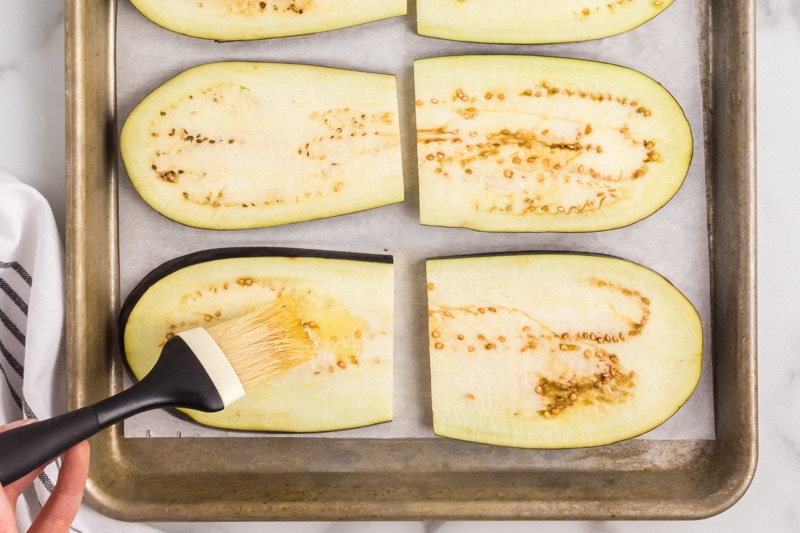 Step 2- Bake the eggplant
Next, bake eggplant for 12-15 minutes, or until soft in the middle.
Step 3- Add toppings
Now, spread a layer of pizza sauce on the eggplant rounds, then sprinkle some cheese. Add your toppings of choice, then add more cheese.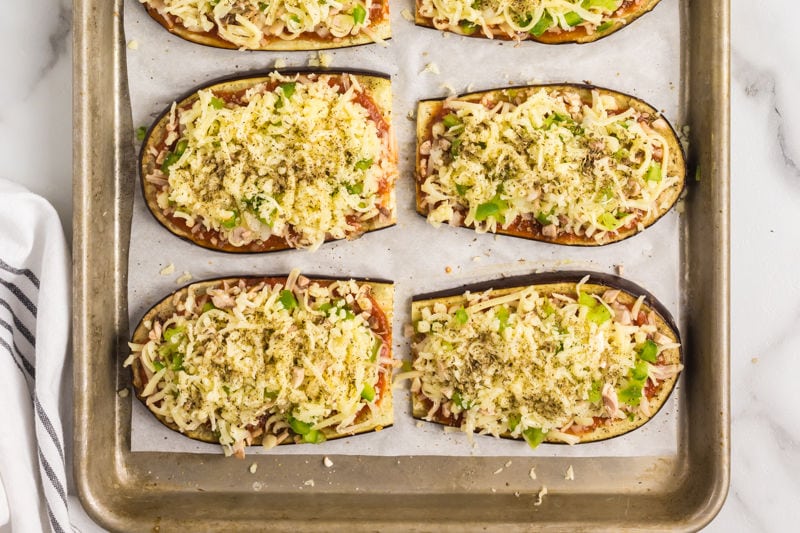 Step 4- Bake the eggplant pizza 
Finally, turn the oven to a broil setting and broil the eggplant pizzas for 5-10 minutes, or until the cheese melts.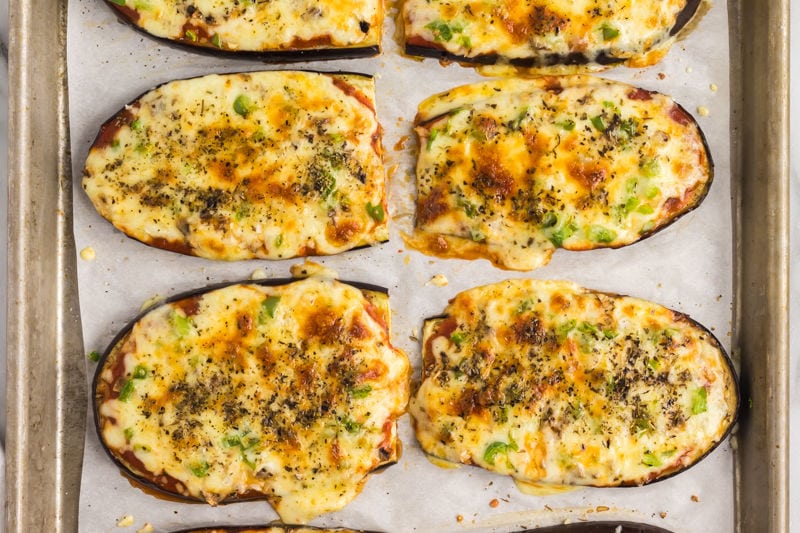 Is eggplant good on a low carb diet?
Eggplant is a fantastic low carb vegetable as it contains very few carbs. Per one cup serving, there are just 3 grams of net carbs. Besides being deficient in carbs, it provides you with fibers, vitamins, and minerals that are good for your health.
Using it as a pizza base works well, as it doesn't have anywhere near as many carbs as a crust made with dough contains.
Some other low carb eggplant recipes include eggplant lasagna and eggplant parmesan.
Tips to make the best recipe
Avoid adding too many toppings on eggplant crust because it's softer than traditional dough and can break.
Choose larger eggplants so that larger eggplant rounds can be sliced.
Do not peel the eggplant as the skin helps hold the pizza together and prevents them from tearing.
Flavor variations
Like a traditional pizza, the beauty of this one is just how easy it is to customize. Here are some ideas to get you started:
Storage instructions
What is the best way to store leftovers? Here are best practices for eggplant pizza storage: 
To store: Leftovers can be stored in the refrigerator, covered, for up to five days.
To freeze: Place the baked and cooled pizzas in a shallow container and store it in the freezer for up to 2 months.
Reheating: Always reheat the pizza in a preheated oven until the cheese is bubbling.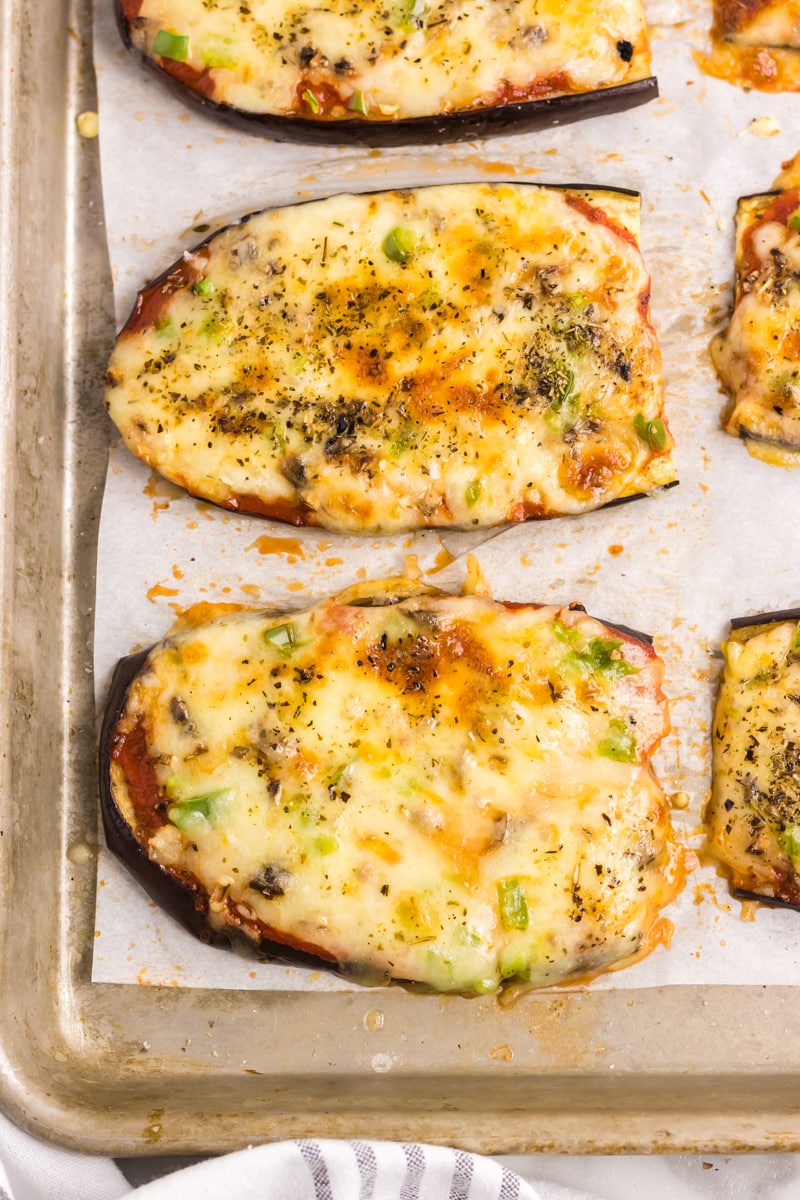 More ways to enjoy pizza
Frequently Asked Questions
Do you have to soak eggplant before baking?
Yes, soak the eggplant before baking to avoid a bitter flavor and want a creamy texture.
How do you bake eggplant without it getting soggy?
You can add salt over the sliced eggplant to remove moisture from the vegetable and prevent it from being soggy. 
Is this keto friendly?
There are just 4 grams net carbs per eggplant pizza, making it a fantastic keto dinner idea.
What to serve with this dish?
Fresh vegetables or salads are always a winner, otherwise keep it classic with some garlic bread.
Share this recipe on Pinterest
Love this Eggplant Pizza recipe?
Share it with the world on Pinterest.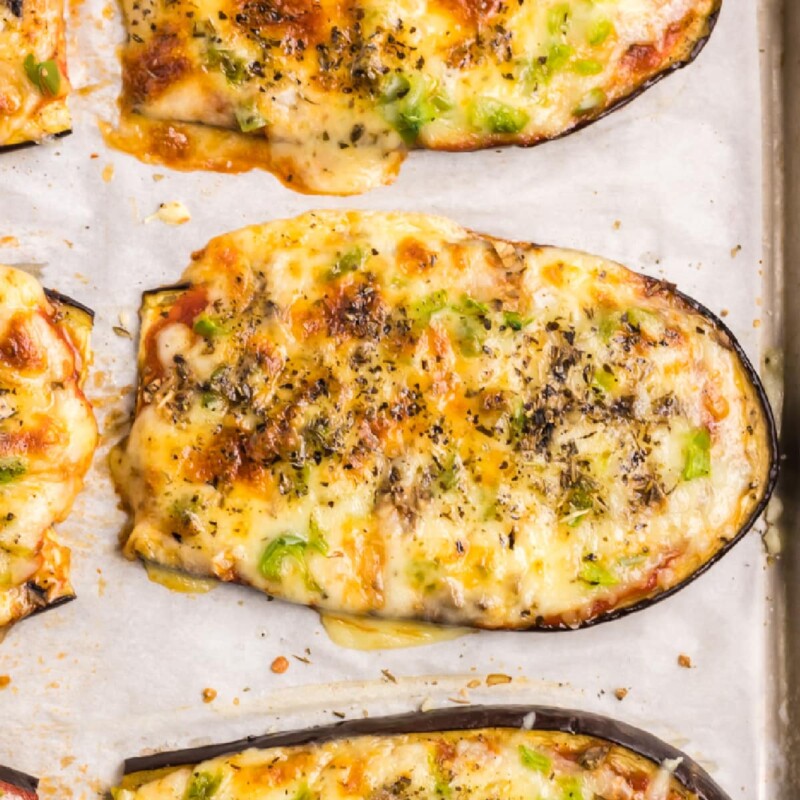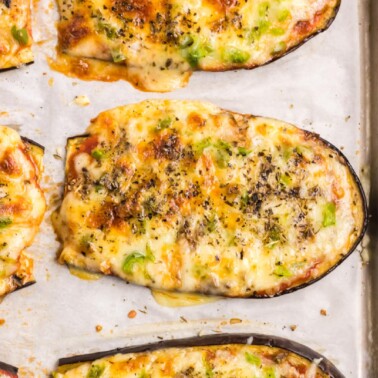 Eggplant Pizza In 10 Minutes | Low Carb And Healthy
This eggplant pizza may be low in carbs, but it's loaded with flavor. Ready in minutes, it's healthy, delicious, and comes together in no time!
Ingredients
1

large

eggplant

2

tablespoons

olive oil

1

teaspoon

salt

1/2

teaspoon

pepper

1/2

cup

pizza sauce

1

cup

mozzarella cheese

divded

1/2

cup

provolone cheese

divided

1/4

cup

mushrooms

chopped

1/4

cup

onions

chopped

1/2

cup

bell peppers

diced

1

tablespoon

Italian seasonings
Instructions
Preheat the oven to 200C/400F. Slice the eggplant lengthways (the long side) into 1⁄3 inch slices.

Brush both sides of the eggplant with olive oil and place them on a lined baking sheet. Sprinkle with salt and pepper and bake for 12-15 minutes, until the eggplant is cooked and soft.

Spread marinara sauce on each eggplant, and sprinkle with some of both shredded cheeses. Add the onions, mushrooms, and bell peppers, and sprinkle generously with the remaining cheese. Sprinkle with Italian seasonings.

Set the oven to the broil setting and bake for 5-10 minutes, or until the cheese is golden and melted.

Remove the eggplant pizzas from the oven and serve immediately.
Notes
TO STORE: You can store leftovers in air-tight containers in the refrigerator for up to 3 days. TO FREEZE: Use freezer-safe airtight bags or containers to freeze eggplant pizza for up to 3 months. TO REHEAT: Always reheat the pizza in a preheated oven.
Nutrition
Serving:
1
serving
Calories:
105
kcal
Carbohydrates:
6
g
Protein:
8
g
Fat:
6
g
Sodium:
530
mg
Potassium:
249
mg
Fiber:
3
g
Vitamin A:
523
IU
Vitamin C:
15
mg
Calcium:
218
mg
Iron:
1
mg
NET CARBS:
3
g
Disclosure: This post may contain affiliate links. I may earn a small commission for my endorsement, recommendation, testimonial, and/or link to any products or services from this website.