Enjoy a paleo and vegan pizza crust made with NO cauliflower, NO eggs and NO yeast! This 3 ingredient sweet potato pizza crust is delicious, chewy and holds toppings beautifully!
3 Ingredient Grain Free Sweet Potato Pizza Crusts (Paleo, Vegan, Gluten Free) made with no cauliflower and no eggs and no oven needed! This quick, easy and fool-proof recipe is made stovetop, and is firm, low carb, chewy and perfect to load with toppings!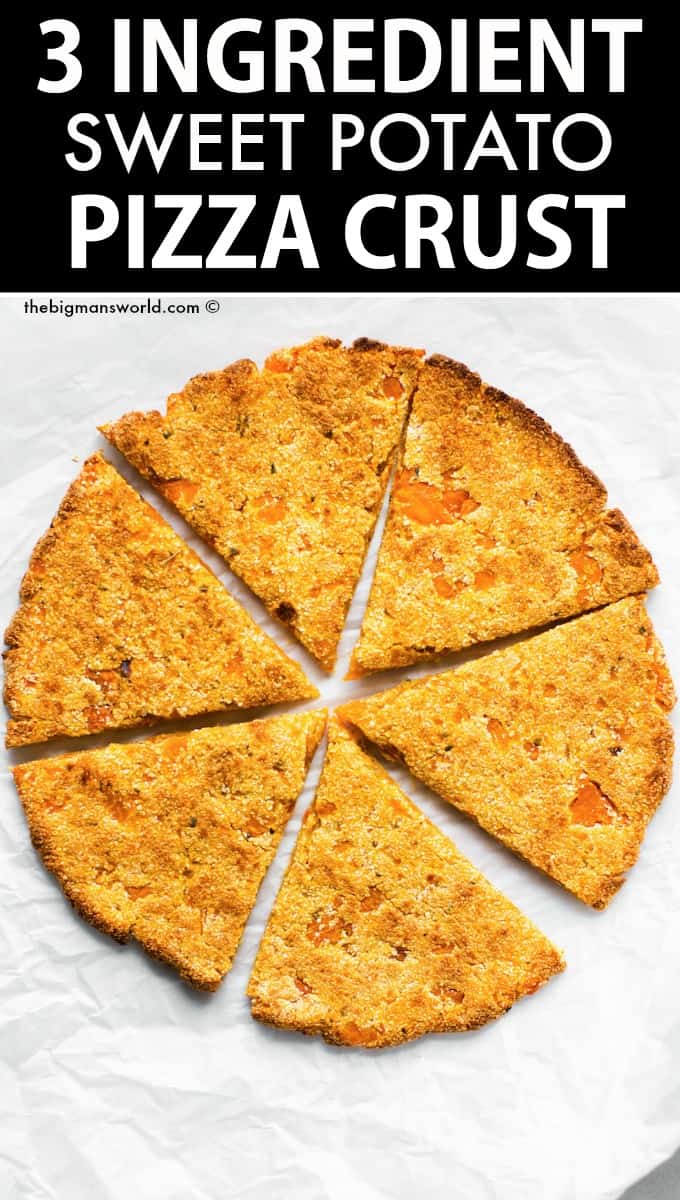 With vegetable-based pizza crusts in abundance, you'll never fail to find one. The problem lies in how durable they are, how 'real' of a crust it is, and how NON-time consuming they are.
When I first made this 3 Ingredient sweet potato pizza crust, I knew I had found my new, favorite low carb veggie-based pizza crust.
Having tried the cauliflower pizza crust, I wasn't the biggest fan, especially with the amount of effort and time it took to make it. In all honestly, it was a glorified veggie back- You couldn't pick it up, and it definitely couldn't fool you into thinking it was a pizza.
While I've shared a low carb pizza crust and low carb pizza base recipe on here, these are designed for loading with toppings. The base in itself isn't something you'd actively choose to enjoy on its own. However, this sweet potato version is easy, foolproof, and made stovetop!
Say hello to your new favorite vegetable-based pizza crust using just THREE easy ingredients!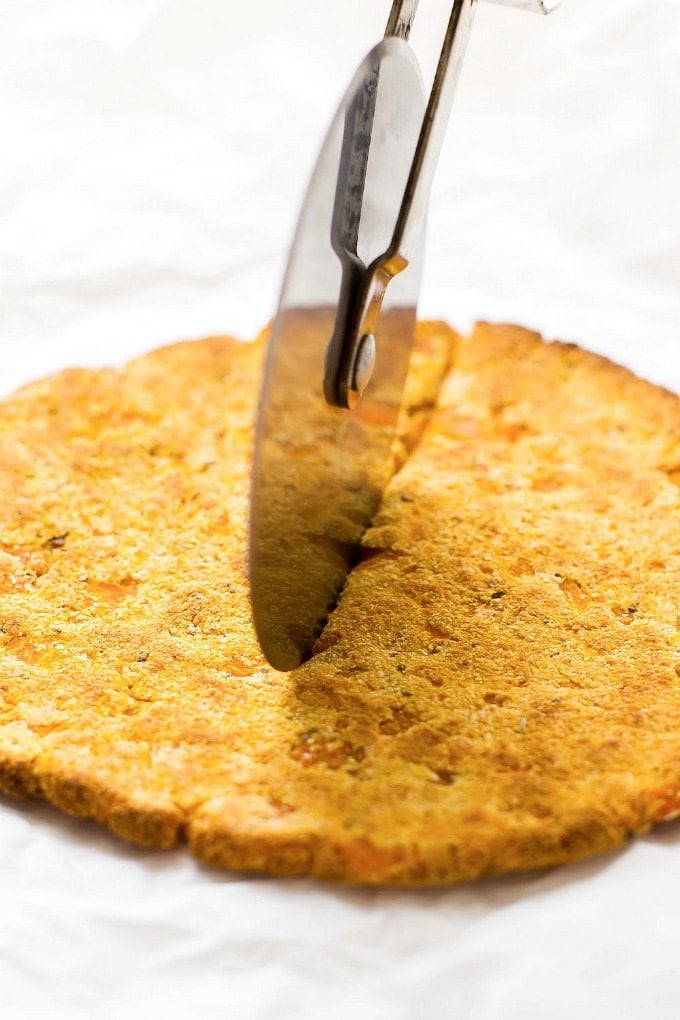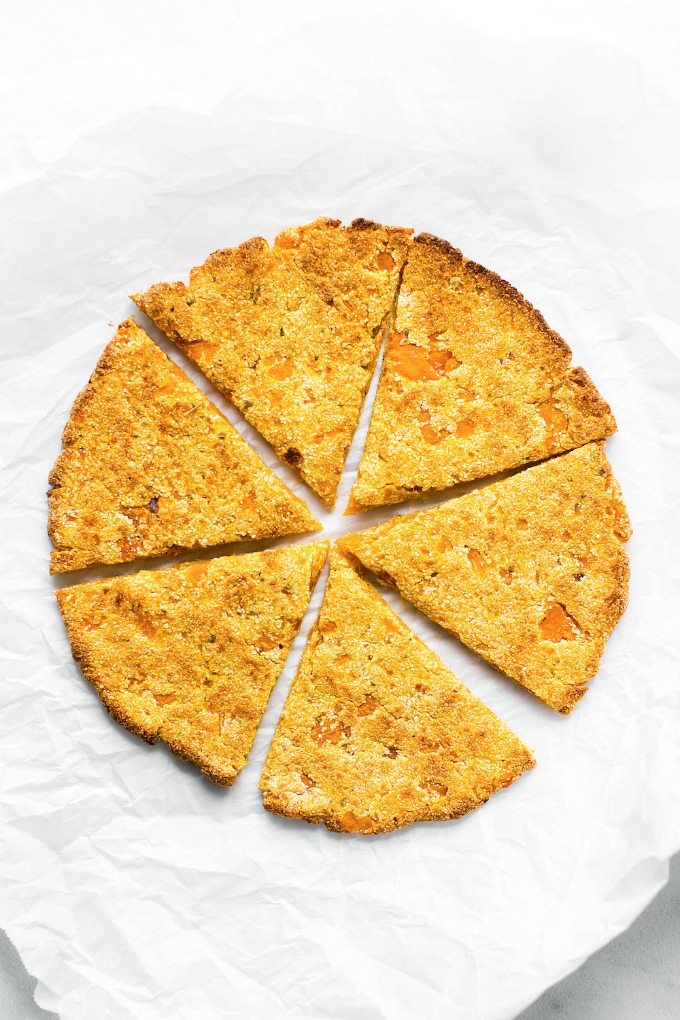 That was the dialogue in my head. What I said was…
Okay!
Because I will try even the most inconceivable mix of ingredients at least once. Often more than once. Often long past I should just give up and save the ingredients for something less absurd. But that's another issue entirely.
Don't get me wrong, I too have seen sweet potato pizza crusts around the web. But usually, they involve egg or lot of cheese. And usually, they do not involve the trickster of the flour world, coconut flour.
But I popped a couple of sweet potatoes in the microwave and got to skeptically pizza-ing.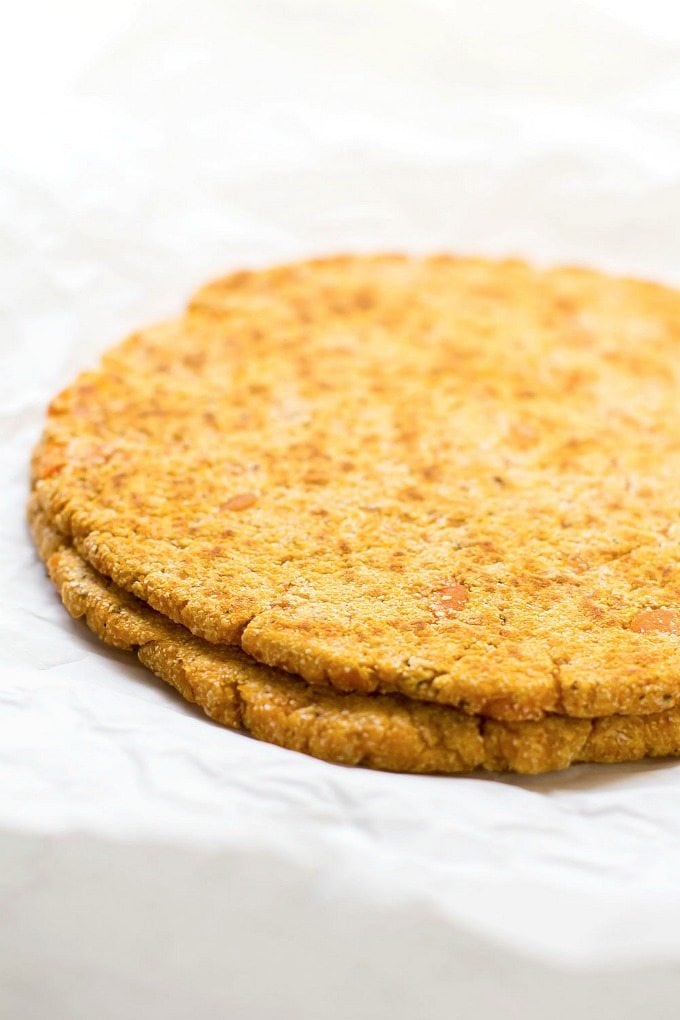 So, how does this sweet potato pizza crust taste?
It was like one of those trust fall exercises but in pizza form. Mash, mix, trust, bake and be amazed.
Crusty-edged, veggie-topped, cheese-melty amazed! Because not only did this dough roll with ease, flip in the pan no problem, and hold toppings like it was born to do just that, it tasted delicious.
A subtle undertone of sweet potato flavor, but mostly savory and the perfect herb-y compliment to the tomato sauce on top.
A thick and sturdy pizza crust, it can be held up easily and portable too!
How to make a sweet potato pizza crust from scratch
The Ingredients
Just 3 simple ingredients.
Baked and mashed sweet potato of course.
Coconut flour because even though it can be testy I do love it when it cooperates. Plus it keeps these crusts gluten-free and paleo.
Tapioca starch to help with the texture and egg-free binding.
And Italian herbs, or any herbs or seasonings you like. I recommend a blend that at least has salt, onion, and garlic, but mine also included basil, oregano, parsley, and red bell pepper.
The Instructions
Start by steaming your sweet potatoes, until they are fully cooked. When cooled, combine them in a bowl with all the ingredients and mix/knead well, until fully combined.
Divide the batter into 4 equal portions. Heat up a non-stick pan with a dash of cooking spray. Roll out each portion into a circular shape. Pan fry each sweet potato pizza crust for 4-5 minutes per side, flipping once.
Once they are all cooked, top with your favorite toppings and bake in the oven for 10-12 minutes!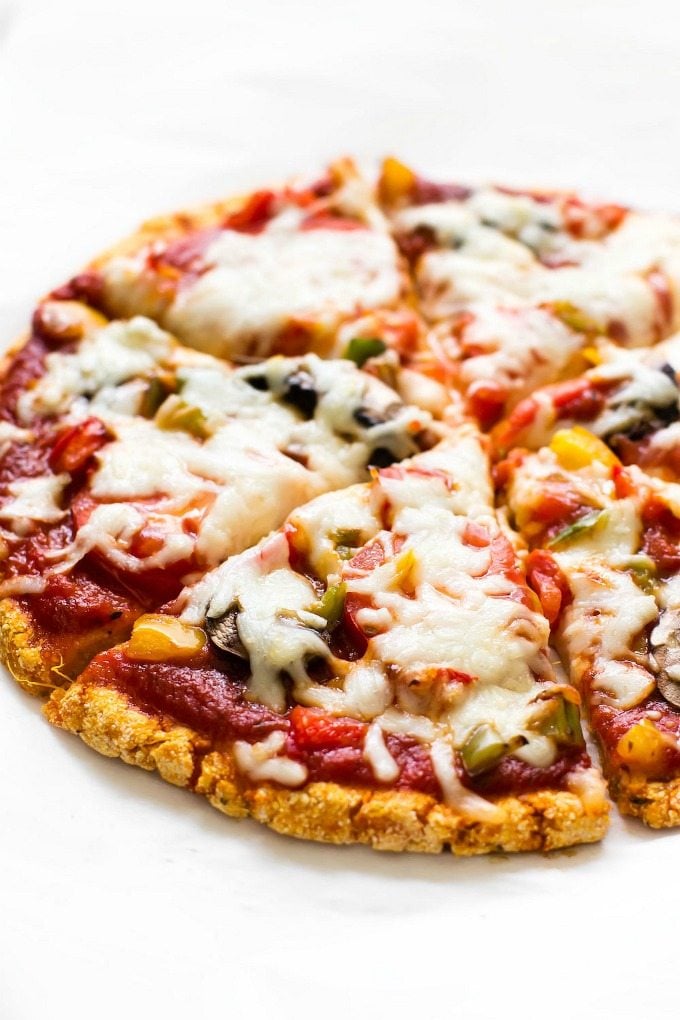 What kind of pizza sauce?
The sauce makes all the difference with pizza, and this crust is so easy you now have time to pay extra attention to that layer. So pull out your favorite homemade sauce recipe or opt for a store-bought jar made with the good stuff as opposed to sugar as the second ingredient.
Please don't just pour on plain tomato sauce from a can, I might cry. At least season it up a bit. Or go completely non-traditional with pesto or hummus or whatever other crazy tomato-alternative ideas the internet may have to offer.
What to put on a sweet potato pizza crust
Have some fun with the toppings!
I personally love mushrooms and tomato slices on my pizza, those two are a given for me. I also used bell peppers here, but zucchini, spinach, olives, onions, crumbled cauliflower…the veg (or not) possibilities are endless!
And those possibilities are all yummier when covered in melted cheese. I used Daiya mozzarella shreds but feel free to use whatever kind you like–vegan or not.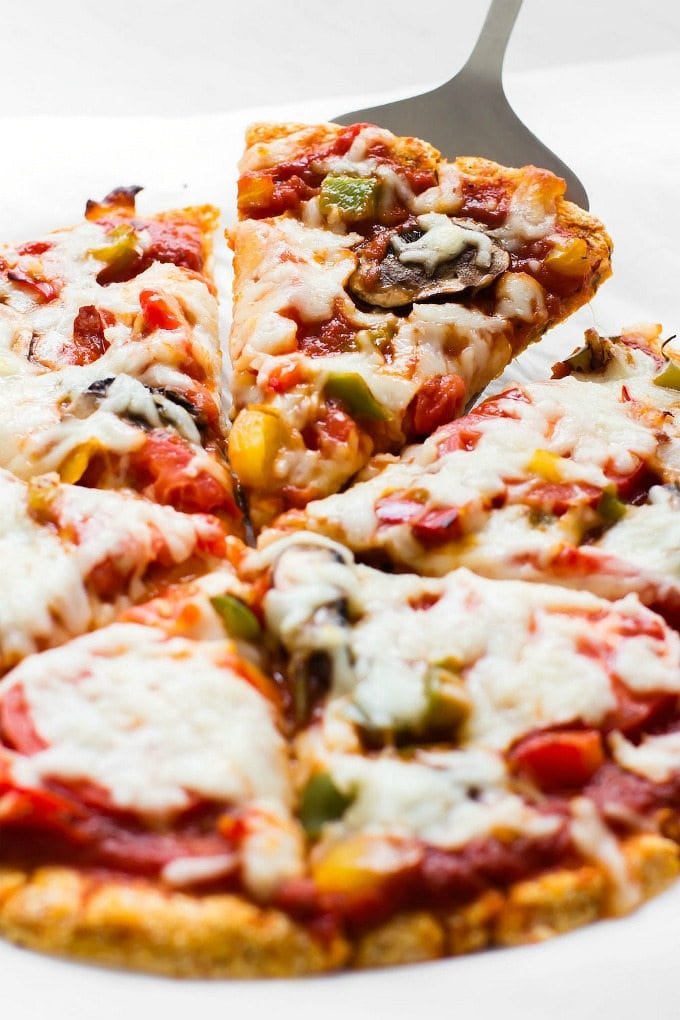 Can you freeze sweet potato pizza crusts?
Easily freeze sweet potato pizza crusts to enjoy at a later time or quick and easy dinners.
To freeze crusts, wrap each one in parchment paper, and also plastic wrap. Write the date on it 6 months from the day it is made, as that is how long they remain fresh for.
Thaw pizza crusts at room temperature, until no longer frozen. Quickly pan-fry before adding your toppings and baking for 10-12 minutes.
More delicious Savory Recipes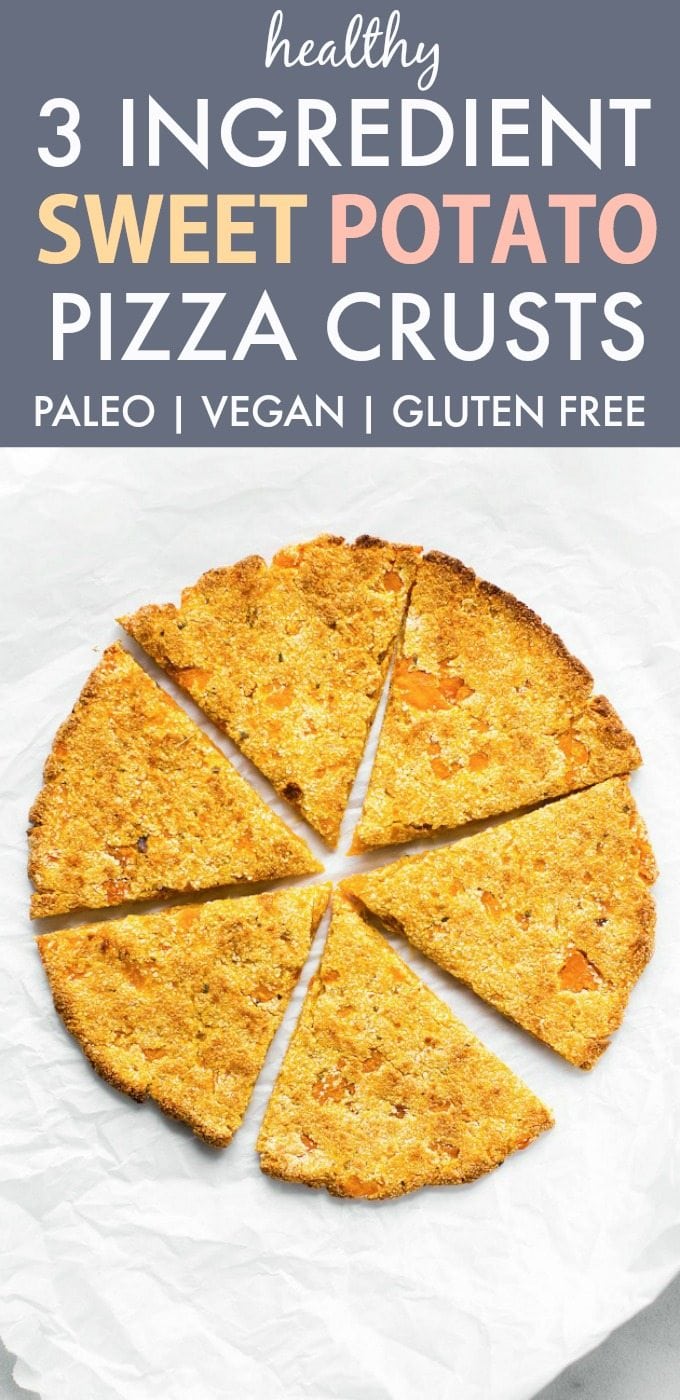 Pizza is the ultimate whole-is-greater-than-the-sum-of-the-parts food in my opinion. Even moreso with this recipe because the crust is made from such healthy and unexpectedly few ingredients, but once you add all the goodies on top it somehow takes on that pizza-perfect fusion of flavors.
Pretty much the entire pie is made up of nutritious plants from the orangey base to the…okay maybe not the copious quantity of cheese shreds. But still, there's a lot of good-for-you stuff per cheese smothered bite.
Watch the step-by-step video BELOW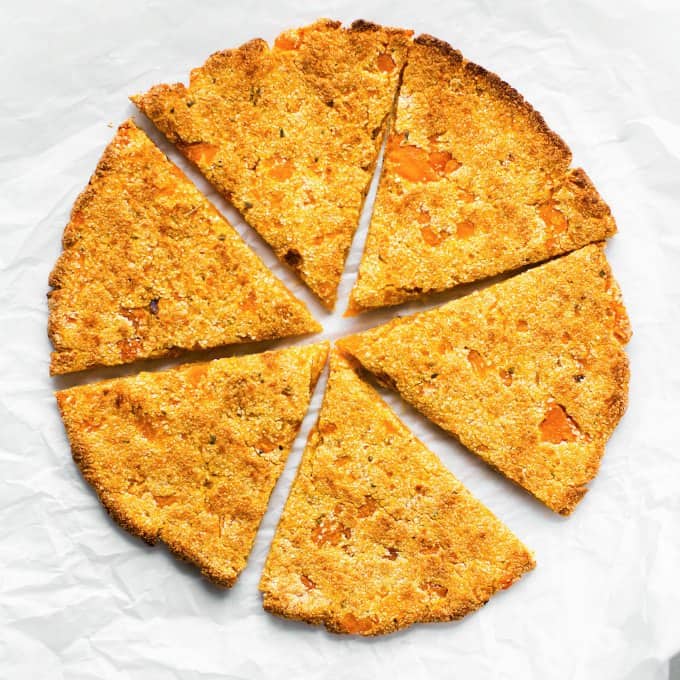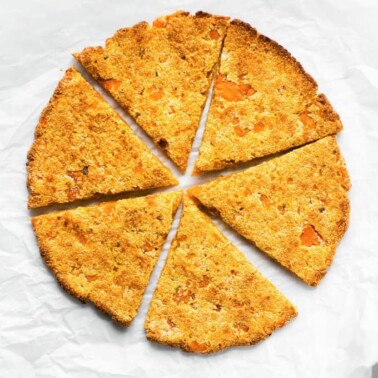 Sweet Potato Pizza Crust
3 Ingredient Grain Free Sweet Potato Pizza Crusts (Paleo, Vegan, Gluten Free) made with no cauliflower and no eggs and no oven needed! This quick, easy and fool-proof recipe is made stovetop, and is firm, low carb, chewy and perfect to load with toppings!
Ingredients
2

cups

baked and mashed sweet potatoes

1/2

cup

coconut flour

1/4

cup

tapioca starch

Can sub for arrowroot if not paleo

1

tablespoon

spices of choice

basil, oregano etc
Instructions
Combine all the ingredients in a mixing bowl. Mix/knead to form a ball of dough.

Divide into 4 equal sized balls. Roll out each to about ½ inch thickness.

Carefully transfer to a non-stick pan and cook for 4-5 minutes per side over medium heat. It will stick at first but loosen as it cooks, that's how you know it's ready to flip.

Repeat with each crust.
To bake in the oven
Preheat the oven to 400F.

Top each crust with pizza sauce and toppings of choice.

Bake for approximately 15 minutes or until the cheese is melted and the crusts are slightly brown on the edges.

Cool briefly and then slice and enjoy!
Notes
Sweet potato crusts can be prepped in advance and are freezer friendly- Ensure they are each wrapped individually.
Nutrition
Serving:
1
crust
Calories:
214
kcal
Carbohydrates:
32
g
Protein:
5
g
Fat:
2
g
Sodium:
82
mg
Potassium:
665
mg
Fiber:
10
g
Sugar:
10
g
Vitamin A:
26905
IU
Vitamin C:
27
mg
Calcium:
53
mg
Iron:
1
mg
NET CARBS:
22
g

Disclosure: This post may contain affiliate links. I may earn a small commission for my endorsement, recommendation, testimonial, and/or link to any products or services from this website.