Pizza lovers, rejoice- You can easily make your own foolproof pizza crusts or bases using just two ingredients- Self-rising flour and Greek yogurt! No yeast, no eggs, and no binders needed- Easily made vegan and gluten-free!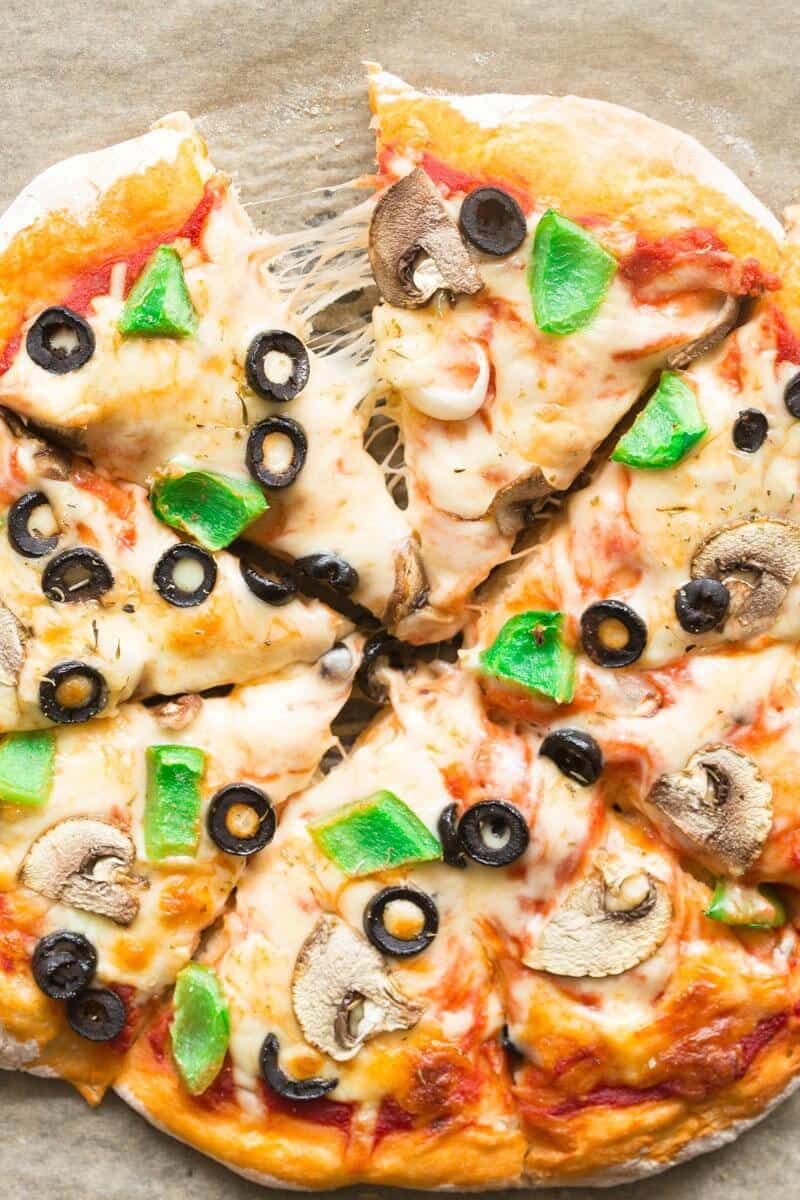 2 Ingredient Pizza Dough Recipe
Yesterday, I shared an insanely quick, easy and simple recipe for 2 ingredient bagels.
Today, we are using the same weight watchers 2 ingredient dough recipe to make another kitchen and baking staple- Pizza crusts!
Pizza crusts, pizza bases, pizza dough- Whatever you call it, it's still the same- A thick, chewy, doughy base PERFECT to load up!
After getting an influx of messages of 'what do I bake in quarantine or when I am in isolation', this pizza dough recipe is one for the books.
It is easy, homemade comfort food, that is better for you than a traditional pizza crust. It's also a fantastic homemade recipe to get the kids involved in!
Get your children or little ones to help mix the dough, top the pizza and share a wholesome and comforting meal together.
I know many of us have got pantries and fridges stocked with basics, and this requires just yogurt and flour- You probably have both right now!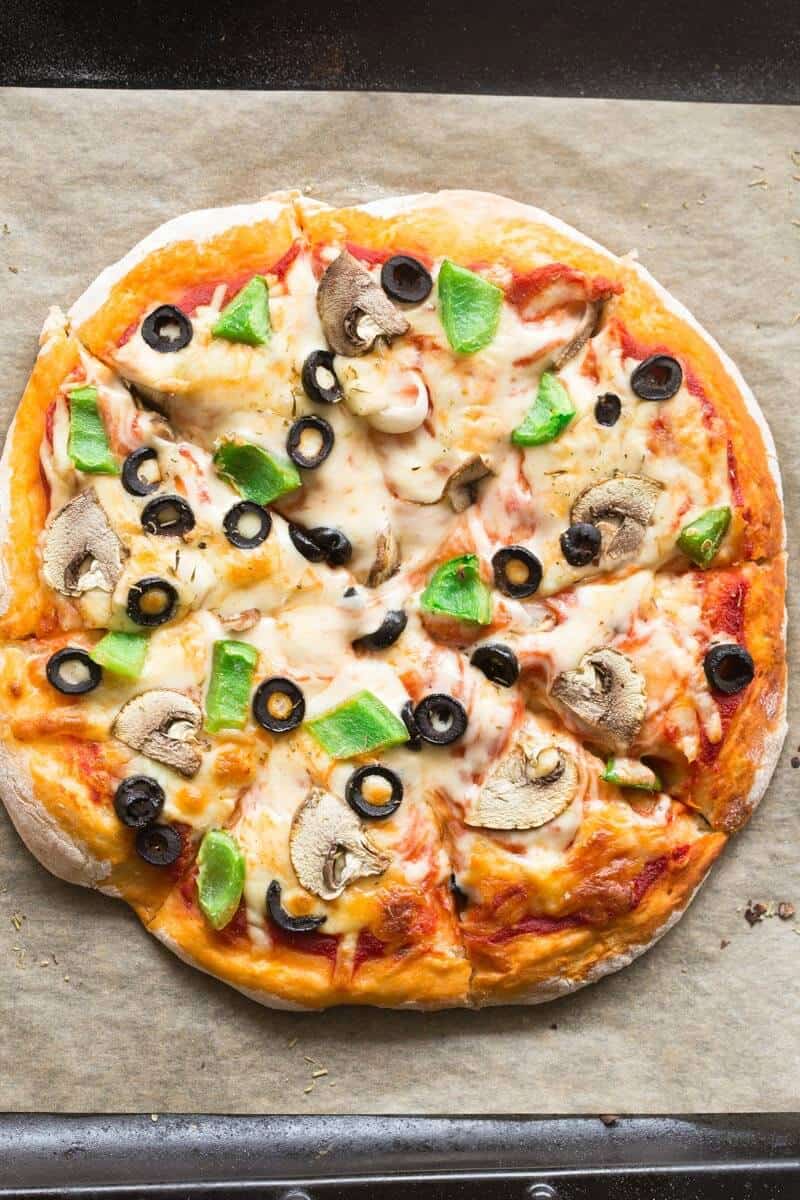 How to make 2 ingredient pizza dough from scratch
Making 2 ingredient pizza dough is incredibly easy and requires no fancy kitchen equipment or gadgets to make.
To start, combine your self rising (self-raising) flour in a bowl, along with your Greek yogurt. Use a rubber spatula, and mix well, until fully combined. Form a large ball of dough.
Then you'll want to lightly dust a surface with flour. Lightly wet your hands, and add some extra flour on top of the ball of dough, and transfer to the floured surface.
Gently press the dough, forming a large circular shape, resembling a pizza crust. You'll then want to carefully transfer it to a lined baking tray.
Top your pizza crust with sauce, cheese (dairy-free, if needed) and your favorite toppings. Bake the pizza for 20-25 minutes, in a preheated 180C/350F oven.
Remove the pizza and slice and enjoy it!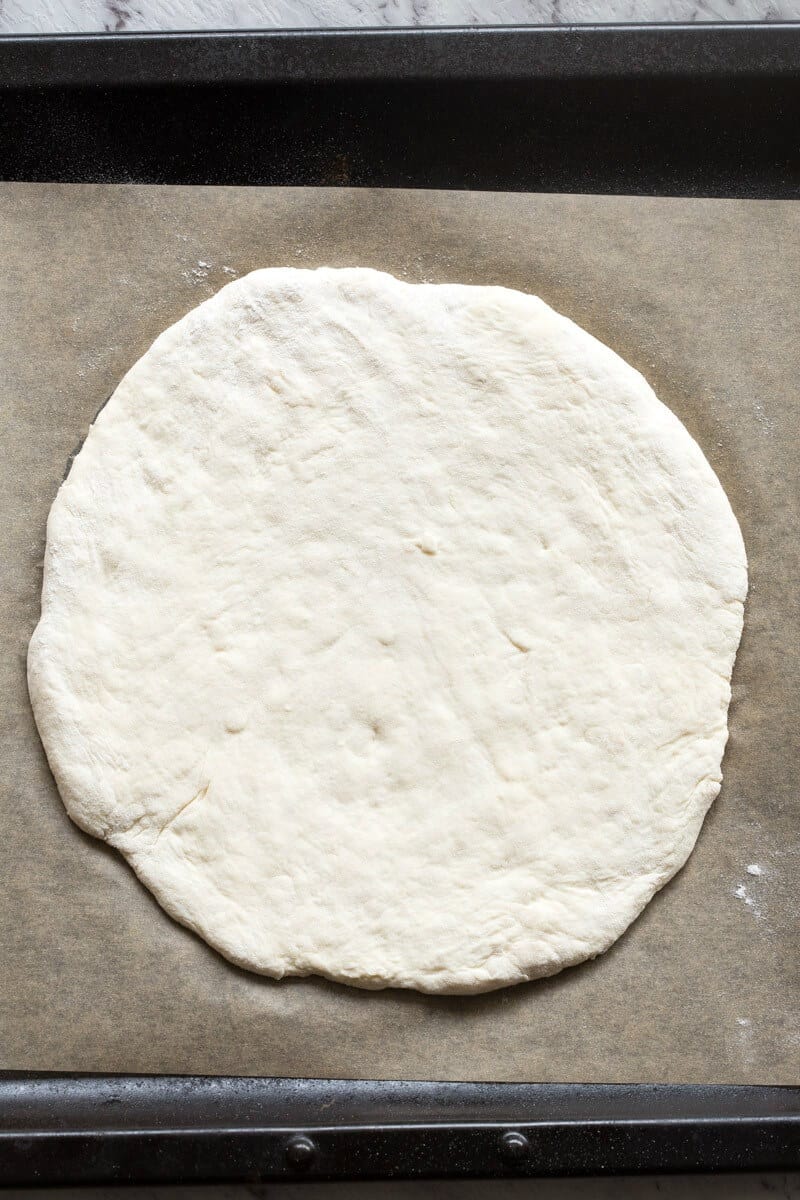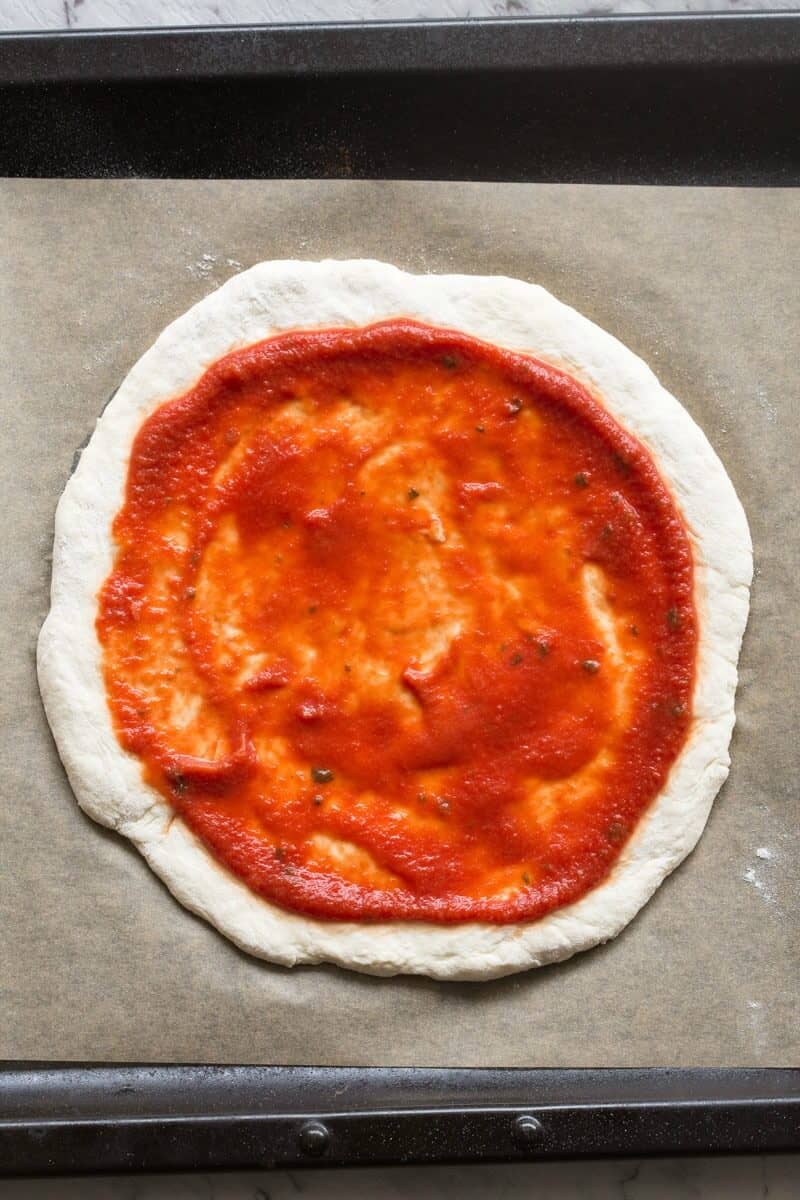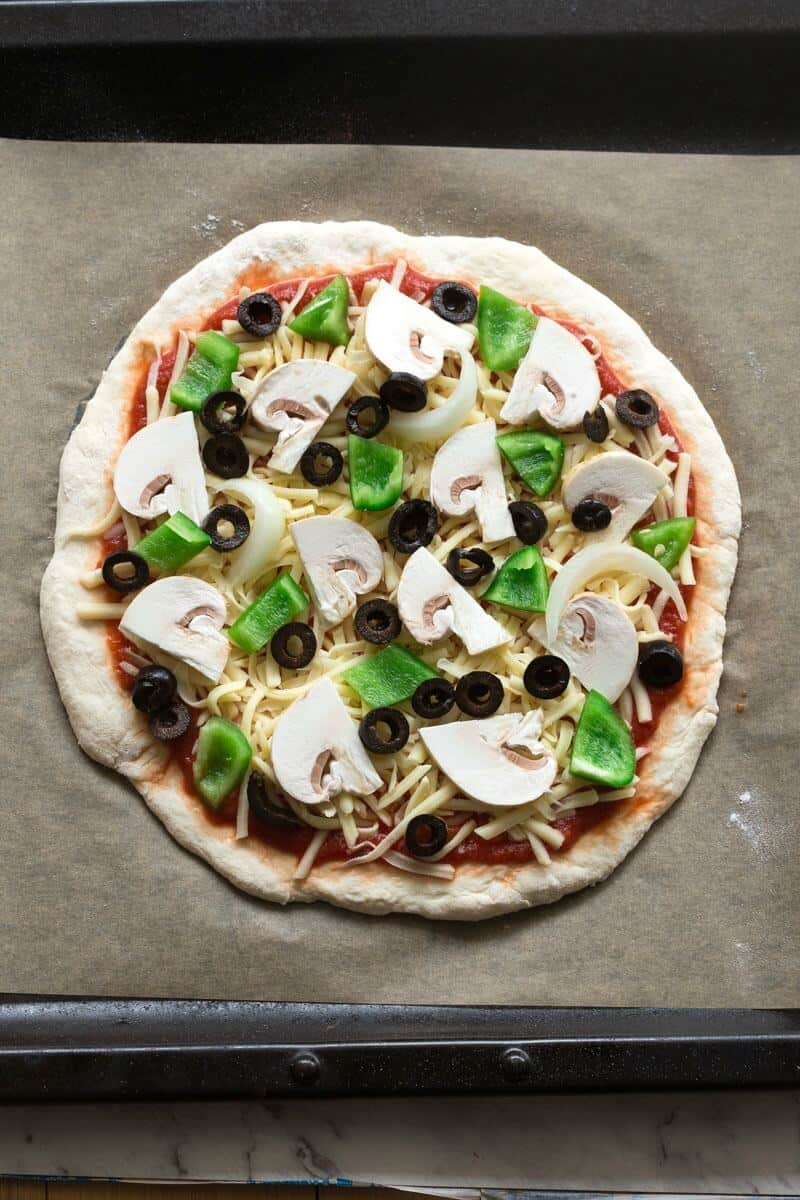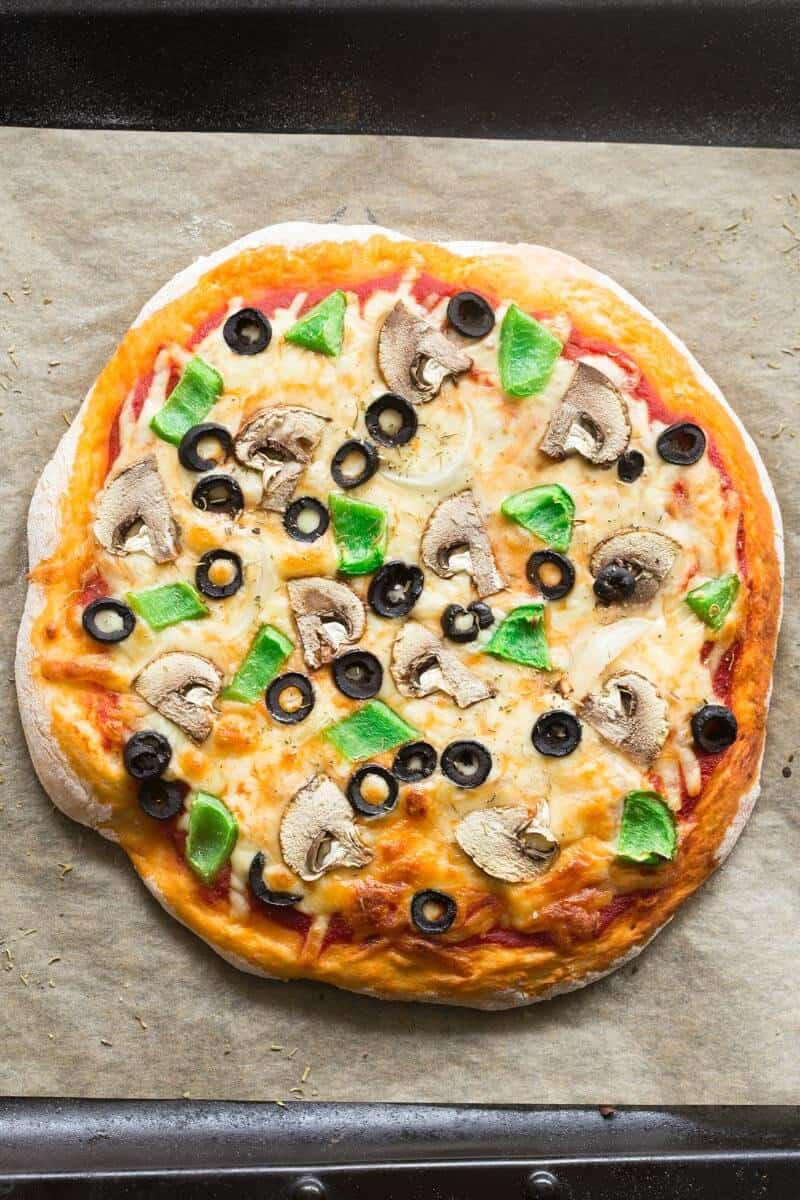 Can you use regular yogurt for 2 ingredient dough?
Short answer- It depends.
Greek yogurt helps hold the dough together and avoids it being sticky. It also ensures the dough holds its shape when baked in the oven.
You can also use either full-fat Greek yogurt and non-fat Greek yogurt.
Through personal experience, regular yogurt yields an incredibly sticky dough, to the point where you need to double or triple the amount, just for the dough to be malleable.
However, there are exceptions.
Greek-style natural yogurt DOES work, as the consistency is thicker than natural yogurt (although not as thick). You will need to add an extra tablespoon or two of flour, to help it stick.
Coconut yogurt DOES work too and is perfect to ensure this recipe is vegan and dairy-free.
Natural yogurt, as mentioned, does NOT work as well, and you'll struggle to easily form a ball of dough.
Plain Yogurt (vegan, soy, unsweetened) also does NOT work well, unless you don't mind adding tons more yogurt to the dough.
My pizza dough is too sticky. What do I do?
If you use one of the above-recommended yogurts, you can sometimes find your dough is still a little sticky (this can happen depending on the brand of yogurt you use, the flour you use), add extra flour, one tablespoon at a time.
Remember, while the dough may be sticky, you will add extra flour to dust the tops and base when forming the pizza crust.
I don't have self-rising flour. What do I do?
Check out this post for instructions for making your own self rising (self-raising) flour. It also provides other tested yogurt options.
Can I make this pizza dough gluten-free?
Absolutely!
Be sure to use gluten-free self-rising flour. Both brands I tested worked very well, and I could not tell a difference between standard pizza dough and gluten-free pizza dough.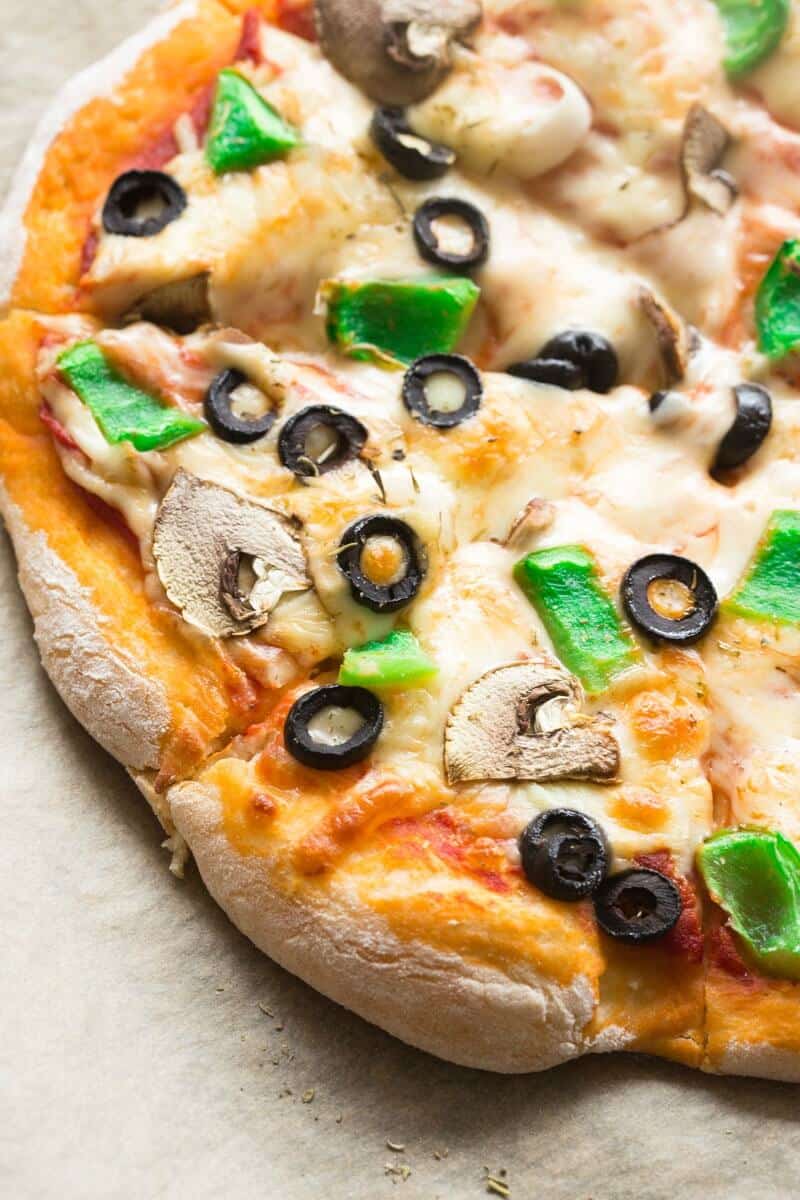 Tips and Tricks for PERFECT 2 Ingredient Pizza Crusts
Use a rubber spatula to mix the ingredients together, followed by using your hands. This makes it easier to ensure the two ingredients are combined.
If desired, lightly dust the baking tray you will use, for easy removal of the cooked pizza.
Do not bake the crust before adding the toppings. You can bake the pizza with toppings from the get-go.
Avoid using a rolling pin to flatten the dough, as it tends to break it apart too much.
Feel free to add spices into your dough, like basil, oregano or garlic powder.
Can you refrigerate 2 ingredient dough?
You can refrigerate the 2 ingredient dough, provided you plan on cooking it later that day. Any longer than that, you'll find the dough become sticky and requiring extra flour to remove.
To loosen the dough from the bowl, add a tablespoon of flour on top and lightly flour your hands, before forming into a pizza crust.
Can I freeze 2 ingredient pizza dough?
No, you cannot freeze the pizza dough, as when it is thawed again, it becomes crumbly and falls apart.
What you CAN do instead is bake your pizza crusts WITHOUT toppings, and once they have cooled, individually place them in ziplock bags (firmly sealed, so they don't get freezer burnt!) and place them in the freezer like that.
Pizza Topping Ideas
Please note- Be sure to use vegan shredded cheese or torn vegan cheese slices to keep it vegan.
Vegetarian Pizza– Mushrooms, olives, peppers, onions, and spinach.
Hawaiian Pizza– Pineapple and vegan deli meat (or ham).
Mexican Style Pizza– Jalapenos, vegan crumbles (or ground beef/hamburger meat), onions and peppers.
Pepperoni Pizza– Vegan pepperoni slices (or standard pepperoni slices).
Meat Lovers Pizza– All the vegan deli meats and sausage (or a mix of ham, sausage, chicken and other proteins of choice).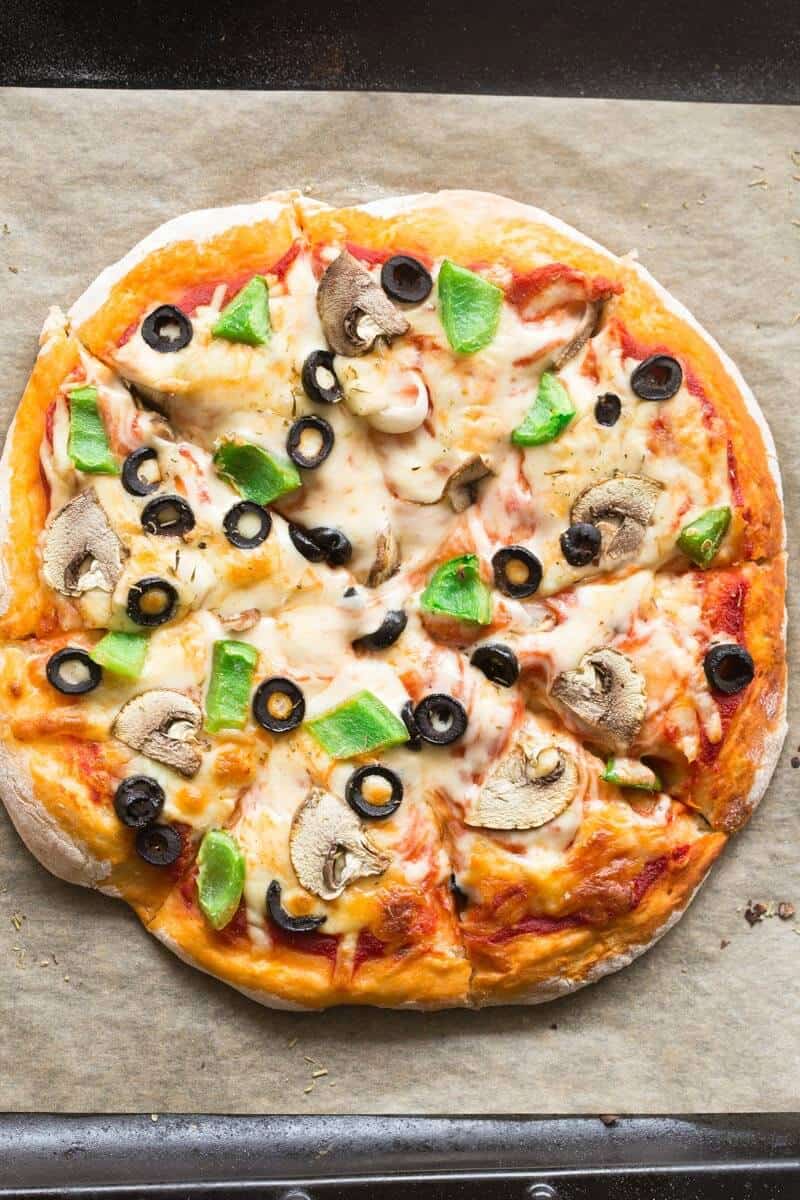 More delicious FOOLPROOF recipes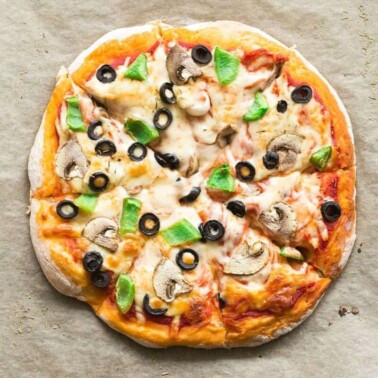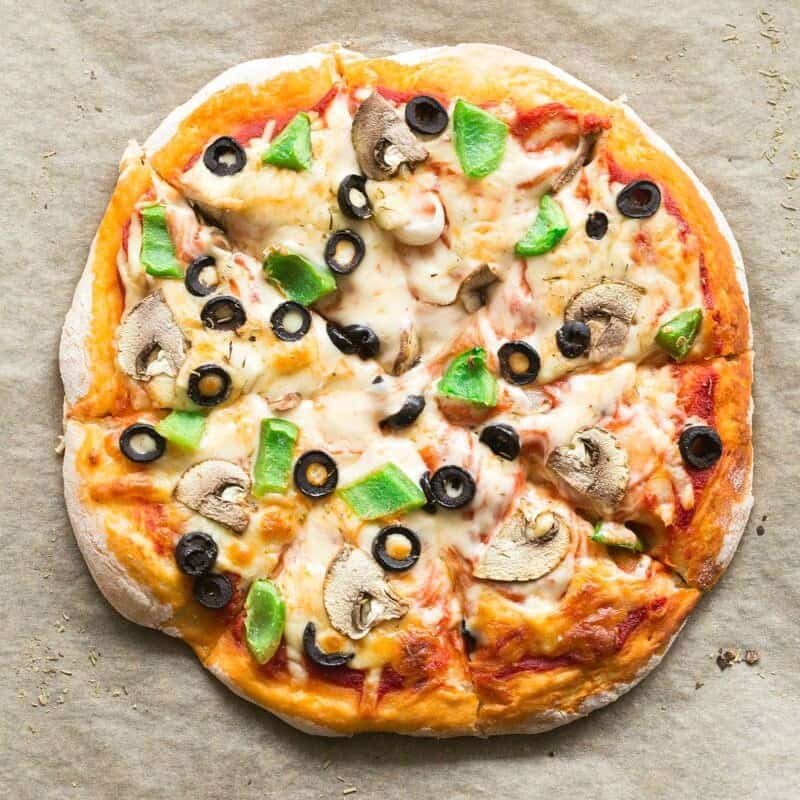 2 Ingredient Dough Pizza Crusts (No yeast!)
Easy 2 ingredient pizza dough recipe made with Greek yogurt and flour- That's it! No yeast, no eggs and no dairy needed to make a thick, chewy and fluffy pizza crust. Easily made vegan, gluten free, dairy free.
Ingredients
1 3/4

cups

self-rising flour

gluten-free, if needed

1

cup

Greek yogurt

See post for other options
Instructions
Preheat the oven to 180C/350F. Line a large tray with parchment paper and set aside.

In a large mixing bowl, combine your flour with yogurt and mix very well, until fully combined. Use your hands to finely mix the ingredients together, until a smooth, thick dough remains. Knead it into a ball shape.

Lightly dust a flat surface with flour. Lightly dust some flour on top of the ball of dough, and transfer the ball of dough onto the floured suface. Press the dough into a circular, pizza shape.

Transfer your pizza crust onto the lined pan. Top with toppings of choice and bake for 20-22 minutes, until the edges have gone slightly golden brown.
Notes
See post for yogurt and flour options.
Nutrition
Serving:
1
serving
Calories:
197
kcal
Carbohydrates:
38
g
Protein:
12
g
Fat:
1
g
Sodium:
19
mg
Potassium:
125
mg
Fiber:
1
g
Calcium:
63
mg
Iron:
1
mg
NET CARBS:
37
g
Disclosure: This post may contain affiliate links. I may earn a small commission for my endorsement, recommendation, testimonial, and/or link to any products or services from this website.