Hot honey sauce is the trendsetting sweet and spicy condiment you never knew you needed in your life. It's perfect for drizzling on fried chicken, pizza, buttermilk biscuits, and beyond!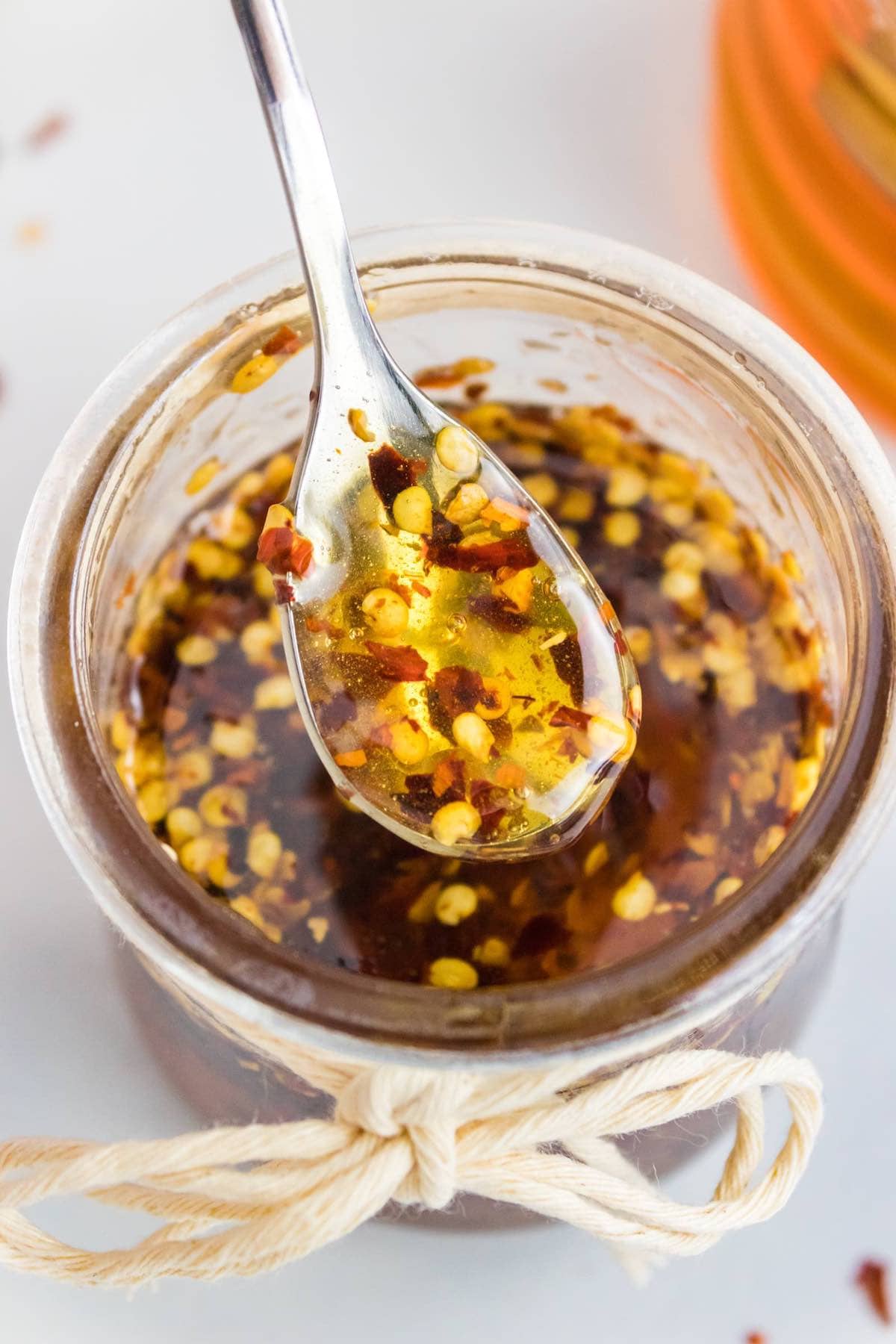 Once you get a taste of this homemade hot honey sauce, you'll never go back to your regular condiments again. It's a 3-ingredient sweet and spicy sauce that is putting all others to shame. You'll want to drizzle it on everything, from fried chicken wings to pizza to pork chops!
Table of Contents
What is hot honey?
Hot honey is made by infusing liquid honey with spicy peppers, like red pepper flakes. The honey is sweet while the peppers give it an addicting spicy kick that complements all of your favorite foods. You can use it on practically everything, from meats to veggies and even dessert!
Why this recipe works
One taste and this hot honey sauce will become a new must-have in your kitchen. Just like spicy mayo and ranch dressing, it's completely addictive!
Easy to make with 3 ingredients. Despite it being made from only honey, vinegar, and chili flakes, this simple sauce delivers some seriously complex flavors.
Better than store-bought. Making hot honey from scratch is less expensive and tastes much better than store-bought. Plus, it leaves you in complete control over the level of heat.
Pairs with anything and everything. With its sweet heat and touch of tang, this sauce is one of the best to pair with chicken, pizza, pork, and more.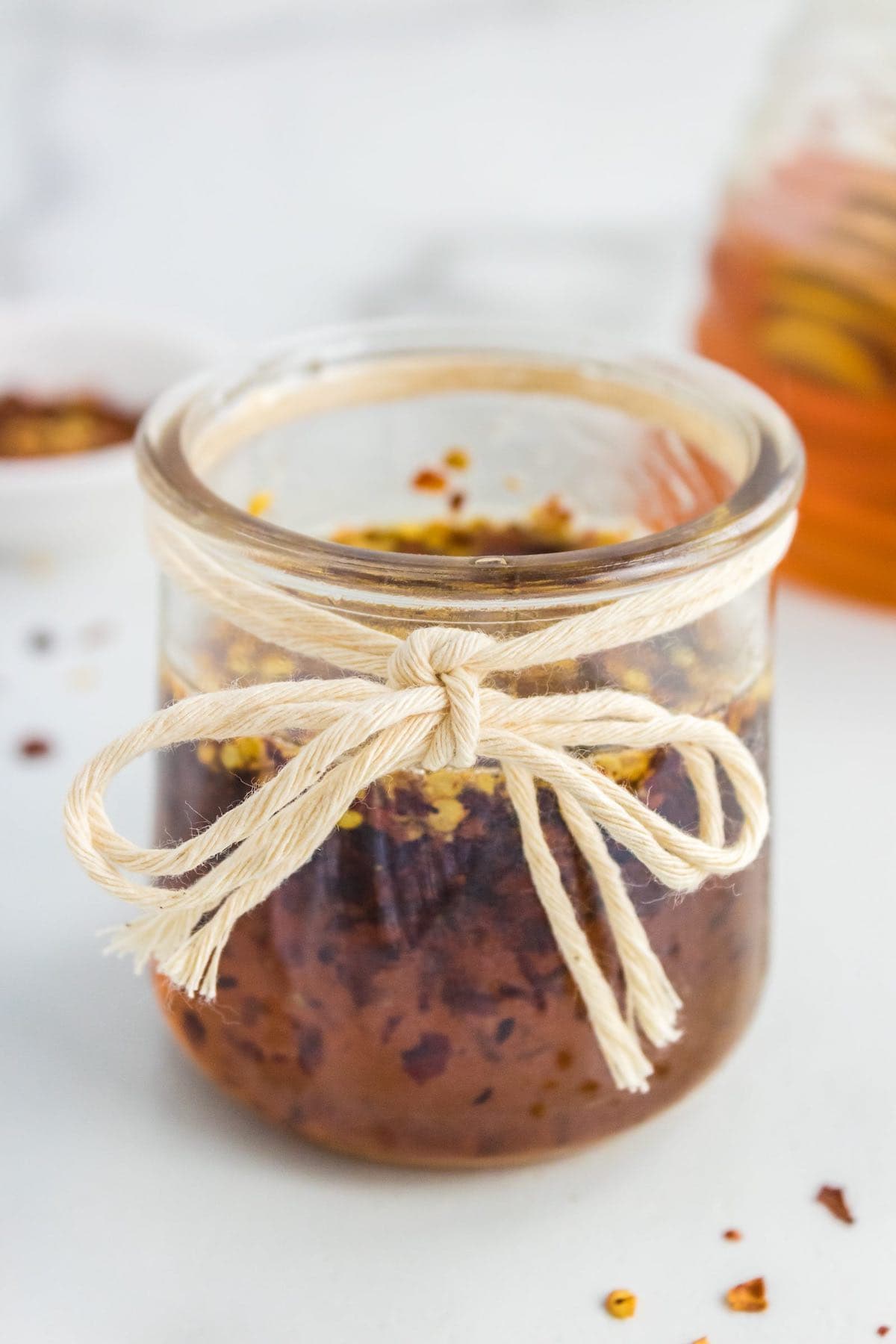 How to make hot honey sauce
Once you see how easy it is to make this spicy honey sauce from scratch, you'll never go back to the store-bought stuff. The 3 simple ingredients you need to make this recipe are likely already in your pantry:
Honey. Try to use unflavored filtered honey because it tastes better and has a wider variety of nutrients. You can even use my keto honey if you're looking for a sugar free hot honey sauce.
Apple cider vinegar. For a subtle acidic and tangy flavor that balances the rest of the sauce.
Red pepper flakes. These add the heat! Feel free to start with only 1 teaspoon of chili flakes, then add more to reach your preferred level of spice.
Step 1 – Heat the honey and vinegar
Whisk the honey and apple cider vinegar in a small saucepan over low heat.
Step 2 – Infuse with red pepper flakes
Remove the saucepan from the heat as soon as the honey starts to simmer. Stir in the red pepper flakes.
Heat the honey to a simmer over low heat. Do not let it boil! If it boils, the flavor will be thrown off.
This recipe makes about 16 tablespoons of sauce, but it's very easy to double or triple the batch.
The flavor of the honey will be a key component of the sauce, so choose a high-quality honey with a flavor you enjoy. Raw or unfiltered honey can add an extra layer of complexity to the sauce.
If the sauce is too hot for your taste, you can reduce the amount of red pepper flakes or add more honey. If it's not hot enough, you can add a dash of hot sauce.
Ways to use this sauce
Deciding what to pair with this sauce is the hardest part about making homemade hot honey! Check out these craveable ideas for inspiration:
Flavor variations
No red pepper flakes at home? No problem! Infuse the honey with heat or extra flavor by using any of the following spices instead:
Ground cayenne pepper
Aleppo pepper flakes
Chili powder
Chipotle powder
Hot paprika
Sriracha or chili paste
Hot sauce
Red Thai peppers
Jalapeños
Storage instructions
To store: If stored in a sterilized dry jar or bottle, this sauce will keep at room temperature for 6 months to 1 year. Just be sure to let it cool completely before sealing the container and keeping it in a cool, dry place. Do not refrigerate.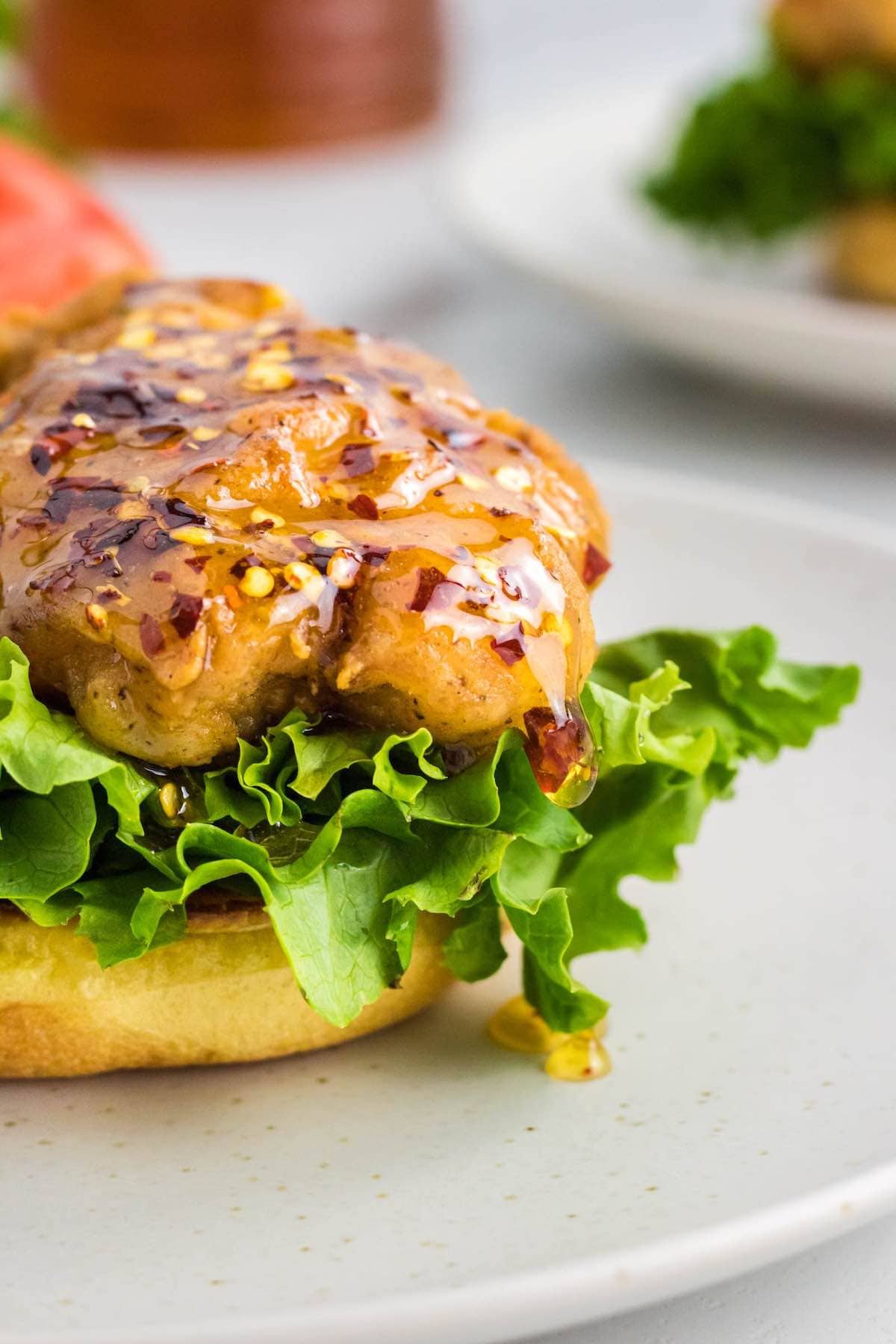 Frequently asked questions
How spicy is hot honey sauce?
You're in complete control of the heat level here, so you can make this recipe as spicy as you like. Remember, the longer the crushed peppers soak, the hotter your honey sauce will be. Strain the red pepper flakes for a mild sauce, or leave them be if you want it extra spicy.
Can you use fresh chili peppers instead?
Yes! Slice the fresh chili peppers first before stirring them into the honey and vinegar. Leaving the seeds and veins intact means the sauce will have more heat, but you can remove them ahead for a mild sauce.
Can you still use hot honey if it crystalizes?
Absolutely. If the honey sauce crystallizes or solidifies, simply place the tightly-sealed jar under hot running water until the honey melts and returns to a smooth liquid.
How thick should hot honey sauce be?
The thickness of hot honey sauce can vary depending on personal preference. Some people prefer a thinner sauce that can be drizzled over food, while others prefer a thicker sauce that can be used as a glaze. If you want a thicker sauce, you can simmer it on low heat for a few minutes to reduce it.
More sauces and condiments to try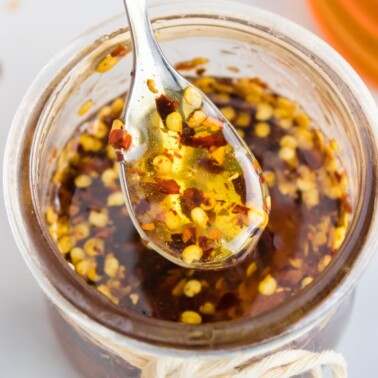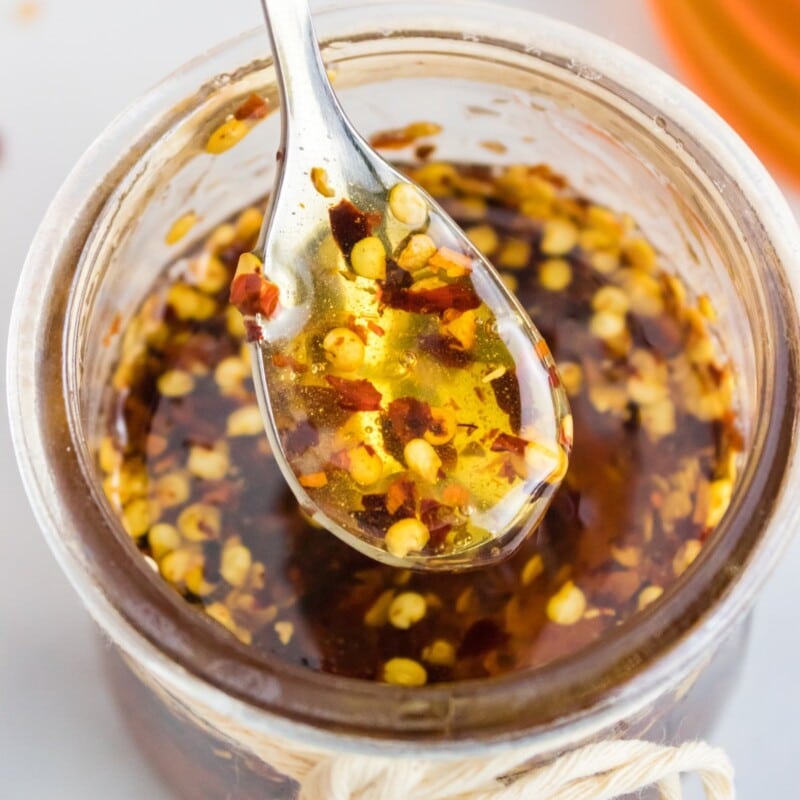 Hot Honey Sauce (3 Ingredients!)
Spice up your dishes with this hot honey sauce recipe! This sweet and spicy condiment is made with honey and chili peppers, and adds the perfect kick to any dish!
Instructions
Whisk together the honey and apple cider vinegar in a small saucepan and place over low heat.

Once it starts to simmer, remove from the heat and add the red pepper flakes.
Notes
STORAGE: If stored in a sterilized dry jar or bottle, this sauce will keep at room temperature for 6 months to 1 year. Just be sure to let it cool completely before sealing the container and keeping it in a cool, dry place. Do not refrigerate.
Nutrition
Serving:
1
serving
Calories:
33
kcal
Carbohydrates:
9
g
Protein:
0.05
g
Fat:
0.02
g
Sodium:
2
mg
Potassium:
8
mg
Fiber:
0.1
g
Vitamin A:
37
IU
Vitamin C:
0.1
mg
Calcium:
1
mg
Iron:
0.1
mg
NET CARBS:
9
g
Disclosure: This post may contain affiliate links. I may earn a small commission for my endorsement, recommendation, testimonial, and/or link to any products or services from this website.