Treat yourself to a homemade hot honey chicken sandwich! Made with crisp and juicy buttermilk fried chicken and sweet and spicy honey sauce, it's even better than the drive-thru.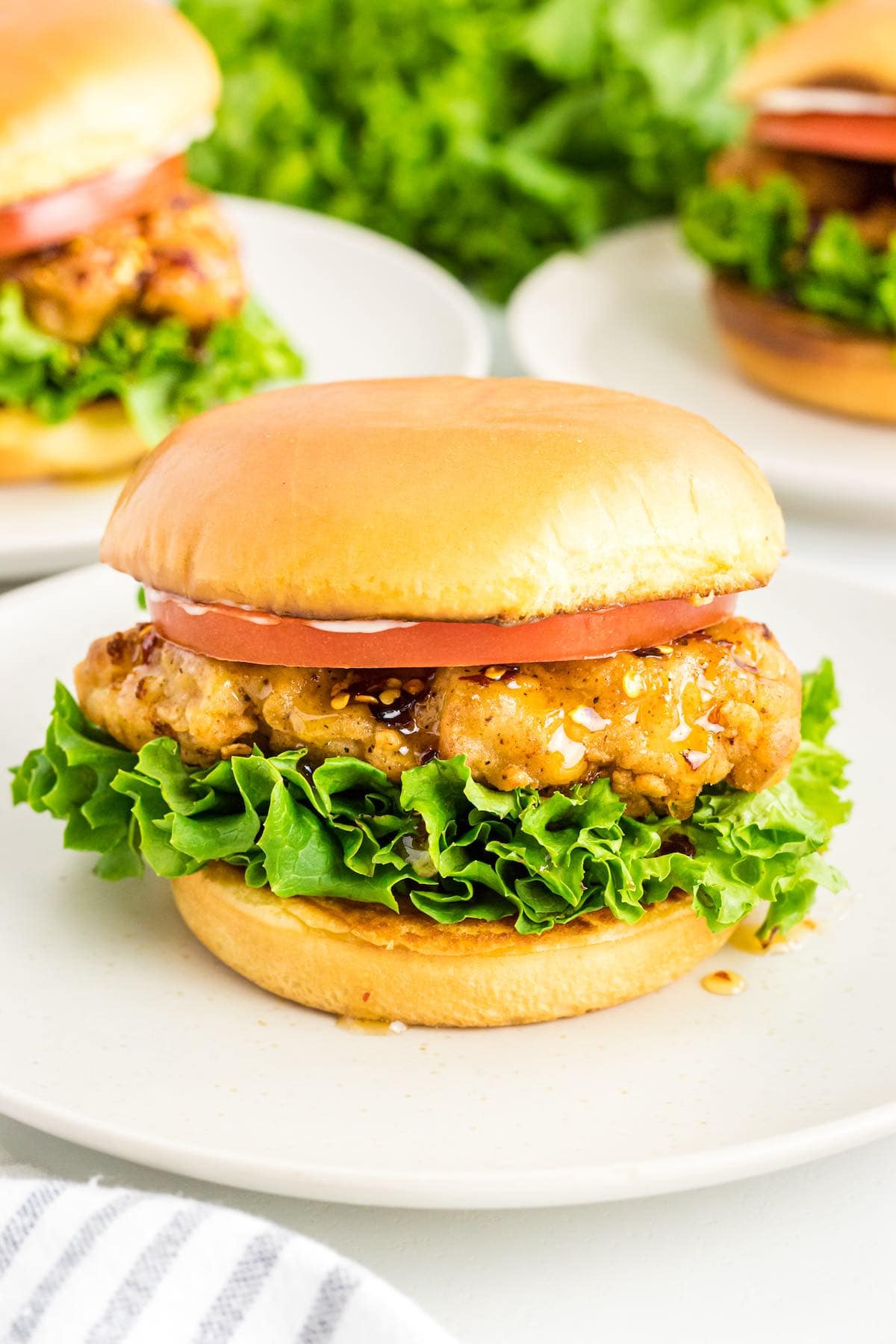 Skip the takeout or drive-thru the next time you crave a fried crispy chicken sandwich because this hot honey chicken sandwich is way better! The buttermilk fried chicken is incredibly crispy and juicy, while the hot honey sauce takes every bite to the next level.
Table of Contents
Crispy Juicy Hot Honey Chicken Sandwich
This epic hot honey chicken sandwich recipe is inspired by the discontinued Wendy's hot honey chicken sandwich. It captures the same irresistible crispy textures and spicy flavors while still being easy to make from scratch.
It features out-of-this-world flavors. Each element in this sandwich, from the crispy chicken to the honey sauce to the toppings, brings balance and complement each other perfectly. It's an indulgent meal that's savory, spicy, and sweet!
There is an epic amount of CRUNCH. There's nothing quite like sinking your teeth into a gorgeously golden and crunchy piece of fried chicken.
You can play with the toppings. There are plenty of topping and sauce options you can add to a crispy chicken sandwich. Check out the Variations section for plenty of delicious ideas!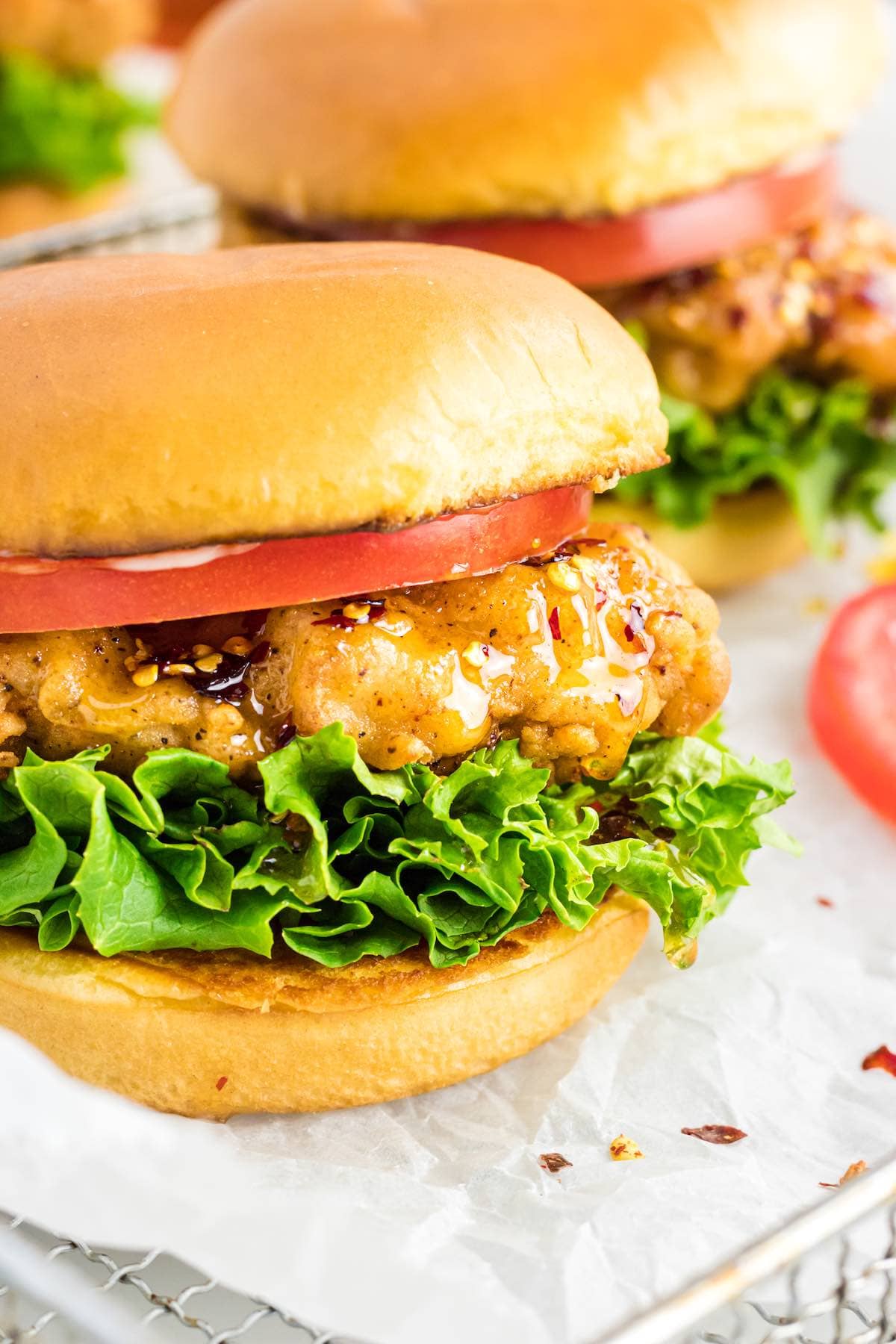 This fiery fried chicken sandwich recipe calls for a short list of ingredients you may already have in your kitchen. Here is everything you'll need:
Hot honey sauce. You can use store-bought hot honey, but making it from scratch is very easy. All you need is honey, apple cider vinegar, and red pepper flakes.
Chicken thighs. Use skinless and boneless chicken thighs. This recipe works just as well with two chicken breasts sliced in half if you prefer white meat.
Buttermilk. Marinating chicken in buttermilk helps to break down the protein structures so the meat is extra tender and juicy.
Homemade buttermilk substitute
No buttermilk at home? No problem. Combine one tablespoon of lemon juice or white vinegar with 1 cup of milk, and let the mixture stand for about 5 minutes before using it.
Spices. Salt, pepper, cayenne, garlic powder, and onion powder are used to season the buttermilk and the flour.
All purpose flour. To coat the chicken after soaking it in the buttermilk.
Oil. For frying the chicken. Use an oil with a high smoke point, like vegetable oil, sunflower, or peanut oil.
Brioche burger buns. Soft, buttery, and slightly sweet brioche buns pair perfectly with hot and spicy crispy chicken.
Mayonnaise. Spread the buns with regular mayonnaise, or crank up the heat with spicy mayonnaise!
Lettuce and tomato. Both of these toppings add a crisp and cooling element to the spicy sandwich.
How to make hot honey chicken sandwiches
Making a hot honey chicken sandwich at home is fun and practically foolproof! Here's how it's done:
Step 1 – Marinate the chicken in buttermilk
Whisk the buttermilk, salt, pepper, and cayenne pepper together in a bowl. Place the chicken thighs in the bowl, making sure each one is completely covered in the seasoned buttermilk. Cover the bowl and place it in the fridge for 1 hour.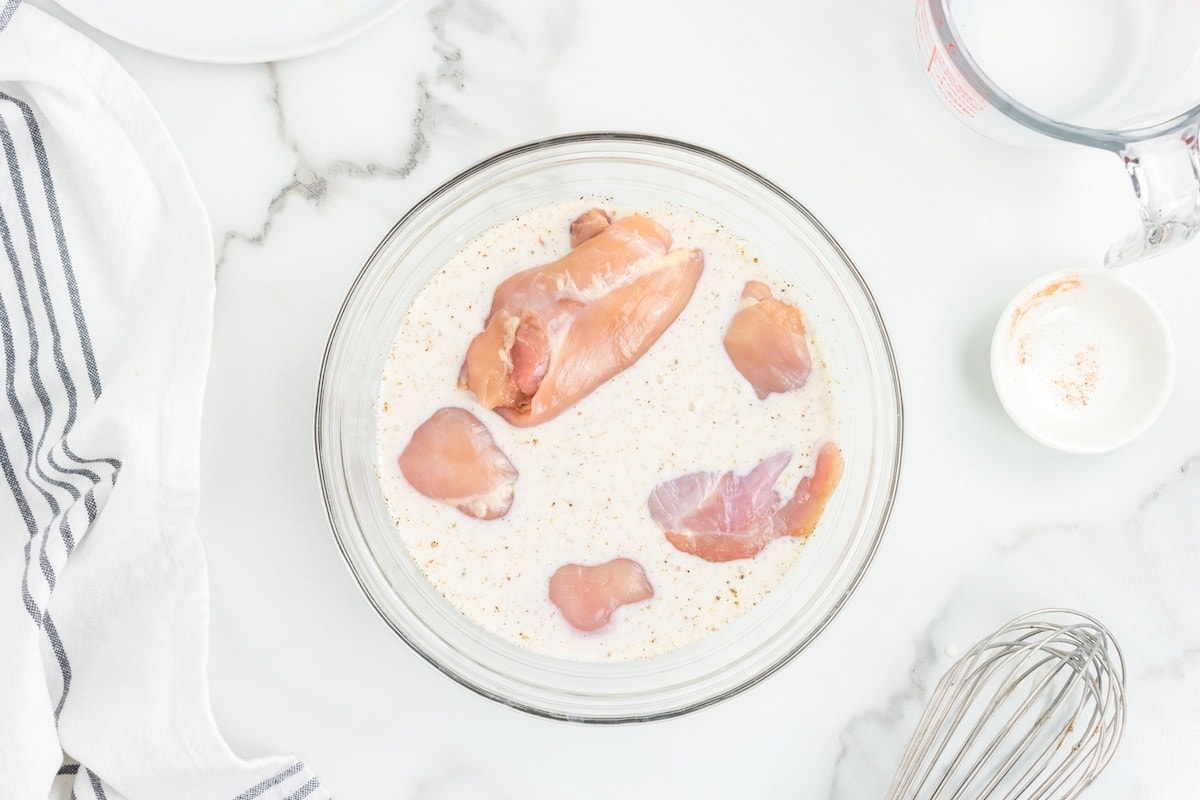 Step 2 – Coat in flour
Whisk the flour, salt, pepper, cayenne pepper, garlic, and onion powder together in a separate bowl. After the chicken is done marinating, dip each piece in the flour mixture, making sure to coat both sides.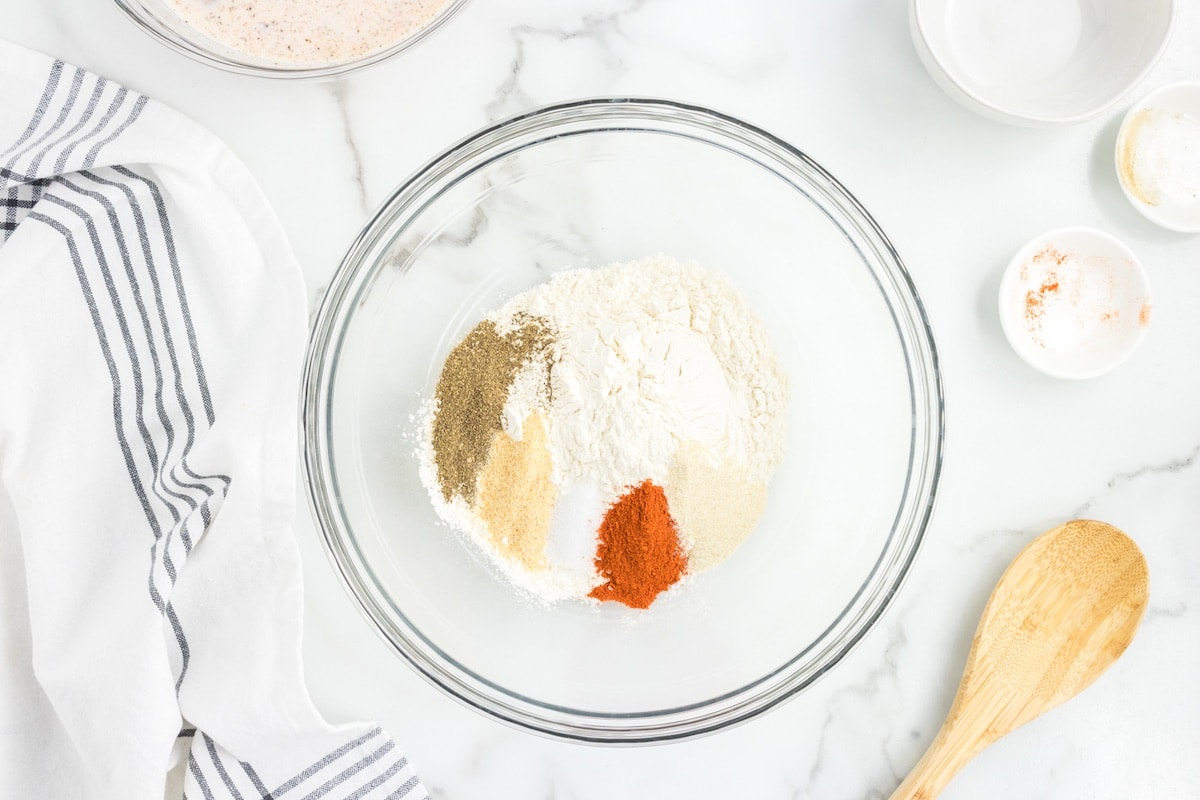 Step 3 – Fry the chicken
Heat the oil in a deep pot on the stove. Once it's sizzling but not smoking, fry the dredged chicken. Flip when the breading is golden and crispy on the bottom and repeat on the other side.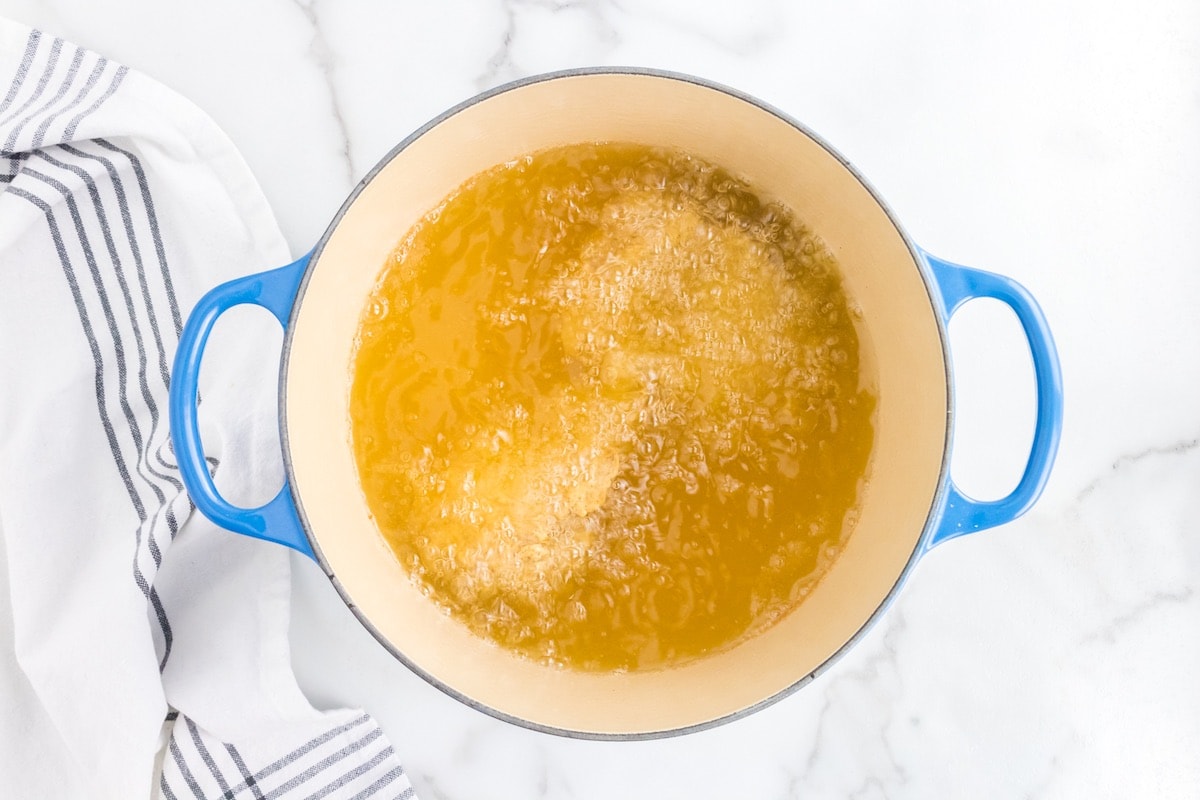 Transfer the fried chicken thighs to a paper towel-lined plate to allow the excess oil to drain.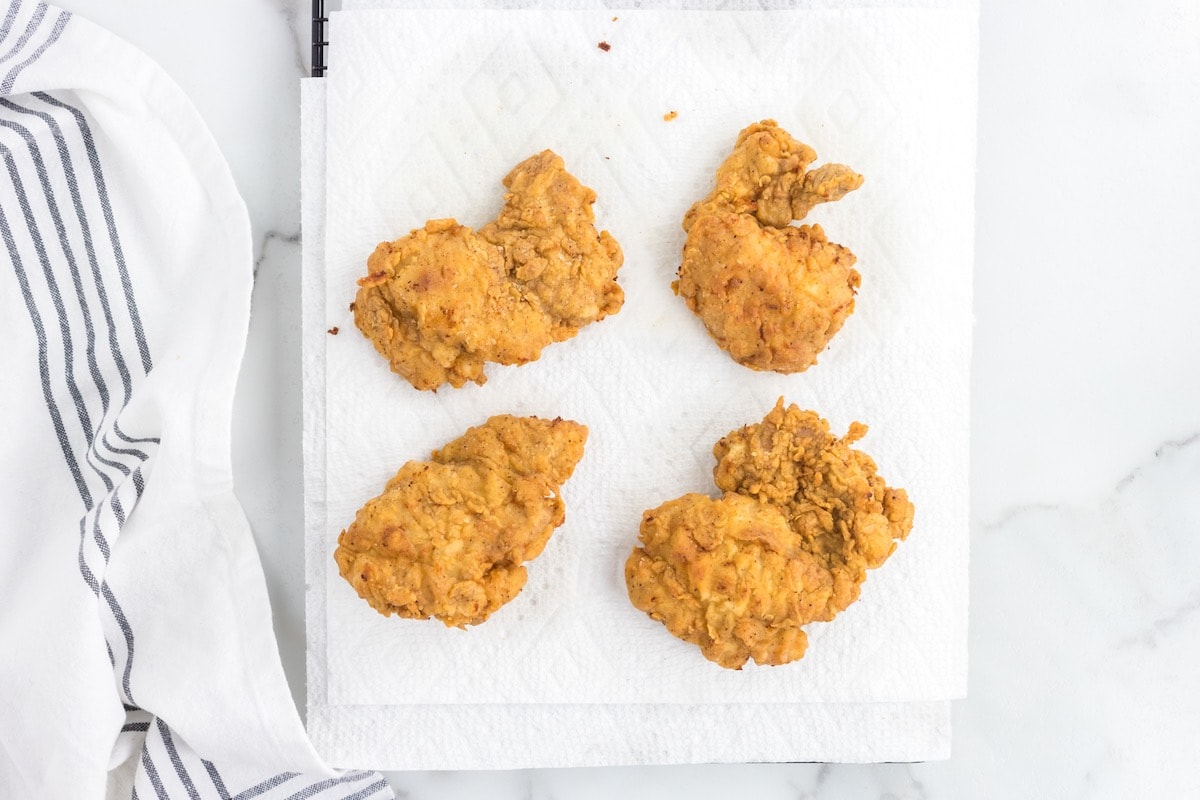 Step 4 – Make the hot honey sauce
If you haven't already, make the hot honey sauce by heating the honey and apple cider vinegar in a saucepan over low heat. Take it off of the heat when it simmers, then stir in the red pepper flakes.
Step 5 – Assemble the sandwiches
Place a piece of lettuce on the bottom half of each bun, then place a piece of fried chicken on top. Add a drizzle of hot honey and top with a slice or two of tomato. Slather the mayo on the top half of the bun, place it on top, then enjoy!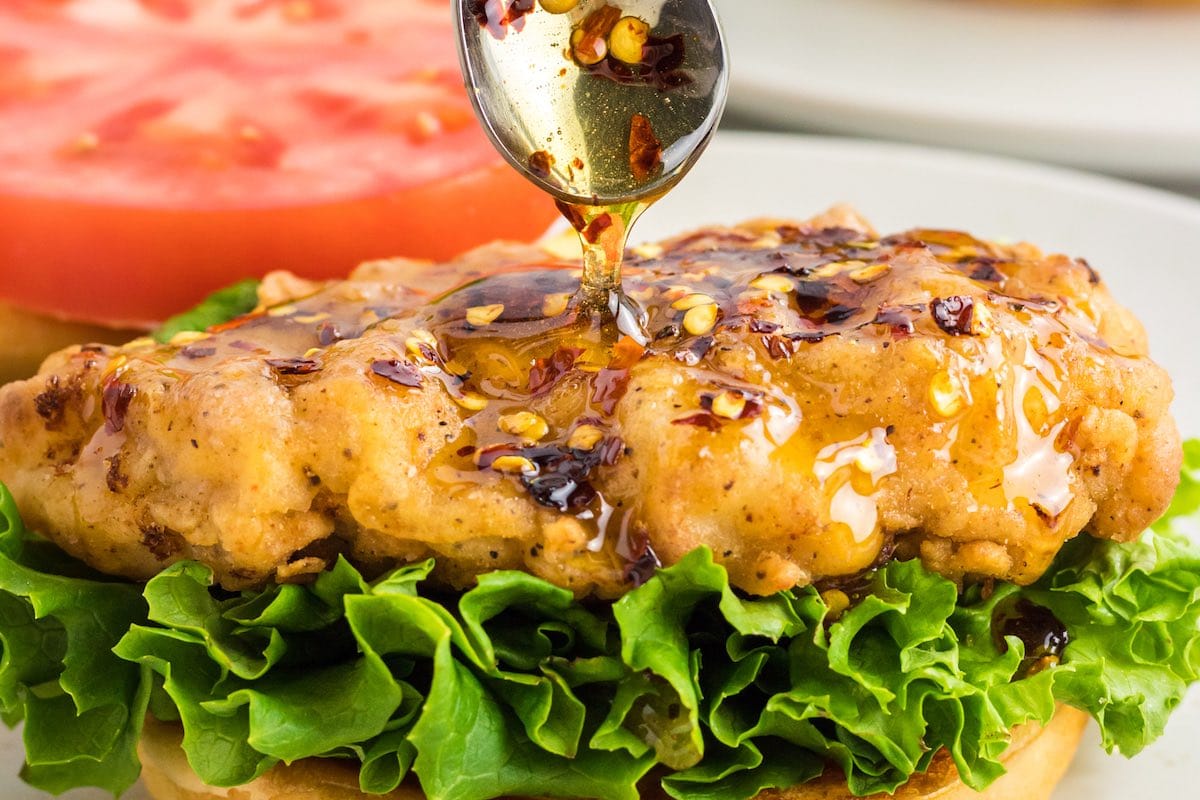 Marinate the chicken overnight. You can marinate the chicken in the buttermilk for 1 to 4 hours, or overnight. The longer it marinates, the more tender and flavorful the meat will be!
Heat the oil to 180ºC/350ºF. This is the perfect temperature because it won't burn the breading and will cook the chicken to perfection.
Don't overcrowd the skillet. Crowding the chicken in the pot will cause the temperature of the oil to drop. As a result, the chicken absorbs too much oil and will have a harder time crisping up. Work in batches and only fry 1 or 2 pieces of chicken at a time if you need to!
To check for doneness. Insert a meat thermometer into the chicken's thickest end to ensure that the internal temperature has reached 165ºF.
Variations
Feel free to make this spicy chicken sandwich your own by swapping the honey sauce and toppings for any of these alternatives:
Sauces. Drizzle barbeque sauce, katsu sauce, honey mustard, ranch dressing, teriyaki sauce, or sweet chili sauce over the crispy chicken instead of the honey.
Cheese, bacon, and pickles. Create a copycat Wendy's hot honey chicken sandwich by topping the sandwich with pepper jack cheese, Applewood smoked bacon, and dill pickle chips.
Coleslaw. A scoop of creamy coleslaw will cool down the spicy bites.
Cut the carbs. Make a keto fried chicken sandwich by topping keto fried chicken on keto buns with a drizzle of red pepper flake-infused keto honey.
Storage instructions
To store: You can keep the fried chicken in an airtight container in the fridge for 2 to 3 days. Store the homemade hot honey in a jar or bottle at room temperature for 6 months to 1 year.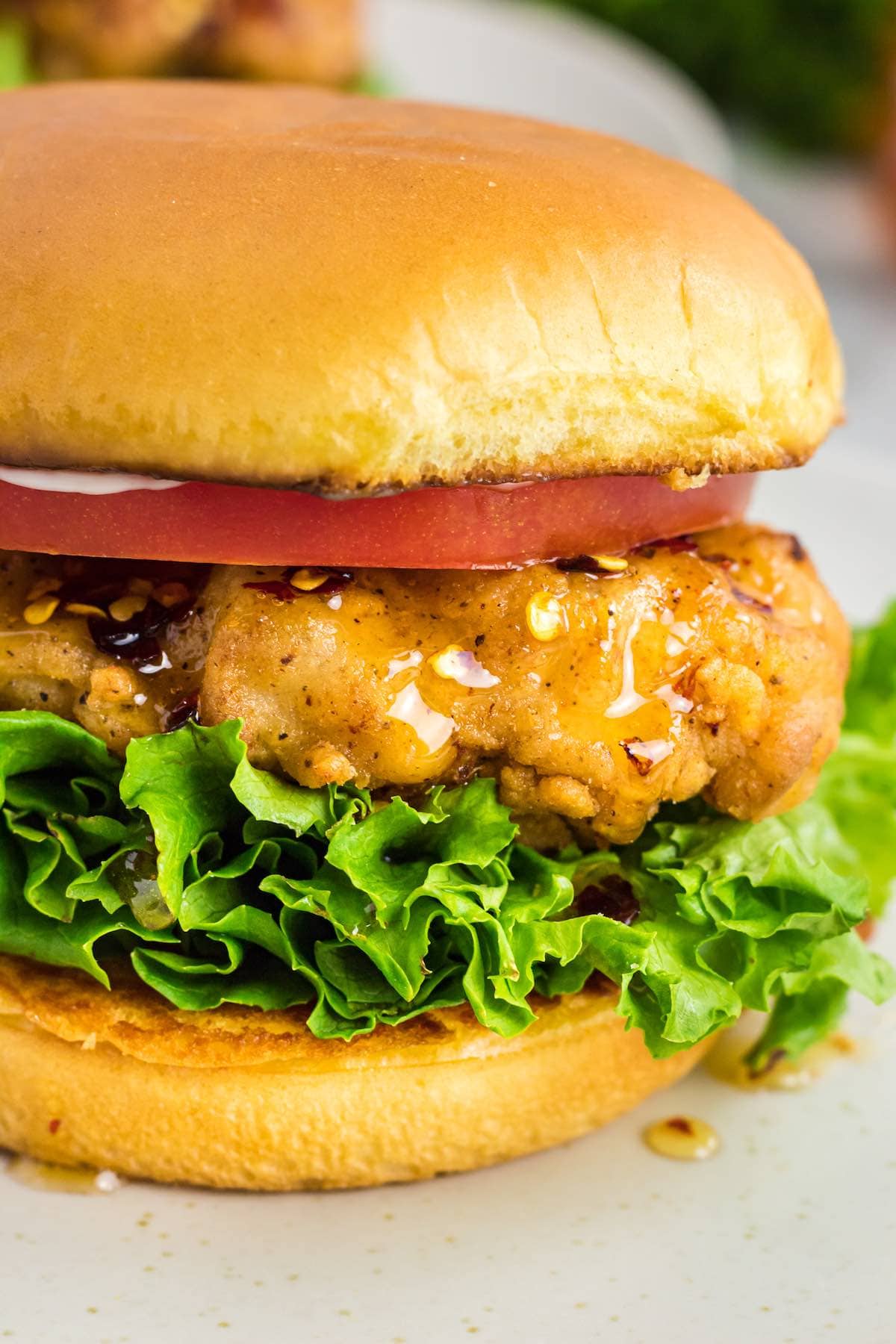 Frequently asked questions
Can you air fry or bake the chicken instead?
Sure! If you want to lighten things up and cook the chicken with significantly less oil, you can easily air fry or bake the chicken in the oven without losing the crispy texture. Check out my air fryer fried chicken and crispy baked chicken thigh recipes for cooking times and temperatures.
How spicy is this chicken sandwich?
The hot honey sauce and fried chicken pack a punch, but you can easily adjust the heat level to your liking. Either omit the cayenne in the buttermilk and breading or reduce the amount to ¼ teaspoon. As for the honey sauce, only use ½ to 1 teaspoon of red pepper flakes.
More sandwich recipes to try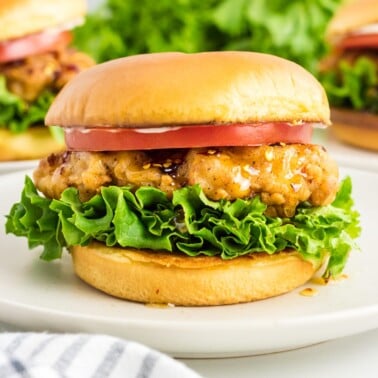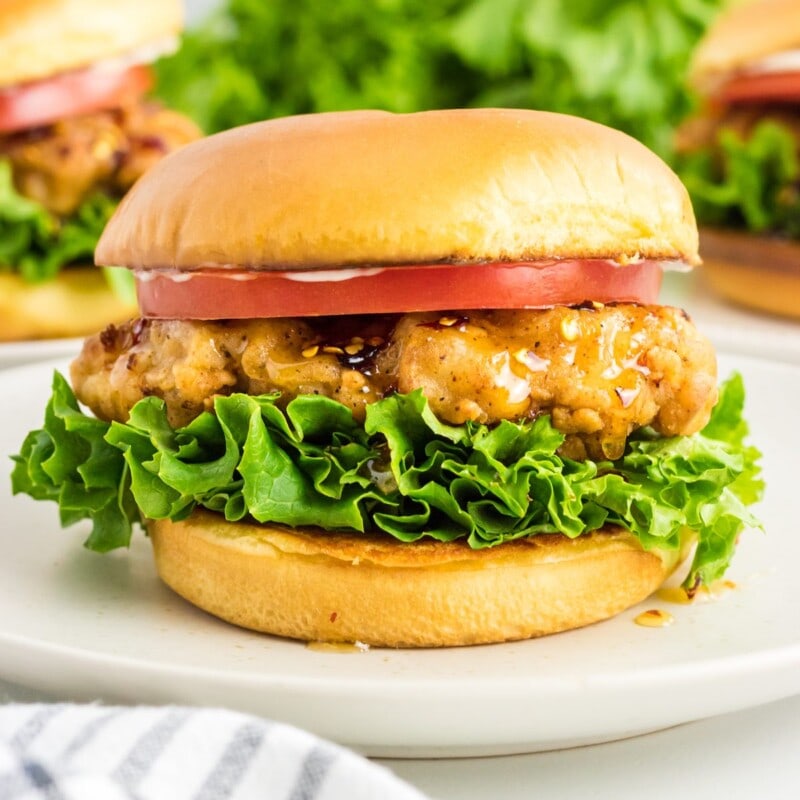 Hot Honey Chicken Sandwich
Inspired by Wendy's, our hot honey chicken sandwich recipe features crispy chicken slathered in a hot honey sauce. It has the perfect combo of heat and sweetness to satisfy fast food cravings!
Instructions
Combine the buttermilk, salt, pepper, and cayenne pepper in a bowl and whisk together.

Add the chicken thighs and mix until all are covered in the marinade. Cover and refrigerate for at least ten minutes or up to an hour.

Combine the flour, salt, pepper, cayenne pepper, garlic powder, and onion powder in a small bowl.

Dip each marinated chicken thigh in it, coating both sides well and shaking off any excess.

Add 1-2 inches of oil into a deep pot. Once hot, fry the chicken fillets for 7-8 minutes, until golden and crispy. Place them on a paper towel to soak up excess oil.

Assemble the sandwiches by dividing the bun in half and layering the lettuce, fried chicken, hot honey sauce, tomatoes, and mayonnaise.
Notes
TO STORE: You can keep the fried chicken in an airtight container in the fridge for 2 to 3 days. Store the homemade hot honey in a jar or bottle at room temperature for 6 months to 1 year.
Nutrition
Serving:
1
sandwich
Calories:
449
kcal
Carbohydrates:
40
g
Protein:
34
g
Fat:
19
g
Sodium:
1714
mg
Potassium:
511
mg
Fiber:
1
g
Vitamin A:
1477
IU
Vitamin C:
7
mg
Calcium:
140
mg
Iron:
2
mg
NET CARBS:
39
g
Disclosure: This post may contain affiliate links. I may earn a small commission for my endorsement, recommendation, testimonial, and/or link to any products or services from this website.