This chicken Milanese recipe takes tender chicken breasts and coats them in a crunchy, cheesy, and buttery coating. Best of all, this recipe takes just 10 minutes to whip up, and it's easily the most versatile chicken recipe you'll find!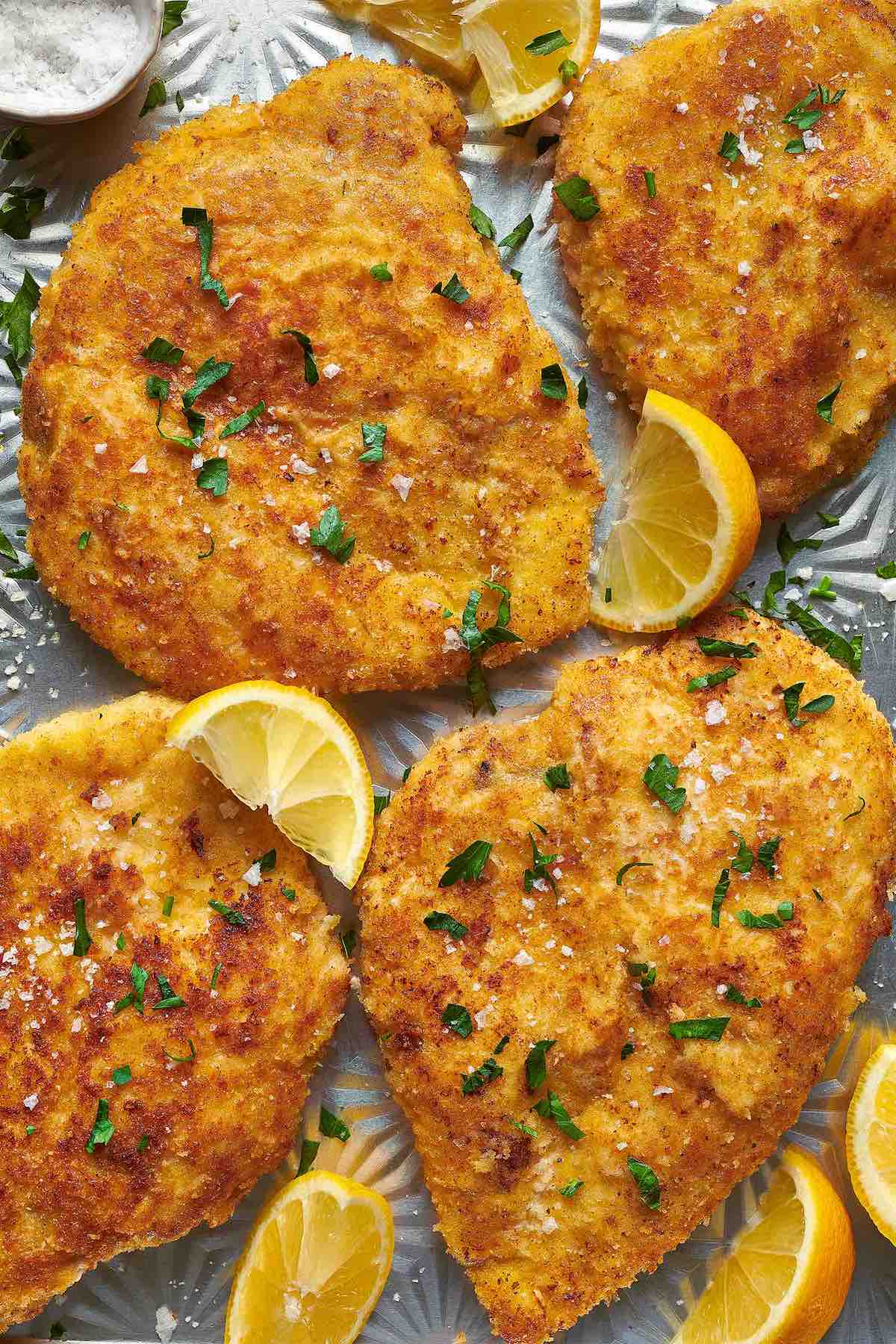 I'm a sucker for a good chicken recipe. Seriously, I probably eat chicken more than any other protein because of its affordability, versatility, and how easy they are to cook.
As much as I love cooking chicken in the air fryer or as meatballs, it's good to switch it up every now and then. This chicken Milanese recipe may be simple, but the results are exceptional, and you will add it your dinner rotation!
Table of Contents
What is chicken Milanese?
Not to be confused with Milanesa, chicken Milanese, as you can probably guess, originated in Milan, Italy. While usually made with veal, this particular recipe calls for chicken breasts to be flattened, then coated in a combination of egg, flour, and a cheesy breadcrumb mixture.
Similar to chicken schnitzel or cutlets, once seasoned, the chicken is pan fried in butter until golden brown and crispy on the outside. We usually serve this chicken with noodles to a simple green salad, and I'll be sure to leave a few extra suggestions below.
It's quick and easy. Like chicken Caprese, minimal prep time and just a handful of basic ingredients are all that's needed to make this dish.
Versatile. Just like chicken parmesan or piccata, you can serve this atop pasta, in a salad, or alongside mac and cheese.
It's relatively healthy. While there is some butter and cheese in this recipe, it's really pretty minimal. Considering chicken is a lean and protein-rich option, I'd say it's a healthy choice.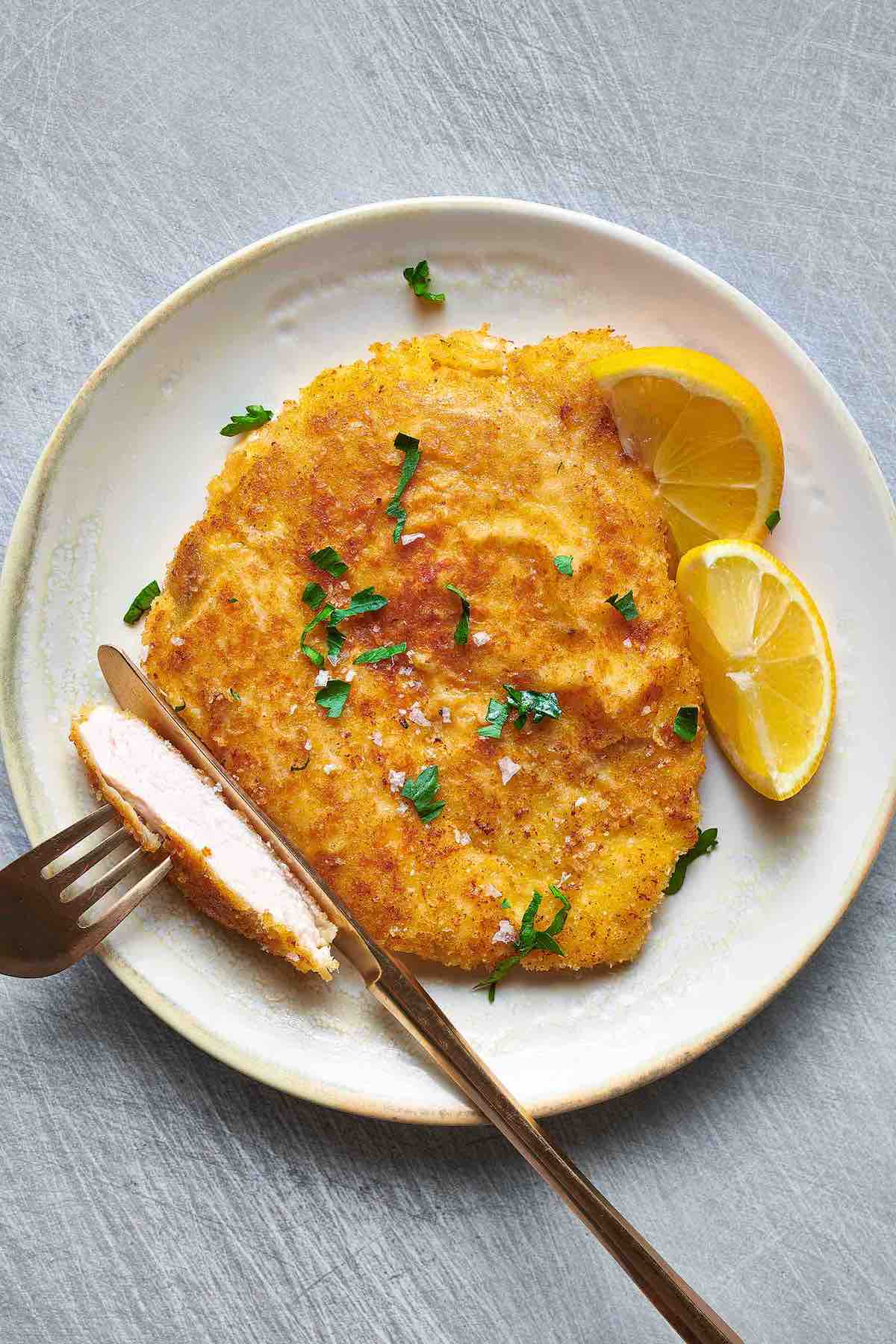 If you've tried our chicken parmigiana before, this recipe is quit similar, but without the toppings. Here is everything it calls for.
Chicken. Four boneless skinless chicken breast fillets, all pounded to ¼ inch thickness.
Substitution idea
While chicken breasts are preferred, you can also use boneless chicken thigh fillets or tenderloins.
Salt and pepper. To sprinkle on the outside of the chicken.
Flour. The first coating for the chicken.
Eggs. The second coating for the chicken, for the bread crumbs to stick to.
Bread crumbs. Both regular and panko bread crumbs are used for added texture.
Parmesan cheese. Freshly grated and added to the breadcrumb mixture.
Oil. Any neutral cooking oil will do. This will be combined with the butter to cook the chicken.
Butter. Preferably unsalted.
Lemon slices, parsley, and flaky sea salt. Optional, for garnish.
How to make chicken Milanese
For how sophisticated this dish turns out, it's pretty darn simple to make. This is a perfect recipe for initiating you into the kitchen if you're not used to making food from scratch.
Step 1- Season the chicken
First, line a plate with paper towels and set it aside. Then, pound the chicken breast fillets until they're all equal in thickness, and season all sides with salt and pepper.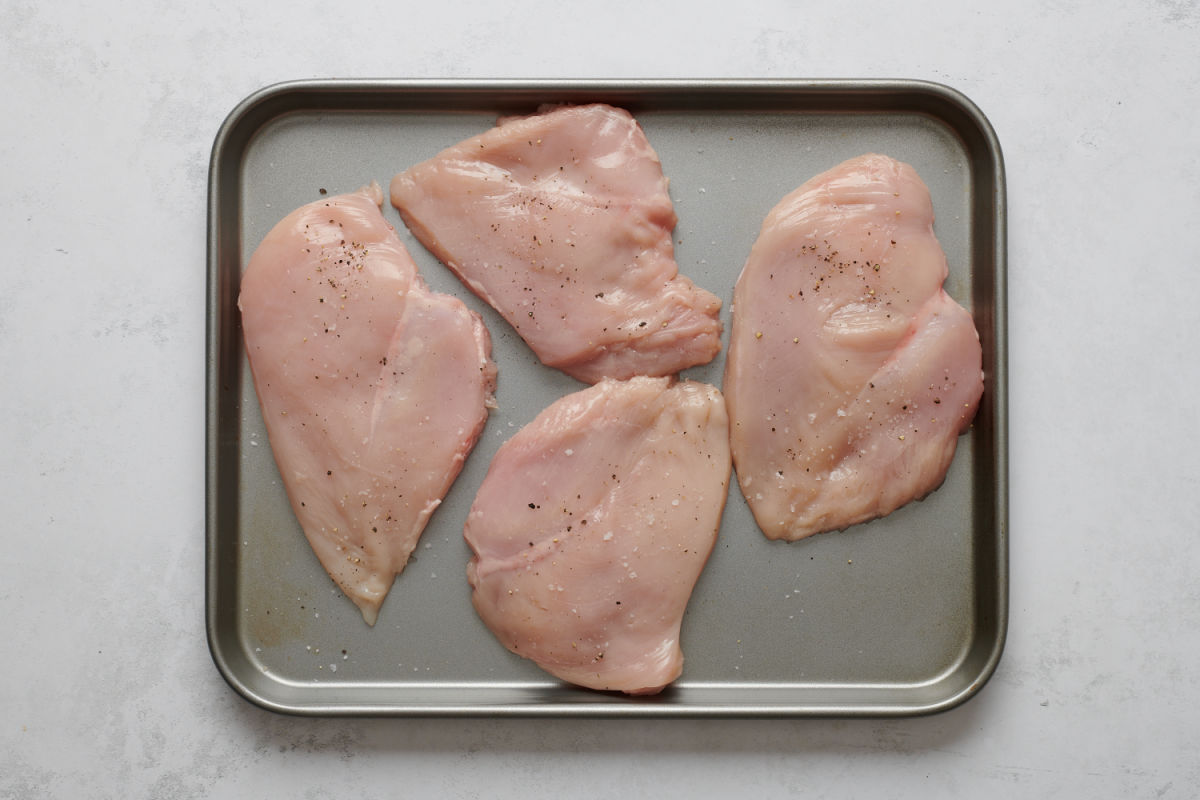 Step 2- Make the coating for the chicken
Add the flour to one bowl, whisk the eggs in a second bowl, and add the breadcrumbs and parmesan cheese to a third bowl.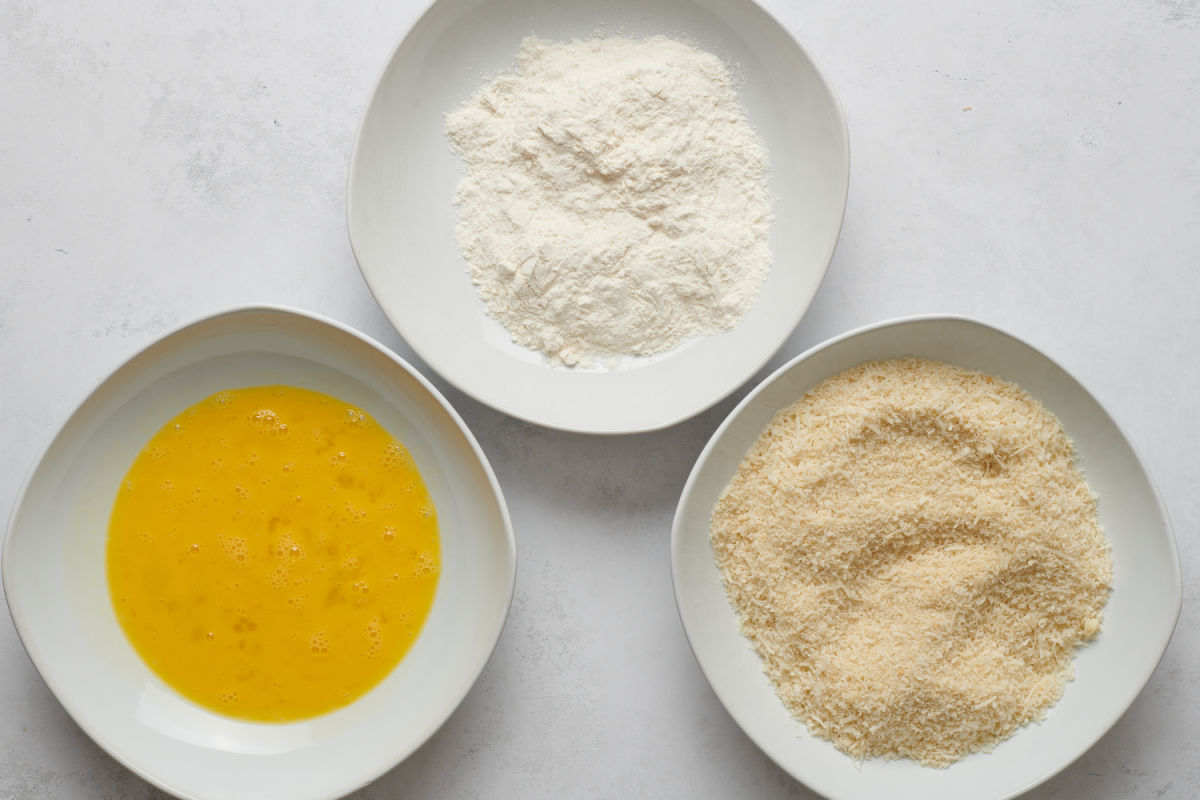 Step 3- Coat the chicken breasts
Dip the flattened chicken breasts in the flour, then shake off any excess into the bowl. Dip them in the egg mixture, again shaking off any excess, and dip them in the breadcrumb mixture. Press the bread crumbs into the chicken breast, so it sticks. Repeat this process until all of the chicken has been crumbed.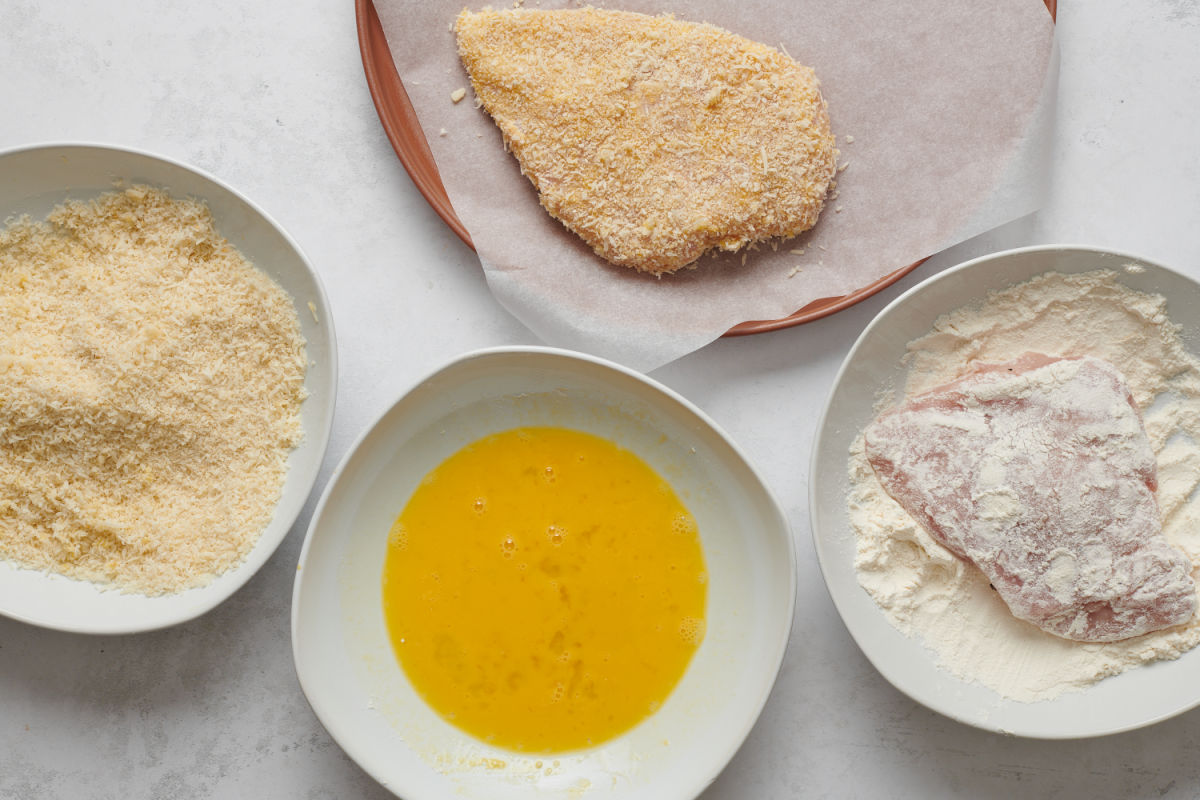 Step 4- Cook the chicken
Add half the oil and half the butter in a large pan or skillet over medium heat. Once the butter has melted, and the pan is hot, add the breasts and cook them for 7-10 minutes, until golden brown on both sides.
Once the chicken is fully cooked, place them on a plate lined with paper towels.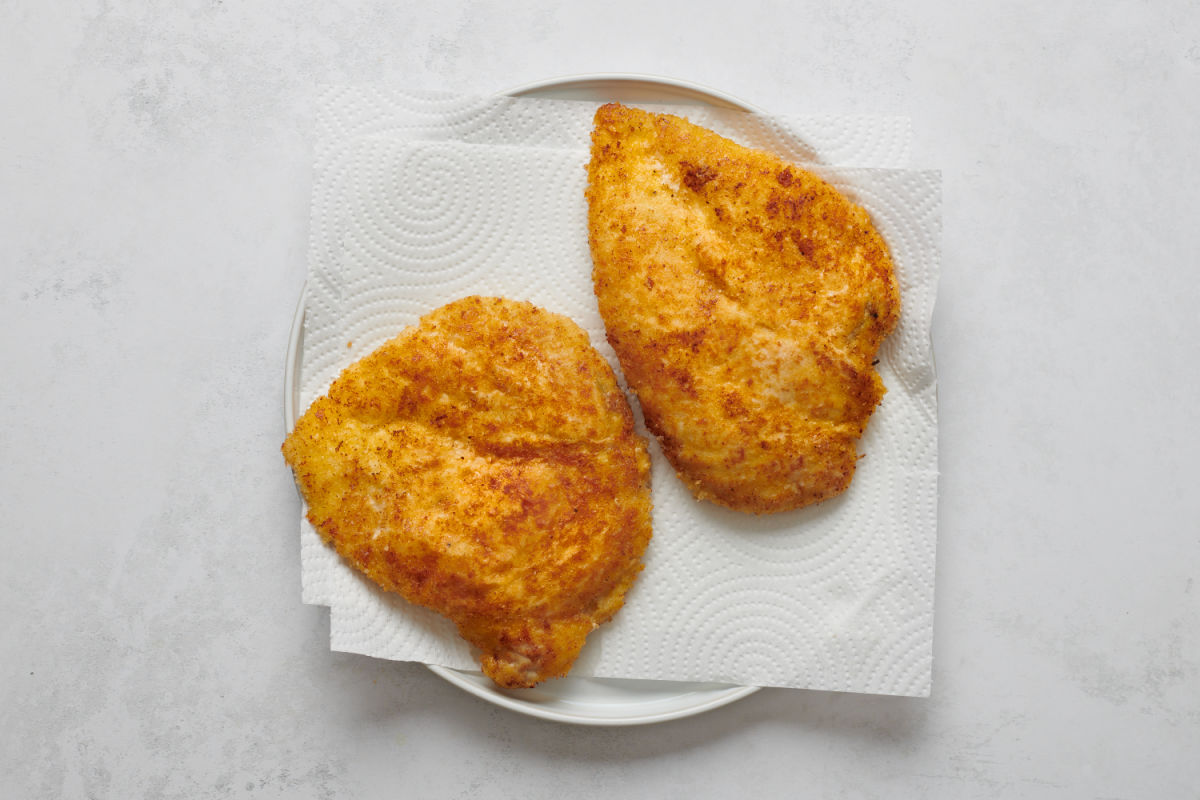 Don't overcook the chicken. It will continue cooking after you've removed it from the heat. You can also check its doneness by using a meat thermometer. Once the chicken has an internal temperature of 165F, it's ready to eat!
Add a little Italian seasoning. To the breadcrumb mixture for a more authentic Italian flavor. You can also swap plain breadcrumbs for Italian breadcrumbs.
Add extra parmesan cheese on top. For added cheesy flavor.
Splash a little hot sauce. In the breadcrumb mixture, for a little kick.
What to serve with this recipe
When it comes to what to serve with your chicken Milanese, the opportunities are literally endless. Many people enjoy it with a healthy serving of broccoli or a spinach salad. The combination of fresh veggies with savory, rich chicken will complement each other perfectly.
Simple sauteed vegetables work well too, like potatoes, carrots, and broccolini.
Alternatively, you can pair your chicken with an equally flavorful side dish, like cabbage steaks, scalloped potatoes, or french fries.
Storage instructions
To store: Wrap leftovers tightly in plastic wrap and refrigerate them for up to 3 to 4 days.
To reheat: Place the chicken on a baking sheet lined with parchment paper and bake at 177°C for 10-12 minutes or until they're fully reheated. You can also use the microwave but the chicken won't be as crispy.
To freeze: Transfer the cooked and cooled chicken to an airtight container or freezer-safe bag and freeze for up to 6 months.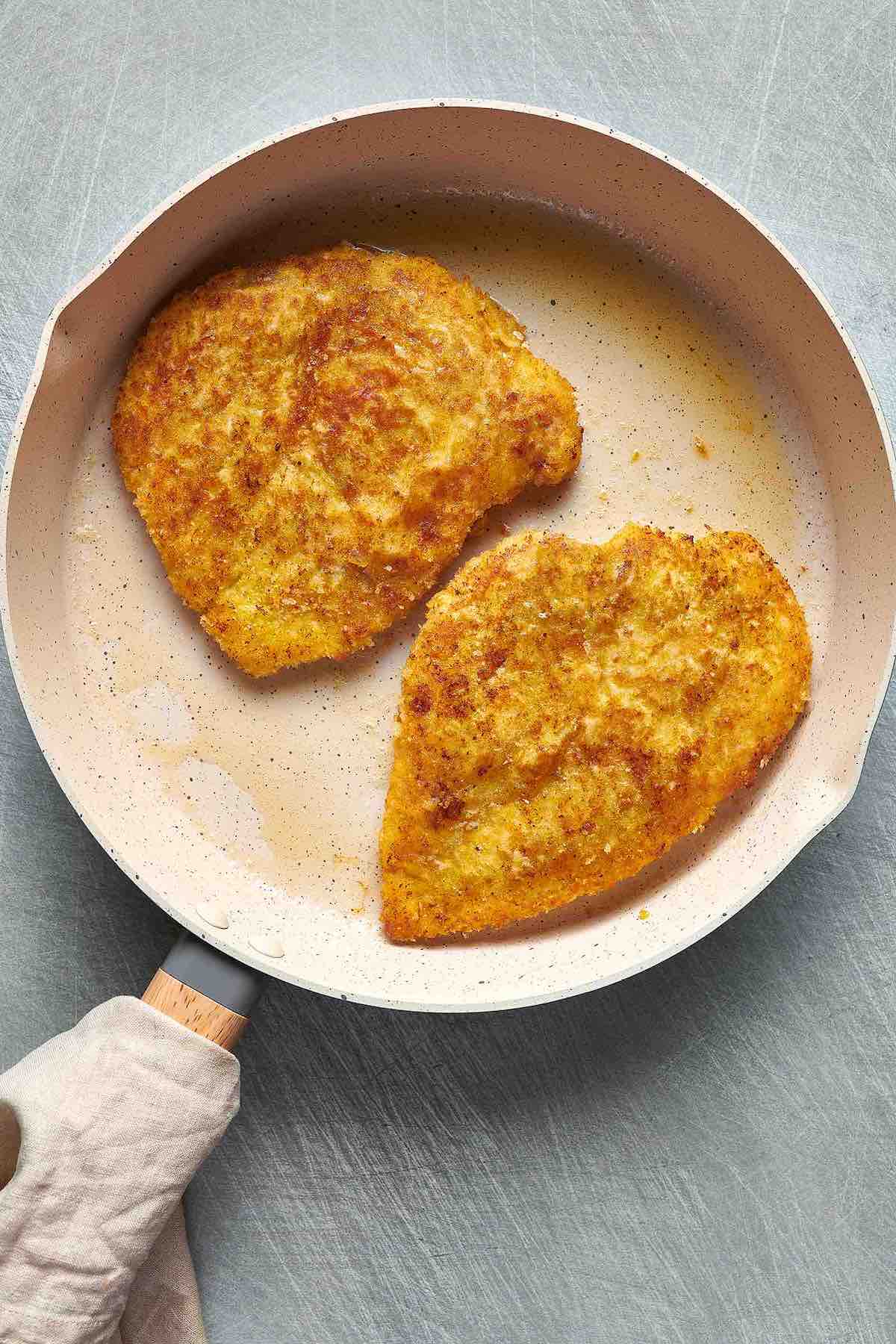 What does Milanese style mean?
Milanese style refers to dredging thin slices of meat in a combination of eggs and breadcrumbs before frying them until golden brown.
What is the difference between chicken cutlet and chicken Milanese?
A chicken cutlet is basically a chicken breast that has been sliced horizontally to make two thinner pieces. Chicken Milanese is usually made with flattened chicken breasts, though you could swap them for chicken cutlets and double up the serving.
Can I use chicken thighs?
While this recipe works best with breast meat, boneless and skinless chicken thighs will also work well.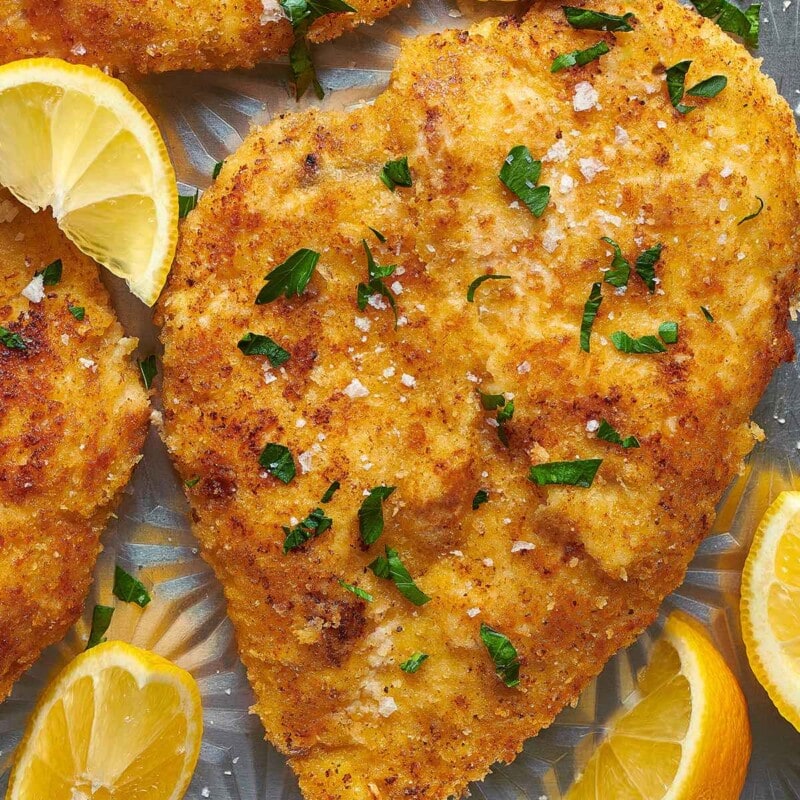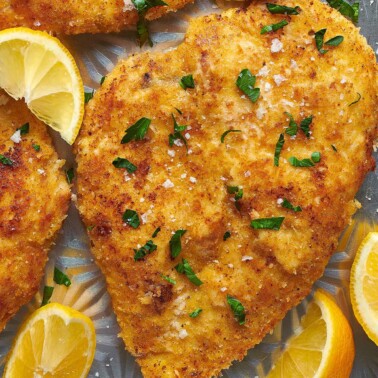 Chicken Milanese
This chicken Milanese recipe features crispy, breaded chicken breasts that cook up in less than 10 minutes! It's perfect for a quick and delicious weeknight dinner.
Ingredients
4

chicken breasts

1/2

teaspoon

salt

1/4

teaspoon

pepper

1

cup

all-purpose flour

2

large

eggs

whisked

1/2

cup

bread crumbs

1

cup

panko bread crumbs

1/2

cup

parmesan cheese

1

tablespoon

oil

2

tablespoons

butter

unsalted
Instructions
Pound the chicken breast fillets and season with salt and pepper.

In one bowl, add the flour, in the second bowl, add the eggs, and in the third, mix together the bread crumbs, panko, and parmesan cheese.

Dip the chicken in the flour, shake off any excess, then the eggs, shake off any excess, then in the parmesan/bread crumb mixture. Press the bread crumbs and parmesan cheese into the chicken so it sticks. Repeat the process until all the chicken is crumbed.

Add the oil and butter into a pan or skillet and place over medium heat. Once hot, add the chicken and cook for 7-10 minutes, or until golden on both sides.

Remove the chicken from the pan and place them on a plate lined with a paper towel.
Notes
TO STORE: Wrap the cooled chicken breasts tightly in plastic wrap and refrigerate them for up to 3 to 4 days.
TO REHEAT: Place chicken breasts on a baking sheet lined with parchment paper and bake at 177°C for 10-12 minutes or until they're fully reheated. You can also use the microwave but the chicken won't be as crispy.
TO FREEZE: Transfer wrapped chicken breasts to an airtight container or freezer-safe bag and freeze for up to 6 months.
Nutrition
Serving:
1
chicken Milanese
Calories:
348
kcal
Carbohydrates:
10
g
Protein:
33
g
Fat:
18
g
Sodium:
801
mg
Potassium:
494
mg
Fiber:
1
g
Vitamin A:
442
IU
Vitamin C:
1
mg
Calcium:
195
mg
Iron:
2
mg
NET CARBS:
9
g
Disclosure: This post may contain affiliate links. I may earn a small commission for my endorsement, recommendation, testimonial, and/or link to any products or services from this website.