Take your everyday chicken breasts up a notch with this smoked chicken breast recipe! Smoking is an easy, mostly hands-off method that results in tender and juicy chicken with rich, smoky flavors every time.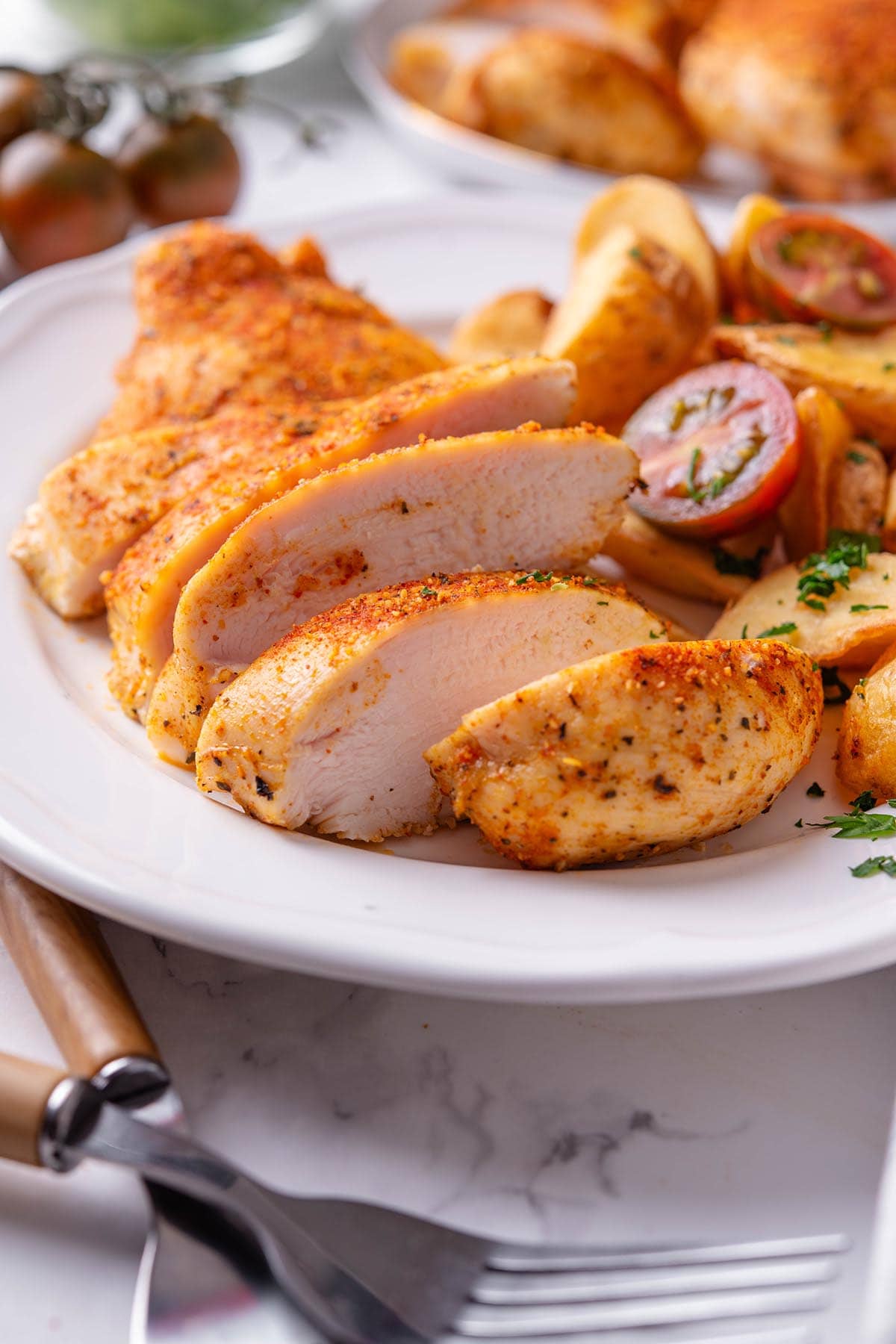 If you want to cook the best chicken breasts for a healthy dinner or recipes like chicken salad or buffalo chicken dip, turn to the smoker!
In this smoked chicken breast recipe, the smoker works its magic to slowly transform everyday chicken breasts into an irresistibly juicy, tender, and smoky protein. Smoking chicken does take longer than baking, air frying, and pan-searing, but it's practically hands-off and the results are so worth it in the end. This is a must-have recipe for the summer grilling season!
Why you'll love this smoked chicken breast recipe
Beginner-friendly. If you're new to smoking chicken, this simple 3-ingredient recipe is a great place to start. It's so simple and everyone will be impressed with your skills!
Mouthwatering flavors. Like with a smoked pork loin, the smoker infuses the meat with mouthwatering rich and smoky flavors that you can't get from grilling or baking. 
Versatile. Customize this recipe for your tastebuds! You can create an entirely different dish by playing with the type of wood chips, dry rubs, seasonings, sauces, and marinades.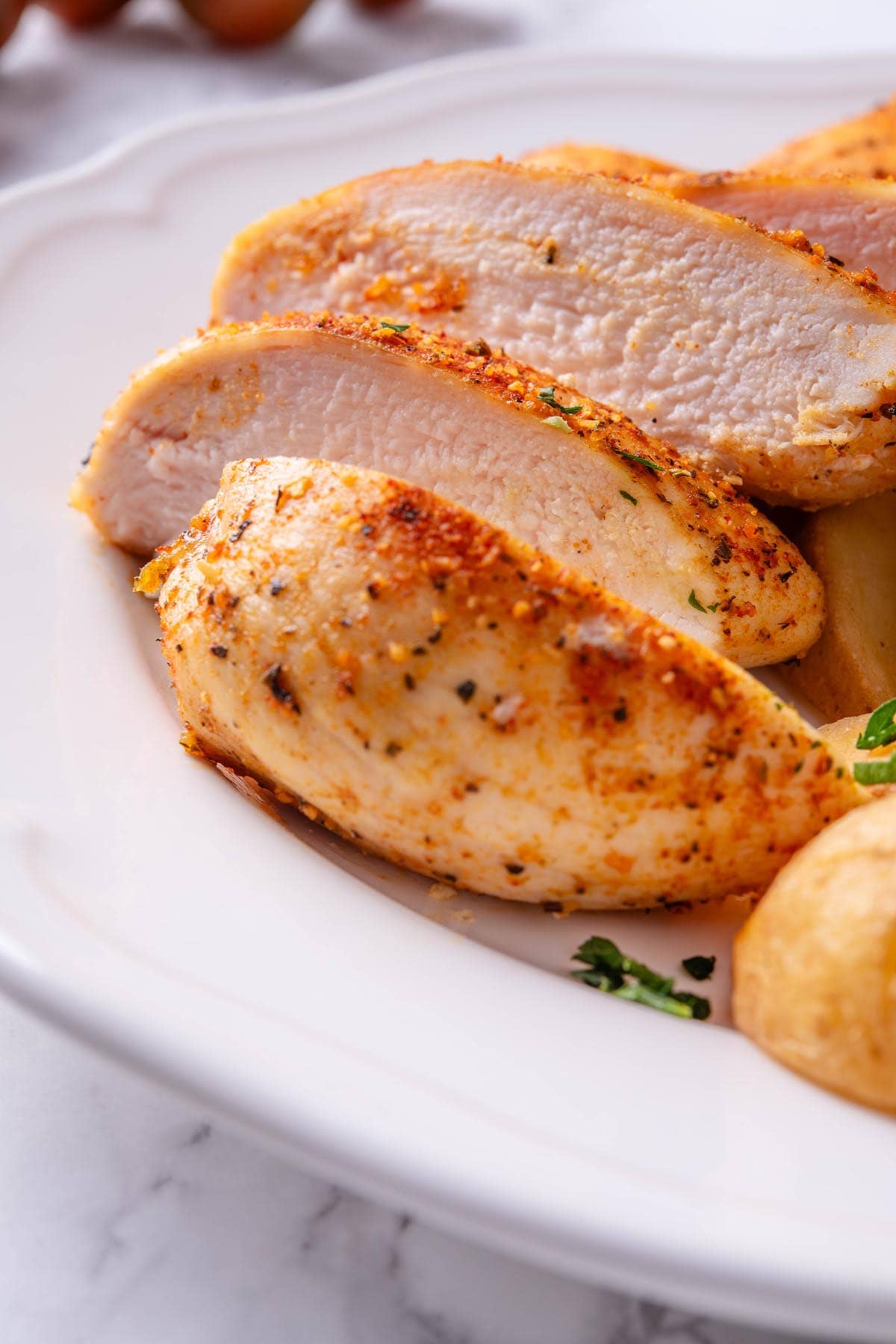 Ingredients needed
To smoke chicken breast, you'll need these key ingredients:
Chicken breasts. Use boneless, skinless chicken breasts.
Olive oil. Coating the chicken with a thin layer of oil prevents it from sticking and gives it a beautiful golden-brown crust on the surface.
Grill chicken rub. Either buy a store-bought grilled chicken seasoning blend or make your own using brown sugar, smoked paprika, salt, garlic powder, onion powder, and pepper. If you like spice, add cumin and chili powder or cayenne. The spice mixture in my smoked wings would also be delicious.
How to smoke chicken breast
Smoking chicken breast is a simple way to infuse the meat with a smoky flavor while keeping the middle tender and juicy. Here's how it's done:
Season the chicken. Rub a thin layer of olive oil over the chicken breasts, then season them with the dry rub on all sides.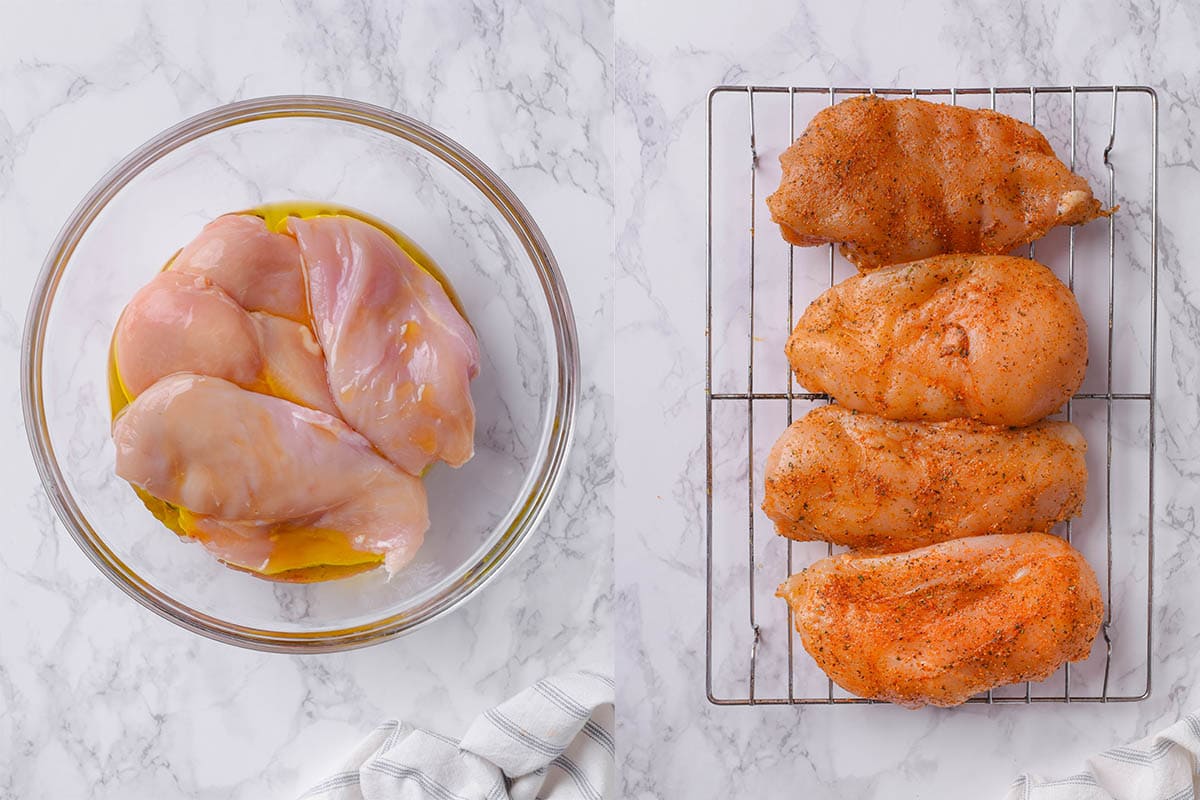 Smoke. Place the chicken breasts on the grates of the pre-heated smoker and cook for 1 hour or until the internal temperature reaches 160°F.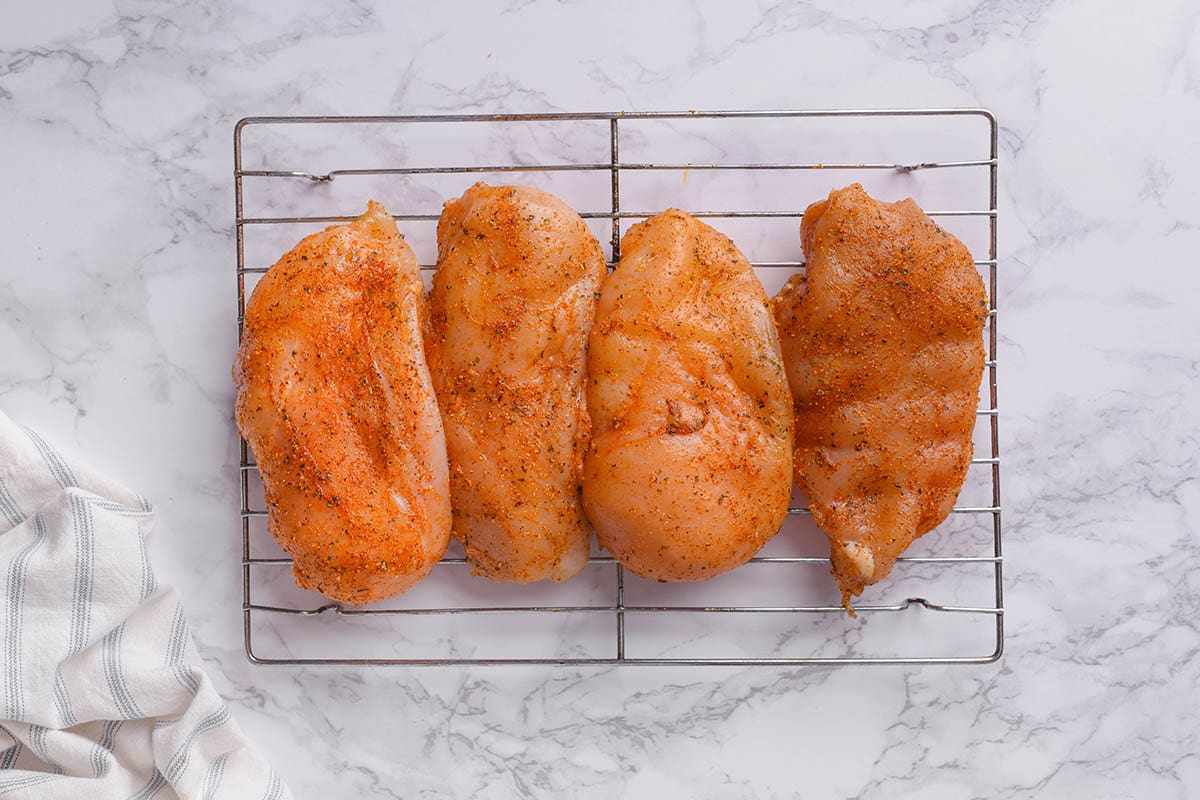 Rest, slice, and serve. Transfer the chicken breasts to a cutting board and tent them with foil until their internal temperature rises to 165ºF. Afterward, slice and serve!
The best wood chips for smoking chicken
The type of wood chips you use in your smoker will affect the flavor of the chicken. Feel free to experiment with different types or stick to these suggestions:
Hickory. Robust and smoky flavor.
Pecan. Rich, nutty, and slightly sweet.
Maple. Mild smokiness with a warming sweetness.
Cherry. Deep, rich, and perfectly sweet.
Apple. Mild smokiness with subtly fruity and sweet notes.
Tips to make the best recipe
Brine the chicken. Brining chicken breasts before smoking is optional but will make the meat extra moist and tender. To brine the chicken, soak the breasts in a salt, sugar, and water solution in the refrigerator overnight, then pat them dry before preparing the recipe as normal.
Don't overcrowd the smoker. Overcrowding the smoker with wood chips leaves little room for the heat and smoke to circulate. It can also produce too much smoke and overpower the flavor of the chicken.
Use a water pan. If your smoker is big enough, place a baking dish filled with water underneath the meat to prevent the chicken breasts from drying out.
Monitor the internal temperature. To check for doneness, insert a meat thermometer into the thickest part of the breasts to ensure the internal temperature has come up to 160°F (71°C). It will continue to rise as the chicken rests off the heat.
Let the smoked meat rest. After smoking, tent the chicken breasts and let them rest for 5 to 10 minutes. This gives the juices time to redistribute while the internal temperature rises to 165°F (74°C).
Variations
With these seasoning, sauce, and marinade ideas, you can tailor this smoked chicken breast recipe to satisfy every palate:
Dry seasonings. After lightly coating the chicken with oil, swap the chicken BBQ rub with classic pork BBQ rub, Montreal, poultry, Cajun, blackening, or Jerk seasoning blends.
Sauces. Brush the chicken breasts with BBQ sauce, teriyaki sauce, bulgogi sauce, buffalo sauce, or honey mustard during the last 30 minutes of smoking to develop a sticky glaze and lightly caramelized edges.
Marinades. Add more flavor to the chicken by letting the breasts soak in a 4-ingredient chicken marinade, chicken drumstick marinade, or pork tenderloin marinade for up to 12 hours before smoking.
What to serve with this dish
Turn this smoky chicken recipe into a well-balanced and crowd-pleasing meal by pairing it with any of these popular summer sides:
Storage instructions
To store: Place the leftover chicken in an airtight container or wrap it tightly with plastic wrap, then store it in the refrigerator for 3 to 4 days.
To freeze: Wrap the cooled chicken breasts in plastic wrap and store them in a freezer-safe bag or container. Freeze for 2 to 3 months and thaw in the fridge overnight before reheating.
To reheat: You can reheat the chicken breasts quickly in the microwave (1 to 2 minutes should do it) or in a 350ºF oven.
Recommended tools to make this recipe
Smoker. Such as an offset, pellet, or charcoal smoker.
Wood chips. Hickory, apple, cherry, maple, or pecan wood chips will enhance the smoky flavor.
Instant read meat thermometer. To monitor the internal temperature and ensure the chicken is cooked through.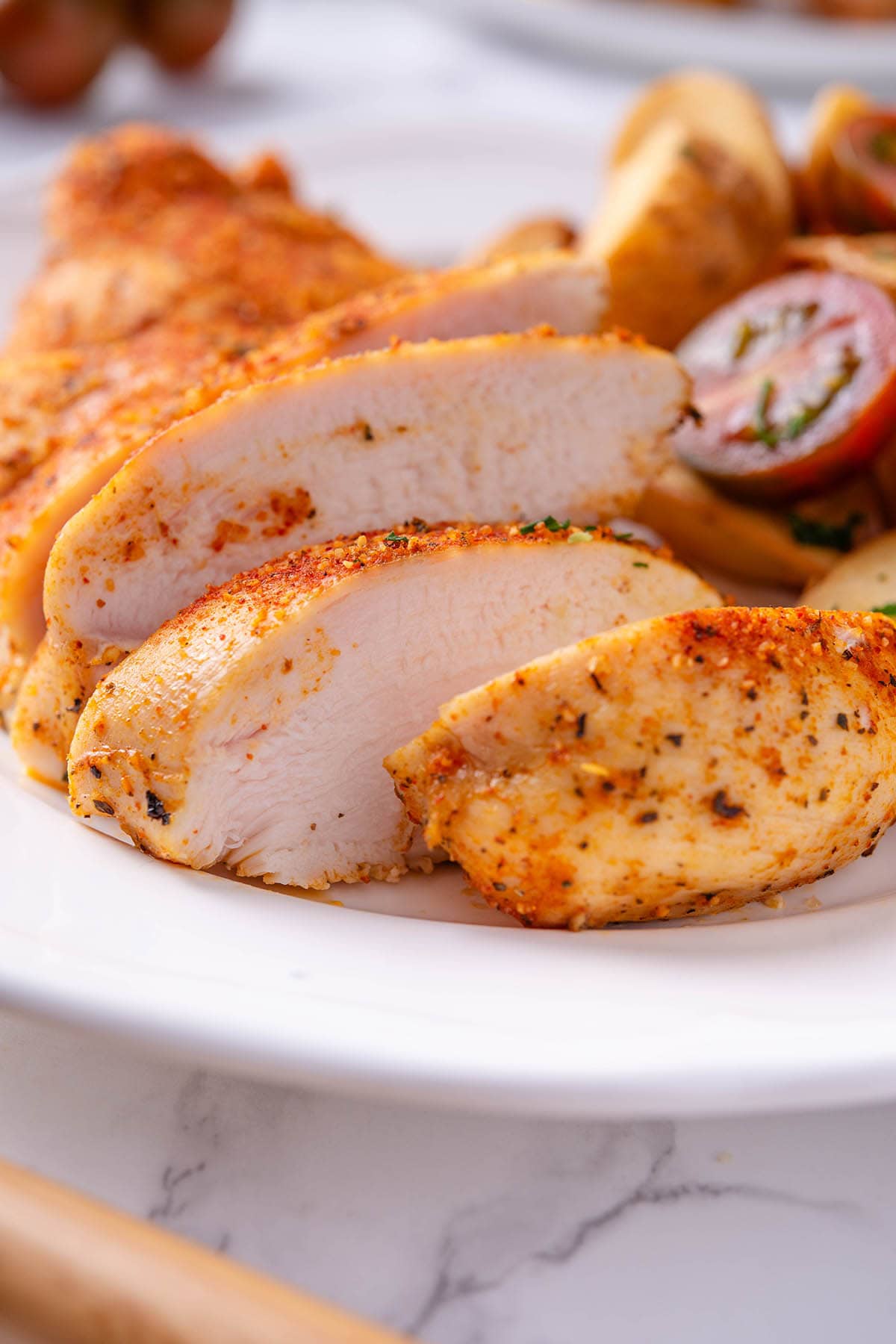 More grilled meats and BBQ recipes
Frequently asked questions
How long does it take to smoke boneless chicken breasts at 225ºF (107°C)?
The smoking time may vary depending on the size of the chicken breasts and your smoker's efficiency. Generally, half-inch thick chicken breasts should be perfectly cooked but still tender and juicy after smoking for about 1 hour. 
Can you use chicken thighs instead?
Yes, but boneless or bone-in chicken thighs will take slightly longer to cook than breasts. 
Do you need to flip chicken breasts during smoking?
No. The heat and smoke in the smoker circulate around the meat, which results in even cooking without the chicken needing to be flipped.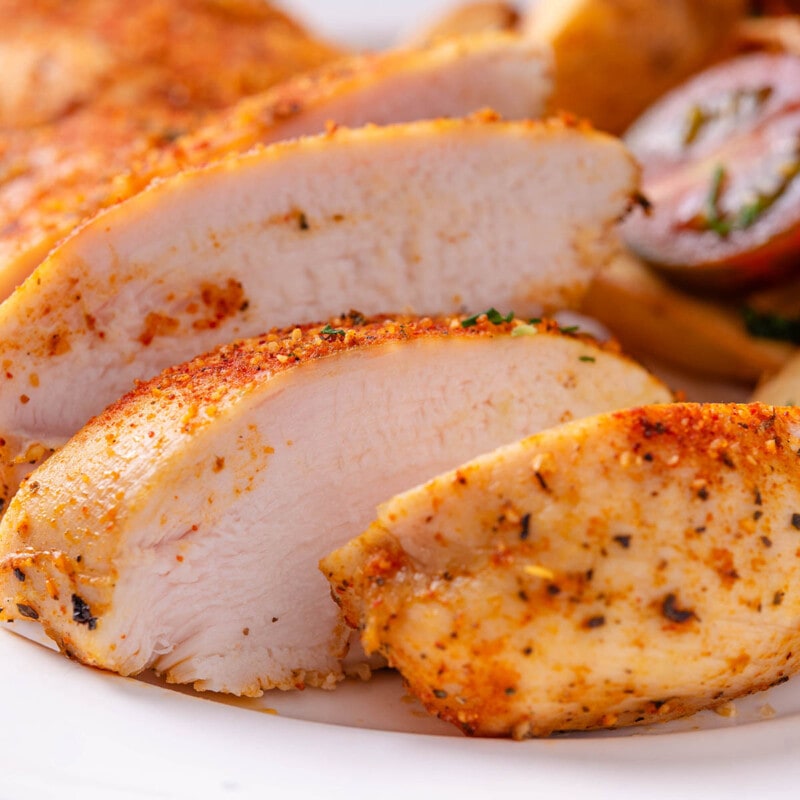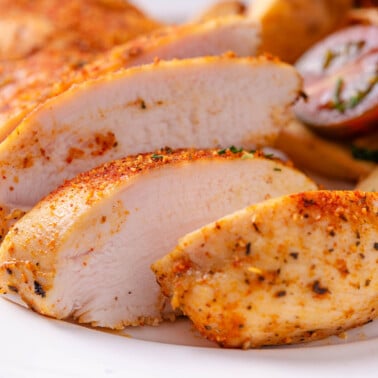 Smoked Chicken Breast
Take your everyday chicken breasts up a notch with this smoked chicken breast recipe! Smoking is an easy, mostly hands-off method that results in tender and juicy chicken with rich, smoky flavors every time.
Ingredients
4

chicken breasts

boneless and skinless

2

tablespoons

olive oil

2

tablespoons

chicken seasoning
Instructions
Preheat the smoker to 225F using your favorite hardwood.

Drizzle the chicken with olive oil. Sprinkle the chicken with the chicken rub and massage the chicken evenly on all sides.

Place the chicken onto the grill and smoke for 1 hour or until the inner temperature reaches 160F. 

Remove the chicken from the smoker and tent it with foil. Let the carryover cooking increase the internal temperature to 165F. 

Slice the chicken and serve. 
Nutrition
Serving:
1
serving
Calories:
197
kcal
Carbohydrates:
1
g
Protein:
24
g
Fat:
10
g
Sodium:
132
mg
Potassium:
432
mg
Fiber:
0.2
g
Sugar:
0.1
g
Vitamin A:
87
IU
Vitamin C:
2
mg
Calcium:
26
mg
Iron:
1
mg
NET CARBS:
1
g
Disclosure: This post may contain affiliate links. I may earn a small commission for my endorsement, recommendation, testimonial, and/or link to any products or services from this website.