Add mouthwatering flavors to your chicken with this simple 6-ingredient chicken drumstick marinade. It yields deliciously juicy, tender meat every time!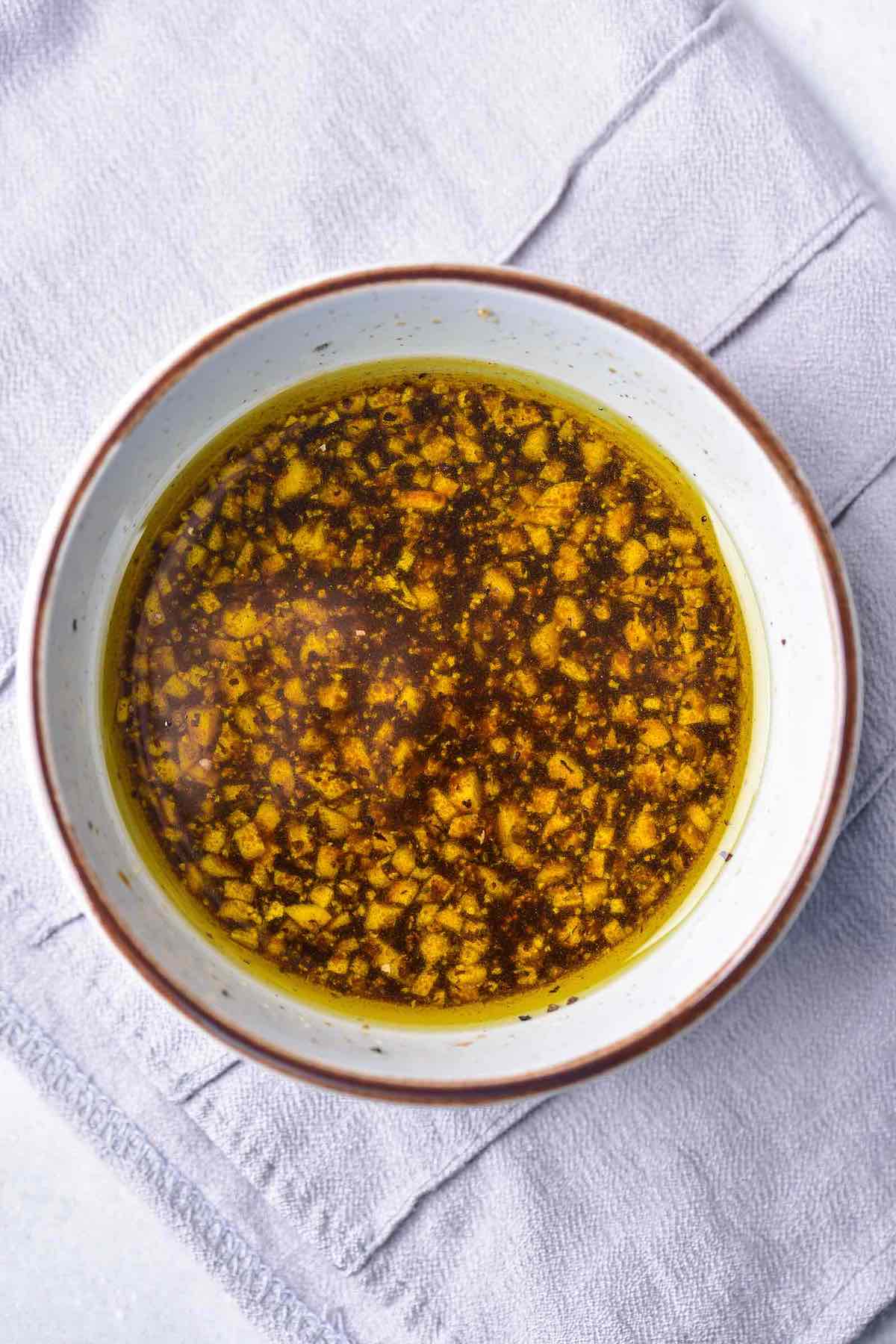 Dark meat on poultry, like chicken drumsticks and thighs, is already juicy and tender. This means that it doesn't necessarily need to be marinated, but it certainly can't hurt! That's why I'm always turning to this chicken drumstick marinade when I want to take weeknight chicken dinners up a notch.
Made with 6 simple condiments and aromatics, this chicken leg marinade leaves the meat with layers of umami-forward, subtly sweet, and tangy flavors. It also prevents the meat from drying out and turning tough and chewy! Instead, you're left with extra tender, juicy, and melt-in-your-mouth meat every time.
The 3 key elements of a good chicken marinade
Every good chicken marinade needs these 3 elements: acid, fat, and flavor. This simple marinade checks off all the boxes:
Acid: Worcestershire sauce and soy sauce
Fat: Olive oil
Flavor: Honey and garlic cloves
If you're looking for more marinades made of this trio, try this 3-Ingredient Steak Marinade, 4-Ingredient Chicken Marinade, and Bulgogi Sauce.
Using quality acid, oil, and flavoring agents will make all the difference in this meat marinade. Try to find the best ingredients available to you before putting it together. This is what you need:
Olive oil. The fat in this delicious marinade! It adds deep and robust flavors while it works with the acid to tenderize the meat.
Soy sauce. For an umami flavor that enhances the natural meatiness of dark meat. If you can, use low-sodium soy sauce.
Worcestershire sauce. This adds sweet, savory, and tangy flavors.
Dietary swap
To make gluten free chicken marinade, swap the soy sauce and Worcestershire sauce for 3 tablespoons of gluten free soy sauce, tamari, or coconut aminos.
Honey. For just enough sweetness to balance the rest of the flavors. It also caramelizes the chicken skin during the cooking process.
Garlic cloves. Freshly minced garlic cloves are best.
Salt and pepper. To round out the rest of the flavors.
How to make the best marinade for chicken drumsticks
Get ready for the best chicken drumsticks you've ever eaten! These step-by-step instructions will show you how to put it all together:
Step 1 – Make the marinade
Whisk all of the marinade ingredients together in a small bowl.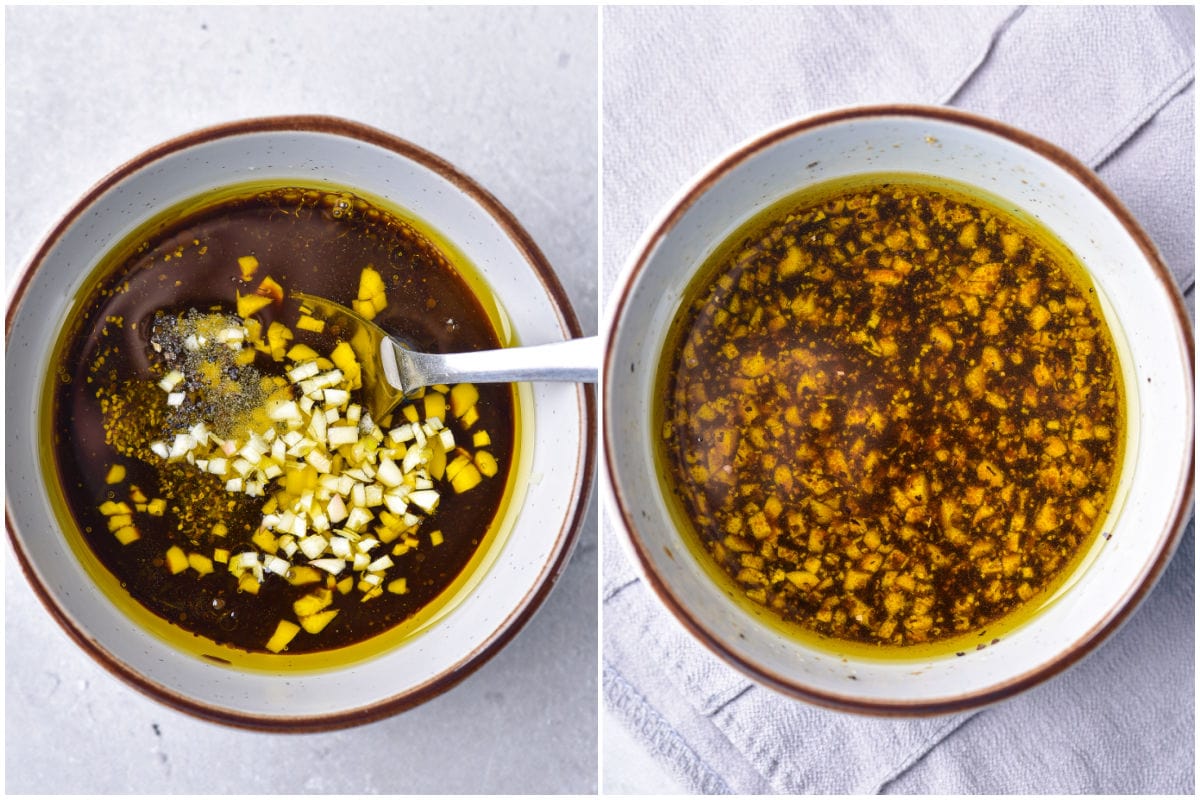 Step 2 – Coat the chicken legs
Pour the marinade into a large glass bowl or ziplock bag. Add the drumsticks and toss to coat.
Step 3 – Marinate the chicken
Seal the bag or cover the bowl and transfer it to the fridge so the chicken legs can soak up all of the flavors.
Step 4 – Cook the chicken drumsticks
Remove the chicken drumsticks from the marinade and cook using your preferred method. They're perfect for grilling, air frying, and baking!
Feel free to make this recipe with fresh or frozen chicken drumsticks. There's no need to defrost the frozen chicken; they'll defrost as they marinate in the fridge.
Alternatively, use this recipe for boneless or bone-in chicken thighs instead of drumsticks.
I recommend marinating the drumsticks in a ziplock bag for easy cleanup. However, if you use a bowl, make sure it's a glass or ceramic bowl. Metal bowls can react with the acid in the marinade and leave an unappetizing metallic flavor behind.
When it's time to cook the chicken, shake off the excess marinade but DO NOT pat the chicken dry. This ensures that the drumsticks are still well coated, helping the skin crisp up while maintaining the melt-in-your-mouth meat in the middle.
Flavor variations
Have fun with the chicken drumstick marinade by playing with the ingredients and flavors. Remember that acid, oil, and flavoring agents are the building blocks of good marinade, so always try to maintain that balance. Here are some tasty ideas for inspiration:
Honey mustard marinade. Follow the recipe as written, but add an extra tablespoon of honey and 2 to 3 tablespoons of Dijon mustard. We use something similar in our honey mustard chicken.
Italian chicken marinade. Pretty much like the one used in grilled chicken tenders, ,make a marinade using lemon juice, olive oil, garlic, and Italian seasonings instead.
Teriyaki marinade. Make teriyaki chicken by turning my teriyaki sauce recipe into a marinade. To do so, omit the xanthan gum, use only one tablespoon of water, and whisk the ingredients together instead of simmering.
Maple balsamic marinade. Substitute the soy sauce and Worcestershire with good quality balsamic vinegar and swap the honey for maple syrup.
Spicy chicken marinade. Add a kick of heat by stirring in red pepper or Aleppo chili flakes, cayenne, or harissa paste.
Other protein marinades. Tofu and pork tenderloin marinades also work for chicken drumsticks, too.
Storage instructions
To store: Get a jump on this recipe by whisking the marinade together and storing it in a sealed jar in the fridge for up to 3 days.
To freeze: Place the prepared drumstick marinade in an airtight container and store it in the freezer for up to 1 month. Let it thaw completely before pouring it over the chicken.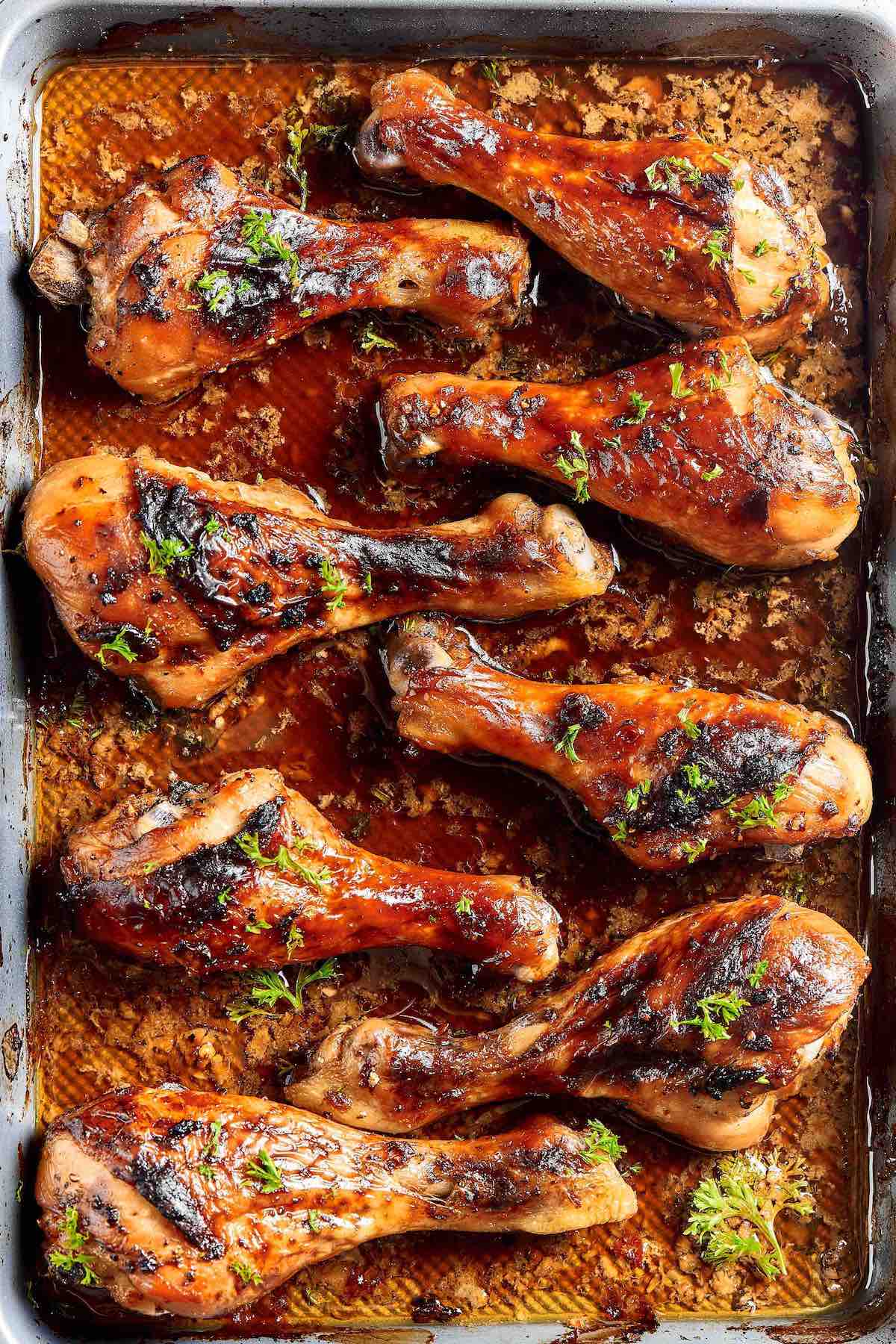 How long can you marinate chicken drumsticks?
You can marinate chicken legs for a minimum of 30 minutes or up to 24 hours. Try not to let them soak for any longer, or else the fibers in the meat will begin to break down and become mushy.
What is the best way to cook marinated chicken legs?
Grilling chicken legs over medium-high heat is one of my favorite methods! If you don't have a grill, bake the legs in the oven at 400ºF to 425ºF or cook them in a 400ºF air fryer instead.
Can I reuse marinade after marinating chicken in it?
No, I don't recommend reusing the marinade because the raw chicken can spread harmful bacteria into the mix. The USDA recommends boiling the used marinade for at least 5 minutes if you ever want to use it again, but that may thicken the consistency, making it better off as a baste.
More ways to use this marinade
You can use this marinade for more than just chicken drumsticks! Here are some of the many proteins that we love to soak in this flavorful mix: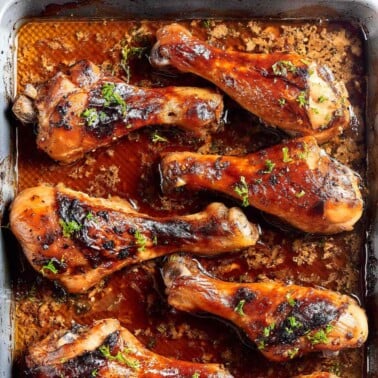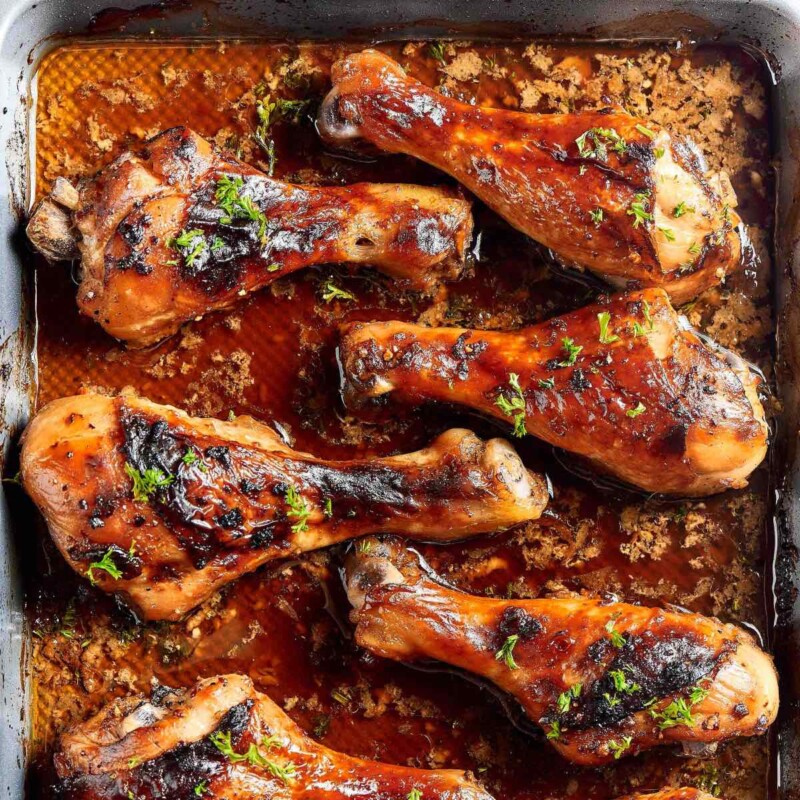 Chicken Drumstick Marinade
Elevate your chicken game with this delicious drumstick marinade recipe. It's sweet and savory, and uses pantry staple ingredients.
Instructions
Whisk together all the ingredients until completely combined. 

Either add the marinade to a bowl and mix with the chicken drumsticks or add it to a ziplock bag and add the chicken to it. Marinade both for at least 30 minutes or up to 4 hours. 
Notes
TO STORE: Get a jump on this recipe by whisking the marinade together and storing it in a sealed jar in the fridge for up to 3 days.
TO FREEZE: Place the prepared drumstick marinade in an airtight container and store it in the freezer for up to 1 month. Let it thaw completely before pouring it over the chicken.
Nutrition
Serving:
1
serving
Calories:
55
kcal
Carbohydrates:
4
g
Protein:
0.4
g
Fat:
5
g
Sodium:
302
mg
Potassium:
33
mg
Fiber:
0.1
g
Vitamin A:
3
IU
Vitamin C:
1
mg
Calcium:
5
mg
Iron:
0.3
mg
NET CARBS:
4
g
Disclosure: This post may contain affiliate links. I may earn a small commission for my endorsement, recommendation, testimonial, and/or link to any products or services from this website.