This crowd-pleasing chicken parmigiana recipe features fried chicken cutlets topped with homemade marinara sauce and melted cheese. A classic Italian-inspired dish that's perfect for both pasta and chicken parm subs!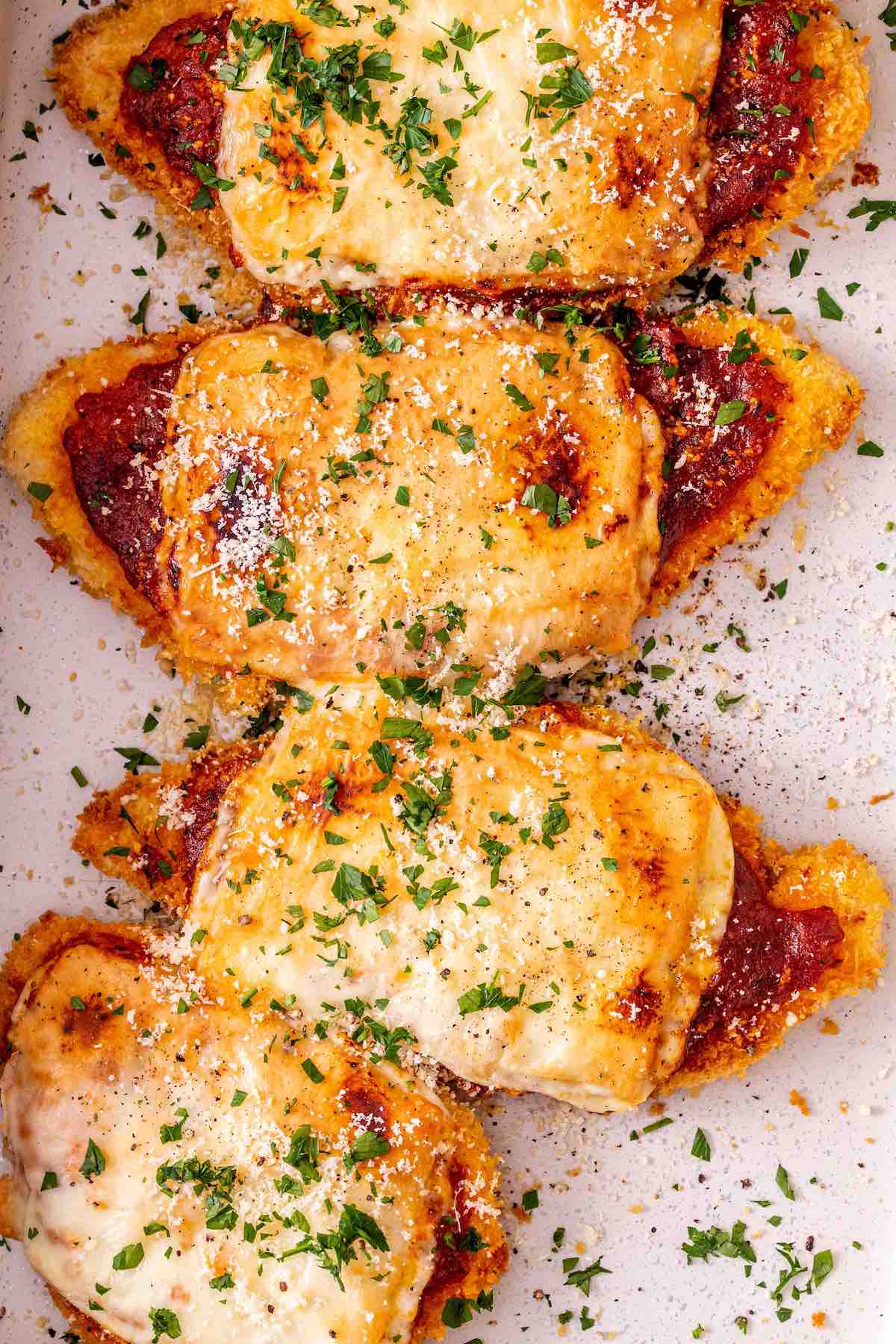 To me, chicken parmigiana never gets old. Breaded and fried chicken cutlets topped with marinara sauce and melted cheese? Yes, please!
I've made keto chicken parm and air fryer chicken parm, but this hand-breaded, fried, and baked chicken parmigiana recipe is the closest to the true Italian-inspired recipe. Plus, it's one that your family will request over and over again. Simply put, it's perfect!
What is chicken parmigiana?
While Italian flavors are very much present here, the chicken parmigiana recipe actually originated in the U.S. during the early 20th century. To make it, crispy chicken cutlets are covered in tomato sauce, parmesan, and mozzarella, then baked until the cheese melts.
As for the difference between chicken parmigiana and chicken parmesan, there isn't one. The preparation and ingredients are the same despite the different names. In Australia, you may even call it parma or parmi!
The best chicken parmigiana recipe
Incredible flavors. We're talking crispy, panko-crusted chicken cutlets with incredibly juicy meat covered in homemade red sauce and a double layer of gooey cheese. What's not to love?
It's foolproof. Like chicken Caprese, the easy-to-follow instructions will show you how to make chicken parmesan exactly like your favorite restaurant.
A family favorite. Crispy chicken, tomato sauce, and cheese are a trio that makes for epic family dinners.
Looking for a meatless version? Try my restaurant-style eggplant parmesan for a similar dish that ditches the meat.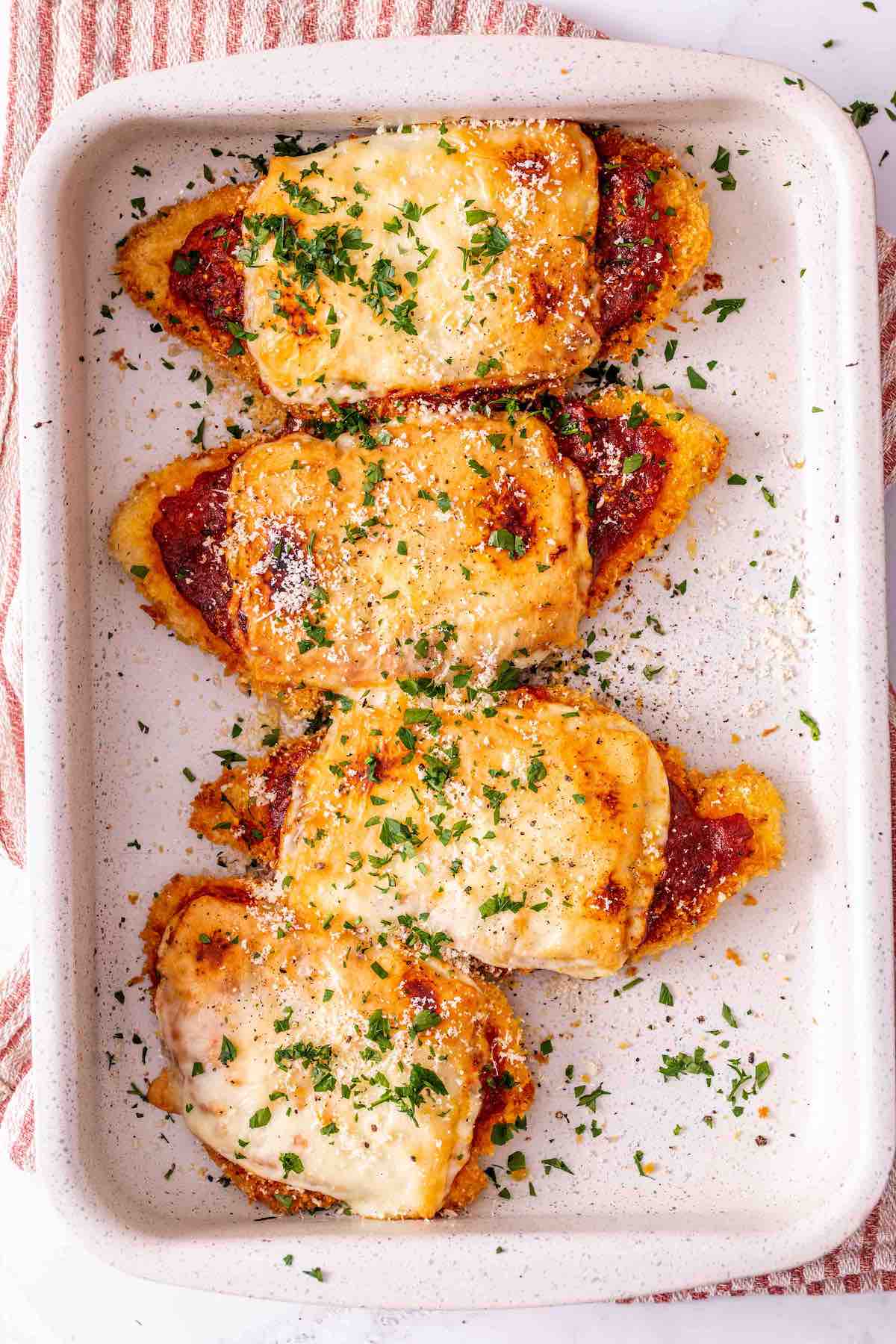 This pollo alla parmigiana recipe features a marinara sauce made from scratch and hand-breaded and fried chicken breasts. These are the ingredients you'll need:
Olive oil. Try to use good quality olive oil.
Onion. For a solid base of aromatic, savory flavor in the sauce.
Garlic. Use fresh garlic cloves.
Tomato paste. Enhances the depth of flavor and helps thicken the sauce.
Diced tomatoes. Use a quality can of diced tomatoes here for the best-tasting sauce.
Italian seasoning. A store-bought seasoning blend works perfectly. You can always adjust the flavor with even more dried herbs, like oregano, basil, and parsley.
Sugar. To help neutralize the acidity of the tomatoes and give you an overall more balanced sauce.
Chicken breasts. Buy boneless, skinless chicken breasts and cut them in half. Or keep it simple and buy pre-cut chicken breast cutlets.
Salt and pepper. To season the chicken and homemade marinara sauce.
Thyme. Dried or fresh thyme can be used.
Garlic powder. This gives the chicken breasts a delicious savory flavor.
Onion powder. Just like garlic powder, you need onion powder to season the chicken.
Eggs. To help the breadcrumb coating stick to the chicken.
Flour. All purpose flour works really well here.
Panko breadcrumbs. Panko has a light and crispy crunch that's unique to other types of breadcrumbs.
Mozzarella. Sliced mozzarella is the finishing layer on chicken parmesan. It melts in the oven to become incredibly stretchy and gooey.
Parmesan cheese. Grated directly from the block. You'll use some in the breading and the rest as a topping.
Frying oil. Like avocado oil, canola oil, or vegetable oil.
Parsley. For garnish.
How to make chicken parmigiana
Making chicken parm from scratch is a somewhat lengthy process because the sauce is homemade and the chicken is breaded, fried, then baked. All of that effort is worth it, as you'll notice on the first bite! Here's how it's done:
Step 1 – Make the marinara sauce
Sauté the onion and garlic in a skillet with olive oil. Stir in the tomato paste along with the diced tomatoes and seasonings. Bring to a boil, then reduce the heat and simmer until thickened.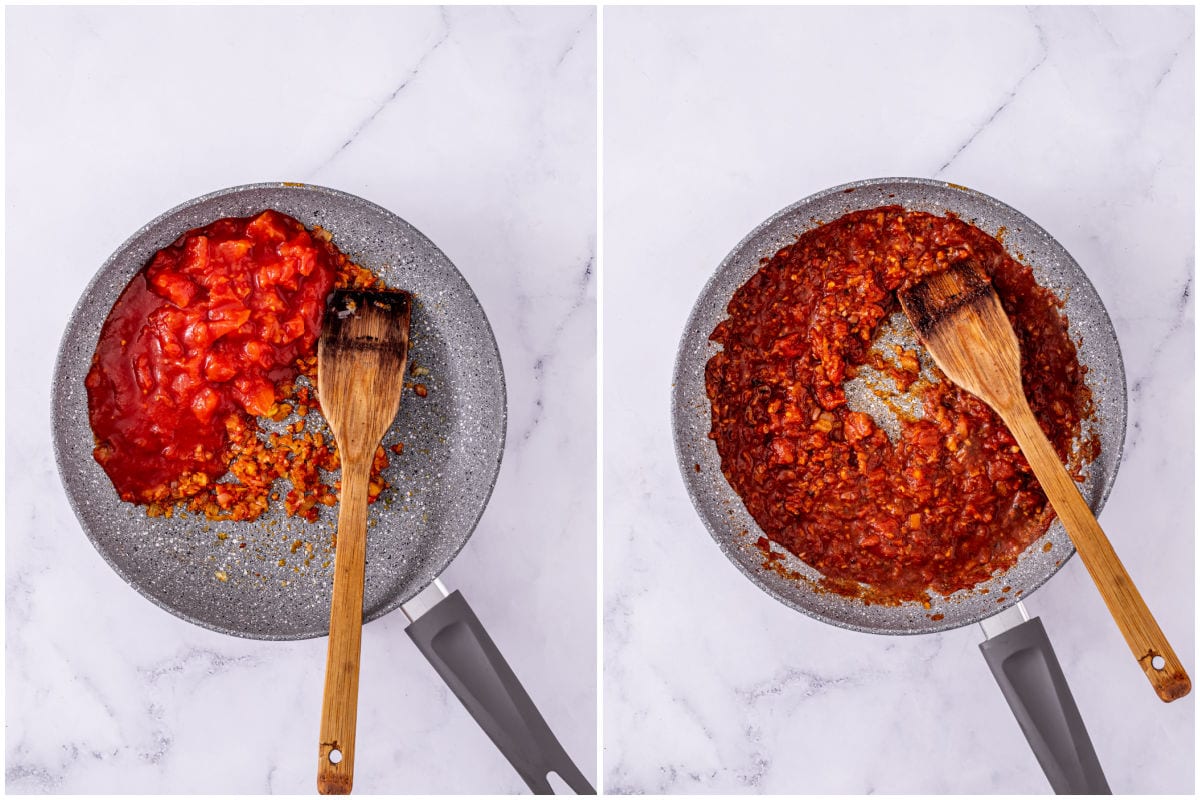 Step 2 – Prepare and season the chicken
Cut each chicken breast in half horizontally, then gently pound the cutlets to an even thickness. Season both sides with salt, black pepper, thyme, garlic powder, and onion powder.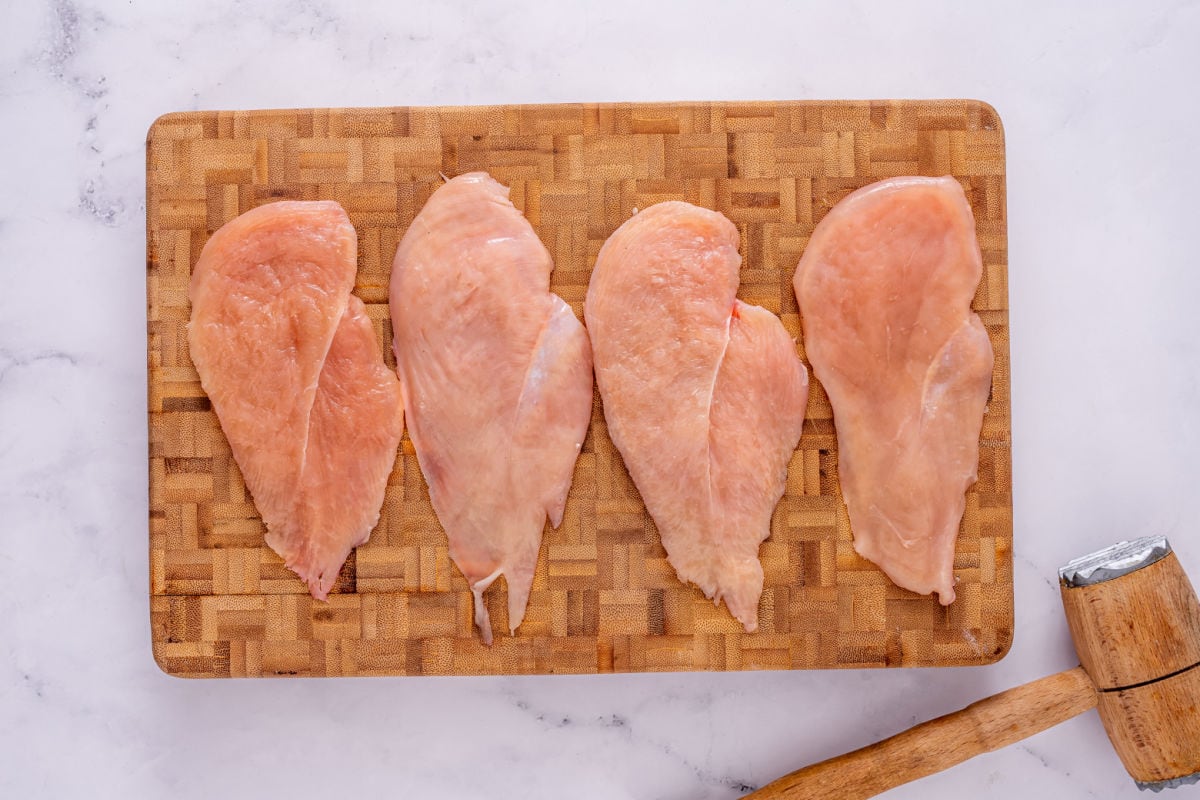 Step 3 – Bread the chicken cutlets
Add the flour, beaten eggs, and breadcrumbs and parmesan cheese to three different bowls. Dip the chicken cutlets first in flour, then in the egg wash, and finally in the breadcrumb mixture.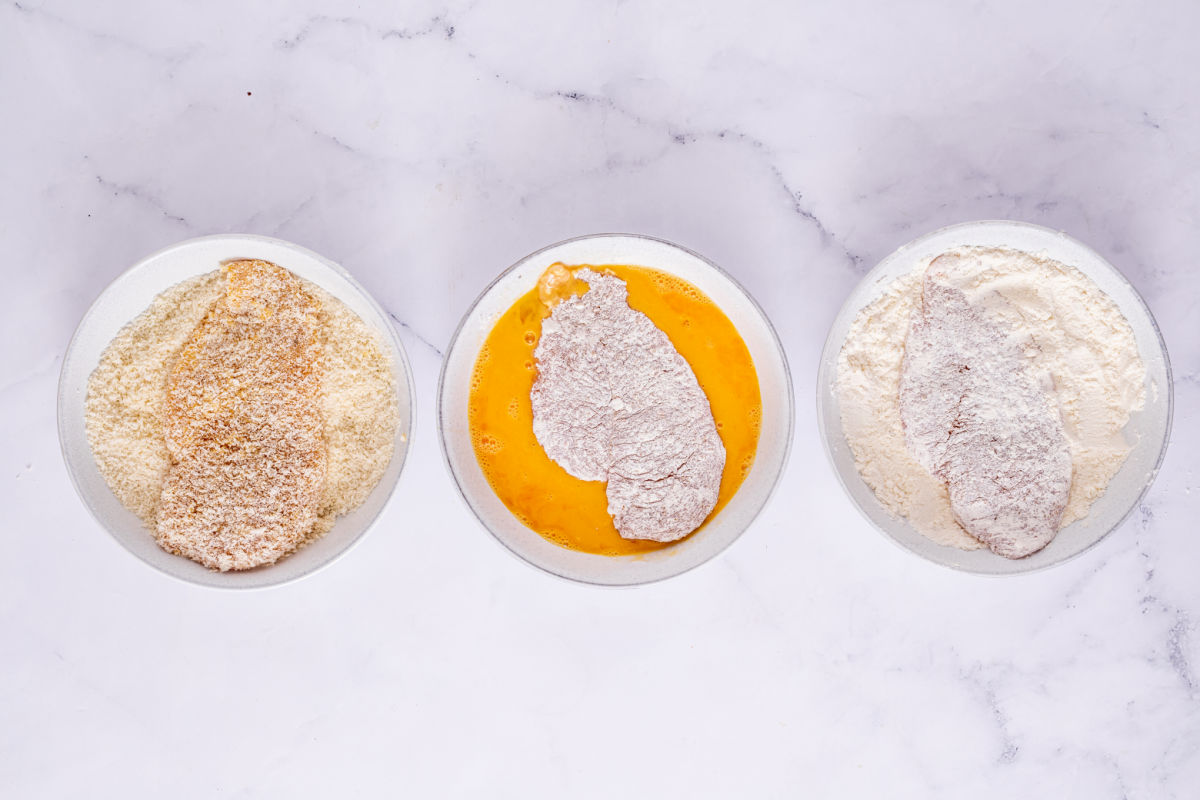 Step 4 – Pan-fry the breaded chicken cutlets
Heat the fryer oil in a large skillet. Once it's hot, add the chicken and fry until both sides are golden and crispy.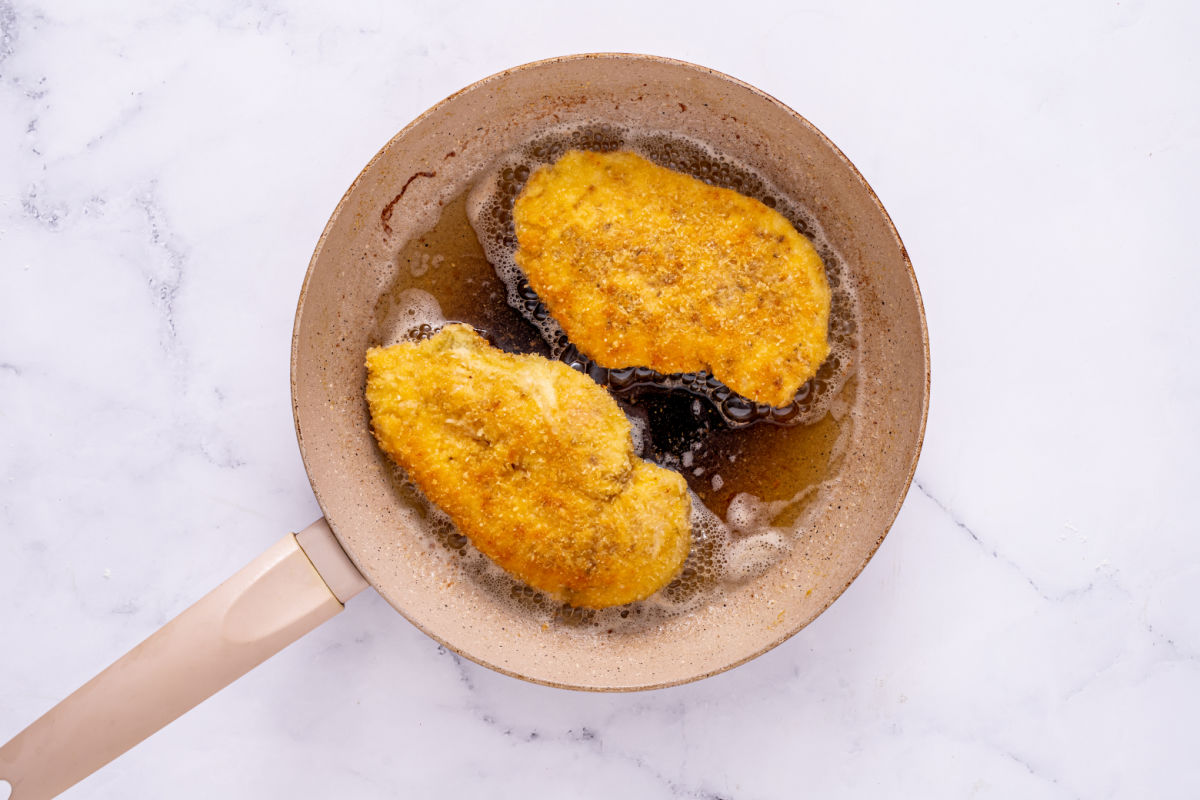 Step 5 – Layer
Transfer the fried chicken breasts to a baking dish. Spoon the tomato sauce evenly over the top of each piece, followed by a layer of parmesan and a slice of mozzarella.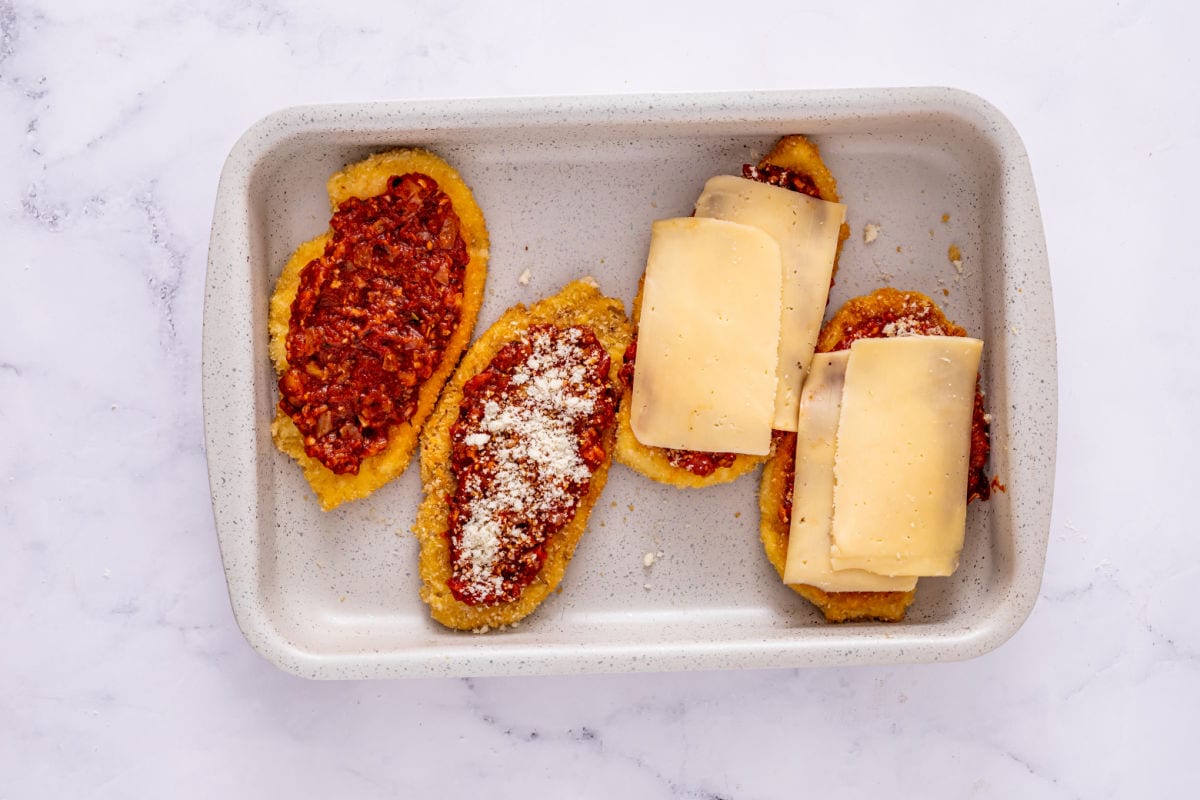 Step 6 – Bake and serve
Transfer the baking dish to the oven and bake until the cheese is melted. Garnish with fresh parsley on top, then enjoy!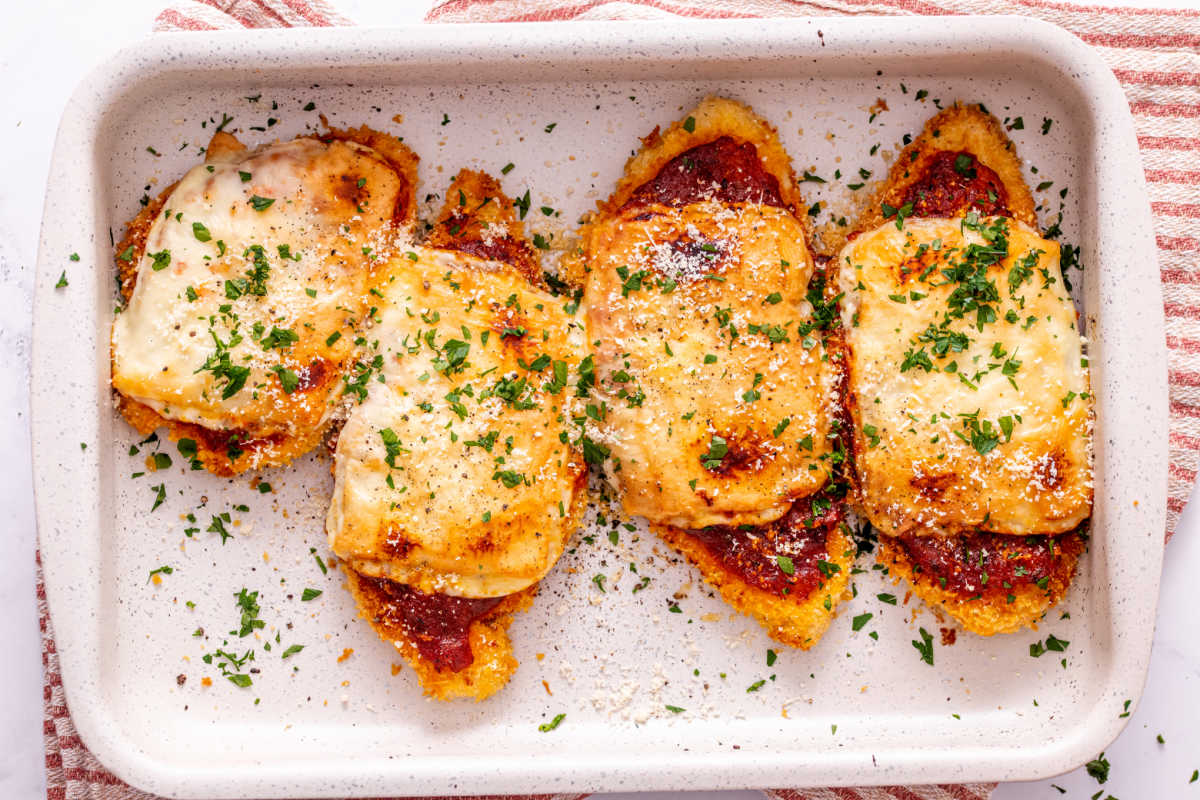 To avoid tough, chewy chicken, don't skip pounding the meat. The cutlets will cook faster and become more moist and juicy once baked.
A light, even coating of flour is key for the egg wash and breadcrumbs to cling to the surface of the meat.
To save time, prep some pomodoro sauce or sugo in advance (and use leftovers for linguine or pasta!).
To keep the crispy coating intact, pat the chicken breasts dry before dredging, then let them sit for 1 or 2 minutes after coating.
Don't overcrowd the skillet. The chicken needs space to cook evenly and get crispy, so you may need to fry the chicken in batches.
What to serve with this dish
Chicken parmigiana is terrific on its own, but also pairs well with a side of cooked pasta. Consider doubling the marinara so you'll have plenty to coat the noodles. Also, make sure you have a basket of garlic bread ready to scoop up every drop of sauce.
As for what sides to serve with chicken parmesan, keep it fresh and simple with dishes like sauteed broccolini or air fryer asparagus.
To store. If you're lucky enough to have leftovers, let them cool and keep them covered in the refrigerator for up to 5 days.
To freeze. Let the chicken cool to room temperature, then wrap the baking dish tightly with plastic or foil. Freeze for up to 6 months. Let thaw in the fridge before reheating.
To reheat. Reheat the chicken in a 350ºF oven or air fryer until warmed through and crispy again.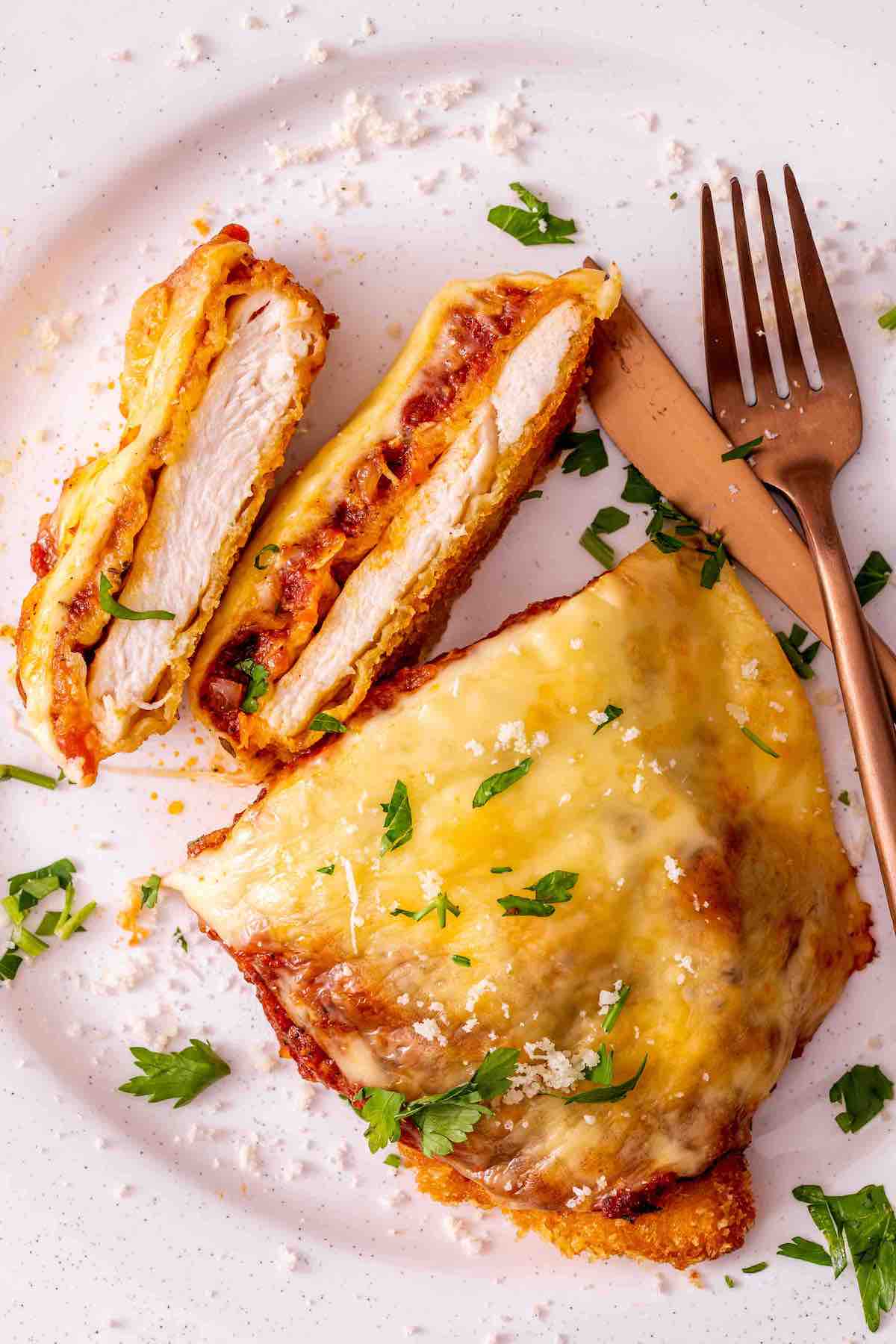 More Italian dinner recipes
Can you bake or air fry the chicken instead?
Frying is best because it gives the chicken an irresistible crunchy exterior. However, if you want to avoid the excess oil, you can bake or air fry it instead. To do so:
Baked chicken parm: Place the breaded chicken on a baking tray and bake at 350°F for 20 minutes, flipping halfway through.
Air fryer chicken parm: Cook the breaded chicken in the air fryer at 375°F for 10 minutes, flipping halfway through.
How do you make a chicken parmesan sub?
Once the chicken cutlets are fried, place them on hoagies or sub rolls. Layer on the toppings and bake at 350°F until the cheese is melted and the bread is nicely toasted. 
Can it be made gluten free?
I haven't tested it, but you should be able to make gluten free chicken parmigiana using gluten free all purpose flour and gluten free panko breadcrumbs.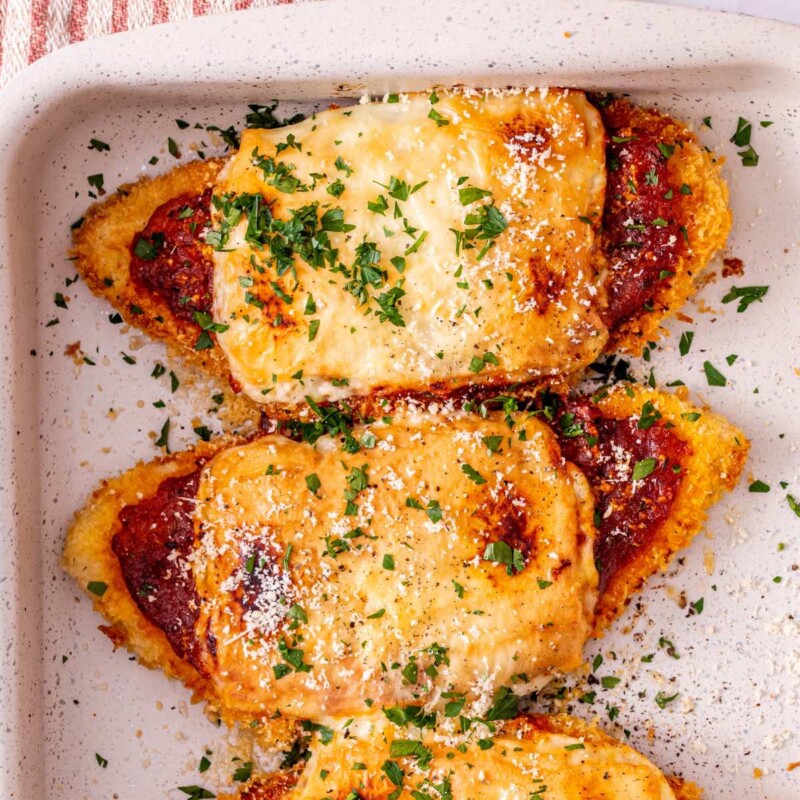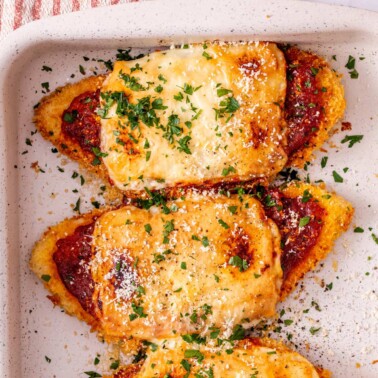 Chicken Parmigiana
This chicken parmigiana recipe features breaded chicken cutlets topped with tomato sauce and melted mozzarella cheese. It's comfort food at its finest.
Ingredients
Chicken parm
2

large

chicken breasts

skinless and boneless

1

teaspoon

salt

1/2

teaspoon

pepper

1/2

teaspoon

dried thyme

1/2

teaspoon

garlic powder

1/2

teaspoon

onion powder

2

large

eggs

1/4

cup

all-purpose flour

1/4

cup

panko bread crumbs

4

oz

parmesan cheese

divided

4

oz

mozzarella

sliced
Instructions
Heat oil in a skillet and once hot, add onion and garlic and cook until they have softened. Add tomato paste and cook for about a minute, stirring constantly. Add the canned tomatoes and spices and bring to a boil. Reduce heat and cook with occasional stirring until the sauce thickens, around 6 minutes.

Cut the chicken breasts in half and pound them gently with a meat mallet. Season them with salt, pepper, thyme, garlic, and onion powder.

Prepare three shallow bowls for dredging the chicken. Add flour to one, the beaten eggs in the second, and the panko bread crumbs with half the parmesan cheese in the third.

Dredge the chicken in flour, then in the egg wash, and finally in panko and parmesan mix, pressing firmly to adhere. Shake off any excess.

Heat some oil in a non-stick skillet and place over medium heat. Fry in the skillet until golden and crispy, around 4 minutes per side.

Preheat the oven to 190C/220F. Place chicken in a baking dish, divide the sauce equally on each piece of chicken, and sprinkle the rest of the parmesan over the sauce. Add the sliced mozzarella on top.

Bake for 15-20 minutes, until the cheese has melted and it begins to turn golden.
Notes
TO STORE: If you're lucky enough to have leftovers, let them cool and keep them covered in the refrigerator for up to 5 days. 
TO FREEZE: Let the chicken cool to room temperature, then wrap the baking dish tightly with plastic or foil. Freeze for up to 6 months. Let thaw in the fridge before reheating.
TO REHEAT: Reheat the chicken in a 350ºF oven or air fryer until warmed through and crispy again.
Nutrition
Serving:
1
chicken parmigiana
Calories:
316
kcal
Carbohydrates:
14
g
Protein:
31
g
Fat:
16
g
Sodium:
2025
mg
Potassium:
647
mg
Fiber:
3
g
Vitamin A:
721
IU
Vitamin C:
13
mg
Calcium:
541
mg
Iron:
2
mg
NET CARBS:
11
g
Disclosure: This post may contain affiliate links. I may earn a small commission for my endorsement, recommendation, testimonial, and/or link to any products or services from this website.