Discover how to make chicken cutlets quickly and easily with tons of tasty flavor. This chicken cutlet recipe takes just a few minutes to whip up and goes perfectly with different sides to create a homemade meal your tastebuds won't forget.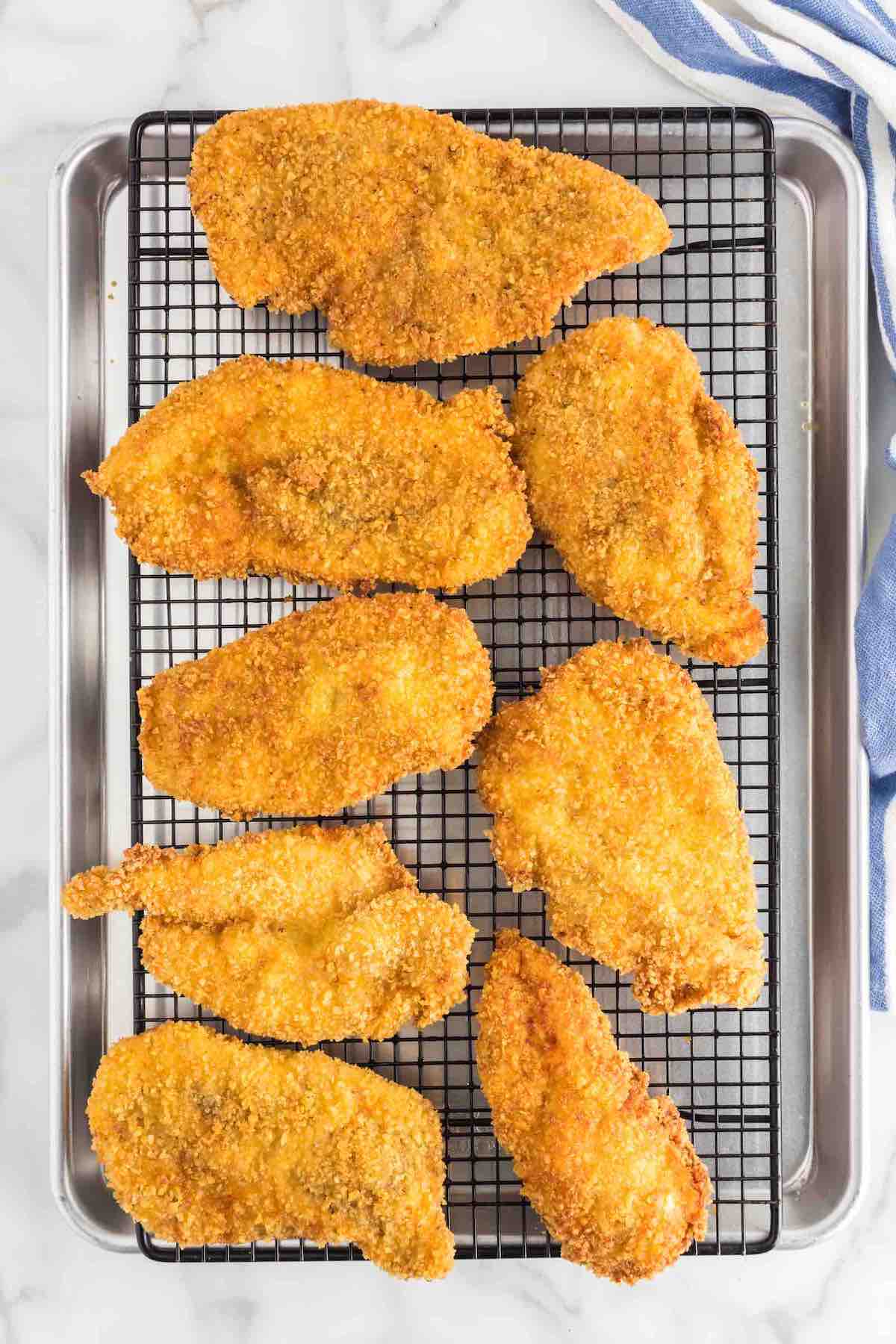 When I first started cooking for myself, chicken was one of my most cooked meats. I kept things simple by cooking it simply, either in the air fryer, cast iron, or sous vide cooker.
Once I became more familiar with it and branched out, I made some of my restaurant favorites including chicken cordon bleu and chicken cutlets.
Table of Contents
The best chicken cutlet recipe
Chicken cutlets are super crispy and crunchy on the outside yet have the most juicy and moist meat in the middle. Similar to parmigiana or chicken Milanese, It's memorable flavor provides you with a lunch or dinner experience like no other.
It's fast. With this recipe, you can put dinner together in less than 20 minutes without compromising on flavor or satisfaction.
It's relatively healthy. Like air fryer fried chicken, the Panko breadcrumbs allow you to enjoy the texture of classic fried chicken without ruining your health goals.
It's hard to mess up. Even if you're a novice at putting dinner together, you can make this recipe perfectly with just a bit of practice.
Luckily, you don't need a ton of complex ingredients to make this dish. The recipe below uses Panko breadcrumbs to give each cutlet a crispy texture, plus traditional seasonings like salt-and-pepper for flavor. However, you can also use keto bread crumbs if you are watching your carbs. Here is what you'll need:
Chicken cutlets OR chicken breasts, each sliced in half. Make sure each cutlet is not too thick so it cooks quickly.
Chicken swap
If you love fattier cuts of chicken, you can replace the chicken breast with boneless chicken thighs or legs.
Flour. The flour is the first ingredient for the crispy coating stage. Only a little of it will actually stick to the chicken but we like to use a full cup so you can fully dredge each cutlet in it.
Eggs. These are used for the crispy coating as well.
Dijon mustard. You'll mix this with the eggs during the coating step. It adds a lovely punch of flavor.
Panko breadcrumbs. This finishes the coating and gives the cutlets a crispy texture. Like the flour, not all of it will be used up.
Salt.
Pepper. Both the salt and pepper are the only other seasonings you'll use.
Oil for deep frying. Avocado or canola oil are good options. Avocado oil is particularly good since it has a high smoke point, so it won't necessarily smoke while frying your cutlets.
Fresh lemon slices and/or chopped parsley (optional).
How to cook chicken cutlets
Creating these classic chicken cutlets is quick and easy if you follow the below steps:
Step 1: Pound the chicken
To begin, pound your cutlets until they're about ½-inches thick. You can do this by hand or with a meat pounder. Set the cutlets on a cutting board or on a plate.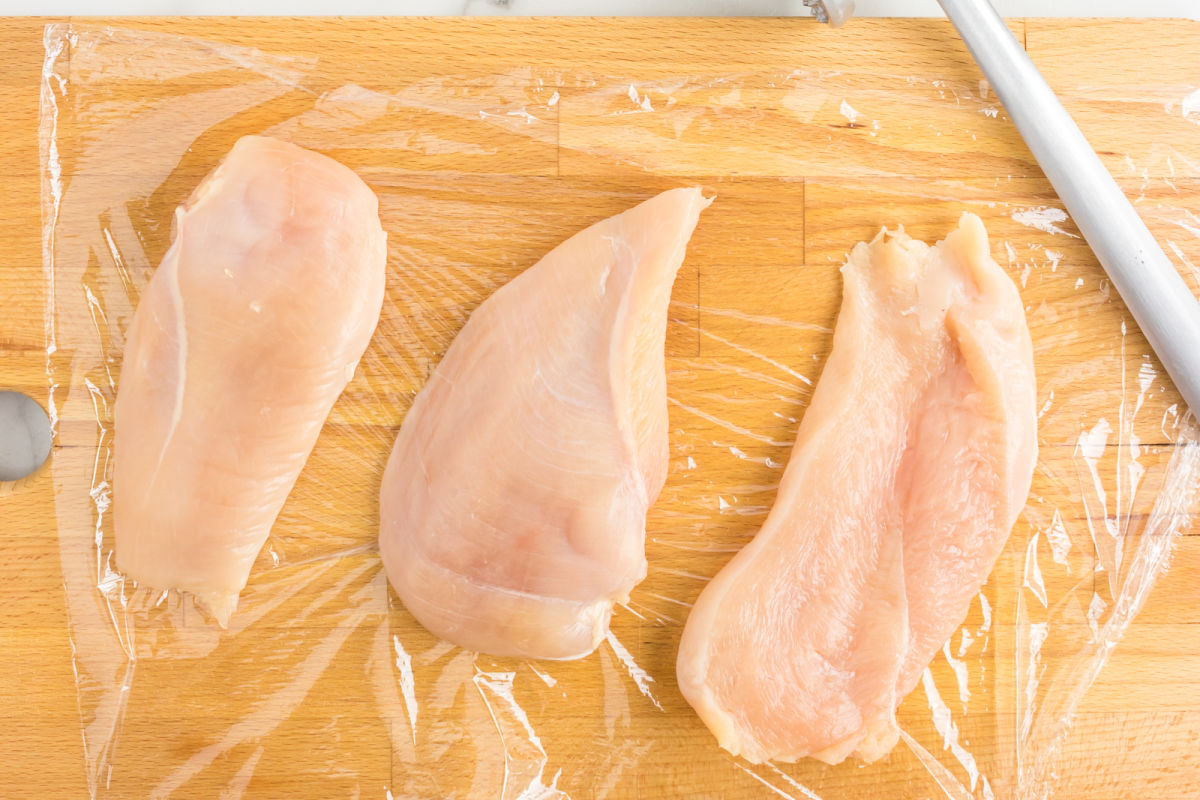 Step 2: Prepare the crispy coating and season
Next, put the flour in a small bowl that's wide enough to hold a chicken cutlet from end to end. Put the eggs and mustard in a second medium-sized bowl. Add the Panko crumbs to a third small bowl. Set them next to each other for fast and easy coating.
Use a sturdy paper towel to pat dry the chicken cutlets. Then season the chicken with salt and pepper.
Once the chicken is seasoned, dredge each piece in the flour mixture. Then put each cutlet in the egg and mustard mixture, then dunk it in the Panko. Place the coated chicken cutlet on a plate or cutting board. Repeat the process until each cutlet is coated.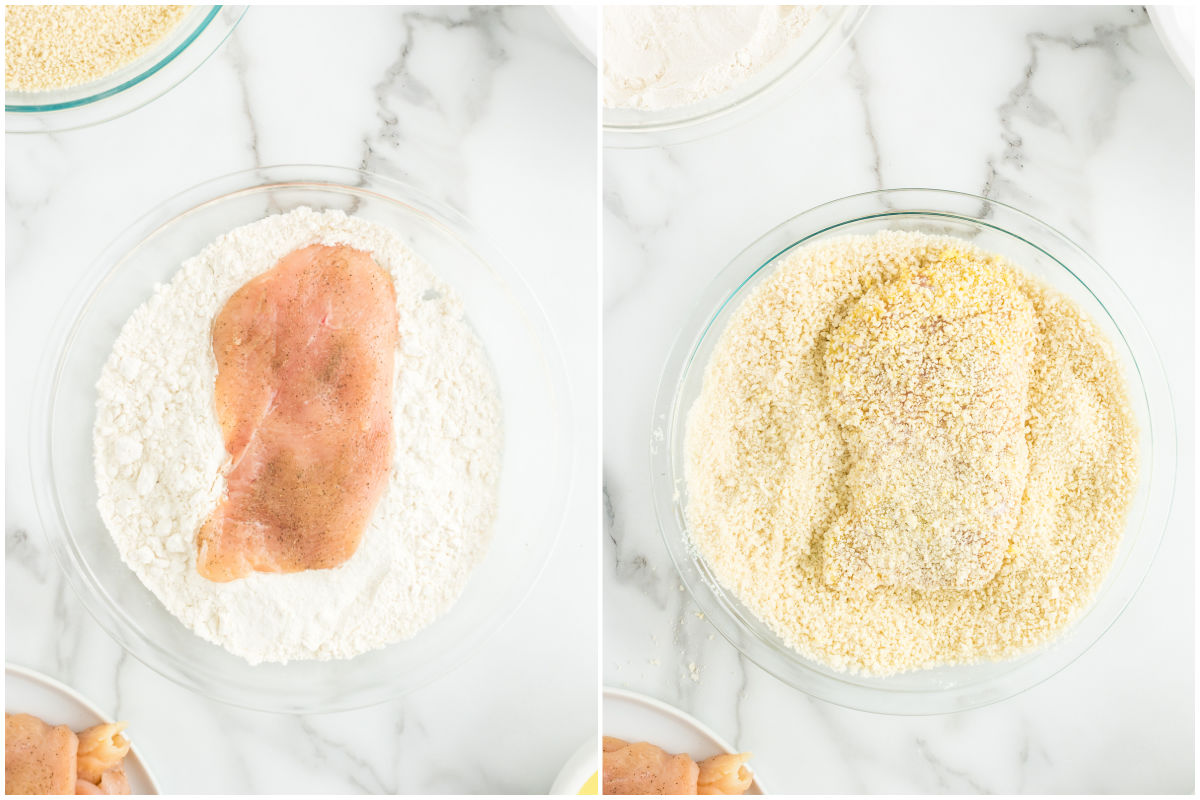 Step 4: Cook the chicken
Put two inches of oil in a large skillet or pan and turn up the heat. When the oil is shimmering, place the cutlets in the oil and fry them for 2 to 3 minutes on each side or until they are crispy golden brown. Repeat until all your cutlets are cooked.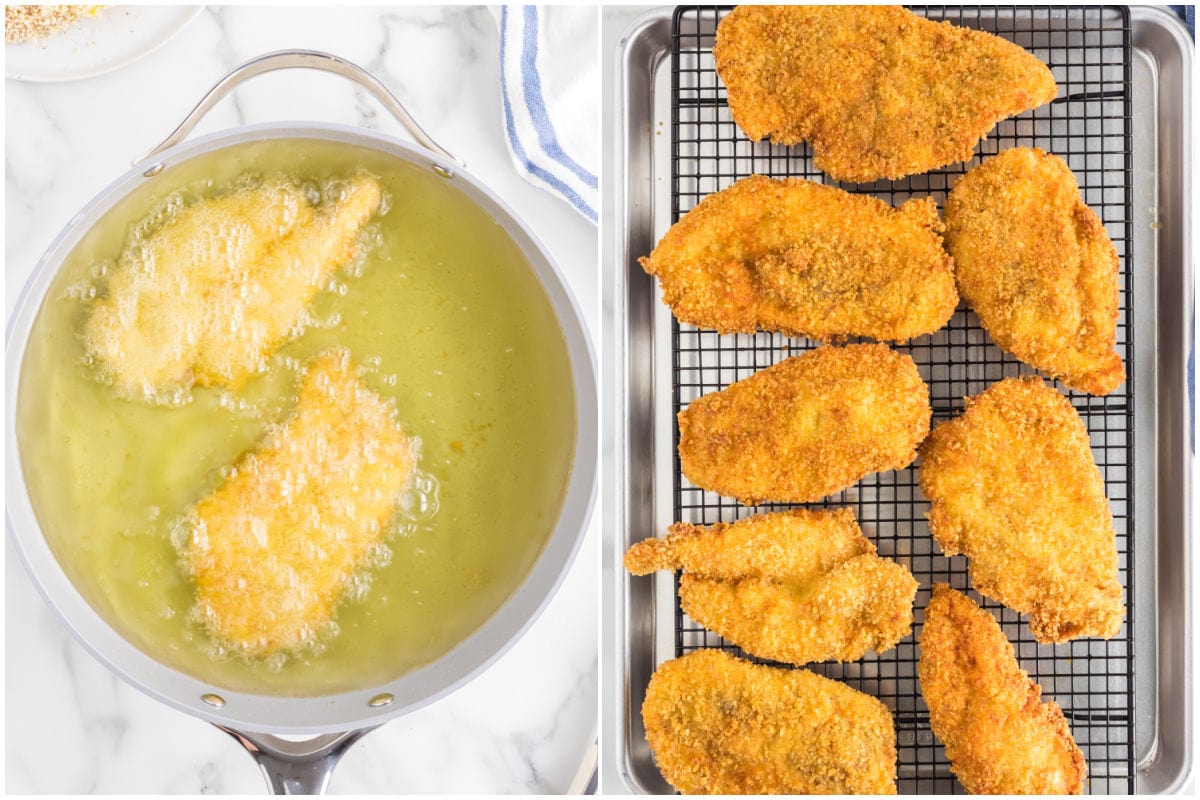 Can I air fryer this?
Yes! In fact, that's what we love to do with chicken parmesan! To make air fryer chicken cutlets, once the chicken is breaded, add them to a greased air fryer basket. Air fry at 200C/400F for 15 minutes, flipping halfway though. Once the chicken reaches an internal temperature of 165F, it's ready to enjoy.
Always preheat your skillet or pan before placing your cutlets in the oil. The oil is ready for frying when it shimmers or seems to sparkle on the surface.
Add hot sauce to the egg mixture for a kick. A few drops should suffice to give your chicken cutlets a spicy twist.
Make sure the flour coating on the cutlets covers them entirely. The flour coating is vital for ensuring the egg mixture and breadcrumbs settle evenly (this is why our chicken katsu and schnitzel always turn out perfect!).
What to serve with chicken cutlets
When it comes to side dishes, the sky's the limit. Many people like to enjoy a spinach salad or green salad with their fried chicken cutlets. A good salad ensures you'll hit all your major food groups. Plus, the freshness of good veggies and a dressing, like this keto salad dressing, will pair nicely with the flavors of the chicken.
Alternatively, you can pair your chicken with garlic bread or French fries. These carb-heavy delights taste great and easily rival any chicken meal you can get at a restaurant!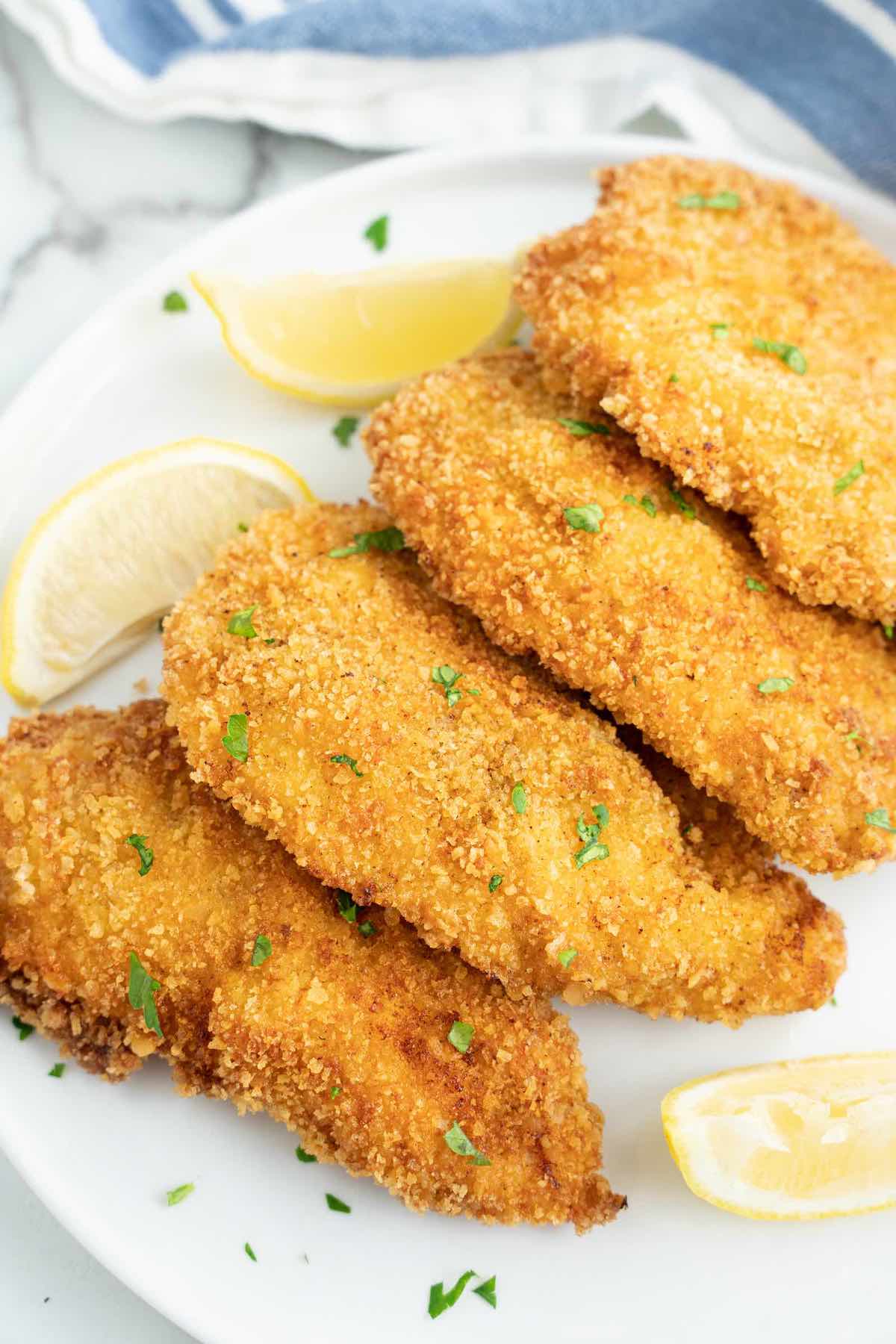 To store: Wrap the cutlets tightly in plastic wrap, then put them in the refrigerator for up to 3 to 4 days.
To freeze: Once wrapped, you can place your chicken cutlets in the freezer. Put them in a plastic bag and squeeze all the excess air out for extra safety.
To reheat: Reheat your cutlets in an oven turned to 350°F for between five and seven minutes.
Meal prep ideas
Chicken cutlets make a fabulous meal prep option because it keeps and reheats very well. Make an extra batch of chicken and a big batch of potato salad or coleslaw and enjoy them for lunch throughout the week.
More healthy chicken recipes
Check out these simple yet delicious chicken recipe ideas for more dinners or meal prep solutions:
Which oil is best for frying chicken?
Avocado oil is a great choice for frying chicken cutlets since it is a little healthier than other oil types and has a high smoke point.
How much pink can you have with chicken cutlets?
None. If you spot any pink, your chicken is not fully cooked. Make sure your cutlets are fully cooked by using a meat thermometer. Your cutlets should have an internal temperature of 165°F and be totally white on the inside.
Can you use other breadcrumbs for your chicken?
Yes! You can substitute any breadcrumbs for the Panko breadcrumbs in this recipe, such as Italian breadcrumbs, for a slightly different flavor.
Can I bake chicken cutlets in the oven?
To cut down on the added oil and calories, bake the chicken cutlets instead. Once they've been breaded, add them to a preheated oven and bake at 200C/400F for 20 minutes, flipping halfway through.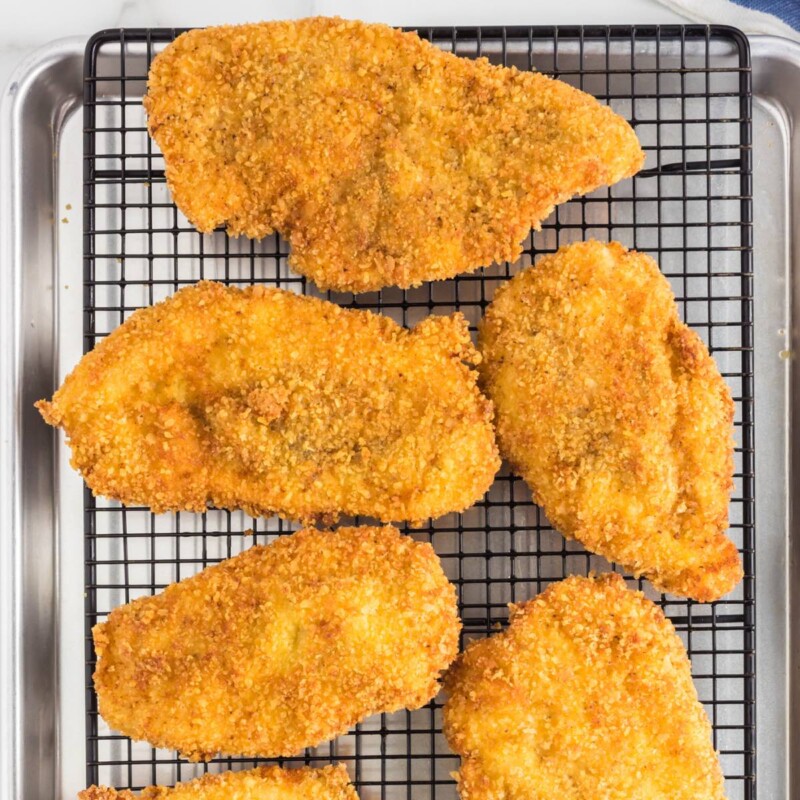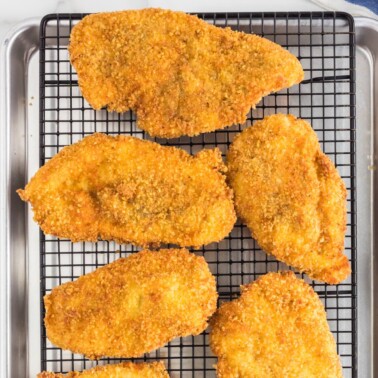 Chicken Cutlets
These chicken cutlets are crispy and crunchy on the outside yet have the juiciest and moist meat in the middle! They cook in under 20 minutes and use simple ingredients.
Ingredients
8

chicken cutlets

or four large chicken breasts

1

cup

all purpose flour

4

large

eggs

1

tablespoon

Dijon mustard

2

cups

panko bread crumbs

1

teaspoon

salt

1/2

teaspoon

pepper
Instructions
Pound the chicken until 1⁄2-inch in thickness.

Add the flour to a bowl, eggs, and mustard in a second bowl, and the panko in a third bowl.

Pat dry the chicken then season the chicken with salt and pepper. Dredge the chicken in the flour mixture, followed by the eggs, then the panko.

Add 2 inches of oil to a large pot or skillet. Once hot, add the chicken cutlets and fry for 2-3 minutes on each side, or until crispy golden brown. Repeat the process until all the chicken is cooked.
Notes
TO STORE: Wrap the cutlets tightly in plastic wrap, then put them in the refrigerator for up to 3 to 4 days. TO FREEZE: Once wrapped, you can place your chicken cutlets in the freezer. Put them in a plastic bag and squeeze all the excess air out for extra safety. TO REHEAT: Reheat your cutlets in an oven turned to 350°F for between five and seven minutes.
Nutrition
Serving:
1
chicken cutlet
Calories:
288
kcal
Carbohydrates:
12
g
Protein:
41
g
Fat:
7
g
Sodium:
544
mg
Potassium:
685
mg
Fiber:
1
g
Vitamin A:
188
IU
Vitamin C:
2
mg
Calcium:
27
mg
Iron:
2
mg
NET CARBS:
11
g
Disclosure: This post may contain affiliate links. I may earn a small commission for my endorsement, recommendation, testimonial, and/or link to any products or services from this website.