This easy sheet pan chicken recipe bakes deliciously seasoned chicken breasts and colorful veggies on the same pan. Ready to eat in 30 minutes, it's perfect for quick dinners and weekly meal prep.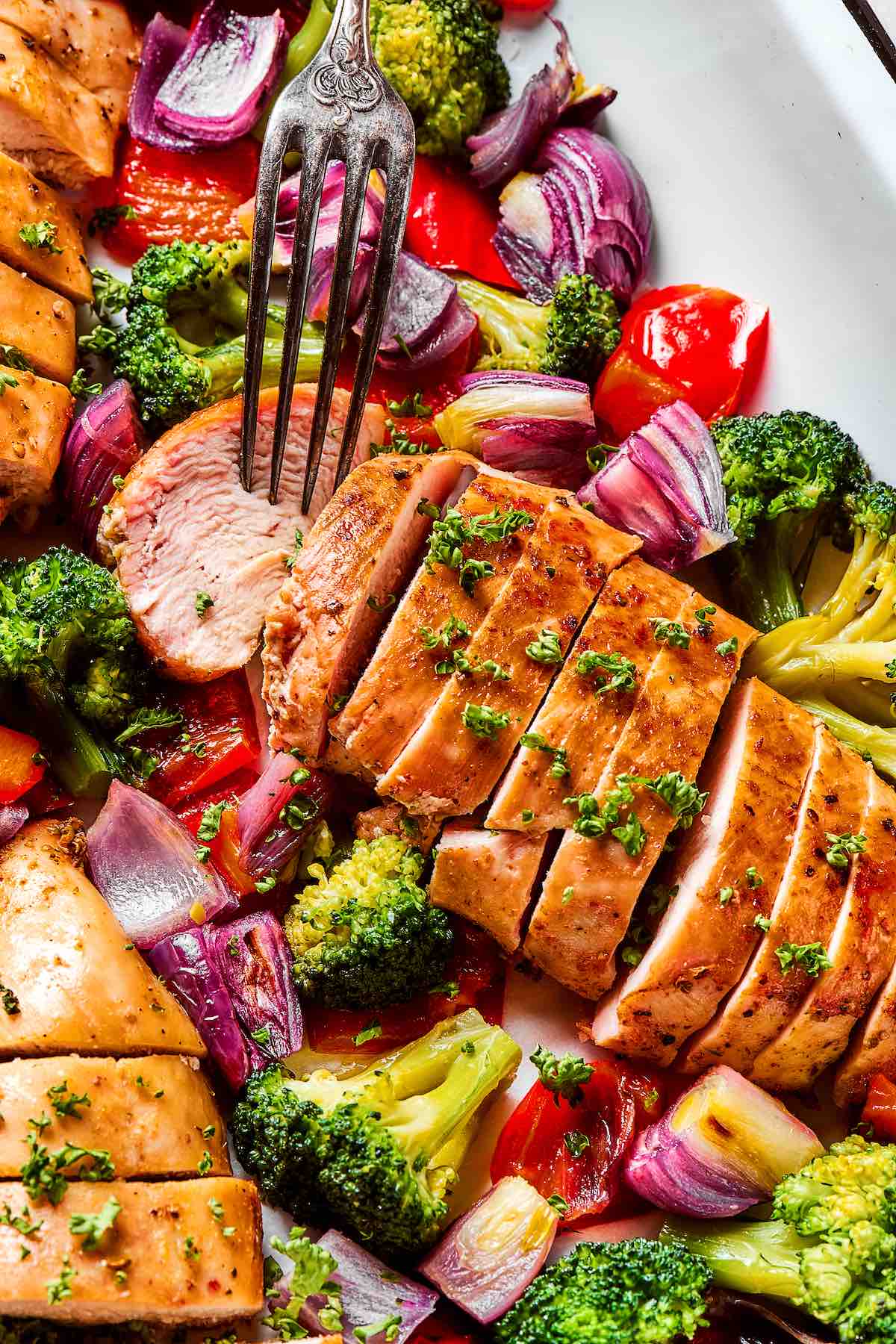 Looking for a quick and easy dinner tonight? This sheet pan chicken and veggies recipe is one of the best!
Juicy chicken breasts and a medley of vegetables are roasted simultaneously on the same pan in just 30 minutes. It's one of my favorite chicken recipes because it gives you flavor-packed results, and cleanup is a breeze!
Table of Contents
30 Minute sheet pan chicken recipe
You can turn to this one-pan dinner at any time of year because the ingredients are so flexible. Change the vegetables with what's in season or use what's already in your fridge! You can easily mix and match the chicken, veggies, and seasonings to make a meal that everyone will love.
It's perfectly cooked chicken and veggies. Despite the minimal effort needed to roast chicken breasts and vegetables on one pan, the recipe always results in golden-seared, tender chicken and lightly charred roasted veggies.
It is fun to customize. Follow the recipe to a tee or mix it up! You can make this one-pan dinner with all of your favorite vegetables, different seasonings, and other cuts of chicken.
This is perfect for meal prep and leftovers. This recipe makes enough to serve the entire family or to last you throughout the week.
Above all, you'll love the convenience of cooking a high-protein and delicious dinner on a single sheet pan in 30 minutes. And because there's hardly any work involved, you can focus on preparing the best side dishes, like cauliflower mashed potatoes and garlic bread, while everything else roasts in the oven.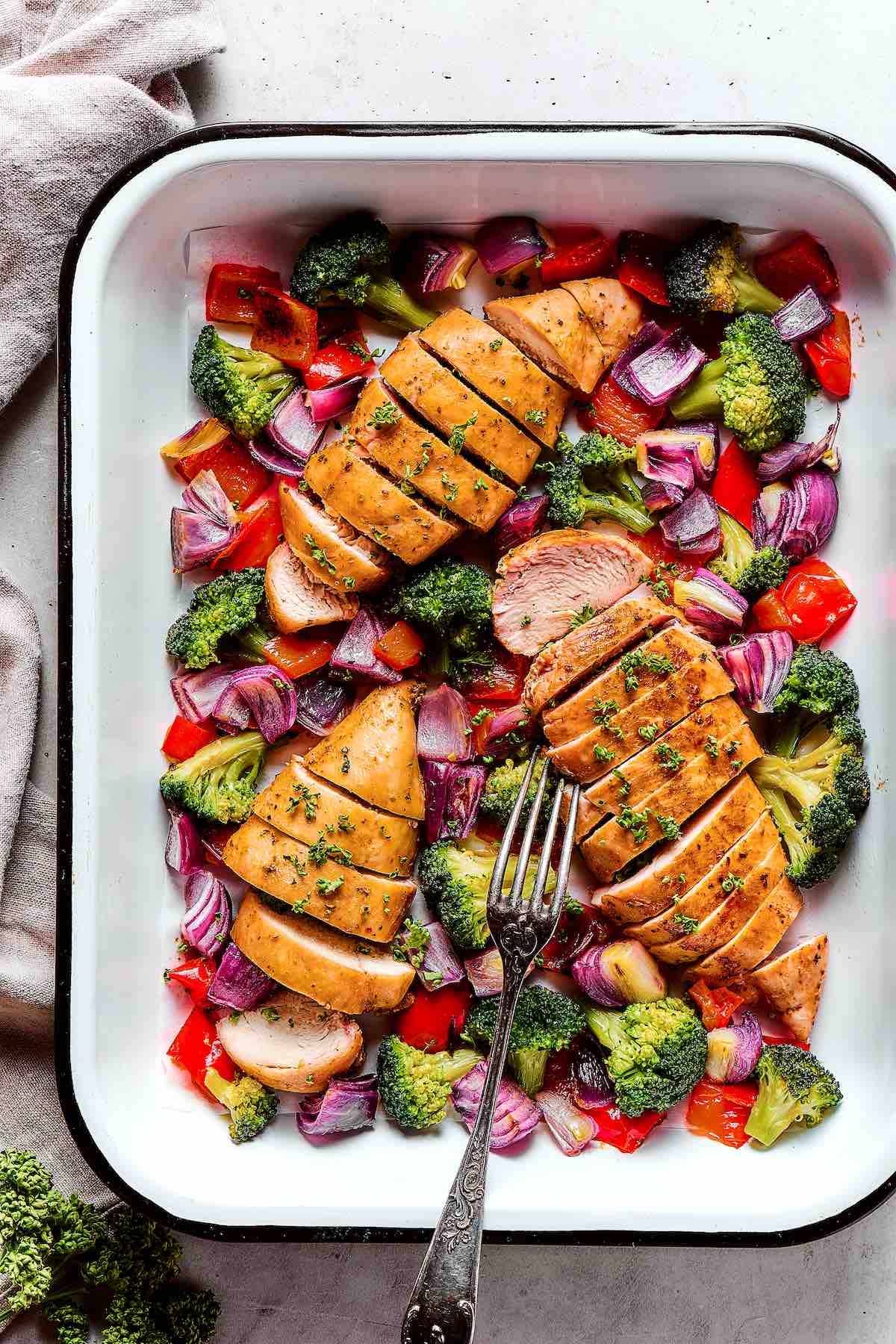 You only need a short list of ingredients to make this family-friendly dinner, some of which may already be in your pantry. This is what you need:
Chicken breasts. Use boneless and skinless chicken breasts so they roast quickly in the oven. If they're too thick, butterfly the breasts or pound them into smaller 1-inch thick chicken cutlets.
Broccoli florets. They're delicious and add a lovely pop of green to the dish.
Red bell pepper. Or use any color of bell pepper you like.
Red onion. I like the mild sweetness of red onions, but they can easily be swapped for any type of onion you already have at home. Shallots and scallions work well, too.
Smoked paprika. To give the chicken a subtle smoky flavor. Regular paprika can be used instead.
Salt and pepper. For flavor.
Garlic powder. This gives the chicken a deliciously savory and garlicky flavor.
Dried rosemary. A classic chicken seasoning.
Olive oil. It's drizzled over the vegetables and chicken to help them tenderize in the oven.
How to make sheet pan chicken and veggies
The hardest part of this recipe is preparing and seasoning the chicken and vegetables. From there, everything is loaded onto a sheet pan, baked, and that's it! Here are the instructions:
Step 1 – Prepare the vegetables for roasting
Add the broccoli, red bell pepper, and red onion to a bowl. Drizzle the olive oil over top and toss to combine. Transfer the vegetables to a large sheet pan.
Step 2 – Season the chicken breasts
Mix the smoked paprika, garlic powder, dried rosemary, salt, and black pepper in a small bowl. Rub the seasoning blend over both sides of the chicken breasts before coating them in a light layer of olive oil.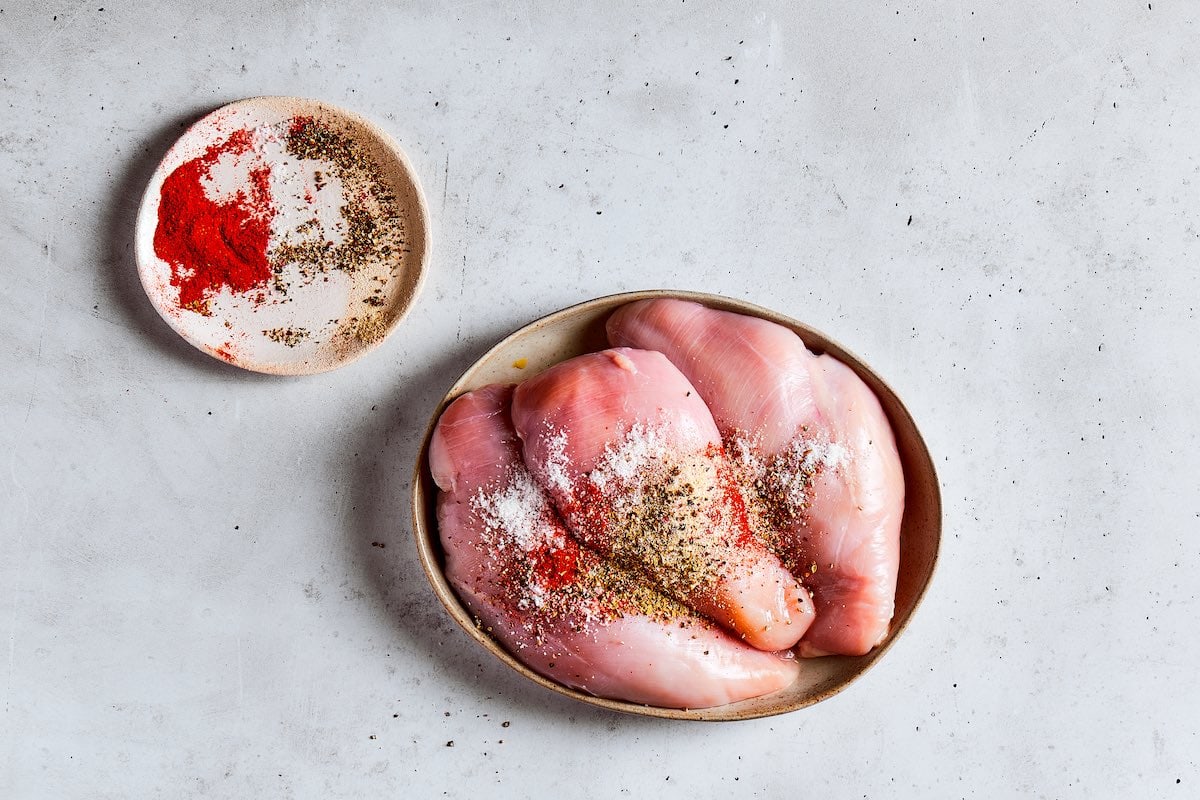 Step 3 – Roast the chicken and vegetables
Tuck the chicken breasts onto the sheet pan with the veggies. Bake until the chicken is cooked through and the vegetables are slightly charred and tender.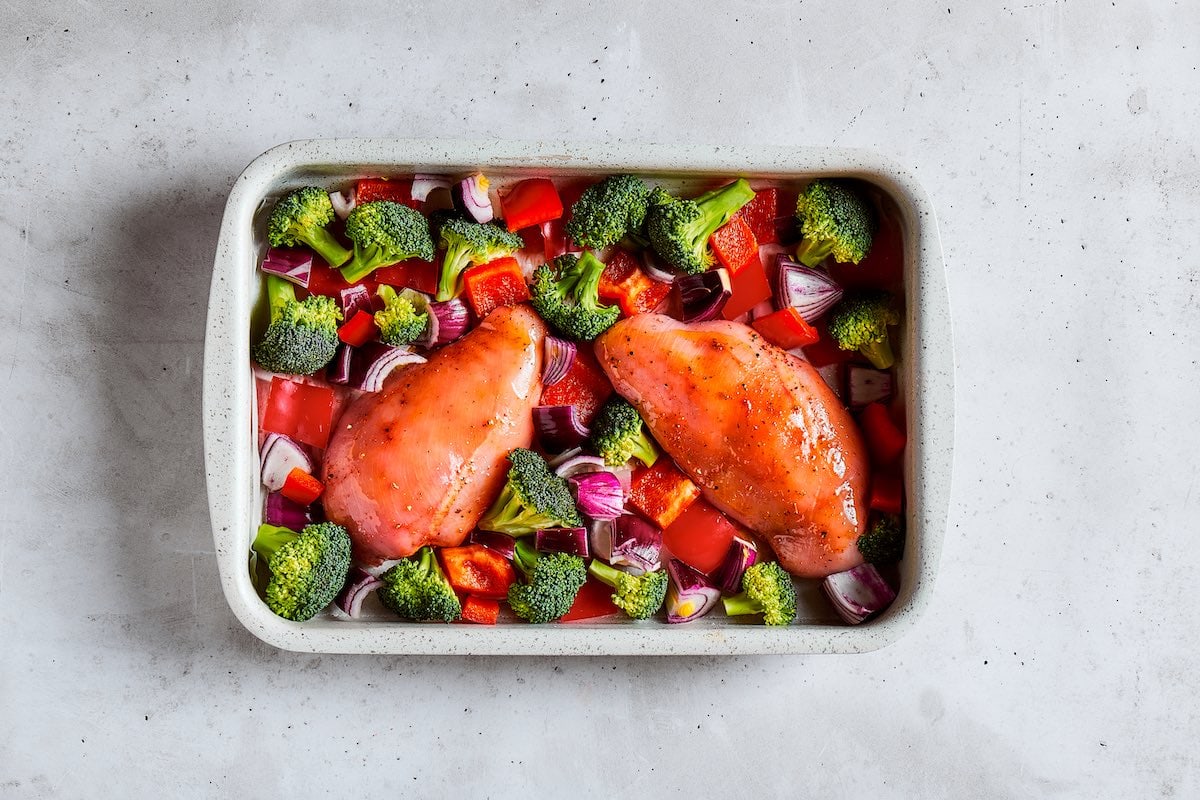 Step 4 – Serve
Garnish the roasted chicken and vegetables with fresh herbs, then enjoy!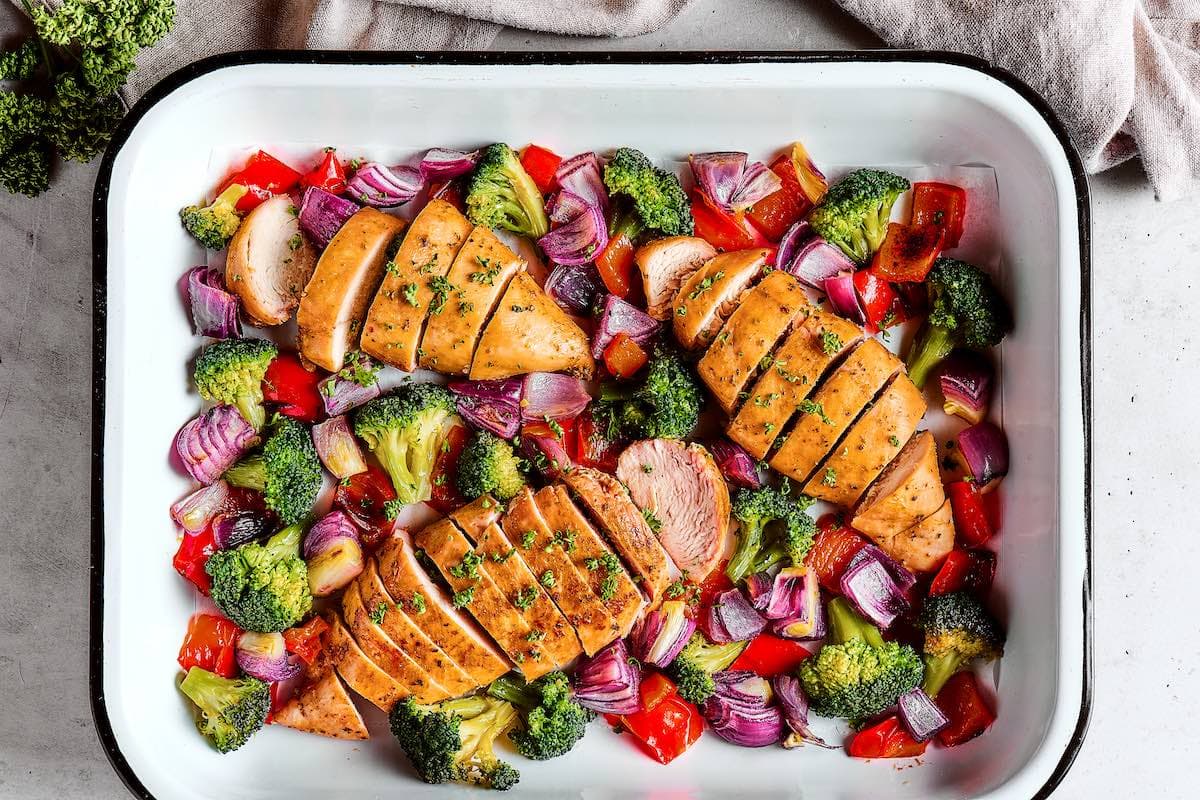 Serving suggestions
Bulk it up by serving the one-pan chicken and vegetables with starchy sides, like basmati rice, wild rice, quinoa, roasted potatoes, or baked sweet potatoes. If you want to serve this with a more decadent side, try my broccoli rice casserole, scalloped potatoes, or creamed spinach instead.
Tips and tricks
Cut the veggies into even, bite-sized pieces. Uniform sizes mean all of the vegetables will cook evenly and at the same time.
Pat the chicken dry. Dab the chicken breasts with a paper towel before adding the seasonings. This will help the spices stick and ensure that the exterior becomes golden brown and crispy.
Don't overcrowd the sheet pan. Crowding the chicken and vegetables on the sheet pan will cause a steaming effect and prevent them from browning properly. Use two or three sheet pans if you're making extras or if your pans are small.
Make sure the chicken is fully cooked. When the time is up, cut into the thickest end of one of the chicken breasts to check that the juices run clear and that the meat is no longer pink. However, a meat thermometer is the most accurate way to tell if chicken breasts are done cooking. The breasts will have an internal temperature of 165°F (74°C) when they're safe to eat.
Variations
The simplicity of roasting chicken and vegetables on a sheet pan allows you to customize it in more ways than you can imagine:
Storage instructions
To store: Let leftover baked chicken and veggies cool, then store them in an airtight container in the refrigerator for 3 to 4 days.
To freeze: I don't recommend freezing the cooked vegetables, but you can freeze the chicken breasts in a freezer-safe bag or container for 3 to 4 months. Defrost them in the fridge before reheating.
To reheat: Gently reheat the chicken and vegetables in a 350°F oven or air fryer until warmed through.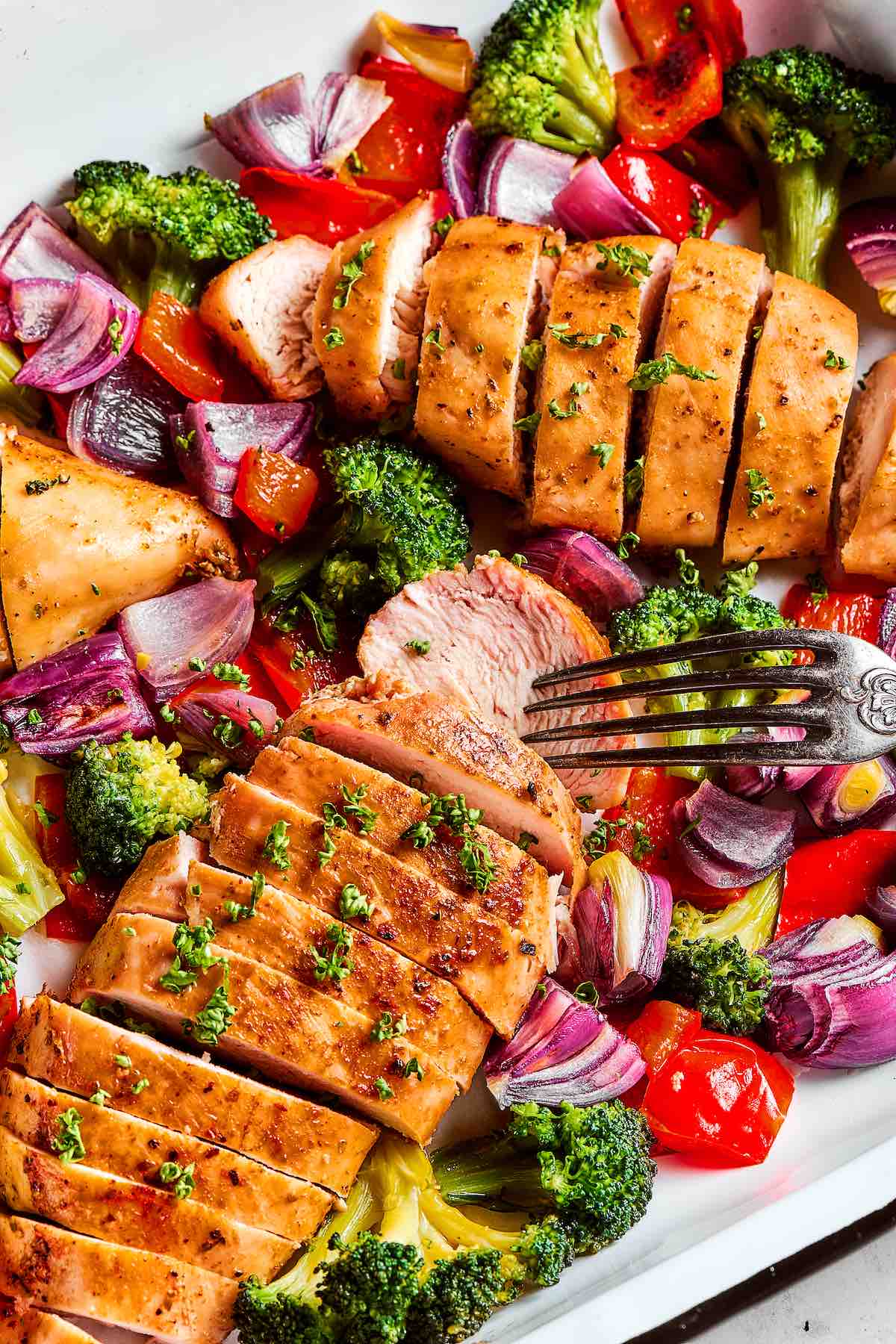 Frequently asked questions
Should you line the sheet pan with parchment paper?
Roasting chicken and veggies on a parchment-lined sheet pan makes cleanup a breeze. However, cooking everything directly on the sheet pan will result in better browning.
How do you roast chicken breasts so they don't dry out?
First, make sure the chicken breasts are all the same size and thickness. If they're uneven, pound the thicker breasts with a meat mallet until they're as thin as the others. This way, all breasts will take the same amount of time to cook without drying out.

Also, rubbing the chicken breasts with oil and flipping them halfway through cooking helps achieve a nicely seared crust on the surface and tender and juicy meat in the middle. See more tips in my baked chicken breast recipe.
Can I marinate the chicken before roasting it on a sheet pan?
Yes, you can marinate the chicken before cooking it on a sheet pan. This will add flavor and help tenderize the meat. However, opt for thicker vegetables (like potatoes and carrots) to cook along with them, as the marinade will seep into them and crisp them up nicely.
Can I use frozen vegetables?
Yes, you can use frozen vegetables in this sheet pan recipe. However, thaw them before adding them to the pan, as frozen vegetables contain a lot of water, which can prevent them from getting crispy and caramelized.
More easy one-pan chicken dinners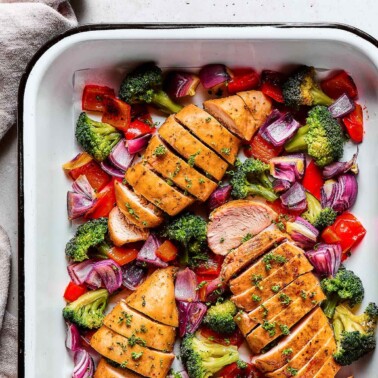 Sheet Pan Chicken And Veggies
This easy sheet pan chicken recipe bakes deliciously seasoned chicken breasts and colorful veggies on the same pan. Ready to eat in 30 minutes, it's perfect for quick dinners and weekly meal prep.
Ingredients
4

chicken breasts

boneless and skinless

1

head

broccoli

chopped

1

large

red bell pepper

sliced

1/2

large

red onion

sliced

1

teaspoon

smoked paprika

1

teaspoon

salt

1/2

teaspoon

black pepper

1

teaspoon

garlic powder

1

teaspoon

dried rosemary

3

tablespoons

olive oil

divided
Instructions
Preheat the oven to 205C/425°F. Lightly grease a large baking sheet or sheet pan.

In a small bowl, mix together the smoked paprika, salt, black pepper, garlic powder, and dried rosemary.

In a large bowl, toss together the broccoli florets, bell pepper, and red onion with two tablespoons of olive oil.

Spread the vegetables out on the greased sheet pan.

Season the chicken breasts with the spice mixture on both sides. In the same large bowl used for the vegetables, toss the chicken breasts with one tablespoon of olive oil until evenly coated.

Place the chicken breasts on the sheet pan with the veggies.

Roast in the oven for 20-25 minutes, or until the chicken is cooked through and the vegetables are tender and slightly charred.
Nutrition
Serving:
1
serving
Calories:
294
kcal
Carbohydrates:
15
g
Protein:
29
g
Fat:
14
g
Sodium:
766
mg
Potassium:
1029
mg
Fiber:
5
g
Vitamin A:
2513
IU
Vitamin C:
190
mg
Calcium:
87
mg
Iron:
2
mg
NET CARBS:
10
g
Disclosure: This post may contain affiliate links. I may earn a small commission for my endorsement, recommendation, testimonial, and/or link to any products or services from this website.