Healthy Super foods Salad Wraps (Vegan, Gluten Free)
Take your sandwiches and wraps up a notch with this fully loaded healthy super foods salad wraps! Packed with ancient grains, fresh vegetables and savory herbs, these low calorie, high flavor wraps are the perfect vegan and gluten-free lunch or dinner!


I remember when I first had a wrap filled with whole grains and non-traditional ingredients, and I've never looked back.
I'd always been one to stick to basic salad ingredients in my sandwiches and wraps but since then, I've become obsessed with loading them up with less traditional additions, and they have been a lunchbox AND dinner time game changer!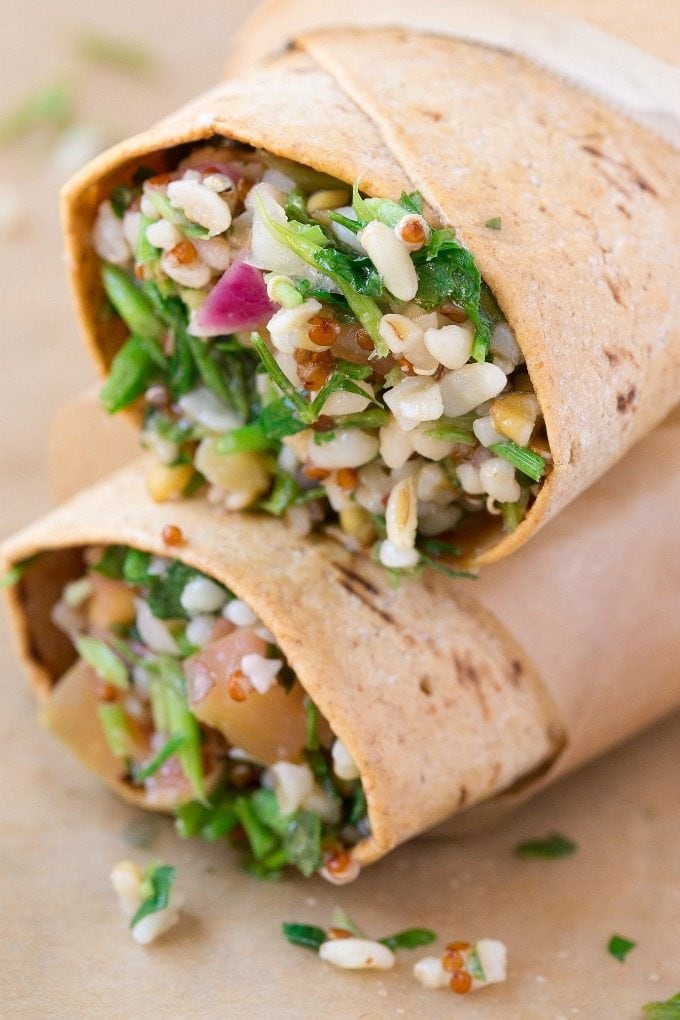 These super foods wraps have become a staple in my lunchtime routine and were a lifesaver during my days when I worked an office job. My lunchbox became delicious, and I was actually satisfied- The combination of filling, tasty ingredients really helped me power through the afternoon!
The best part? Having my colleagues follow suit and start packing their own sandwiches and wraps now AND telling me that their kid's lunches have now become more fun and healthy too!
Schoolyard sandwich envy, anyone?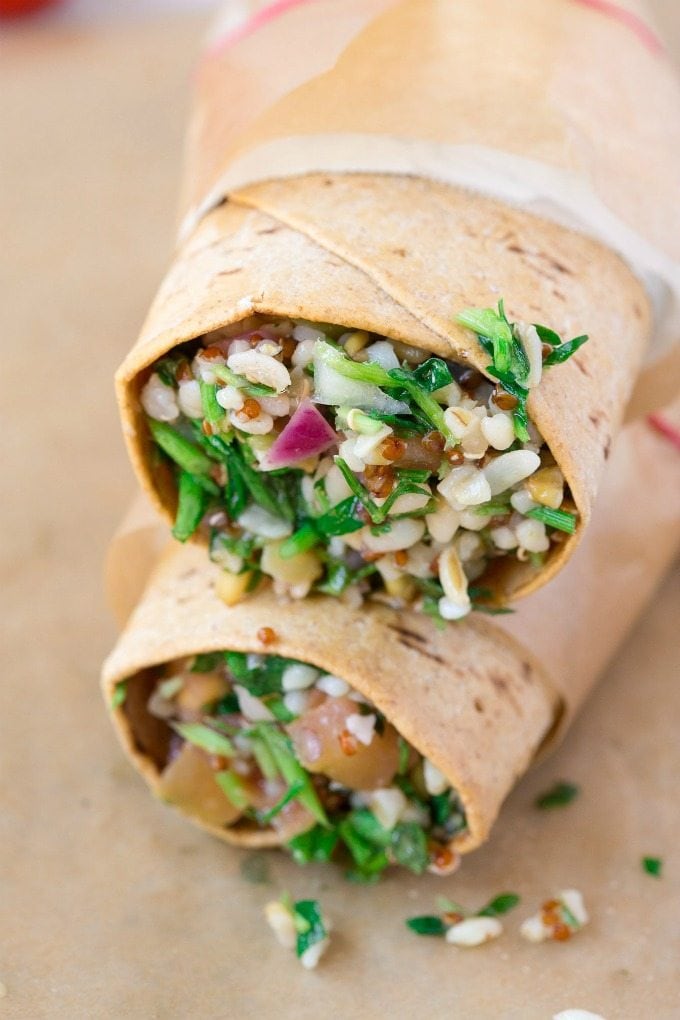 These wraps may look super fancy and time-consuming, but really, it comes up in a jiffy, thanks to making the salad in advance! The salad is so versatile and can be kept for up to four days. You simply need to fill the wraps the day of eating (for optimum freshness) OR freeze them individually for a quick grab and go lunches!
The salad is loaded with a variety of flavors and textures and of course, a minimum of four super foods! Superfoods differ person to person, and we all have different notions of what they entail. For me, they are ancient grains, whole grain carbohydrates and seeds and nuts. They keep me satisfied, well-fed and of course, all taste delicious!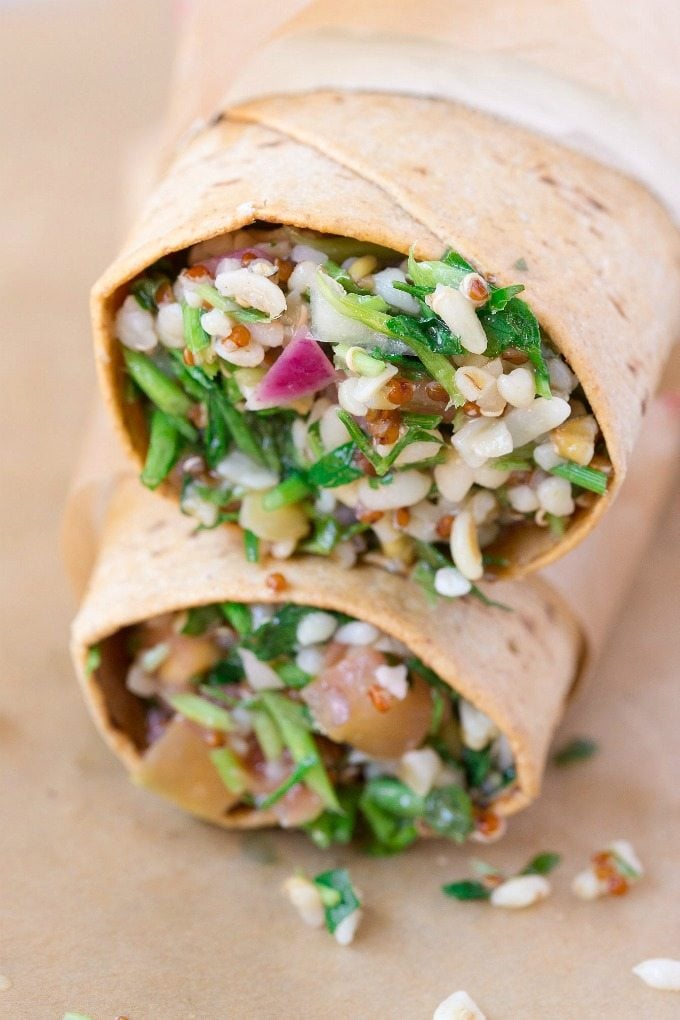 I opted to use four of my favorites, but feel free to switch them out and swap them for what you have on hand! What super foods are included in the salad mixture?
Brown Rice
Red Quinoa
Chia Seeds
Farro
You'd assume that these four ingredients would take extra time to whip up, but quite the opposite! In the time it would take to slice up a bland lettuce, I had a bowl of fluffy quinoa and brown rice! To do this, I used this instant brown rice and quinoa blend! I used my leftover cold farro (I make a big batch to eat with dinner as it's my favorite grain right now!) and ended stirring in some chia seeds.
Farro might sound quite foreign to some, but has a delicious, nutty flavor, and is chewy in texture! If you can't find some at your local store, use some couscous or pearled barley!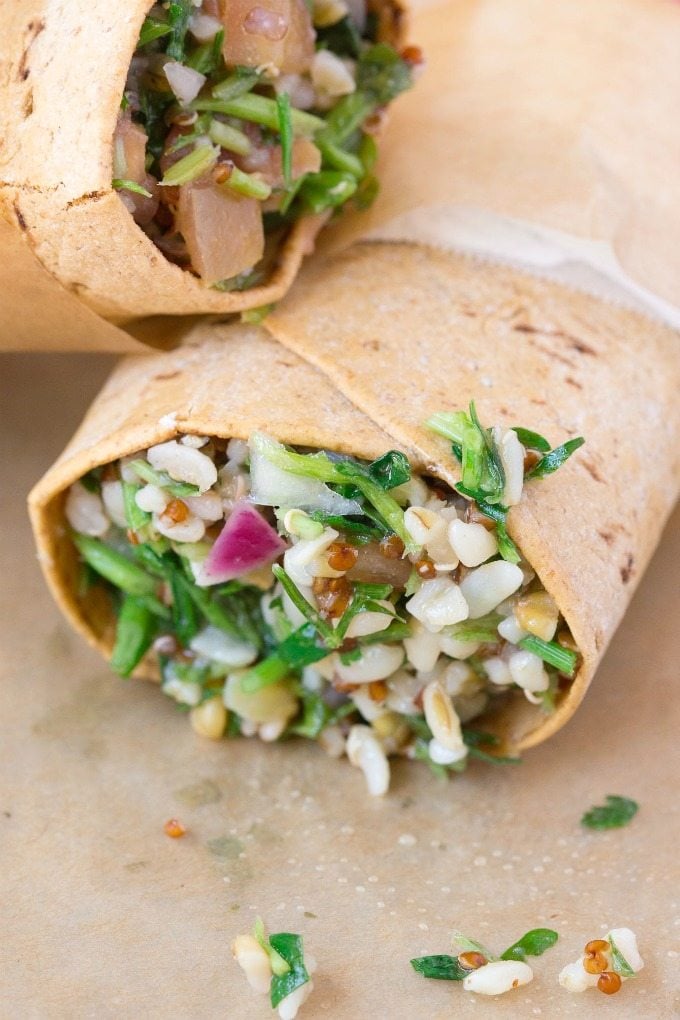 Because these wraps are CHOCK full of salad ingredients and what I like to refer to as 'fully loaded', I obviously opted to use my favorite Flatout flatbread and wraps. Anyone who regularly uses Flatout flatbread knows that they are in their own league when it comes to sandwiches and wraps. They are sturdy, taste delicious and do not break apart when you go overboard with the fillings.
They are super versatile too, as evidenced by being used as dippers in this chocolate peanut butter breakfast cheesecake, made into no bake bites and of course, the classic pita chip.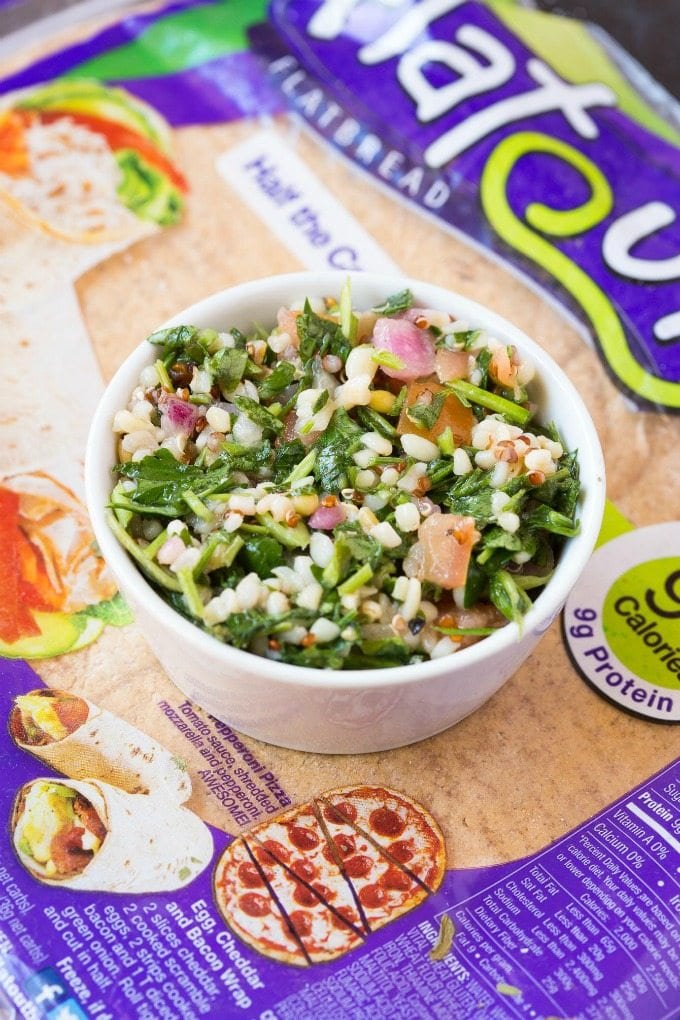 As part of my collaboration with Flatout, I've also tried to make my recipes weight watchers friendly too! For those who aren't too familiar with the Weight Watchers program, they aim to focus on healthy, filling foods, without deprivation! Nothing is banned from the diet, and you are encouraged to fill up on 'free' or low point foods (fresh fruit, vegetables, lean proteins), and balancing it out with treats regularly.
To make these wraps super weight watchers friendly, I added extra fresh veggies to the salad base, including fresh cherry tomatoes, diced cucumbers, fresh parsley and some red onion. If you can tolerate legumes, this would be great with some chickpeas, kidney beans or white navy beans!
For the dressing, instead of the fat and sugar laden store bought ones, I used a simple vinegar, lemon juice, olive oil and a touch of gluten-free soy sauce. Like the salad, the dressing can be made in advance and drizzled as needed!
The salad makes much more than is needed, so keep leftovers refrigerated and enjoy it as a hearty and healthy side dish with your dinner…or even a snack!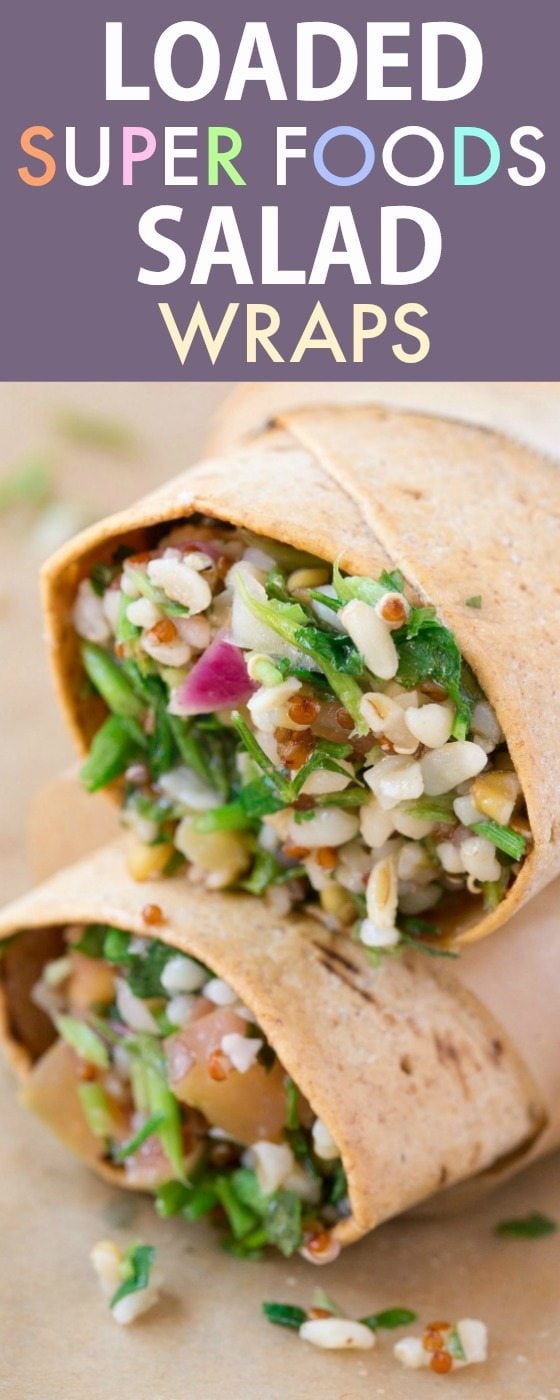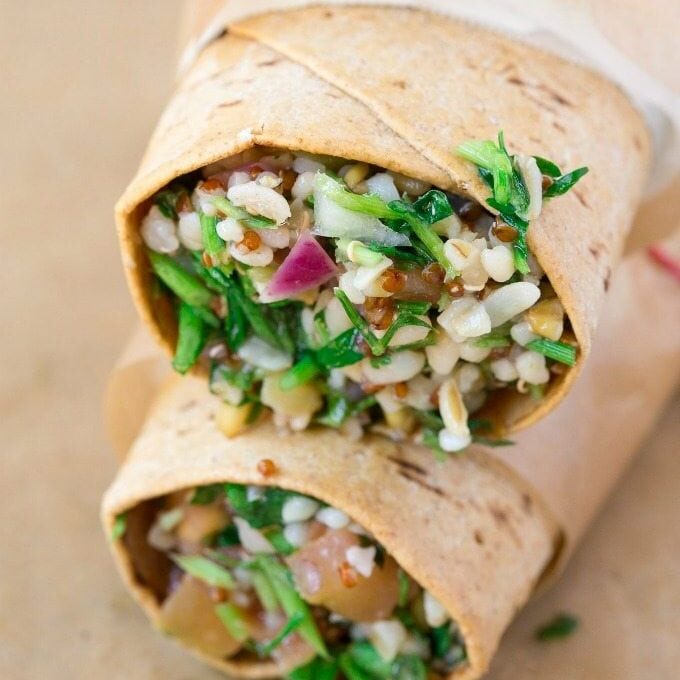 Healthy Super Foods Salad Wraps
Take your sandwiches and wraps up a notch with this fully loaded healthy super foods salad wraps! Packed with ancient grains, fresh vegetables and savory herbs, these low calorie, high flavor wraps are the perfect vegan and gluten-free lunch or dinner!
Print
Rate
Ingredients
4

Flatout Wraps of choice

I used the Flatout Light

1

cup

pre-cooked brown rice and quinoa mix

1/2

cup

farro

can sub for couscous or barley

2

tablespoon

chia seeds

1

cup

cherry tomatoes

chopped

1

medium

cucumber

chopped

1/2

cup

parsley

chopped

1/2

medium

red onion

chopped
Instructions
In a large mixing bowl, add your salad ingredients and mix very well.

In a small bowl, add your salad dressing ingredients and mix until fully incorporated. Adjust salt according to taste.

Pour dressing over the salad mixture and mix very well until combined. Divide the salad mixture amongst the four Flatout wraps.
Notes
Wraps should be made fresh, but the salad will keep with dressing mixed in for up to 5 days.
Wraps are freezer friendly and can be frozen individually- Thaw the night before.
Key Recipe Equipment and Ingredients
Nutrition
Serving:
1
wrap
|
Calories:
179
kcal
|
Carbohydrates:
27
g
|
Protein:
5
g
|
Fat:
6
g
|
Sodium:
853
mg
|
Potassium:
326
mg
|
Fiber:
7
g
|
Vitamin A:
850
IU
|
Vitamin C:
23
mg
|
Calcium:
70
mg
|
Iron:
2
mg
|
NET CARBS:
20
g
More delicious Flatout Recipes? Gotcha Covered!
Skinny Sweet Chilli Egg Salad Wraps
Cookie Dough dip with baked pita chips
Blueberry Breakfast Cheesecake
Enjoy your delicious superfood sandwich with one of these sweet and healthy snacks!
This post is sponsored by Flatout Bread. Cheers, hugs, and handshakes for supporting companies and brands which allow me to do what I'm passionate about every day and make The Big Man's World possible.
The Big Man's World is a participant in the Amazon Services LLC Associates Program, an affiliate advertising program. This means that if you click and make a purchase, TBMW receives a small commission, at no cost to you. Cheers, hugs, and handshakes for supporting TBMW!