Copycat Starbucks Spinach Feta Wrap (Freezer Friendly!)
This copycat recipe of the Starbucks Spinach Feta Wrap is simple to make, using less than 5 ingredients! Low calorie, lower carb and packed with flavor, these homemade egg white wraps are a breakfast game changer!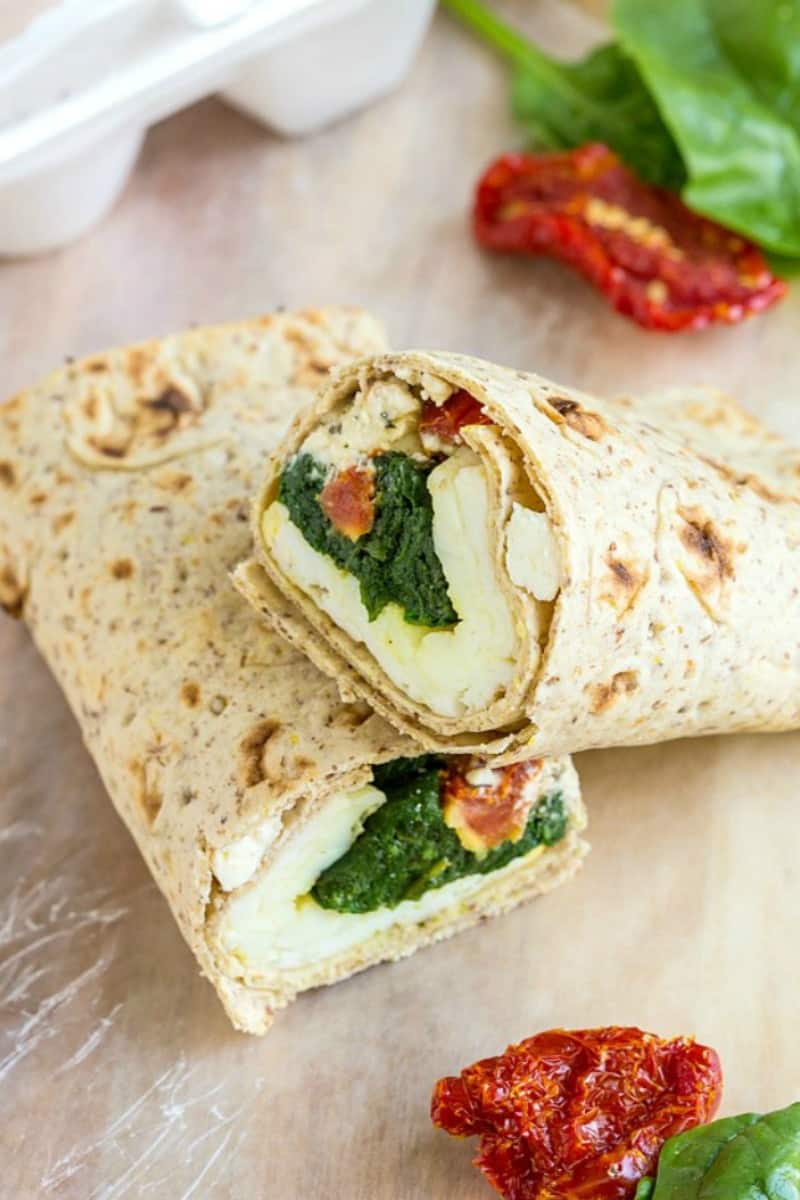 Starbucks Spinach Feta Wrap Recipe
I love having healthy breakfasts prepped in advance. If I'm not having pancakes or breakfast cookies, I am enjoying a homemade spinach and feta wrap.
I was inspired to make a copycat version of the Starbucks spinach, feta and egg white wrap after having them for two weeks straight during college.
See, they had a Starbucks on campus and being a lazy college student, I'd sleep in until the last second and swing by before my first class.
I soon realized just how easy it would be to make my own Starbucks feta wraps, which turned out to be not only cheaper and easy to do, but so much more delicious- You know ALL the ingredients in them.
From buying Starbucks spinach wraps every morning to prepping 14 in one go, my freezer was stocked and breakfast was ready EVERY morning.
How to make Copycat Starbucks Spinach and Feta Wraps
The Ingredients
Wholewheat wrap– I used gluten-free wraps, to keep this recipe gluten-free, but you can use any wrap of choice. The larger the wraps, the easier to hold more fillings!
Egg white omelette– You can use carton egg whites or fresh ones, and use the yolks for something else! I only add salt and pepper to it, but you can jazz it up with other spices.
Spinach– Fresh or frozen will work, as both will be cooked down until wilted.
Feta Cheese- Crumbled feta is best, as it is evenly distributed amongst the wrap, but you can crumble a block of feta too.
Sun dried tomatoes– Traditional Starbucks feta wraps use a spread, but using chopped sun dried tomato adds extra flavor to it. They also have no added sugar or fat.
Spices of choice– Salt, pepper, red pepper flakes etc.
The Instructions
Prepare your egg white omelette- Depending on how many wraps you want to make, whisk together your egg whites with salt and pepper. Heat a large, non-stick pan with cooking spray on medium heat. Once hot, pour your omelette mixture into it, and cook gently, before folding in half, and cooking the other side. Remove from the pan.
Wilt your spinach- Once the egg whites are cooked, place your fresh or thawed (from frozen) spinach into the pan and cook for 2-3 minutes, until wilted. Remove from the pan.
Prepare all the ingredients- Slice up your omelette. Drain your sun dried tomatoes and crumble your feta.
Assemble and fold- Place the sheets of parchment paper onto a kitchen surface. Place a wrap on each one. Place the ingredients on it in this order, reserving an inch from each side to fold- egg white omelette, spinach, feta, sun dried tomatoes and finally the spices. Fold up the wrap, before folding it up in the parchment paper until completely sealed.
Enjoy or freeze- To enjoy straight away, place wrap in a sandwich press or grill, until warm. Cut in half and enjoy. Place remaining wraps in the freezer, in a ziplock bag.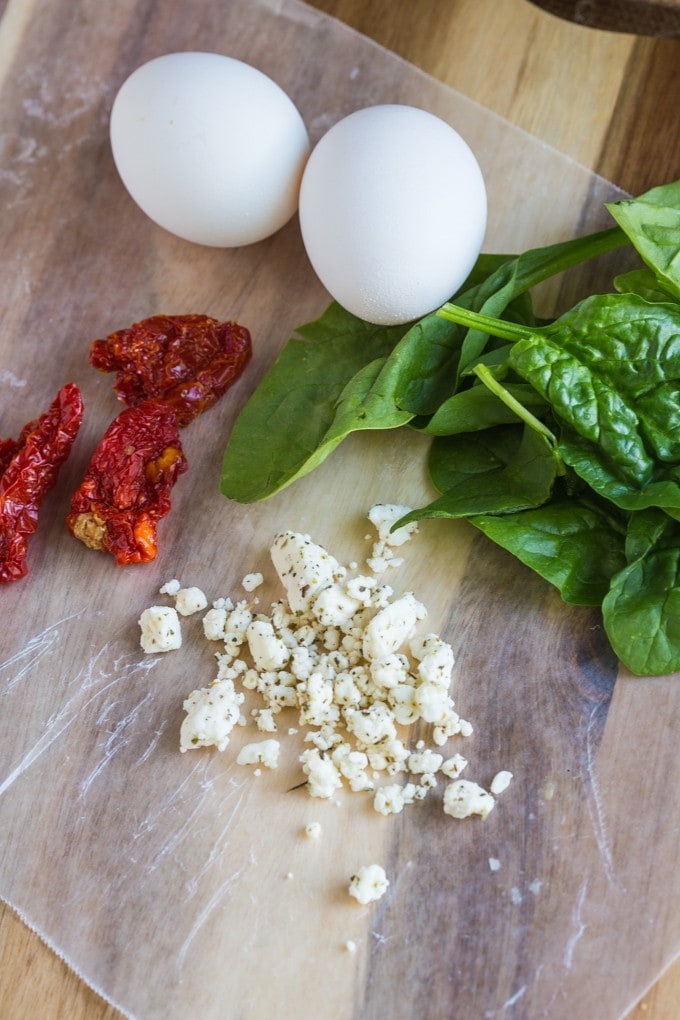 Starbucks Spinach feta wrap calories VS Homemade version
My homemade wraps are much more nutritious than the original Starbucks version.
There are 290 calories, with 3 grams of fiber in a Starbucks Spinach Feta Wrap.
In my homemade version, there are 195 calories and 10 grams of fiber.
Storing and Freezing Tips
To store: If you plan on enjoying the wraps within 1 week, you can refrigerate them. Once ready to enjoy, remove from the fridge and heat up in a sandwich press or grill.
To freeze: Perfect for meal prepping, these wraps are freezer friendly. Place the prepared wraps in a ziplock bag and keep in a ziplock bag. They freeze well for up to 2 months. Thaw the wraps in the fridge the night before you want to eat them.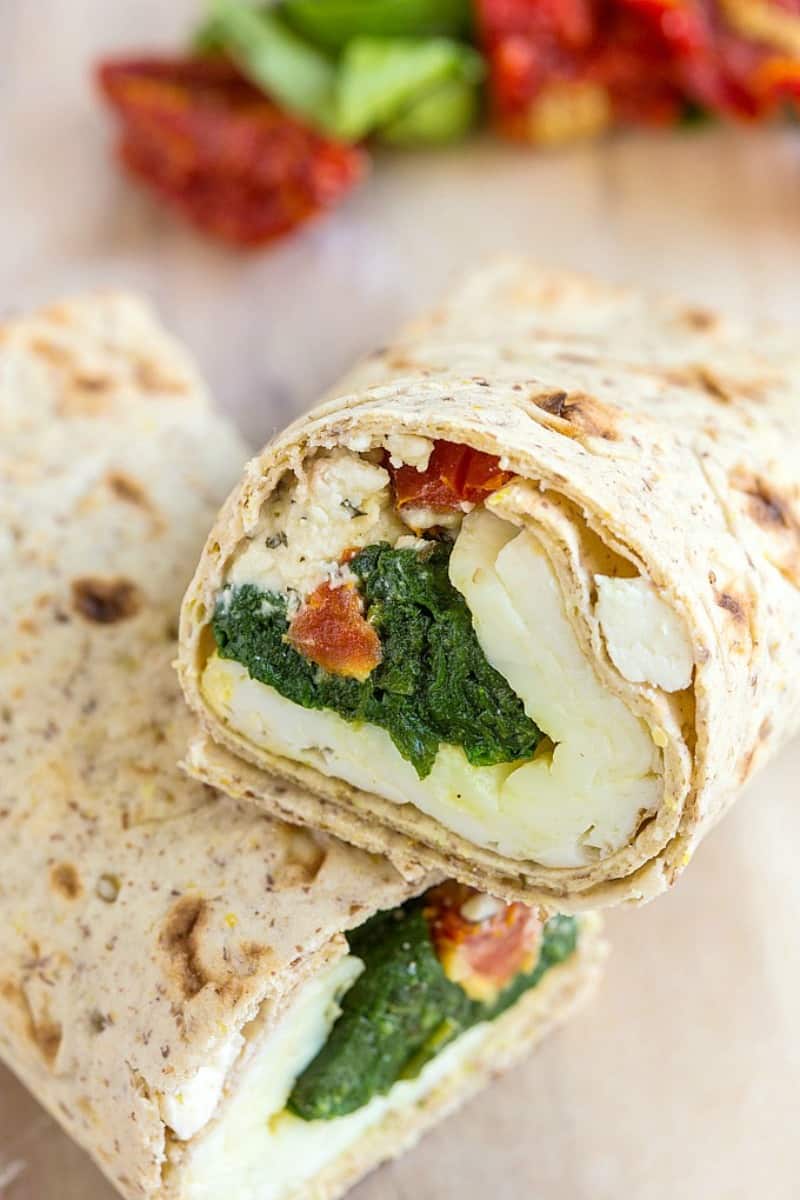 More EASY Breakfast Recipes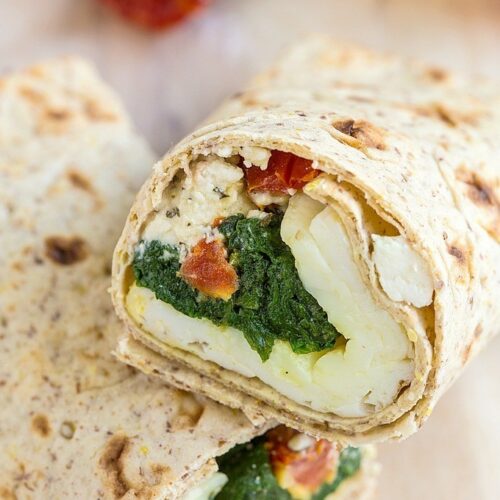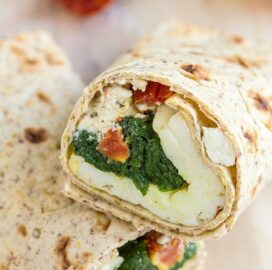 Copycat Starbucks Spinach and Feta Wrap
This copycat Starbucks Spinach and Feta wrap is even more delicious than it's inspiration- High in protein and packed full of egg whites, it's a much healthier twist on the original- Naturally gluten free!
Print
Rate
Ingredients
1

large

tortilla

gluten free, if needed

2

large

egg whites

1/2

cup

spinach

fresh or thawed from frozen

4

sun dried tomatoes

chopped

2

tablespoon

feta

crumbled

1/4

teaspoon

salt

1/8

teaspoon

pepper
Instructions
On medium heat, coat a non-stick pan with oil or cooking spray. When hot, add your egg whites with spices of choice. Fold over and cook both sides. Remove from the pan.

Add your fresh or thawed frozen spinach and cover for 1-2 minutes, until wilted. Set aside.

Place your tortilla on a large piece of parchment paper. Add your eggs whites, wilted spinach, sun dried tomatoes and crumbled feta and wrap up. If made fresh, cut in half or if prepared in advance, heat in a sandwich press or grill until warm.
Notes
If preparing multiple wraps, follow the instructions within the post.
You can refrigerate wraps for up to 5 days, or freeze for up to 2 months.
Nutrition
Serving:
1
Wrap
|
Calories:
195
kcal
|
Carbohydrates:
18
g
|
Protein:
15
g
|
Fat:
9
g
|
Sodium:
1288
mg
|
Potassium:
237
mg
|
Fiber:
10
g
|
Vitamin A:
1550
IU
|
Vitamin C:
4
mg
|
Calcium:
214
mg
|
Iron:
2
mg
|
NET CARBS:
8
g