These cheesy waffles served with sour cream and green onion are the perfect thing to make if you are craving a savory breakfast or waffles for dinner. Easy to customize and filling.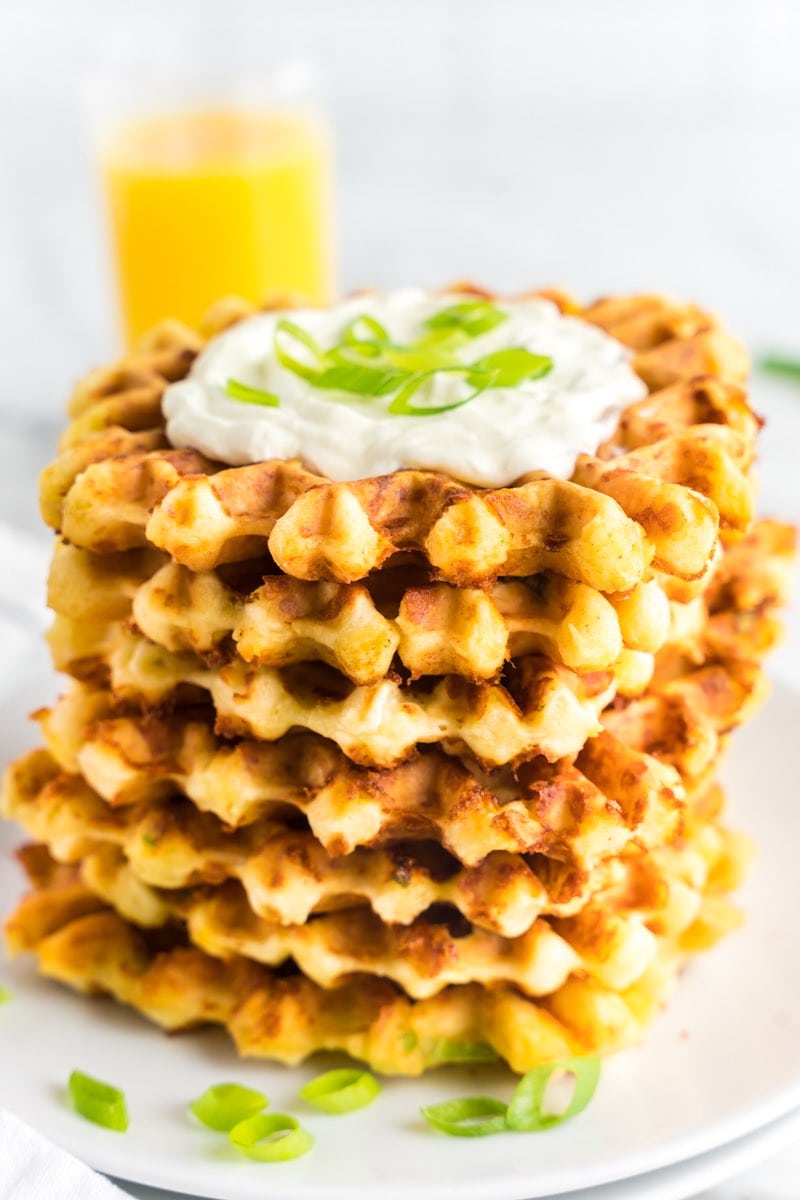 Waffles don't always need to be sweet. You can make them savory too. We love them when we want something savory for breakfast or also if it's breakfast for dinner too!
Why you'll love this recipe
What we love about this savory waffle recipe is just how easy they are to customize! You can literally throw in leftover veggies, deli meat (or even last night's dinner) and honestly, they'll still taste amazing.
What are savory waffles made of?
There are hundreds of waffle recipes online. But only a few yield waffles that are airy inside and crisp on the edges. Here's everything you will need to make the best savory waffles.
How to make them
This recipe is very simple and requires very few steps. Honestly, the waffle iron takes care of all the hard work! Ready to make some waffles?
Step 1- Make the batter
Start by adding the eggs to a mixing bowl and whisk them together. Mix in the Greek yogurt, olive oil, and drizzle in the milk.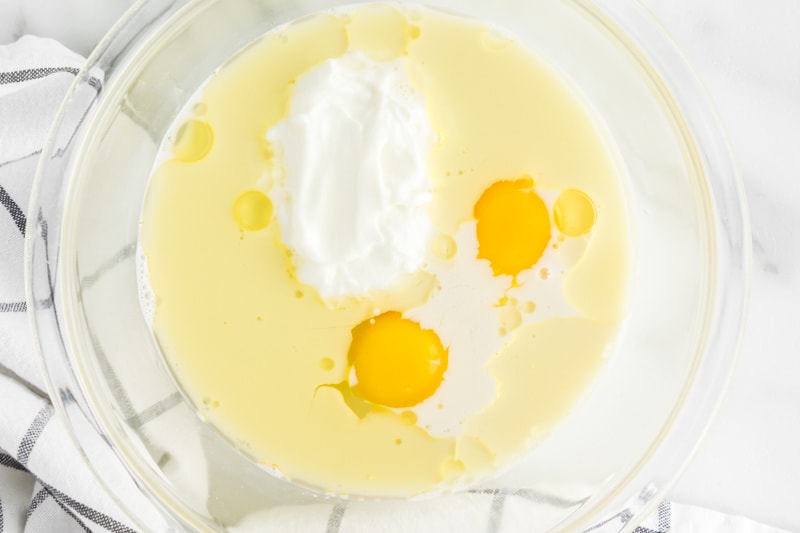 Slowly add the self-rising flour to the rest of the ingredients and mix until there are no lumps in the batter. Fold through the cheese at the end.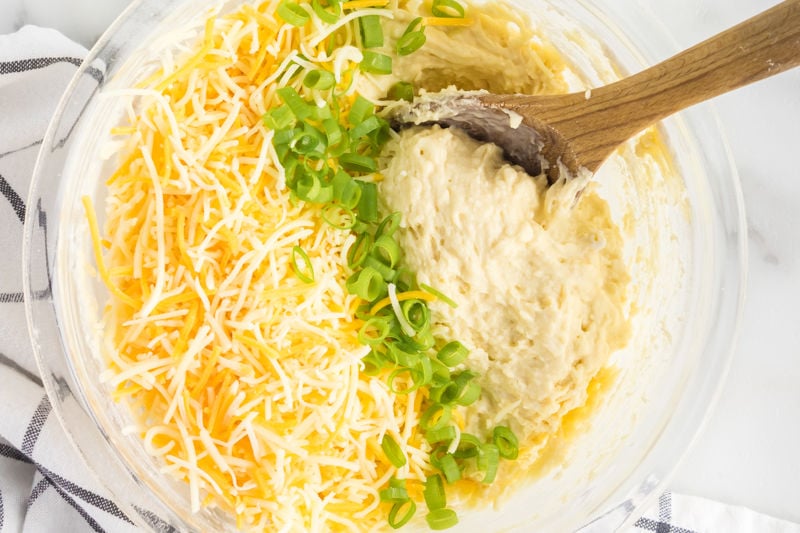 Step 2- Cook the waffles
Next, heat the waffle iron and butter it. Ladle the batter into it when it is hot. Cook the waffles following the instructions of your waffle maker. Repeat this process until all the batter is used up.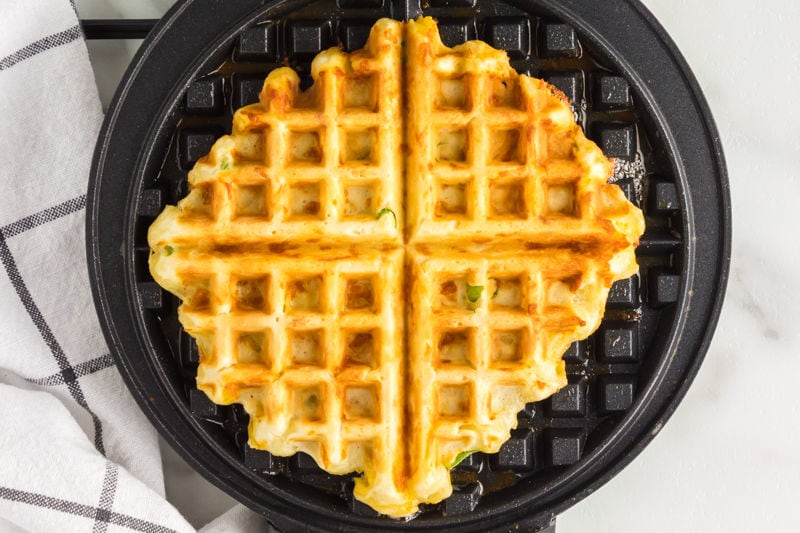 Step 3- Serve
Serve the waffles while they are still warm. I like to keep it simple with my toppings: a dollop of sour cream and some chopped green onions.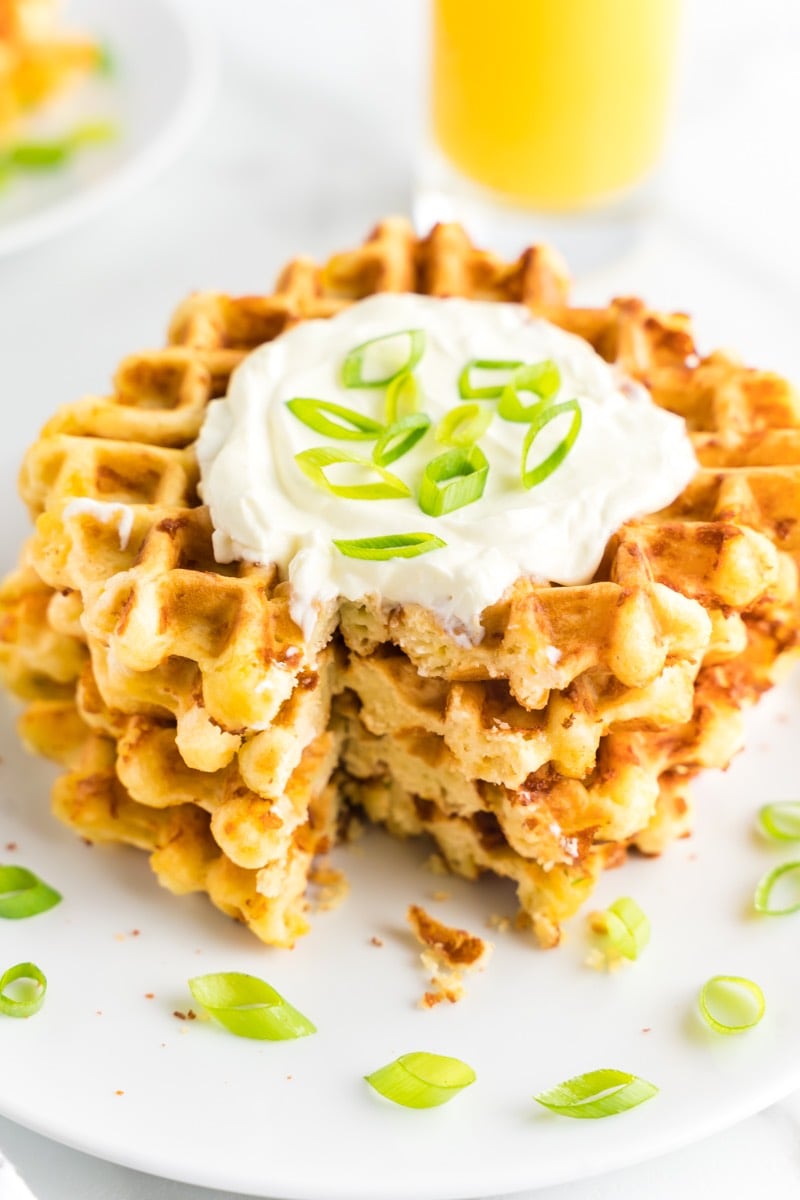 What to serve with savory waffles
You can eat savory waffles for any meal of the day. Here are some serving suggestions depending on which meal it is:
Tips to make the best recipe
As we mentioned earlier, this recipe is foolproof, but there are a couple of tips for success:
Grease the waffle iron. Even a non-stick waffle iron needs a little help. Always grease your waffle iron with some vegetable oil or butter, as it prevents the waffles from sticking to it.
Beat the egg whites separately. If you want to make the fluffiest waffles, take a few extra minutes to whip the egg whites separately. Then fold them into the batter carefully. Doing this makes the waffles rise to their full potential.
Don't over-mix the batter. Beating the egg whites separately won't make sense if you over-mix the batter. Mix the dry and wet ingredients until they are nicely mixed. Avoid unnecessary mixing or you will end up with tough and thin waffles.
Storage info
If you made more savory waffles than you could eat, transfer them into an airtight container once they cool and store them in the refrigerator. Properly stored waffles will be good for 3 to 5 days.
You can also freeze leftover waffles. Put the waffles in a heavy-duty zip-top bag. Place sheets of parchment paper in between the waffles to prevent them from sticking to each other. Push out the excess air from the bag and store them in the freezer for up to 3 months.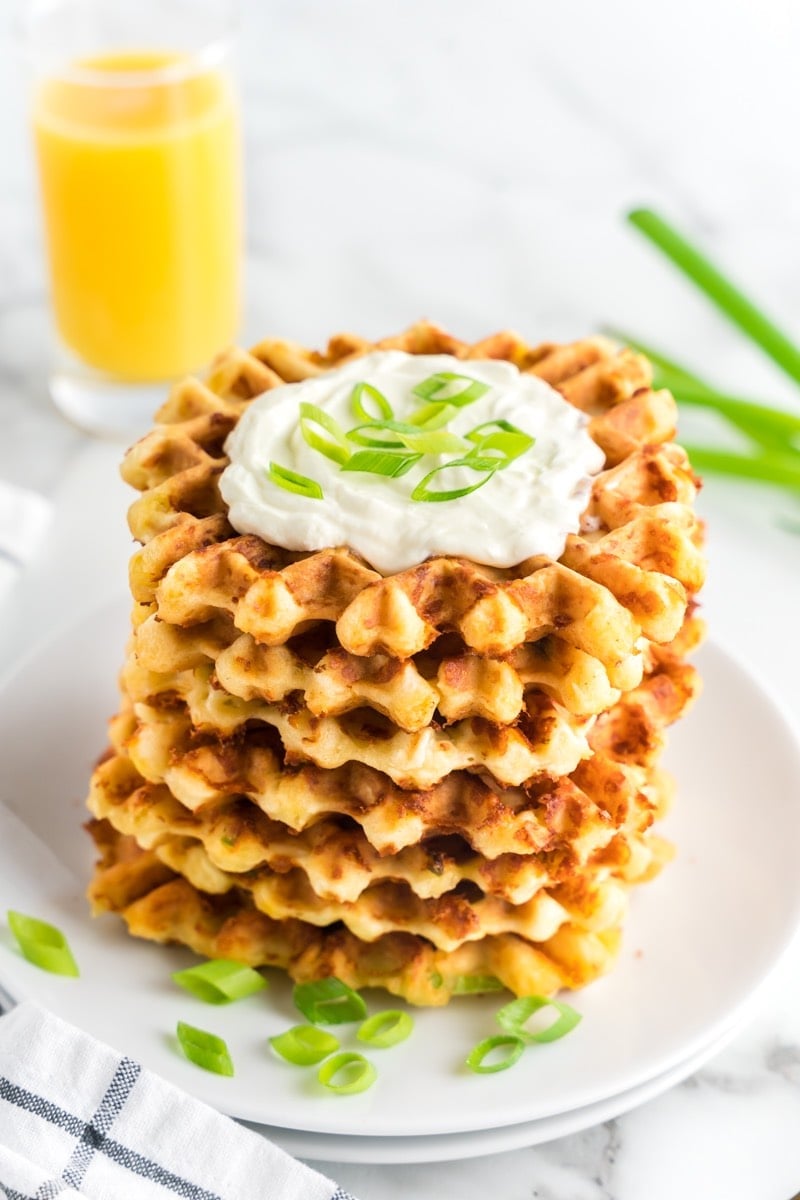 More savory breakfast recipes to try
Frequently Asked Questions
What do you put on top of waffles?
A creamy element is best for topping savory waffles, like sour cream, plain Greek yogurt, or even some flavored cream cheese. Alternatively, you could add some eggs (try over easy, over medium, and over hard varieties).
Can I substitute the eggs?
These waffles cook best with some egg in them, but you can try an egg substitute.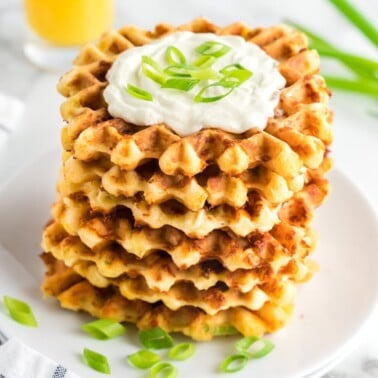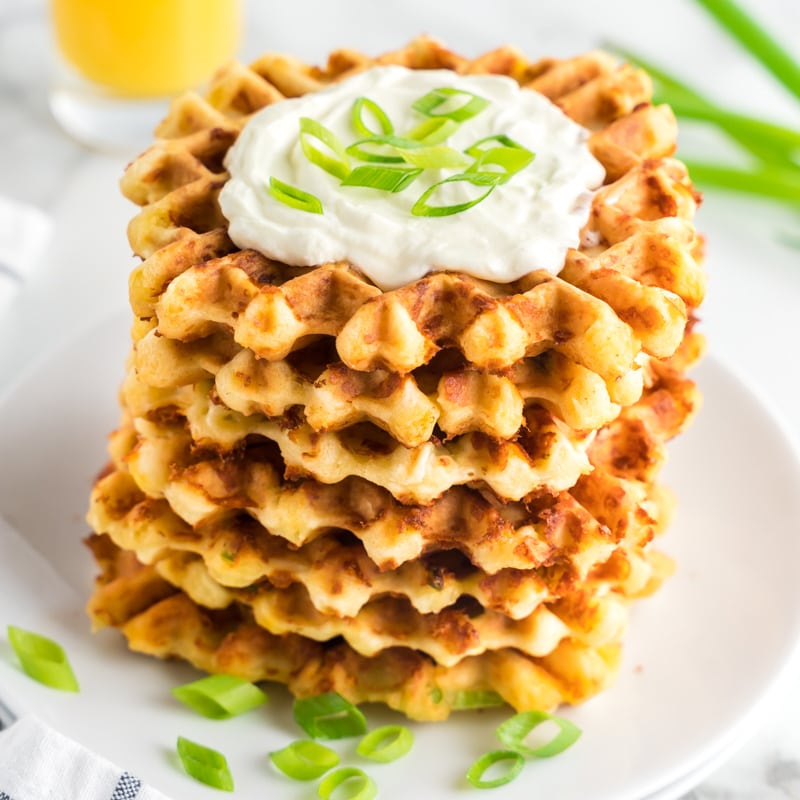 Savory Waffles In 5 Minutes | Crispy, Fluffy, And Healthy
These cheesy waffles served with sour cream and green onion are the perfect thing to make if you are craving a savory breakfast or waffles for dinner. Easy to customize and filling. 
Ingredients
2

large

eggs

2

tablespoons

olive oil

1/2

cup

milk

1/2

cup

Greek Yogurt

1 1/2

cups

self rising flour

3

large

green onions

chopped

1 1/2

cups

shredded cheese
Instructions
In a large mixing bowl, whisk together the eggs, olive oil, milk, sour cream until smooth. Slowly add the self rising flour until combined. Fold in the shredded cheese and green onions.

Add butter to a waffle iron and heat up. Once hot, add batter to the waffle iron and cook as per waffle iron instructions. Repeat the process until all the waffles are cooked up.

Serve with sour cream and sprinkle with more green onions.
Notes
TO STORE: Leftovers can be stored in the refrigerator, covered, for up to 5 days. TO FREEZE: Place the cooked and cooled waffles in a ziplock bag and store them in the freezer for up to 6 months.
Disclosure: This post may contain affiliate links. I may earn a small commission for my endorsement, recommendation, testimonial, and/or link to any products or services from this website.